Starbucks Iced Chai Tea Latte with pumpkin cold foam is the perfect fall drink that combines chai and pumpkin. See what's in this customized chai drink, what it tastes like and how to order it.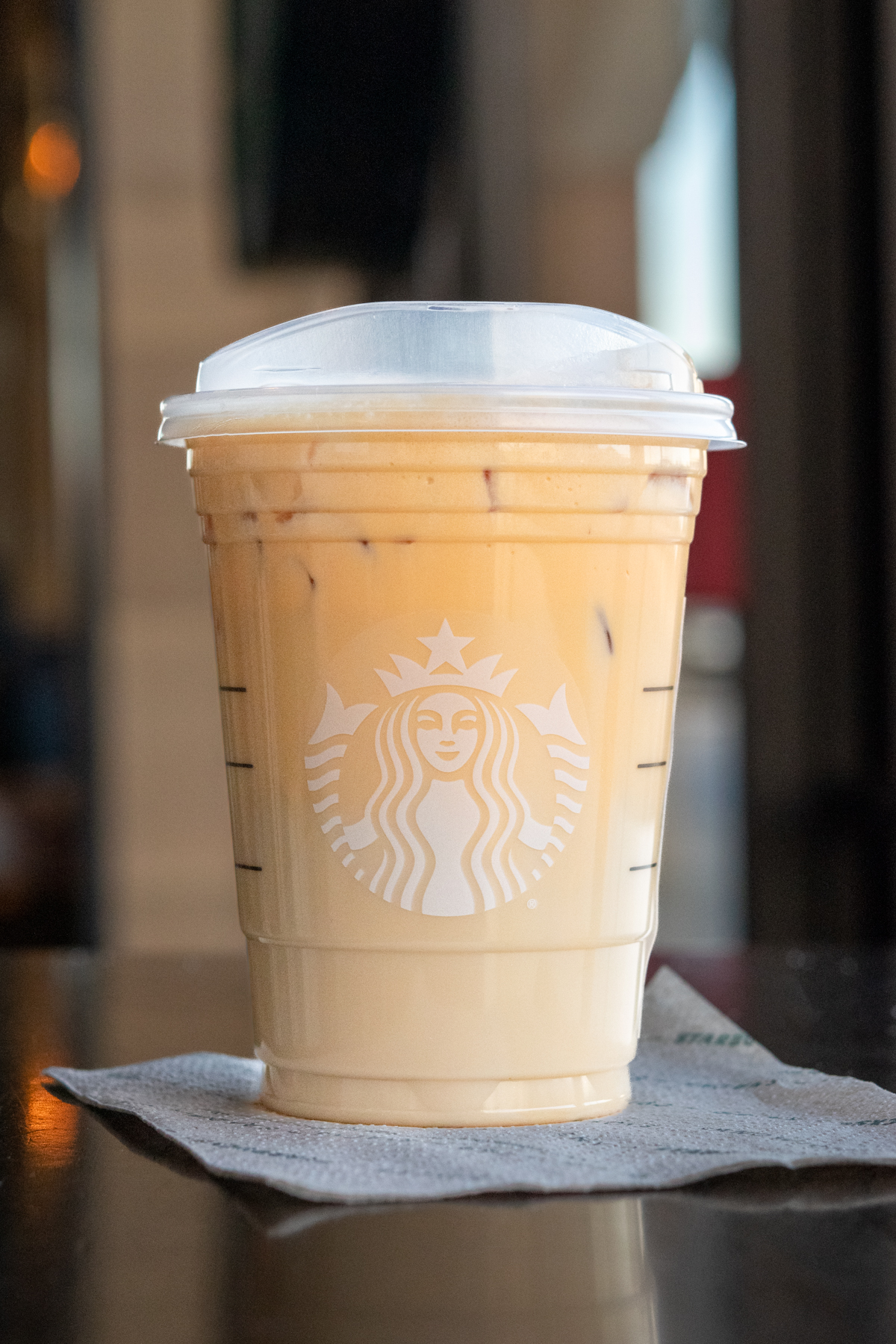 Iced Chai Tea Latte with Pumpkin Cold Foam at Starbucks
Starbucks Iced Chai Tea Latte with Pumpkin Cold Foam is a popular "secret menu" drink that brings together an iced chai tea latte and pumpkin cream cold foam topping.
This customized chai drink does not have pumpkin spice in the actual drink. However, it has a decadent layer of pumpkin cream cold foam topping that cascades into the chai.
If desired, you can add a dusting of pumpkin pie spices on top.
Make note, this seasonal latte is only available for a limited time beginning in August every year when Starbucks Pumpkin Spice drinks return to the fall menu.
Luckily, a regular Iced Chai Tea Latte is always on the menu or you can try this Iced Chai Latte with Pumpkin Cold Foam at-home recipe. (It's so easy!)
RELATED: Starbucks Chai Drink Guide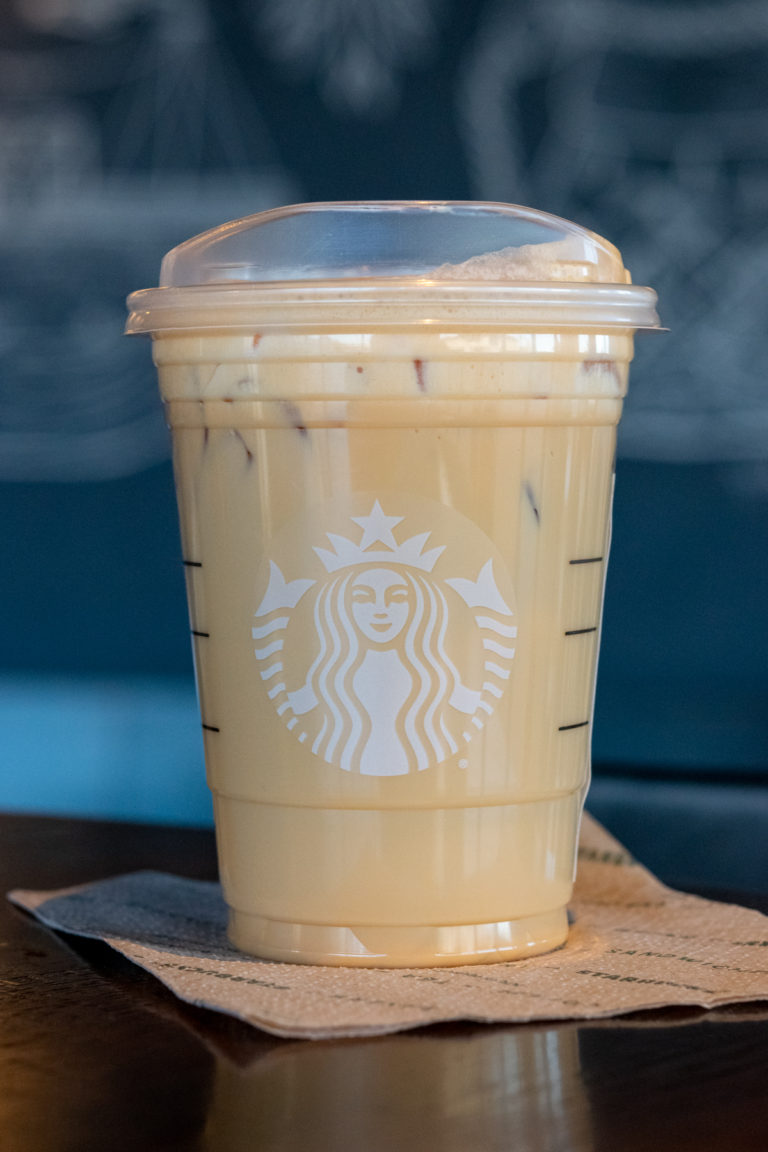 What's in this Modified Chai Latte
Wondering exactly what's in this drink?
A Starbucks Iced Chai Tea Latte with Pumpkin Cold Foam has three components.
1. Iced Chai Tea Latte
This secret menu drink begins with a regular Iced Chai Tea Latte from Starbucks.
The barista simply shakes together pre-made and pre-sweetened chai concentrate with milk and ice.
The chai concentrate itself is black tea infused with flavors like cardamom, ginger, cinnamon, cloves and star anise.
2. Pumpkin Cream Cold Foam Topping
All the pumpkin flavor in this beverage is in the topping.
The barista blends together pumpkin spice sauce and vanilla sweet cream, to make this slightly orange-hued, heavy-cream, drink topper.
Here's my recipe for homemade pumpkin cold foam.
3. Pumpkin Spice Topping
Pumpkin Spice Topping is a mixture of cinnamon, ginger, nutmeg and clove.
It's the final touch on all Starbucks pumpkin drinks.
RELATED: Best Starbucks Chai Tea Latte Modifications
What an Iced Chai with Pumpkin Cold Foam Tastes Like
An Iced Chai Tea Latte topped with pumpkin cream cold foam is the ultimate Starbucks fall drink.
All the spices in the chai, like cinnamon, ginger and clove, perfectly complement the spices in the pumpkin sauce.
What sets this latte apart, however, is the decadent pumpkin topping. Pumpkin cream cold foam has the same rich ingredients as Starbucks whipped cream, plus pumpkin spice sauce.
And it's blended into a creamy consistency similar to melted ice cream.
The result is a cloud of pumpkin cold foam that slowly flows into the chai latte.
As you can imagine, the sweet cream balances the spicy chai in the most delicious way.
Love Starbucks chai? Check out this guide: 13 Starbucks Chai Tea Latte Ordering Tips from a Barista
How to Order an Iced Chai with Pumpkin Foam
Foundation Drink: Order an Iced Chai Tea Latte which is available in tall, grande or venti sizes.
Customizations: Ask for a topping of pumpkin cream cold foam.
This is a standard seasonal Starbucks topping for pumpkin cream cold brew beverages.
Drinks with pumpkin cold foam also come with pumpkin spices sprinkled on top.
However, be sure to let the barista know whether or not you want the spice topping.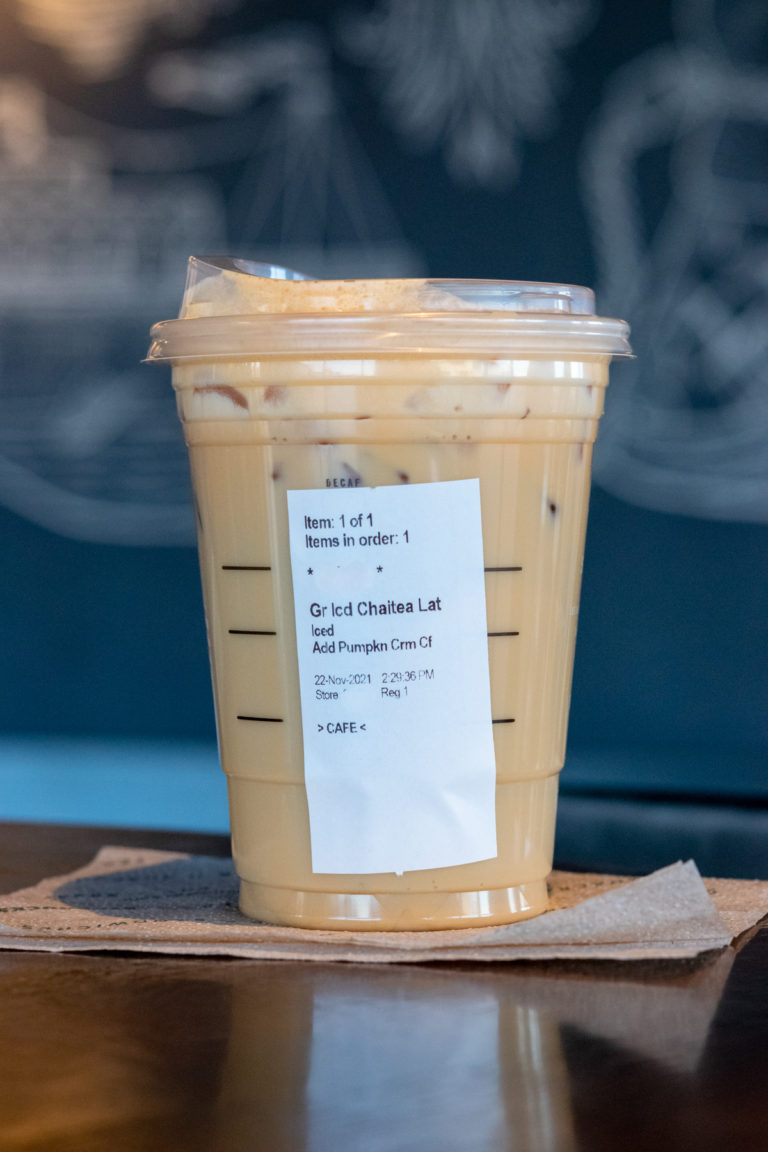 Here's how to order this drink with the Starbucks app.
First, go to the Iced Teas section of the menu and select Iced Chai Tea Latte.
Next, choose a size and click the Customize button.
Scroll to the Toppings section, click Add Cold Foam, and select Pumpkin Cream Cold Foam.
Finally, if you want spices sprinkled on top, click Add Topping Options and select Pumpkin Spice Topping.
Cost to Customize this Drink:
A topping of sweet cream cold foam adds around $1.25 to the price of the drink and each pump of pumpkin spice syrup is about .80 cents.
The ground spice topping is always free.
Interested in more pumpkin drinks without coffee? Here's a list of 12 Non-Coffee Pumpkin Drinks at Starbucks.
Questions You May Have
Can I get a skinny iced chai with pumpkin spice from Starbucks?
Starbucks chai tea concentrate and pumpkin spice sauce both contain sugar. Since Starbucks does not have skinny versions of either ingredient, it's not possible to make a skinny chai tea latte with pumpkin spice. That being said, you can substitute the 2% milk in the chai latte with non-fat milk.
How do you order a Starbucks chai tea latte with pumpkin on top?
All you have to do is get an iced chai tea latte which comes in tall, grande and venti sizes. Ask for pumpkin cream cold foam to be added on top. On the Starbucks app, cold foam can be found in the toppings section of the menu.
Does it cost extra to add pumpkin cold foam to an iced chai tea latte.
An add-on of pumpkin cream cold foam at Starbucks costs extra like many customizations. Specifically, it's about $1.25 to add cold foam to any drink that doesn't already come with it. Additionally, there's about an .80 cent upcharge for each pump of pumpkin spice sauce.
More Starbucks Chai & Pumpkin