Wondering what exactly a Pumpkin Spice Creme from Starbucks is? Here's a complete look at this pumpkin flavored milk steamer. See what's in it, why it's a good kids drink and how it's different from a pumpkin spice latte.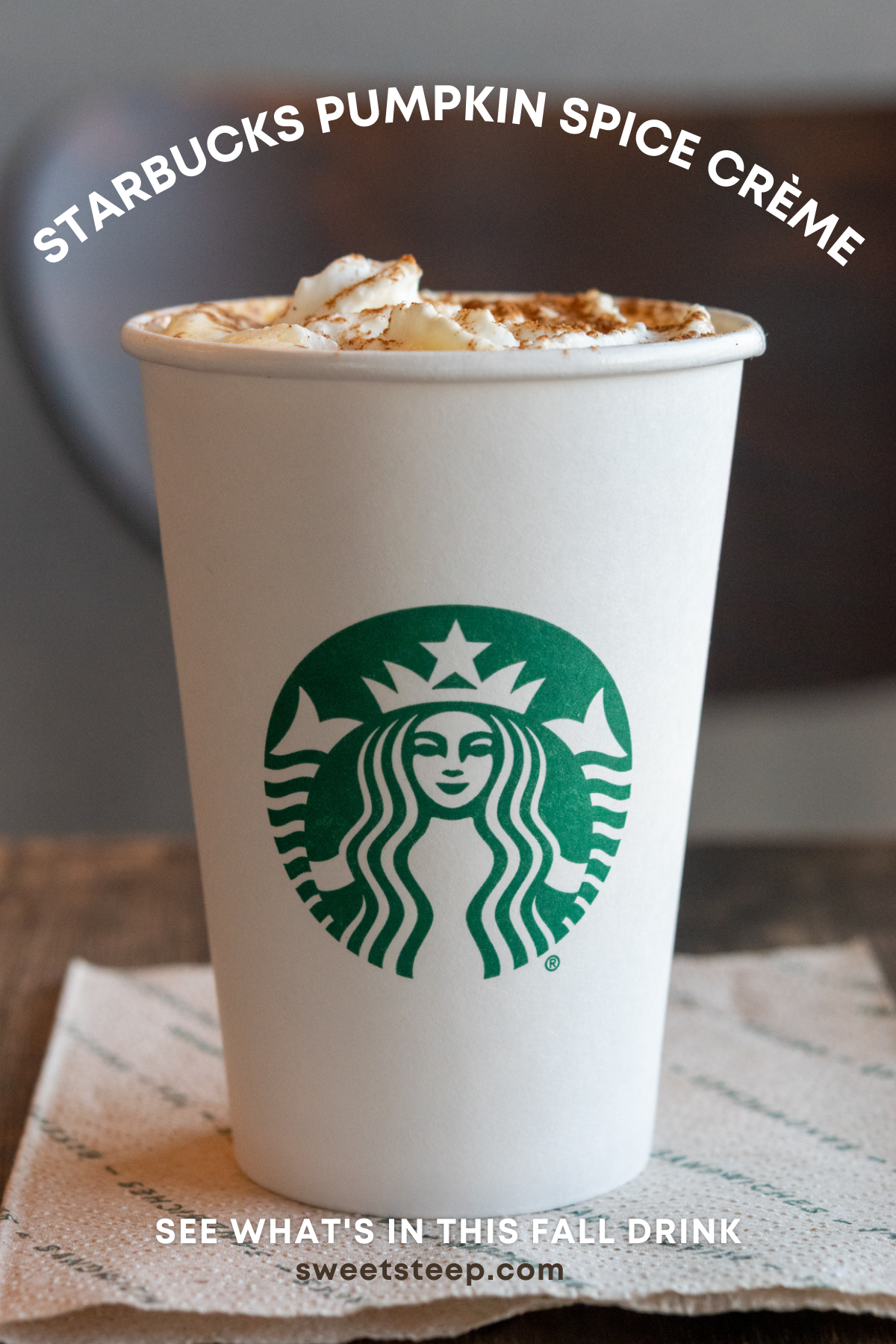 Starbucks Pumpkin Crème
A Starbucks Pumpkin Spice Crème steamer is a creamy, milk-based beverage that combines steamed milk with pumpkin, cinnamon, nutmeg and clove. Starbucks whipped cream and a dusting of pumpkin pie spices top off this fall favorite.
The Pumpkin Spice Crème, called pumpkin crème for short, is simply a pumpkin spice latte without any espresso in it. Here are more delicious Starbucks pumpkin drinks without coffee.
Don't confuse Pumpkin Spice Crème with a Pumpkin Spice Crème Frappuccino. Both are coffee-free, caffeine-free Starbucks drinks, but the frappuccino is an ice-cold blended beverage.
This drink is a favorite among parents since it doesn't have caffeine and can be ordered kid size at kids temp.
In addition to pumpkin spice, Vanilla Crème is another popular steamer. In fact, Starbucks steamers can be mixed with any flavor of syrup or sauce.
RELATED RECIPE: Starbucks Pumpkin Spice Crème Steamer Copycat
What's in a Pumpkin Spice Steamer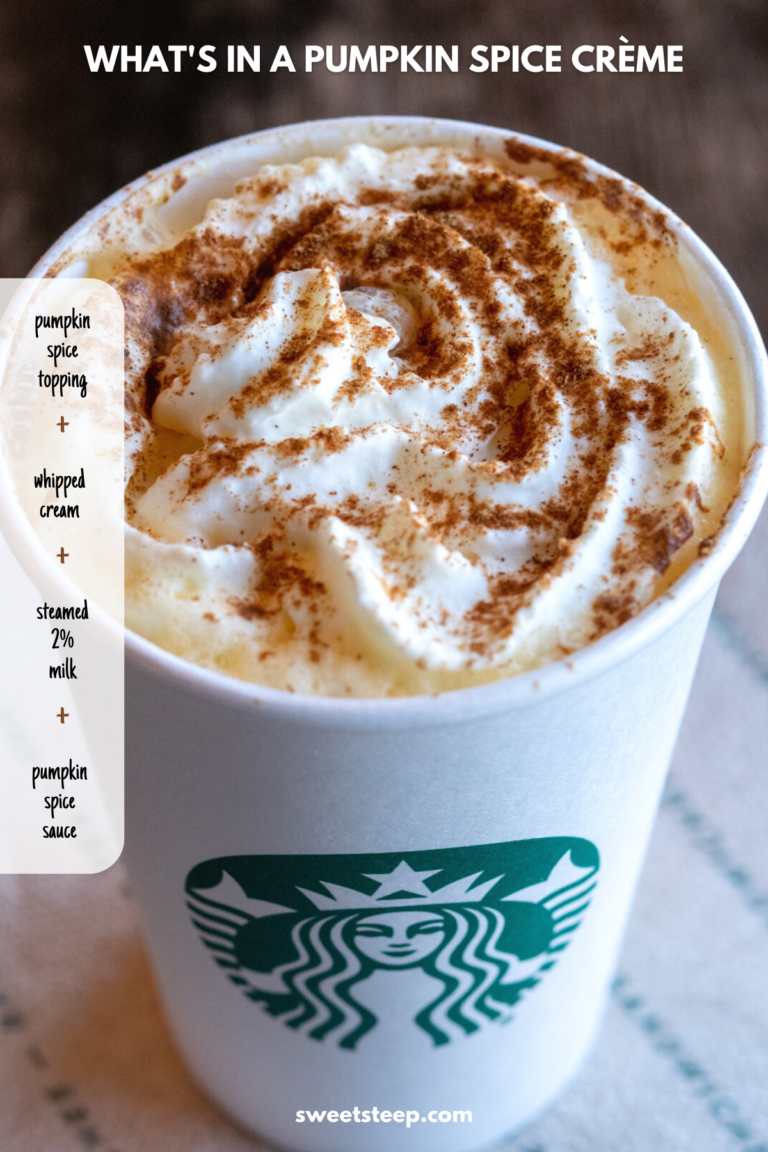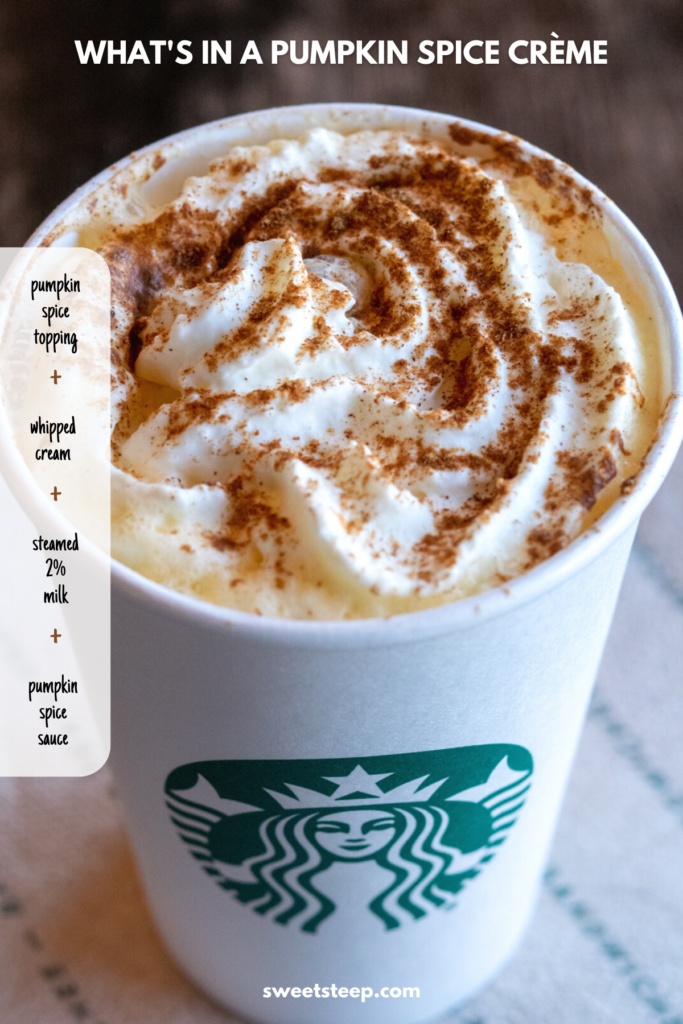 A Starbucks Pumpkin Spice Crème has four ingredients:
Pumpkin Spice Sauce
Steamed 2% Milk
Whipped Cream
Pumpkin Spice Topping
Pumpkin Spice Sauce: Towards the end of every August, Starbucks famous pumpkin spice sauce returns to the menu. This sauce is how all Starbucks pumpkin drinks get their signature pumpkin and cinnamon flavor. Pumpkin sauce is available through Thanksgiving, but you can get it as long as your Starbucks still has it in stock.
Steamed 2% Milk: A standard Pumpkin Spice Crème is made with reduced fat dairy milk that's steamed to around 160°F. This glossy, texturized milk has tons of micro bubbles, making every sip velvety smooth. Each steamer is topped with a light layer of milk foam, too.
Whipped Cream: Every pumpkin crème steamer is topped with a generous dollop of whipped cream. Did you know Starbucks whipped cream is sweetened and flavored with vanilla syrup? Yup! That's why it's so good. And it pairs perfectly with pumpkin and all the fall spices.
Pumpkin Spice Topping: A sprinkling of cinnamon, ginger, nutmeg and clove is the finishing touch for each whipped-cream-topped Pumpkin Spice Crème. This way every creamy sip tastes of pumpkin pie.
Want to make pumpkin drinks at home like Starbucks? Here's my delicious recipe for homemade Starbucks pumpkin spice sauce.
Drink Sizes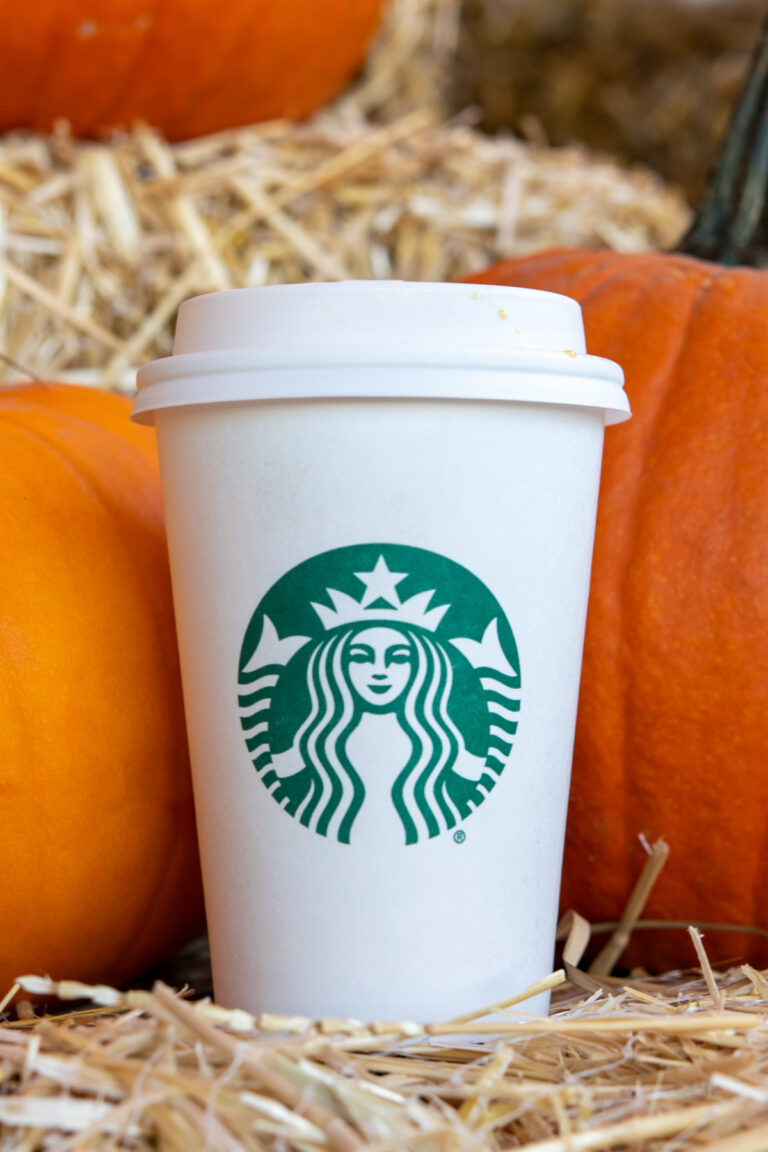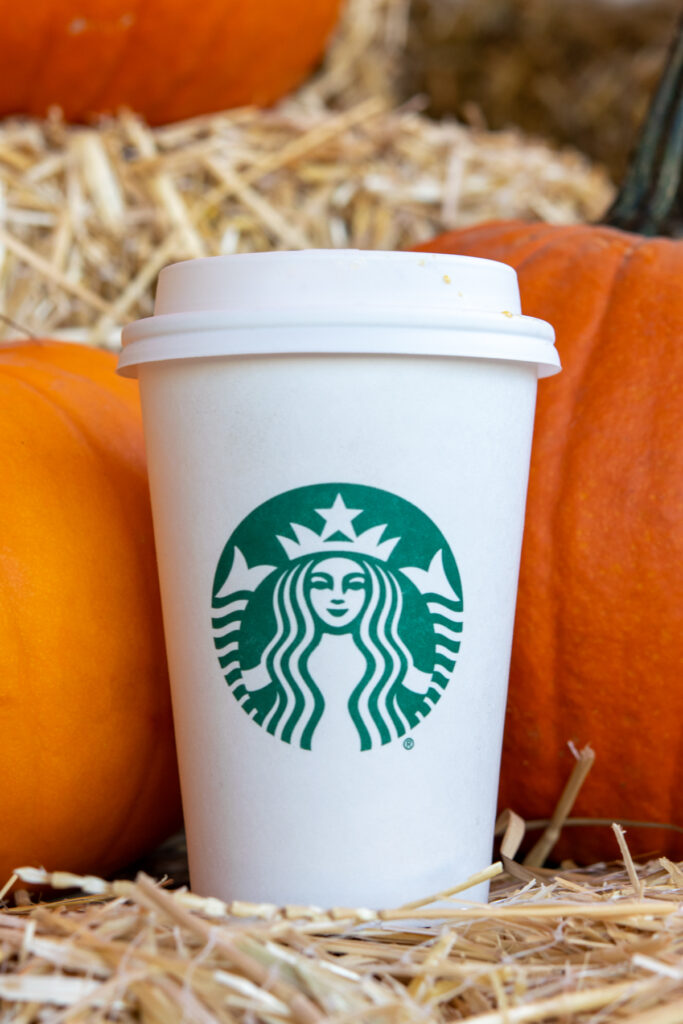 Pumpkin Spice Crème is available in all of Starbucks hot drink sizes.
You can get a short (8 fl oz), tall (12 fl oz), grande (16 fl oz) or venti (20 fl oz).
If you place your order with the Starbucks app, you may notice there's also a kids size pumpkin steamer. Steamers are a popular kids drink since they don't contain coffee, so Starbucks offers this additional size.
Kids size drinks at Starbucks are made in the same 8-ounce cups used for hot, short drinks
In fact, a kids size pumpkin steamer is exactly the same as a short pumpkin steamer—with two notable exceptions.
Differences Between a Kids Size Steamer and a Short Size:
A kids size steamer should have the milk steamed to 130°F, which is 30°F less than the standard temp. To be on the safe side, also change the steamed milk temperature to "warm" when ordering from the app.
A pumpkin crème ordered as kids size costs less than a short. As of this writing, it's nearly a dollar cheaper.
Caffeine
Starbucks has two line-ups of crème drinks. There are crème steamers and crème frappuccinos.
Neither type of drink contains a drop of coffee or caffeine.
This means a pumpkin steamer is completely caffeine-free. Just be aware, if you customize a pumpkin steamer with chocolate or mocha, it will have trace amounts of caffeine.
Calories
Pumpkin Spice Crème is not a low calorie Starbucks drink. (Just call me captain obvious!)
When you consider that this seasonal steamer is almost all milk, sauce and cream, the calorie tally adds up. In fact, it has approximately 25 calories per ounce.
Calories in Pumpkin Spice Crème
Short and Kids Size: 210 calories
Tall: 310 calories
Grande: 400 calories
Venti: 480 calories
Ways to Customize a Pumpkin Spice Crème at Starbucks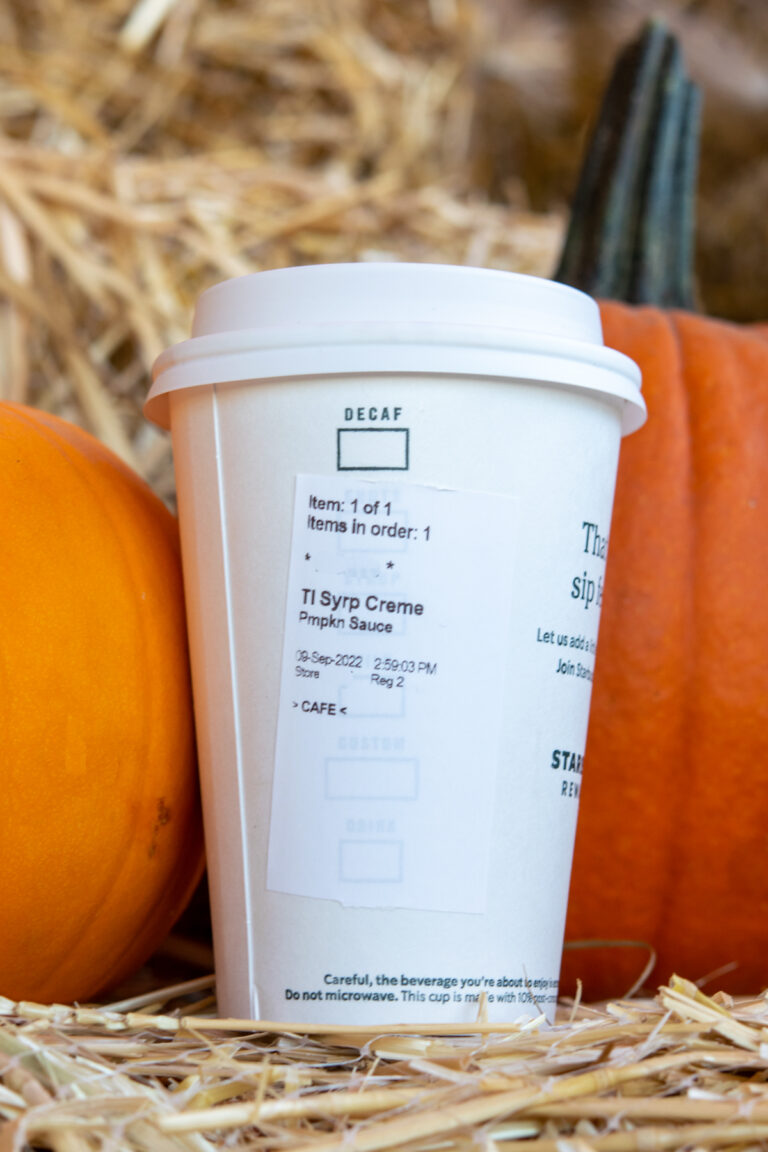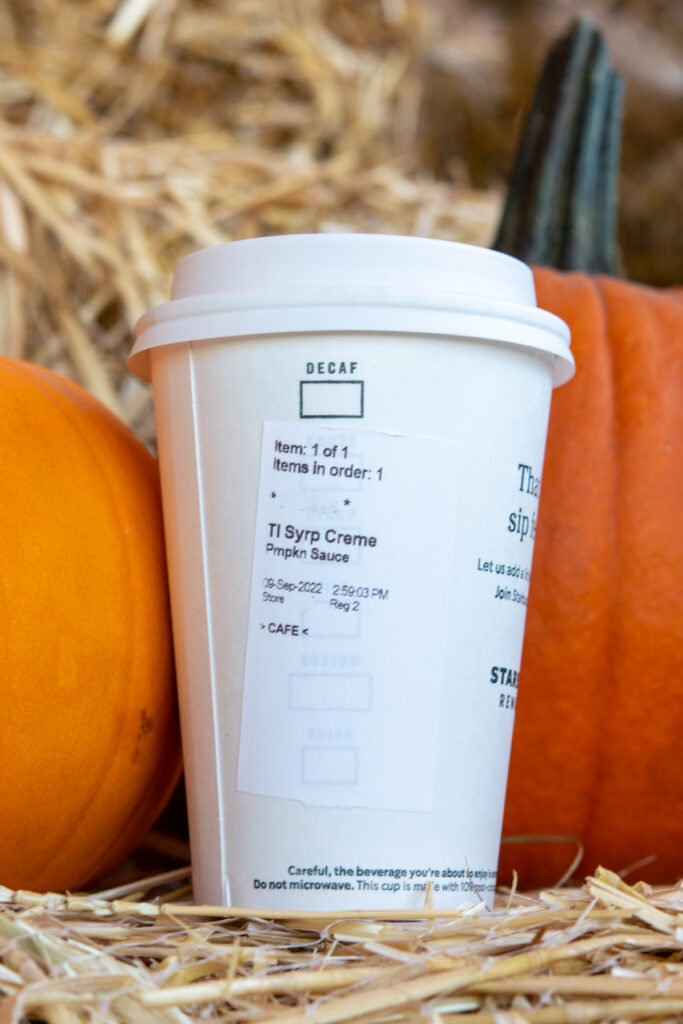 Reduced Dairy: Condensed skim milk is the number two ingredient in Starbucks pumpkin spice sauce so there's no way to order a completely dairy-free pumpkin steamer. However, if you want to cut back on the amount of dairy, switch the milk to almond, oat, soy or coconut. Also, leave off the whipped cream.
Reduced Calorie: The lowest calorie milk option at Starbucks is almond milk. It has 60 calories per cup. If you want to cut way back on the calories in a pumpkin steamer, then opt for almond milk. It won't have the same creamy texture, however. Additionally, leaving off the whipped cream will chop off about 100 calories.
Add a Drizzle: If you want to make a Pumpkin Spice Crème even more decadent, add a drizzle on top. There's caramel drizzle which is really good with pumpkin and mocha drizzle, too.
Combine it with White Mocha: Have you ever heard of a Cinderella Latte? It's a Starbucks secret menu pumpkin spice latte where half the sauce is pumpkin spice and the other half is white chocolate mocha. You can order a pumpkin creme steamer this way too.
Questions You May Have
Is a Pumpkin Spice Crème the same as a Pumpkin Spice Latte?
A Pumpkin Spice Crème at Starbucks is a steamed milk beverage and is the non-coffee version of a pumpkin spice latte. The two drinks are identical, but unlike the pumpkin spice latte, the pumpkin crème steamer doesn't have any espresso in it and is completely caffeine-free.
What is the pumpkin topping at Starbucks?
Every Starbucks pumpkin drink is topped with "pumpkin spice topping" which is simply a mix of four ground spices: cinnamon, ginger, nutmeg and cloves. Also referred to as pumpkin pie spices by Starbucks, this sugar-free and calorie-free topping is sprinkled on top of the whipped cream on every pumpkin flavored latte, frappuccino, steamer and cold brew.
Related