Absolutely delicious pumpkin spice chai tea latte recipe made with creamy pumpkin spice sauce like Starbucks. You're sure to enjoy this tea latte that brings together two of fall's favorite flavors, pumpkin and chai.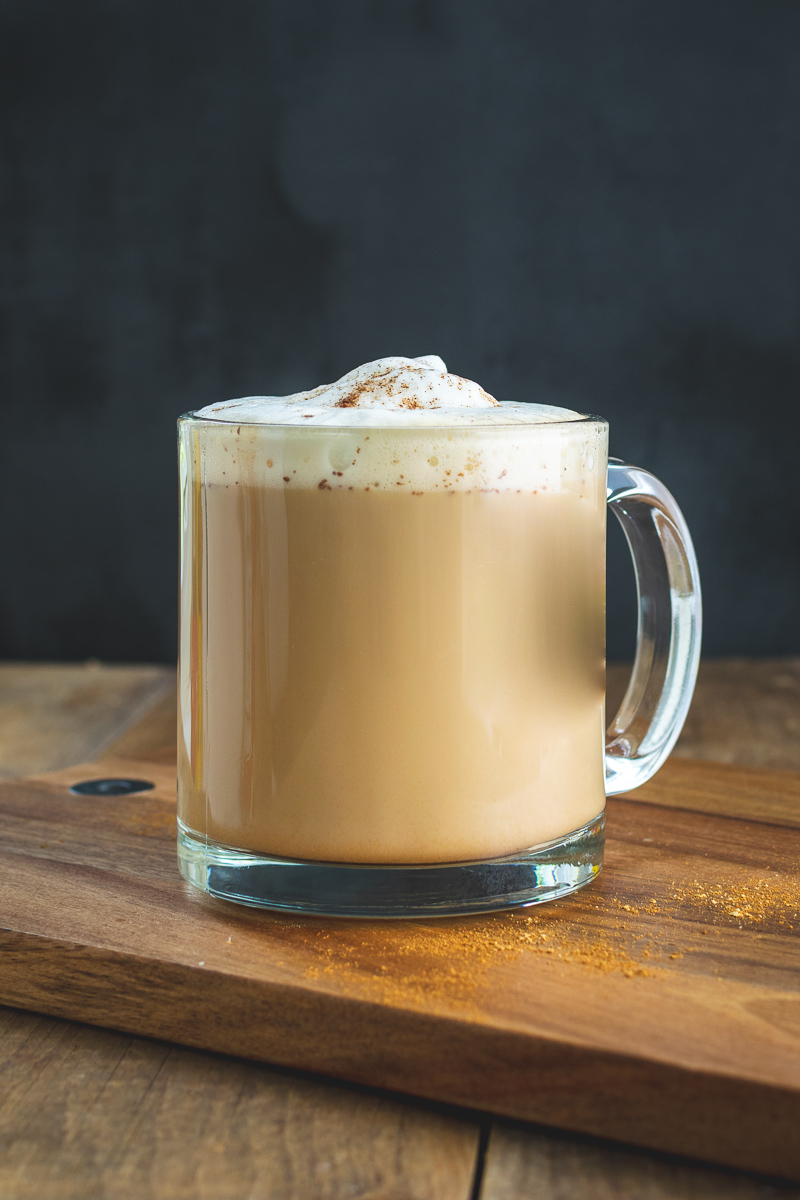 Pumpkin Spice Chai Tea Latte
It's only natural that sweater weather and sipping on a pumpkin spice chai tea latte are the perfect pairing. There's just something about cooler days and fall colors that make us reach for the abundant warm flavors of pumpkin spice season.
And for tea drinkers this means sipping on a delicious Starbucks Pumpkin Spice Chai Tea Latte or one made at home.
Luckily, this homemade pumpkin spice chai latte recipe is simple to make so you can enjoy the flavors of fall all season long.
How to Make a Starbucks Pumpkin Spice Chai Tea Latte
Since Starbucks is the originator of the pumpkin spice latte, let's see exactly how they make this drink.
First, Starbucks puts some pumpkin spice sauce, made with real pumpkin, in a cup.
Second, they add chai concentrate (or pull a shot or two of espresso) into the same cup.
Next, steamed milk and foam are added.
Finally, the latte is dusted with pumpkin spice topping.
Therefore, turning a regular chai latte into this fall-favorite is as simple as adding pumpkin spice sauce and a little pumpkin pie spice.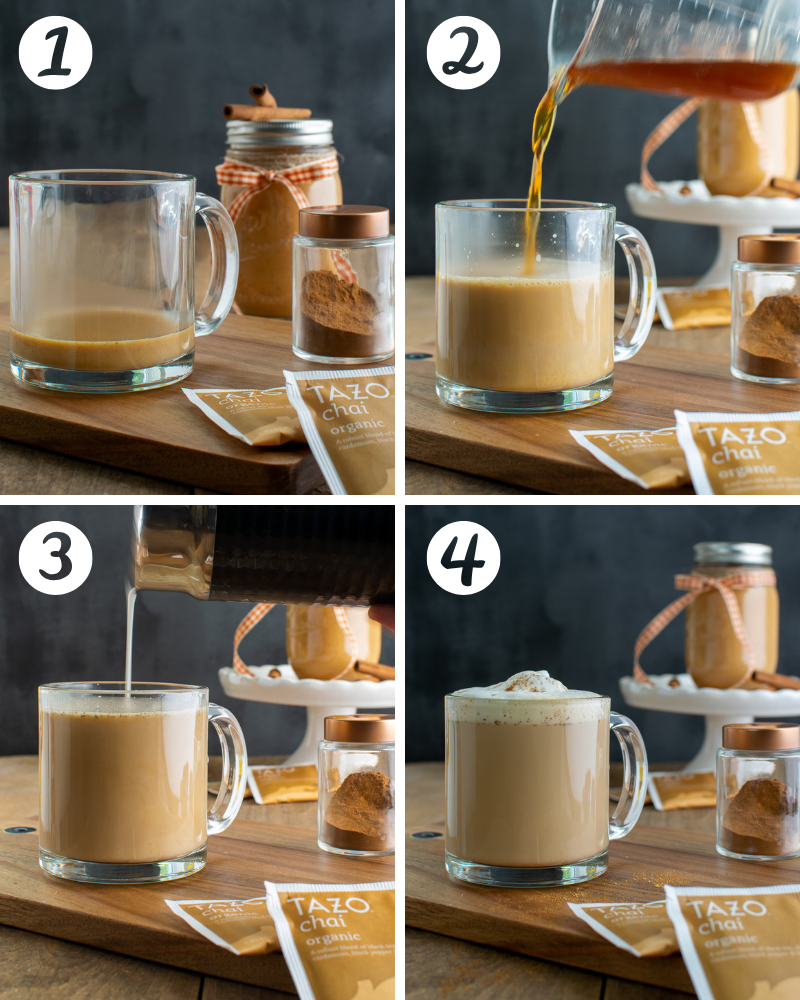 Pumpkin Spice Sauce is Easy to Make
Pumpkin spice sauce, also called pumpkin spice syrup, can be made in a matter of minutes.
You can make as much as you want and keep it in your refrigerator so making a pumpkin spice latte is a snap.
My copycat Starbucks pumpkin spice sauce recipe uses condensed milk just like the real thing. Yum!
A lot of other pumpkin spice sauce recipes I've seen are more of a syrup (sugar, water and flavors).
But I like the sweet creaminess the condensed milk adds. For sure, this drink is decadent!
Did you know you can also mix up your own pumpkin pie spice to dust on top of your latte?
Of course, you can pick up a pre-mixed bottle of it in the store, but if you already have the spices that go into it, why not mix up a bottle yourself? I like to do this, and keep it on my tea bar.
How to Brew Chai Tea for a Latte
Latte purists will tell you that a latte is half espresso or tea and half milk. In other words, it's a one to one ratio of espresso or tea to milk.
Personally, I prefer a little less milk than tea, but you get the idea. A latte has a lot of milk.
Therefore, the chai needs to be brewed strong. I like to think of it as double-strength.
There are two ways to brew up a strong cup of chai tea:
Use two chai tea bags per eight ounces of water, or
Use double the amount of loose leaf chai than you normally do per eight ounces of water
Alternatively, you can use an already-brewed chai concentrate.
As a matter of fact, Tazo Chai Latte Concentrate is my favorite brand.
It's also the main ingredient in these recipes: Starbucks Iced Chai Latte, Chai Frappuccino and even Chai Latte Popsicles.
For this pumpkin spice chai tea latte recipe I use Tazo Chai organic tea bags.
Keep in mind, any black tea makes a delicious pumpkin spice tea latte. This is what I love about tea. Just experiment with what you have and your bound to come up with your own fantastic signature flavor.
By the way, if you're black tea ever comes out bitter, I put together this list of tips showing you how to brew black tea perfectly every time.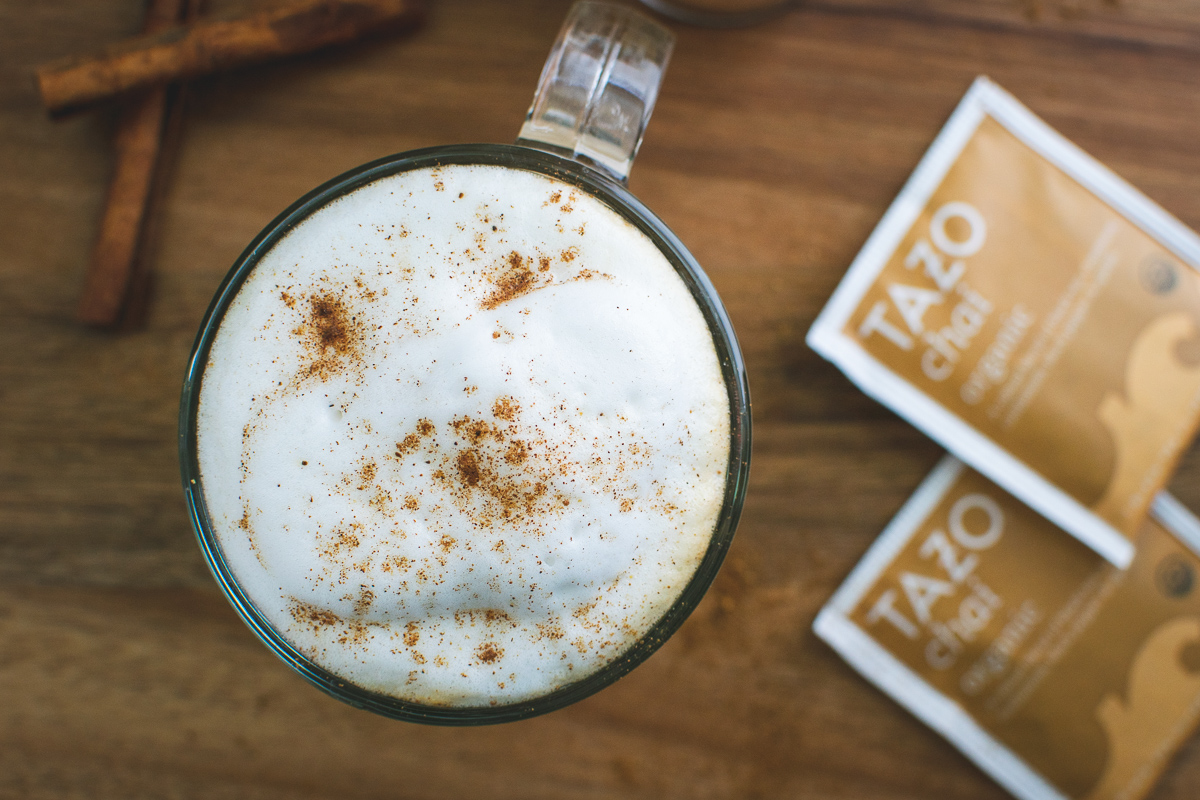 On another note, I brew my tea bags for lattes in a Pyrex measuring cup. Yup, you read that right. Fancy, aren't I?
Kidding aside, brewing the chai in a glass measuring cup with a spout makes it easy to pour into the drinking cup with pumpkin sauce on the bottom.
Of course, if I brew loose leaf tea I use my Toyo Hofu teapot with infuser. I absolutely love the way it looks with its squared edges.
How to Make a Pumpkin Spice Chai Latte
Now that you know how to whip up your own batch of pumpkin spice sauce (not syrup) and brew a strong cup of chai, you're ready to make this fall classic.
All you have to do is put the latte together like this:
Step 1: Add pumpkin spice sauce to drinking cup
Step 2: Pour in the hot-brewed chai tea (double strength)
Step 3: Steam and froth milk and pour into cup, being sure to scoop foam onto the top of the pumpkin chai latte
Step 4: Sprinkle pumpkin pie spice on top
And here are a few things I use to make tea lattes.
Just remember, fancy gadgets aren't necessary. I'm the one brewing tea bags in a Pyrex measuring cup, right?
So, if you don't have an electric milk frother, then steam the milk in a microwave or on the stove.
If you don't have a kettle and steeper, then steep the loose tea directly in a pan of water and pour it through a strainer.
Photo Credit: www.amazon.com
Handheld milk frother/blender for lattes and more.
Photo Credit: www.amazon.com
 Hot and cold milk frother. One Size, Black.
More Chai Recipes & Starbucks Drink Guides
Pumpkin Spice Chai Latte Recipe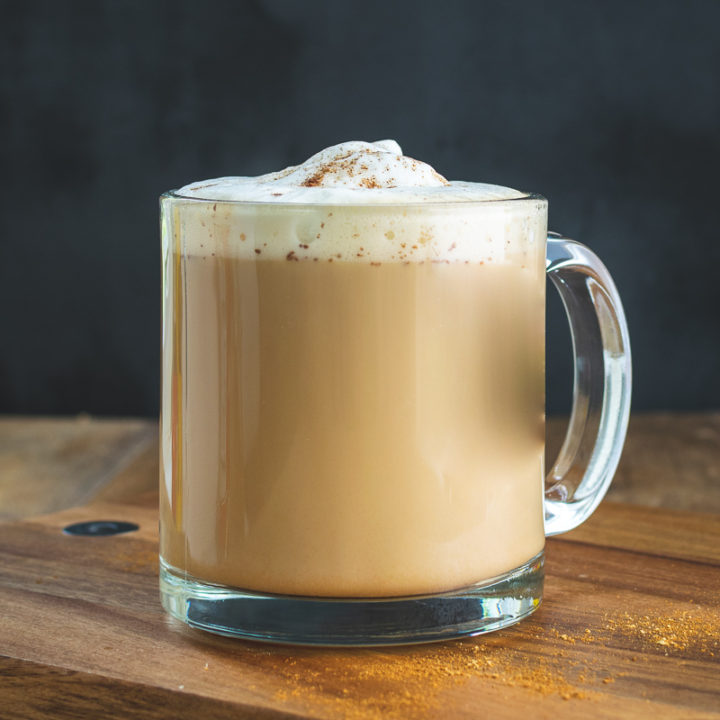 Pumpkin Spice Chai Tea Latte like Starbucks
This Pumpkin Spice Chai Tea Latte recipe features real Pumpkin Spice Sauce like Starbucks and brings together fall's favorite flavors: pumpkin and chai.
Ingredients
1/4 cup Pumpkin Spice Sauce
2 chai tea bags
1 cup water
3/4 cup 2% milk
dash of pumpkin pie spice
Instructions
Add the pumpkin spice sauce from this recipe to the bottom of a 16 ounce drinking mug.
Boil 1 cup of water and steep two chai tea bags in it for 3-5 minutes. Alternatively, warm up 1 cup of chai tea concentrate.
Meanwhile, steam the milk in the microwave, on the stove and use a handheld frother to aerate it and create microfoam. Or else, use an electric milk frother on the warm setting.
When the tea is finished steeping, remove the tea bags and pour the chai tea into the cup with the pumpkin spice sauce.
Next, pour in the steamed milk, holding back the foam with a spoon.
Spoon the froth on to the top of the pumpkin spice chai latte. You can even add a little whipped cream here if you want to.
Sprinkle pumpkin pie spice on top.
Notes
Substitute 8 ounces of brewed chai tea (made with tea bags) with 8 ounces of store-bought chai latte concentrate. Adjust the amount of pumpkin spice sauce and milk according to taste.
Recommended Products
As an Amazon Associate and member of other affiliate programs, I earn from qualifying purchases.
Nutrition Information
Yield

1
Serving Size

16 ounces
Amount Per Serving
Calories

234
Total Fat

7g
Cholesterol

25mg
Sodium

46mg
Carbohydrates

33g
Fiber

.4g
Sugar

33g
Protein

11g