Easy recipe for homemade chai popsicles that taste just like a chai tea latte with a layers of sweet cream, chai latte, and of course, a sprinkle of cinnamon.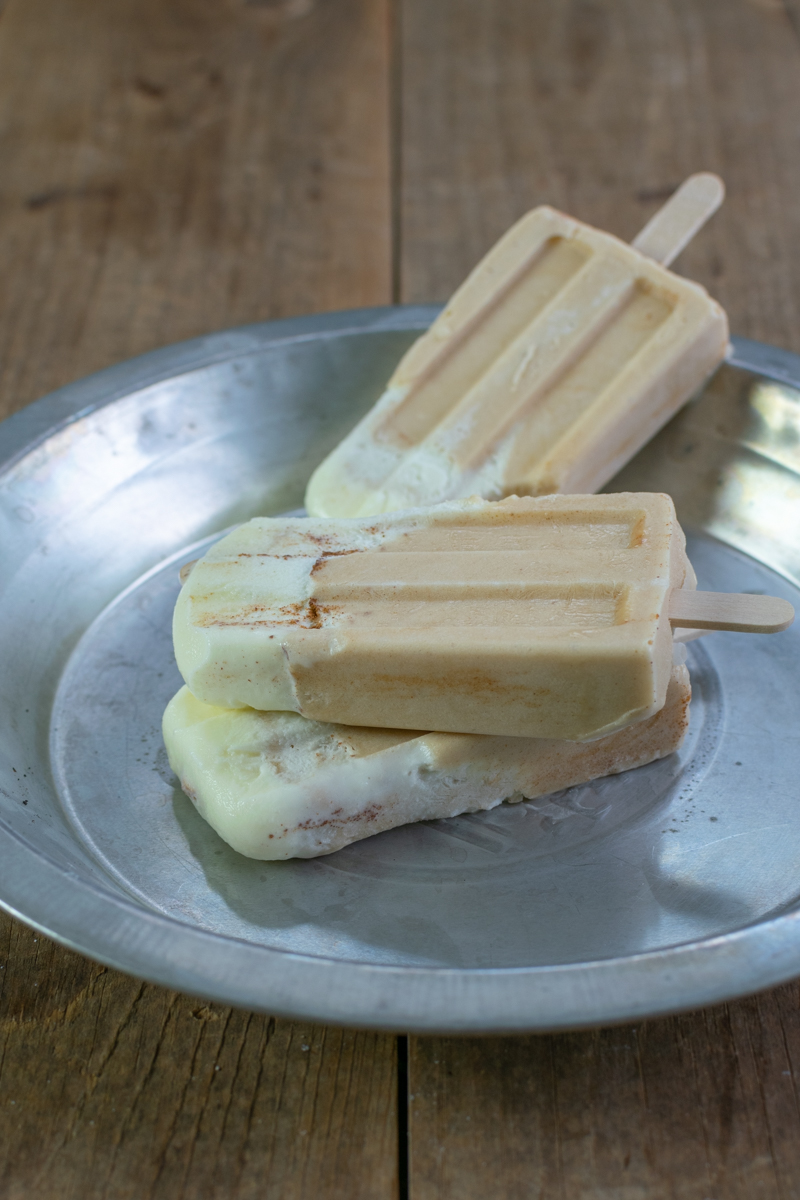 If you love sipping chai lattes like me, then you're sure to love this easy recipe for chai tea latte popsicles.
Not only are these homemade tea popsicles simple to make, but they capture all the flavors of a chai latte.
And isn't it great that in addition to an iced chai latte, there's another way to enjoy chai tea throughout the summer?
What's fun is these tea popsicles even look like a chai latte topped with creamy froth.
A sprinkle of cinnamon, followed by a layer of sweet vanilla cream and then chai latte make every bite really yummy.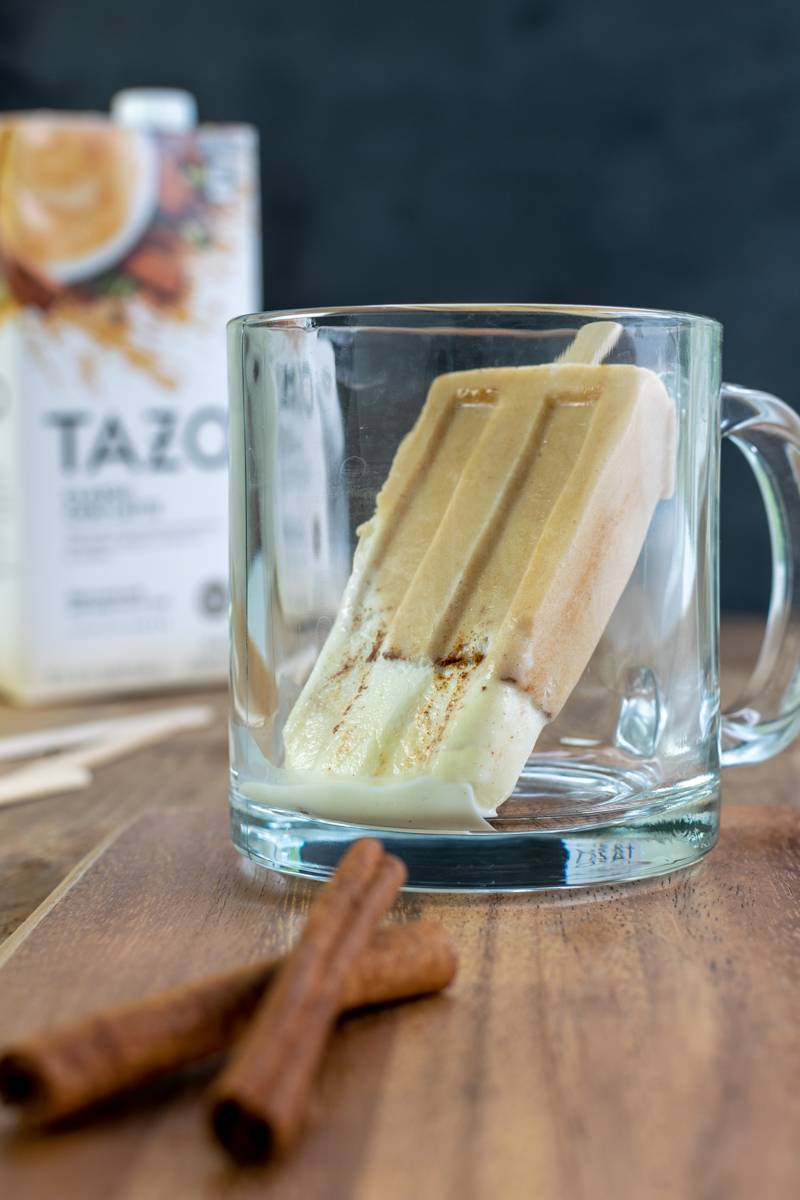 Things you Need to Make Homemade Popsicles
Before I show you how to make these homemade chai popsicles, you'll need a few kitchen gadgets.
First things first, you need a popsicle mold. I have a Prepworks classic-shaped popsicle mold and it works great.
I love that it has a lid with slots to hold each popsicle stick up straight. Additionally, it's fairly simple to release the popsicles and clean up afterwards.
However, if you don't have a popsicle mold you can improvise with paper cups and wooden popsicle sticks.
Photo Credit: amazon.com
Makes 10 popsicles. Includes 50 wooden freezer pop sticks
Additionally, you need a blender to make these homemade popsicles. I have a Ninja blender, but any blender will do.
At first glance it may seem simple enough to just stir the ingredients together. However, whipping them together in the blender aerates the mixture and makes it nice and creamy.
Photo Credit: amazon.com
1000-Watt Base and Total Crushing Technology for Smoothies, Ice and Frozen Fruit, Black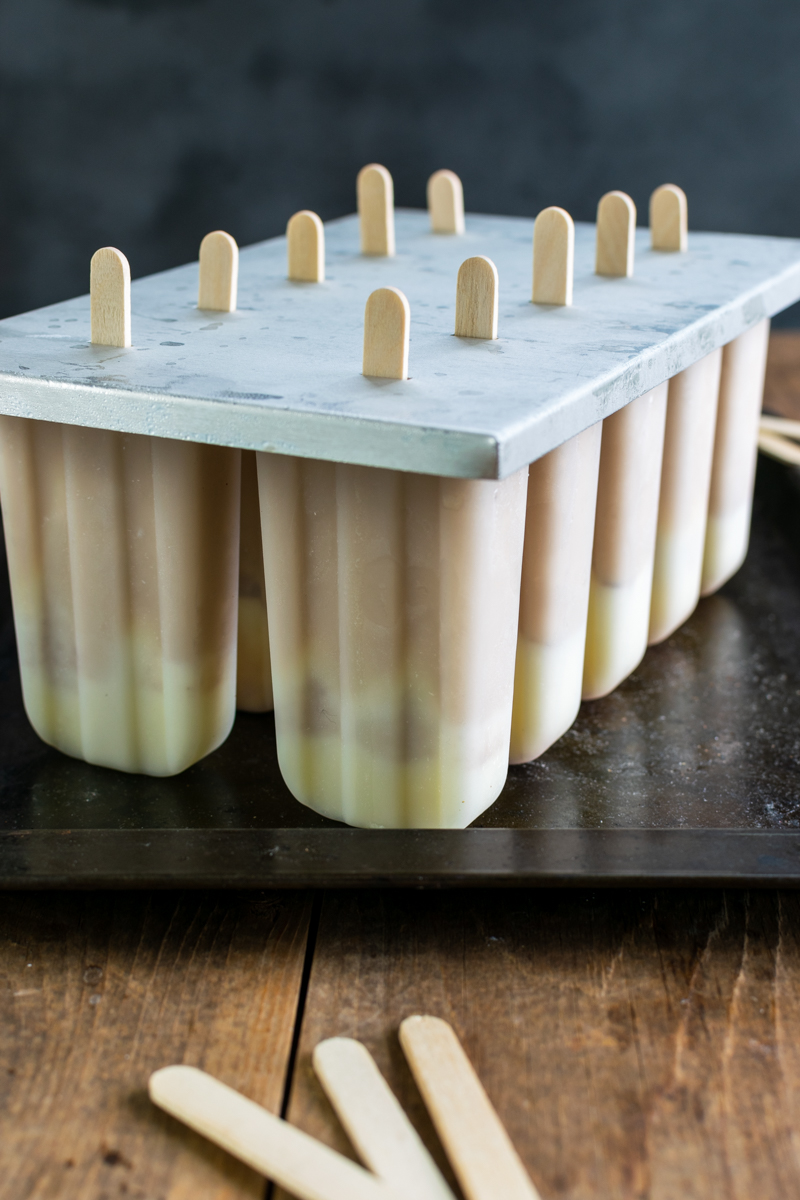 How to Avoid Icy Popsicles
Speaking of making creamy popsicles, here are a few tips to help make these homemade chai popsicles come out nice and smooth.
Afterall, if you've ever made homemade popsicles you've probably noticed they can be a little icy. And ice crystals are certainly something we want to avoid as much as possible.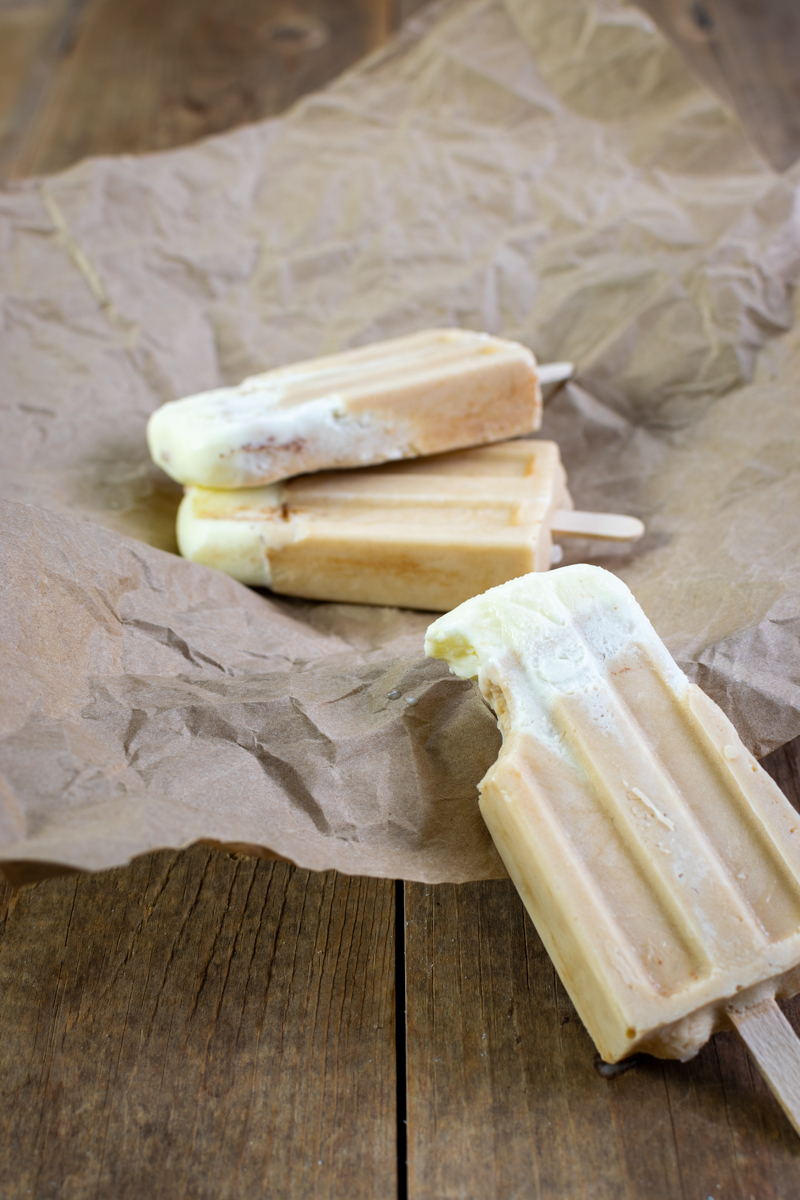 Cool down ingredients and tools.
Commercially made popsicle are made in freezers that reach much colder temperatures than home freezers. And the faster the popsicles freeze, the less likely they are to be icy.
That's why I like to use cold ingredients and tools. In fact, if I know I'm making popsicles soon, I put the empty popsicle mold in the freezer overnight.
Additionally, about ten minutes before I make the chai popsicle mixture, I put the blender container and blade in the freezer to cool down.
Then as soon as the mixture is blended, I take out the frozen mold, fill it up and immediately return it to the freezer.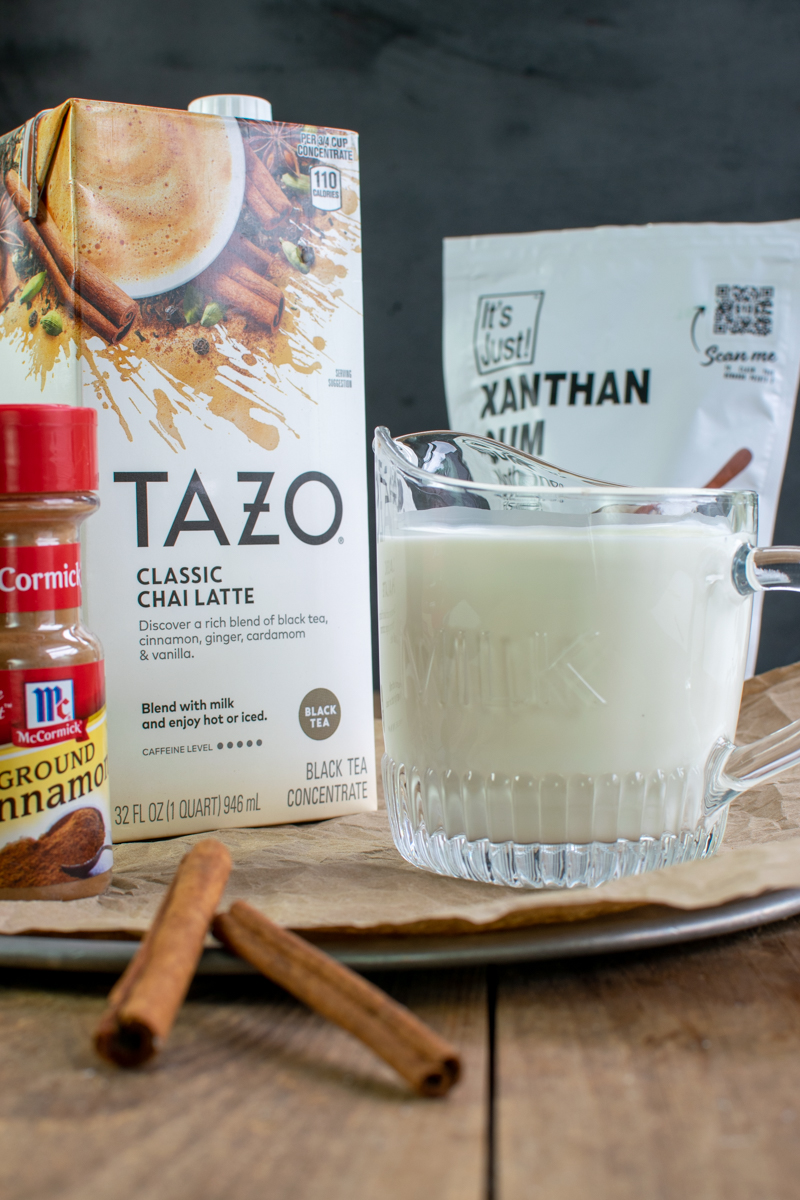 Use Sugar.
Sugar interferes with ice formation, so don't skimp on the sugar.
Not to mention, popsicles tend to lose some of their sweetness during the freezing process, so this may be one time when more sugar is better.
Another tea popsicle recipe I like to make is matcha coconut popsicles. Take a look at that recipe for more information about the importance of sugar and why I use Karo syrup in all my popsicle recipes.
Mix in an emulsifier.
An emulsifier, like xanthan gum, keeps blended foods from separating.
As a matter of fact, I use a pinch of xanthan gum in all my homemade Starbucks frappuccino recipes like a matcha green tea frappuccino, strawberry frappuccino and chai frappuccino.
The reason it's important to keep the chai tea latte popsicle ingredients from separating is so the entire popsicle freezes at the same rate.
In other words, if the ingredients separate, some may form ice crystals.
Photo Credit: www.amazon.com
8 oz. resealable package. Non-GMO, Keto Friendly.
How to Make Homemade Chai Tea Latte Popsicles
Making chai popsicles is really easy. These are the steps I use to make a batch.
Step 1: Blend sweet vanilla cream.
In a cold blender, put in all the ingredients for the vanilla ice cream part of the chai popsicle.
Make sure the ingredients are cold too.
Blend the mixture for at least a full minute so it's fluffy and the xanthan gum has a minute to expand.
Step 2: Pour the cream into the popsicle mold.
Take the cold popsicle mold out of the freezer and sprinkle a little ground cinnamon into each section.
Next, fill each section with a little of the cream mixture. Sprinkle a little more cinnamon on top if desired. Then, put the popsicle mold back in the freezer.
Freeze the cream without popsicle sticks for about 10 minutes.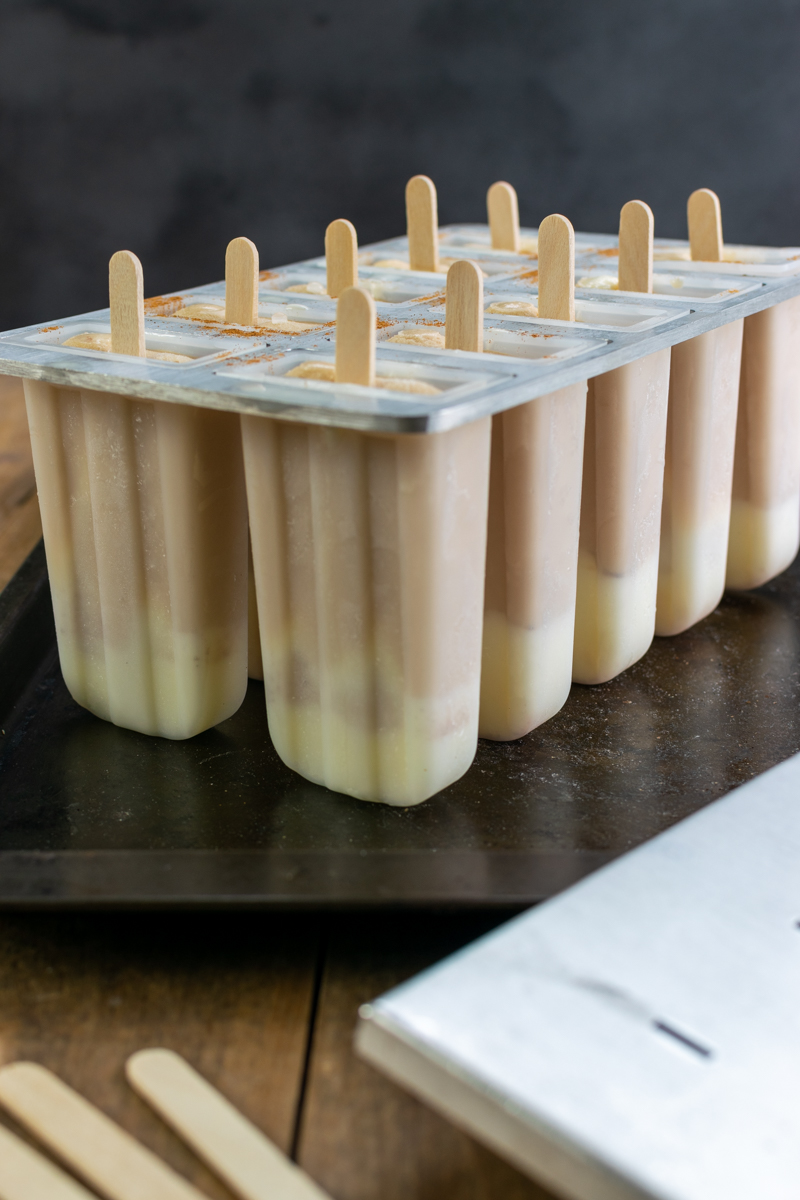 Step 3: Blend the chai mixture.
Using the same blender you made the cream in (no need to clean it), blend all the chai ingredients for 1-2 minutes.
Fill each section of the popsicle mold with the chai mixture once the cream part has been in freezer for at least ten minutes.
When you fill the popsicle mold with chai, leave a little room on top since the popsicles will expand as they freeze.
While you may be tempted to put the popsicle sticks in at this point, don't.
Go ahead and put the chai popsicles in the freezer for about 20 minutes (set a timer!).
Once they're partially frozen, take out the tray and add the lid and sticks. This way the sticks will stay in straight and not float up.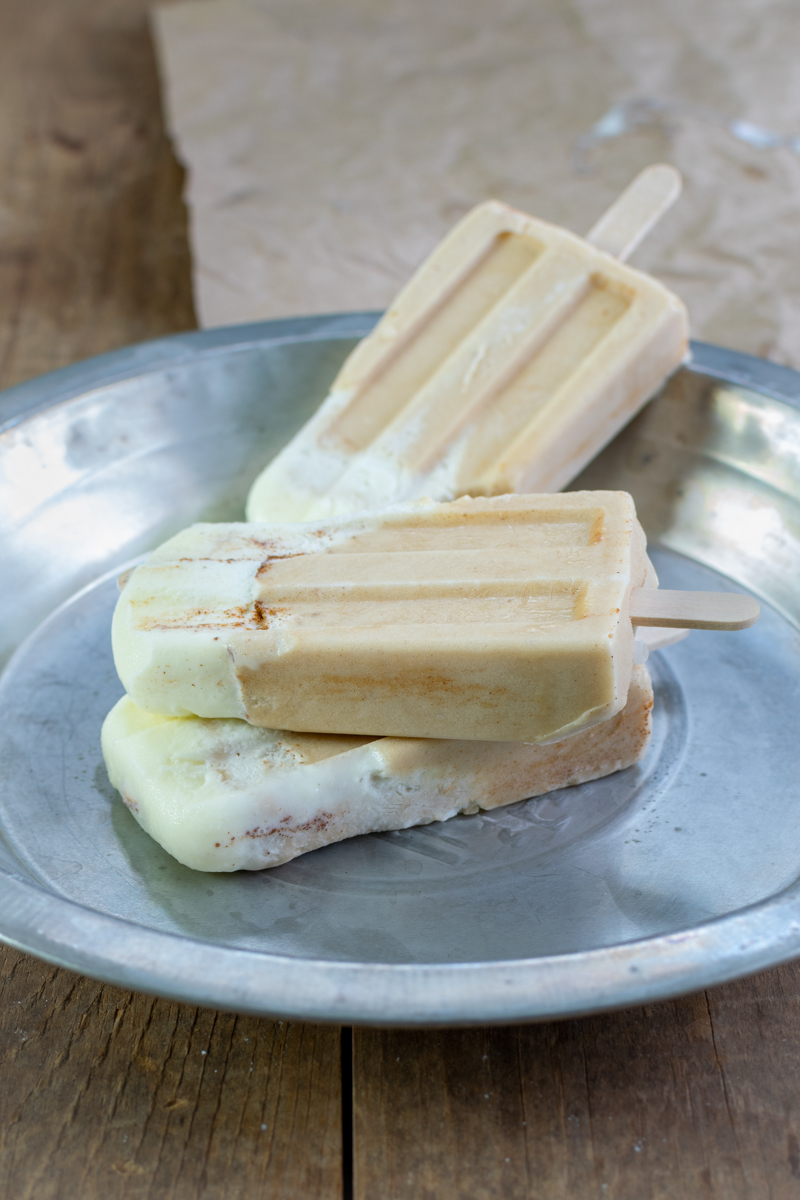 Step 4: Freeze the chai tea popsicles.
Freeze the chai popsicles for at least four hours.
When you're ready to remove them from the mold, you can either let them sit at room temperature for a few minutes and wiggle them out.
Or you can run lukewarm water over the popsicle mold and wiggle them out.
Just be careful, if you use water that is too hot you risk melting the popsicles.
The ice cream portion of the chai popsicle may melt a little quicker than the chai tea part. However, I consider that a bonus since you get a yummy sweet bite of cream with each bite of the chai popsicle. Enjoy!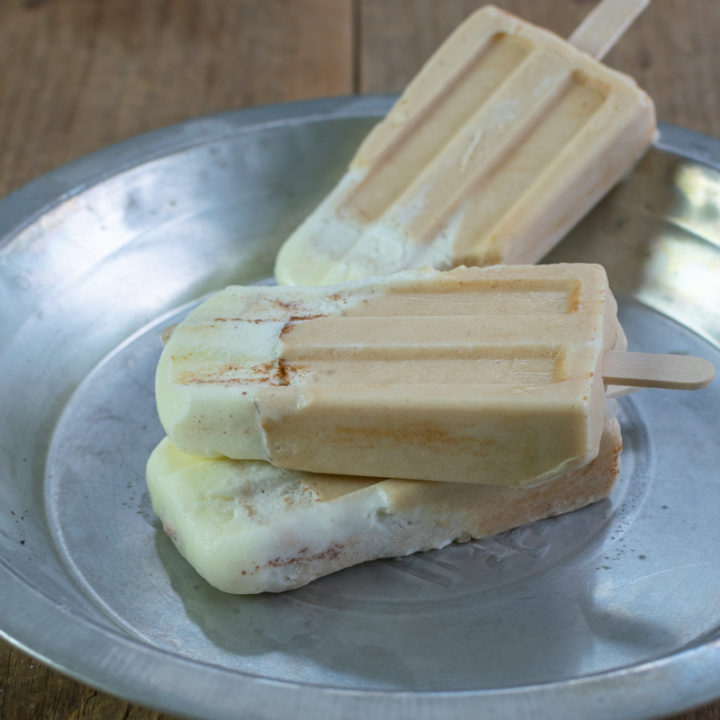 Chai Tea Latte Popsicles
Total Time:
4 hours
15 minutes
This easy homemade popsicle recipe makes ten chai popsicles that have a layer of cream and chai, just like a delicious chai tea latte.
Ingredients
Vanilla Cream
1/2 cup heavy cream
1/2 cup half and half
1/4 cup sugar
1/2 teaspoon vanilla extract
1/8 teaspoon xanthan gum
Chai Latte Popsicle
2/3 cup heavy cream
1 1/3 cups Tazo chai tea concentrate
2 tablespoons karo syrup
1 tablespoon sugar
1/4 teaspoon xanthan gum
Ground Cinnamon (optional)
1/2 teaspoon ground cinnamon
Instructions
Blend all the vanilla cream ingredients together for at least 1 minute.
Sprinkle the tip of each popsicle mold with a little cinnamon, then add 1-2 tablespoons of vanilla cream into each mold. Sprinkle a little more cinnamon on top of the cream layer if desired.
Put the popsicle mold in the freezer for at least 10 minutes so the cream layer can firm up a little. Do NOT add popsicles sticks yet.
A couple minutes before the cream layer has set, blend all the cold chai latte popsicle ingredients for a full 2 minutes.
Remove the popsicle mold from the freezer and pour the chai tea latte mixture on top of the cream layer in each popsicle mold section. Do NOT put in the popsicle sticks yet.
Return the chai popsicles to the freezer for 20 minutes. Be sure and set a timer. After 20 minutes, add the wooden popsicle sticks and then freeze the popsicles for at least 4 hours.
Notes
Be sure and use all cold ingredients and tools so the popsicles freeze quicker and are more creamy. I even like to freeze the empty popsicle mold overnight before using it. Also, it's best to put the popsicle sticks in each chai tea popsicle after they are partially set so the sticks stay in straight and don't float upward. Just make sure you set a timer so you remember to add the sticks!
Recommended Products
As an Amazon Associate and member of other affiliate programs, I earn from qualifying purchases.
Nutrition Information
Yield

10
Serving Size

1 popsicle
Amount Per Serving
Calories

156
Total Fat

10.7g
Saturated Fat

7.5g
Cholesterol

44mg
Sodium

19mg
Carbohydrates

14g
Sugar

12g
Protein

.4g