This Starbucks Strawberry Frappuccino recipe is so easy to make at home. And it tastes just like Starbucks too, with real strawberries and cream and the most delicious homemade strawberry puree sauce.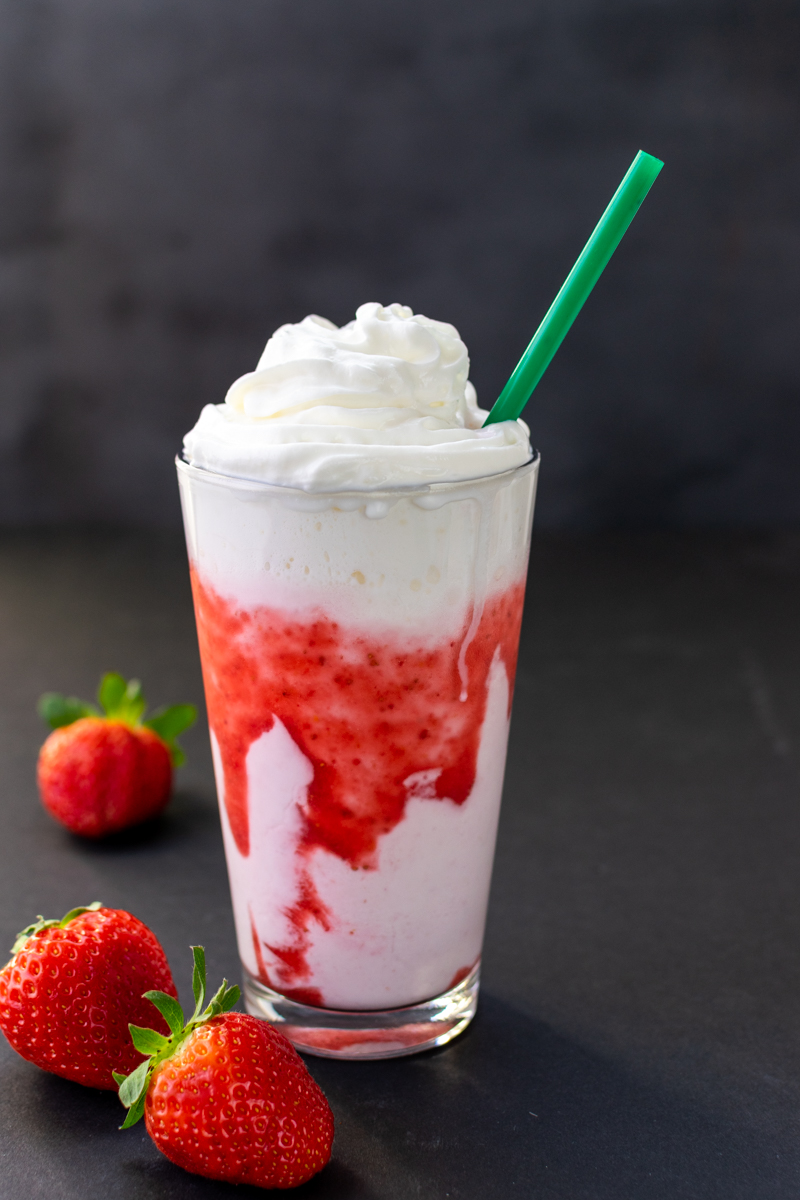 Strawberries and Cream Frappuccino
Have you tried making your own Starbucks Strawberry Frappuccino recipe, but it just didn't measure up to the pretty pink drink your barista whips up?
Well, I took on the challenge to recreate this popular Starbucks strawberry drink. This homemade strawberry frappuccino recipe tastes and feels like you're sipping on the real deal.
With my barista daughter by my side, we tweaked the recipe and did lots of taste-testing until we got it just right.
The result: a yummy homemade strawberry frappuccino with the most delicious strawberry purée sauce and lots of cream.
I'm pretty sure you'll agree that my strawberry frappuccino recipe is very close to the taste and consistency of a real Starbucks Strawberry Frappuccino.
In my opinion, the homemade strawberry purée really sets this recipe apart from others.
With a little bit of zing, a whole lot of sweetness and a special ingredient, this recipe blends into the perfect strawberries and cream drink.
Starbucks Strawberry Frappuccino Ingredients
Making a strawberry frappuccino is easy, but first let me show you the ingredients Starbucks uses to make one.
Ice
Whole Milk
Creme Frappuccino Syrup
Strawberry Purée Sauce
Classic Syrup
Whipped Cream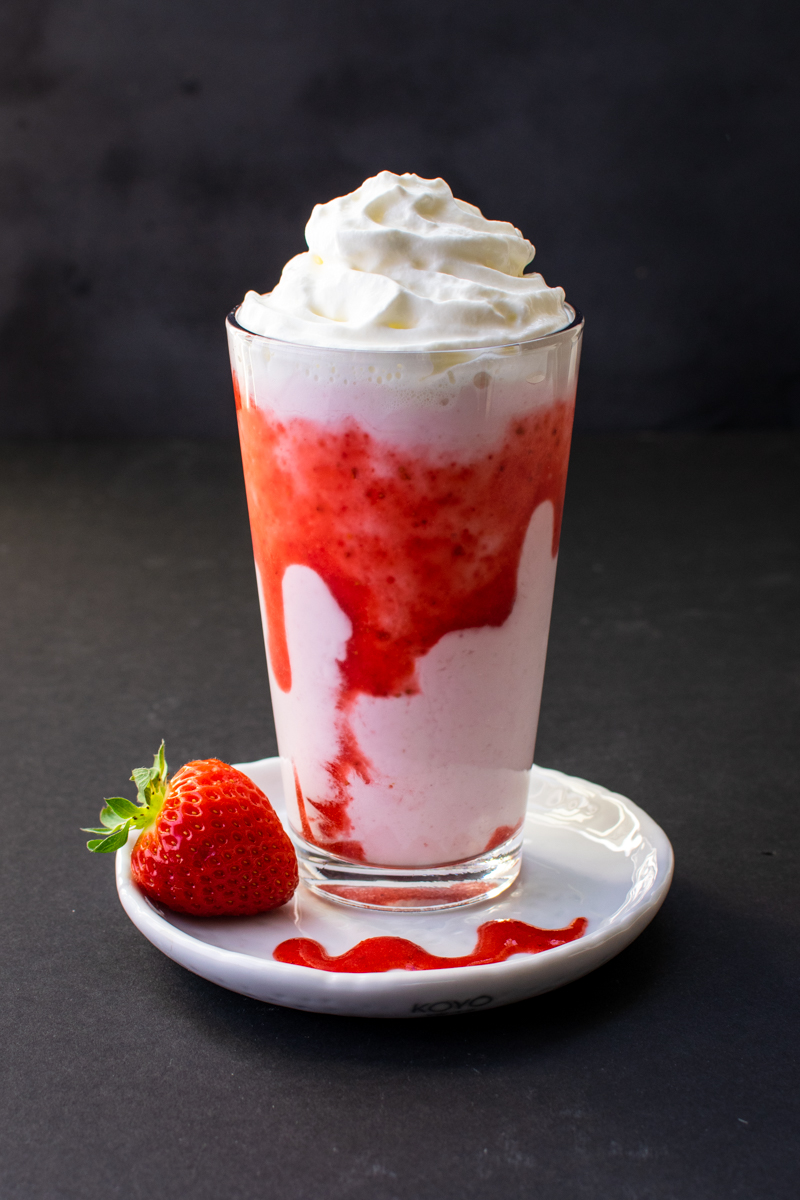 If you love strawberries and cream like me, then this is the drink for you. I like to think of it as summer in a cup.
But the good news is, this blended beverage is available all year long whether you get it at Starbucks or make it at home with frozen strawberries.
Here's how the coffee giant describes this popular drink:
Summer's favorite berry is the star of this delicious Frappuccino® Blended Beverage—a blend of ice, milk and strawberry purée layered on top of a splash of strawberry purée and finished with vanilla whipped cream.

starbucks.com
Making a Strawberry Frappuccino at Home is Easy
Making a strawberry frappuccino in your own kitchen is a pretty simple process. Here's the method I use.
Steps to make this strawberry frappuccino recipe
Step 1 Make strawberry purée sauce
Step 2 Make classic syrup
Step 3 Blend all the ingredients together
Step 4 Pour in cup and add whipped cream
To get the job done, you'll need a couple kitchen tools. Here's what I use.
Tools to make a strawberry frappuccino
An immersion blender to make the purée sauce
A blender to make the frappuccino
The best tool to make the purée is a handheld immersion blender. It gets the job done super quick.
Personally, I use a Cuisinart stick blender and love it. What's nice is that it comes with a tall measuring cup that has a spout for easy pouring.
How to Make Real Strawberry Purée Sauce
The key to making a delicious strawberry frappuccino copycat recipe is homemade strawberry purée sauce.
Making the purée is a snap and what I love is that it's perfect on top of other desserts like ice cream.
Strawberry purée is so easy to make. In it's simplest form it's just strawberries and sugar.
But we're going to add a few other ingredients to give it some lovely citric notes.
In fact, the Starbucks Strawberry Purée Sauce ingredients include white grape juice concentrate and citric acid. Additionally, their sauce has xanthan gum to keep it emulsified.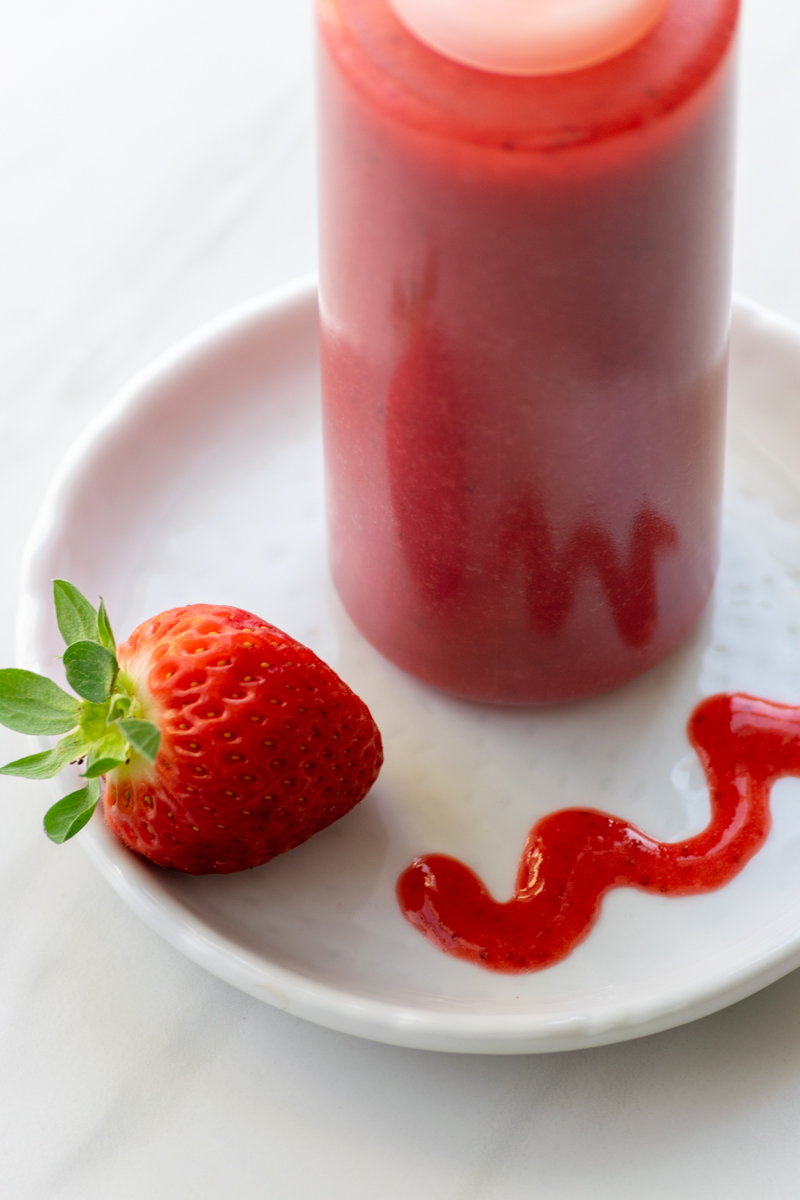 The key is to use strawberries that taste like, well…strawberries. Have you ever bit into a beautiful red, perfectly-shaped strawberry and it tastes like nothing?
That's why it's important to only use fresh strawberries when they're in season. Give them a sniff and if they smell like strawberries then the taste will be good too.
Otherwise, use frozen strawberries. Frozen strawberries are usually picked at peak freshness and flash frozen to lock in flavor.
If you use frozens strawberries, just put them in a bowl to thaw in the refrigerator overnight or thaw them in the microwave.
Ingredients for homemade strawberry purée sauce:
Frozen strawberries
Sugar
Lemon zest
Lemon juice
White grape juice
Xanthan gum
Salt
To make the purée, simply put all the ingredients in a tall measuring bowl and purée the mixture with a handheld stick blender.
Next, I like to put the purée into a squeezable bottle. It's easy to squirt into measuring spoons and around the rim of your drinking glass.
This way the strawberry goodness is tasted throughout the entire frappuccino.
Note: Xanthan gum is an ingredient used in both the purée and frappuccino recipes. Make sure to get some since it's what makes this drink emulsified and creamy.
As a matter of fact, this blended frappuccino will stay emulsified in the refrigerator for about twelve hours without separating.
Photo Credit: www.amazon.com
8 oz. resealable package. Non-GMO, Keto Friendly.
How to Make Classic Syrup
Classic syrup is another ingredient needed for this frappuccino recipe. Basically, it's just a mixture of sugar and water.
Here you can see my homemade Starbucks Classic Syrup recipe.
Trust me, it's super simple to make and nice to have on hand to sweeten drinks like coffee and tea, as well.
In fact, simple syrup is the ideal drink sweetener.
Here are a few more of my favorite simple syrup recipes: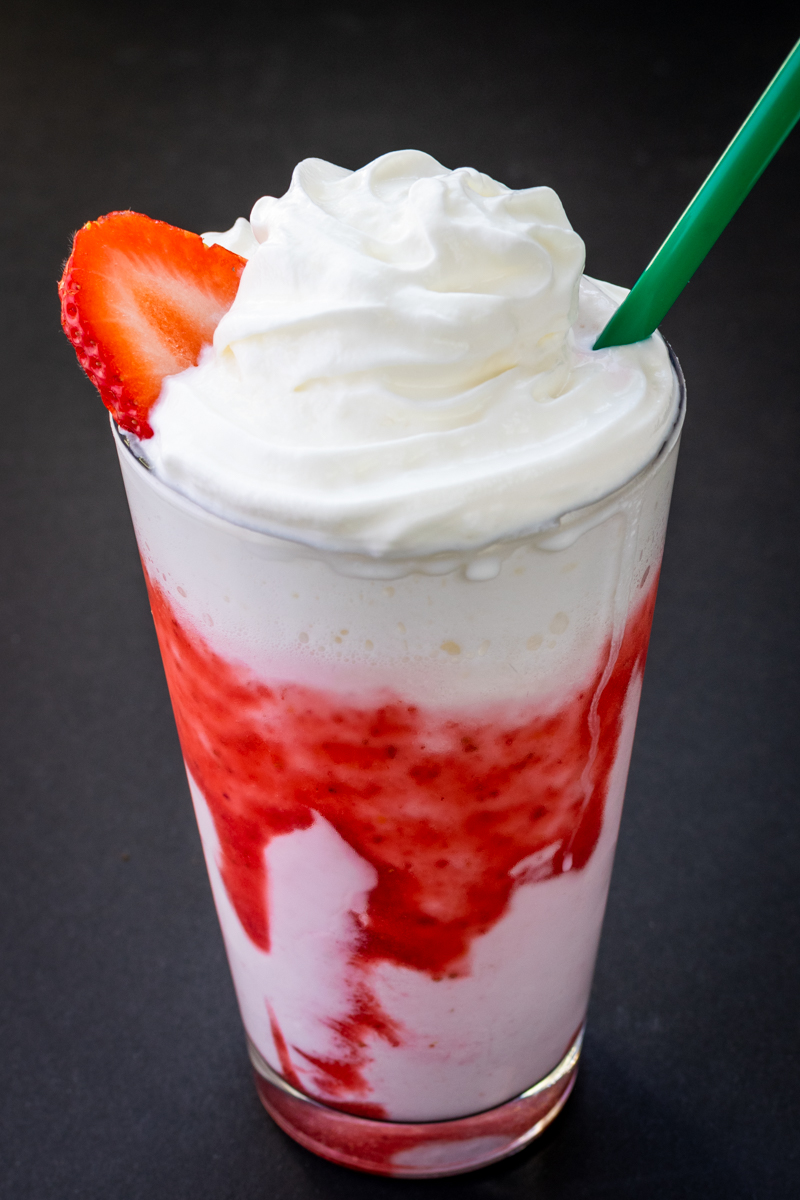 How to Make a Strawberry Frappuccino
After you've made a batch of strawberry purée and some classic syrup, you're ready to whip up a delicious homemade strawberry frappuccino.
Instructions:
Just put the frappuccino ingredients (except the whipped cream) into a blender and blend it up.
Make sure to blend it on high and do so for a solid minute. I like to use the pulse button on mine to make sure the ice is completely chopped up.
While the frappuccino is blending, squirt a ring of strawberry purée inside the cup near the top and let it drip down the sides.
Next, pour the blended frappuccino into the cup and top with whipped cream.
Garnish it with a strawberry if you want to make it extra special for a friend or guest. And last, but absolutely not least, enjoy!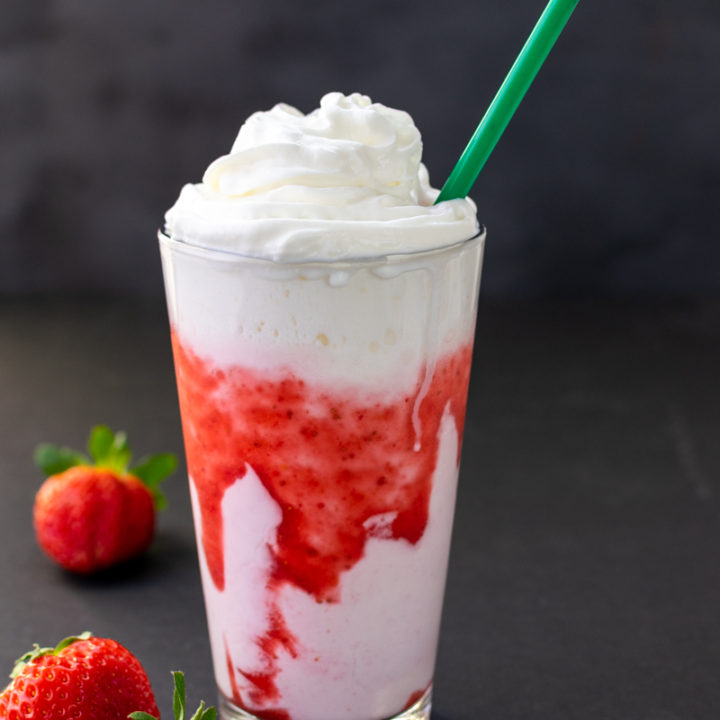 Starbucks Strawberry Frappuccino with Purée Sauce
Additional Time:
3 minutes
This Starbucks Strawberry Frappuccino recipe is the perfect blend of strawberries and cream. Made with homemade strawberry puree sauce like Starbucks, you'll love that this strawberry frappuccino blended beverage is quick and easy to make at home.
Ingredients
Strawberry Frappuccino
3-4 strawberries (fresh or frozen)
1/4 cup strawberry puree
1/2 cup whole milk
1/4 cup half and half
3/4 cup ice cubes
2 tablespoons simple syrup
1/4 teaspoon xanthan gum
Whipped cream
Strawberry Purée Sauce
12 ounces frozen strawberries (thawed)
1/4 cup granulated sugar
1 tablespoon white grape juice
2 teaspoons lemon zest
1 teaspoon lemon juice
1/8 teaspoon xanthan gum
pinch of salt
Simple Syrup
1/4 cup granulated sugar
1/4 cup water
Instructions
First, make the simple syrup by combining equal portions of sugar and water in a pan on the stove. Stir over medium heat until all the sugar is dissolved. Do not boil. Remove from heat and let cool.
Next, make the strawberry purée sauce. Frozen strawberries should be thawed overnight in the refrigerator or thawed in the microwave. Then, put all the purée ingredients in a tall container and use an immersion blender to make the purée. Put the purée in a squeezable bottle.
To make the frappuccino: Add all the Strawberry Frappuccino ingredients to a blender. Blend it on high speed or pulse it for about one minute. The goal is for all of the iced to be broken up and blended in.
Meanwhile, line a drinking glass with about 1 tablespoon of strawberry purée by squeezing it in a circle around the glass and letting it drip down.
Pour the frappuccino in the glass and top with whipped cream.
Notes
The strawberry puree sauce makes enough for 6 frappuccinos. Leftovers can also be used to make additional strawberry frappuccinos or as an ice cream or dessert topping.
Nutrition Information
Yield

1
Serving Size

16 ounce
Amount Per Serving
Calories

283
Total Fat

12g
Cholesterol

57mg
Sodium

102mg
Carbohydrates

36g
Fiber

1g
Sugar

35g
Protein

6g
Starbucks Strawberry Frappuccino FAQs
What is a Frappuccino?
A Frappuccino is an icy blended beverage that comes in lots of different flavors. There are coffee-based frappuccinos and creme-based frappuccinos. Their consistency is thinner than a milkshake, but creamier and thicker than flavored milk.
Does a Strawberry Frappuccino have coffee in it?
No, there is no coffee in a strawberry frappuccino since it is a creme-based drink. Likewise, it has no caffeine.
How do you order a Strawberry Frappuccino from Starbucks?
Frappuccinos are available in the following sizes: Tall (12 ounces), Grande (16 ounces) and Venti (24 ounces). The drink is made using whole milk and classic syrup. However, feel free to customize your drink by changing the type of milk or flavor of syrup. If you would like a skinnier version (meaning less sugar, not no sugar) you can request for no added syrup and no whipped cream.