This Starbucks caramel syrup recipe for coffee and tea tastes like the real deal. See how to make caramel simple syrup so it has a delicious buttery, caramel flavor like Starbucks.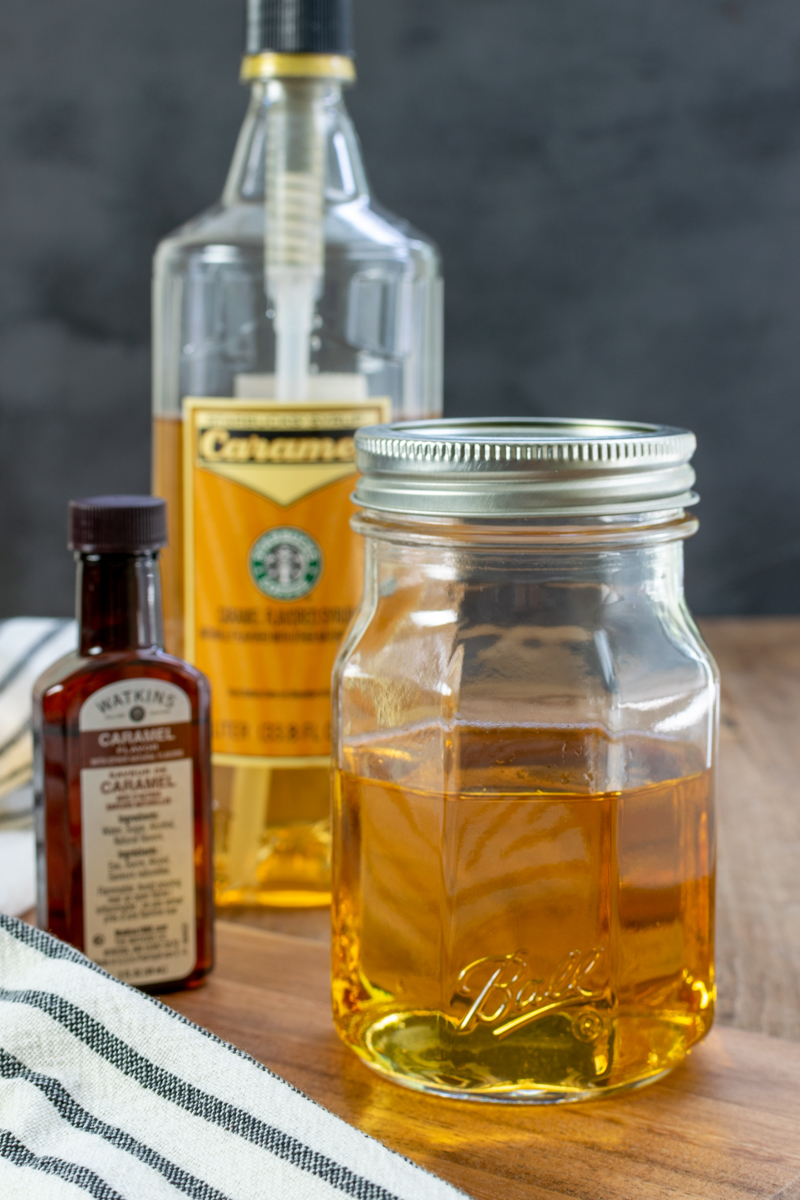 Starbucks Caramel Syrup for Coffee and Tea
If you love the flavor of Starbucks caramel syrup in your favorite coffee and tea drinks then this caramel simple recipe is for you.
Starbucks caramel syrup, pumped into coffee drinks like a Caramel Frappuccino or my recipe for an Iced Caramel English Breakfast Tea Latte, doesn't quite taste like most homemade caramel coffee syrup recipes.
In fact, Starbucks caramel syrup tastes a lot like butterscotch candy.
How do I know this? Well, I tasted a few spoonfuls of Starbucks caramel syrup straight from the bottle and honestly, the flavor is unmistakable.
Because of this, my caramel simple syrup recipe calls for one additional ingredient to take the caramel flavor up a notch so it tastes pretty close to the real Starbucks caramel syrup.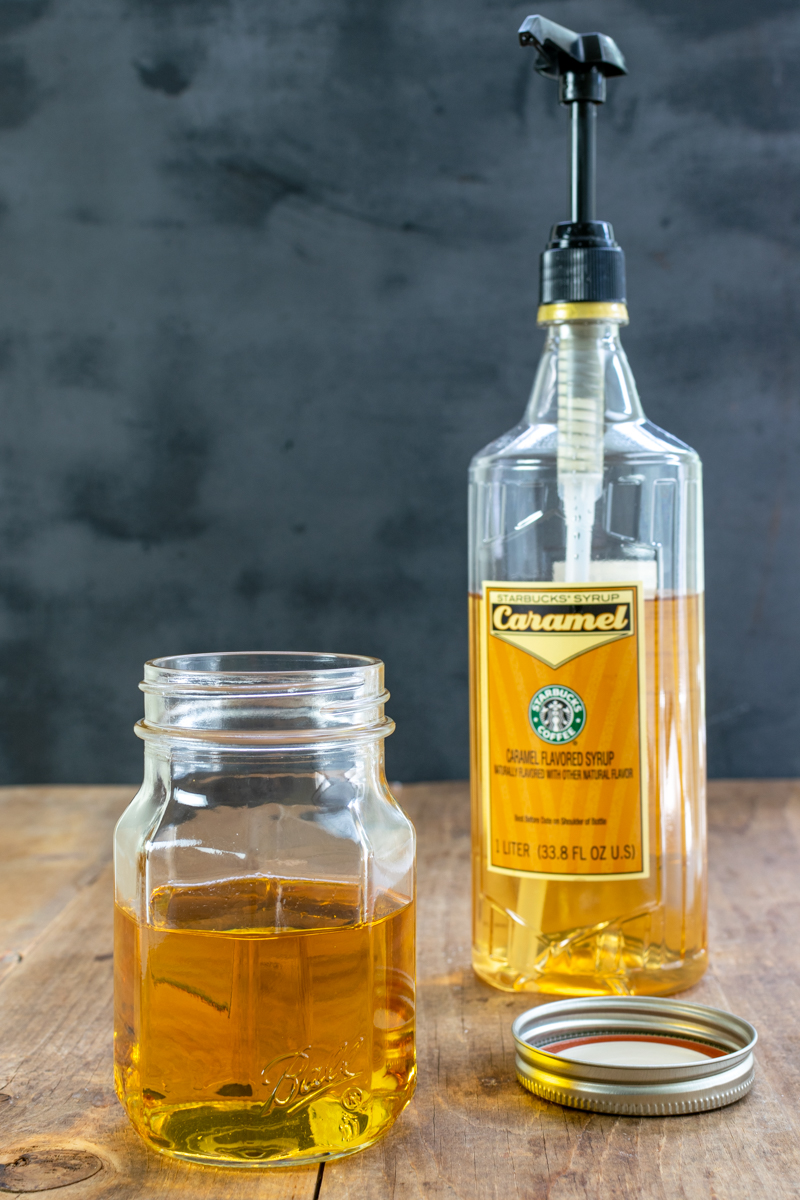 By the way, if you want to make your favorite caramel-flavored Starbucks drinks at home, but don't want to make this copycat syrup recipe, you can actually buy a bottle of the exact syrup your barista uses.
Where to buy a bottle of Starbucks syrup
Did you know you can ask a Starbucks barista if they have an extra bottle of syrup they can sell you? Of course, they need to keep enough on-hand to make drinks, but if they have an extra, they may sell you a bottle.
Additionally, you can buy full-size bottles of Starbucks syrups online at Amazon. Syrup bottle pumps are sold separately, so be sure and get one of those too.
Photo Credit: amazon.com
1 litre bottle of Starbucks caramel flavored syrup for coffee and other drinks.
Photo Credit: amazon.com
Syrup pump fits Starbucks 1 liter syrup bottles. Available in white or black.
See How Easy it is to Make Simple Syrup
Simple syrups are really easy to make. Afterall, it's really just dissolved sugar in water with flavor added.
For example, here you can see just how simple it is to make a homemade version of Starbucks Classic syrup. Classic syrup is the perfect way to sweeten cold drinks like iced tea and iced coffee.
I also like to whip up a quick batch of homemade Starbucks Vanilla syrup from time-to-time. This is my go-to syrup for making a London Fog Earl Grey tea latte and a vanilla matcha latte.
Sometimes I even like to add flavor to simple syrups with fruit (yum).
For instance, this strawberry simple syrup recipe is a delicious way to sweeten and flavor iced passion tea drinks.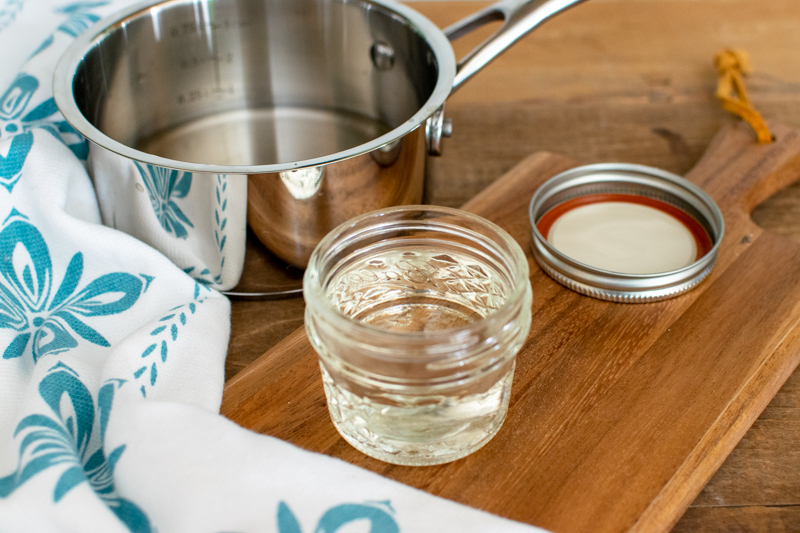 How to Make Caramel Simple Syrup
Unlike classic and vanilla syrups which only take a few minutes to make, caramel simple syrup takes a bit longer.
This is because it takes time for the sugar to caramelize on the stove.
As a matter of fact, you need to be both patient and attentive when making homemade caramel coffee syrup.
But don't let that scare you off. It's easy to make with a watchful eye.
These are the steps I take to make my Starbucks caramel syrup recipe at home.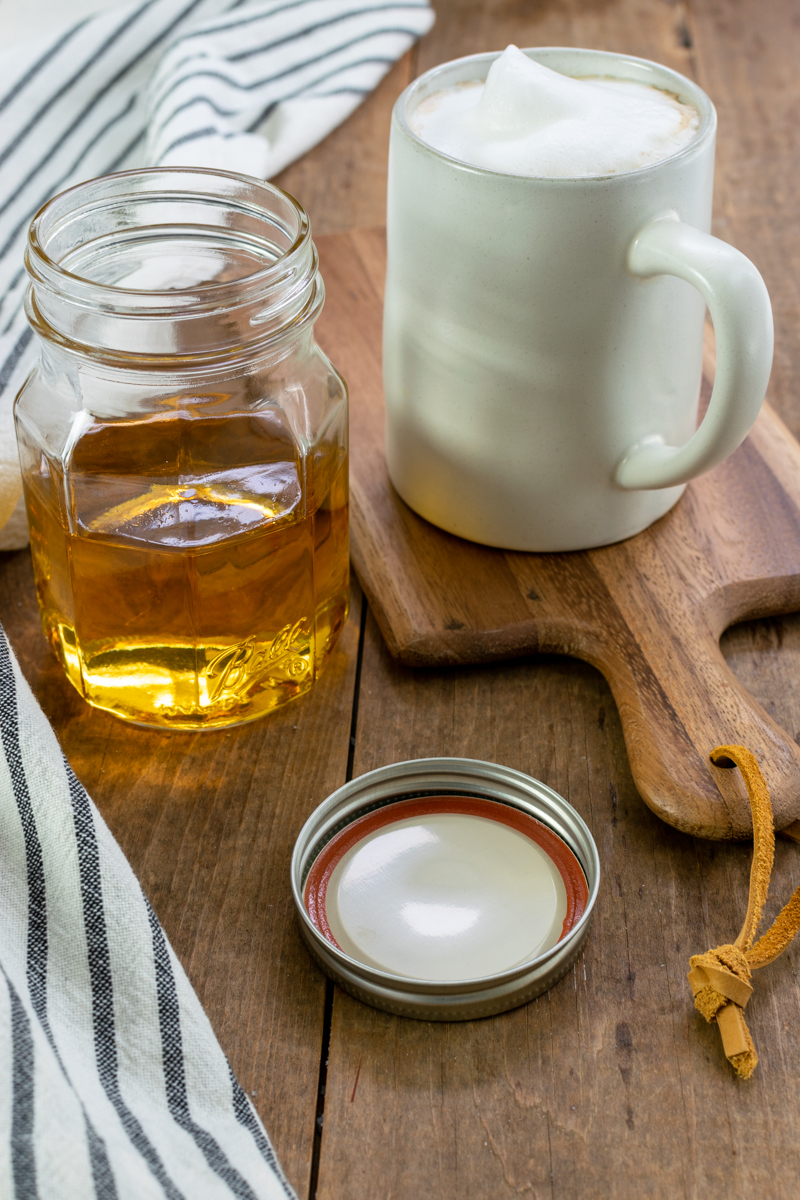 Step 1: Dissolve sugar in water.
The first step to make caramel simple syrup for coffee and other drinks is to dissolve sugar in half the amount of total water.
All you have to do is put the sugar and water in a pan over medium-high heat.
And this is important!
Do not stir!
Just let the sugar slowly dissolve on its own. Stirring may cause the sugar to crystalize and we don't want that.
Once the sugar/water mixture begins to boil, reduce the heat to medium.
Step 2: Wait for sugar to caramelize.
Allow the sugar and water to continue to bubble over medium heat until the color begins to turn to light golden brown.
As the syrup gets close to the point of turning golden-brown, you may even notice more frothy bubbles.
This is where having a watchful eye is critical.
As soon as the syrup turns light golden, remove it from the heat. This will happen around ten minutes, more or less.
The goal is to achieve a sweet caramel flavor.
If the syrup is left on the stove too long it goes from light golden brown to dark brown real quickly. And with it comes a somewhat burnt flavor. Ick!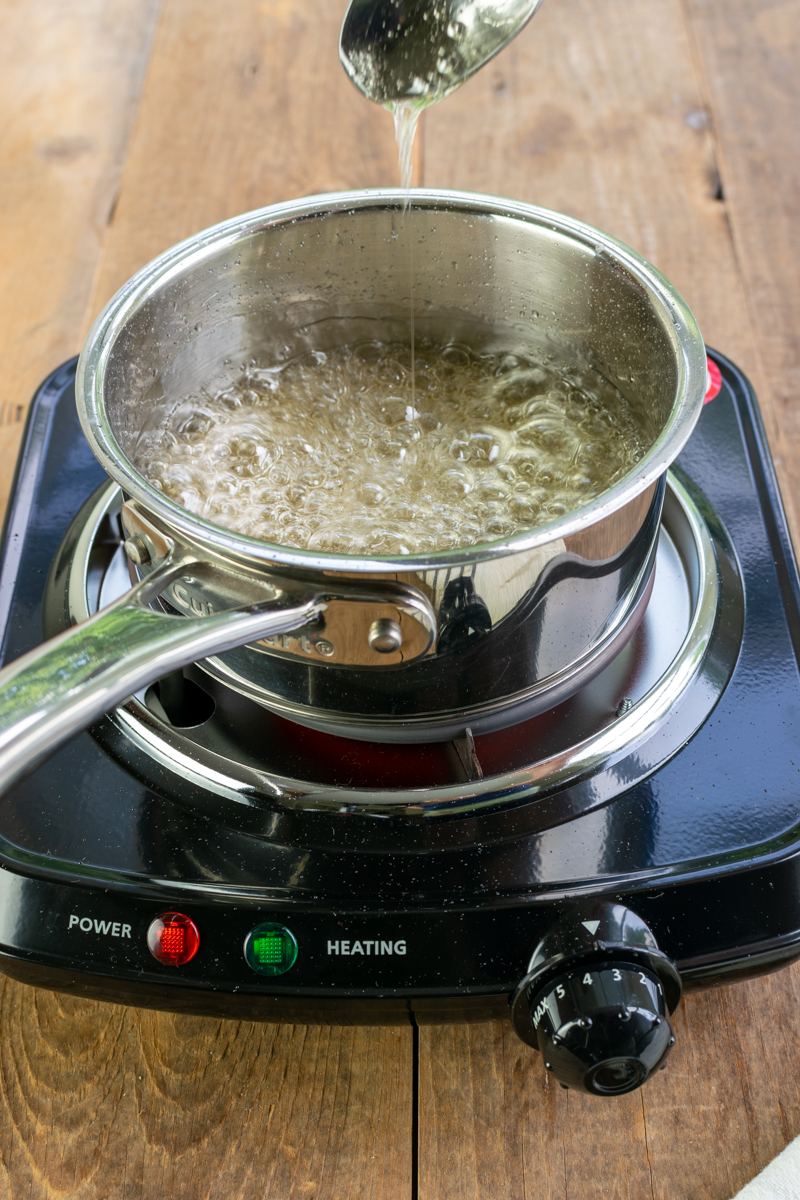 Step 3: Add caramel flavoring and additional water.
As soon as the simple syrup is removed from the heat, quickly stir in the remaining water and a little Watkins caramel flavor.
While it's not necessary to add the caramel flavor, I find that it's this little bit of extra flavor that makes this recipe taste really close to an actual bottle of Starbucks caramel coffee syrup.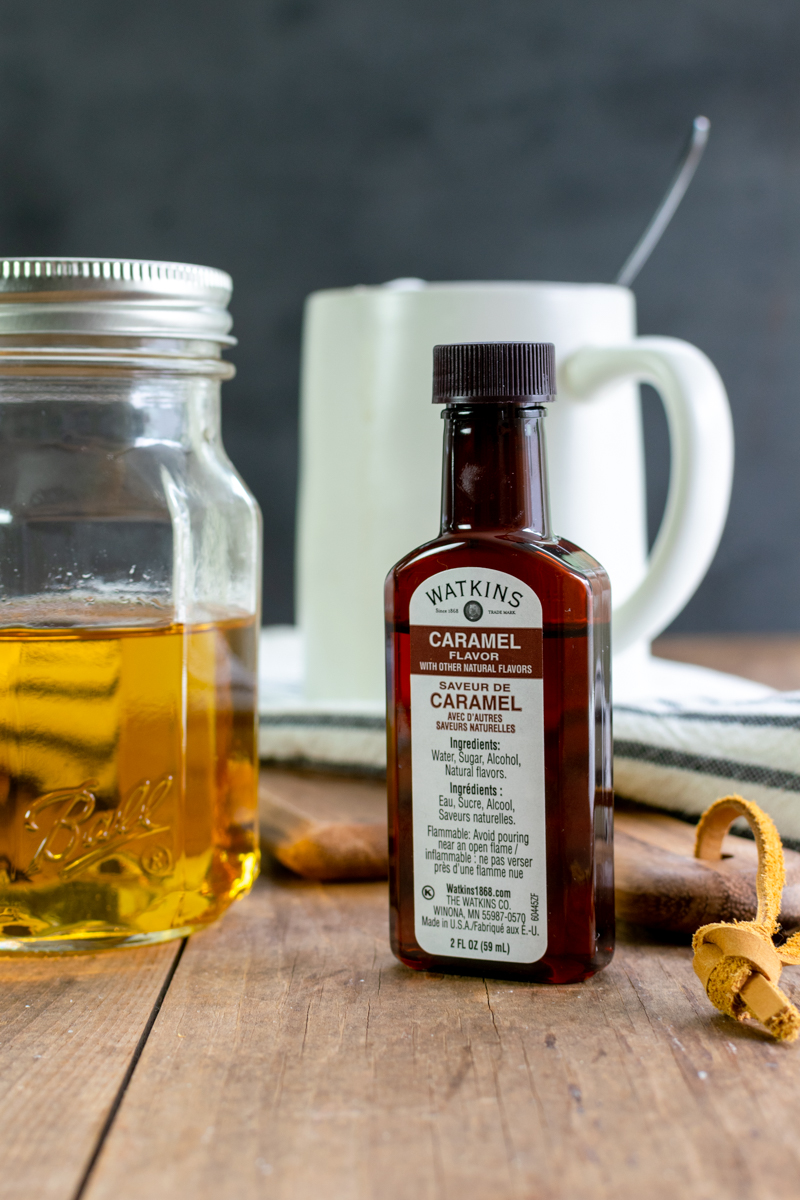 Photo Credit: amazon.com
Pack of 2, 2 ounce bottles of caramel flavor
Be very careful when you pour in the water since the hot caramel syrup will splatter.
I usually put on a big oven mitt to avoid getting burned.
Additionally, hot water reduces the splatter. Therefore, while I'm waiting for the syrup to carmelize (step 2), I warm up the remaining water so it's ready to stir in.
If any of the syrup hardens up like candy when the water is added just put the pan back on the stove over low heat until the lumps dissolve.
Finally, let your homemade Starbucks caramel syrup cool down and pour it into a container to store.
And, of course, enjoy your homemade caramel coffee syrup.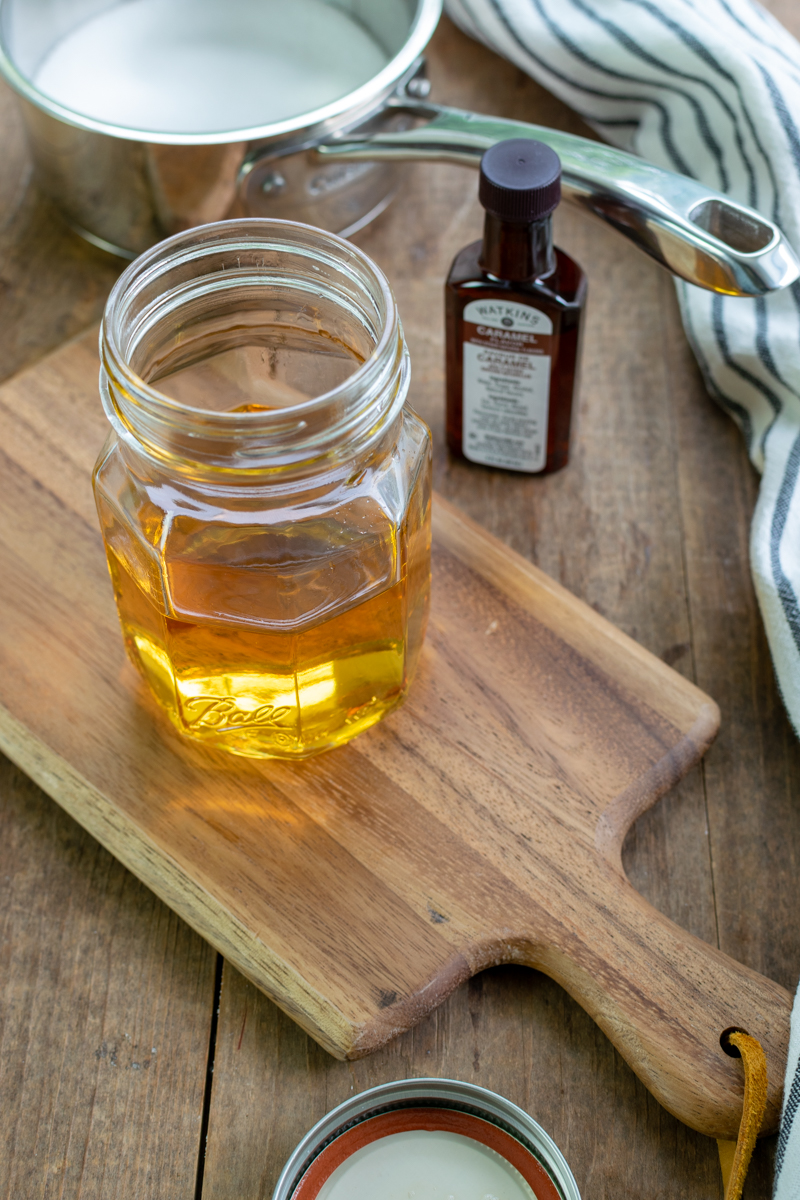 Starbucks Caramel Syrup Copycat Recipe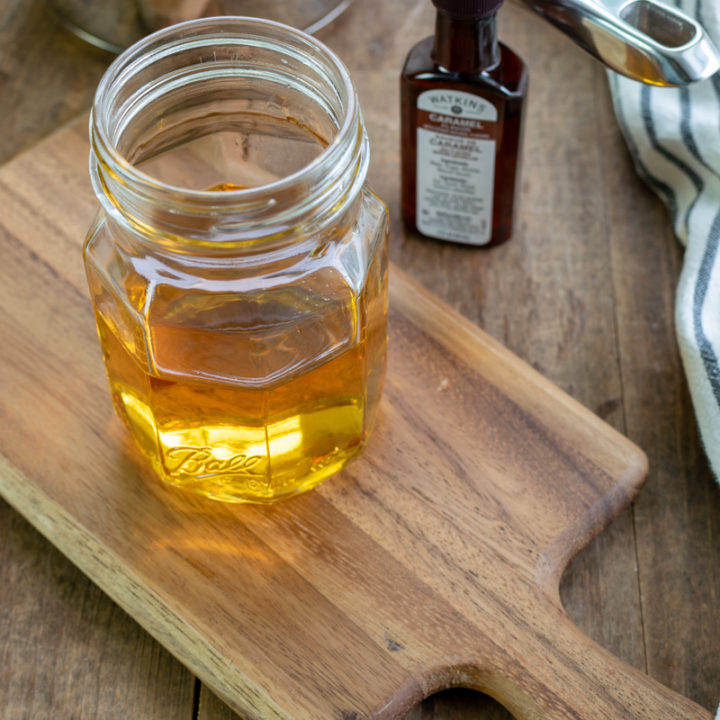 Starbucks Caramel Syrup Copycat Recipe
See how to make Starbucks Caramel Syrup with this three-ingredient recipe. This simple syrup Starbucks copycat recipe is perfect for sweetening your favorite coffee and tea drinks made at home.
Ingredients
3/4 cup sugar
1 1/2 cups water (divided)
1 teaspoon caramel flavored extract
Instructions
Combine sugar and 3/4 cup of water in a saucepan over medium heat.
Reduce heat to medium once the mixture comes to a boil. Do not stir.
Let the syrup continue to boil until it turns a light golden color. This will take approximately 10 minutes. Be careful to keep an eye on the syrup the entire time since it can burn quickly after turning light golden.
While waiting for syrup to carmelize to the light golden color, heat up remaining 3/4 cup of water and set aside.
Immediately remove the syrup from heat as soon as it turns light golden color.
Quickly stir in remaining 3/4 cup of water and caramel flavor. Be careful as hot syrup may splatter when water is added. If any of the syrup hardens, return the saucepan to the stove over low heat, stirring until harden syrup turns back to liquid.
Let the caramel syrup cool and then pour into a container such as a glass jar or squirt bottle.
Recommended Products
As an Amazon Associate and member of other affiliate programs, I earn from qualifying purchases.