Wondering how to make Starbucks vanilla syrup for tea and coffee? If you're like me and love to add vanilla syrup to your favorite drink, then this DIY Starbucks vanilla syrup recipe is for you.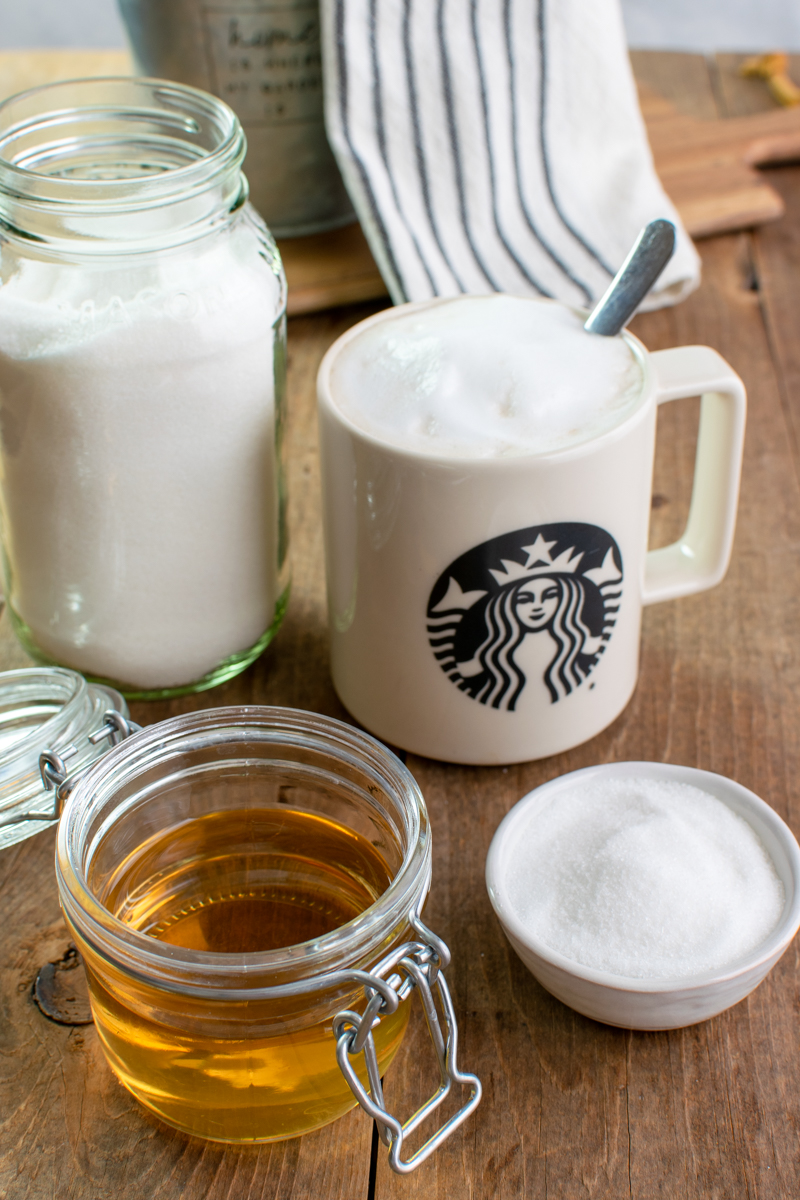 Starbucks Vanilla Syrup
If you're like me and love to use Starbucks vanilla syrup in coffee or tea, then this easy, homemade vanilla syrup recipe is for you.
Once you see how to make vanilla syrup, you'll wonder why you haven't whipped up a quick batch sooner.
Trust me, this easy vanilla syrup recipe only uses 3-4 ingredients that you probably already have in your pantry.
And the best thing is, making vanilla syrup is such a quick process that it's ready to add to your favorite tea or coffee in less than 5 minutes.
Plus, this recipe makes plenty to store in the fridge and use again and again.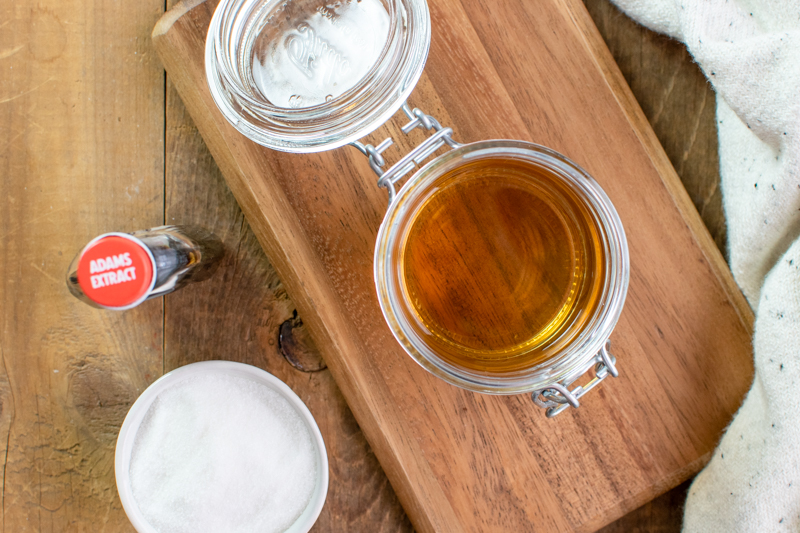 In a nutshell, here's how to make homemade vanilla syrup:
Dissolve sugar and water
Add vanilla
Cool and bottle the syrup
Of course, I'll show you the recipe details at the end of this post.
But first, if you're not sure why making drinks with vanilla syrup or other flavors is preferable to sugar, let me explain.
Why Simple Syrup is the Best Way to Sweeten & Flavor Drinks
Bottled syrup used in coffee and tea, like the ones you see lined up on every Starbucks counter, is basically dissolved sugar and flavoring.
While Starbucks Classic Syrup is only a sweetener, syrups like vanilla, hazelnut or caramel add flavor, as well.
The Starbucks line of naturally flavored syrups certainly transform an ordinary cup of coffee or tea.
And since the syrups are liquid, unlike cane sugar and sugar substitutes, the sweetness and flavor blend throughout the entire drink. In other words, no more sugary last gulp.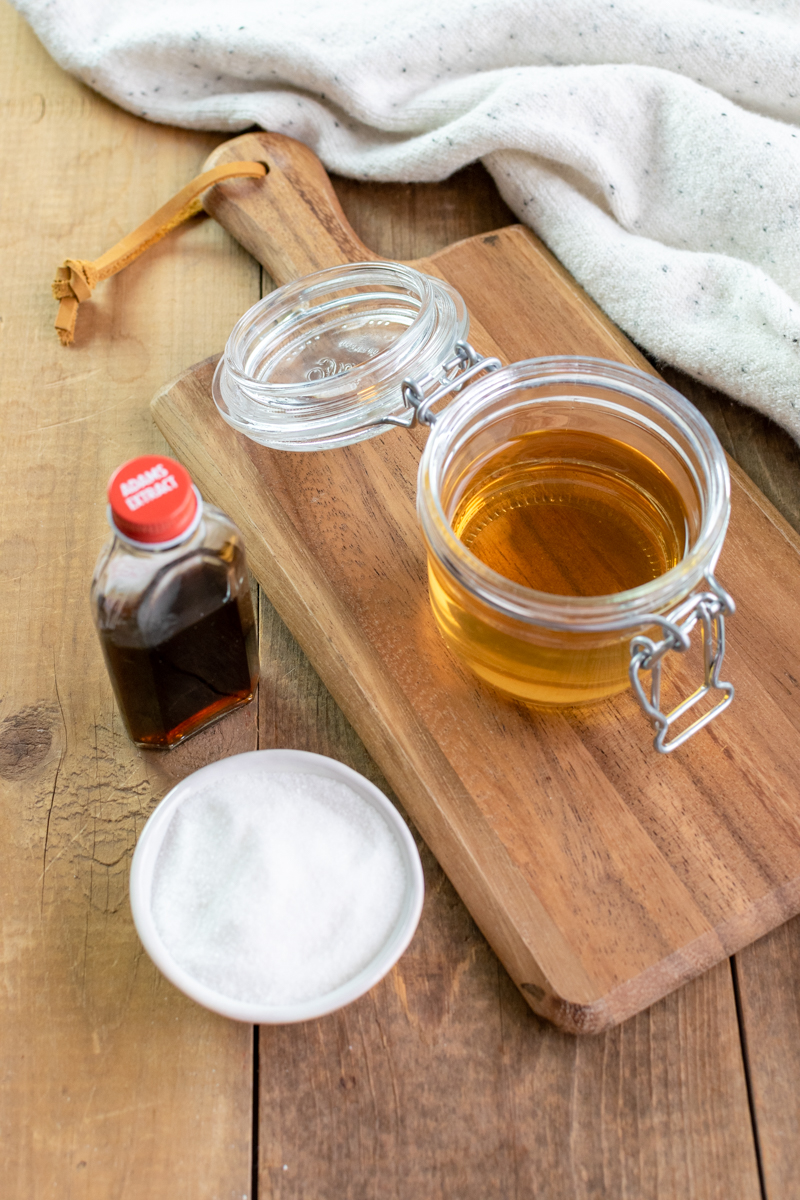 Of course, if you're just not into making homemade syrup, some brands are available in the grocery store. Just be careful not to get ones made with artificial flavors (yuck!)
Did you know you can even buy the Starbucks brand of syrups and duplicate your favorite Starbucks drink at home?
Here's an insider tip from my Starbucks barista daughter: some Starbucks store managers may let you order a bottle of syrup or if they have enough in stock, may even sell you one on the spot.
RELATED RECIPE: How to Make Chai Simple Syrup
Starbucks Drink Recipes that Use Vanilla Syrup
Starbucks tea and espresso recipe cards indicate the amount of syrup to add by number of pumps. In general, the chart below shows the number of pumps for each size of cup.
Of course, there are exceptions to every rule. For example, caramel macchiatos get one less pump than other drinks since they have a sweet caramel drizzle on top.
Number of pumps of syrup in HOT Starbucks drinks:
| | | | |
| --- | --- | --- | --- |
| Short (8 oz.) | Tall (12 oz.) | Grande (16 oz.) | Venti (20 oz.) |
| 2 pumps | 3 pumps | 4 pumps | 5 pumps |
1 pump of syrup for a drink made at Starbucks is roughly equal to 1/2 tablespoon
Number of pumps of syrup in ICED Starbucks drinks:
| | | | |
| --- | --- | --- | --- |
| Tall (12 oz.) | Grande (16 oz.) | Venti (26 oz.) | Trenta (30 oz.) |
| 3 pumps | 4 pumps | 6 pumps | 7 pumps |
1 pump of syrup for a drink made at Starbucks is roughly equal to 1/2 tablespoon
Starbucks Drinks Made with Vanilla Syrup:
If you want to try and copy a Starbucks drinks at home with homemade vanilla syrup, here's a list of vanilla flavored Starbucks drinks.
London Fog Tea Latte (milk, brewed earl grey tea, vanilla syrup)
Caramel Macchiato (milk, espresso, vanilla syrup, caramel sauce)
Caramel Cloud Macchiato (milk, brewed espresso, vanilla syrup, caramel sauce, cloud powder)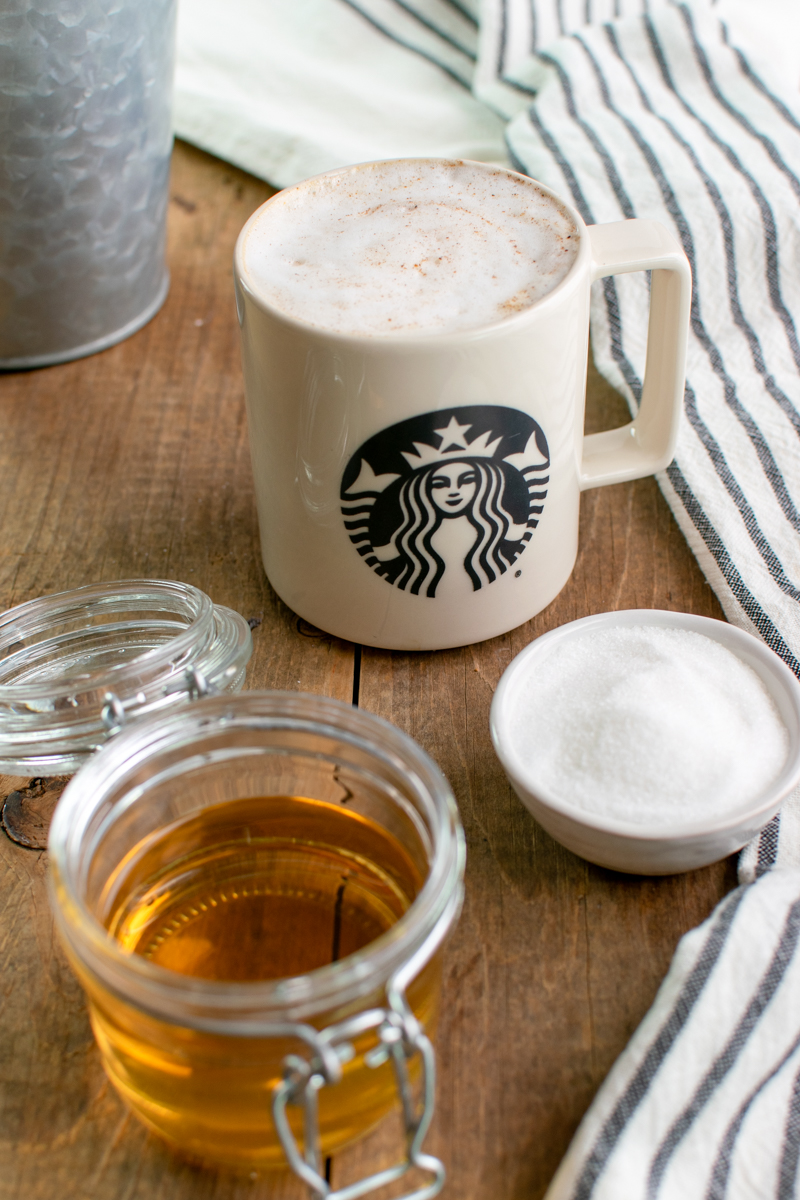 How to Make Starbucks Vanilla Syrup at Home
Now that you know some of the Starbucks hot tea and other drinks made with vanilla syrup, you can get creative and come up with your own DIY drinks.
These are the steps I follow to make vanilla syrup:
Step 1: Dissolve Sugar in Water
In a saucepan, combine equal amounts of granulated sugar and water over gentle heat. Stir often to dissolve sugar, making certain it does not boil.
If you are measuring the ingredients, you will use 1 cup of each. If you are weighing them, use 8 ounces of each.
On a side note, did you know it's more accurate to actually weigh ingredients with a kitchen scale?
When you measure there are air pockets between pieces of food. In the case of granulated sugar, there's not much air in between the crystals so a measuring cup is okay to use.
If you're curious, however, I did an experiment where I measured 1 cup of sugar and then weighed it. The result: 1 cup of granulated sugar was 7.75 ounces, not quite a complete 8 ounces.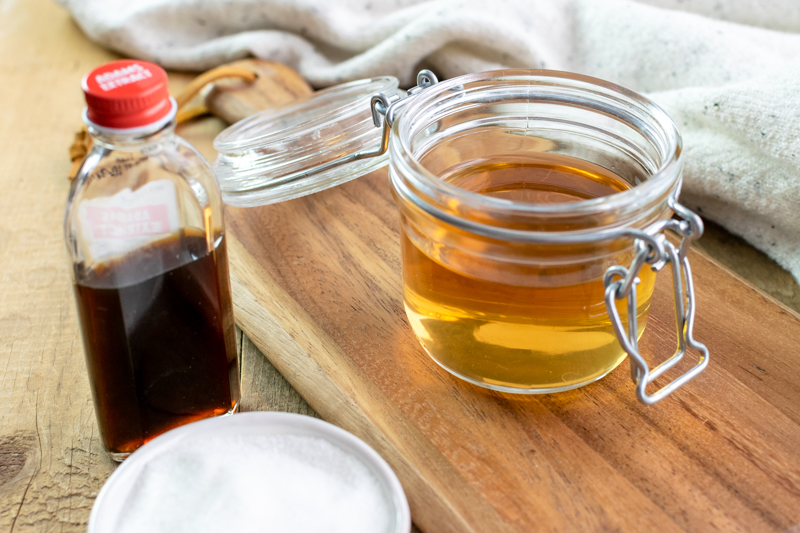 Step 2: Add Vanilla
Vanilla Extract Method: Stir 3 teaspoons of vanilla extract into the dissolved sugar.
Vanilla Bean Method: Slice the vanilla bean the long way and scrape beans into the saucepan. Drop in the whole bean, too. Let it steep in the sugar for 5-10 minutes. You can add a little extract if you want, as well.
You can strain the beans out if desired using a piece of cheesecloth, but since they're so small, I just leave them in there.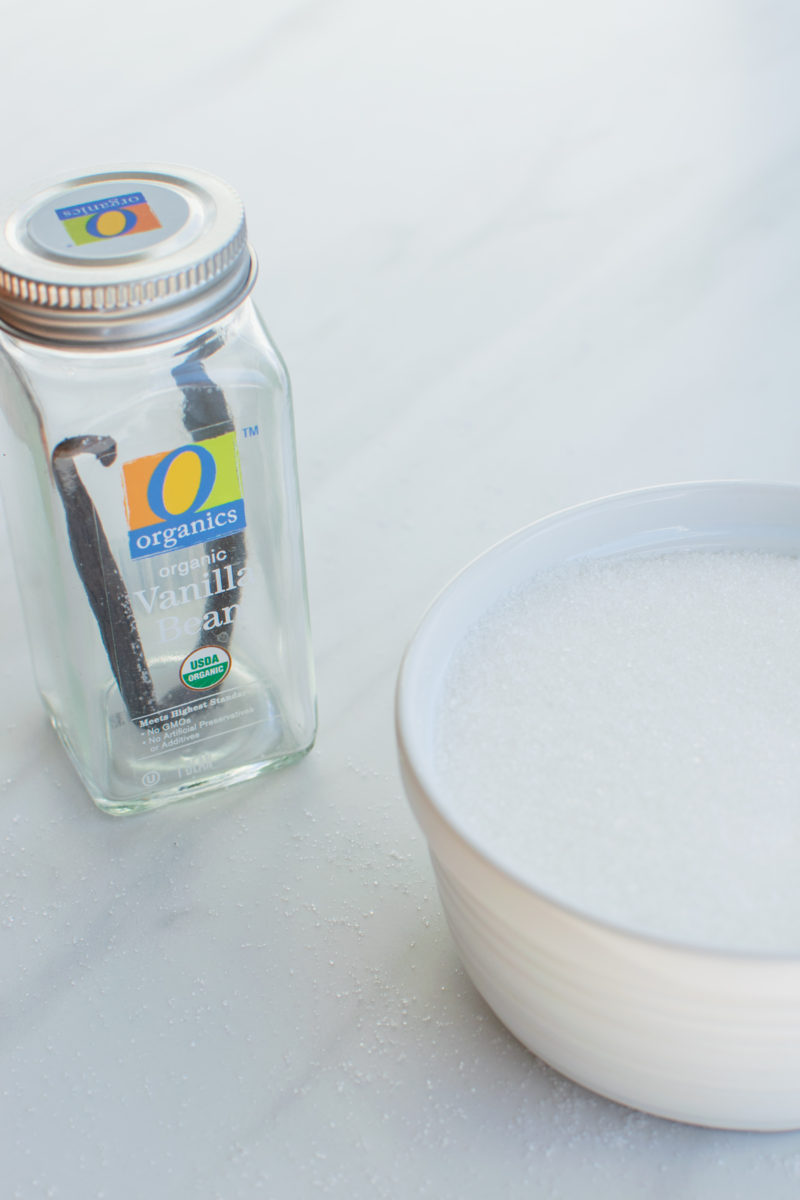 Step 3: Cool and Bottle Vanilla Syrup
Once the sugar is completely dissolved, pour the syrup into a sterilized bottle and let it cool.
How to sterilize a bottle
Fill an empty bottle with boiling water.
Let the hot water sit in the bottle while you prepare the syrup.
When the syrup is finished, discard the water and immediately pour in the syrup.
Bottle Ideas for Homemade Syrup
Pumping the syrup directly into your coffee or tea cup like a barista is really convenient. Obviously, you can spoon the syrup into the drink, too.
But here are a few ideas I've come up with for bottling your homemade vanilla syrup.
Save the bottle and pump from a store-bought syrup. Just clean it out and add your own label if you want.
Buy a pump that fits a screw top bottle you already have. Pumps sold separately are available on Amazon and in stores like World Market.
Put the vanilla syrup in a glass syrup dispenser like the kind used in pancake restaurants. While you won't be able to pump the syrup out, you can easily pour it directly into your cup. I love this syrup bottle from Pioneer Woman.
Use a condiment squeeze bottle. Not only are these plastic bottles inexpensive, but you can get a set and make multiple flavors of homemade syrup.
Store syrup in a mason jar. There are even pumps made especially for mason jars. As a bonus, this is a pretty way to package your homemade vanilla syrup for gift-giving.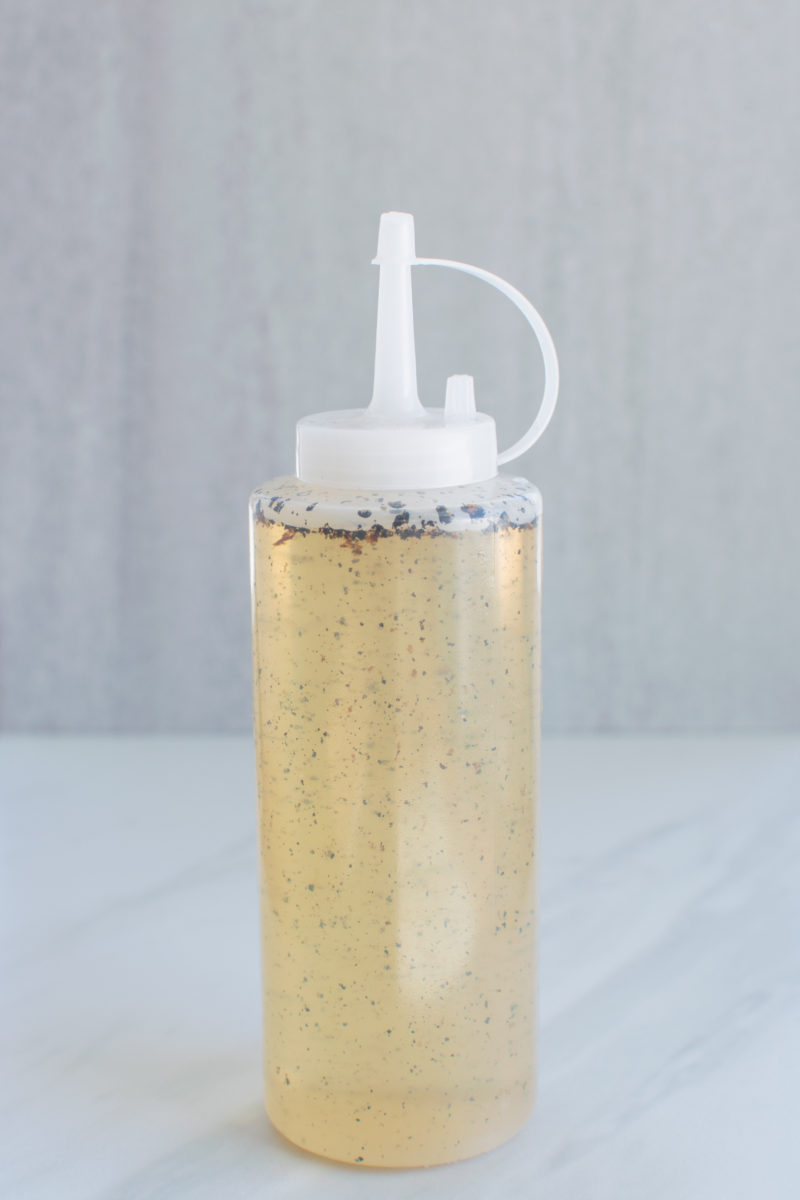 How long does homemade vanilla syrup last?
Ahhh, the age old question, how long does homemade syrup last?
Well, we know nothing lasts forever, right, but food made with lots of sugar lasts a fair amount of time. Afterall, sugar is a preservative.
Stored in the refrig­erator, 1:1 [1 cup sugar, 1 cup water] hot-process simple syrup should last 1 month, while 2:1 [2 cups sugar, 1 cup water] simple syrup should last 6 months. Cold-process syrups can become moldy in as little as half that time.

Food Republic
Tips to Preserve DIY Vanilla Syrup
Make syrup using a hot process (hot water)
Sterilize the storage bottle
Store the syrup in the refrigerator
The more sugar you use compared to water, the longer it keeps
Since my Starbucks Vanilla Syrup Recipe is a 1:1 heat-process syrup, it will be good to use for about a month stored in the refrigerator.
A good rule of thumb is to make the amount of syrup you will use in a month's time or less. Since this syrup recipe is so easy to whip up, you can always make another batch as needed.
Homemade Starbucks Vanilla Syrup Recipe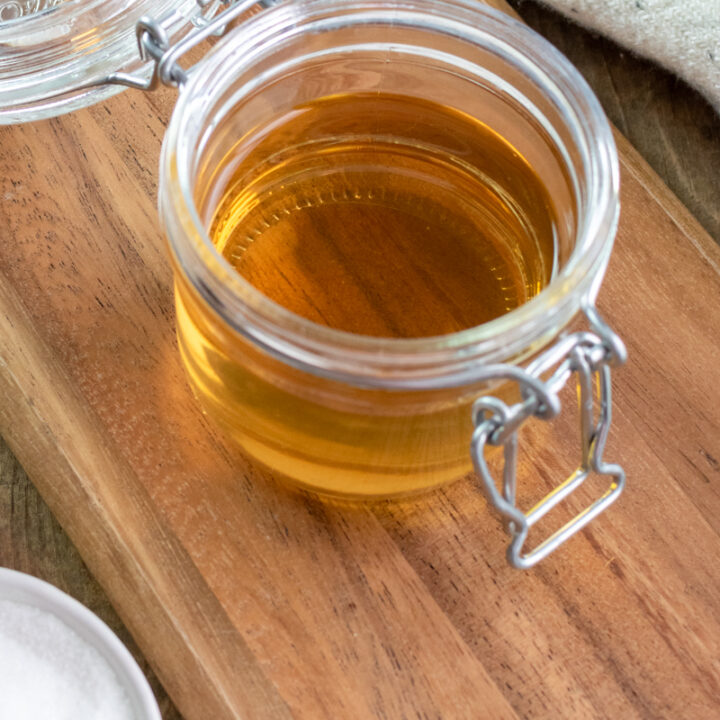 Starbucks Vanilla Syrup Copycat
Additional Time:
5 minutes
See how to make Starbucks vanilla syrup with this quick and easy recipe to flavor and sweeten your favorite coffee and tea drinks.
Ingredients
1 cup water
1 cup sugar
3 teaspoons vanilla extract
1 vanilla bean
Instructions
Slowly heat the sugar and water on the stove, stirring often, until the sugar is completely dissolved. Do not let mixture boil as this will reduce the water content.
Stir in 3 teaspoons of pure vanilla extract. Turn heat off after 1 minute.
Otherwise, substitute the 3 teaspoons of extract with 1 vanilla bean and 1 teaspoon of vanilla extract. Slice the vanilla bean pod lengthwise and scrape the seeds into the syrup. Drop the whole vanilla bean pod in, as well.
Let the mixture heat through for 1 minute and remove from heat.
Let the vanilla syrup cool for about 5 minutes before bottling it. Discard the vanilla bean (if used) and strain the seeds with cheesecloth if desired.
Store syrup in the refrigerator.
Notes
It's best to store your syrup in a sterilized bottle. While you are making the syrup, add boiling water to your syrup bottle to sterilize it. Pour it out just before adding the syrup.
Nutrition Information
Yield

16
Serving Size

1 tablespoon
Amount Per Serving
Calories

45
Total Fat

0g
Carbohydrates

12g
Sugar

12g
Protein

0g