Vanilla Matcha Latte
If you're new to matcha and aren't quite sure if you like it or not, I highly recommend making this super quick and easy vanilla matcha latte recipe.
I definitely think matcha is a bit of an acquired taste. Some even describe it as grassy or vegetal.
Therefore, a latte is the perfect way to get accustomed to matcha.
Not to mention, a sweet and creamy vanilla matcha latte is a delicious way to enjoy the many health benefits of this type of green tea offers.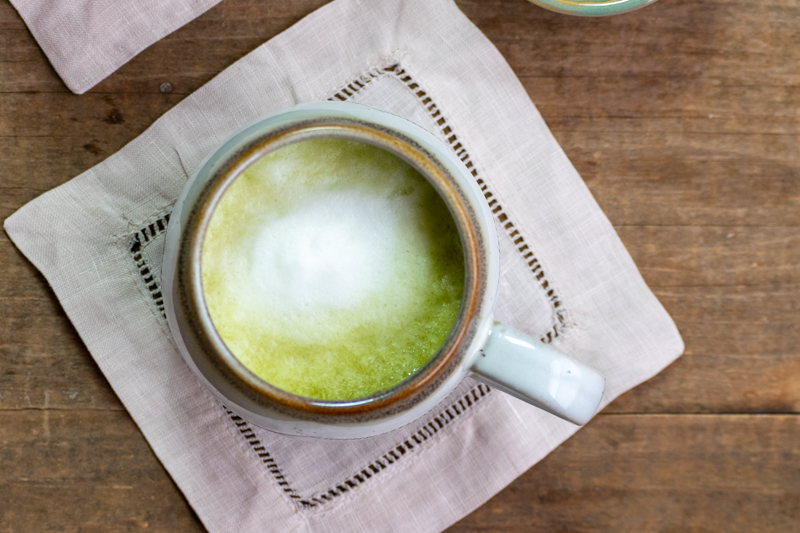 Things You Need to Make a Matcha Latte
It only takes a couple tools to make a matcha latte. You'll need:
Matcha frother, whisk or blender
Electric kettle with temperature controls or a thermometer
Matcha Frother or Whisk
While it may seem intimidating to make matcha with a bamboo whisk, don't let that stop you.
In fact, a traditional matcha whisk (chasen) and scoop (chashaku) are not even necessary.
Really, all you need to mix the matcha and water or milk is a handheld frother or an electric frother like the Nespresso Aeroccino.
You can even use a fork or blender! Of course, you can use a bamboo whisk you like.
Personally, I love my battery-operated, handheld Matcha Aerolatte.
In addition to mixing matcha, it works perfectly for frothing steamed milk for other types of hot tea lattes. For instance, I use mine every time I make my favorite London Fog Latte at home.
Electric Kettle with Temperature Control
Unquestionably, it's very important to use the proper water temperature to make matcha or any type of tea for that matter.
For example, did you know you never should make green tea or matcha with boiling water? Rather, water around 175°F is ideal for bringing out its best flavors.
This is why I love my Cuisinart PerfecTemp electric kettle. Actually, all my tea drinks tastes better since using this kettle and brewing tea properly.
Vanilla Matcha Latte Ingredients
It only takes a few ingredients to make a smooth and yummy vanilla matcha latte at home.
Matcha Powder
Water and/or Milk
Vanilla Syrup
And if you don't have a bottle of vanilla syrup on-hand, it's really simple to make at home.
Take a look at my vanilla syrup recipe. All you need are equal parts of sugar and water plus a little vanilla extract or a vanilla bean.
Steps to Make a Vanilla Matcha Latte at Home
Making a matcha latte is so simple and only takes a few minutes. Actually, the longest part is heating up the water. Here are the steps I take.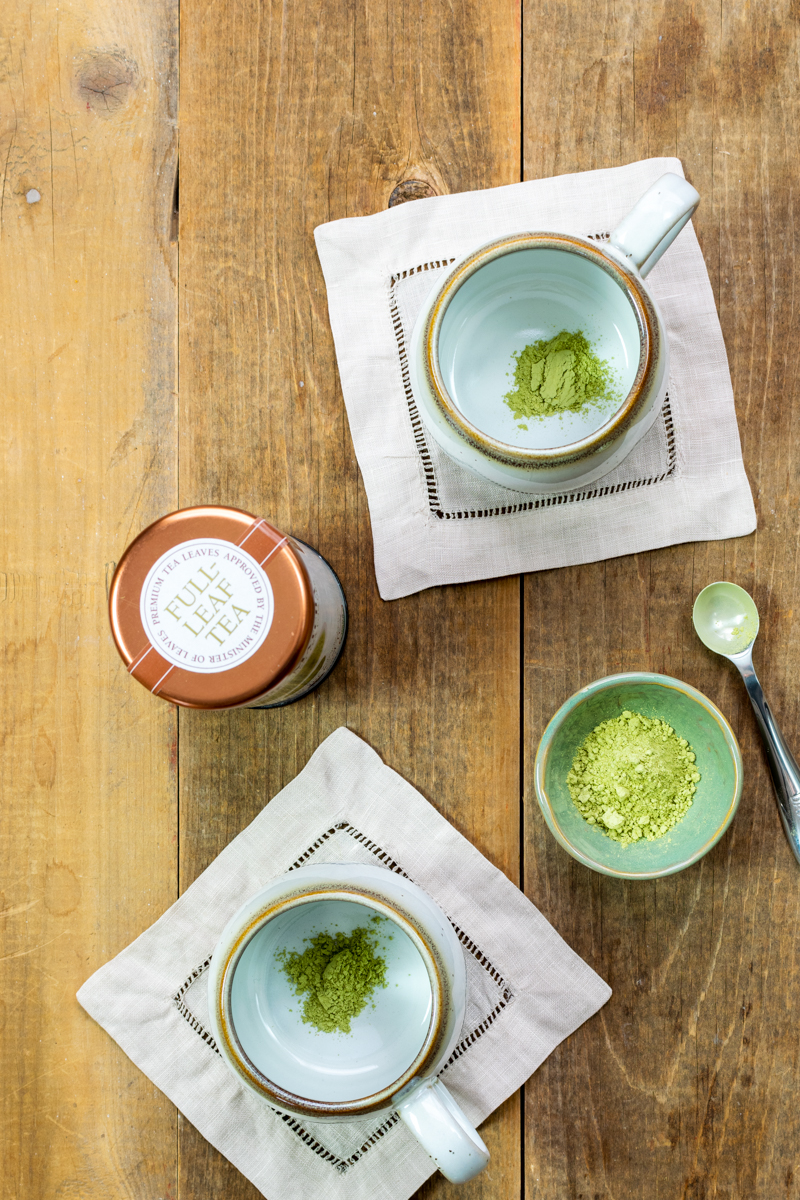 Step 1: Combine Matcha and Water
First, while the water is heating up, put the matcha in a cup.
You can just drop it in with a spoon or take the extra step and use a sifter to work out any lumps.
Next, pour in a small amount of the hot water and use a frother to mix it up until it's smooth.
Step 2: Add Vanilla Syrup
To the matcha paste, stir in as much or as little vanilla syrup as you desire. As a result, the vanilla syrup adds both a delightful flavor and sweetness.
Alternatively, if the vanilla syrup is cold, you can skip this step and heat it up with the milk.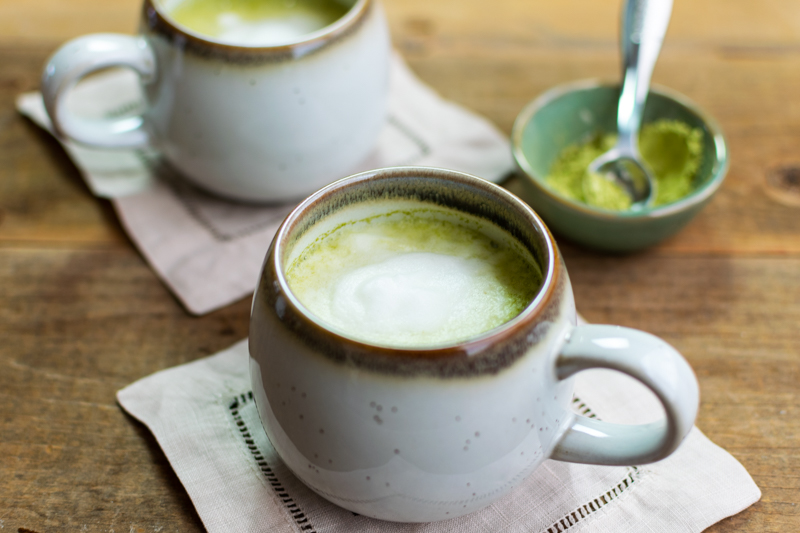 Step 3: Steam and Froth Milk
Steam your milk of choice on the stove or in the microwave. I put mine in the microwave for about 1 1/2 minutes or until the milk is about 150°F.
You can also use an electric milk frother which does double duty of steaming and frothing (aerating).
Once the milk is warmed up, froth it with a handheld frother or whatever your go-to method is for aerating milk.
The goal is to achieve a silky top with small bubbles. Baristas call this microfoam.
Finally, my favorite part: pour the steamed milk into the matcha being sure to scoop any of the remaining foam on top.
And there you have it, a quick, easy and really tasty vanilla matcha latte.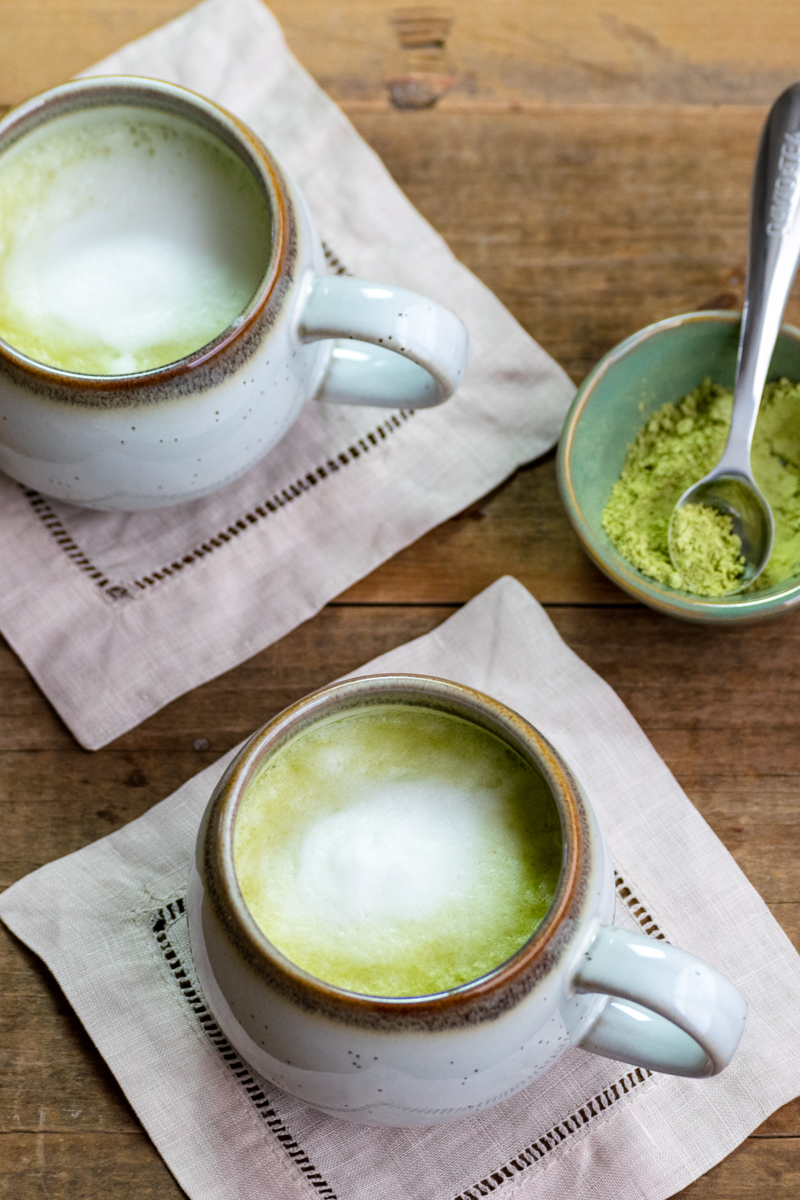 How to Make a Starbucks Vanilla Matcha Green Tea Latte
To recreate a Starbucks Matcha Green Tea Latte with vanilla at home here are a few tips.
Use sweetened matcha powder. The matcha powder Starbucks uses contains Japanese matcha powder and sugar.
I think Matcha Love makes matcha drinks that taste very similar to Starbucks. As a matter of fact, I think my Starbucks Matcha Frappuccino and Iced Matcha Latte recipes are really close to the real thing.
Combine matcha with dairy milk only (no water). To make a super creamy matcha latte like Starbucks, leave out the water and combine the matcha powder with only milk.
Additionally, Starbucks default milk for a matcha latte is 2% dairy milk.
Of course, you can substitute the type of milk. However, keep in mind, the less fat, the less creamy the latte will be.
Add Starbucks Vanilla Syrup. Did you know you can buy a bottle of Starbucks vanilla syrup from your barista if they have enough on-hand?
Otherwise, for a true Starbucks vanilla-flavored matcha latte, you can get a bottle of their vanilla syrup online. Don't forget to get a pump, too.
If you're not sure how much syrup to use in your drink, take a look at this Guide to Hot Tea at Starbucks. There you can see exactly how many pumps of syrup Starbucks adds to each size drink.
Vanilla Matcha Latte Recipe