Want to make an iced matcha that's refreshing and gives you a boost? This Starbucks iced matcha green tea latte recipe is simple to make at home and is really delicious.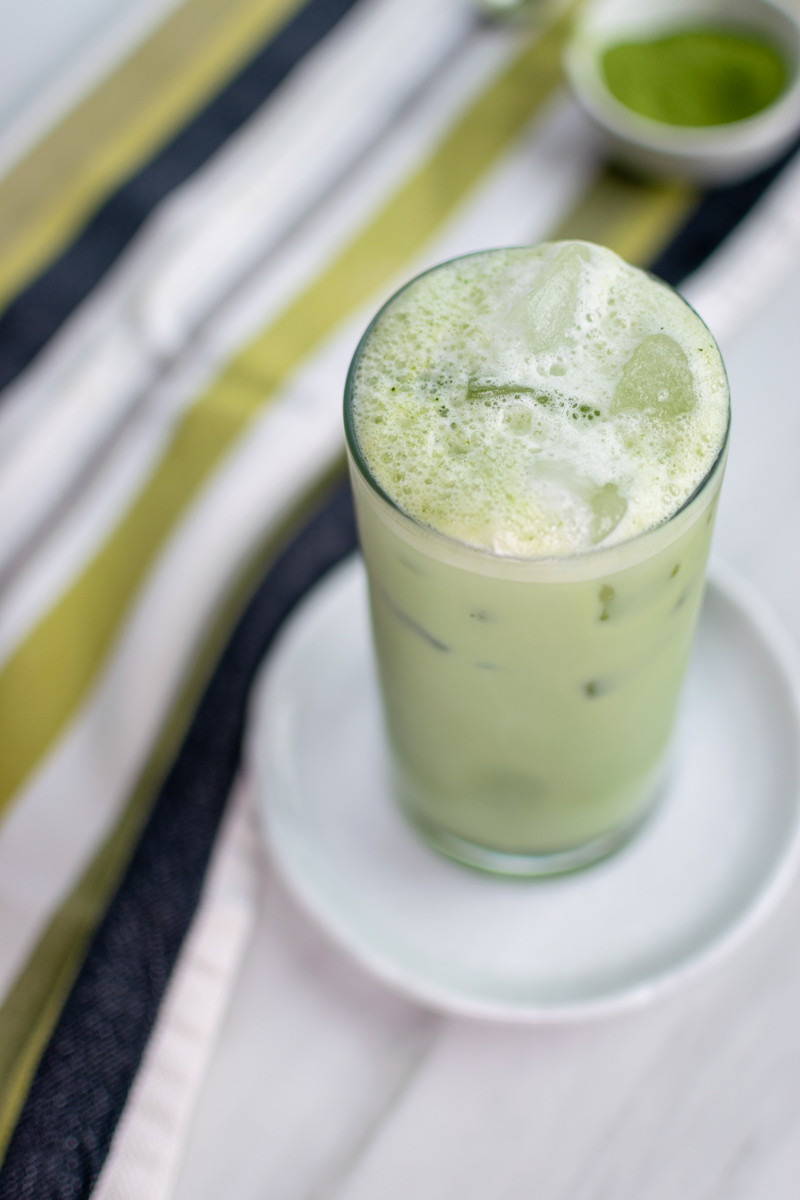 Iced Matcha Green Tea Latte
Cool and creamy, this refreshing iced matcha green tea latte is super easy to make at home with my copycat Starbucks recipe.
If you're looking for a delicious matcha drink packed with health benefits, then an iced matcha green tea latte is the perfect drink.
Whether you get an iced matcha latte at Starbucks or make this green tea latte at home, drink it hot or over ice, you're sure to enjoy this pick-me-up tea drink.
In this post, I'll show you how to make a Starbucks iced matcha latte at home with my three ingredient recipe.
Benefits of Matcha Green Tea
If you're not familiar with matcha, well, where have you been?
While matcha green tea has been around for centuries, often used in Japanese tea ceremonies, it's recently enjoyed a huge surge in popularity.
As a matter of fact, the global matcha tea market $was 1.63 billion for 2018. In large part, the popularity of matcha is due to increased awareness of its health benefits.
Did you know that matcha is grown in shade for a few weeks to increase chlorophyll? This is what gives it its distinct bright green color.
The green tea leaves are then ground into a fine powder. Therefore, when you drink matcha you are consuming the actual leaf as opposing to just steeping it in water like other green tea.
Among matcha's benefits are its high antioxidant levels.
In fact, Matcha Source calls it, "an antioxidant powerhouse." Additionally, matcha increases concentration, calms the mind, boosts metabolism, prevents disease and more.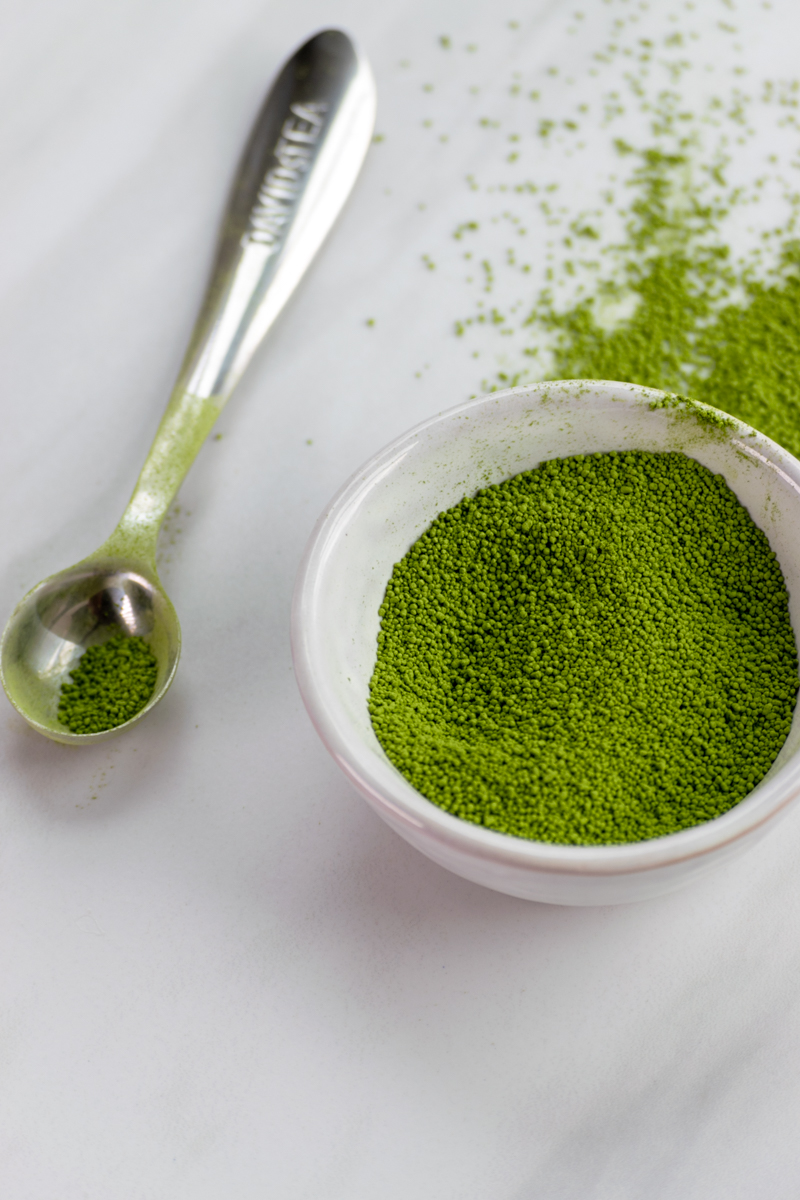 Starbucks Iced Matcha Green Tea Latte Recipe
Whether you're already on the matcha bandwagon or are trying matcha for the first time, I can't wait to show you my Starbucks iced matcha green tea latte copycat recipe.
It's so easy to make at home and you can make it for a fraction of what it costs at Starbucks.
In other posts I've mentioned that my daughter is a long-time Starbucks barista. How lucky for all of us since first I'll show you the real Starbucks recipe.
Then, my copycat recipe will show you equivalent at-home measurements and good options for ingredient substitutions.
Starbucks Iced Matcha Latte Ingredients:
Here's exactly how a Starbucks makes a grande iced matcha latte:
2% milk to 3rd black line on cup
ice to fill cup almost to the top
3 scoops sweetened matcha powder
Common Starbucks Iced Matcha Latte Questions:
What kind of matcha does Starbucks use?
Starbucks uses a sweetened matcha powder. Its ingredients are sugar and Japanese green tea powder.
How much caffeine does Starbucks iced matcha green tea latte have?
These are the caffeine levels for each size of an iced matcha green tea latte according to the Starbucks website.
– Tall (12 ounces): 55 mg
– Grande (16 ounces): 80 mg
– Venti (24 ounces): 110 mg
Is Starbucks matcha healthy?
The matcha powder Starbucks uses contains sugar so it's not possible to get a sugar-free matcha green tea at Starbucks. On the other hand, there are many health benefits associated with matcha. Here is the nutrition information for each size of a Starbucks iced matcha green tea latte so you can judge its nutrition for yourself.
– Tall: 140 calories, 4 g fat, 21 g carbohydrates, 7 g protein
– Grande 200 calories, 5 g fat, 29 g carbohydrates, 9 g protein
– Venti: 280 calories; 8 g fat, 41 g carbohydrates, 13 g protein
Can a Starbucks iced matcha green tea latte be customized?
Yes, iced green tea lattes can be customized, like every drink at Starbucks. For example, you can change the type of milk to non-fat milk, whole milk, half and half, almond, coconut, or soy. Additionally, you can add syrup like vanilla.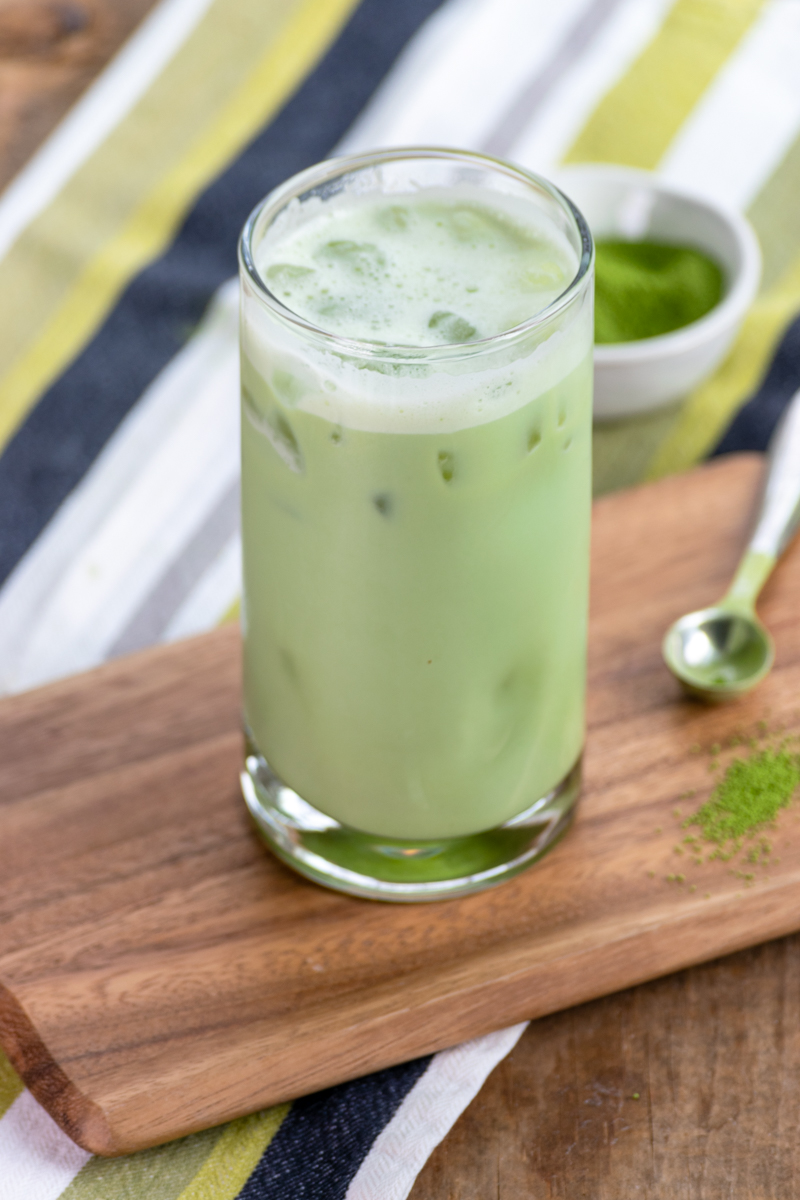 How to Make an Iced Matcha Latte at Home
Since the real Starbucks recipe for an iced green tea latte or matcha latte, has only three ingredients (milk, ice and sweetened matcha powder), it's very simple to put together.
On the other hand, since it only has three ingredients, the taste of each has a big impact on your homemade matcha latte's overall flavor.
Homemade Iced Matcha Green Tea Latte Ingredients
Let's take a quick look at each matcha latte ingredient.
Milk
Starbucks uses 2% milk to make iced green tea lattes, unless you request otherwise. Keep in mind, substituting another milk for 2% changes the drink's fat content, sugar content, flavor and overall creaminess.
Ice
Did you know that Starbucks uses triple-filtered water and ice for all its drinks?
Since ice is a big part of any iced tea latte, using filtered water to make the ice is ideal. Otherwise, it can really ruin the latte's flavor.
My new refrigerator has a built-in water filter (which I love). However, a Brita water filter pitcher works great, too.
Sweetened Matcha Powder
Starbucks uses a sweetened matcha powder for all their matcha drinks. The matcha powder has two ingredients, sugar and Japanese green tea powder.
Therefore, in order to make a true copycat Starbucks matcha green tea latte, you should use sweetened matcha powder.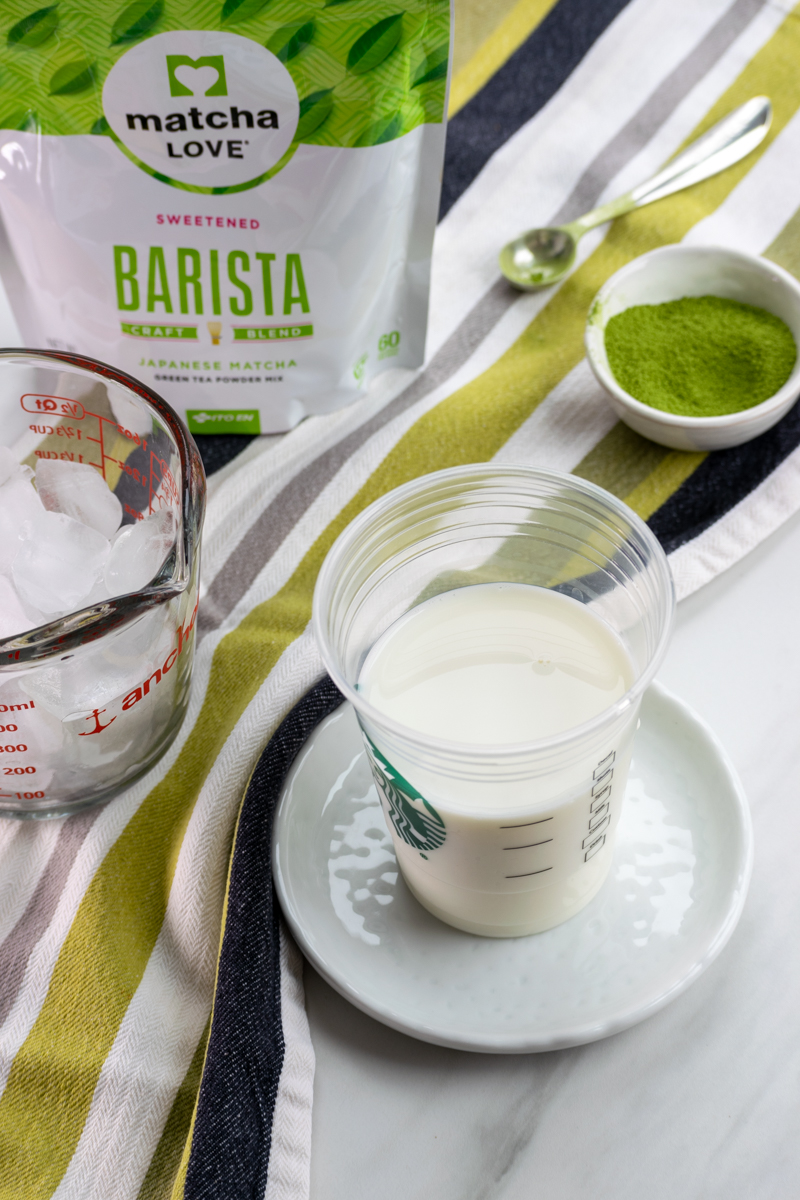 Customizing the Iced Matcha Green Tea Latte Recipe
Don't be shy about switching things up and experimenting with other flavors in your matcha latte.
For instance, customize your homemade iced green tea latte, using coconut milk. Or flavor it with simple syrup.
Did you know it's super easy to make your own simple syrup? If you've never made simple syrup before, you might be interested in checking out these posts:
The Best Matcha Powder for this Iced Matcha Latte Recipe
As I already mentioned, a Starbucks Iced Matcha Green Tea is made with sweetened matcha powder and so is my copycat recipe below.
In my opinion, Matcha Love Sweetened Barista Japanese Matcha is a close substitute to use in this copycat matcha latte recipe.
Please note: I get Matcha Love from Amazon, and if you do too by way of my links, please know that I earn a very small commission for your purchase, but it in no way changes the price you pay.
Photo Credit: www.amazon.com
Sweetened Powder 8 Ounce Packet Sweetened Japanese Matcha Green Tea Powder Mix (Packaging May Vary)
Photo Credit: www.amazon.com
Sweet Powder, 17.5 Ounce (Pack of 1), Sweetened Green Tea Powder, Antioxidant Rich, Good Source of Vitamin C, Japanese Matcha Powder Mix
Photo Credit: www.amazon.com
Natural Mix with Organic Matcha 12oz
Matcha Grades
Additionally, matcha is available in different grades: culinary and ceremonial.
In general, the more you pay, the better the quality.
Additionally, color is a characteristic of the matcha's quality: brown, olive green, or bright green, for example.
The brighter the green, the better. That being said, by no means do you need to use the highest quality matcha for a latte.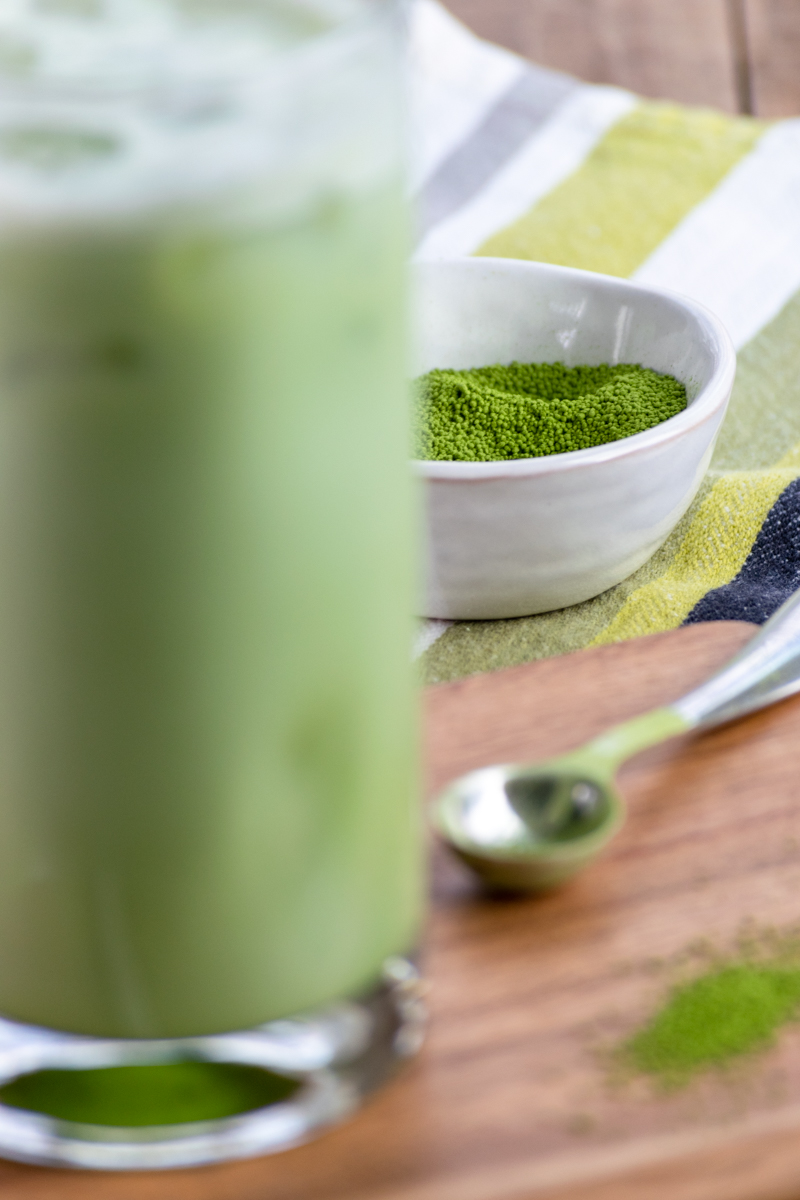 Matcha Green Tea Concentrates
Pre-made Green Tea Matcha Lattes, like the one from Tazo (pictured below) are readily available in the tea aisle of many stores like Target.
However, products like this are not a good substitute to use for this particular iced matcha latte recipe.
Let me explain. Tazo's latte concentrate is mostly water. A Starbucks iced matcha latte is milk, ice and matcha powder. For this particular recipe, the Tazo concentrate is just too watery.
Don't get me wrong, it's definitely tasty tea; it's just not right for this recipe since it is liquid and not powder.
Photo Credit: www.amazon.com
This Tazo matcha green tea latte is a water-based concentrate, not matcha powder. While it makes a tasty latte when mixed with an equal part of milk, the Starbucks copycat recipe in this post uses sweetened matcha powder.
How to Make a DIY Starbucks Iced Matcha Latte
Now that you know the best ingredients to use, there are a few different ways to mix up this iced latte.
Each method is simple and none involve using a matcha whisk or making a matcha paste!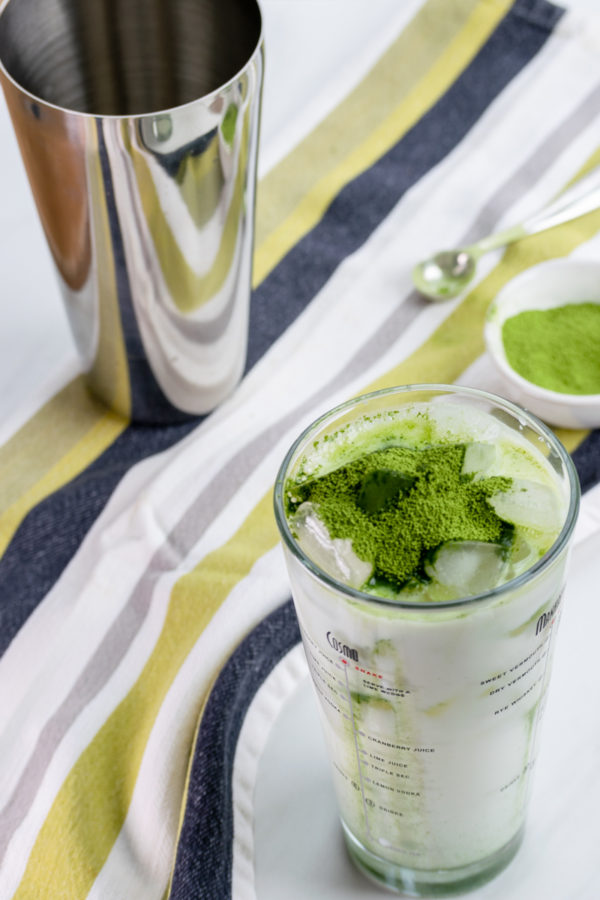 Shake It!
First up is my favorite way to mix up an iced latte.
Put the milk, ice and matcha powder into a jar with a lid (like a large mason jar) or a cocktail shaker.
Give the jar ten to twenty shakes and pout the iced latte into a drinking cup.
Blend It!
If you want to make the matcha latte using a blender, simply put the milk and matcha in the blender (not the ice). Then pour the mix over ice in a drinking cup.
Personally, I prefer the shaking method and use the blender for frappuccino recipes. My favorite Starbuck copycat recipes are chai frappuccino, strawberry frappuccino and matcha green tea frappuccino.
Swirl It!
Alternatively, you can mix your iced matcha latte like a Starbucks barista.
Simply put all the latte ingredients into a drinking cup with a lid and give it a few good swirls to dissolve the matcha.
More Starbucks Matcha Recipes & Drink Guides You'll Love
DIY Starbucks Iced Matcha Green Tea Latte Recipe
Starbucks Iced Matcha Green Tea Latte
This Starbucks iced matcha green tea latte recipe is as close to the real deal as possible. Using measurements from a barista. this iced matcha latte recipe makes the equivalent of a grande iced latte.
Ingredients
1 1/4 cups 2% milk
1 1/4 cups filtered ice
1 tablespoon sweetened matcha powder
Instructions
Pour milk into a jar with a lid or shaker that holds at least 16 ounces.
Add ice to the jar.
Place sweetened matcha powder on top of ice.
Close lid tightly and shake until the matcha powder is dissolved (10-20 shakes)
Pour the iced matcha latte into a 16 ounce drinking cup.
Notes
For more matcha flavor and sweetness add another teaspoon of matcha powder. Or, for additional sweetness, add sweetener of your choice to the jar before shaking. If you use a blender, do not put ice in blender. Rather, put ice in drinking glass and pour blended matcha green tea latte over ice.
Recommended Products
As an Amazon Associate and member of other affiliate programs, I earn from qualifying purchases.
Nutrition Information
Yield

1
Serving Size

16 ounces
Amount Per Serving
Calories

215
Total Fat

6.1g
Saturated Fat

3.9g
Trans Fat

.25g
Unsaturated Fat

2g
Cholesterol

25mg
Sodium

145mg
Carbohydrates

29g
Fiber

<1g
Sugar

28g
Protein

10g