This Starbucks green tea frappuccino recipe is quick and easy to make at home. Made with sweetened matcha powder, this matcha frappuccino tastes like the real thing and only takes minutes to whip up.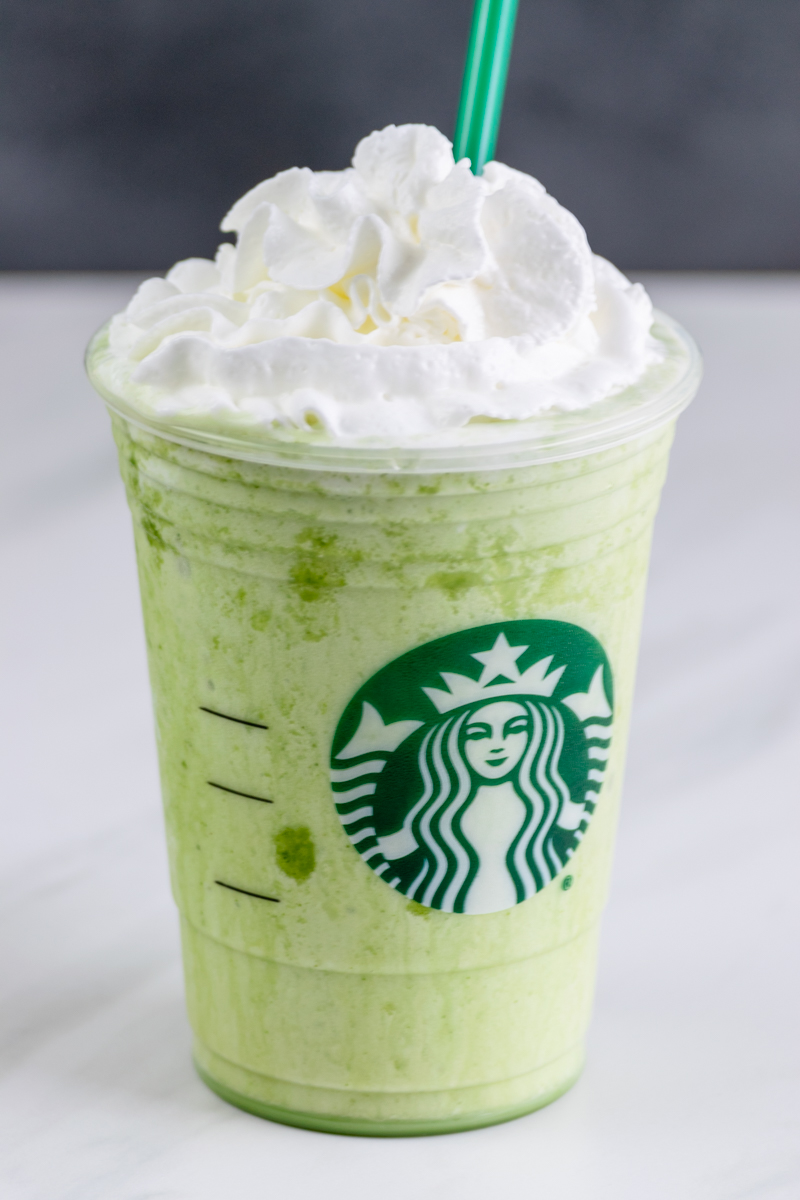 Starbucks Matcha Green Tea Frappuccino
Nailed It perfectly describes this Starbucks Matcha Green Tea Frappuccino make-at-home recipe.
In fact, my homemade green tea frappuccino is so close to the real thing, I'm not sure I could distinguish one from the other if I sipped them side-by-side.
There are two things that make this green tea frappuccino taste like it came from Starbucks: the ingredients (matcha powder) and the method.
What's even more exciting is that when you follow this recipe you can make a homemade frappuccino for a fraction of the cost.
Additionally, here's a collection of 12 Starbucks Tea Recipes you can easily make at home.
And if you're a green tea lover, be sure and check out my Starbucks Guide to Green Tea & Matcha.
Before I show you the exact ingredients I use and how to make this blended beverage, here are some answers to common questions about the real Starbucks Matcha Green Tea Frappuccino.
Starbucks Green Tea Frappuccino
We're all familiar with Starbucks line-up of coffee-based frappuccinos. But did you know that two of their Crème Frappuccinos are tea-based?
The first one, Chai Frappuccino, is a wonderful blend of black tea and warm spices like cinnamon and cardamom.
And then there's the Green Tea Frappuccino, a tasty blend of sweetened matcha, milk and ice.
This blend of sweetened premium matcha green tea, milk and ice— topped off with sweetened whipped cream—inspires a delicious boost and good green vibes.

starbucks.com
What's in a Matcha Green Tea Frappuccino?
Starbucks Matcha Green Tea Crème Frappuccino ingredients include:
Ice
Whole Milk
Crème Frappuccino Syrup
Classic Syrup
Matcha Tea Blend
Whipped Cream & Vanilla Syrup
Does matcha green tea have caffeine?
Yes, matcha contains caffeine. In fact, drinks made with matcha contain more caffeine than regular green tea leaves.
You see, matcha is a powdered form of green tea that is usually blended with water or milk.
Therefore, when you drink matcha you are consuming the actual leaf.
Whereas, when you brew regular green tea you remove the tea bag or strain out the green tea leaves.
Here's how much caffeine is in a Starbucks Green Tea Frappuccino:
| | |
| --- | --- |
| Starbucks Size | Caffeine Content |
| Tall (12 oz.) | 50 mg |
| Grande (16 oz.) | 70 mg |
| Venti (24 oz.) | 95 mg |
Is a Green Tea Frappuccino from Starbucks healthy?
While there are many nutritional benefits to matcha and milk, the Matcha Green Tea from Starbucks contains quite a bit of sugar and calories.
For instance a grande size has 410 calories and 63 carbohydrates.
That being said, the Starbucks nutrition information is readily available on their website so you can judge whether or not it is healthy.
For more information about all-things Starbucks matcha, be sure and check out this quick guide: Starbucks Matcha Drinks: Everything You Need to Know.
Starbucks Copycat Matcha Frappuccino Ingredients
Here are the exact ingredients needed to make a green tea frappuccino at home.
Filtered Ice
I strongly recommend using ice made with filtered water. If you don't have some sort of filtering system, a Brita Filter pitcher gets the job done perfectly.
Whole Milk
Starbucks uses whole milk for their frappuccinos and it's what I recommend for this copycat recipe.
After all, the full fat gives it that lucious creaminess.
Of course, you can substitute it with a lower fat or plant-based milk, but the frappuccino may not be as thick and creamy.
Sweetened Matcha Powder
The matcha Starbucks uses is a blend of sugar and premium Japanese matcha. I've tested a few brands and I think Matcha Love's Sweetened Barista Matcha tastes very close to Starbucks.
As a bonus, if you pick some up you can replicate other Starbucks recipes like an Iced Matcha Green Tea Latte.
Xanthan Gum
Unquestionably, xanthan gum is the secret ingredient that gives homemade frappuccinos such a smooth and thick consistency.
Therefore, this emulsifier is one of the key ingredients in Starbucks Creme Syrup.
Like the syrup used in all Creme Frappuccinos, xanthan gum binds the ingredients together so they don't separate and adds an overall creamy texture.
Personally, I think xanthan gum is a must. And what's great is that a little bit goes a very long way. Additionally, you can add a pinch to your other favorite smoothie recipes.
Simple Syrup & Vanilla Syrup
Simple syrup is really nothing more than dissolved sugar and flavoring.
To make a plain or Classic Syrup Recipe, simply combine sugar and water on the stove.
To make vanilla syrup all you have to do is add a vanilla bean or pure vanilla extract to the mixture.
I even like to keep some on hand in my fridge to make my favorite London Fog Tea Latte at a moment's notice.
Since the sugar is already dissolved, simple syrup is the ideal way to sweeten cold drinks.
Here are a few of my favorite iced teas that incorporate syrup:
Whipped Cream: To make whipped cream like Starbucks add a little vanilla syrup to the heavy cream. Otherwise, top off your matcha frappuccino with ready-made whipped cream.
---
How to Make a Starbucks Green Tea Frappuccino
Putting together a matcha frappuccino is such a simple process. All you need is a cup and a blender.
Step 1: Pour milk into drinking cup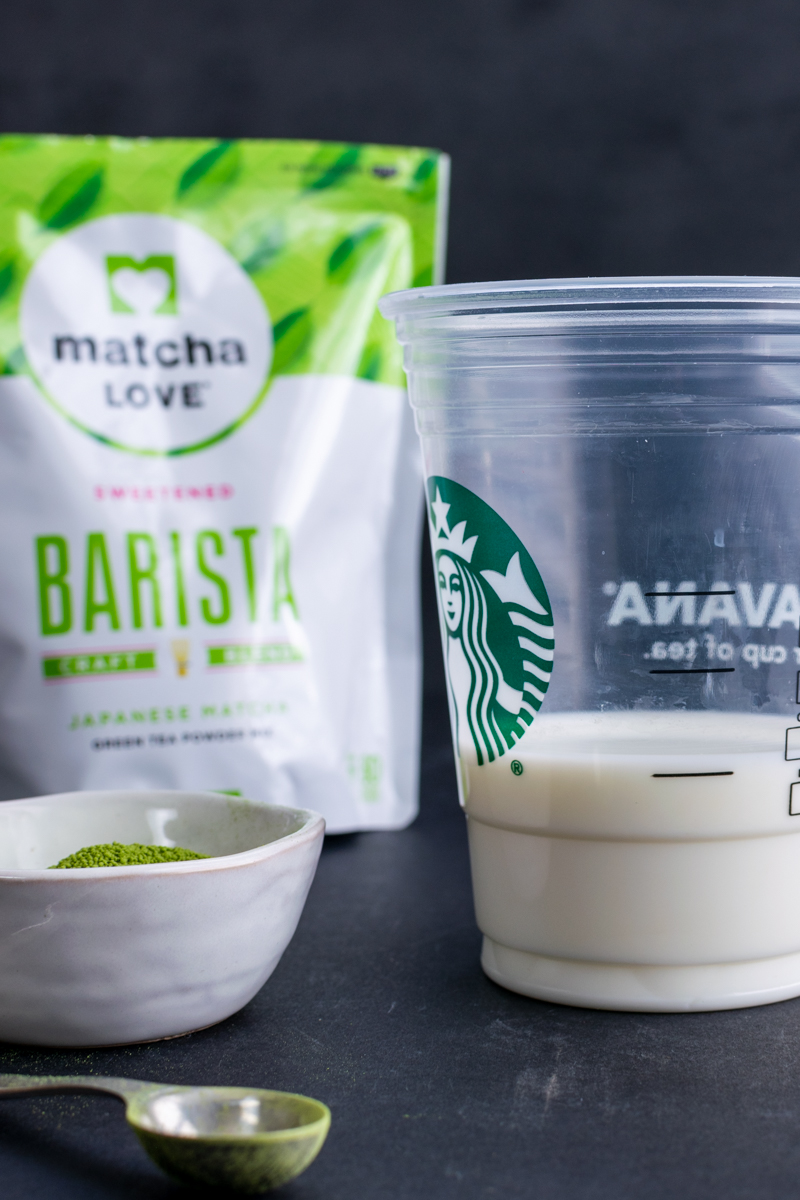 Starbucks measures all the green tea frappuccino ingredients in a cup and then pours them into a blender and I suggest doing the same.
If you happen to have a grande 16 ounce Starbucks cold cup or one of the reusable cups they sell, pour the milk to the first black line.
Otherwise, pour 1/2 cup milk into a 16 ounce cup.
Step 2: Fill cup with ice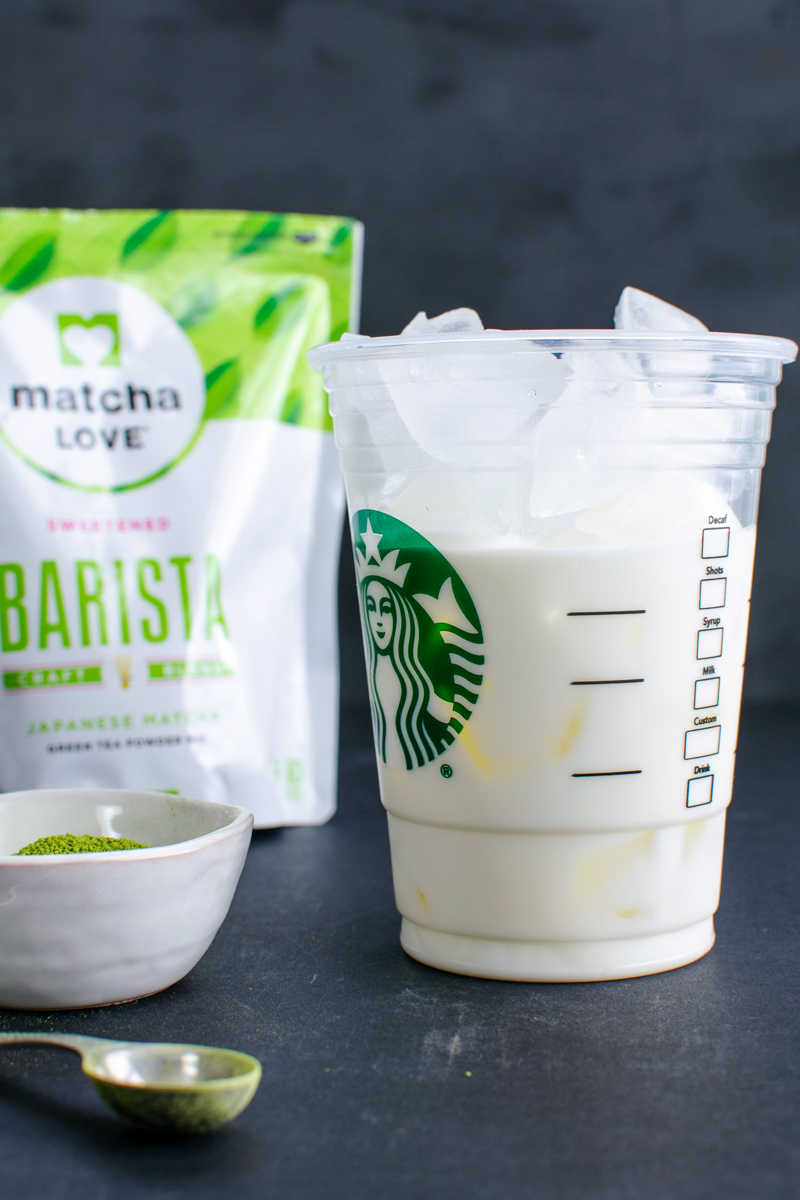 Next, fill the cup of with ice almost to the top. Keep in mind, you will be blending this and small ice cubes are easier to work with than large ones.
Step 3: Add matcha and all other frappuccino ingredients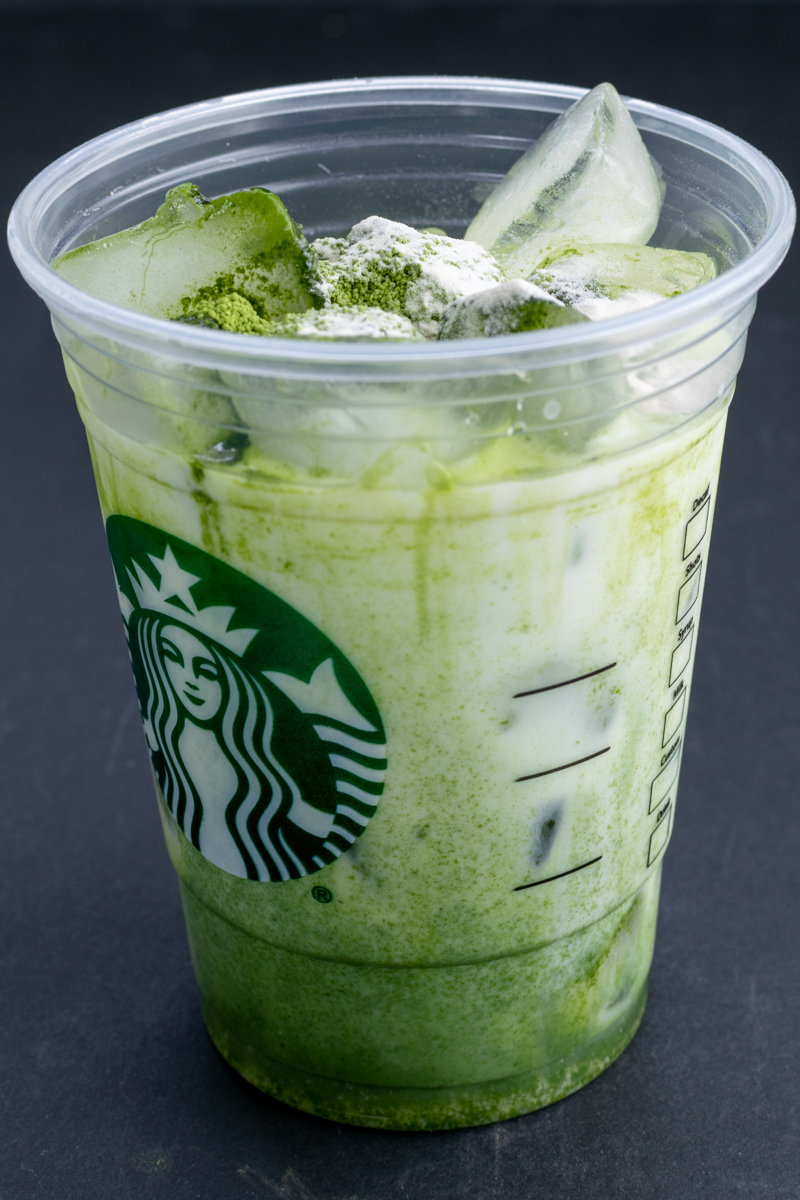 I love this step because the drink starts to look fun. All you have to do is dump the matcha powder, simple syrup, vanilla syrup and xanthan gum on top of the ice.
Remember, the xanthan gum is what really creates the frappuccino's smooth and creamy texture.
Step 4: Blend the green tea frappuccino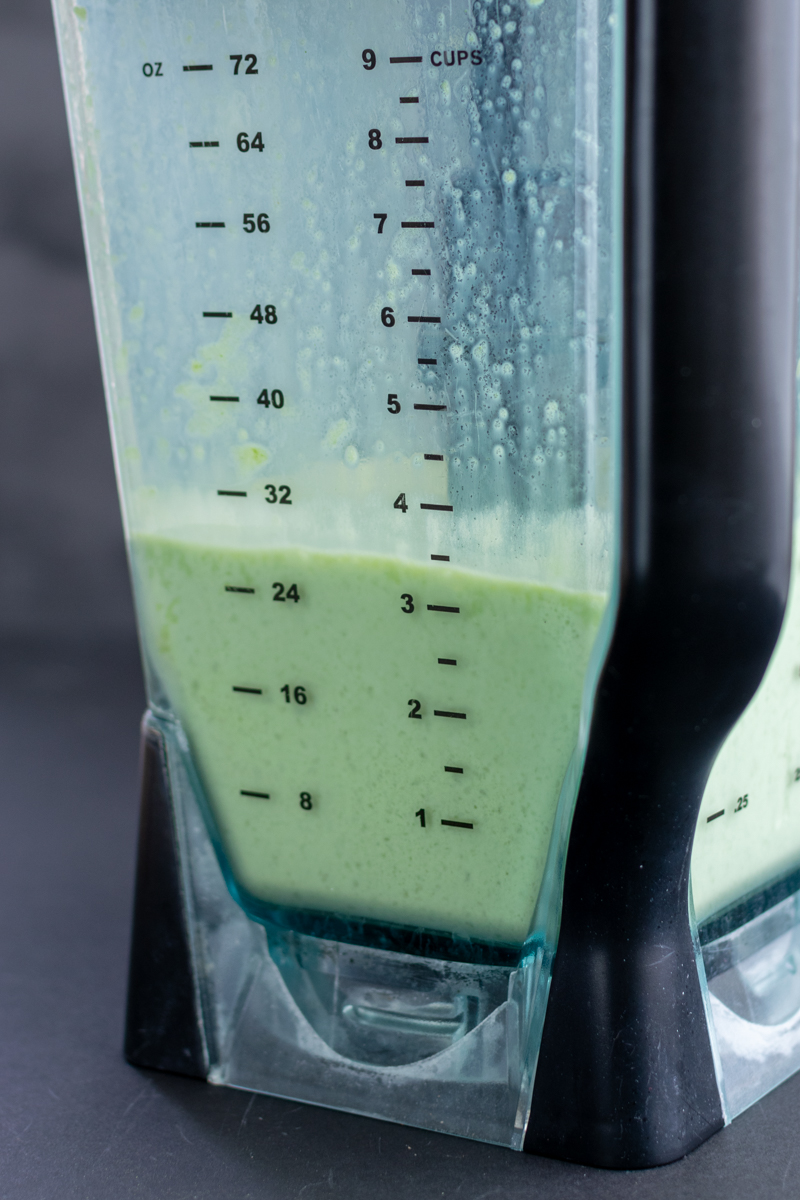 And here's where the magic happens! Dump all the contents of the cup into a blender and start it up. Blend it for at least 1-2 minutes.
Don't cheat and quit blending too soon. It's important to get all the bits of ice chopped up and give the xanthan gum some time to perform its magic
Step 5: Pour matcha frappuccino into cup and top with whipped cream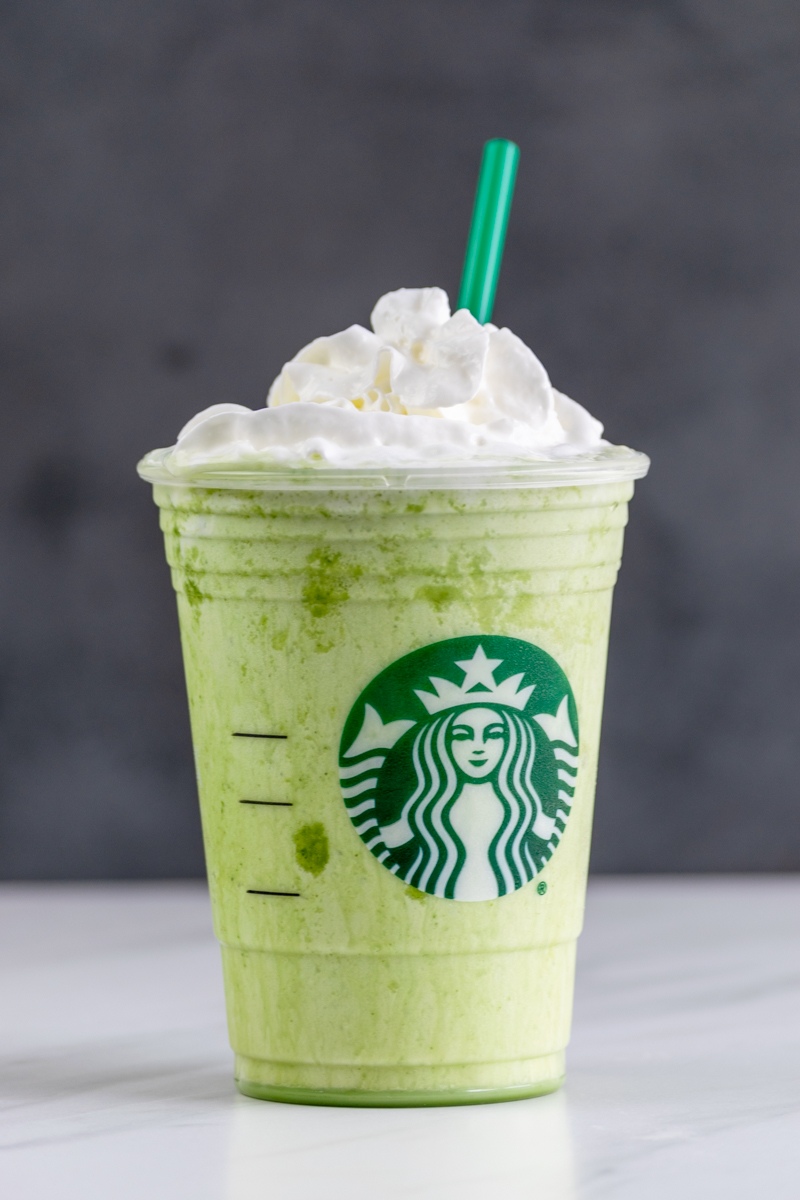 And now the fun part.
Pour the green tea frappuccino into the same cup you used for measuring and top with whipped cream.
Of course, the whipped cream is optional, but it just adds a little something extra to make this the perfect matcha frappuccino.
More Starbucks Matcha & Frappuccino Recipes
Starbucks Matcha Green Tea Frappuccino Recipe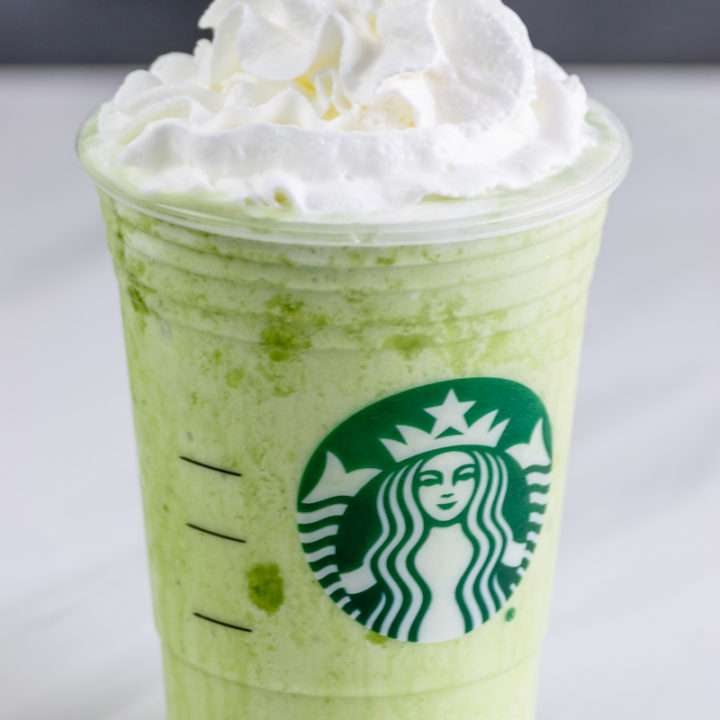 Starbucks Matcha Green Tea Frappuccino
Yield:
1, 16 ounce frappuccino
Quick and easy Starbucks Green Tea Frappuccino recipe made with sweetened matcha powder and a few more ingredients. This popular frappuccino only takes a few minutes to make and tastes as delicious as a matcha frappuccino from Starbucks.
Ingredients
1/2 cup whole milk
1 1/2 cups small ice cubes
1 1/2 tablespoons matcha powder (sweetened)
1 tablespoon simple syrup
1 tablespoon vanilla syrup
1/4 teaspoon xanthan gum
1/3 whipped cream (optional)
Instructions
Put milk in a 16 ounce cup.
Fill the cup almost to the top with ice cubes.
Add the sweetened matcha powder and remaining ingredients (except whipped cream) on top of the ice.
Pour all the ingredients into a blender and blend for a full 1-2 minutes until all the ice is chopped and xanthan gum has a minute to emulsify the frappuccino.
Pour the matcha green tea frappuccino into the same cup used for measuring and top with whipped cream.
Notes
My go-to brand of matcha for this recipe is Matcha Love. If you use another brand, just make sure it's sweetened matcha powder. Otherwise, for regular matcha (no sugar added) you may want to add more sugar or syrup to this recipe.
To easily make the simple syrup and vanilla syrup at home, combine equal parts of granulated sugar and water on the stove. Stir for a couple minutes over medium heat until the sugar is fully dissolved.
Follow the same process for vanilla syrup except add a little vanilla extract. For instance, use 1/3 cup sugar, 1/3 cup water and 1/2 teaspoon vanilla extract.
Recommended Products
As an Amazon Associate and member of other affiliate programs, I earn from qualifying purchases.
Nutrition Information
Yield

1
Serving Size

16 ounces
Amount Per Serving
Calories

212
Total Fat

4g
Saturated Fat

2.5g
Cholesterol

17mg
Sodium

65mg
Carbohydrates

40g
Sugar

37.5g
Protein

4g