An Iced London Fog Tea Latte with Vanilla Cold Cream is the perfect afternoon pick-me-up. Made with earl grey tea and a cold vanilla sweet cream mousse, this iced tea latte recipe is decadent and delicious.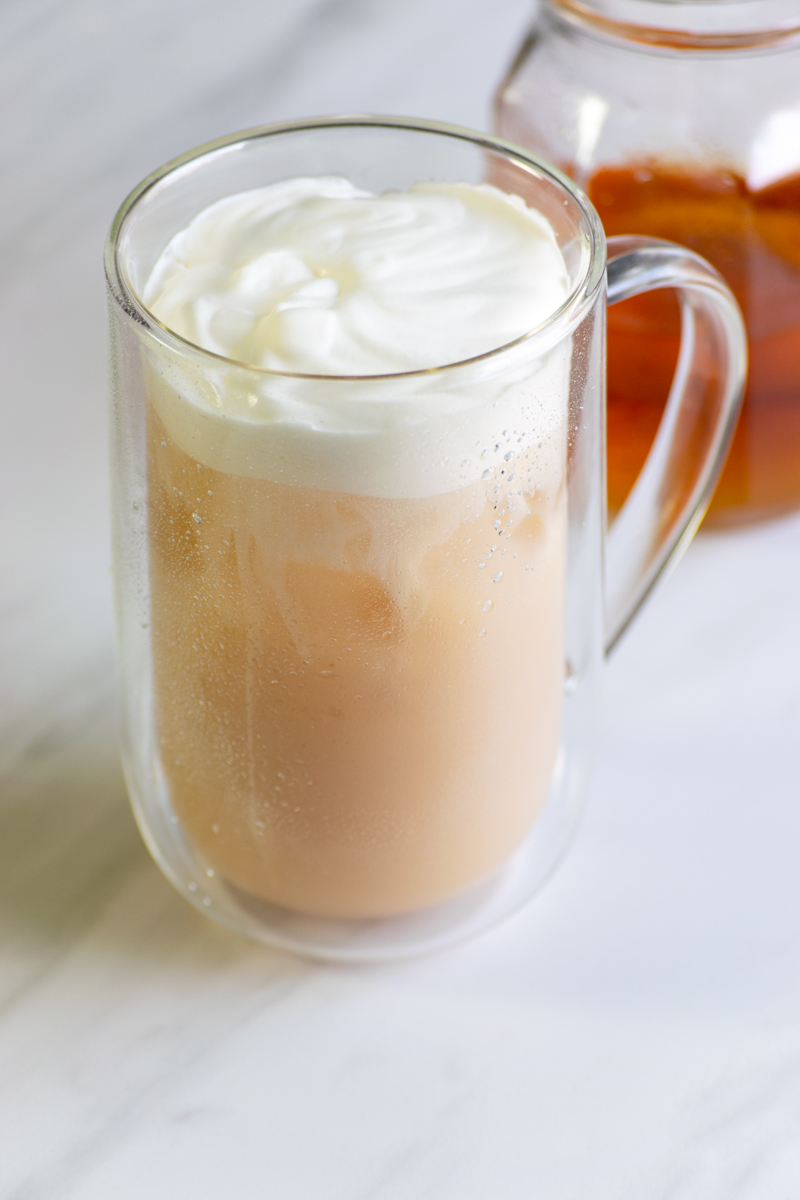 Iced London Fog Latte
This Iced London Fog Latte recipe, topped with a layer of vanilla sweet cream cold foam, is one of my favorite tea lattes to make when I'm in the mood for iced tea.
Not only is it cool and delicious, but the creamy cold foam makes this tea latte a little bit decadent.
This easy recipe shows you how to make both an iced version of a London Fog Earl Grey Latte, as well as the vanilla sweet cream cold foam. Yum!
What is an Iced London Fog Latte?
I like to think of an Iced London Fog Latte as a cousin to a traditional hot London Fog Earl Grey Latte.
The hot and iced versions are very similar, yet they're completely different.
As a matter of fact, a London Fog latte served hot is often my go-to tea on cool mornings. And who needs Starbucks when you can easily make a homemade London Fog tea latte at home?
Made with the same core ingredients, earl grey tea, vanilla syrup and milk, the iced version of this drink is especially refreshing on hot summer days.
To take the iced version of this earl grey tea latte up a notch, I like to top it off with a pillowy layer of cold vanilla sweet cream.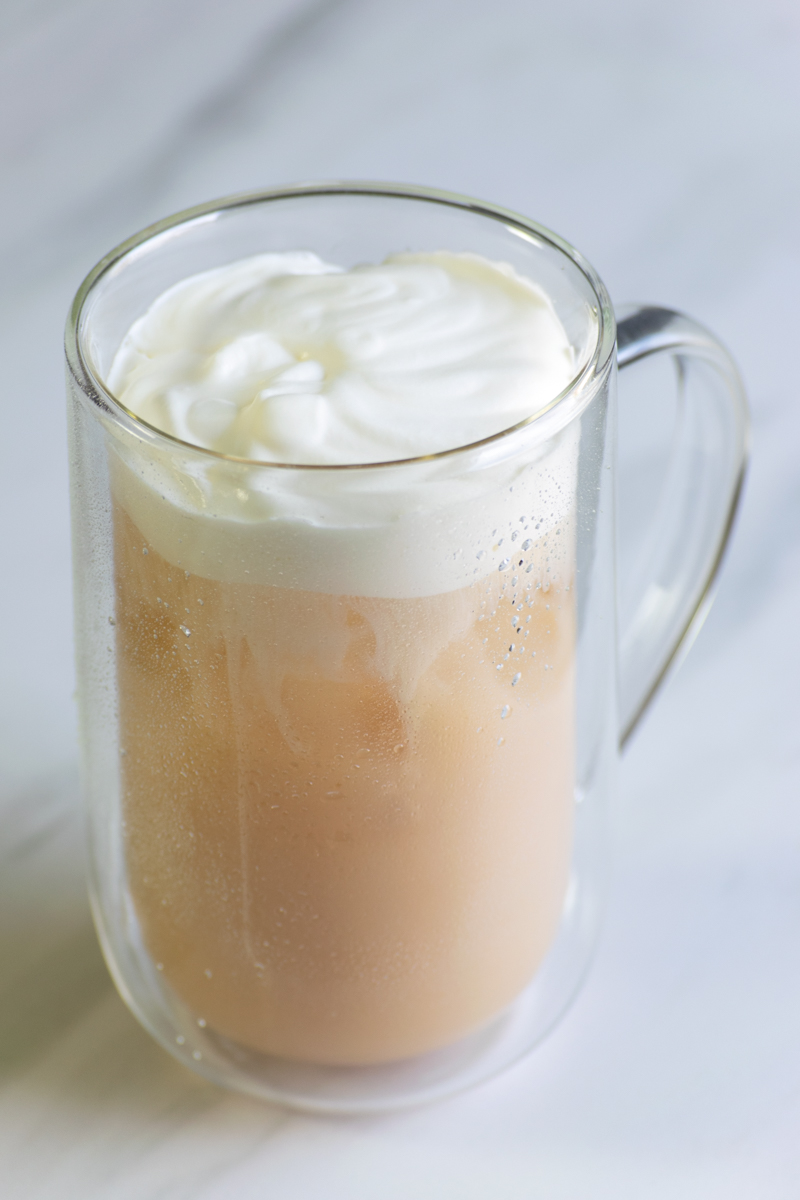 What is Sweet Cream?
Sweet cream is a blend of heavy cream, milk and coffee syrup. Starbucks often tops cold brew drinks with it.
When made properly, sweet cream is a little thinner than a milkshake. Additionally, when it's poured on top of cold brew or an iced latte, a bed of cream remains on top of the drink.
And it's best to skip a straw. This way you get a taste of the cream with every sip.
What's the Difference Between Sweet Cream and Cold Foam?
Starbucks tops some drinks with sweet cream and others with cold foam. However, you may not know the difference.
Cold foam is simply frothed (aerated) cold milk, such as non-fat milk. When the cold foam is poured into a drink, some milk flows into the drink and the microfoam stays on top.
What's Cream Mousse for Tea Lattes?
Have you noticed some of the new tea shops serving tea topped with cream mousse? Cream mousse seems to be a little thicker than sweet cream.
The Taiwan tea shop, Tiger Sugar, with U.S. locations in California and New York, is probably responsible for this new trend. They add a layer of cream mousse to their tea latte series of drinks.
The vanilla sweet cream in my Iced London Fog Earl Grey Latte recipe is more akin to Starbucks than Tiger Sugar's cream mousse.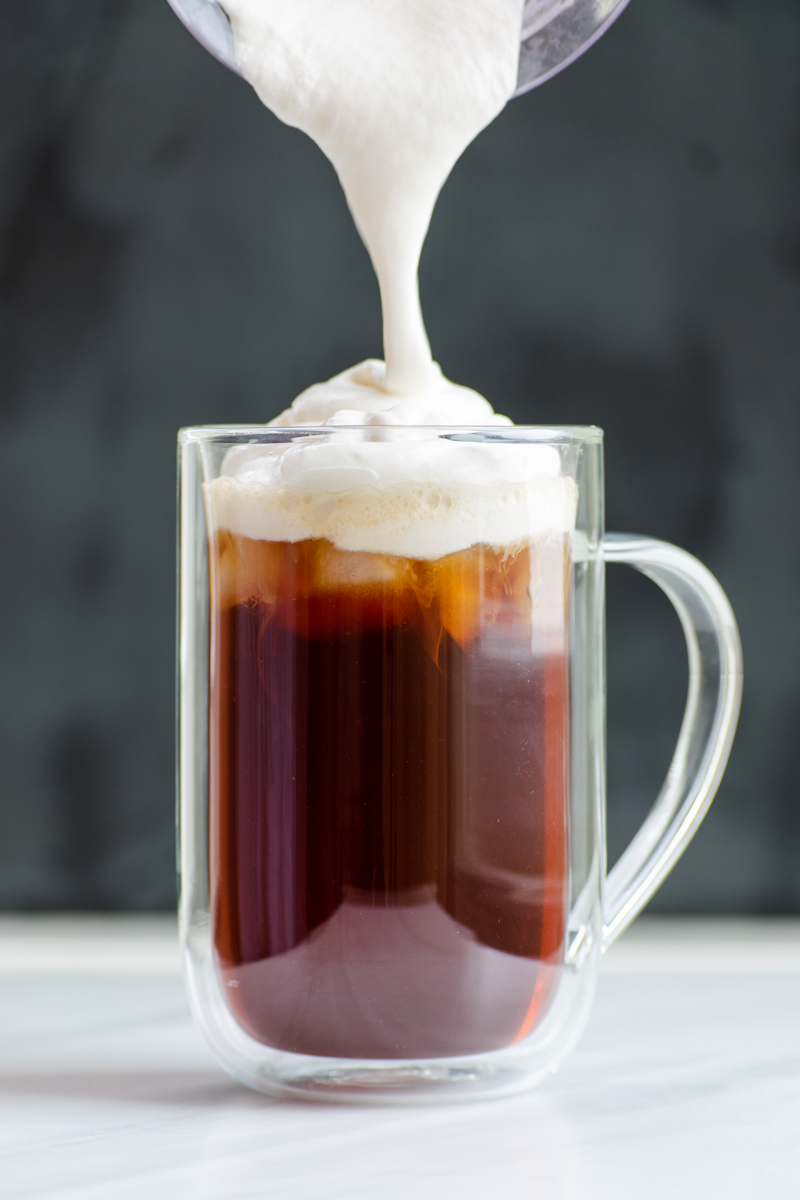 How to Make an Iced London Fog Latte with Cold Foam
Making an iced tea latte is really simple. This is how I do it.
Cold brew earl grey tea concentrate (double-strength tea)
Add ice, vanilla syrup and milk
Top the latte with cold vanilla sweet cream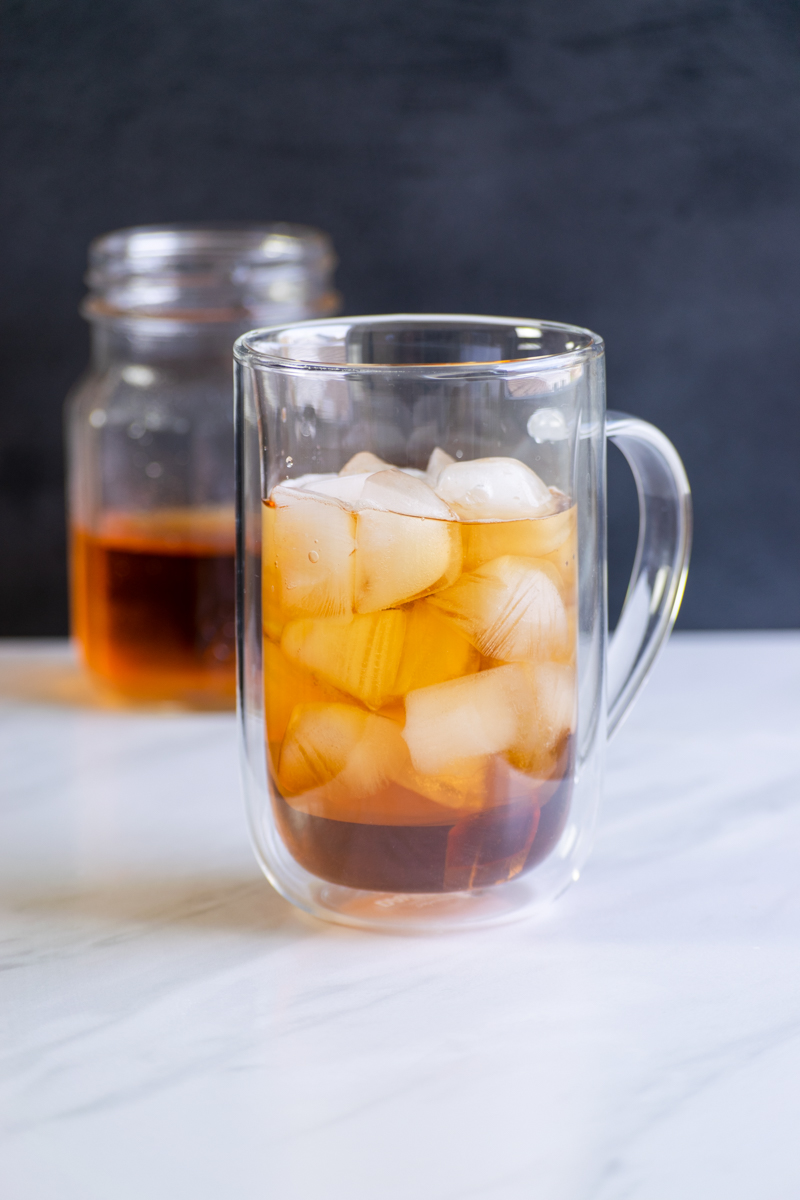 Cold Brew Tea vs. Hot Brew
When it comes to brewing the earl grey tea concentrate, you have two options. You can either hot brew the tea or cold brew it.
If you've read my post on how to cold brew tea, you know it is my preferred method for brewing tea for iced tea drinks.
Here are a few of my favorite tea recipes using cold brew:
And here are the reasons I think the cold brew method is the best for iced tea drinks:
The tea is smoother and more flavorful due to less tannins released
The method is simple: just put tea bags in cold water in the fridge overnight
The tea is nice and cold so it does not melt the ice
The only downside to using cold brew tea, is that it takes many hours to brew. But if you remember to throw a batch in the fridge before bedtime, it's ready to go in the morning.
You can hot brew the tea, as well. However, in my experience you have to wait quite a while for the tea to be cool enough so the iced doesn't melt.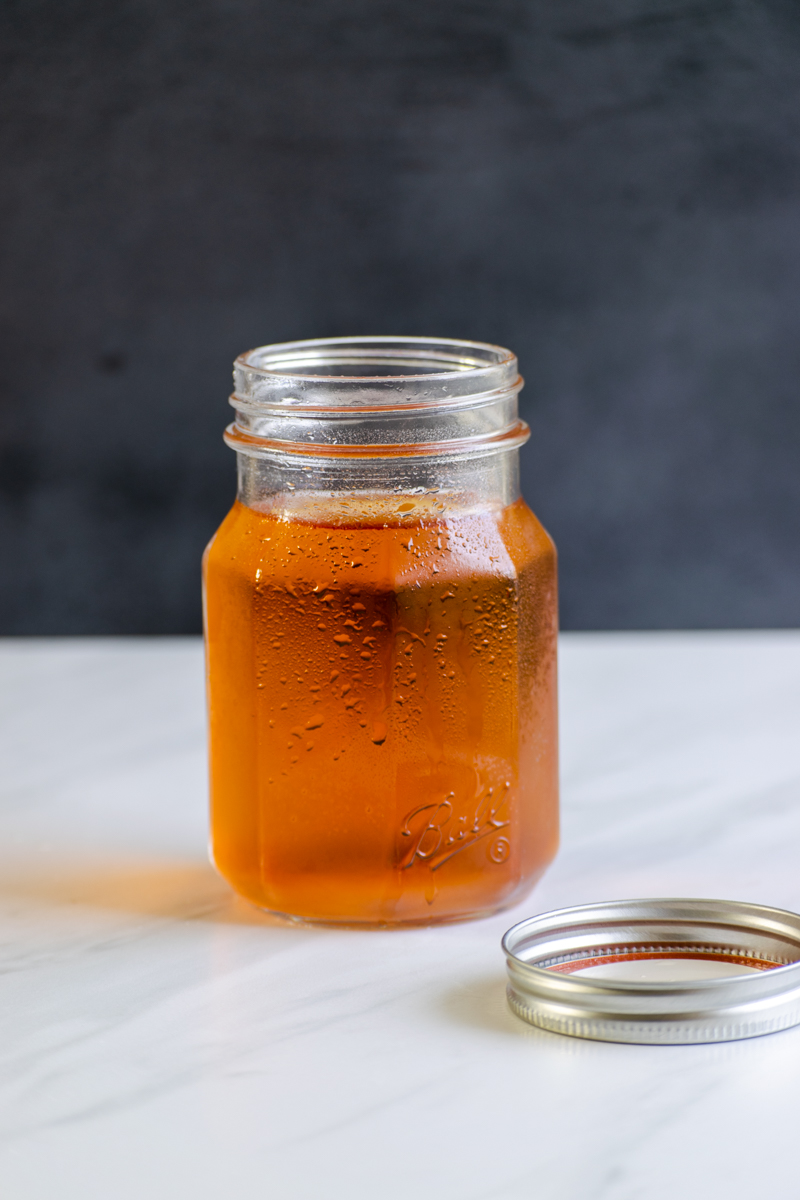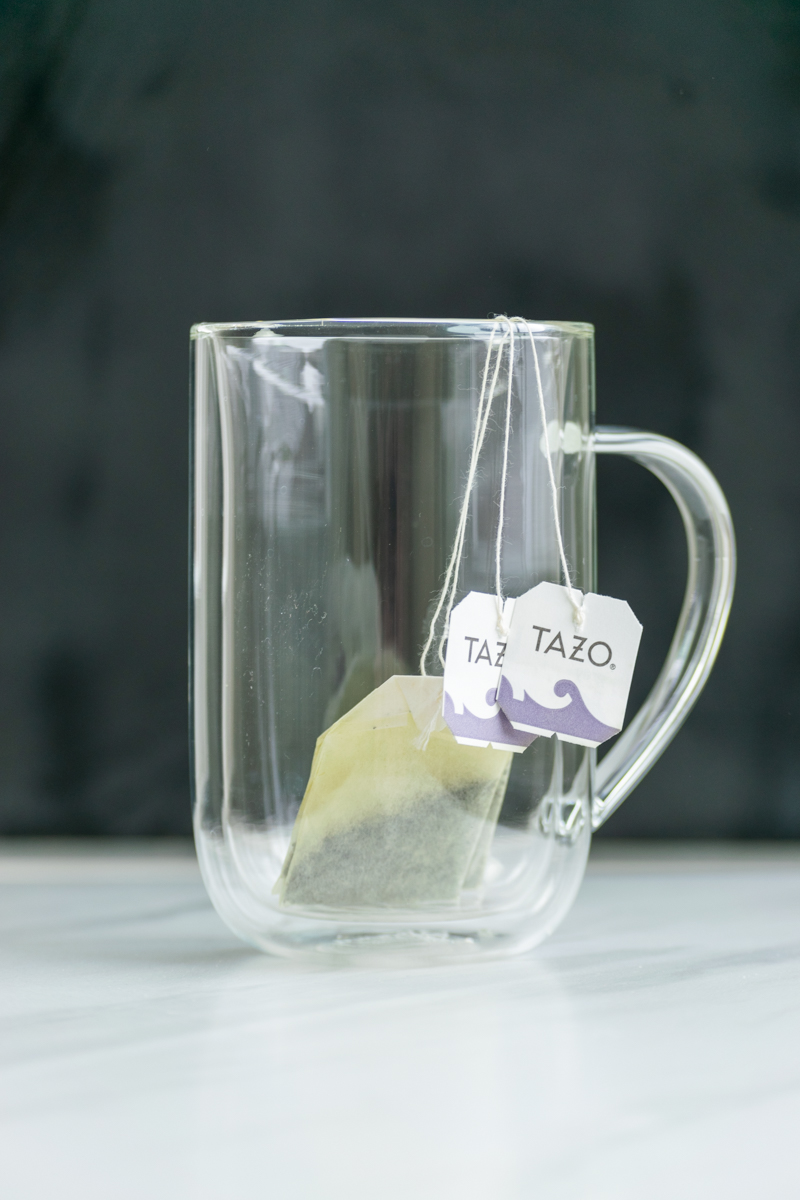 How to Make Vanilla Sweet Cream
When making sweet cream, I like to make sure my ingredients are cold. I find this helps to thicken the cream more easily.
All you have to do is pop a mixture of heavy cream, milk, and vanilla syrup into the freezer for a few minutes.
If you don't have any vanilla coffee syrup on-hand, definitely try my homemade vanilla syrup recipe. You won't believe how quick and easy it is to make with sugar, water and vanilla extract!
Once everything is cold (about 5 minutes) aerate, blend, or whip for a couple minutes.
I think the simplest and most effective method to turn heavy cream into sweet cream is to use a handheld frother. My Matcha Aerolatte does a fantastic job.
Other times I use my Nespresso Aeroccino, an electric milk frother, to whip up the sweet cream.
If you don't have any type of milk frother, you can also use a mixer or whisk.
Photo Credit: amazon.com
Perfect for making a smooth matcha latte or for frothing milk. 8.25", bamboo-look
Photo Credit: amazon.com
Electric Milk Frother & Steamer for making lattes, cappuccinos, hot chocolate and more.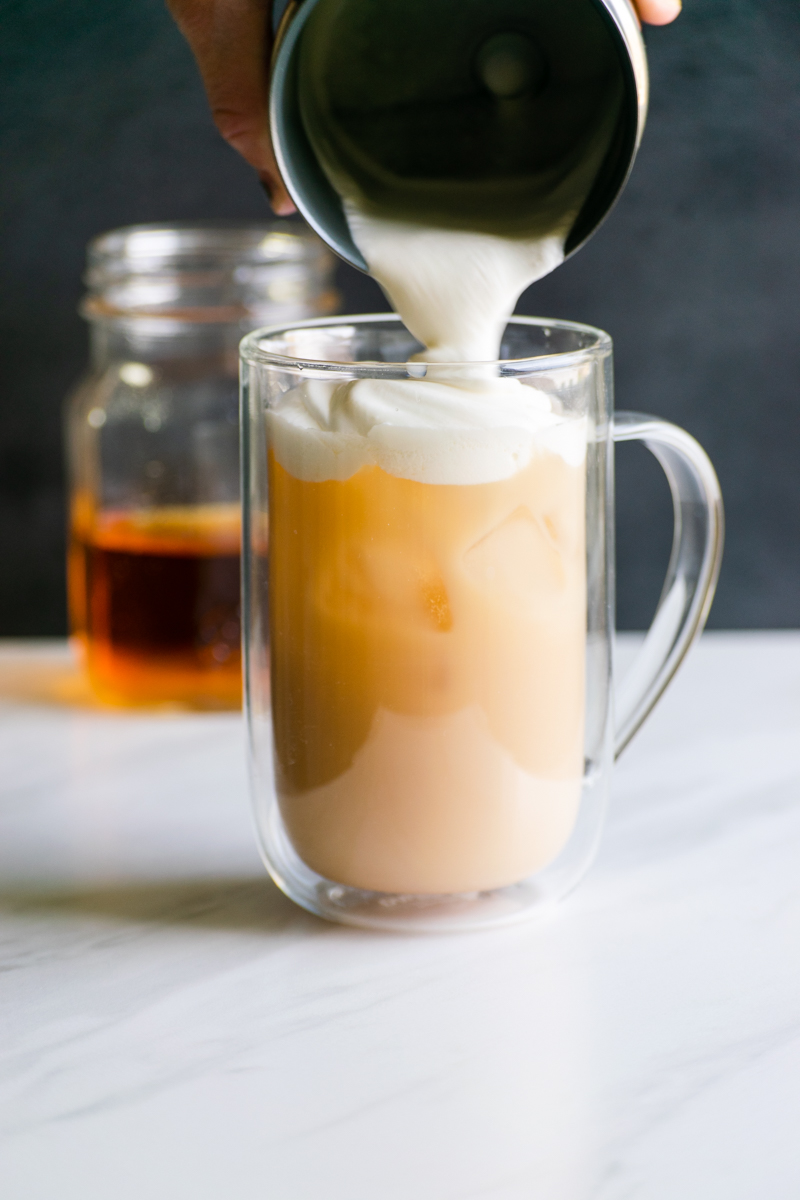 As an alternative, some people put the heavy cream and other ingredients in a mason jar and shake vigorously.
Honestly, I think it's a lot of work to achieve the proper consistency this way. But maybe you'll have more luck than me.
The goal is to create a thick cream, but not as stiff as whipped cream.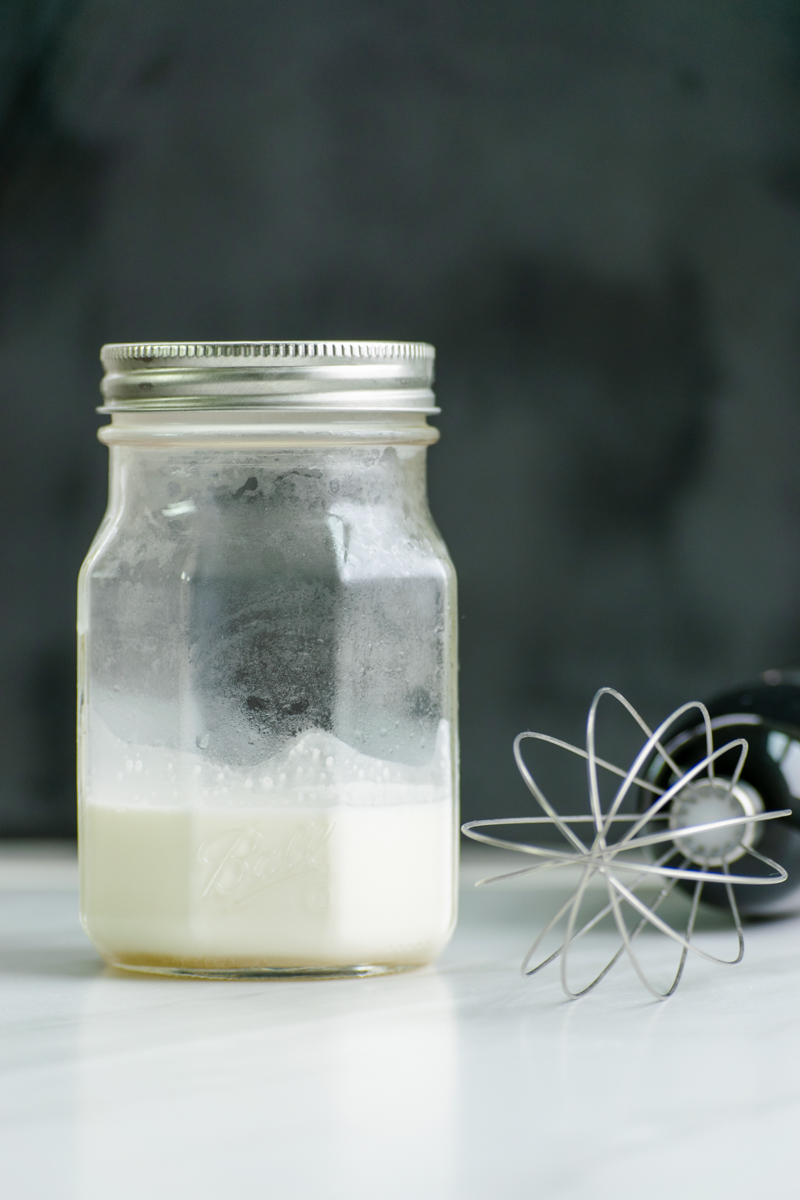 Iced London Fog Latte Recipe (with Sweet Vanilla Cold Cream)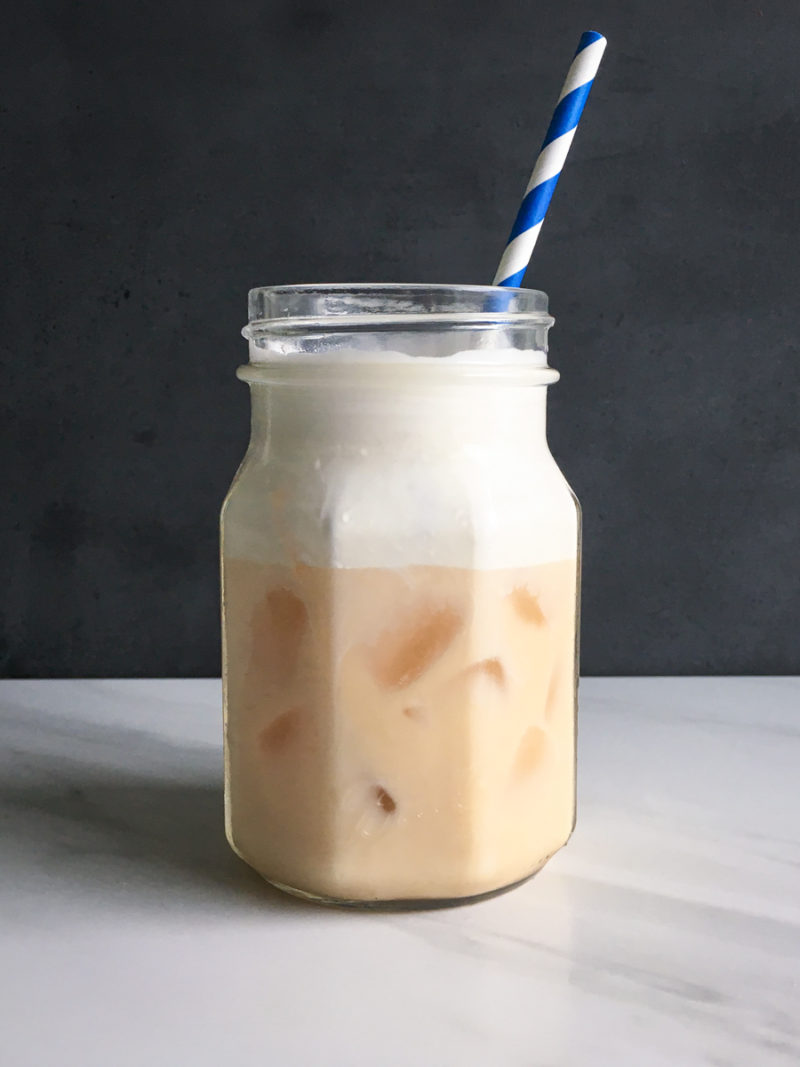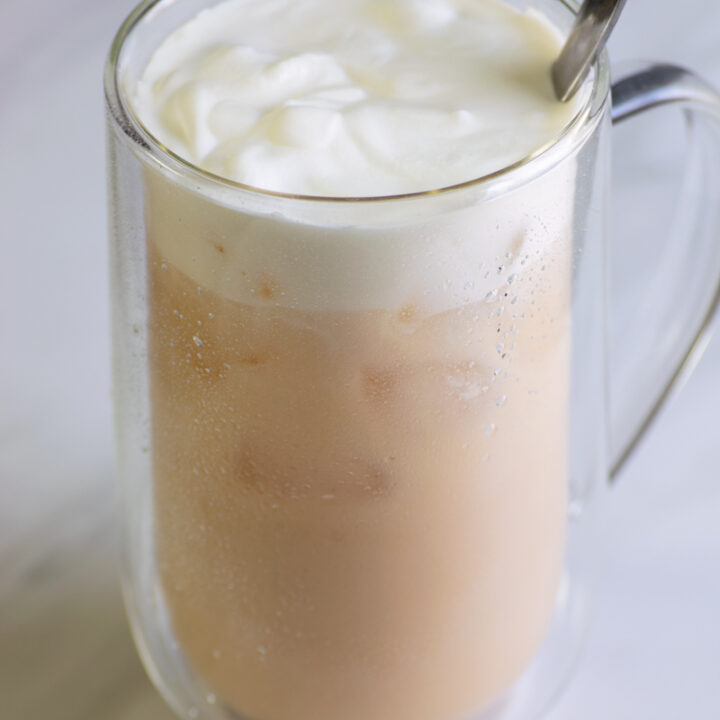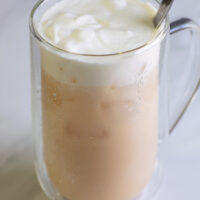 Iced London Fog Latte with Vanilla Sweet Cream
Yield:
2, 24 ounce tea lattes
Additional Time:
5 minutes
Total Time:
8 hours
5 minutes
Iced London Fog tea latte recipe made with delicious cold brew earl grey tea and topped with vanilla sweet cream similar to Starbucks sweet cream for cold brew.
Ingredients
Earl Grey Tea Cold Brew Concentrate
4 earl grey tea bags
2 cups filtered water
Vanilla Sweet Cream
1/2 cup heavy cream
2 tablespoons 2% milk
1 tablespoon vanilla syrup
Iced London Fog Latte
2 cups earl grey tea cold brew concentrate
2 cups ice
1/2 cup milk
2 tablespoons vanilla syrup
1 cup vanilla cold cream
Instructions

Earl Grey Cold Brew Tea Concentrate
Add cold filtered water to a jar with a lid.
Drop in the tea bags and give it a stir to soak the tea bags.
Put the lid on and cold brew the tea concentrate overnight in the refrigerator or for at least 8 hours.

Vanilla Cold Cream
Combine heavy cream, milk and vanilla syrup in a large measuring cup with spout. If you don't have vanilla syrup on hand, here's an easy homemade vanilla syrup recipe.
Place the cream mixture in the freezer for 5 minutes
Remove the cream mixture from the freezer. With a handheld frother/aerator, froth the cream for 1-2 minutes until it doubles in volume to about 1 cup. To froth the cream using an electric Nespresso Aeroccino, pour the cream mixture up to the lower MAX line of the frother and use the cold setting (blue button).

Iced London Fog Latte
Add 1 cup of ice and 1 cup of earl grey tea cold brew concentrate into each of two drinking glass.
Stir vanilla syrup into each tea.
Pour 1/4 cup cold milk into each glass of tea (if desired)
Top each london fog latte with approximately 1/2 cup of vanilla sweet cream.

Notes
If you prefer London Fog Earl Grey tea lattes with less milk, you can skip adding milk to the tea and just top the latte with vanilla sweet cream.
Both the cold brew tea concentrate and the vanilla sweet cream mixture can be made in advance. Then all you have to do is fr2oth or whip the cold cream when you're ready to make a latte.
I find a handheld frother/aerator does the best job turning the heavy cream mixture into fluffy sweet cream cold foam and is the easiest to clean up.
Nutrition Information
Yield

2
Serving Size

22 ounce latte
Amount Per Serving
Calories

288
Total Fat

29g
Saturated Fat

15g
Trans Fat

0g
Cholesterol

86mg
Sodium

61mg
Carbohydrates

22g
Sugar

22g
Protein

3g