A refreshing summertime favorite, Starbucks Iced Passion Tango Tea Lemonade recipe is easy to make at home with just a few ingredients.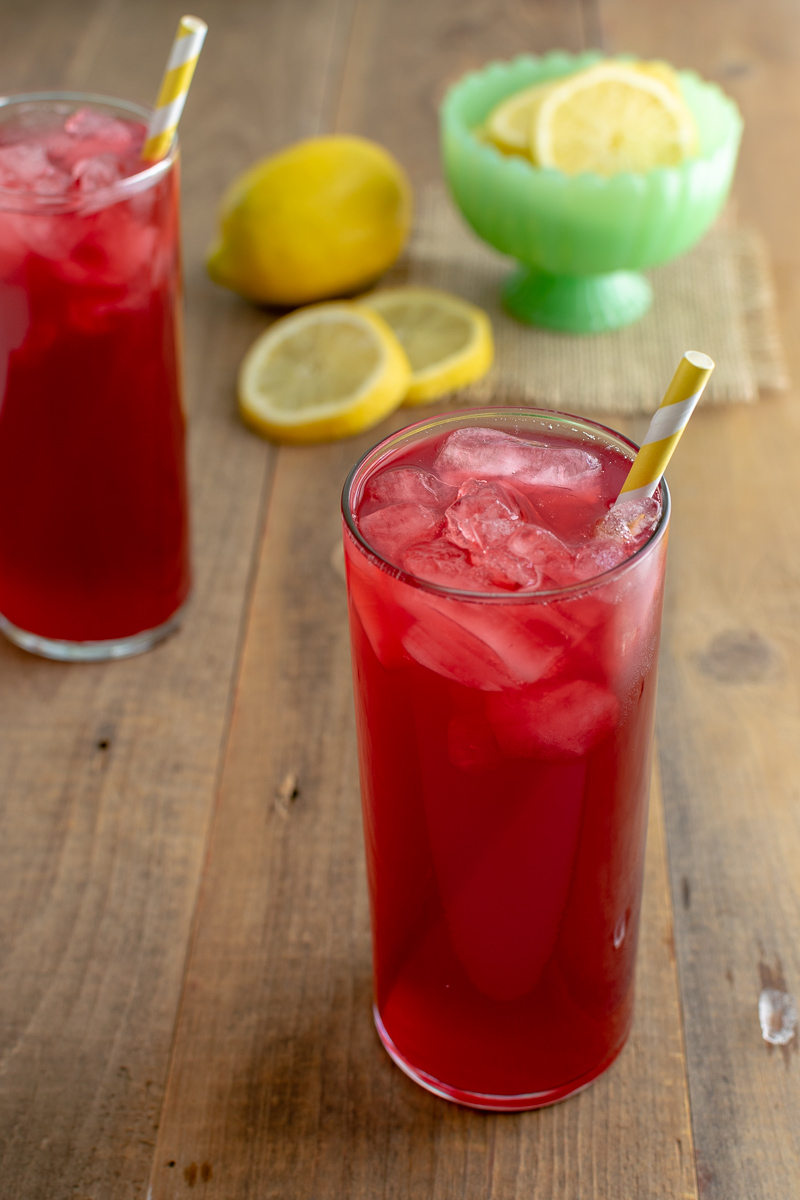 Passion Tango Tea Lemonade
Iced Passion Tea Lemonade is simply passion herbal tea, lemonade, and ice. Sounds easy enough, right? But sometimes when we make it at home, it just doesn't have the same sweet and tart taste of a Starbucks Passion Tango Tea Lemonade.
While there are a lot of Starbucks copycat recipes for passion fruit iced tea, they don't quite match up to the real recipe. Luckily, you can take a look at my recipe below and see how to add a little more zip to this favorite summer drink.
Since my daughter is a longtime Starbucks barista, I've got the inside scoop on how it's done. Let's take a look.
How Starbucks Passion Tea Lemonade differs from copycat recipes
To get started, here's a list of the ingredients in a Starbucks Iced Passion Tango Tea Lemonade:
Passion tea concentrate
Lemonade concentrate
Liquid cane sugar
Ice
Obviously, we can't replicate this Starbucks Shaken iced tea drink to a T (see what I did there?), but we can get pretty darn close. Here are some key differences between Starbucks and copycat recipes.
The Starbucks recipe is made with Teavana Passion Tango herbal tea blend
The tea portion of a PTL is a tea concentrate.
The lemonade portion is a lemonade concentrate which is only lightly sweetened.
The ice in all Starbucks drinks is made with triple-filtered water.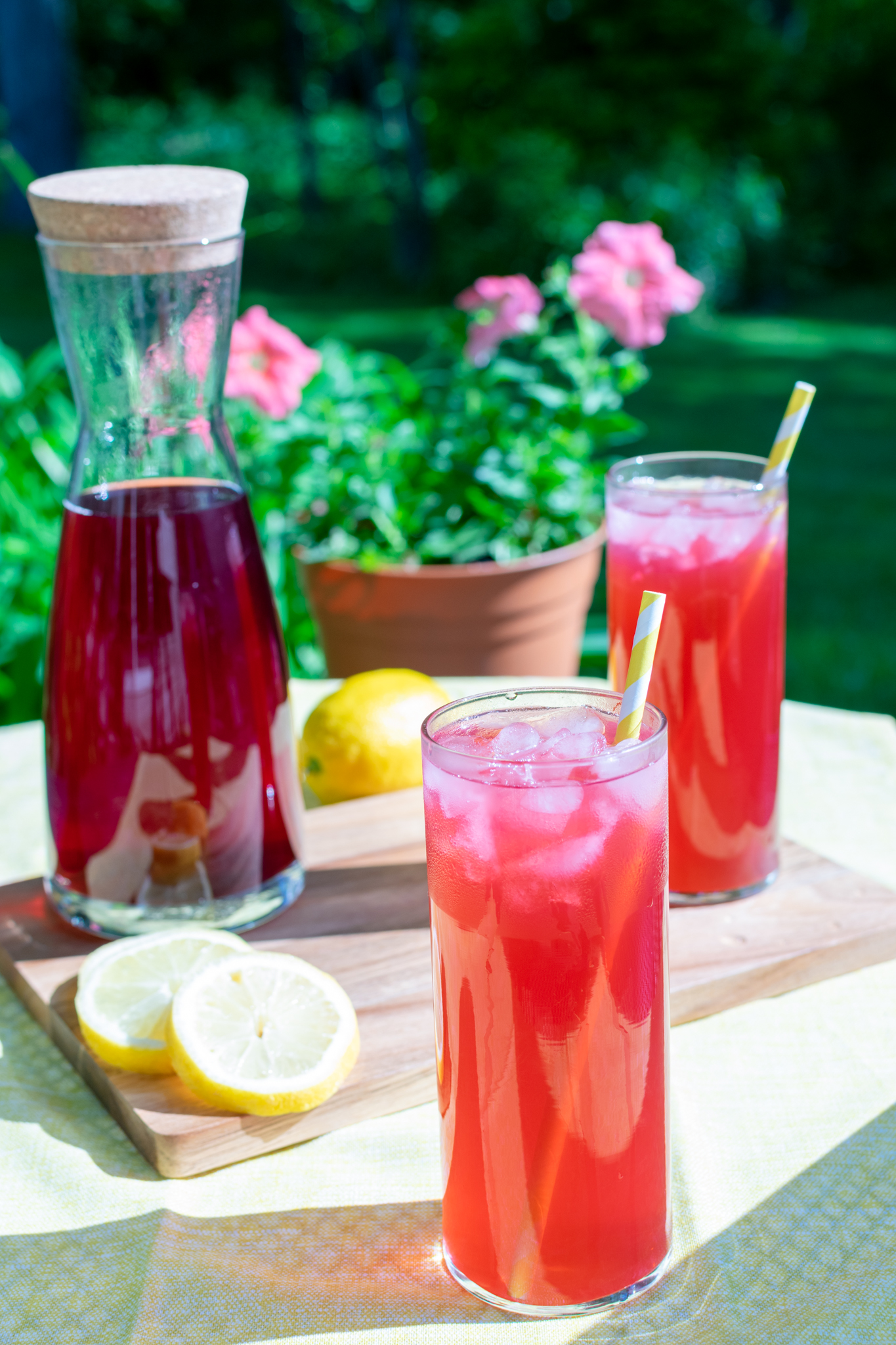 Teavana Passion Tango Tea vs Tazo Passion Tea
While the Teavana chain of tea shops no longer exist (so sad), the Teavana brand of tea lives on. In fact, Starbucks owns Teavana and that's the brand they use for all their iced teas and hot teas.
Since we can't get our hands on Teavana Passion Tango, most online copycat recipes recommend using Tazo Passion tea bags. And actually, I do too, but with a few tweeks.
Don't get me wrong, simply combining passion tea and lemonade, creates a tasty ice cold drink. However, its flavor won't quite be the same as the one you get from Starbucks, if that's what you're after.
This is the case since the Teavana Passion Tango herbal tea blend has a few additional ingredients compared to the Tazo Passion blend. Take a look at the table below. You can see that even though the Teavana and Tazo ingredients are similar, they're not identical.
| | |
| --- | --- |
| Teavana Passion Tango Tea Ingredients | Tazo Iced Passion Tea Ingredients |
| hibiscus flowers | hibiscus flowers |
| cinnamon | natural flavors |
| apple pieces | citric acid |
| papaya pieces (papaya, sugar) | licorice root |
| rose hips | orange peel |
| natural flavour | cinammon |
| blackberry leaves | rose hips |
| lemongrass | lemongrass |
| mango pieces (mango, sugar) | fruit juice extract |
| rose petals | |
Photo Credit: www.amazon.com
Pack of 4 boxes. Each box contains 6 large size iced tea bags.
I'll let you in on a secret; the way to make Tazo Passion tea taste more like Teavana Passion Tango is to steep the Tazo tea bags with slices of apple and mango pieces. After steeping the ingredients you can either pour the tea through a strainer or scoop out the fruit with a slotted spoon.
Starbucks iced tea drinks are made with concentrated tea
Simply put, there's a big difference between passion tea and passion tea concentrate, twice as much water, to be exact. Therefore, if you combine passion tea (not concentrated) with lemonade, the flavors of the passion tea are too weak.
Starbucks adds lemonade to concentrated tea and so should you. This allows the hibiscus and fruity herbal flavors of the tea blend to stand up to the lemonade.
Making tea concentrate is easy. Simply use half the amount of water you would compared to if you were making tea to drink.
For example, Tazo says to steep one iced passion tea bag in 32 oz. of hot water. In addition, they say to add 32 oz. of cold water. In order to make a concentrate, just skip the second part; don't add the 32 oz. of cold water.
After that, store the tea concentrate in the refrigerator. Then, when you are in the mood for a glass of passion iced tea (no lemonade), combine equal parts of tea concentrate and cold water. On the other hand, if you prefer passion tea lemonade, simply mix one part tea concentrate with one part lemonade.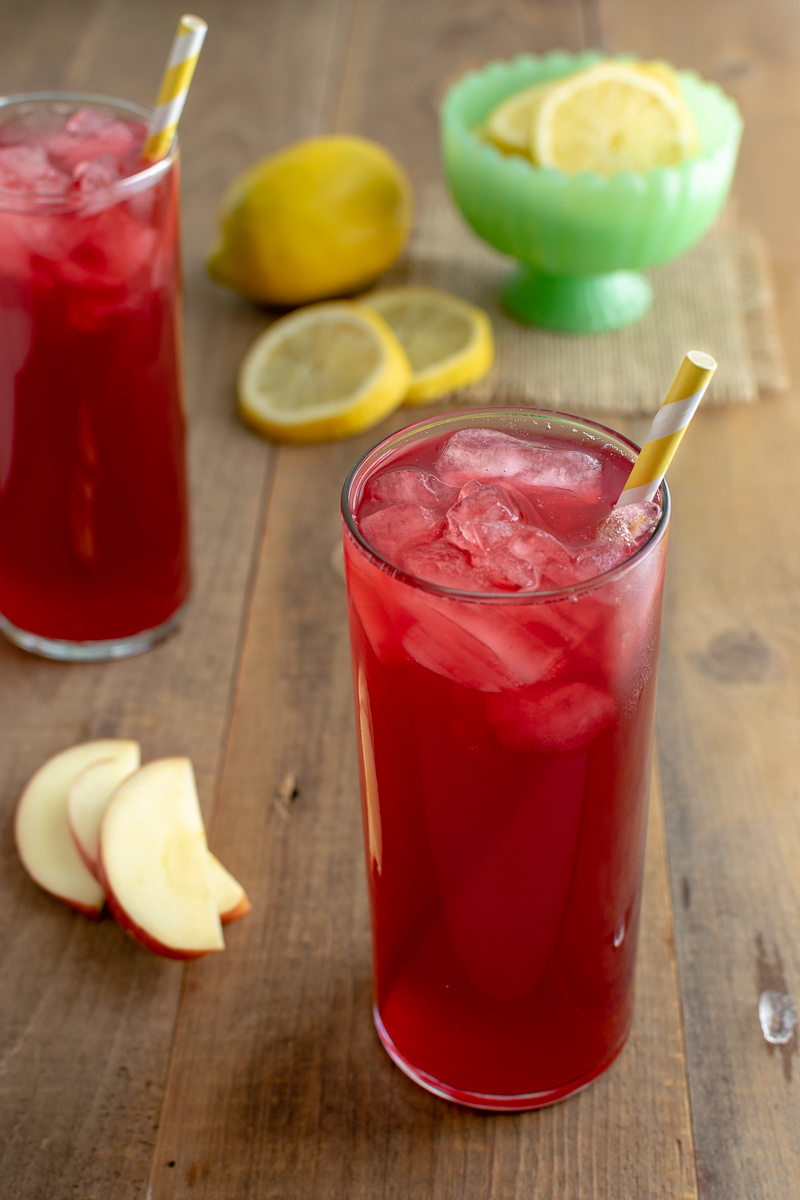 Starbucks lemonade concentrate is lightly sweetened
Starbucks shakes together Passion Tango concentrate, lemonade concentrate, classic syrup and ice to make its signature drink. "PTL" is how you'll see it written on the cup. However, the lemonade they use is only lightly sweetened. That's why the recipe also calls for a few pumps of classic syrup.
If you're like me, and don't like overly sweet drinks, ask the barista for no classic syrup.
Occasionally, I see copycat recipes that call for adding store-bought lemonade AND additional sugar. However, it's not necessary to add more sugar since store brands like Simply Lemonade or Country Time Lemonade are already fully sweetened.
Starbucks uses triple-filtered water
Every day the baristas at Starbucks make tea concentrate by adding tea bags to triple-filtered water. They also make the lemonade mixture by adding triple-filtered water to the 2X lemonade concentrate. Finally, all ice is made from triple-filtered water.
It goes without saying, the bulk of every tea and coffee drink is water. Unfortunately, the taste of water in our homes varies significantly depending on its source. As a result, it's essential to use filtered water. You'll be amazed how much better all your drinks are at home when you use it. Personally, I use a Brita water pitcher like this one.
Please note, I am an Amazon affiliate and earn a small commission for your purchase. I truly only recommend things I use, and in no way does using my link change the price you pay.
Photo Credit: www.amazon.com
I keep a filter pitcher full of water in my fridge so it's always ready to make tea or coffee. This one comes with one standard filter and holds a decent amount of water (10 cups, to be exact).
Now that you understand the ins-and-outs of exactly how Starbucks makes Iced Passion Tango lemonade, here are some tips to make this drink at home.
Tips to make the best Iced Passion Tea Lemonade at home
Use concentrated tea
Steep Tazo Passion tea along with pieces of apple and mango or use an herbal loose leaf blend like Passionfruit Tango from Adagio Teas
It's not necessary to add more sugar to the drink if using store-bought lemonade. It already contains sweetener.
If you do add sweetener, it's ideal to use an already dissolved simple syrup or add sugar to the tea when it's hot.
Make tea concentrate, lemonade and ice all with filtered water
Combine half concentrate and half lemonade or adjust proportions to your preference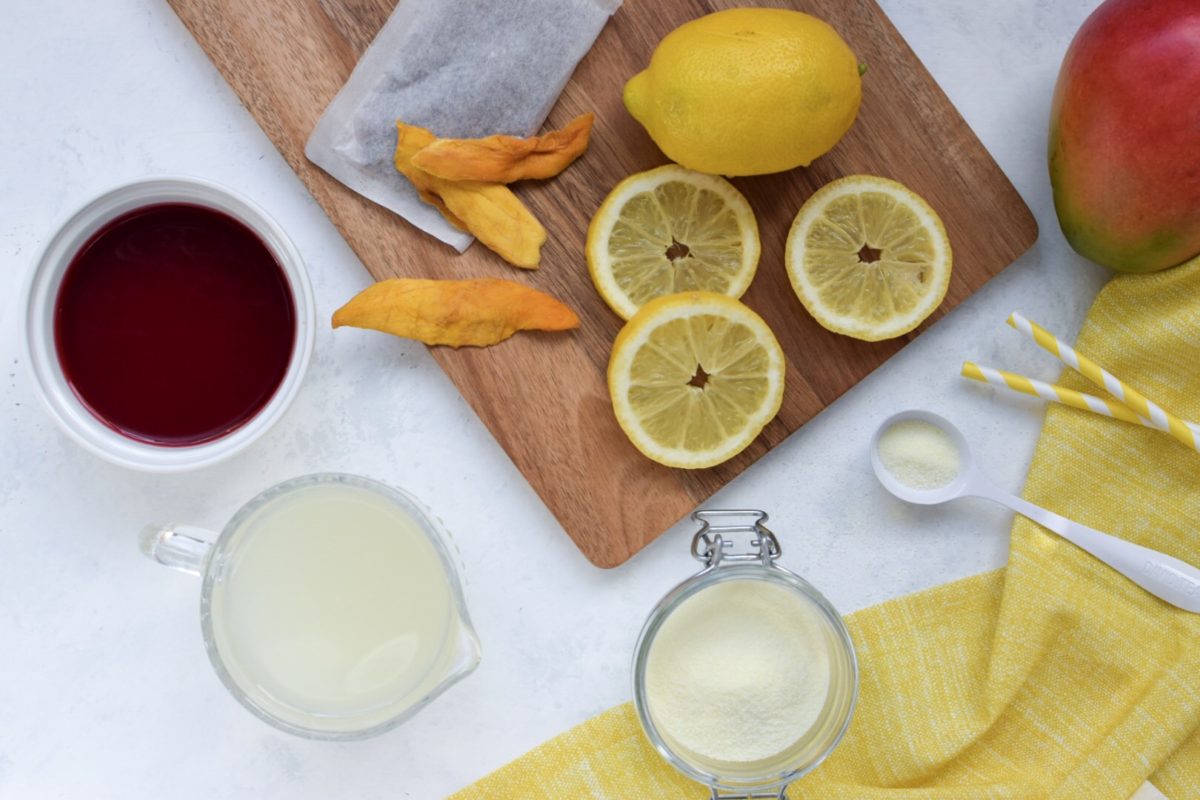 Popular passion tea lemonade recipe variations
Instead of combining lemonade and passion tea concentrate, try to some of these favorite alternatives.
Apple Juice
Use apple juice in place of the lemonade. You'll find that the apple juice enhances the subtle passion tea apple flavor.
Coconut Milk or Coconut Water
Combine passion tea concentrate with coconut milk or coconut water. This mixture is sure to make your drink just a little bit more tropical. To mix the passion tea, coconut milk and ice, use a shaker for a nice foamy top and to help prevent curdling. Also, you may prefer 25% milk to 75% tea. I always make a small sample until I discover the proportions I like the best.
Seltzer Water
Add seltzer water in place of lemonade for a fizzy drink. A little carbonation added to the passion tea concentrate makes a delicious drink. You can even add some seltzer to the PTL. Just play around with the proportions to your desired taste. You can't go wrong.
Heavy Cream and Sweetener
Add a little heavy cream and simple syrup (diluted sugar) to the tea concentrate and ice in a shaker. Give it a good ten shakes and you've got yourself a keto-friendly pink drink.
Copycat Starbucks Passion Tea Lemonade Recipe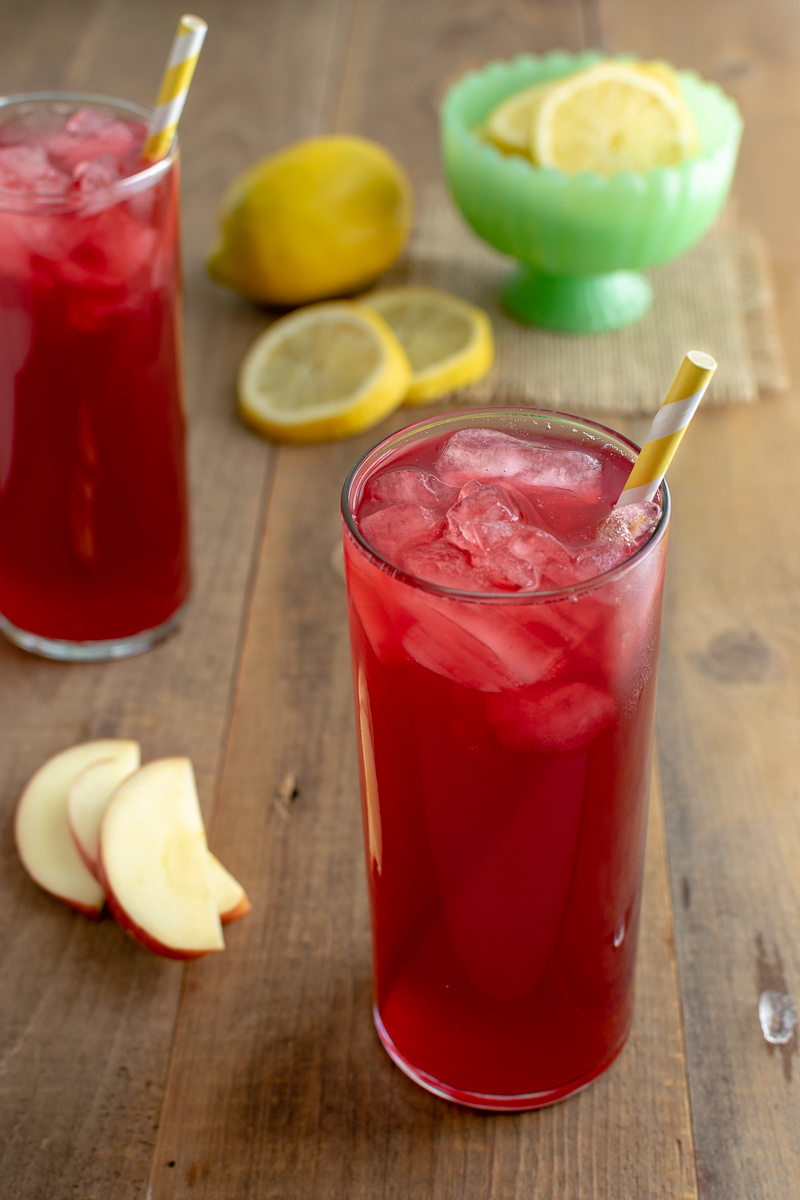 Iced Passion Tango Tea Lemonade
Yield:
8, 8 ounce servings
Copycat Starbucks Iced Passion Tango Tea Lemonade is easy to make and delicious to drink! This recipe is extra special since you steep the tea with apples and mango for an extra zing of fresh, fruity flavor. It's sure to become one of your favorite summer iced tea drinks.
Ingredients
1 Tazo Iced Passion tea bag or you can use 8 regular size Tazo Passion tea bags
1/2 tart apple, diced into small pieces
1/2 cup dried mango pieces, diced (or you can use fresh mango)
32 ounces filtered water
32 ounces lemonade (You can use brands like Simply Lemonade or make 4 cups of lemonade using a powder mix like Country Time.)
4 cups ices
Instructions
To make the passion tea concentrate:
Bring 32 ounces (4 cups) of filtered water to a boil in a saucepan or kettle. Turn off heat.
To the boiled water, add one large size Tazo Iced tea bag (or 8 regular size tea bags), as well as the apple and mango.
Steep the passion tea for 5 minutes.
Remove tea bag(s) and fruit. You can either do this by pouring the tea through a strainer or using a large slotted spoon to remove the fruit). Set the tea concentrate aside to cool.
To make the passion tea lemonade
To make a pitcher of passion tea lemonade, combine all the tea concentrate and cold lemonade in a pitcher.
To serve, pour 1 cup of passion tea lemonade to a glass containing 1/2 cup of ice.
Stir and enjoy!
Notes
When making iced tea, it's best practice to not add ice to the pitcher of tea unless drinking it all immediately. This is because the ice will melt and dilute the drink.
Also, if some people prefer plain passion iced tea (no lemonade), do not combine tea concentrate and lemonade in a pitcher. Rather, store the tea and lemonade in separate containers and combine 1/2 cup tea concentrate, and either 1/2 cup lemonade or filtered water, and 1/2 cup ice to each glass. When making individual drinks, I like to put the ingredients in a shaker, give it a good ten shakes like Starbucks, and pour into a glass.
Nutrition Information
Yield

8
Serving Size

8 ounces
Amount Per Serving
Calories

60
Total Fat

0g
Sodium

7.5mg
Carbohydrates

15g
Sugar

14g
Protein

0g
Starbucks Iced Passion Tango Lemonade FAQs
What's in a Starbucks Passion Tea Lemonade?
There are four ingredients in a passion tea lemonade: passion tea concentrate, lemonade concentrate, liquid cane sugar and ice.
Does a Starbucks Passion Tea Lemonade have caffeine?
No, passion tea lemonade does not have any caffeine. In fact, it is an herbal tea and herbal teas do not contain caffeine.
How many calories are in a Starbucks Passion Tea Lemonade?
Here's how many calories are in a passion tea lemonade for each size drink available: Tall (12 oz.) 70 calories; Grande (16 oz.) 90 calories; Venti (24 oz.) 140 calories; Trenta (30 oz.) 170 calories.
Can I get an unsweetened Starbucks Passion Tea Lemonade?
Unfortunately, it's not possible to get the Passion Tango Tea Lemonade unsweetened fully. This is because the lemonade concentrate contains sugar. You can, however, ask the barista to leave out the liquid cane sugar so the drink isn't as sweet and has fewer carbs and calories. Additionally, if you want a completely sugar-free Passion Tea drink then order an Iced Passion Tea (the one without lemonade) with no pumps of liquid cane sugar.