An easy mango sorbet recipe made extra tasty using passion tea. See how easy it is to make this sweet frozen treat.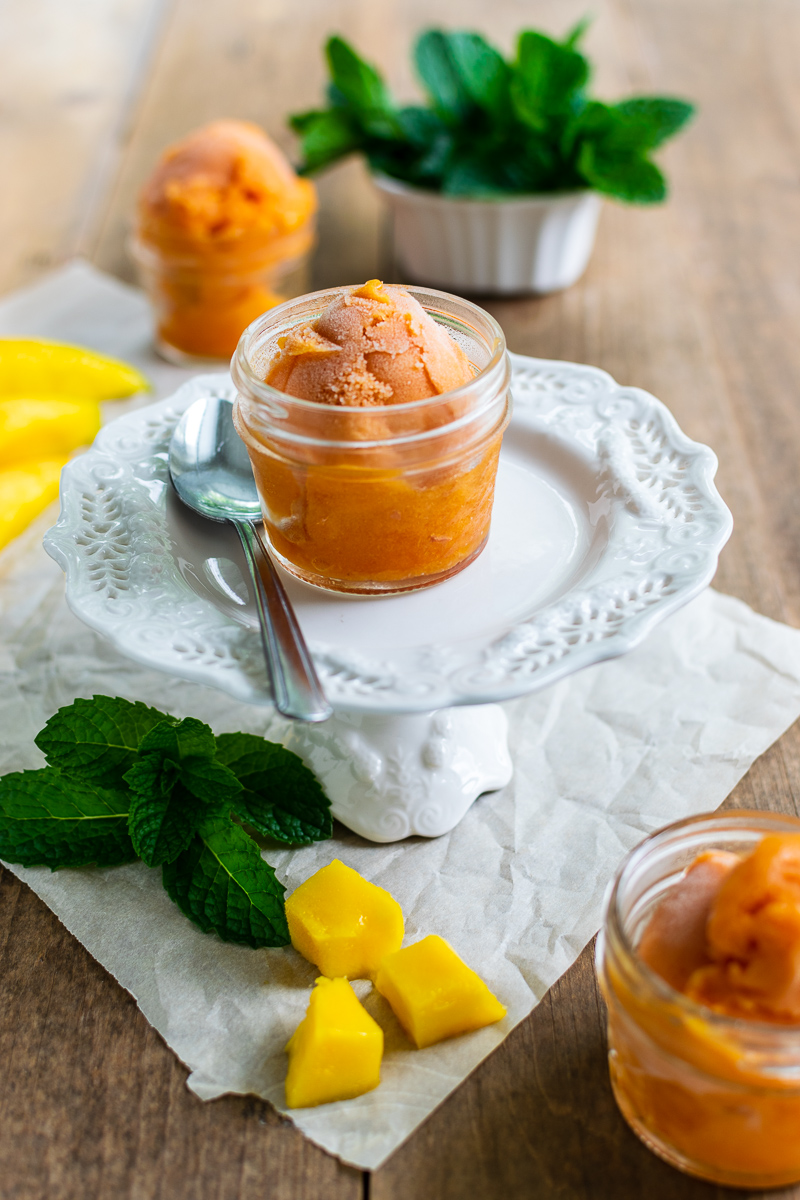 Passion Tea Mango Sorbet
If you've seen my most recent posts, it's pretty obvious I'm on a passion tea kick right now. For instance, I've been enjoying homemade passion tea lemonade all summer. On the go, I can't help but stop by Starbucks to get a Shaken Peach Citrus Passion Tea Infusion. What's great about passion tea is not only do its sweet and slightly floral flavors make a terrific iced tea, but they make the most delicious passion tea sorbet. In this easy sorbet recipe, the tropical passion tea and mango flavors make an irresistible frozen treat!
Homemade Sorbet is Easy to Make
If you've never made sorbet before, you've got to give it a try; it's so easy. Personally, I enjoy having a scoop of passion tea sorbet after a light summer meal on the patio. It's light, refreshing and satisfies my sweet tooth. The kids will love it too. And since herbal tea doesn't have caffeine, there's no need for parents to worry.
What I love about this easy sorbet recipe is that you can easily adapt it for other tea flavors. For example, I can't wait to make green tea peach sorbet.
Additionally, this recipe includes six cups of mango. I prefer to use frozen mango chunks since they're already cut up. Of course, you can use fresh mango, but where I live, it's not always available. For me, a good name brand of frozen mango tastes just as good as the fresh fruit anyway. Not to mention, many stores even sell organic frozen mango. As a bonus, you can make this passion tea mango sorbet year-round.
Furthermore, mangoes are nutrient-rich and low in calories. Often called the king of fruit, they're a healthy addition to any diet.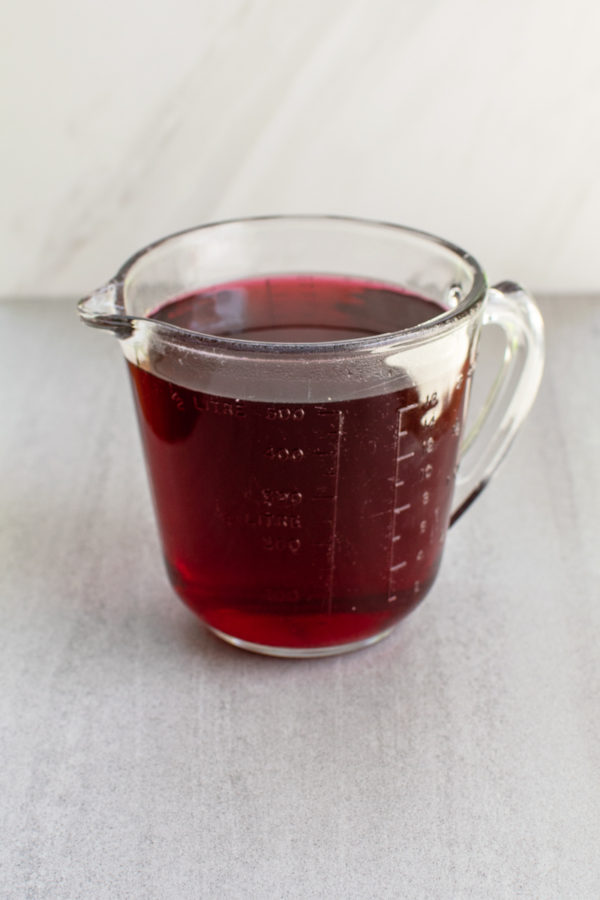 Nutrition Benefits of Mango
Take a look at just how nutritious one cup of fresh mango is.
Low in calories (99 calories)
Low in fat (.6 grams)
Contain fiber (2.6 grams)
High in vitamin C (contains 67% recommended daily intake)
Packed with nutrients like vitamins A, B5, B6, C, E & K, niacin, potassium, riboflavin, manganese, thiamine, magnesium, copper and folate
While it's true that sorbet has a lot of sugar, at least the mango is very healthy. In fact, mango is delicious on its own, or mixed in a variety of recipes like salad or salsa. For instance, pan seared scallops with black bean and mango salsa is a delicious way to add mango to a meal. I've made this recipe dozens of times.
Health Benefits of Mango
Since mangoes are so nutrient-dense, it goes without saying that they are healthy. In fact, mangoes have the following health benefits:
Decreases risk of obesity overall mortality, diabetes, and heart disease
Promotes a healthy complexion and hair, increased energy, and overall lower weight
May prevent age-related macular degeneration, asthma, diabetes, some cancers, heart disease
May improve digestion, bone health, skin and hair
Now that you know what a bonus mangoes are for you, let's get back to this easy-to-make mango passion tea sorbet recipe.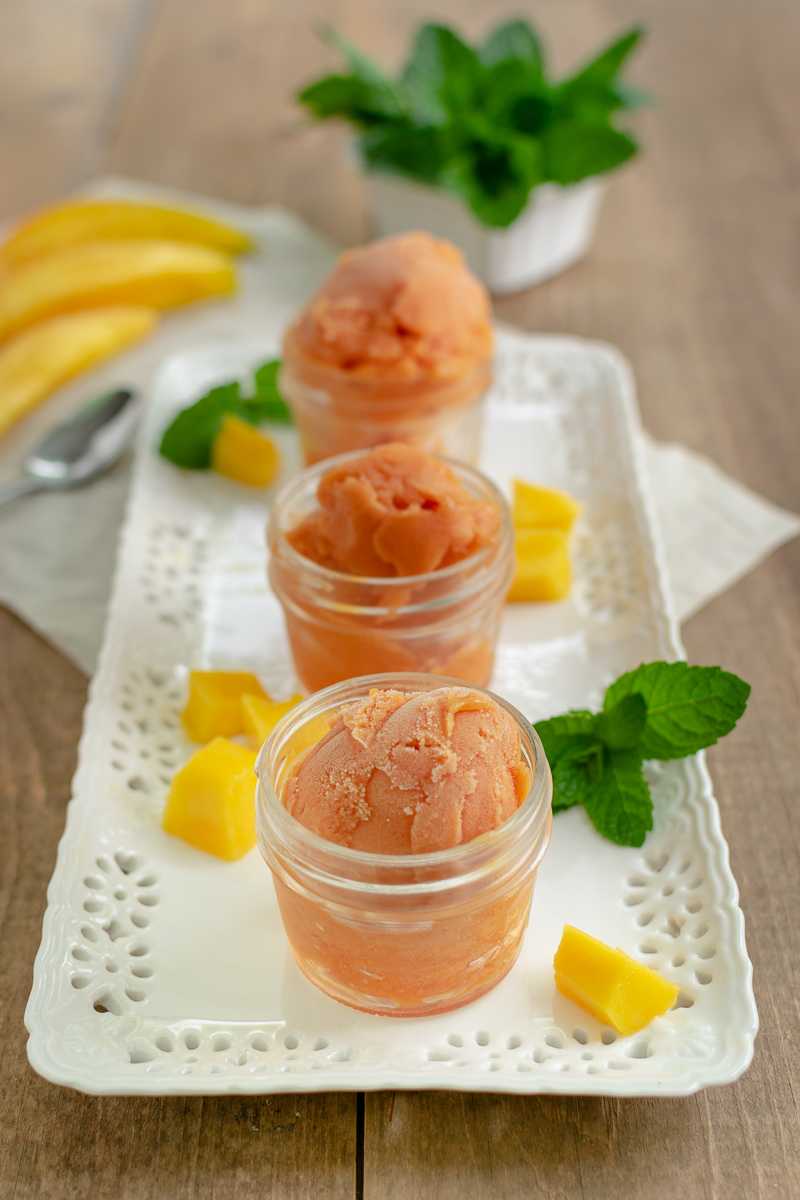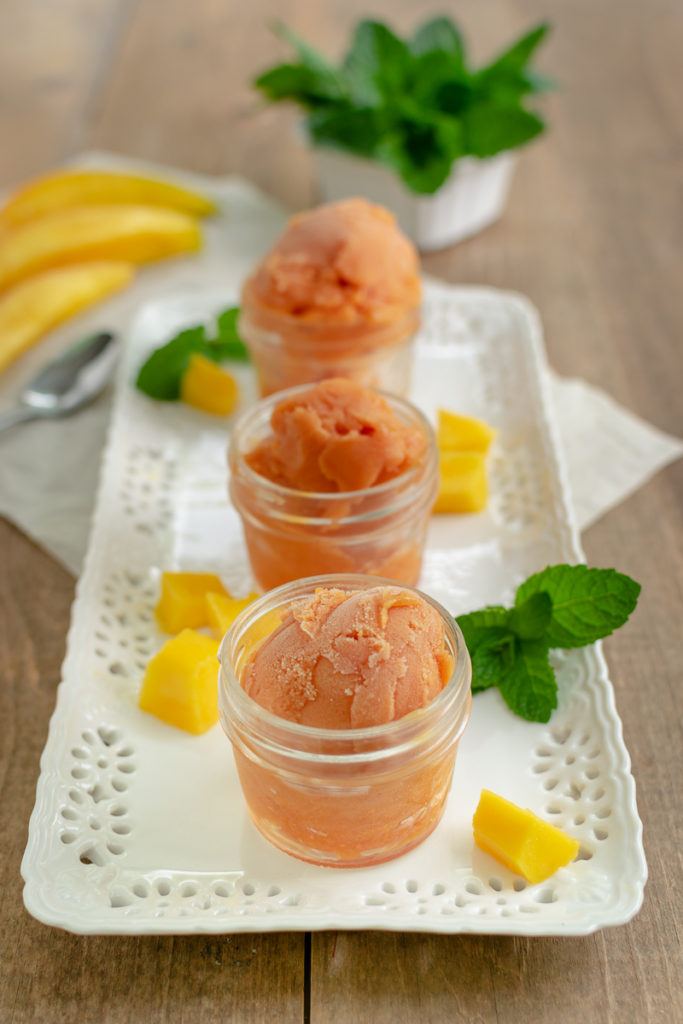 All About Sorbet
Sometimes, sorbet is confused with sherbet and ice cream. While similar, sorbet is not quite the same thing as either. Here are some common questions about this dessert.
What is sorbet?
If you're not familiar with sorbet, it's a frozen dessert that is simply a blend of fruit puree and sweetener. Next, the mixture is frozen in an ice cream maker or in a freezer. As you can imagine, you can create an infinite number of sorbet flavors.
Sorbet Ingredients
The two main ingredients in sorbet are fruit and sugar. Almost any fruit can be used. Likewise, a variety of sweeteners can be used like cane sugar or honey.
Sorbet vs sherbet
The main difference between sorbet and sherbet is that sherbet contains dairy. Additionally, sorbet is also considered vegan unless a sweetener like honey is used.

On the other hand, sherbet is made with a little cream or milk giving it a richer texture. Typically, sherbet is less than 2% fat.
Mango Passion Tea Sorbet Recipe
This easy sorbet recipe has three basic steps:
Create a simple syrup and a cup of passion tea
Combine blended fruit, tea and syrup
Freeze the sorbet mixture in an ice cream maker
I have a Cuisinart Ice Cream Maker that I love. And so I can whip up a batch of ice cream or sorbet at a moment's notice, I store the empty freezer bowls in the freezer at all times.
As far as I concerned, I think my ice cream maker is the best gadget ever. Not only does it make the creamiest ice cream and perfectly chilled sorbet, but it's fun to watch spin around. My red Cuisinart ice cream maker is from Williams Sonoma. But, you can easily get one on Amazon like these two from Cuisinart.
How to make the perfect sorbet
Making the perfect sorbet is a matter of getting the right ratio of fruit to sugar. For instance, use too much sugar and the sorbet will be soft and slushy. On the other hand, use too little sugar and the result will be a hard and icy sorbet. However, the exact amount of sugar you use depends upon the fruit.
Therefore, the secret to achieving the perfect sorbet consistency is to do the egg test. The egg test helps you see if you need to add more sugar (simple syrup) or less.
If you're making sorbet for the first time, or have made it before and it didn't come out correctly, I highly recommend watching this video!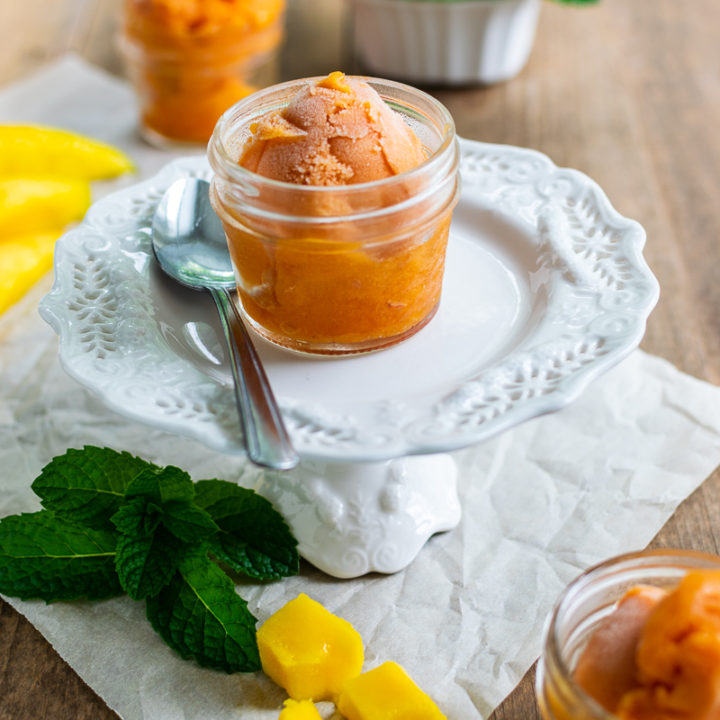 Easy Passion Tea Mango Sorbet
Additional Time:
2 hours
30 minutes
Total Time:
2 hours
45 minutes
Mango passion tea sorbet is the perfect sweet and delicious frozen dessert to follow a summer meal.
Ingredients
2 cups water, preferably filtered
1 cup cane sugar
1 or 2 Tazo Passion tea bags, regular size
6 cups frozen mango
1-2 tablespoons lemon juice, optional
pinch salt, optional
Instructions
Steep a cup of passion tea by placing 1 or 2 tea bags into 1 cup of 170 degree water. Set aside.
While the tea is steeping, make the simple syrup by adding sugar and 1 cup of the water to a saucepan. Heat over medium heat on stove until sugar is dissolved (about 5 minutes). The syrup will be clear when all the sugar is dissolved. Note, do not bring to a boil.
When the simple syrup is done, remove from heat and let cool to room temperature.
When the tea is finished steeping, remove the tea bag and let cool to room temperature.
Meanwhile, place cut up mango pieces in a food processor or blender.
Add 3/4 cup of the cool tea to the mango and blend until it is a puree.
Finally, you need to add around 1 cup (maybe less, maybe more) of the simple syrup to the sorbet mixture. I recommend adding 3/4 cups of the syrup to start. After you add that amount, do the egg test (see notes below) to see if the sorbet is the correct consistency. If necessary add more simple syrup until about a quarter size of the egg shows.
Chill the sorbet mixture in the refrigerator for at least 30 minutes.
Add sorbet mixture to the ice cream maker and follow the manufacturer's instructions. Mine churns for about 15 minutes.
Finally, put the sorbet into an airtight container and place in freezer for 2 hours.
This step is optional. Mix in the lemon juice and salt to taste, keeping in mind that the sorbet will be a little less sweet after freezing.
Notes
It's important to make the sorbet mixture the proper consistency. The amount of sugar added to the fruit determines if the frozen sorbet is too soft or too hard. If there is not enough sugar, the sorbet will be hard. If there is too much sugar, the sorbet will be soft.
To get the right consistency, do the egg test. About a quarter-size of egg should show when it is carefully lowered vertically into the sorbet mixture. If no egg is showing, add more simple syrup in small amounts until the egg appears.
Of course, remove the egg from the mixture after completing the test.