Old Barrel Tea Company, with shops located in New Mexico and Colorado, makes unique and tasty blends of tea. Here's a look inside their Durango, CO location.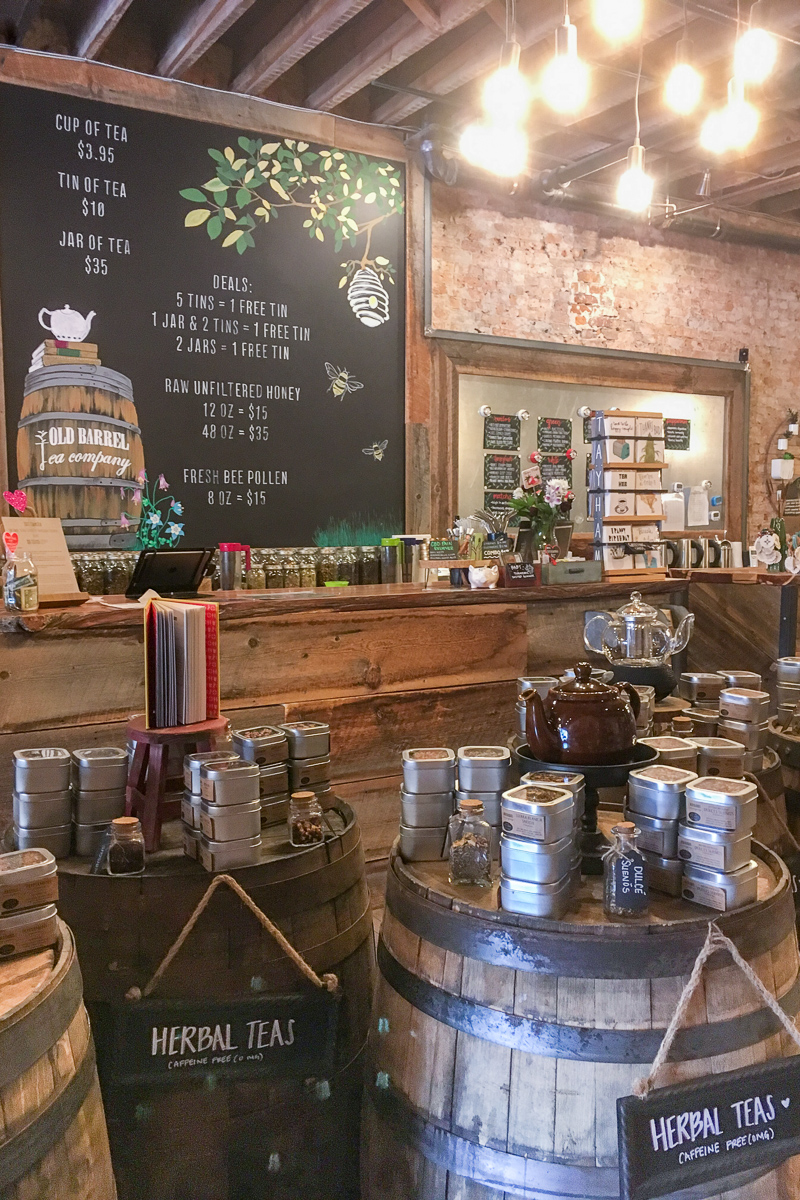 Old Barrel Tea Company
Tucked away in Colorado's southwest corner I discovered the most charming tea store on a recent trip to Durango, CO – Old Barrel Tea Company. Famed for the Durango-Silverton Narrow Gauge Railroad, among other attractions, Durango has a distinct historic, mountain-town feeling. And Old Barrel Tea Company seamlessly blends into this vibe present throughout the restaurants and shops along Main Avenue.
Additionally, the Durango area is an outdoor-lovers paradise. Surrounded by hiking, mountain-biking and ski trails, fast-flowing creeks and rivers, mountain peaks and canyons from the San Juan National Forest to the Animas River Valley, it's no wonder numerous visitors come to Durango year-round. So, if you find yourself in Durango, summer or winter, be sure and stop into Old Barrel Tea Company, sample one of their delicious tea blends and shop around.
In the meantime. I'll take you on a quick tour below and you can also visit them online at oldbarreltea.com
Oh…quick disclaimer here… This is not a sponsored post; it's just when I discover something great, of course I'm going to share it.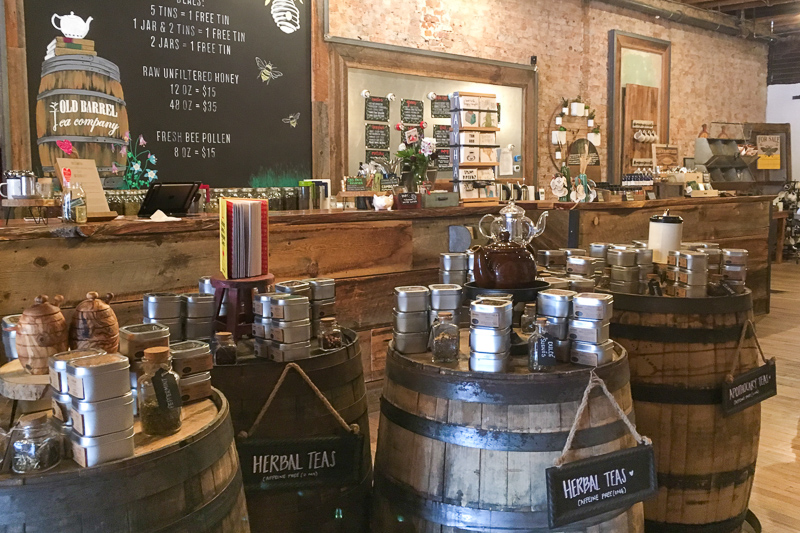 Family-run tea company in Colorado and New Mexico
Old Barrel Tea Company is a family-run business. They source their tea worldwide and create blends in their New Mexico facility. In fact, the small mountain town of Ruidoso, New Mexico is where Old Barrel Tea Company began in 2015.
Additionally, they source and blend spices and get honey from local bee keepers. Today, you can find Old Barrel Tea Company stores in six locations: Albuquerque, Ruidoso, Cloudcroft and Old Mesilla, New Mexico; and Durango and Golden, Colorado.
The Durango tea store certainly has a warm and welcoming feeling. Its exposed brick walls and reclaimed wood touches throughout make you want to linger, browse, sample and buy.
By the time you reach the back of the store, you can't help but see their motto prominently displayed on a blackboard wall: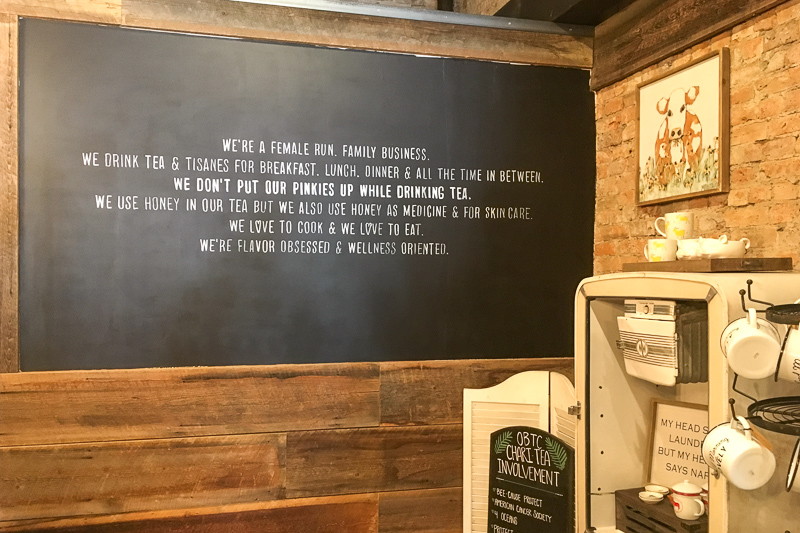 A look inside Old Barrel Tea Company (Durango)
If I had to describe Old Barrel Tea Company's Durango location in a word, well…I couldn't. But I would definitely select from rustic, charming, inviting, warm, cozy, relaxing, homey and local, all with a modern touch.
From the moment you walk in, the store is spacious and airy allowing many customers to easily browse without stepping on each other's toes.
Of course, the first thing you see are barrels stacked with tea tins. Barrel after barrel. In fact, there's a barrel displaying each type of tea. (You can see four of the types pictured below.) Including the caffeine levels on each sign is a nice touch, especially for those new to tea.
Around the store, shelves are stocked with essential oils, flavorful spices, tea ware, and tea accessories. There are fun plant-starting kits sold in egg cartons, beautifully colored hand-poured candles, mugs with funny sayings and lots of items that make wonderful gifts.
Most importantly, the staff is friendly and willing to share their tea and honey knowledge. Tea is a lifestyle, and it's very clear they're eager to share the benefits of drinking tea.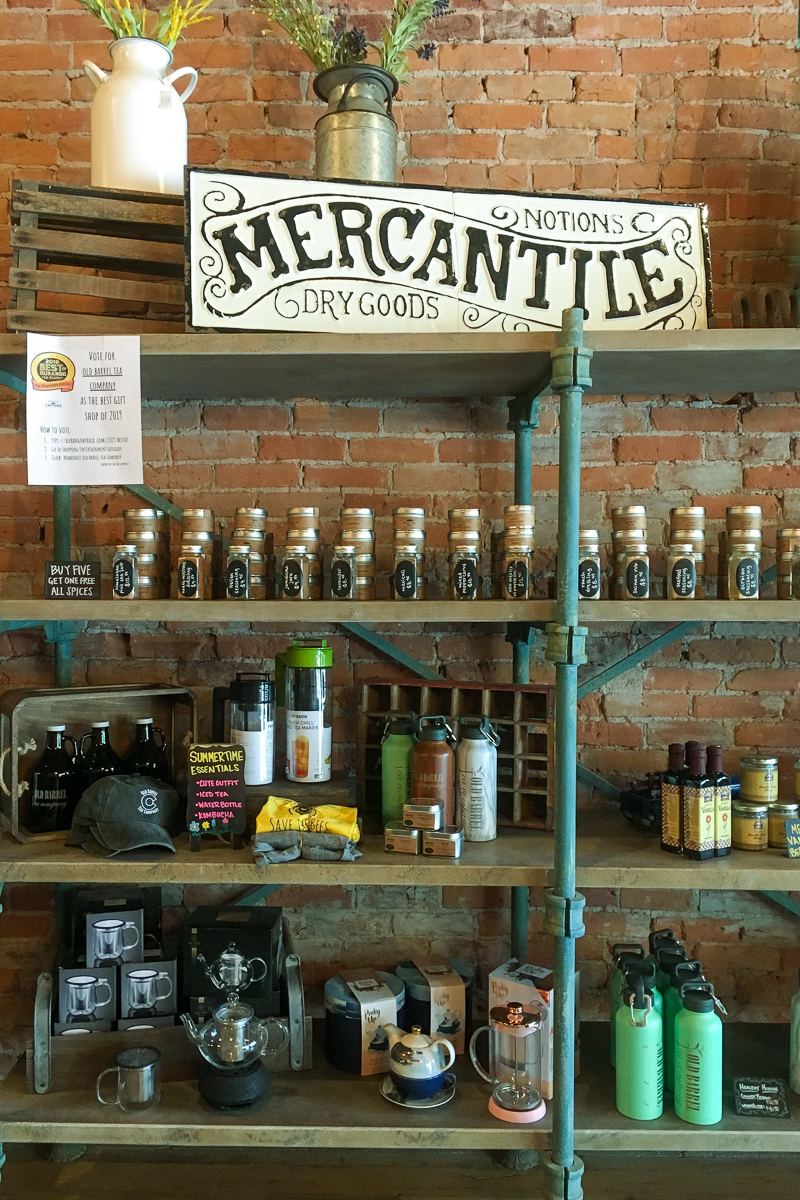 Tea cup display and home decor ideas
While Old Barrel Tea Company is in the business of selling tea, spices, honey and gifts, their Durango, CO tea store is a treasure-trove of home decor ideas. I particularly like the mug display. Any DIY-er could make this with a piece of reclaimed wood, a sanded-down branch, metal brackets and hooks.
And look at the succulent planter clock. How clever. Again, with some re-claimed wood, a circular template, clock kit, 8 small vessels for succulents and 4 larger ones, any DIY-er could make this unique clock. Seeing that I killed three out of three succulents last year, I won't be trying this. I even followed directions from succulentsandsunshine.com, but I guess that's another story for another time and place.
So, while the store has a great rustic charm about it, the merchandise is fresh, clean, modern and neatly displayed. And they have some unique items too.
In particular, I thought they had a great selection of mugs and tea pots with infusers.
Perhaps I'm going on too much about how the store looks and feels (this blog is about tea, right?). But since my degree is in marketing and I spent many years working in retail (years ago) and I have a thing for hoping small businesses succeed, I can't help myself.
Afterall, the longer customers stay in a store, and the more helpful and interactive the staff is, the more likely customers are to buy. And in this case that means tea and tea accessories. A win-win as far as I'm concerned.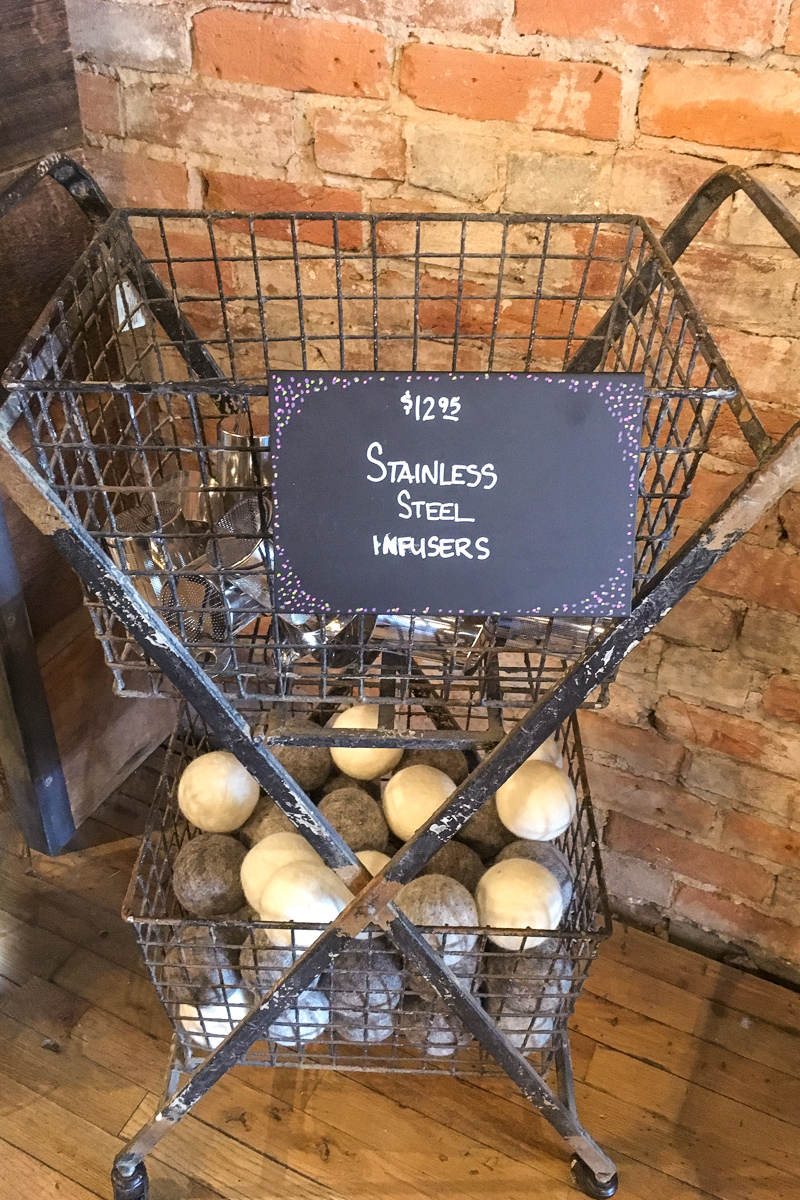 Tea store with personality
Another thing I really enjoyed about Old Barrel Tea Company's Durango location is that it seems like a one-of-a-kind tea store. No corporate feel here! While I haven't visited their other locations, I can say that this one fits right into the local Durango, Colorado culture.
It's outdoorsy, wellness-centered and quite frankly, has a lot of personality.
The personal touches sprinkled throughout, like staff photos and handwritten signs, make it unique. Mountain Standard Tea Time caught my attention (see below), as well the hand-poured candle display: Love in Every Jar.
Finally, the Old Barrel Tea Company Chari-tea Involvement sign shows that they care about community. It's nice to know that an OBTC purchase not only supports a local family business and helps keep Durango's downtown thriving, but also gives back to worthy organizations.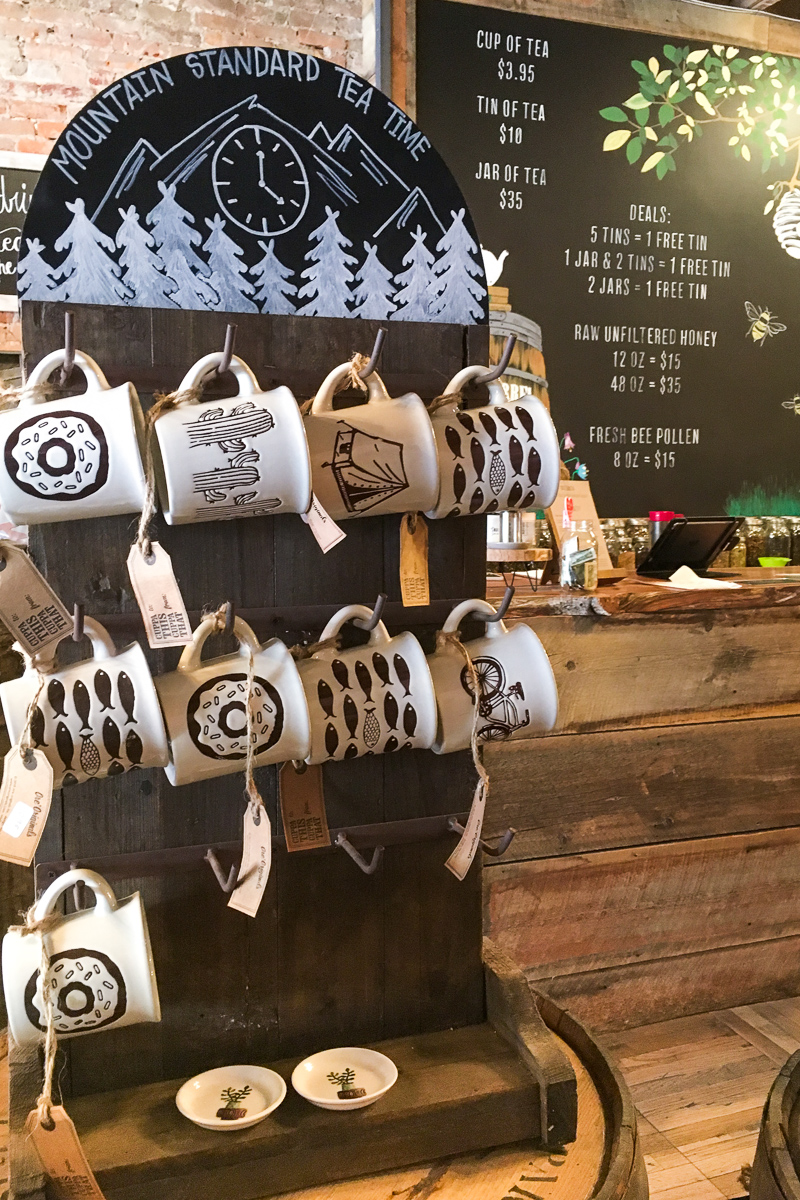 Loose leaf tea at Old Barrel Tea Company
Now, about Old Barrel's tea…finally! Like I mentioned earlier, OBTC has a barrel display for each type of tea they sell. I really like how they have it organized, especially since it makes it easy to grab what you're after (in my case black tea and herbal tea).
Loose leaf tea is available in small tins and larger jars. They even have a quarterly tea club.
Types of tea available at Old Barrel Tea Company
Black
Green
White
Herbal
Mates & Guayusa
Oolong
Pu Erh
Rooibos
Where Old Barrel Tea comes from
Like many restaurants and businesses in the Durango, Colorado area, there seems to be an effort to use ingredients and curate goods from local sources. However, when it comes to tea, in order to provide the best quality product, that's not possible. On their website, OBTC explains,
Our teas are grown and sourced from all over. While we get most of our base teas from the Yunnan Province (Green, Black, White, etc) due to the fact that they are native to that region, we do source some of our teas from Japan, many of our herbs from the United States (i.e. Peppermint, Lemongrass, Berries, etc), and as many ingredients locally as possible. While we would love to say we grow them all here in our native state, that's just simply not possible, as our goal is to ensure the highest quality ingredients and taste for our customers.

oldbarreltea.com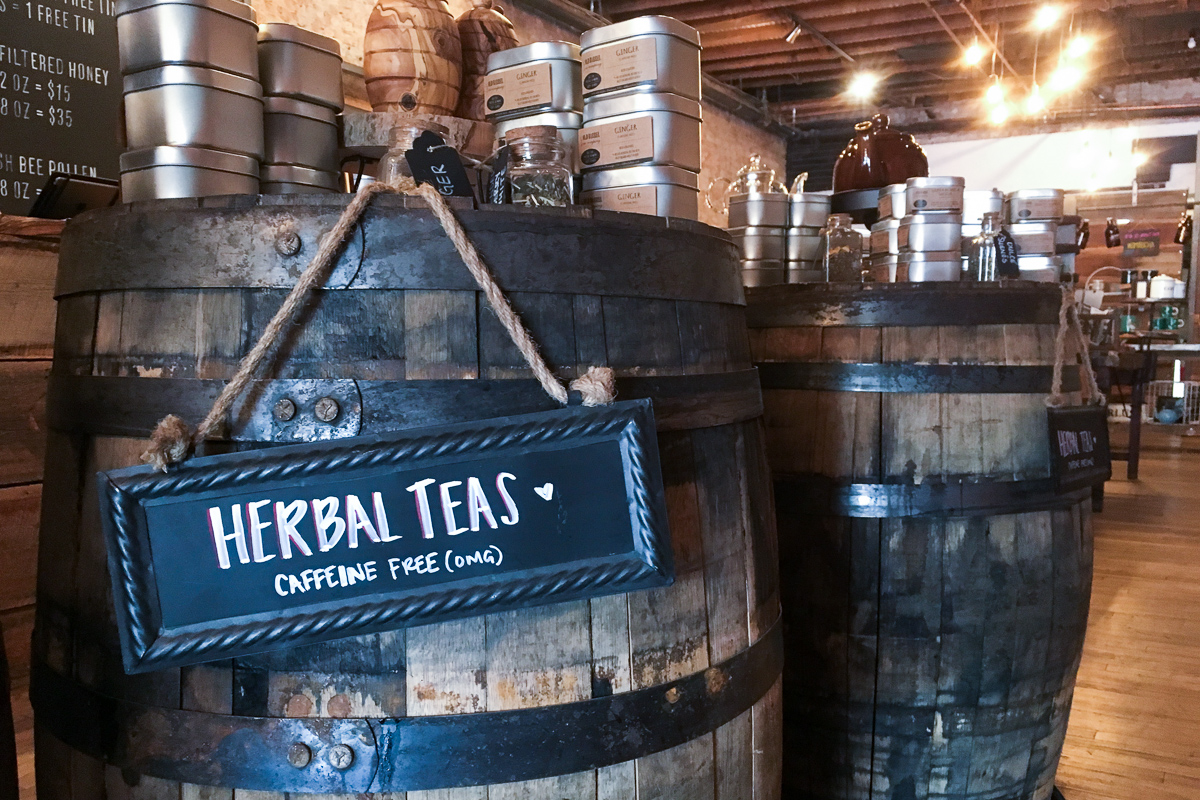 Loose leaf tea samples are always available
When you stop in Old Barrel Tea Company, be sure and taste their tea samples. On my visit, they had samples of:
Belizean sorrel guayusa
Horchata rooibos & Coconut black
Peppermint & Lemongrass
Wow! They were all delicious. It was a warm summer day, so the peppermint lemongrass blend was especially refreshing. A cup of that on ice would've hit the spot.
Just before I discovered Old Barrel Tea, I popped into Starbucks to get my current favorite iced tea (passion with peach). And now that I'm back home in Chicago writing this blog post and looking through photos, I see that Old Barrel also sells cups of tea. Somehow I didn't notice that when I was in the store. Perhaps I'll just have to go back to Durango next summer!
More about OBTC and Durango, CO
If you like supporting local mom & pop tea shops, be sure and visit Old Barrel Tea Company online. For more information about Durango, stop by durango.org.