The most refreshing homemade Starbucks Iced Green Lemonade recipe that's simple to make using only two ingredients, green tea and lemonade.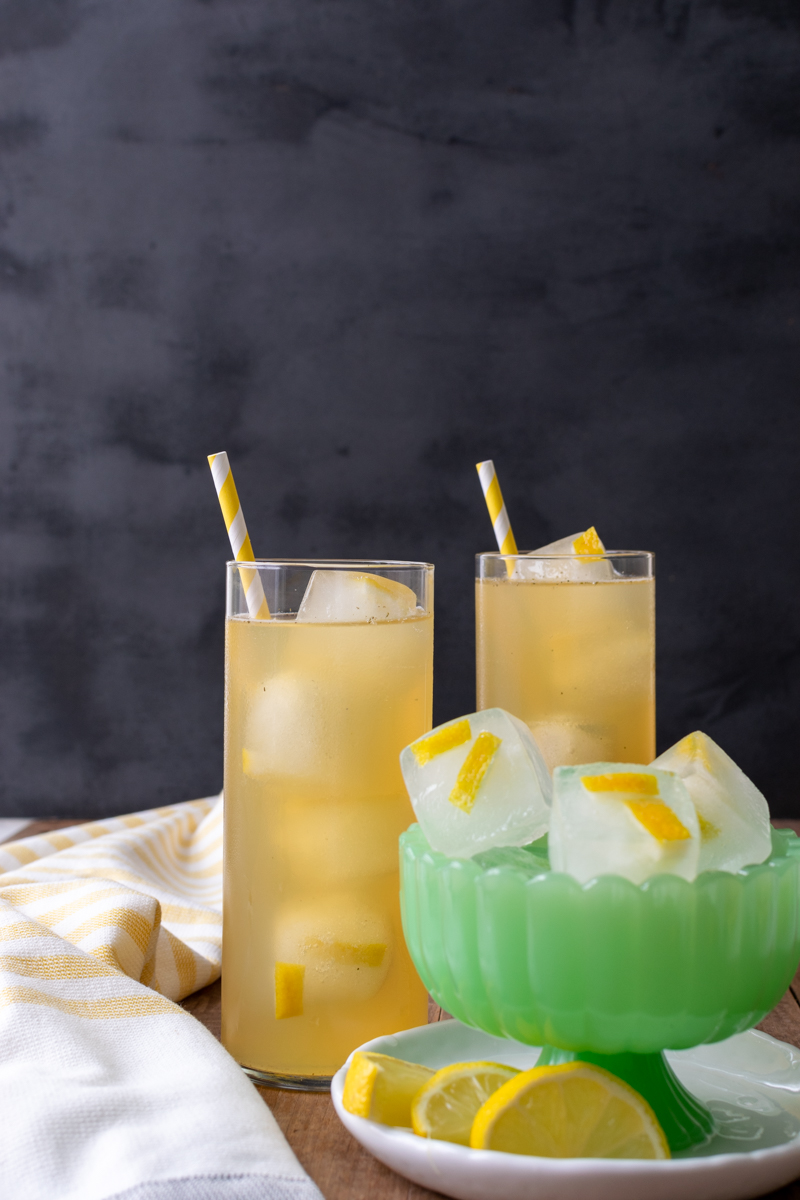 Iced Green Tea Lemonade
Have you ever had a Starbucks green tea lemonade? It's one of those drinks that just quenches your thirst on a hot summer day.
Thanks to Starbucks, you can grab a refreshing iced green tea lemonade combo anytime.
Or, better yet, take a look at my green tea lemonade recipe and see how quick and easy it is to make at home.
What's in a Starbucks Green Tea Lemonade?
A Starbucks Green Tea Lemonade contains just a few ingredients, making it easy to duplicate at home.
green tea concentrate
lemonade concentrate
liquid cane sugar
water
ice
Green tea blended with mint, lemongrass, lemon verbena and lemonade, then sweetened just right and given a good shake with ice. Lightly flavored and oh-so-refreshing!

starbucks.com
Green Tea Concentrate:
In order to make a decent at-home copycat, we need to understand a few things about the Starbucks ingredients.
Firstly, the green tea is a concentrate. This means it is strong green tea. Keep reading to see how to make a tea concentrate two ways.
Lemonade Concentrate:
Secondly, the Starbucks lemonade is also a concentrate.
In fact, according to my daughter who is a Starbucks barista, it is a 2x concentrate. Take a look at my Starbucks Passion Tea Lemonade Recipe to learn a little more about the kind of lemonade Starbucks uses.
Additionally, the pre-packaged lemonade concentrate contains some sugar, so it's impossible to get an absolutely sugar-free, unsweetened iced green tea lemonade at Starbucks. But really, would you want to?
Liquid Cane Sugar:
Which brings us to the next ingredient: liquid cane sugar.
Starbucks adds several pumps of liquid cane sugar to each green tea lemonade. The number of pumps depends on the size of drink you order.
Therefore, if you want your drink unsweetened, just request no liquid cane sugar. While it won't be completely unsweetened (since the lemonade contains sugar), it certainly contains a lot less sugar. Likewise, you can choose another sweetener like raw sugar, honey, Splenda, Stevia or Equal.
Water and Ice:
The final two ingredients Starbucks uses to make an iced green tea lemonade are water and ice.
In my opinion, what makes all Starbucks iced teas taste so fresh is that they use triple-filtered water and ice. It just gives all their drinks a pure taste and lets the tea flavor shine through.
You might be wondering, how do you get filtered water at home?
I just got a new refrigerator that has a water filter on it which I love, love, love. (Was that enough loves?)
In addition, I use a Brita water filter pitcher to make all my tea and ice cubes. It works great and you can keep it right in the fridge.
If you're serious about making a good cup of tea, hot or iced, I highly recommend filtering the water one way or another.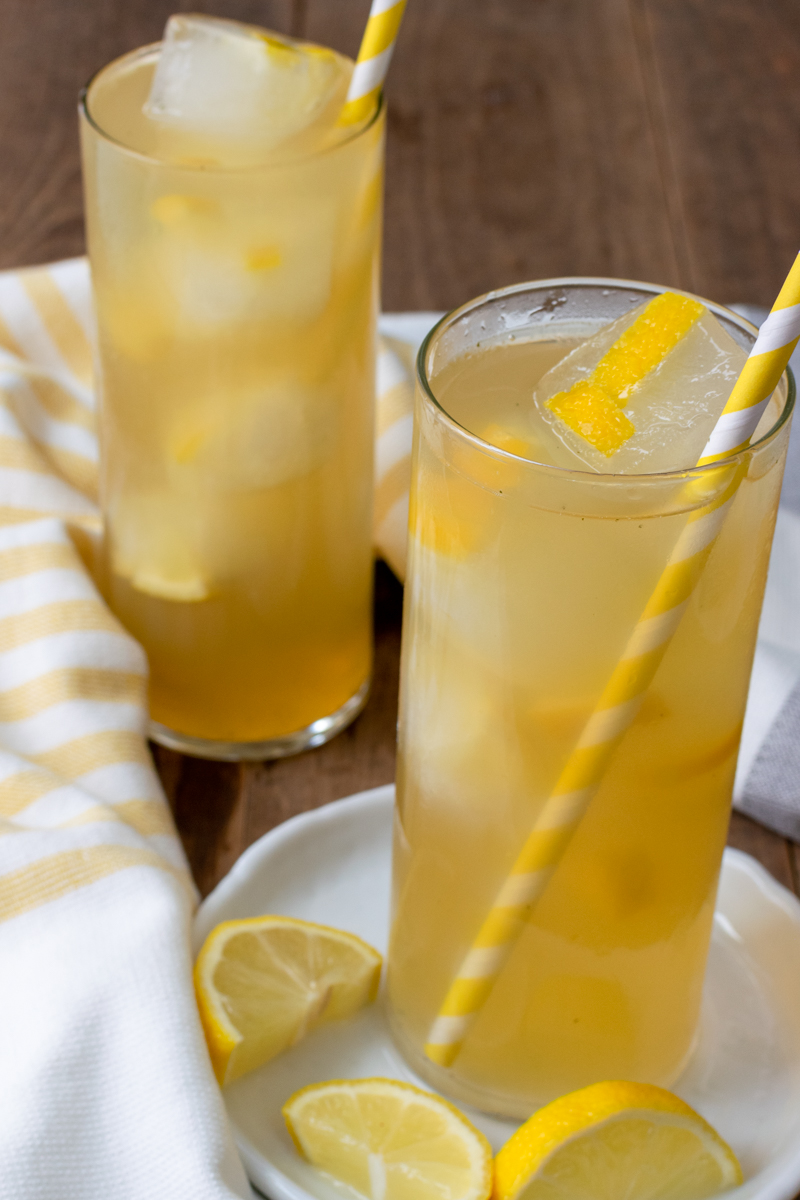 Starbucks Iced Green Tea Lemonade vs Homemade Recipe
In addition to green tea lemonade, Starbucks has quite a few iced teas and refreshers on their menu. But we all know it can get pricey to buy tea from there all the time.
That's why I came up with this green tea lemonade recipe using ingredients easily gotten from the store.
This way you can whip up an iced tea whenever you get a taste for it and save lots of money. Or you can make a pitcher-full for family and guests.
Here's a quick look at how much a Starbucks Iced Green Tea Lemonade costs.
How much is a green tea lemonade at Starbucks?
| | |
| --- | --- |
| Size | Starbucks Price |
| Tall 12 oz | 2.95 |
| Grande 16 oz | 3.45 |
| Venti 24 oz | 3.95 |
| Trenta 30 oz | 4.25 |
Pre-tax prices from Chicago Starbucks region: February 2020
Using store-bought ingredients from my green tea lemonade recipe below, the approximate cost for 1 ounce is 8 cents.
Keep in mind a completed drink contains ice, so a Grande Starbucks iced tea doesn't actually contain 16 ounces of tea and lemonade.
For example, a completed 16 ounce drink at home contains 12 ounces of green tea and lemonade in addition to 4 ounces of ice. In other words, a 16 ounce drink made at home costs approximately 95 cents compared to $3.45 at Starbucks.
That's a big savings!
Iced Green Tea Lemonade Ingredients
While we can't quite get our hands on the exact Starbucks ingredients, we can get close. Here's what you need for this recipe:
Teavana Jade Citrus Mint green tea bags
Simply Lemonade or an equivalent prepared lemonade
Ice (ideally made with filtered water)
Jade Citrus Mint Green Tea
Did you know that Teavana tea is owned by Starbucks and Jade Citrus Mint is the flavor they use to make this iced tea?
As a matter of fact, here's a list of all the Teavana tea bags at Starbucks, including their flavor profiles and caffeine levels.
Additionally, Jade Citrus Mint is one of two tea bag flavors used to make a Starbucks Honey Citrus Mint. You can see how to make a copycat version of this very popular tea here: Homemade Medicine Ball Tea.
Photo Credit: www.amazon.com
60 Count (4 packs of 15 sachets)
Prepared Lemonade
Unfortunately, there's not an exact duplicate for the Starbucks 2x lemonade concentrate. But, there are good alternatives like using a pre-made lemonade.
Personally, my favorite brand is Simply Lemonade.
Since the pre-made lemonade is already highly sweetened, there's no need to add additional sugar like Starbucks does!
Also, since the store-bought lemonade already contains water, there's no need to add more water to our Starbucks iced green tea lemonade copycat.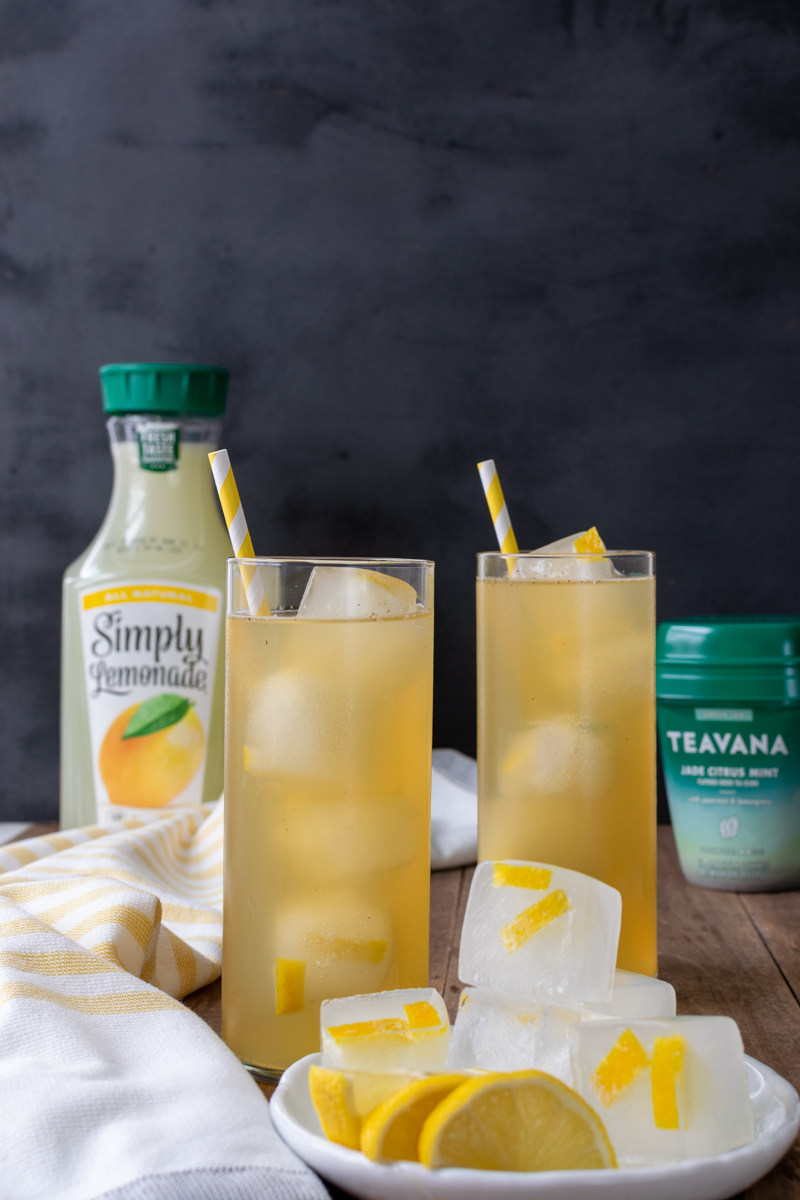 Two Ways to Make the Green Tea Concentrate
The key to making a bold iced green tea lemonade is to use a green tea concentrate. And it's so easy to do.
To make a concentrate, simply use double the amount of tea per 8 ounces of water.
In other words, use two Teavana Jade Citrus Mint tea sachets for every eight ounces of water.
There are two ways to brew this concentrate: cold brew or hot brew.
Cold Brew Method
I love to cold brew iced tea. It really brings out the all the tea flavors without risking any bitterness.
The only downside to cold brewing tea, however, is that you have to remember to make it long before you need it. This is because the tea needs to steep for quite a few hours.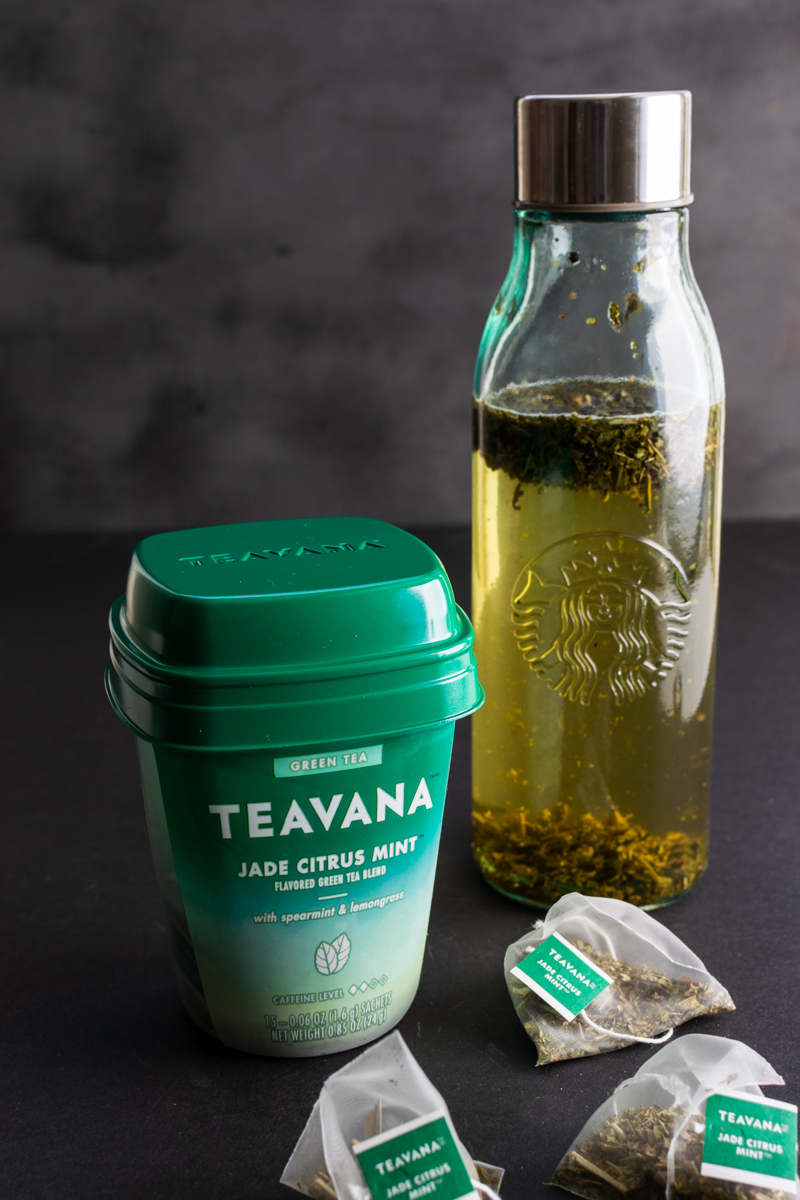 How to make Teavana cold brew concentrate:
Add filtered water to a glass bottle with a lid. Or, you can use something like a glass measuring cup and cover it with foil.
Drop in two tea sachets for every eight ounces of water. Let the tags hang over the edge.
If you want, cut open the entire tea sachet and put the loose tea directly in the water like I did in the picture below. Then, pour the tea through a strainer when it's done brewing.
Let the tea brew in the refrigerator for 12-24 hours. The longer you cold brew it, the stronger the tea gets. Just make sure to remove the sachets or strain the loose leaves by 24 hours. For this green tea lemonade recipe, stronger is better so the green flavor doesn't get lost in lemonade.
Photo Credit: www.amazon.com
It's best to use filtered water for making tea and ice cubes so there aren't any competing flavors or flavors that ruin the taste of the tea. This Brita filter pitcher is perfect for filling up a tea kettle, making ice cubes or for drinking a glass of water.
Photo Credit: www.amazon.com
I love these reusable glass water bottles. I use them for making cold brew tea and fruit infused water. Six bottles allows me to make a different flavor in each one. This six pack also comes with a bottle cleaning brush.
Photo Credit: www.amazon.com
I mostly use this strainer as a tea strainer for cold brew tea. You can also use it for cocktails and many other drinks and food. To strain tea, just hold it over your drinking cup and let the strainer catch the loose tea leaves.
Hot Brew Method
If you drink hot tea, then making a tea concentrate with hot water is a no-brainer. All you have to do is use two tea bags per cup of water.
One caveat for hot brewing green tea; Never use boiling water. Basically, boiling water burns the delicate green tea leaves and creates a taste that I want nothing to do with.
Most importantly, the water should be 175°F . This is why I love my Cuisinart PerfecTemp Electric Kettle with temperature settings for each type of tea.
However, if you don't have an electric kettle with temperature controls, just boil water and let it cool for a minute before adding tea bags to it.
How to make Teavana hot brew green tea concentrate:
Put two Teavana Jade Citrus Mint green tea bags into a glass jar.
Pour 175°F water over the tea bags.
Let the green tea steep for 2-3 minutes.
Remove tea bags and let the concentrate cool down.
See how easy it is to make a tea concentrate? Now that you know how, imagine all the other drink combinations you can create.
For instance, an Iced Caramel English Breakfast Latte is one of my favorite drinks to make with cold brew tea concentrate.
Photo Credit: www.amazon.com
If you're a tea drinker like me, an electric kettle with temperature settings for each type of tea, is almost a must. I simply can't say enough good things about this electric kettle. I love that I can select the temperature for my tea with the touch of a button and that I can shut it off when it's done or leave it on a "keep warm" setting so I can enjoy a second cup of tea. Additionally, the window that indicates how much water is in the kettle is really convenient.
Starbucks Iced Green Tea Lemonade Recipe
Now that you've made a green tea concentrate and have some lemonade, I'll show you how incredibly easy it is to make this refreshing iced tea.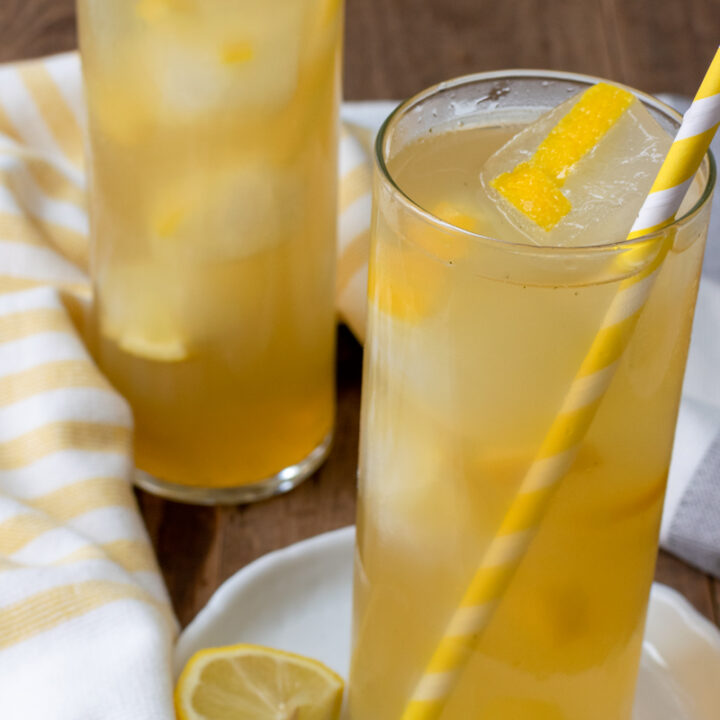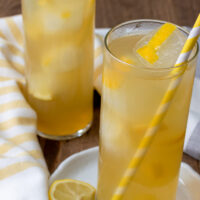 Homemade Starbucks Iced Green Tea Lemonade
Yield:
1, 24 ounce drink or 2, 12 ounce drinks
Additional Time:
2 minutes
Homemade green tea lemonade is a summertime classic. This easy recipe shows you how to make a homemade version of Starbucks Iced Green Tea Lemonade with just a couple easy-to-get ingredients.
Ingredients
Green Tea Concentrate
Iced Green Tea Lemonade
1 cup green tea concentrate
1 cup prepared lemonade
1 cup ice
Instructions
Make the green tea concentrate by combining the green tea bags and filtered water. You can either cold brew or hot brew the tea. Note: The cold brew method takes 12-24 hours and the hot brew method takes about 5 minutes.
If you hot brew the green tea, use 175 degree water and let the tea steep for 2-3 minutes. Remove the tea bags and let it cool for a couple minutes.
Combine the green tea concentrate and lemonade in a jar with a lid or cocktail shaker and shake it well.
Put ice in a drinking glass and pour the green tea lemonade over it.
Notes
For small ice cubes or crushed ice, put everything together in jar or shaker and shake it to combine.
Nutrition Information
Yield

1
Serving Size

24 ounce
Amount Per Serving
Calories

120
Total Fat

0g
Saturated Fat

0g
Trans Fat

0g
Unsaturated Fat

0g
Cholesterol

0mg
Sodium

15mg
Carbohydrates

30g
Fiber

0g
Sugar

28g
Protein

0g