Delicious Iced English Breakfast Tea Latte recipe made extra special with caramel syrup and smooth cold brew tea.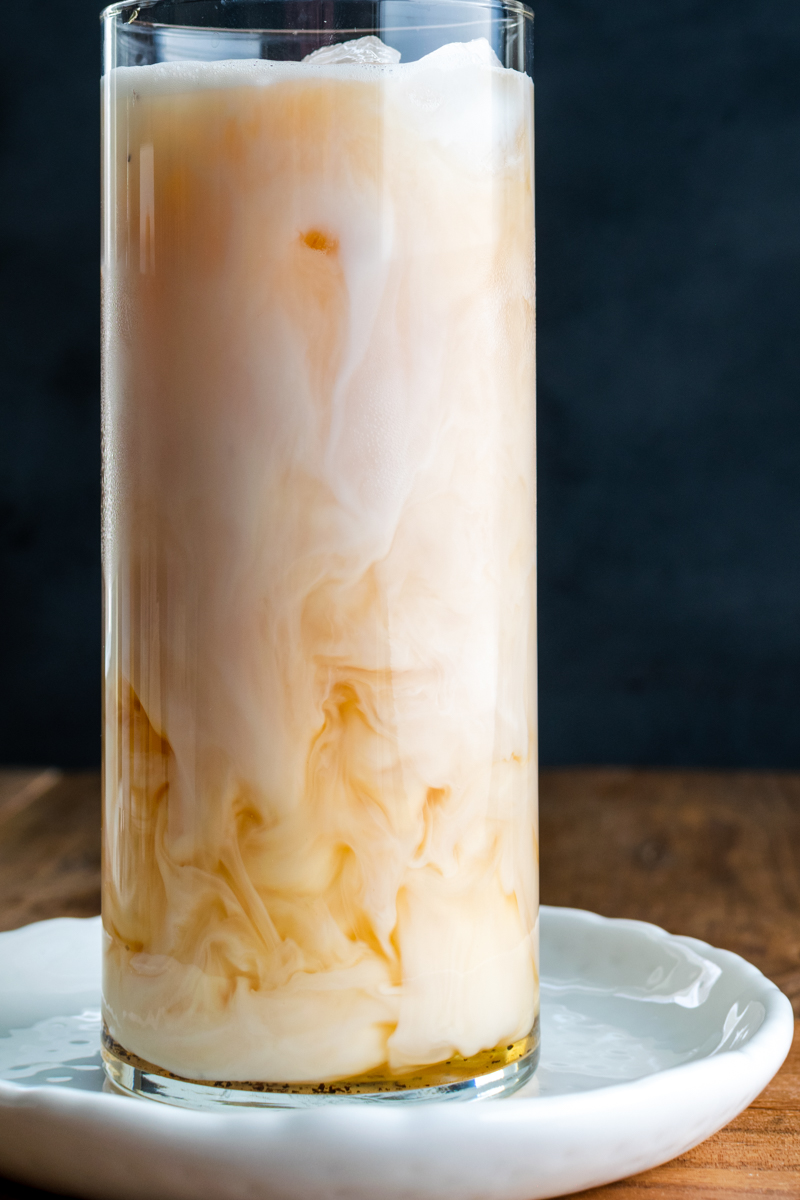 Iced English Breakfast Tea Latte
While a proper cup of English tea with milk and sugar may be quintessential British, think of an Iced English Breakfast Tea Latte as its goofy American cousin.
A twist on a British classic, an iced English Breakfast tea latte is just as satisfying a drink as its hot counterpart.
Loaded with more than enough caffeine to rev up your day, an iced black tea latte is a great alternative.
Add in caramel syrup and you've got a new and delicious way to drink iced tea.
Plus, the way many good things come about, my Iced Caramel English Breakfast Tea Latte recipe happened quite by accident. Although, it was indeed a happy one.
Long story short, I made my current favorite breakfast tea, David's Breakfast Blend, using the cold brew tea method. My plan was to make an iced latte with just tea and milk.
But it needed a little something more.
So, while reaching for sugar, I noticed my Starbucks barista daughter had purchased a bottle of their caramel syrup.
"Hmmm, why not add a pump or two," I thought. So, that's what I did.
And as they say, "the rest is history."
Photo Credit: www.amazon.com
Premium Ceylon and Assam Black Tea Blend, Sweet and Full-bodied, 2 ounces / 50 grams
What is a tea latte?
Tea lattes are typically half strong tea, half milk. I must admit, however, I prefer more tea and a little less milk.
Additionally, sweetener or flavored syrup is added to enhance the tea blend's flavor.
For instance, vanilla syrup (which is so easy to make at home) is part of most London Fog Earl Grey latte recipes.
Furthermore, tea lattes are most often served hot. However, iced tea lattes are becoming more and more popular.
For example, I know that an iced matcha latte and iced chai tea latte are two favorites of Starbucks iced tea drinking customers.
In fact, Starbucks has three iced black tea latte options. In addition to the iced chai latte, they also make an iced London Fog tea latte and a Royal English Breakfast tea latte.
As a matter of fact, you can see all of Starbucks tea lattes, iced and hot, in this handy guide.
What is English Breakfast tea?
English Breakfast tea is a black tea blend.
For example, the David's Breakfast Blend that I've recently fallen in love with is a blend of black teas from Ceylon, Sri Lanka and Assam, India.
You'll find that breakfast blends are bold, highly caffeinated and a little bitter.
Since that's the case, mixing in milk and sugar to knock down the bitterness, is quite typical. Also, this is why it makes an excellent tea latte.
That being said, there are steps every tea black tea drinker should take to brew the best cup of tea and avoid too much bitterness.
I wrote about those steps in this post: How to Make Black Tea Delicious Every Time.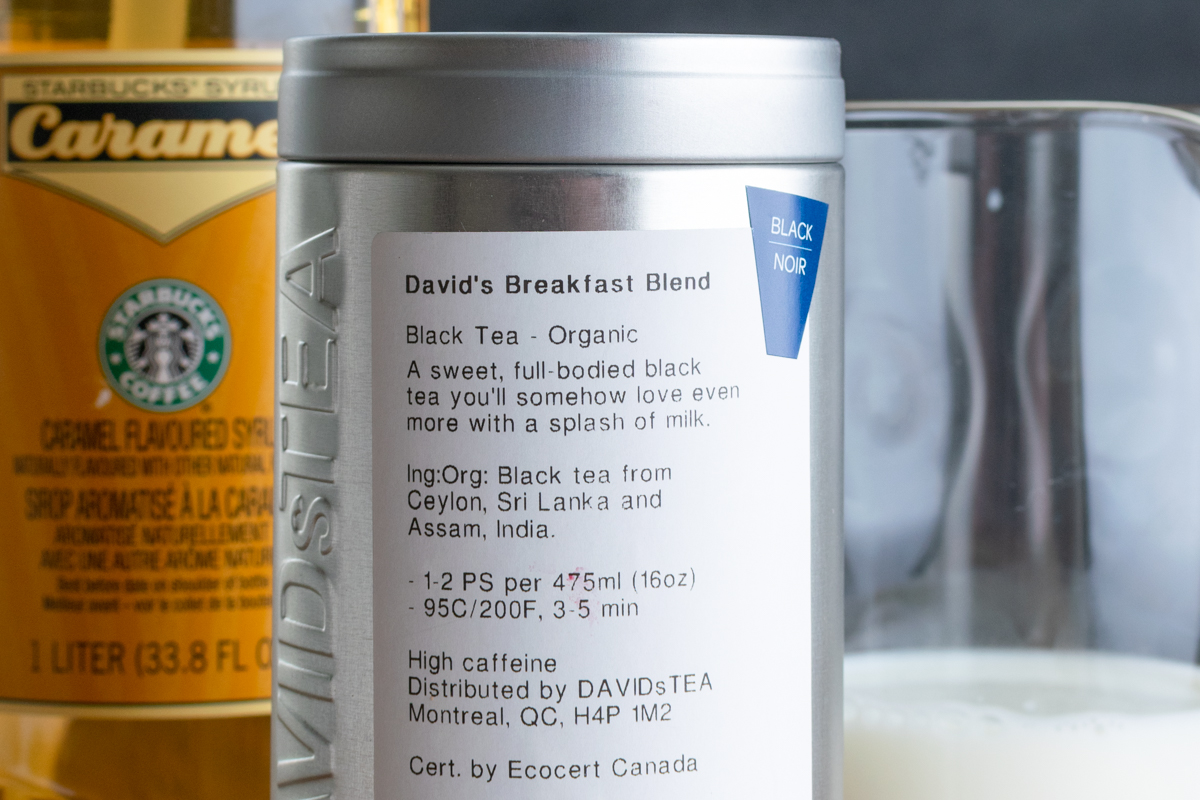 How to Make an Iced Tea Latte
Iced tea lattes are super simple to put together at home. With just a few ingredients, you get a lot of bang for your buck as far as taste goes. And actually, as far as money goes, too.
Think about it; a Starbucks iced latte can cost $5 more or less depending on the size.
Whereas, at home it can be made for a fraction of the cost. Here's all you need.
English Breakfast Iced Tea Latte Ingredients
English Breakfast black tea blend
Filtered water
Milk
Sweetener or flavored simple syrup
Ice
Now, don't be fooled by this latte's pictures showing all its swirly goodness and think it's complicated to put together.
In fact, this recipe couldn't be more simple since you don't even have to hot brew the tea. Here's all you have to do to make this latte.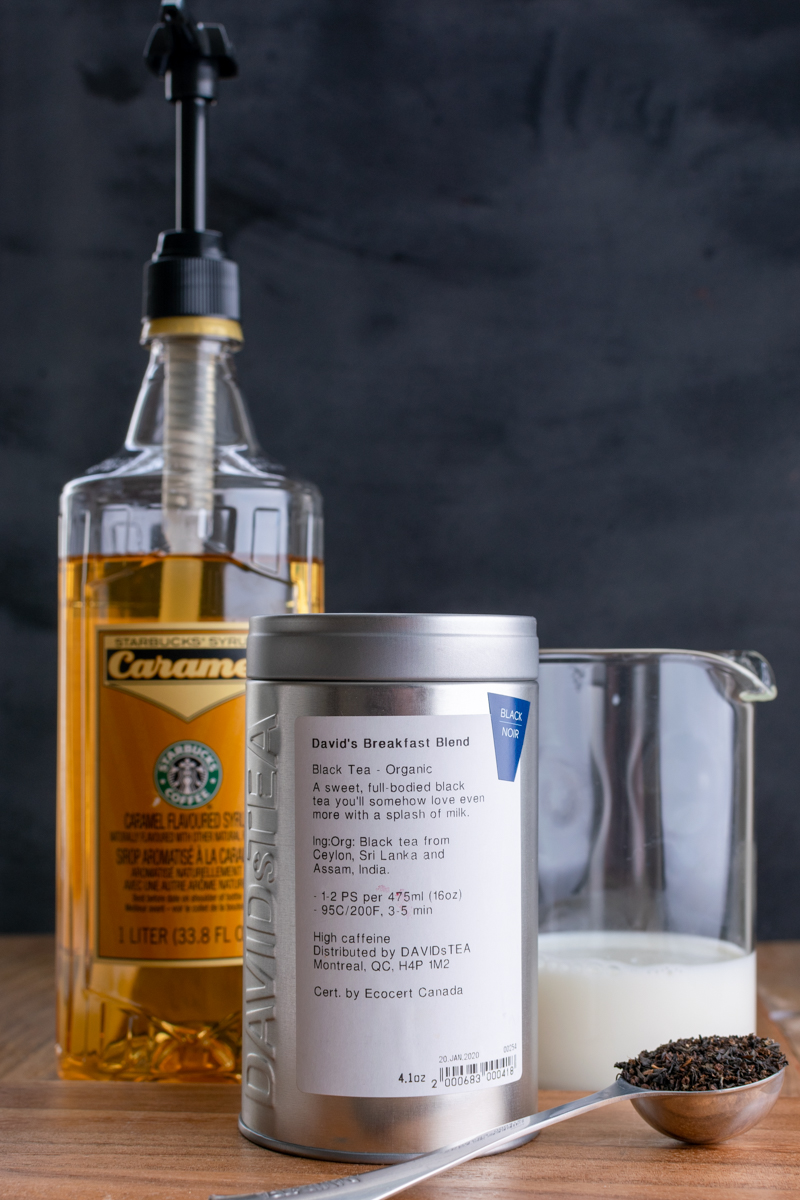 Steps to Make an Iced Caramel English Breakfast Latte
Cold brew the tea overnight or for 12 hours
Strain the tea
Add caramel syrup to a cup
Fill cup halfway with tea
Froth milk (if desired) and pour into tea
Stir and enjoy
Keep in mind, caramel simple syrup can be substituted with another flavor, but if you want to try your hand at making homemade caramel syrup, take a look at my recipe.
Of course, you can make this latte more quickly using cooled down hot brewed tea, but I prefer to make cold brew tea.
In my opinion, cold brew teas comes out smoother and more flavorful.
Not to mention, the cold brewing method eliminates the risk of over-steeping and astringency (too much bitterness).
How to cold brew tea
If you've never made cold brew tea, you're missing out. It's so simple to make.
Actually, the only hard thing about making it is remembering to do so. Here's how to make cold brew tea.
Put loose tea or tea bags in a glass bottle or jar.
Add filtered water.
Put in refrigerator to steep for at least 8-12 hours.
Strain the tea or remove the tea bags.
Make double-strength tea
One important thing to note is that you want to make strong tea for a latte. Basically, this means, use twice the amount of tea per cup of water.
For example, most tea is made with 1 teabag or 1 teaspoon of tea per cup of water.
Therefore, for tea lattes, use 2 tea bags per cup of water.
Otherwise, for loose tea use 2 teaspoons per cup or double the amount listed on the tea package.
How to froth milk for an iced latte
Steamed and aerated milk are a signature of hot tea lattes.
The bed of silky microfoam layered on top not only makes the drink pleasing to look at, but gives it a lovely texture.
While you certainly don't want to warm up an iced latte's milk, frothing it is an excellent option.
The easiest way to do this is with an inexpensive handheld, battery operated milk frother or an electric aerator that has both hot and cold temperature settings.
I have a Nespresso Aerocino and it's close to being my most used small kitchen appliance, second only to my Cuisinart PerfecTemp electric tea kettle.
For handheld frothers, pour milk into a container and turn on the frother after it's submerged under milk.
Personally, I find that if you bring the wand above the milk, large bubbles result.
Remember, the goal is to create microfoam or micro (very tiny) bubbles. Unfortunately, large bubbles quickly dry out causing a crusty (not silky) foam.
For electric milk aerators, simply pour the milk in and press a button. It will stop automatically.
Photo Credit: www.amazon.com
Handheld milk frother/blender for lattes and more.
Photo Credit: www.amazon.com
 Hot and cold milk frother. One Size, Black.
Order to mix iced latte ingredients
Now that you know the ins and outs of making an iced latte, let me show you specifically the order to combine ingredients.
First, pour the tea into a serving glass large enough for the tea, milk and ice.
If you made cold brew breakfast tea you can strain it directly into the serving glass.
Next, add ice and top it off with caramel syrup, either pumped directly onto the ice or drizzled on top with a spoon.
Finally, the fun part that makes all the swirls.
Pour the frothed milk into the glass holding back the foam with a spoon. After all the milk is dispensed, top off the Iced English Breakfast Tea Latte with spoonfuls of foam.
Give the latte a stir or swirl the cup around a couple times and that's it.
If you're like me, you're sure to enjoy this caramel flavored twist on a classic tea!

Iced English Breakfast Tea Latte Recipe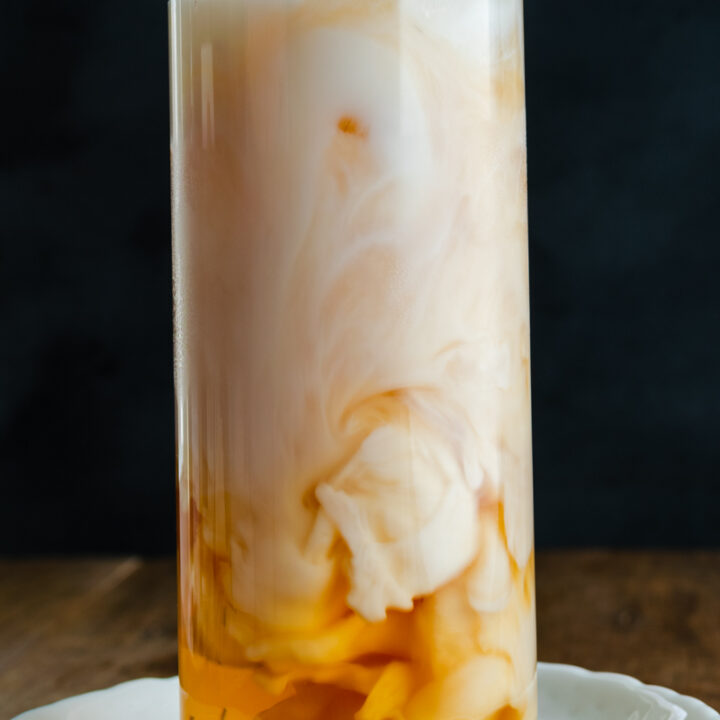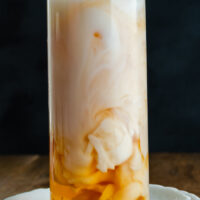 Iced English Breakfast Tea Latte with Caramel
Easy to make iced English Breakfast tea latte recipe made extra yummy with cold brew tea and caramel. Absolutely delicious!
Ingredients
2 teaspoons David's Breakfast Blend loose tea (or other English Breakfast blend) or 2 English Breakfast tea bags
8 ounces filtered water
1/2 cup ice
8 ounces 2% milk 
1 tablespoon caramel syrup
Instructions
Make the Cold Brew Tea
Add tea and water in a glass bottle or jar, such as a mason jar.
Cover and refrigerate 8-12 hours or overnight.
Strain loose tea or remove tea bags.
Put Together the Iced Tea Latte
Pour cold brew English Breakfast tea concentrate into serving glass.
Add ice to glass and top it with caramel syrup.
Froth cold milk with either a handheld or electric frother (optional).
Pour milk over tea and ice, holding back the foam. Then, spoon foam onto the top of the latte. Top with additional caramel topping (if desired).
Notes
I find it's easiest to make the cold brew iced tea by placing it in the refrigerator overnight. It works best to strain it using a fine mesh strainer. If you're in a hurry, this latte can also be made by brewing the tea hot and letting it cool down for a few minutes.
Recommended Products
As an Amazon Associate and member of other affiliate programs, I earn from qualifying purchases.
Nutrition Information
Yield

1
Serving Size

20 ounces
Amount Per Serving
Calories

175
Total Fat

5g
Saturated Fat

3g
Cholesterol

20mg
Sodium

130mg
Carbohydrates

23g
Sugar

23g
Protein

8g