Smooth and creamy Starbucks Chai Frappuccino recipe to make at home. All it takes to make this heavenly blended chai tea beverage is a few ingredients and a few minutes.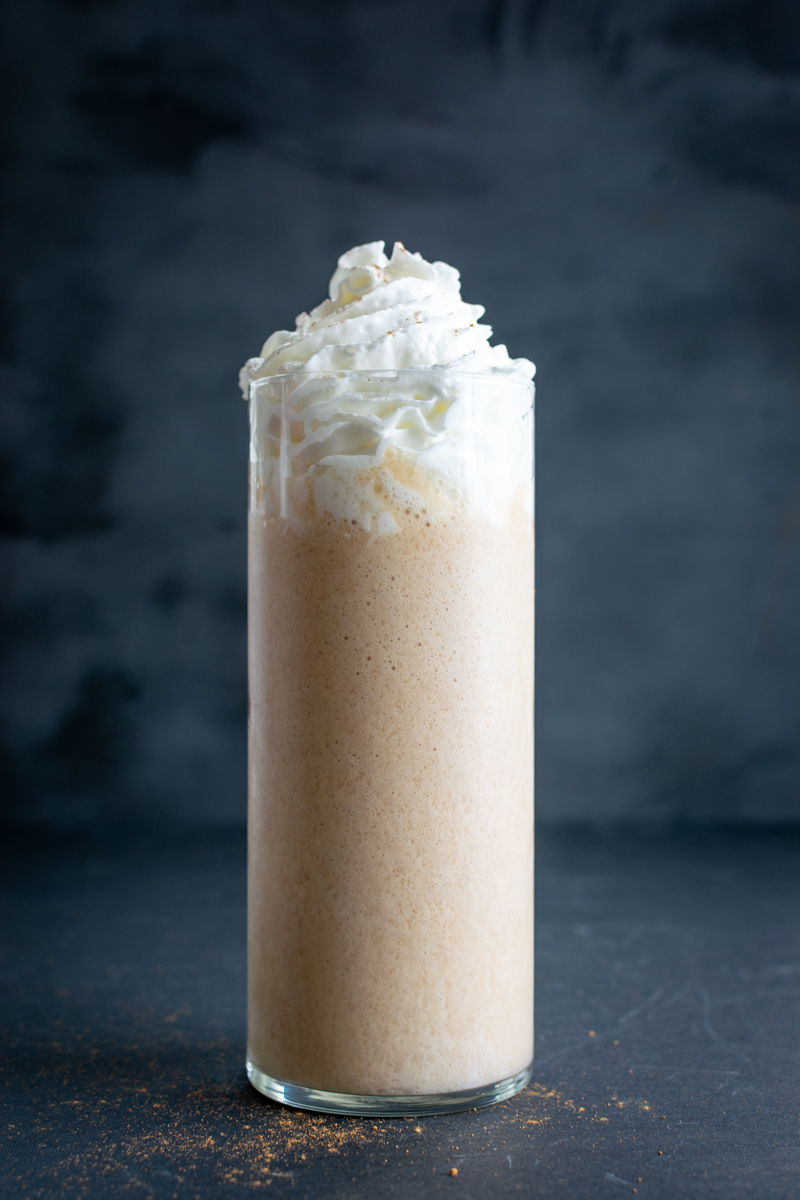 Chai Frappuccino
If you love chai lattes you're going to love my Starbucks Chai Crème Frappuccino recipe. Unlike some other copycat chai frappuccino recipes out there, my drink, after much recipe-testing, whips up into something very close to the real deal. The result: a perfectly smooth and creamy blended chai frappuccino.
If you've never had a chai frappuccino, it's a mixture of the warm spices of chai and milk blended into an icy beverage. Starbucks describes it like this:
A creamy blend of spicy chai, milk and ice, finished with sweetened whipped cream and a sprinkle of cinnamon. Specially made to spice up your afternoon treat.

Starbucks
The key to successfully making a copycat Starbucks frappuccino is to use ingredients as close as possible to what Starbucks actually uses. Luckily, my daughter is a long-time Starbucks barista (coffee master, actually) so I can tell you exactly what goes into this blended beverage.
Additionally, since we cannot purchase the exact same ingredients as Starbucks, it's important to understand the role of each one. This allows us to make appropriate substitutions.
So, before I show why my Starbucks Chai Frappuccino recipe stands out from all the others, let's first see the actual Starbucks ingredients. Oh, and by the way, if you're a chai tea lover like me, you might want to take a look at my Starbucks iced chai tea latte recipe.
Starbucks Chai Frappuccino Ingredients
I'm really glad you stopped by here today because I can't wait to show you. how to get the consistency of your homemade chai frappuccino just right. This is why ingredients matter.
To get started, here are the actual ingredients in a Starbucks Chai Crème Frappuccino:
Whole milk
Chai concentrate
Ice
Crème Frappuccino syrup
Whipped cream (topping)
Cinnamon (topping)
Clearly, whole milk, whipped cream and cinnamon are easy to get at the store and ice is readily available.
So, let's take a look at the other two ingredients: chai concentrate and Crème Frappuccino Syrup.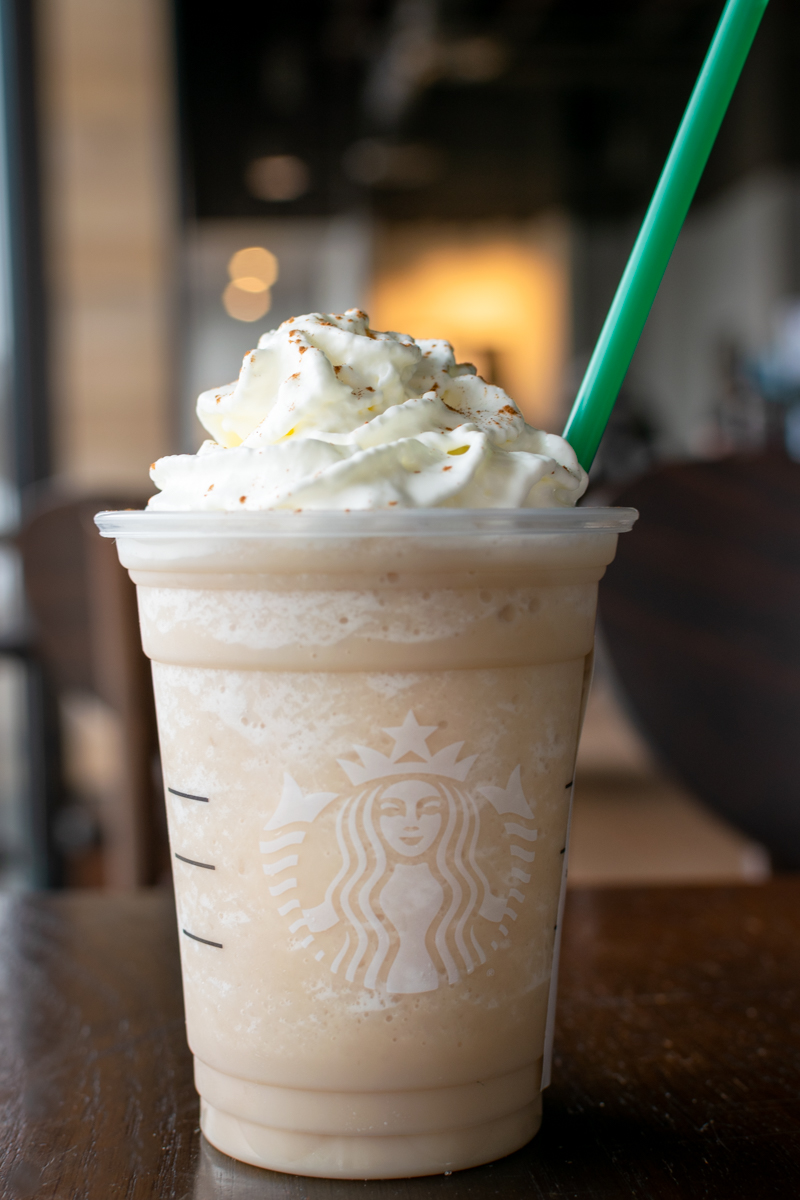 Chai Tea Latte Concentrate
While chai concentrate is easy to find in the grocery store or even the tea aisle of Target, it's important to note that store-bought chai tea concentrate is less concentrated than what Starbucks uses.
Difference between store-bought chai tea concentrate and Starbucks chai
Most store-bought brands, like Tazo chai tea concentrate, are a one to one concentrate. Basically, this means if you make a cup of chai tea, use one part Tazo concentrate and one part water.
On the other hand, Starbucks chai concentrate is probably closer to a three to one concentrate.
My iced chai latte post shows a striking side-by-side comparison photo of store-bought chai concentrate versus the Starbucks chai concentrate.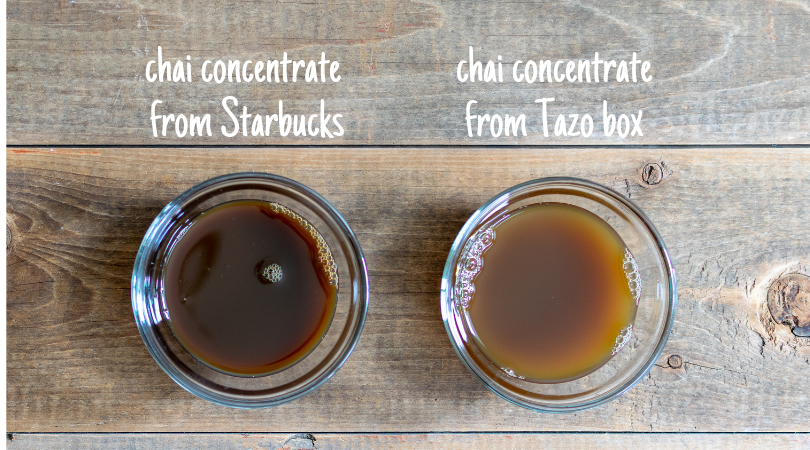 Keep in mind, the additional water in Tazo chai tea concentrate compared to Starbucks affects both flavor and consistency.
But don't worry, these brands are perfect for this recipe. In fact, Tazo is the brand I use most often.
You just want to make sure the proportion of milk, chai and ice are just right. Three to one chai concentrates can also be purchased online.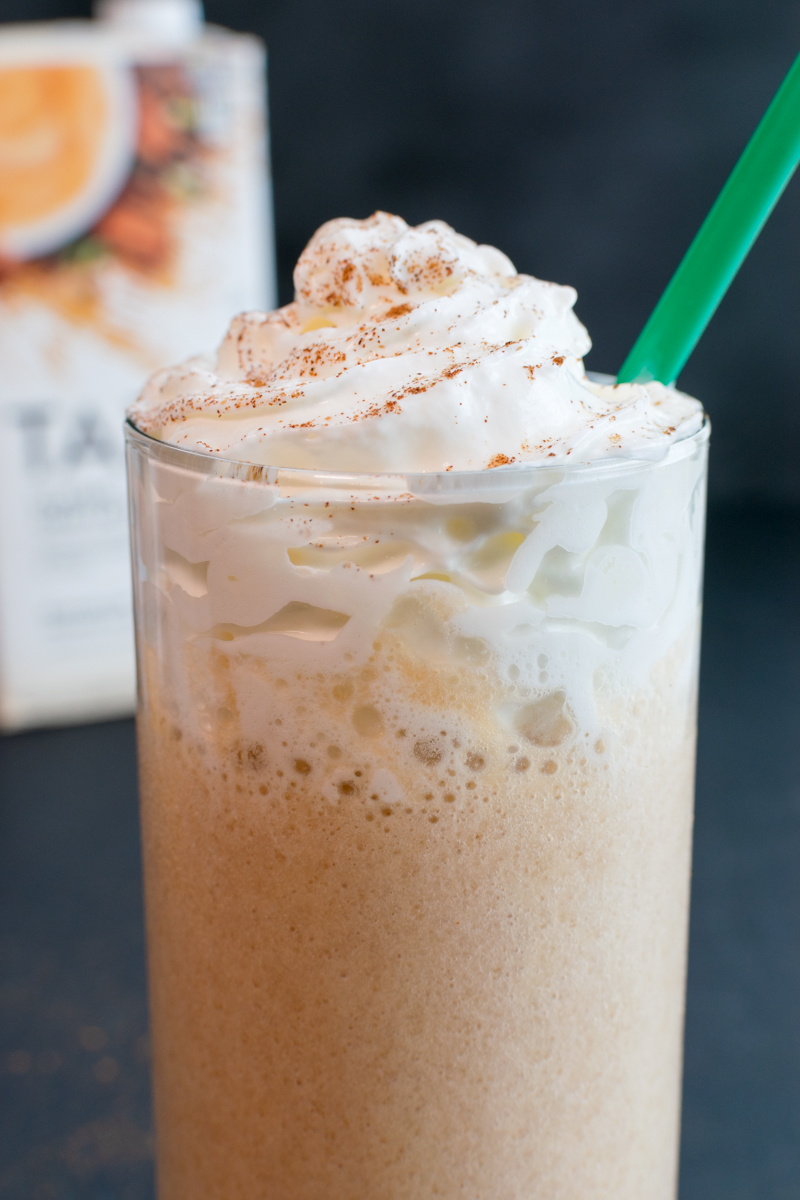 How to Make a Chai Frappuccino Creamy & Delicious
The problem I see with many copycat frappuccino recipes is that they're not truly blended. The consistency is too watery and the ingredients separate.
If you've ever made a frappuccino or smoothie at home, you know exactly what I mean. Sure, the ingredients are mixed together using a blender, but they're not really emulsified.
In fact, most homemade frappuccinos are anything but creamy and the chai and milk separate quickly. In short, while the flavor may be ok, the texture is way off the mark.
Starbucks secret to achieving a creamy chai frappuccino comes from two ingredients:
Full-fat whole milk
Crème frappuccino syrup
Crème Frappuccino Syrup
This brings us to that curious ingredient Starbucks uses in all its non-coffee frappuccinos: creme frappuccino syrup. Crème frappuccino syrup is the key to making a creamy frappuccino at home.
Unfortunately, this syrup or cream base, as it's called, is not available to buy. Yet, it's necessary to bind the chai tea, milk and ice together and give the frappuccino its characteristic creaminess.
Other copycat recipes try to substitute the crème syrup with things like ice cream, evaporated milk, and even pudding. I tried them too. However, none of these ingredients bind the frappuccino together.
The milk and chai tea separate and it's more like drinking flavored milk. Not to mention, they all add calories to the drink in an effort to achieve creaminess.
Xanthan Gum is key to making a creamy homemade frappuccino.
I set out to find a decent substitute for Starbucks Crème Syrup base. A little detective work shows that the ingredients for Starbucks Creme Frappuccino syrup include:
Sugar
Water
Natural Flavor
Salt
Xanthan Gum
Potassium Sorbate
Citric Acid
When I first saw that list of ingredients, I suspected that xanthan gum was the solution to achieving a silky smooth frappuccino. And it is.
Actually, xanthan gum is a game changer!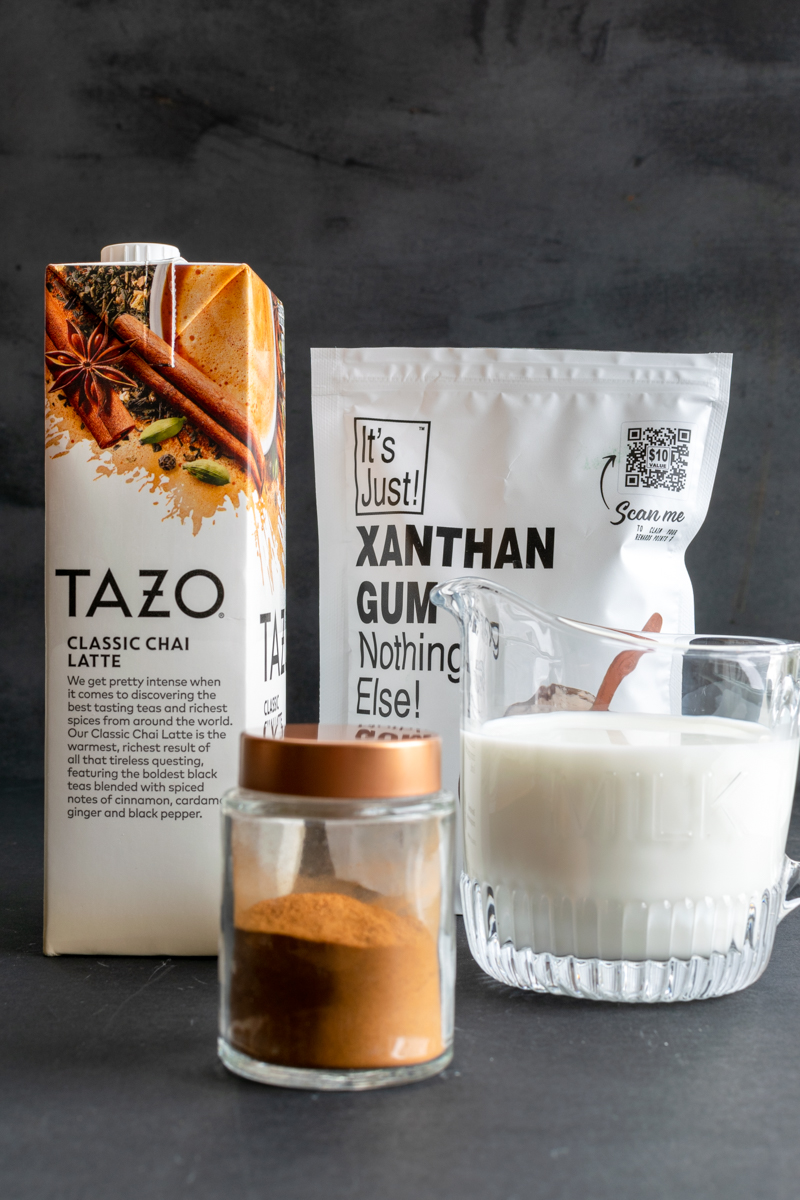 If you're not familiar with xanthan gum (I wasn't either), it's a plant-based powder that binds food together.
It's dehydrated so when it's added to liquid it expands and acts as a thickener and emulsifier. It's even used as a food stabilizer in things like salad dressing.
I guess you can think of it like a little bit of magic. So magical in fact, that you can say goodbye to watery smoothies.
The thing about xanthan gum is that a little bit goes a very long way. So a bag will last forever, making it a really cheap ingredient.
Now, instead of buying a $5 frappuccino at Starbucks, you can make one at home for substantially less money.
Checkout my other Starbucks Frappuccino copycat recipes:
Things I Use to Make a Chai Frappuccino
You probably already have most of the ingredients on-hand to make a Chai Frappuccino. Here you can see some of the chai latte concentrate mixes I use, as well as the xantham gum I bought.
Starbucks Chai Frappuccino Recipe
After all my frappuccino experimentation (and super messy kitchen), I hope you enjoy my Chai Frappuccino Starbucks Recipe below. Once you have all the ingredients, it's super easy to mix together in a blender.
Chai Frappuccino Starbucks Copycat
Smooth and creamy Starbucks Chai Frappuccino recipe to make at home with just a few ingredients and a few minutes.
Ingredients
2/3 cup chai tea concentrate (like Tazo or Oregon Chai)
1/3 cup whole milk
1 cup small ice cubes
1 teaspoon sugar
1/4 teaspoon xanthan gum
pinch or two of salt
1/3 cup whipped cream topping
dash of ground cinnamon or all spice
Instructions
Add milk, chai tea concentrate, ice, sugar, xanthan gum and salt to blender.
Blend until smooth, about 1-2 minutes depending on your blender.
Pour the chai frappuccino in a glass and top with whipped cream and ground cinnamon.
Notes
This recipe is for a chai tea concentrate that is a one-to-one ratio (like Tazo or Oregon Chai). If you use a three-to-one chai concentrate, use 2/3 cup whole milk and 1/3 cup concentrate.
Nutrition Information
Yield

1
Serving Size

12 ounces
Amount Per Serving
Calories

201
Total Fat

5.2g
Saturated Fat

3g
Trans Fat

0g
Cholesterol

24.2mg
Sodium

54.5mg
Carbohydrates

31.7g
Fiber

2.8g
Sugar

31.8g
Protein

2.7g
Common Chai Frappuccino Questions
What is in a chai frappuccino?
Chai frappuccino ingredients include chai concentrate (a blend of black tea and spices), whole milk, ice, xanthan gum, sugar, salt, whipped cream and cinnamon.
Does a chai frappuccino have caffeine?
Yes, chai frappuccinos have caffeine since they contain black tea. A grande size Chai Crème Frappuccino from Starbucks has 40 mg of caffeine. Tazo Classic Chai Latte concentrate has 61+ mg per 8 ounces.
Do frappuccinos have coffee in them?
Starbucks has two types of frappuccinos: Coffee and Crème. Coffee frappuccinos are coffee or espresso based. On the other hand, crème frappuccinos contain no coffee or espresso and are made using crème frappuccino syrup.
Can you get a skinny chai frappuccino?
You can request a few things to make a skinny or lighter version of a chai frappuccino. First you can request to use 2% or non-fat milk. Whole milk is the default for crème frappuccinos. You can also request no whipped cream. If you are making a homemade chai frappuccino, Tazo sells a skinny version of the chai latte concentrate. Starbucks does not have skinny chai concentrate.
What does a chai frappuccino taste like?
A chai frappuccino is a beverage blended with ice and emulsifier that is certainly thicker than a cup of tea but not nearly as thick as a milkshake. The spicy chai flavors are blended with milk giving it a warm, spicy cream flavor. Yet the frappuccino is a cold beverage since it's blended with ice.