See how easy it is to make a copycat Starbucks Matcha Lemonade. This refreshing ice cold matcha lemonade drink is the perfect afternoon pick-me-up.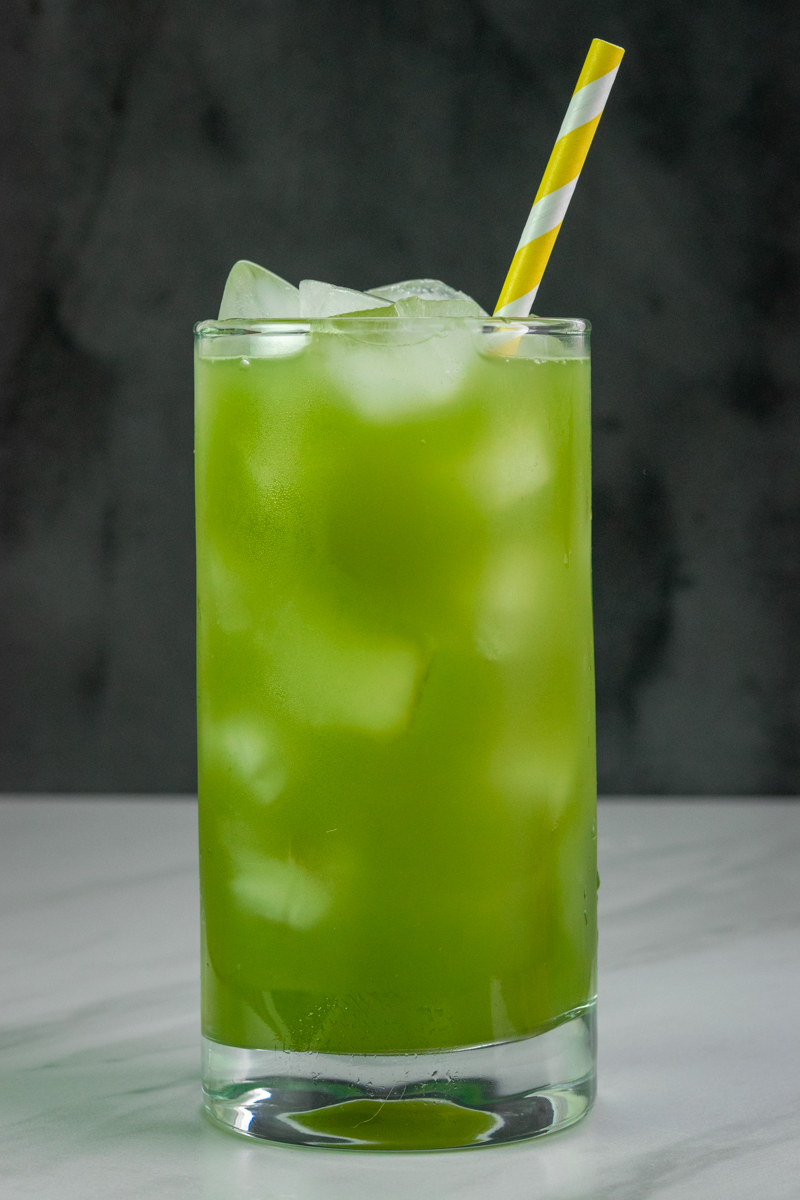 Matcha Lemonade
Starbucks Matcha Lemonade is a tasty combination of sweet matcha and tangy lemonade. As you can imagine, it's a really refreshing drink; the kind that just hits the spot.
And guess what? Making your own Starbucks Matcha Lemonade is as simple as it sounds.
Of course, there are lots of ways you can make matcha lemonade.
For instance, a DIY Starbucks Matcha Lemonade can be as simple as shaking together matcha powder, prepared lemonade and ice. This is the method Starbucks baristas use.
And mixing the matcha powder directly into the lemonade, is my preferred method, as well.
After all, it's quick and easy. And for a refreshing pick-me-up drink, that's how I like my recipes to be.
On the other hand, some like to make an actual cup of matcha tea that is then combined with lemonade. This works too; but it's not really necessary to take this extra step.
Starbucks Matcha Lemonade
To make Starbucks copycat recipes, I like to take a look at the exact ingredients Starbucks uses to make each drink.
And in the case of this drink, the Starbucks barista only combines two ingredients, well, three if you include ice.
Matcha Lemonade Ingredients
Matcha Tea Blend
Lemonade
Ice
When combined, these ingredients turn into a delicious, green-colored drink. Here's how Starbucks describes it.
Our finely ground Teavana® matcha green tea combined with crisp lemonade, then shaken with ice, creates a refreshingly sweet, delicious drink that's a delightfully vibrant, green-hue.

starbucks.com
Now, you may have noticed that there's no syrup in this drink.
Typically, Starbucks adds sweet syrup to many of their drink recipes.
However, for an iced matcha lemonade, this isn't the case.
The reason this drink doesn't have syrup is two-fold:
The prepared lemonade contains sugar.
Their matcha tea blend contains sugar.
In other words, both ingredients are already pre-sweetened.
So I guess it goes without saying, that it's not possible to get a sugar-free or reduced-sugar matcha lemonade from Starbucks.
If this matters to you, Starbucks has plenty of other tea options. In fact, you may be interested in this list of low-calorie Starbucks tea drinks that I put together.
And if you love Starbucks lemonade, here's a list of all Starbucks lemonade drinks.
How to Make Matcha Lemonade
To make a copycat Starbucks recipe, I like to use the same ingredients whenever possible.
For this particular iced drink, however, both the lemonade a matcha blend are made exclusively for Starbucks.
That being said, it's easy enough to find substitutes.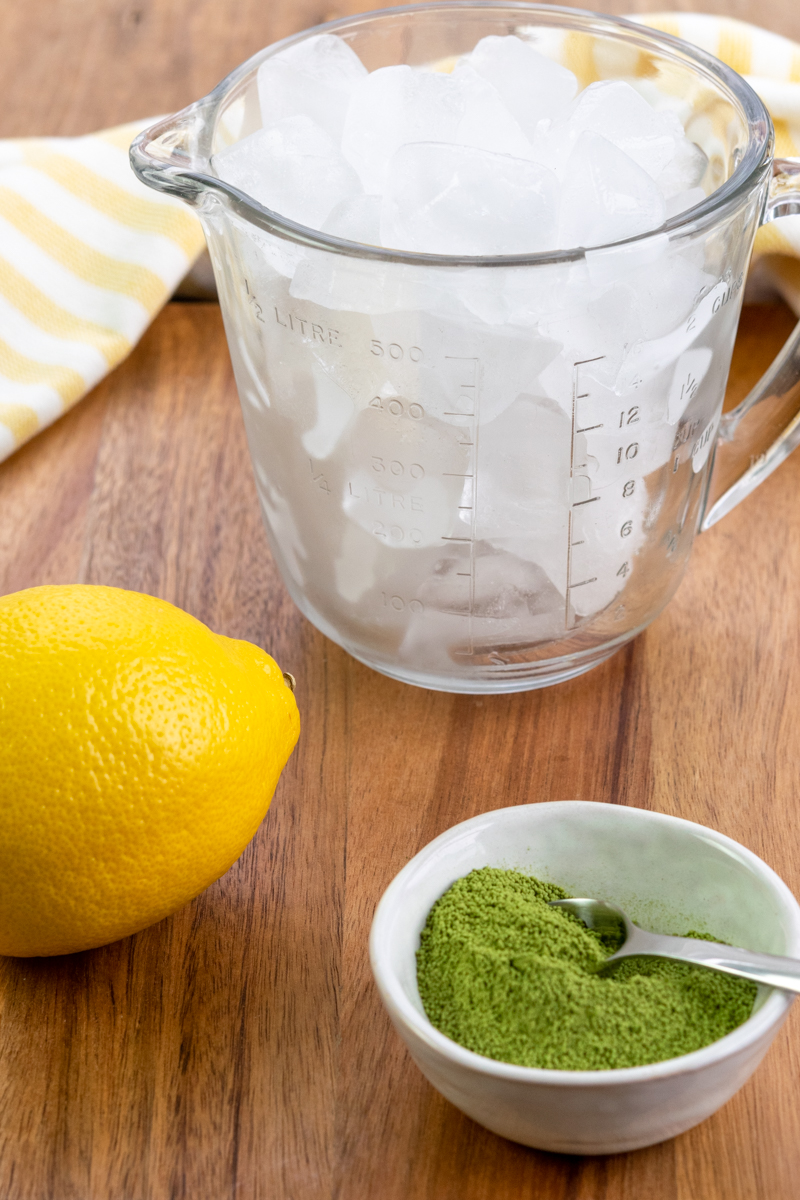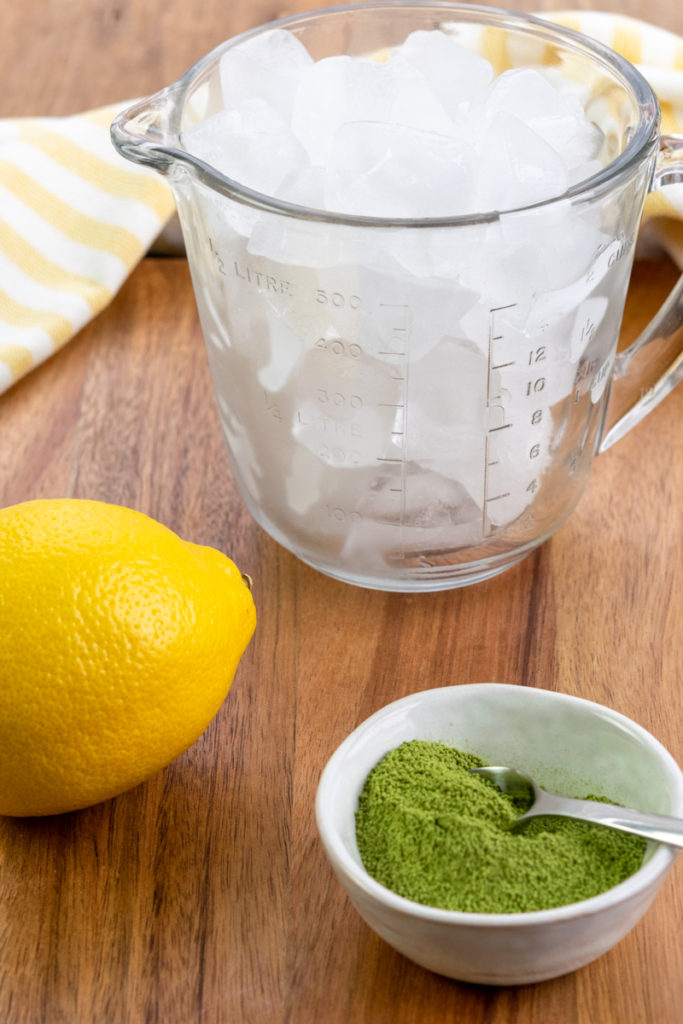 Matcha Blend
Recall, that Starbucks matcha powder is a blend of sugar and matcha.
Personally, I think Matcha Love Barista Blend is a good option for Starbucks copycat matcha recipes.
In fact, it's the matcha I use to make my DIY Matcha Green Tea Frappuccino and Iced Matcha Green Tea Latte. And I think these recipes taste really close to the real deal.
Of course, you don't have to use sweetened matcha for this recipe.
If you want to cut some sugar out, pure matcha is an excellent alternative (and it's what I do).
Just keep in mind, a brighter green, more premium matcha produces a better-tasting drink compared to low-grade, olive-green matcha blend.
However, I would not use a really expensive, ceremonial grade matcha for this mostly-lemonade drink.
My pick for a reasonably priced, ceremonial blend is Ujido. It's vibrant green and has a mellow flavor.
Lemonade
When it comes to the lemonade for this particular recipe, you've got a few options.
Mainly, it's a choice between using already-prepared or homemade lemonade.
Of course, homemade lemonade is relatively easy to make. Really, it's just a simple combination of fresh lemon juice, sugar and water.
The only downside is that it takes a little time to squeeze the lemons.
The bottom line is, Starbucks copycat matcha lemonade recipe calls for prepared lemonade.
So just select your favorite from the store. I like Simply Lemonade or Country Time.
Otherwise, make your favorite homemade lemonade recipe.
For the record, if you live where fresh citrus is plentiful or have a lemon tree, I'm jealous.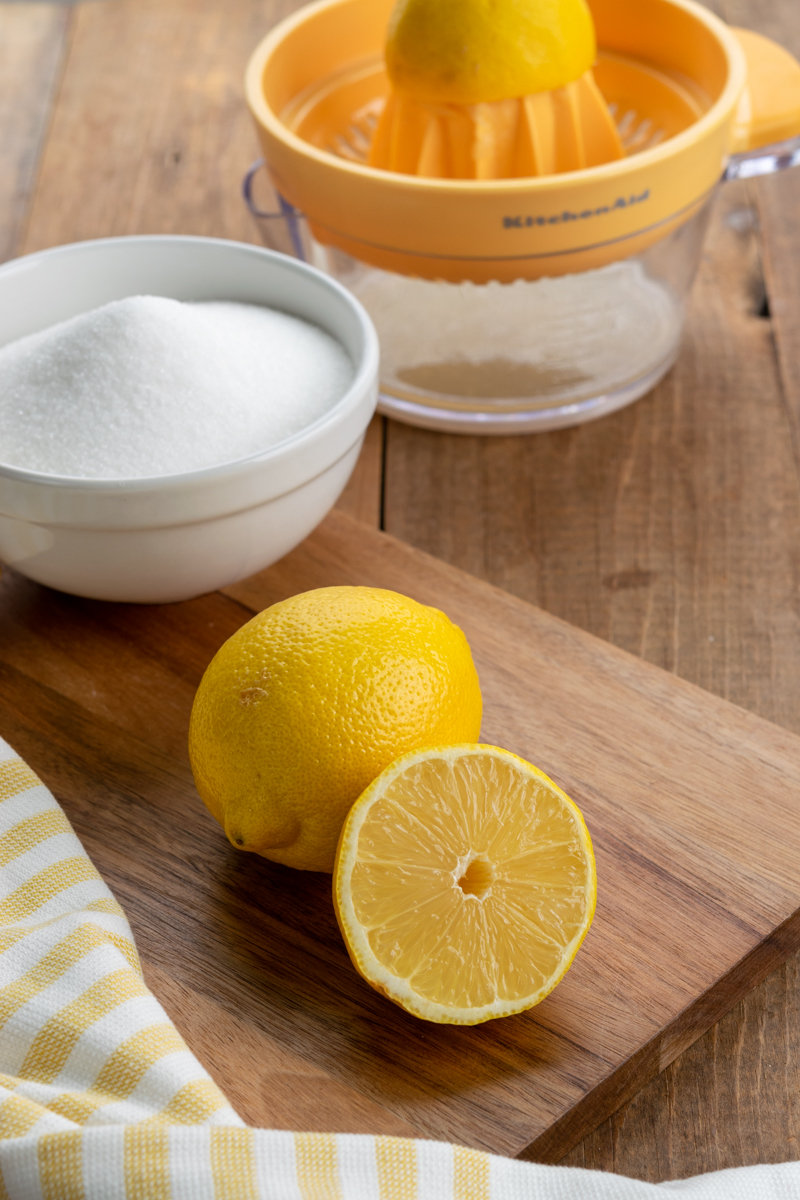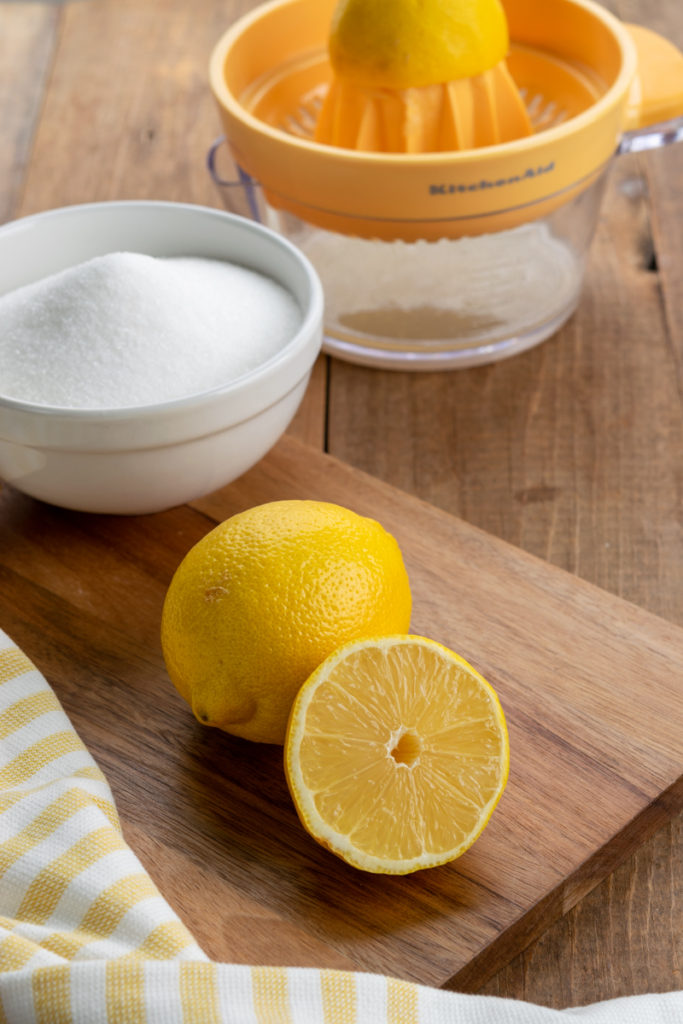 Ice Cubes
It may seem funny to discuss ice cubes as an ingredient.
But the truth is, the flavor of the ice and melting ice cubes has a big impact on an iced drink's overall flavor.
That's why Starbucks uses filtered ice and water for all their drinks.
And it's why I suggest doing the same, especially if your tap water or ice doesn't have a crisp, clean taste about it.
If you don't already have a way to filter water, I recommend getting a Brita water filter pitcher.
It will improve the taste of all your drinks, be it coffee, tea or lemonade.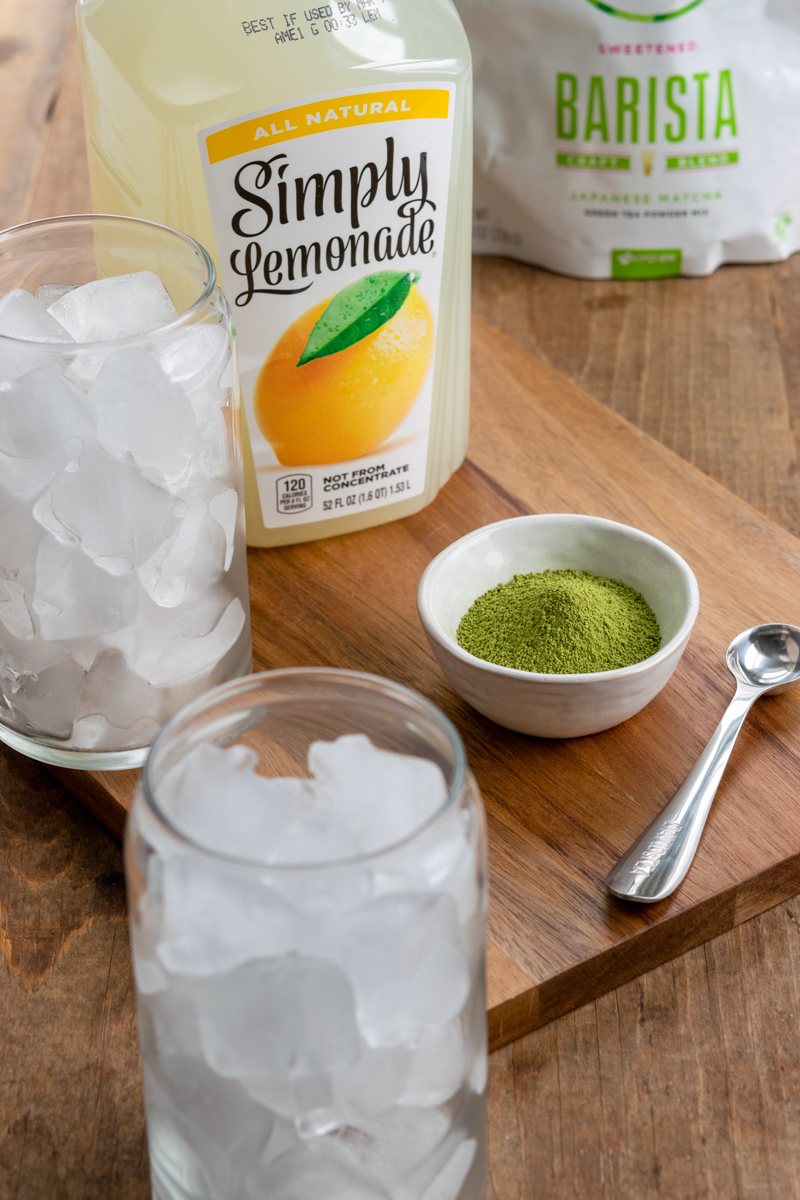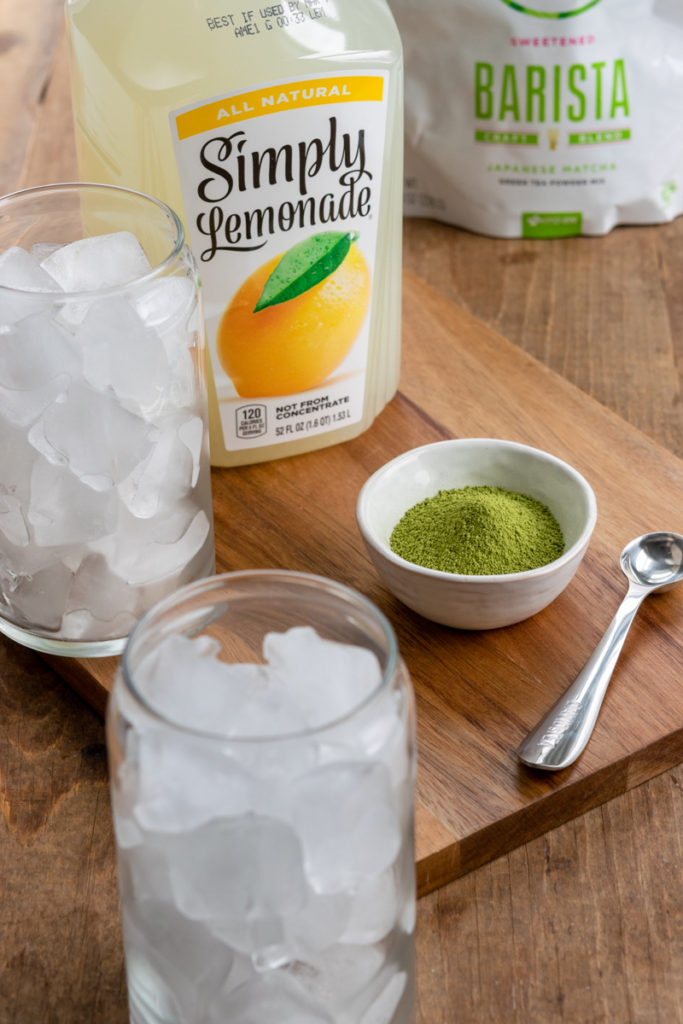 How to Assemble this Drink
Now that you've selected the ingredients, it's time to mix everything up.
This is the fun part. And it's what makes this recipe so quick and easy.
Simply put all the ingredients, matcha, lemonade and ice into a cocktail shaker and shake vigourously. It will probably take a good 10-15 shakes to dissolve the matcha.
If you don't have a cocktail shaker, a jar with sealed lid works great, too.
Another option is to shake only the matcha and lemonade together, or combine them with a handheld milk frother.
Then, simply pour it over ice.
Either way, the shaking method is a quick and easy way to make this iced drink.
Questions you May Have
What's in Starbucks Matcha Lemonade?
A Starbucks matcha lemonade contains matcha, lemonade and ice. Both the matcha blend and lemonade contain sugar.
Does matcha lemonade contain caffeine?
Yes, matcha green tea powder contains caffeine so matcha lemonade drinks contain caffeine. For example, a Starbucks 16-ounce matcha lemonade has 80mg of caffeine.
How many calories are in a Starbucks Matcha Lemonade?
According to the Starbucks nutrition information, a 12-ounce tall Starbucks Matcha Lemonade contains 90 calories. A 16-ounce grande size contains 120 calories and a 24-ounce venti matcha lemonade has 170 calories.

Can I get a light matcha lemonade from Starbucks?
Starbucks matcha lemonade drinks are made with sweet lemonade and a matcha tea blend that contains sugar. Since the barista has no way to leave out the sugar from these pre-packaged ingredients, it is not possible to get a "light" matcha lemonade.
More Starbucks Matcha Recipes & Guides
Starbucks Matcha Lemonade Copycat Recipe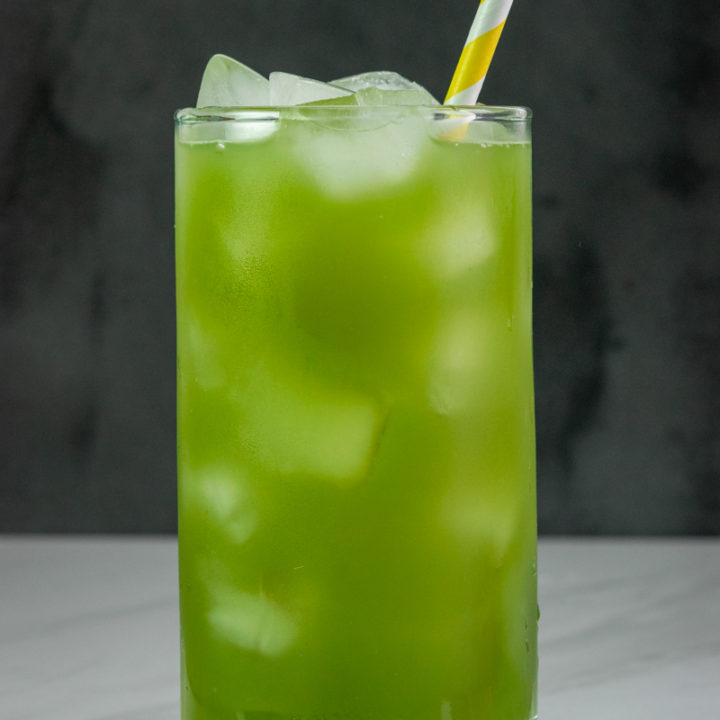 Starbucks Matcha Lemonade
See how to make a refreshing matcha lemonade at home just like Starbucks. This copycat recipe is a delicious mixture of sweet matcha, lemonade and ice.
Ingredients
1 1/2 cups lemonade
2 tablespoons matcha powder, sweetened
1 cup ice cubes
Instructions
Pour lemonade into a cocktail shaker or jar with lid. Use a jar with enough space to shake the lemonade and ice.
Add ice and matcha powder to shaker. For sweetened matcha powder like Matcha Love use 1-2 tablespoons. For pure matcha powder use 1-2 teaspoons.
Shake the matcha lemonade for 10-15 shakes until matcha is dissolved.
Serve in a 16 ounce glass.
Recommended Products
As an Amazon Associate and member of other affiliate programs, I earn from qualifying purchases.