Wondering how to make Starbucks liquid cane sugar for your favorite iced tea? Then, you'll love this easy recipe for the syrup Starbucks uses to sweeten all their iced tea drinks.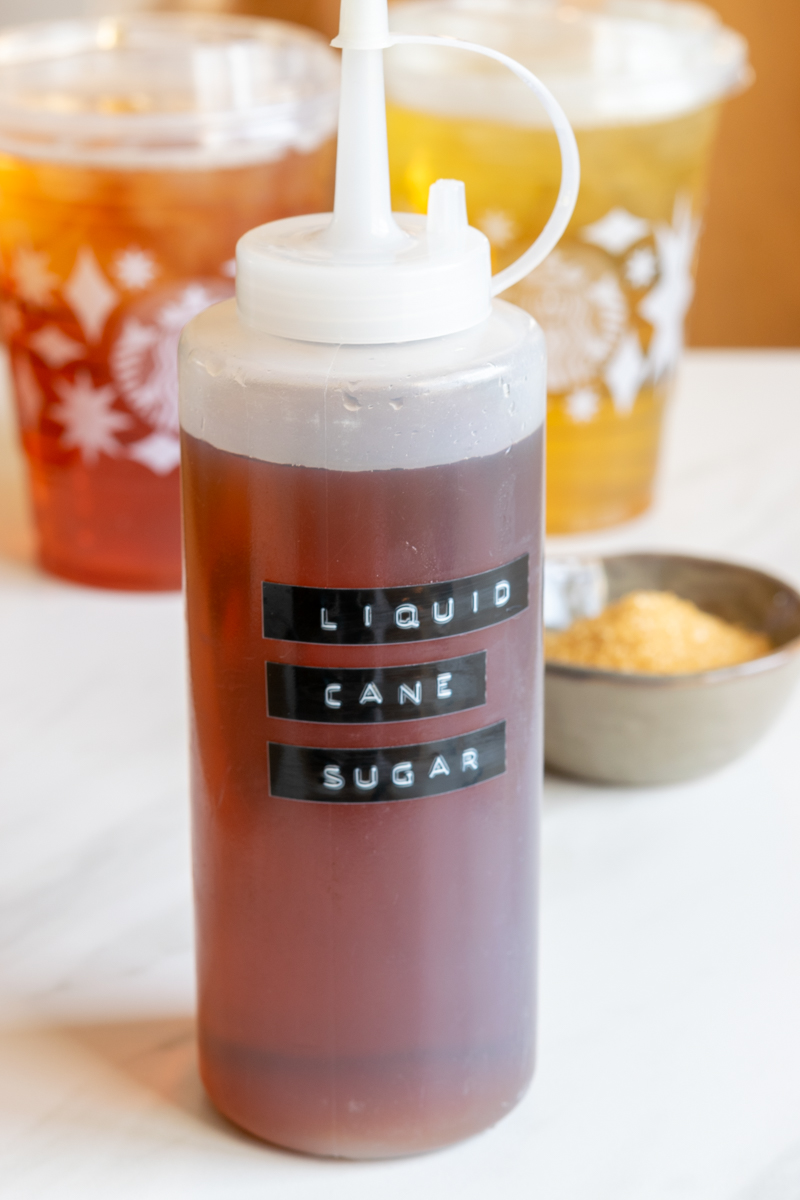 Starbucks Liquid Cane Sugar
If you love the flavor of Starbucks iced teas sweetened with liquid cane sugar, then you'll want to give this simple syrup recipe a try.
As a bonus, not only is this Starbucks copycat syrup ideal for sweetening iced tea, but it's delicious in many other cold drinks, as well.
Plus, you'll love how easy it is to make liquid cane sugar syrup at home.
In fact, this simple syrup recipe only has 3 ingredients and takes about 5 minutes to make a batch.
Not to mention, no special kitchen tools are needed, just a saucepan and a stove.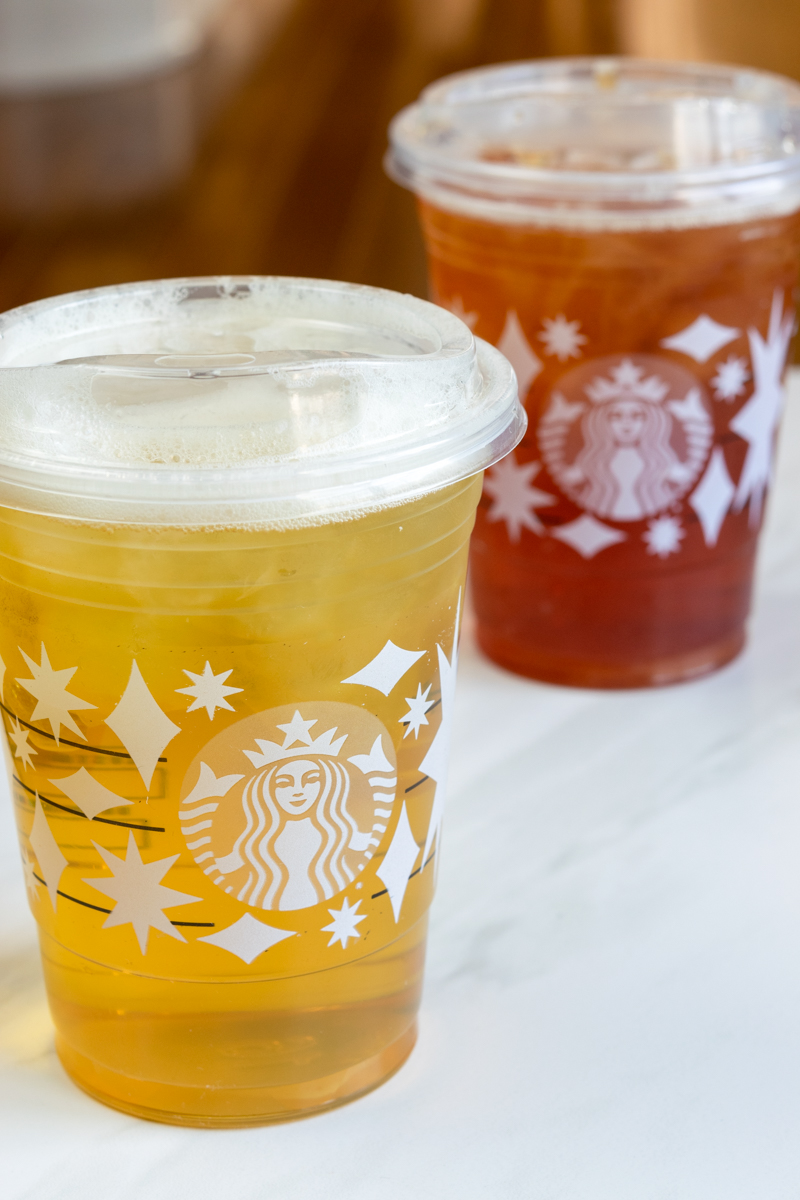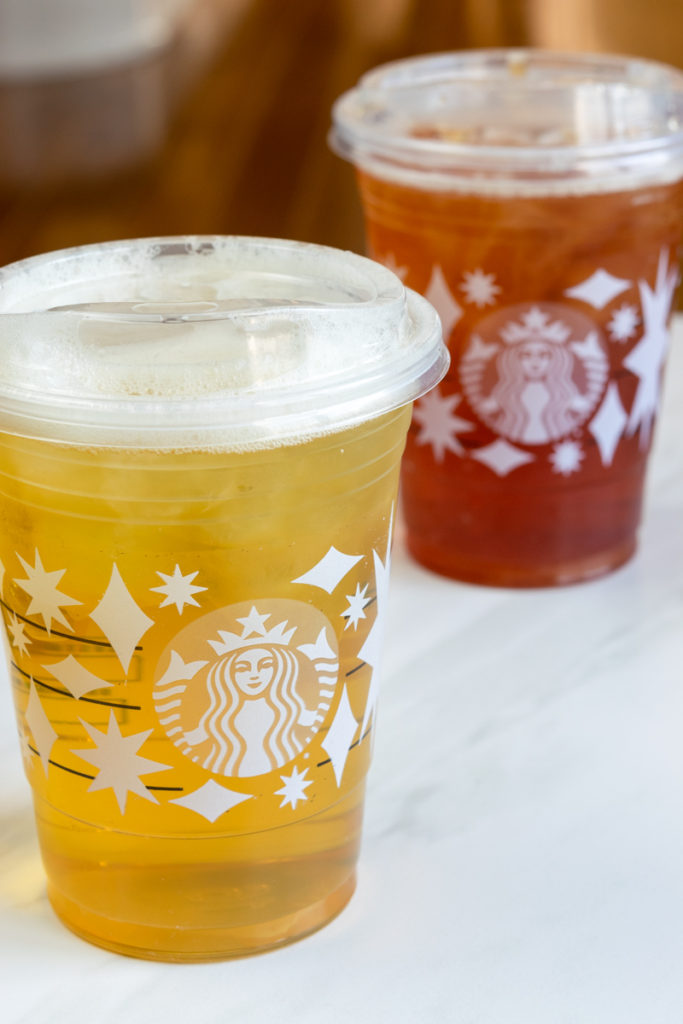 Starbucks Liquid Cane Sugar vs Classic Syrup
If you're not familiar with Liquid Cane Sugar, it's the simple syrup Starbucks uses exclusively in their iced tea and iced tea lemonade drinks.
However, it wasn't that long ago that Starbucks sweetened all their iced tea drinks with Classic syrup. I guess that means, Liquid Cane Sugar is the relatively new kid on the block.
For Starbucks regulars who may remember the switch, you may be curious about the difference between Classic and Liquid Cane.
Here's a quick list.
Differences between Liquid Cane Sugar and Classic Syrup:
Color: Liquid Cane Sugar is brown and Classic Syrup is clear.
Type of Sugar: Liquid Cane Sugar is a combination of turbinado cane sugar and cane sugar, whereas Classic is only cane sugar.
Flavor: Liquid Cane has more of a molasses flavor compared to Classic.
Sweetness: Liquid Cane is less sweet than Classic.
Starbucks Uses: The only Starbucks recipes that have Liquid Cane Sugar are teas.
By the way, if you prefer unsweetened iced tea, your Starbucks barista can easily leave out the syrup. Luckily, their teas are not sweetened ahead of time.
Plus, there are other low-calorie Starbucks teas on the menu.
Additionally, if you want to forgo the syrup, Starbucks has lots of other options for sweetening up your drink.
For instance, they have several sugar alternatives and sweeteners on-hand like Stevia, Splenda and Sugar in the Raw.
Not to mention, there's actually a lot of ways you can customize Starbucks iced tea.
Here's my guide where I show you all the possibilities: Best Iced Tea at Starbucks, A Barista's Guide.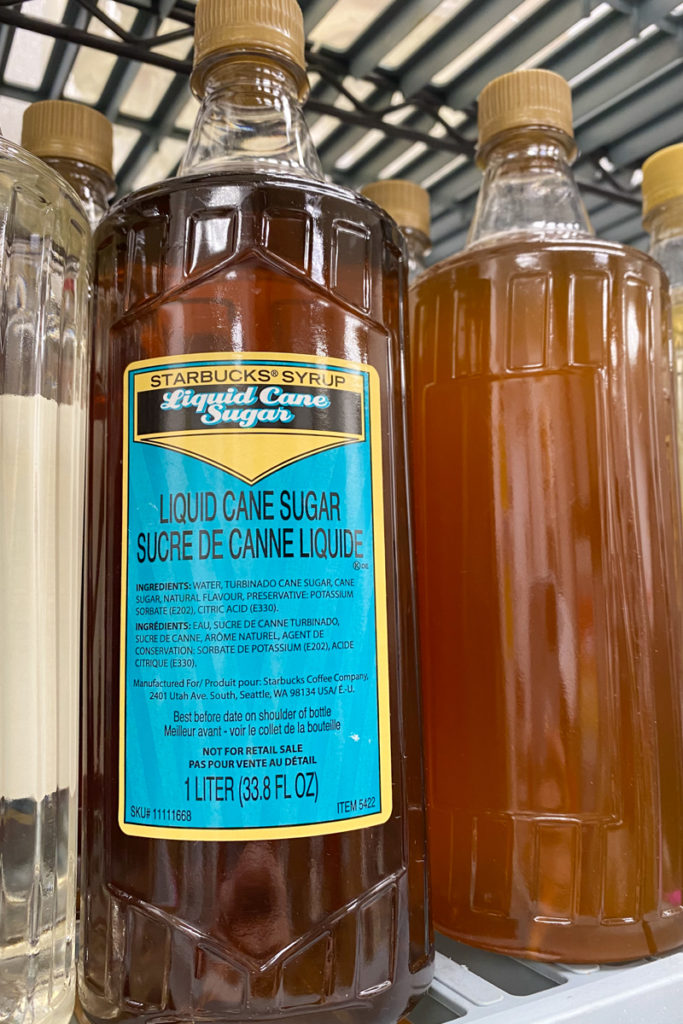 Homemade Liquid Cane Sugar Ingredients
Now that you know a little more about this drink sweetener, let's make a batch of homemade liquid cane sugar.
For this recipe we're basically going to use the same main ingredients that you see on the Starbucks bottle above: water, turbinado cane sugar and regular cane sugar.
I love that turbinado cane sugar is readily available in grocery stores and places like Target. This way it's simple to make this copycat recipe at home.
Here's all you need to make homemade Liquid Cane Sugar:
Turbinado Cane Sugar
Granulated Cane Sugar (white)
Filtered Water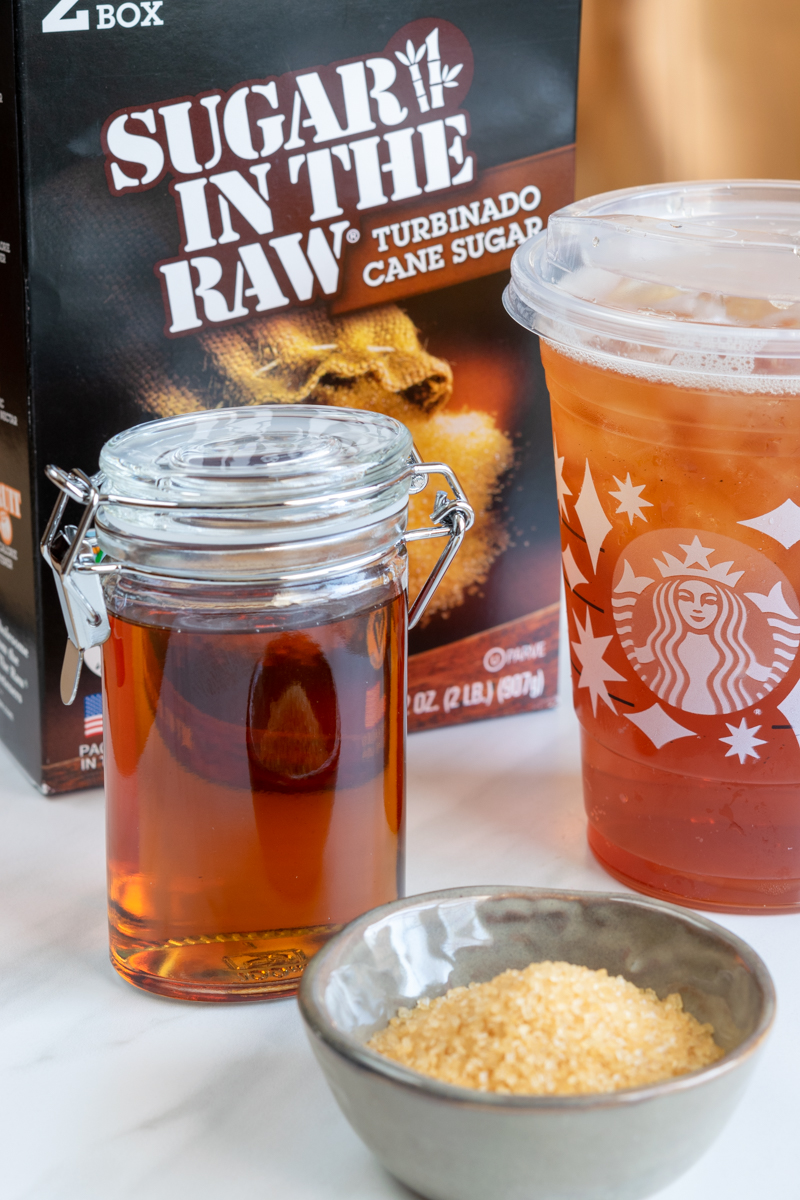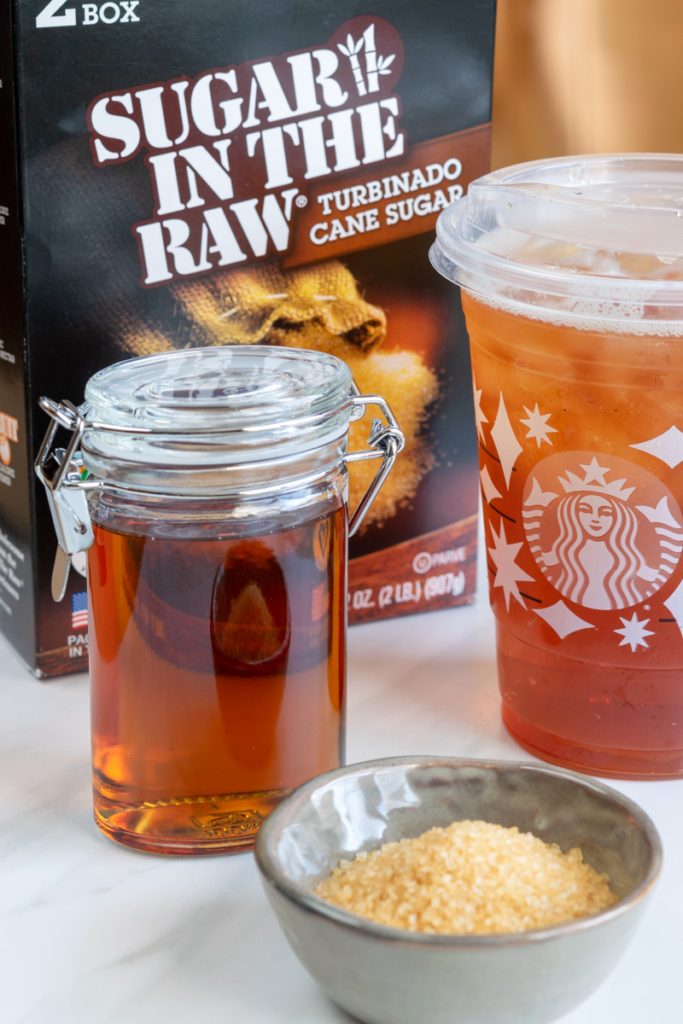 Turbinado Cane Sugar
Since turbinado sugar is the ingredient that sets this recipe apart from other simple syrup recipes, let's take a quick look at its unique characteristics.
In a nutshell, turbinado sugar, also called raw sugar, is lightly processed and more granular than other sugars.
In fact, it's this minimal processing that gives turbinado its rich, molasses-like flavor.
If you've ever noticed large sugar crystals on top of muffins, that's raw sugar. It certainly makes them super tempting to eat.
Obviously, you can stir turbinado raw sugar into drinks, too. And it makes a tasty simple syrup like Starbucks Liquid Cane.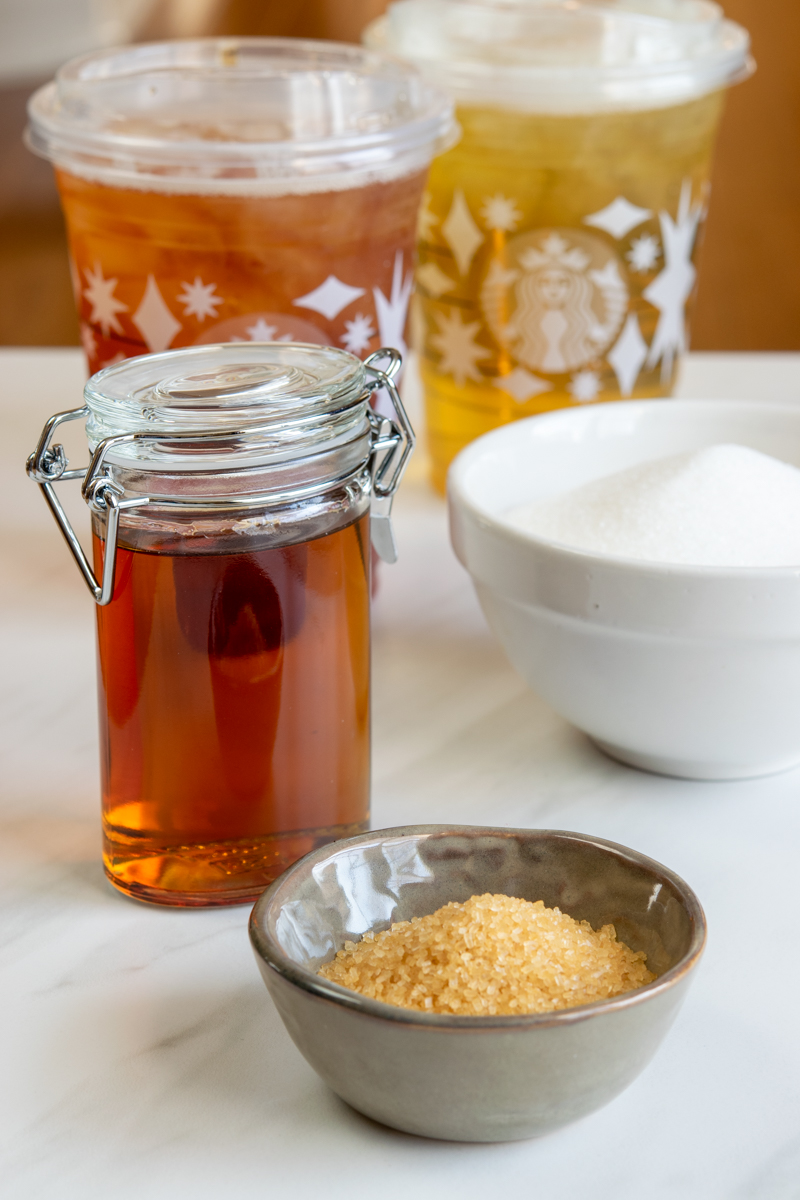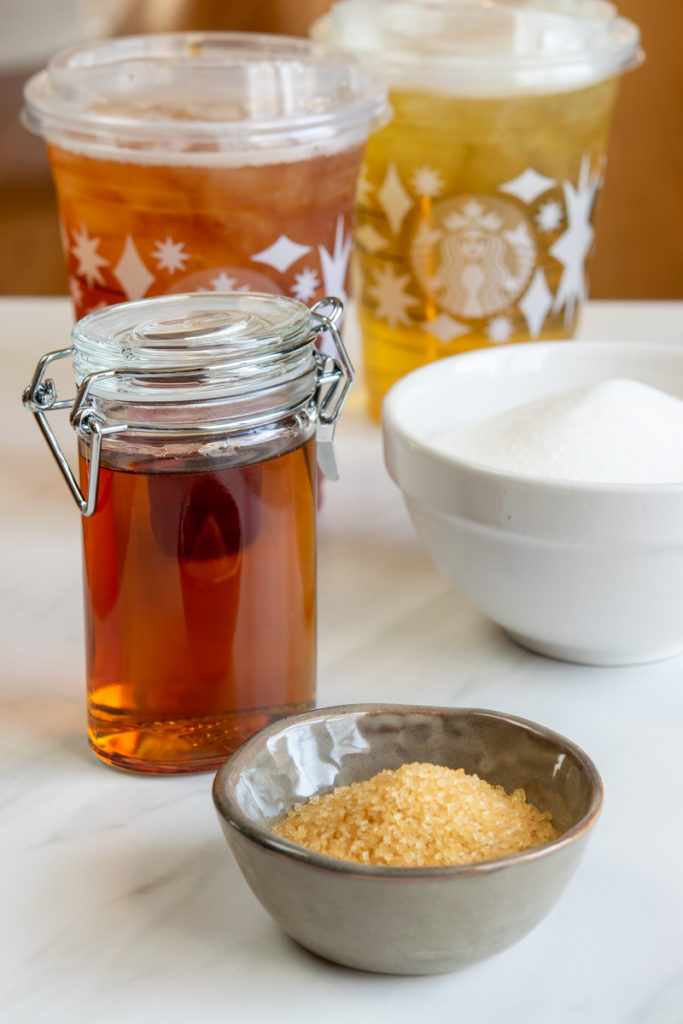 How to Make Liquid Cane Sugar
Making coffee syrups and simple syrups for drinks is so easy. And once you know how, you can experiment with all sorts of flavors.
Here's my process for making this copycat Starbucks Liquid Cane Sugar recipe.
Step 1: Combine Ingredients in a Saucepan
As you can see, this recipe is a combination of two types of sugar and water.
Typically, I use 75% turbinado cane and 25% granulated cane sugar. If you prefer the overall flavor to not be as rich, then feel free to use equal amounts of the two types of sugar.
Additionally, this simple syrup recipe is a one-to-one ratio of total sugar to water. So for every cup of sugar, use one cup of water.
Step 2: Dissolve Sugar
The next step is to dissolve the sugar in the water over medium heat. As soon as it's near boiling, reduce the syrup to a low simmer.
Stir often, so the sugar dissolves and doesn't burn on the bottom of the pan. It will dissolve very quickly.
Step 3: Reduce & Thicken the Syrup
As soon as the sugar is dissolved, you have a choice. You can let the syrup simmer a few minutes or remove it from the stove immediately.
Personally, I prefer to simmer the liquid cane sugar for 4-5 minutes in order to reduce a little of the water and thicken up.
Finally, remove it from the heat and let it cool before bottling. Store it in the refrigerator.
Keep in mind, while Starbucks exclusively uses liquid cane sugar in iced tea, it's ideal for sweetening coffee and hot tea, as well.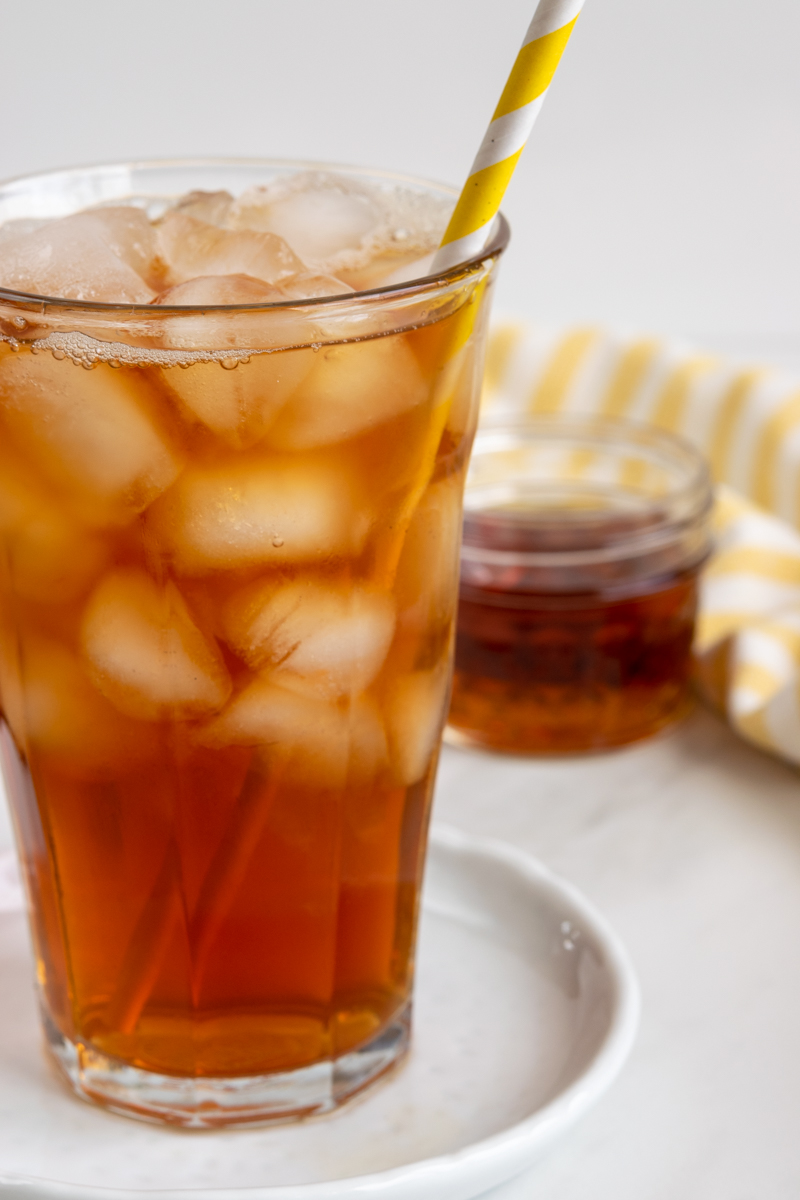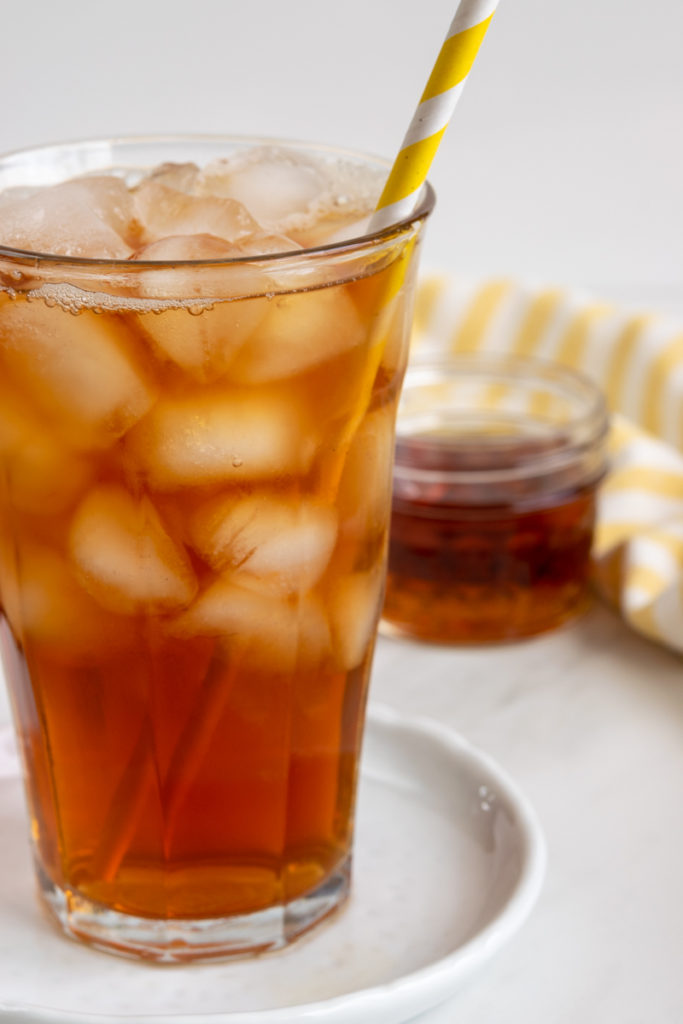 Other Starbucks Copycat Syrup Recipes
Homemade Liquid Cane Sugar Recipe
Starbucks Liquid Cane Sugar
See how to make Starbucks Liquid Cane Sugar with this easy homemade, copycat recipe. This simple syrup is ideal for sweetening iced tea, hot tea, coffee and other drinks.
Ingredients
3/4 cup turbinado cane sugar
1/4 cup white cane sugar
1 cup filtered water
Instructions
Combine both sugars and water in a saucepan on the stove over medium heat.
Stir continuously until both sugars have completely dissolved.
Once liquid cane sugar reaches boil, reduce heat. Simmer syrup for about 5 minutes to reduce.
Remove from heat and let cool and thicken some more. Store in a bottle in the refrigerator.
Recommended Products
As an Amazon Associate and member of other affiliate programs, I earn from qualifying purchases.