Starbucks Blended Strawberry Lemonade is the perfect summertime drink. See how easy it is to make this frozen strawberry lemonade drink at home with this easy Starbucks copycat recipe.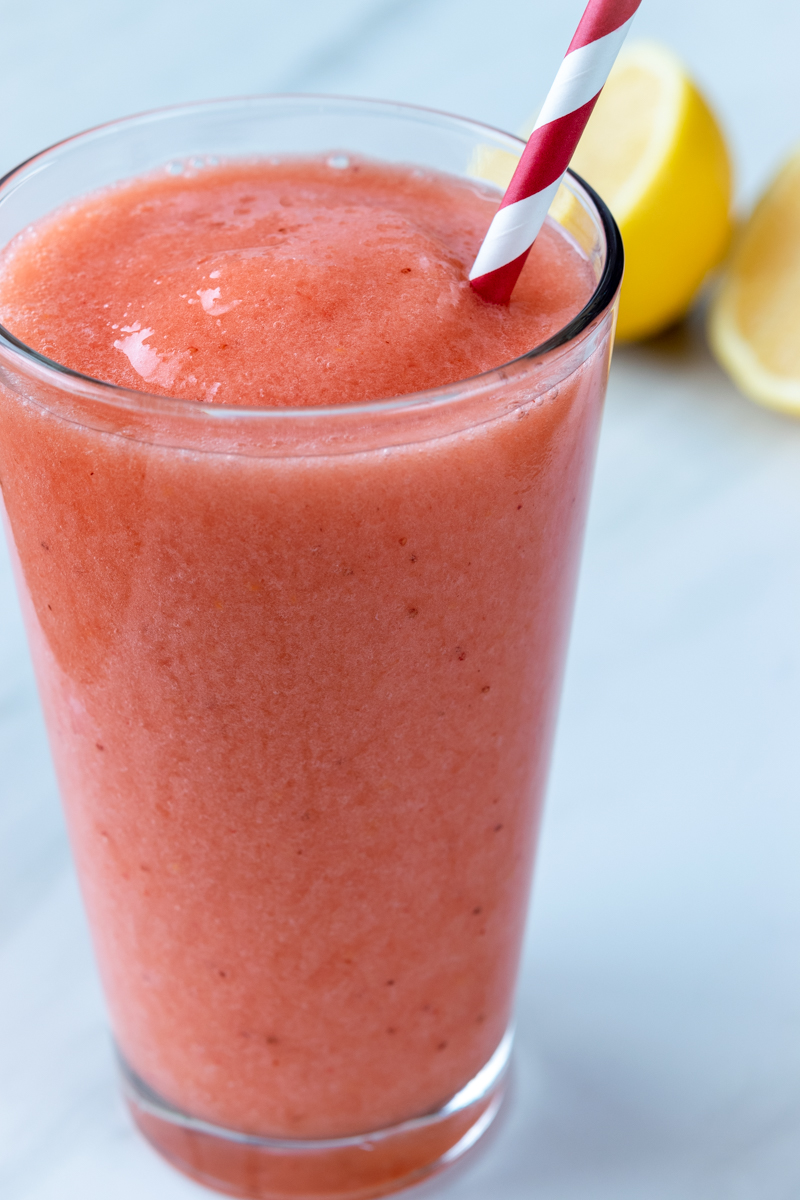 Blended Strawberry Lemonade
Starbucks Blended Strawberry Lemonade brings together two of summer's favorite flavors into one delicious frozen drink.
I absolutely love the combination of sweet strawberries and tangy lemonade. So for me and my tastebuds, a Starbucks Strawberry Lemonade is the perfect summertime treat.
On top of it, there are actually quite a few other strawberry drinks at Starbucks.
But, if you've never had this blended drink before it's sort of like a slushy, though a little bit more icy.
And with my copycat Starbucks recipe, it's super easy to make a DIY Blended Strawberry Lemonade right in your own kitchen.
Of course, you can make a single serving for yourself or make a large batch for summer parties.
Here's how Starbucks describes this ice cold drink.
Refreshing lemonade infused with a hint of delicious strawberry flavor and blended with ice. A light, fresh beverage that puts a little zip in your step

starbucks.com
What's in a Starbucks Blended Strawberry Lemonade?
Basically, a Starbucks Blended Strawberry Lemonade is a mixture of ice, lemonade and strawberry puree.
All the ingredients are blended together which is what makes it like a frozen slushy.
Here are the exact ingredients the barista uses to make this drink.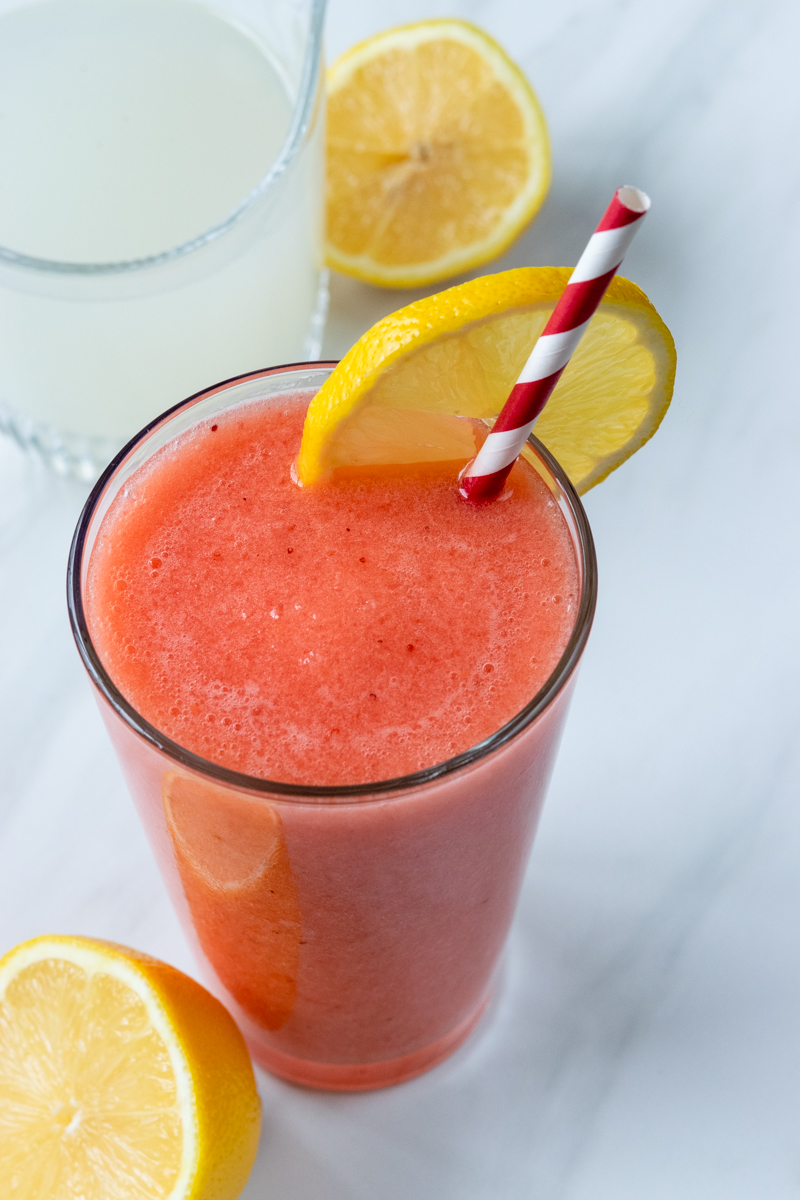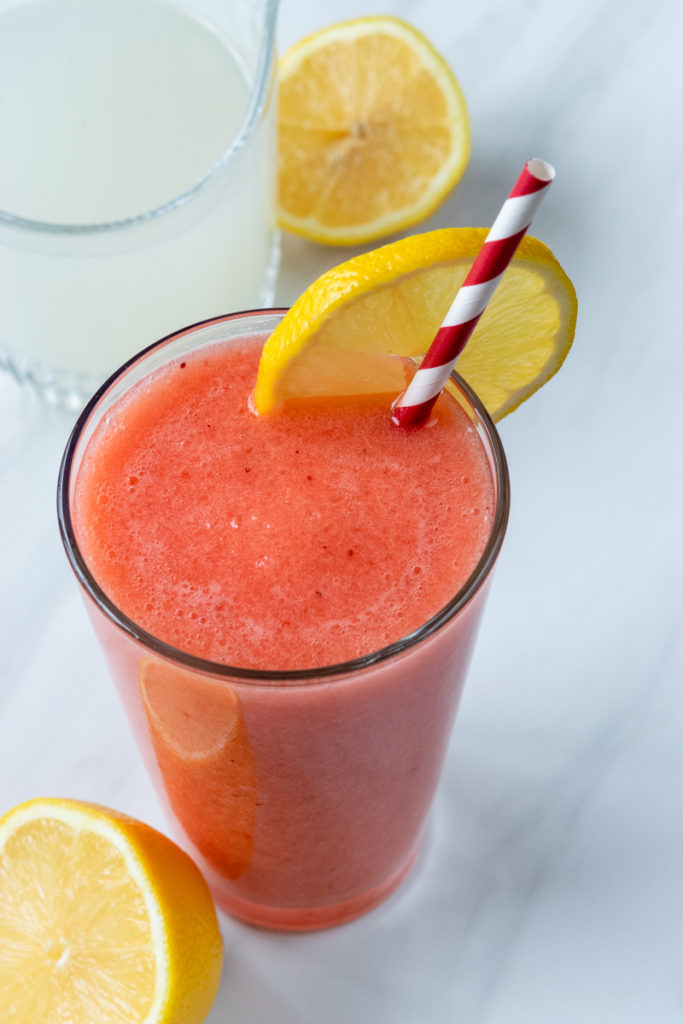 Blended Strawberry Lemonade Ingredients Barista Uses
Strawberry Puree
Lemonade
Ice
Creme Frappuccino Syrup
Strawberry Puree
Starbucks baristas use the same strawberry puree in this frozen lemonade drink as they do in their delicious Strawberry Creme Frappuccinos.
If you take a look at my copycat Starbucks Strawberry Frappuccino recipe, you can see how to make both the frappuccino and the puree.
Might I add, they're both absolutely delicious.
Lemonade
Starbucks has several types of lemonade drinks on the menu. And the barista uses the same lemonade concentrate to make each one.
In fact, here you can see all Starbucks lemonade drinks including iced tea lemonades and lemonade refreshers.
The thing is, the kind of lemonade Starbucks uses is not available to buy. Actually, it's made exclusively for Starbucks.
What I can tell you, though, is their lemonade is concentrated.
Therefore, to try and replicate it, get a can of frozen lemonade concentrate from the store and mix it with half the amount of water recommended.
But if you're like me, I think using pre-made lemonade like Simply Lemonade works well, too.
Creme Frappuccino Syrup
This is the syrup Starbucks uses to make all its Creme Frappuccinos, as well as the Blended Strawberry Lemonade.
However, don't be fooled by its name. It does not contain cream.
It's probably named, Creme since its the syrup used in all the Creme, non-coffee-based frappuccinos.
Obviously, this syrup contains sugar. It's an emulsifier, as well.
If you're not familiar with what an emulsifier is, it's what keeps a blended drink blended.
In other words, it's keeps everything from separating.
As a substitute for syrup, I use xanthan gum, a powdered emulsifier. Additionally, I may add a sweetener like Classic Syrup, as well.
For instance, take a look at my homemade Chai Frappuccino recipe. You can see how nice and creamy it is.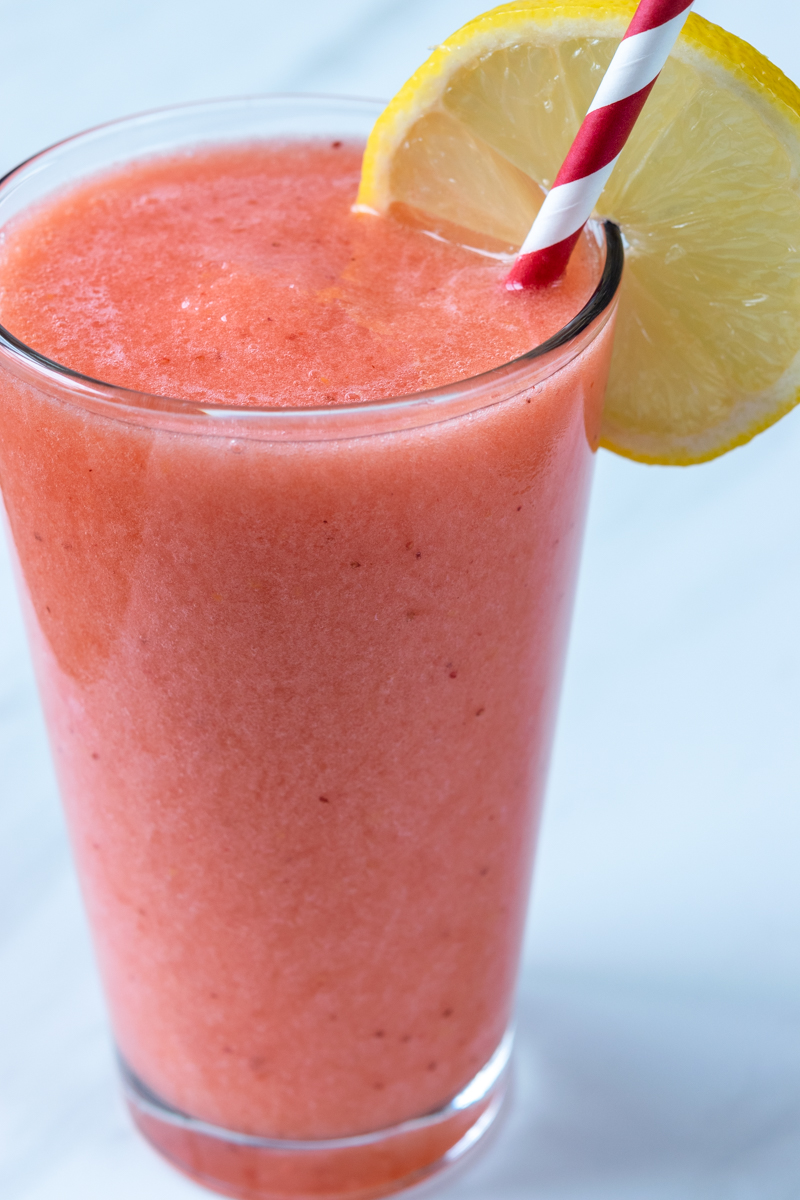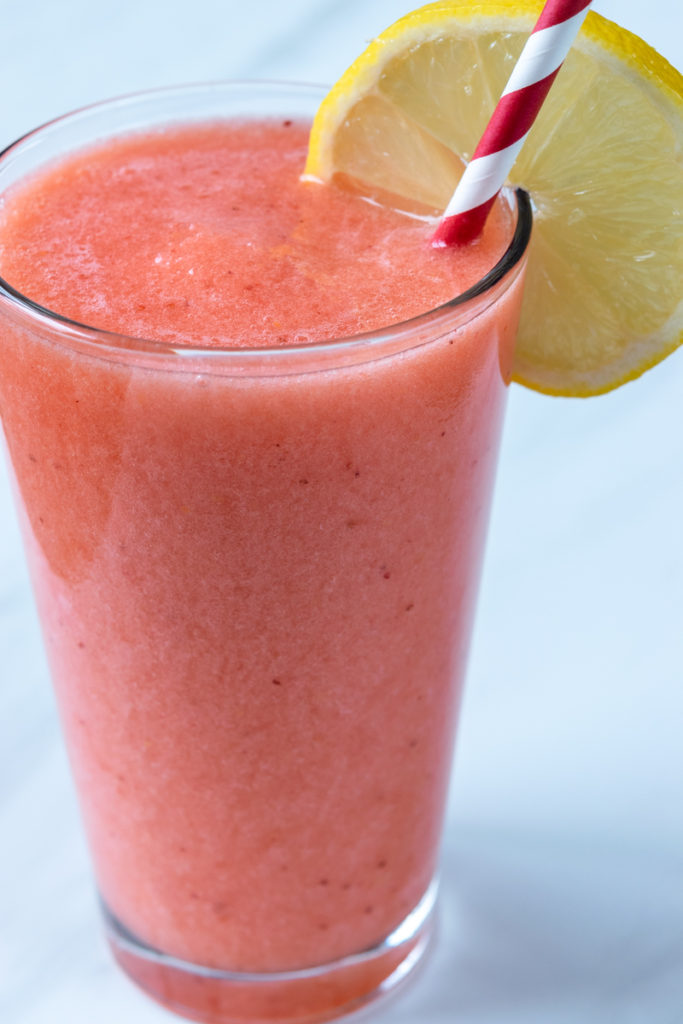 How Starbucks Makes this Drink
Have you ever noticed the black lines on Starbucks cold cups? These cup markings are in fact, used for measuring.
So here are the steps the barista takes to make a Strawberry Lemonade:
Step 1: Add strawberry puree to the first cup marking
Step 2: Fill the cup with lemonade to the third line
Step 3: Put everything into the blender
Step 4: To the blender, pump in creme frappuccino syrup and ice
Step 5: Blend the drink and pour into cup used for measuring
How to Make a Blended Strawberry Lemonade at Home
Making a copycat Starbucks Blended Lemonade at home is really easy and it only takes a few ingredients.
However, you do need to make homemade strawberry puree, too. Trust me, it's incredibly easy to make.
You pretty much need some strawberries and sugar.
Fresh or thawed frozen strawberries both work equally well.
Of course, I like to add an emulsifier, as well as fresh lemon zest, lemon juice and a tiny bit of white grape juice.
Plus, when you make a batch of puree, you can use it for other things. For instance, it's absolutely delicious on top of vanilla ice cream.
Ingredients for Homemade Blended Strawberry Lemonade
Strawberry Puree
Lemonade
Ice
Xanthan Gum
Kitchen Tools Needed
Obviously, to make a Blended Strawberry Lemonade, you need a blender.
I have a Ninja blender that works great on any drinks I make with ice or frozen fruit.
On the other hand, to make purees, I prefer to use a stick blender. They're a snap to clean up.
How to Blend the Drink
Making this frozen lemonade drink is as simple as adding all the ingredients to a blender and blending it up.
One tip, is to add the xanthan gum after everything else is blended and then blend it again for a couple seconds.
Then let it rest for a minute or less before drinking so the xanthan gum has a chance to expand and do its thing.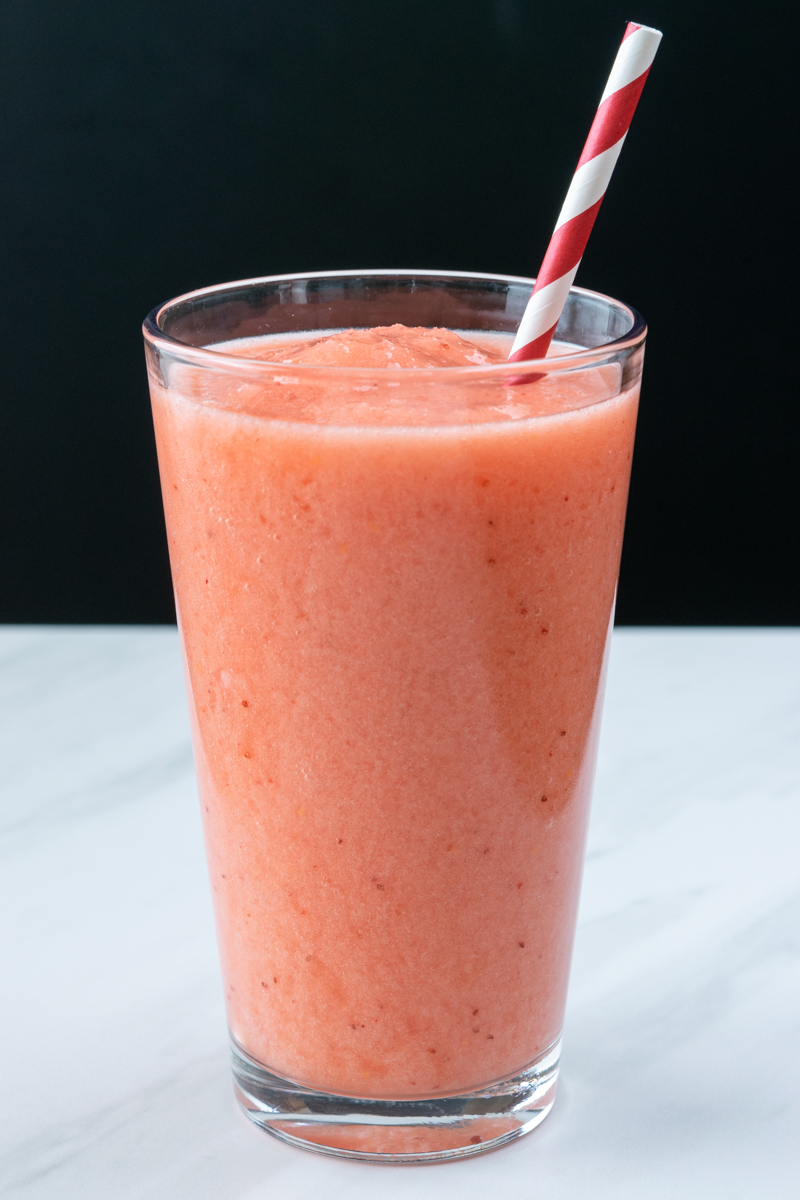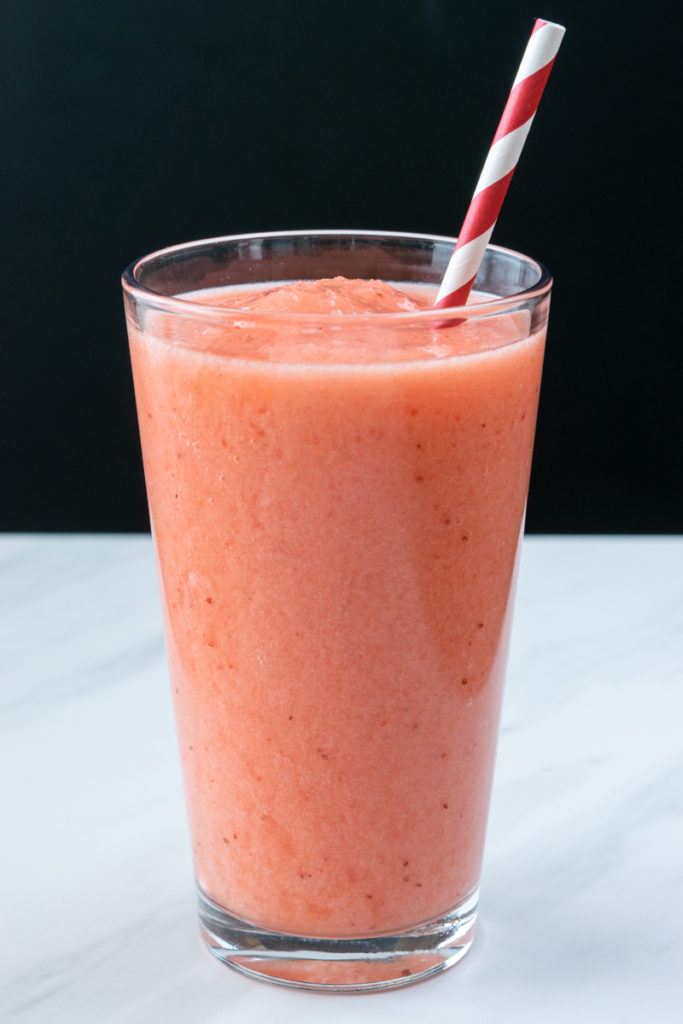 Blended Strawberry Lemonade FAQs
Does a Starbucks Blended Strawberry Lemonade have caffeine?
A Starbucks Blended Strawberry Lemonade does not contain any caffeine. This drink is a good caffeine-free option at Starbucks, especially for parents to get for their young children.
How many calories are in a Blended Strawberry Lemonade?
A Starbucks 12-ounce tall Blended Strawberry Lemonade has 130 calories. A 16-ounce grande has 190 calories, and a 24-ounce venti has 260 calories.
How to Order a Blended Strawberry Lemonade
While some people think the Blended Strawberry Lemonade is a "secret menu" drink, in fact it's on the regular Starbucks menu. However, it is tricky to find the Strawberry Lemonade on the Starbucks mobile app. To order a strawberry lemonade using the app, go to Cold Drinks and then Juice.
Starbucks Blended Strawberry Lemonade Copycat Recipe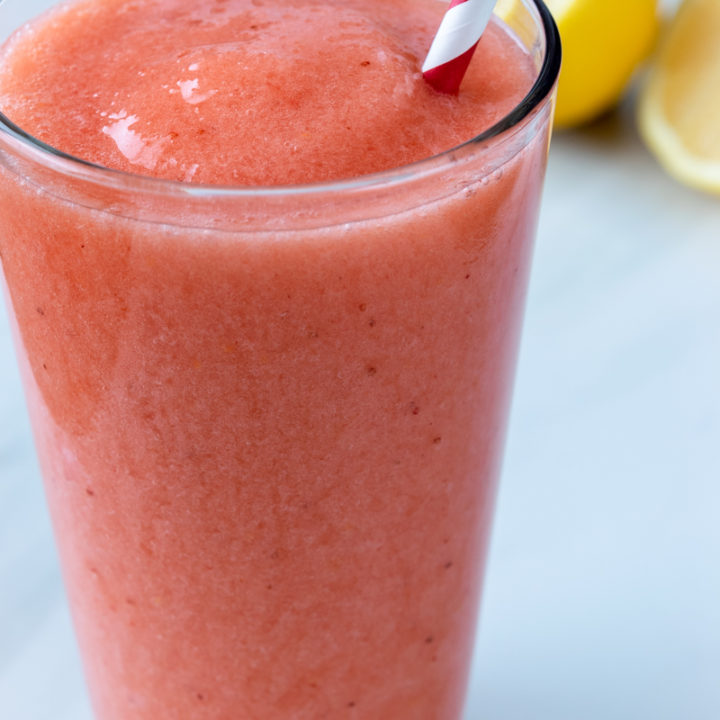 Starbucks Blended Strawberry Lemonade
Easy and Delicious Starbucks Blended Strawberry Lemonade copycat recipe that's sweet, tart, icy and perfect for summer.
Ingredients
1/2 cup strawberry puree
3/4 cup lemonade
1 1/4 cups ice cubes
1/4 teaspoon xanthan gum
Instructions
Put strawberry puree and lemonade in a 16 ounce drinking glass. This recipe for homemade strawberry puree recipe (also used to make Starbucks strawberry frappuccinos) is recommended.
Fill the glass to the top with ice cubes, around 1 1/4 cups.
Dump the mixture in a blender. Add xanthan gum and blend for about 1 minute.
Pour blended strawberry lemonade back into 16 ounce cup used in step one.
Notes
The strawberry puree recipe makes enough puree for approximately three of these blended drinks. You can also make a copycat strawberry frappuccinos with it.