Here's a list of every caffeine free Starbucks drink on the menu. You'll be surprised just how many Starbucks drinks you can get without caffeine.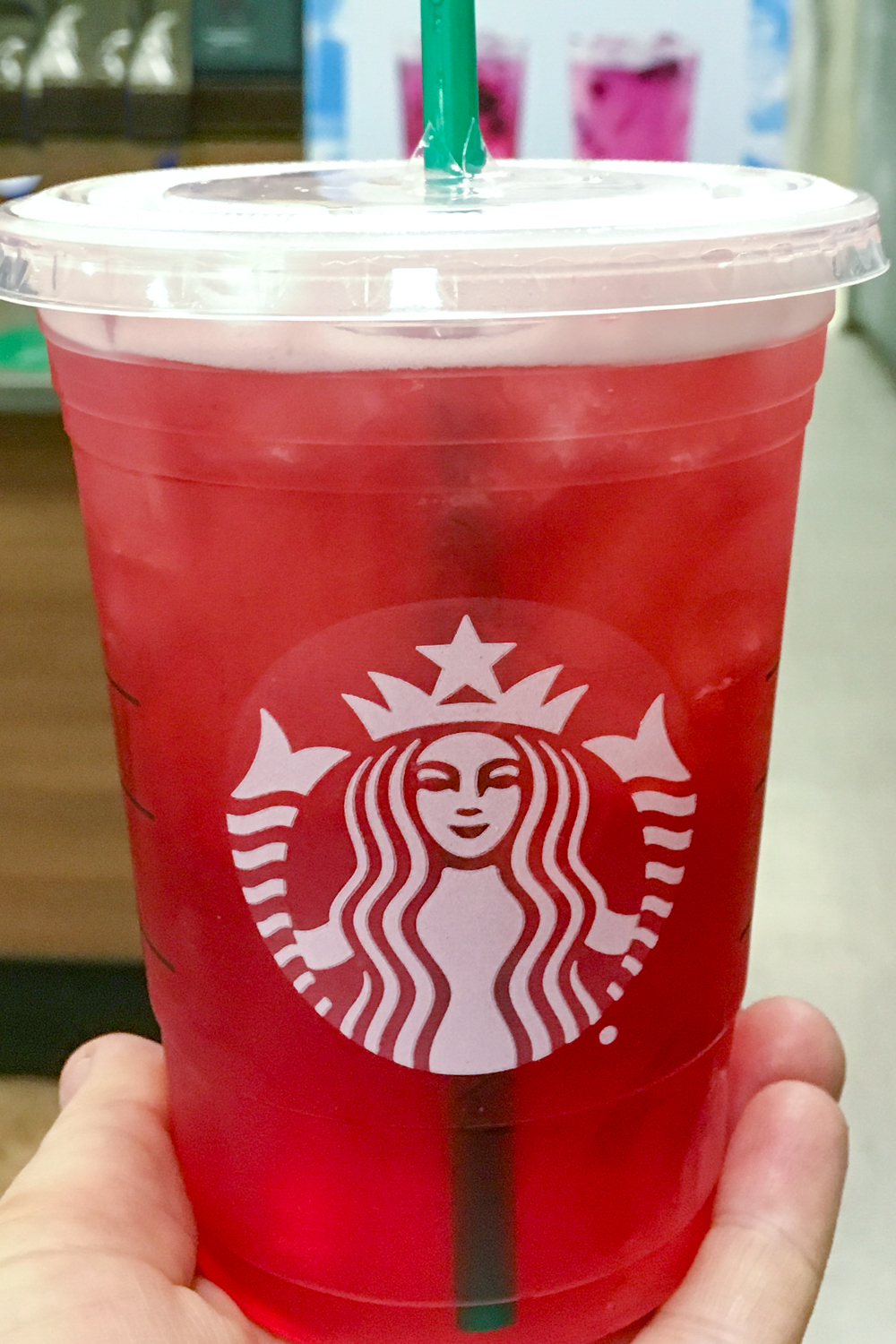 Starbucks and caffeine go hand-in-hand. But what if you want a Starbucks drink without caffeine. Do they have any?
Absolutely. Starbucks Coffee Company has lots of caffeine-free drinks that don't contain a drop of coffee or caffeine.
And it's a decent selection.
Caffeine-free Starbucks drinks include hot tea, iced tea, bottled tea, lemonade drinks, juice, creme frappuccinos, steamers, hot chocolate and more.
Make note, Starbucks decaf iced coffee and other decaf coffee drinks don't make the list since they actually contain some caffeine.
Of course, if you're in the need of a caffeine boost, here you can see how much caffeine is in every Starbucks tea. And if you're really in dire straights, here are the most caffeinated drinks at Starbucks.
But you came here looking for Starbucks drinks without caffeine. So let's take a look at every single Starbucks drink that contains precisely 0 mg of caffeine.
Caffeine-Free Starbucks Drinks
Starbucks has a lot of drinks without caffeine—hot, cold and blended. They even offer some seasonal non-caffeinated drinks.
Here's a list of caffeine-free Starbucks drinks. Non-coffee drinks without caffeine at Starbucks include tea, lemonade, juice, frappuccinos, hot chocolate, milk steamers and water.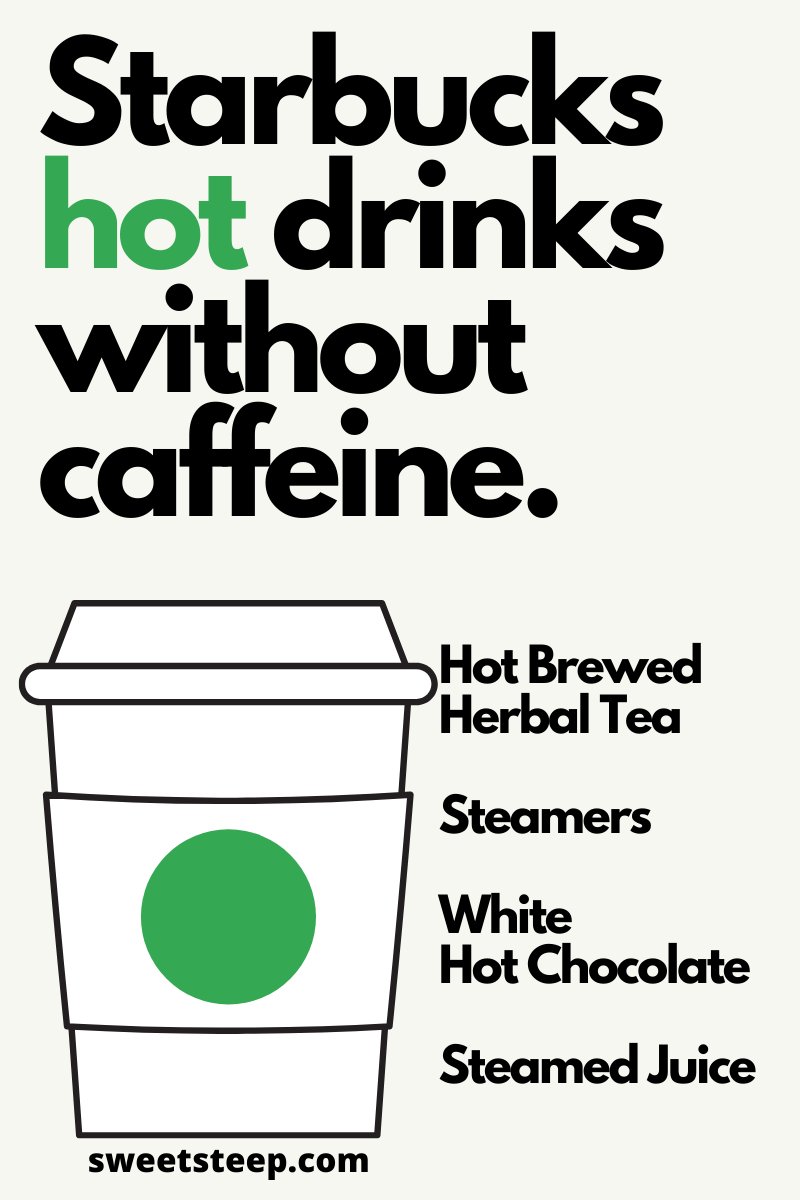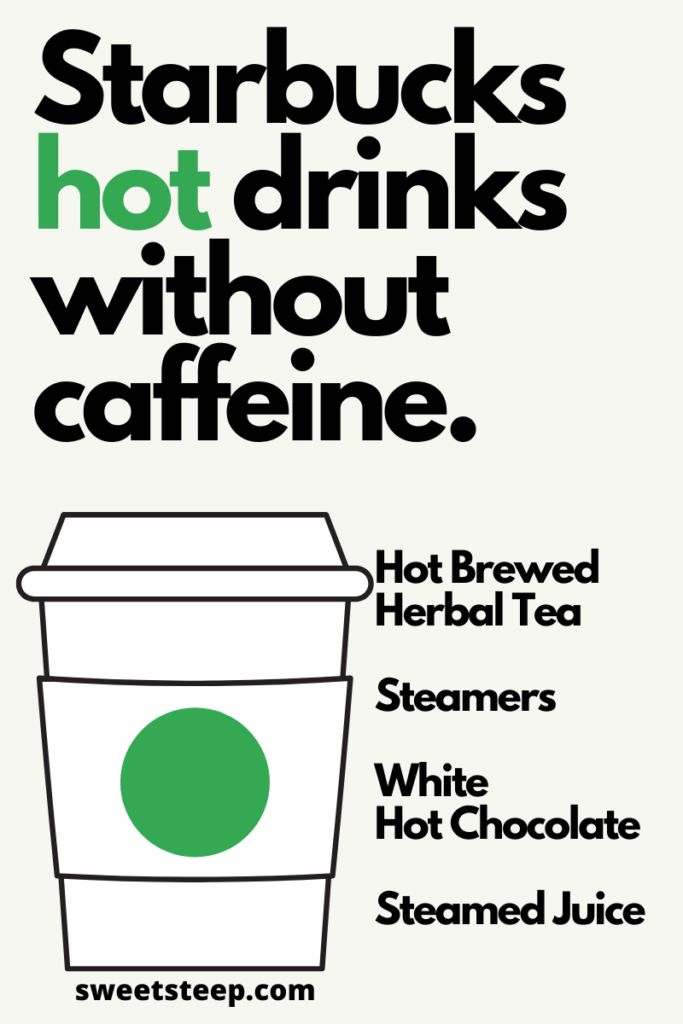 Mint Majesty
Mint Majesty is a delicious way to enjoy a hot, caffeine-free drink at Starbucks. This non-caffeinated herbal tea is a cool blend of mint and a pinch of lemon verbena. Don't confuse it with Starbucks other minty tea, Jade Citrus Mint, however. That's a green tea and contains caffeine.
Peach Tranquility
This caffeine-free herbal tea is an infusion of peach, candied pineapple, chamomile blossoms, lemon verbena and rose hips. I promise you, it's as delicious as it sounds.
Peach Tranquility is also one of two Teavana tea bags that goes into the famed Medicine Ball tea.
White Hot Chocolate
A cup of toasty hot chocolate and cold winter days are the perfect pairing. But what if you're avoiding caffeine? Starbucks has the solution, White Hot Chocolate. This traditional hot chocolate is a decadent mix of white chocolate sauce and steamed milk, topped with whipped cream.
Toasted White Hot Chocolate
Caramelized white chocolate combined with steamed milk takes a classic hot chocolate to a whole new level. This winter favorite is finished with whipped cream and a sprinkle of holiday sugar sparkles and crispy white pearls.
Peppermint White Hot Chocolate
Peppermint Hot Chocolate is the perfect flavor combination as far as I'm concerned. This holiday favorite is made with white chocolate mocha sauce, peppermint-flavored syrup and steamed milk. To take it up a notch on the decadent scale, it's topped with sweetened whipped cream and dark chocolate curls.
Milk Steamer
Starbucks Steamers are simply steamed milk flavored with sweet and tasty syrups. Some steamers are even topped with a signature swirl of Starbucks whipped cream.
Starbucks plain Milk Steamer is simply a warm cup of milk that's naturally caffeine-free. Choose from skim, 2%, whole milk, soy, almond, oatmilk or coconutmilk.
Pistachio Crème
Take steamed milk up a notch with the cozy flavors of sweet pistachio and rich brown butter.
Chestnut Praline Crème
Who says steamed milk can't be festive? Starbucks Chestnut Praline Crème steamer combines the flavors of caramelized chestnuts and spices, topped with whipped cream and spiced praline crumbs.
Eggnog Crème
This holiday favorite milk steamer is made with steamed eggnog and a dusting of nutmeg on top.
Caramel Brulée Crème
Steamed milk and rich caramel brulée sauce deliciously finished with whipped cream and a caramel brulée topping—an ode to holiday sweetness.
Cinnamon Dolce Crème
Cinnamon Dolce syrup is a favorite at Starbucks. Mixed into a milk steamer, it's a tasty way to enjoy cinnamon flavors without caffeine. Topped with whipped cream and a cinnamon dolce topping makes this steamer extra special.
Vanilla Crème
Want a creamy hot Starbucks drink without caffeine? A smooth, vanilla steamer is a deliciously simple option.
Caramel Apple Spice
Starbucks has a couple other hot drinks that are particularly popular in the fall and a favorite among parents.
Caramel Apple Spice is steamed apple juice complemented with cinnamon syrup, whipped cream and a caramel sauce drizzle.
Steamed Apple Juice
Freshly steamed 100% apple juice (not from concentrate). Feel the apple goodness in this classic fruit drink that will soothe and embolden your day.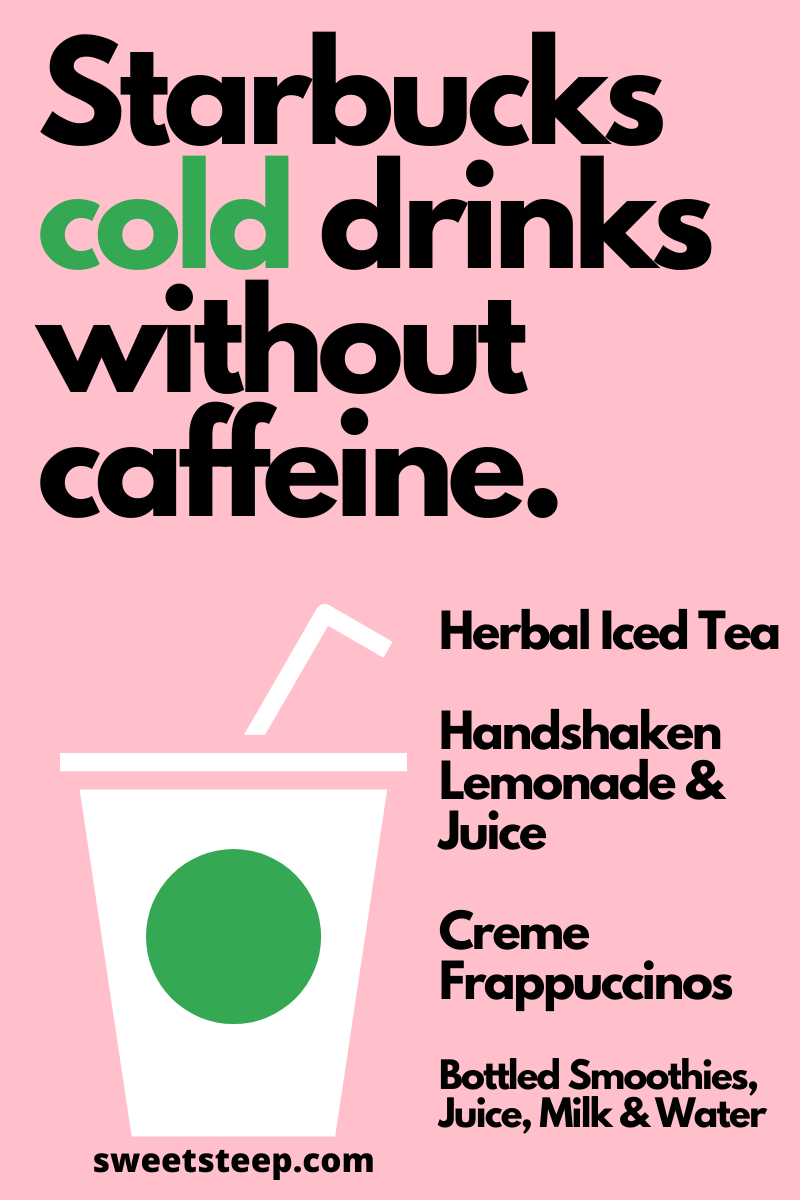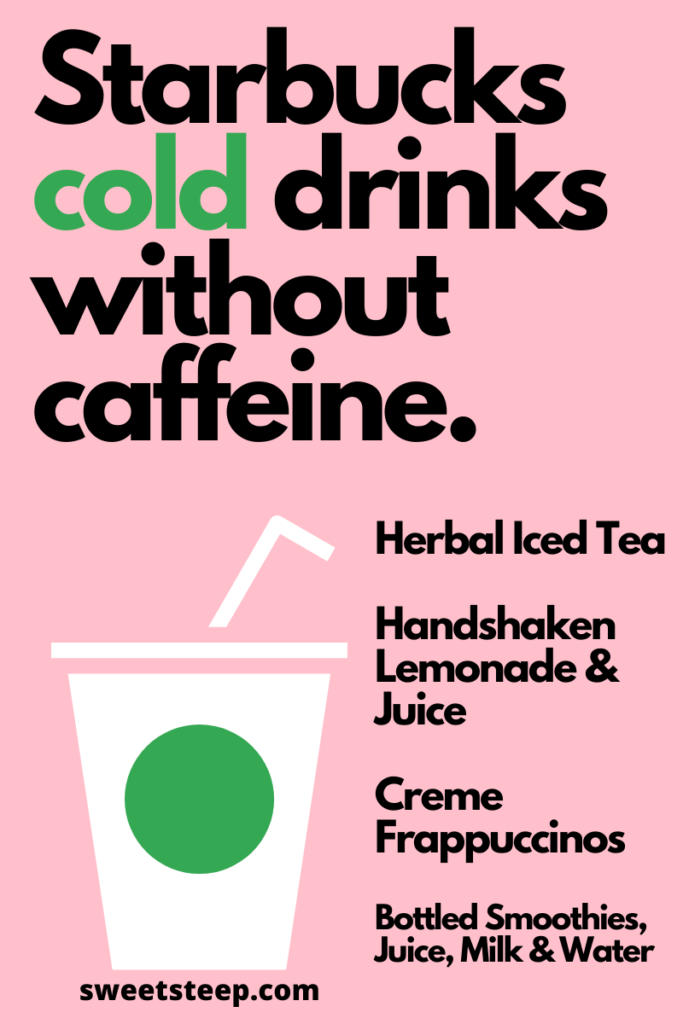 Iced Passion Tango Tea
Nothing is as refreshing as a cup of cold iced tea. If you want to enjoy a thirst-quenching tea without caffeine, Starbucks Passion Tango Tea is an excellent option.
Passion Tango Tea is Starbucks only caffeine-free iced tea drink. This herbal iced tea, is a blend of hibiscus, lemongrass and apple. And it doesn't disappoint. Hand-shaken with ice, it's sweet and refreshing.
Iced Passion Tango Tea Lemonade
Want to add a little zip to your Iced Passion Tango Tea? Your barista can hand-shake all the sweet flavors of Passion Tango with ice cold lemonade and create my favorite caffeine-free Starbucks drink, Iced Passion Tango Tea Lemonade.
You can even customize this Starbucks iced tea drink and make it your own. Simply substitute the lemonade with another caffeine-free juice like guava, peach or apple.
Iced Guava Passionfruit Drink
In addition to iced tea, Starbucks has several other caffeine-free cold drinks. Handcrafted to order, drinks like the Iced Guava Passionfruit Drink hit the spot on a hot summer day.
This tropically-inspired drink is a mix of guava juice, pineapple, ginger along with coconutmilk and ice.
Lemonade
Sometimes a sweet and tangy lemonade is all you need to cool down on a hot summer day. And you can do it all without caffeine. Just order a hand-shaken iced lemonade.
For a little more flair, you can even sweeten it with raspberry syrup. If you love lemonade drinks, here's a look at all Starbucks lemonade drinks.
Blended Strawberry Lemonade
Starbucks Blended Strawberry Lemonade may be one of their best kept secrets. This slushy-style blended drink is a zippy mix of lemonade, strawberry and ice. Parents love to get this one for their kids. It's even easy to make at home. Here's my homemade Blended Strawberry Lemonade recipe.
Pistachio Crème Frappuccino
Starbucks has quite a few frappuccinos without caffeine in them. As a matter of fact, many of the creme frappuccinos are caffeine-free. To avoid caffeine altogether, just skip all the frappuccinos that contain coffee or espresso and all others that have dark chocolate or mocha sauce.
The Pistachio Crème Frappuccino is a tasty blend of pistachio syrup, whole milk and ice which is topped with whipped cream and a rich, salted brown-buttery topping.
White Chocolate Crème Frappuccino
If you want a chocolate drink but don't want the caffeine, then a White Chocolate Frappuccino is an excellent option. This blend of white chocolate sauce, milk and ice is of course topped with whipped cream.
Peppermint White Chocolate Crème Frappuccino
A festive blend of peppermint syrup, milk, ice and white mocha sauce, finished with whipped cream and dark chocolate curls.
Caramel Brulée Crème Frappuccino
A rich combination of caramel brulée sauce blended with milk and ice, and topped with crunchy caramel on a big dollop of whipped cream.
Chestnut Praline Crème Frappuccino
A holiday favorite with praline crumbs and whipped cream topping off this blend of caramelized chestnuts and spices, milk and ice.
Eggnog Crème Frappuccino
This seasonal favorite does not disappoint. Rich eggnog is mixed with milk and ice, and topped with whipped cream and a sprinkle of nutmeg.
Caramel Ribbon Crunch Crème Frappuccino
Perhaps one of Starbucks most decadent caffeine-free drinks—buttery caramel syrup is blended with milk and ice, then topped with a layer of dark caramel sauce, whipped cream, caramel drizzle and a crunchy caramel-sugar topping.
Strawberry Crème Frappuccino
This summertime favorite is the perfect strawberries and cream drink. A blend of ice, milk and strawberry puree is layered in a cup coated in strawberry puree and finished with vanilla whipped cream.
Vanilla Bean Crème Frappuccino
Sometimes simple is best or as "they" say, "less is more." What's not to love about this rich and creamy blend of vanilla bean, milk and ice topped with whipped cream.
Evolution Fresh® Organic Smoothies
Need an on-the-go, caffeine-free drink in a hurry? Starbucks has you covered.
Evolution Fresh Organic Smoothies are not caffeinated. Select from flavors like Vital Berry, Defense Up and Super Fruit Greens.
Evolution Fresh Juices
Bottled juice flavor options include orange and watermelon.
Apple Juice Box
Parents in need a favorite child's drink would be glad to see that Starbucks sells apple juice flavor juice boxes in their refrigerator section.
Horizon Organic Milk
Here's an option parents love. Milk on-the-go, juice box style, is available at Starbucks. Choose from three varieties: low-fat, vanilla and chocolate.
Galvanina Sparkling Water
These sparkling bottled mineral waters will quench your thirst. Regular and lime flavors top the list.
Spindrift® Grapefruit Sparkling Water
Tangy sparkling canned water is refreshing and perfect to grab on-the-go. Enjoy it now or later. Flavors include grapefruit and raspberry lime.
Bottled Water
The original caffeine-free drink, Starbucks has a few types of bottled water, Ethos and Hawai'i Volcanic Water. Customers are happy to know that for every bottle of Ethos, Starbucks donate 5 cents to support humanitarian programs in coffee-growing communities.
More Starbucks Drink Guides