Here's a look at Starbucks steamers, their line-up of hot drinks made without coffee. See all the delicious flavors of steamers you can get and even how to get a kid-friendly steamer.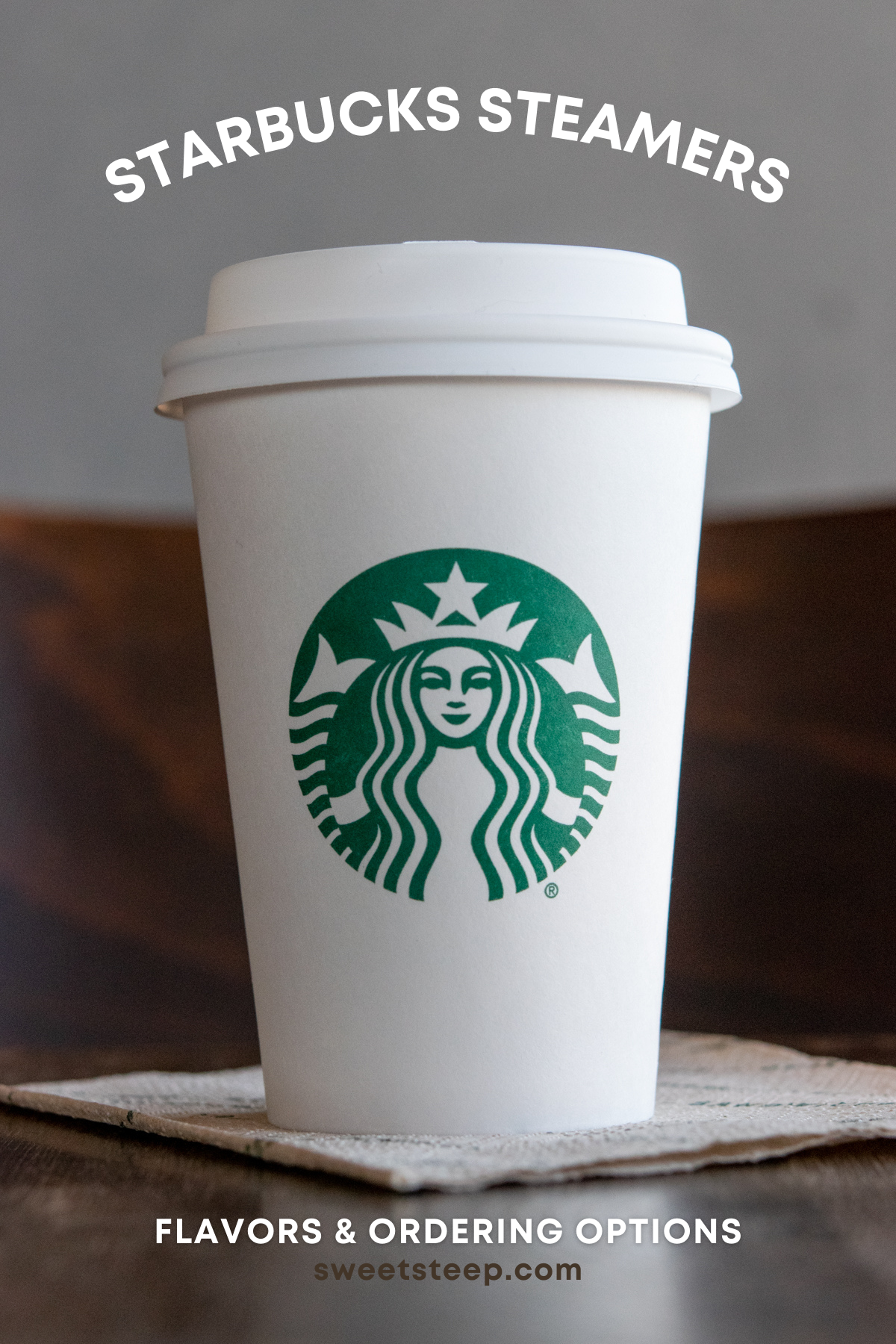 Starbucks Steamers
Starbucks steamers are hot, milk-based drinks made with 2% reduced-fat milk that's steamed to about 160˚F. Steamers do not contain coffee and are essentially the same thing as a latte without espresso.

The regular Starbucks menu features two steamers: plain steamed milk and Vanilla Crème.

In addition to Vanilla Crème, you can order a variety of flavored steamers by selecting another flavored syrup. For instance, a Cinnamon Dolce Crème steamer is a popular option.
Throughout the year, Starbucks also offers seasonal steamers. Pumpkin Spice Crème is a popular non-coffee pumpkin drink available in the fall. Caramel Brulee Crème and Chestnut Praline Crème are favorite limited-time holiday options.
All steamers, except plain steamed milk, come with a topping of whipped cream. Select steamers are also topped with spices or other sprinkled bits.
What is a Starbucks Steamer?
A Starbucks steamer is a non-coffee, steamed milk beverage. It's made with steamed milk that's sweetened with flavored syrup and topped with whipped cream.
Steamers are made just like Starbucks hot chocolate drinks, except the chocolate sauce is replaced with a flavored syrup like vanilla. A steamer at Starbucks is also called a Syrup Crème.
Here's a look at exactly what's in a few different types of steamers.
Plain Milk Steamer: A regular steamed milk at Starbucks is simply steamed 2% milk.
The steamed milk is frothy and has a creamy texture.
Vanilla Crème: A Vanilla Crème contains steamed 2% milk and vanilla syrup. It's topped with sweetened whipped cream.
Seasonal Steamers: Seasonal sauces and syrups at Starbucks are often paired with a limited-time topping option.
For instance, pumpkin drinks are dusted with pumpkin spice topping, peppermint drinks get dark chocolate curls, and chestnut praline drinks are sprinkled with spicy, sugary bits of chestnut praline topping.
This means seasonally-available Starbucks steamers contain steamed reduced-fat milk combined with a flavored syrup or sauce, and are topped with whipped cream and a sprinkled topping.
RELATED RECIPE: Starbucks Pumpkin Spice Crème Steamer Copycat
Flavors Available
Starbucks has a wide variety of flavored syrups and sauces in their line-up and you can order a steamer with any flavor added in.
Flavors of Starbucks Steamers
Steamed Milk (menu item)
Vanilla Crème (menu item, can be ordered with sugar-free vanilla syrup)
Cinnamon Dolce Crème
Brown Sugar Crème
Caramel Crème
Hazelnut Crème
Peppermint Crème
Raspberry Crème
Toasted Vanilla Crème
Toffee Nut Crème
Dark Caramel Crème
Apple Brown Sugar Crème (seasonal)
Pumpkin Spice Crème (seasonal)
Peppermint Crème (seasonal)
Caramel Brulée Crème (seasonal)
Chestnut Praline Crème (seasonal)
Irish Cream Crème (seasonal)
Sugar Cookie Crème (seasonal)
Tips for Ordering a Flavored Steamer
To order a flavored milk steamer on the app, it's best to customize a Vanilla Crème as opposed to customizing a plain steamed milk. It will save you a few cents and whipped cream is already included.
To order with the app, select Vanilla Crème, change the pumps of vanilla syrup to zero, choose another flavor of syrup or sauce, and change the number of pumps of syrup. If you subtracted 4 pumps of vanilla, then add-in 4 pumps of the new flavor.
A steamer with mocha sauce added in is the same thing as a hot chocolate. So, if you want a steamer with mocha sauce, white chocolate mocha sauce, or toasted white mocha sauce (seasonal), go to the hot chocolates section of the menu and order either a hot chocolate, white hot chocolate or toasted white hot chocolate.
RELATED RECIPE: Starbucks Cinnamon Dolce Crème Steamer Copycat
Non-Dairy Starbucks Steamers
The standard milk for Starbucks steamer beverages is reduced fat dairy milk.
In fact, 2% milk is the default milk for chai tea lattes, matcha lattes and most espresso drinks.
When this type of milk is steamed, it's texturized with tons of tiny bubbles and has a smooth, glossy appearance.
It's what gives Starbucks lattes and steamers that perfect consistency we crave.
That being said, you can substitute the dairy milk in a steamer with one of Starbucks milk alternatives.
Just keep in mind, the non-dairy milk will be steamed to temperature, but doesn't necessarily have the same creamy texture as dairy.
Non-Dairy Starbucks Milks
Almond Milk
Coconut Milk
Oat Milk
Soy Milk
For a completely dairy-free steamer, avoid sauces like pumpkin spice and dark caramel which contain milk.
Starbucks Milk Temperature Options
Essentially a Starbucks steamer is nothing more than steamed, flavored milk.
Overall, the temperature of the steamer is the same as the temperature that the milk is steamed to since the drink does not have espresso or hot water added in, as well.
Like most things Starbucks, when it comes to milk steaming, you've got options.
Make note, however, the temps may vary from one Starbucks to another if the steam wands are not calibrated the same.
3 Milk Temperatures at Starbucks
Extra Hot: Milk is steamed to about 180˚F.
Steamed Hot: This is the standard milk temperature and is about 160˚F.
Warm: Referred to as kids temp, warm milk is steamed to about 130˚F.
Sizes of Starbucks Steamers
Starbucks steamers come in four sizes and they include short (8 fl oz), tall (12 fl oz), grande (16 fl oz) and venti (20 fl oz).
In addition, on the app there is one more size option listed for steamers—kids (8 fl oz).
A kids size steamer is the same size as a short, but it actually costs less.
Additionally, when a kids size drink is ordered the barista should steam the milk to kids temp (warm).
However, when you order a kids size steamer on the app, the temperature remains at the standard, "steamed hot." Be sure to switch it to warm to avoid any confusion.
Questions You May Have
Do Starbucks Steamers have coffee in them?
Steamers at Starbucks are flavored milk drinks that are steamed hot and topped with whipped cream. Essentially, a steamer is a latte without espresso. Steamers do not have coffee and are caffeine-free.
Are Starbucks steamers a good option for kids?
Steamers are a popular drink for parents to order for their kids. Steamers do not contain coffee or tea and are caffeine-free. Since steamers only contain plain or flavored steamed milk, the barista can steam the milk to a safe kids temp of about 130˚F. But take a sip first, to make sure it's ok.
Does Starbucks have nondairy milk steamers?
The standard milk used for Starbucks steamers is reduced-fat dairy milk (2%) but it can be substituted with a dairy-free alternative like almond, oat, soy or coconut milk.