Easy Starbucks copycat recipe for a Vanilla Steamer that makes a drink identical to one from Starbucks. With just three simple ingredients, this hot, milky vanilla drink is as creamy and delicious as hot chocolate.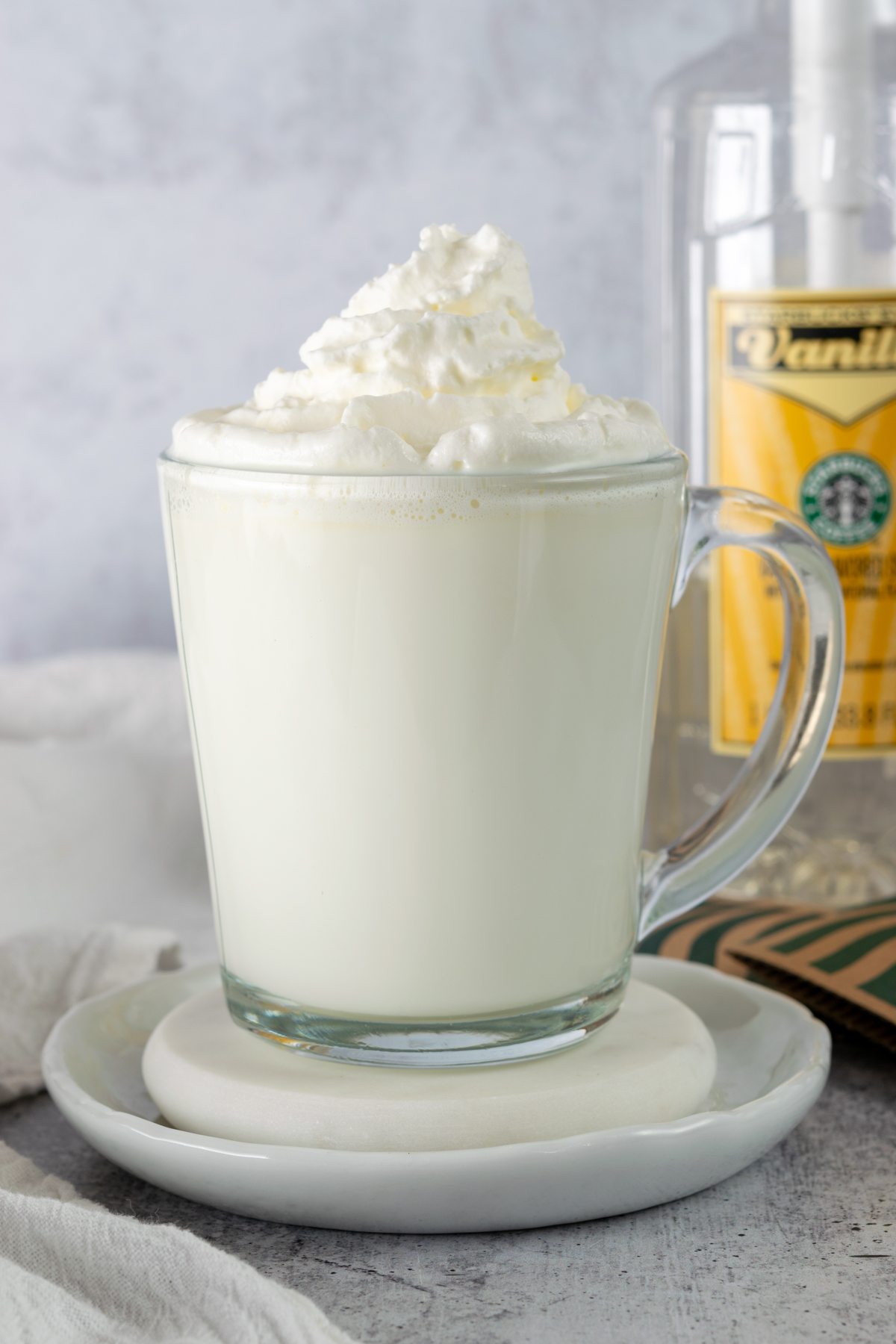 One of my favorite winter drinks at Starbucks is a simple Vanilla Crème Steamer. This drink provides all the warm coziness I crave, when I'm in the mood for a hot drink that isn't coffee or tea.
And guess what? Not only is this vanilla steamer recipe one the simplest Starbucks copycat drinks to make at home, but you can actually make an exact match!
Flavored with the tastiest floral vanilla syrup, this rich creamy steamed milk beverage is perfect for cold nights when it's too late for caffeine. And kids love it too–move over hot chocolate!
To make it extra indulgent, top it with whipped cream. In my opinion, you'd be crazy not to.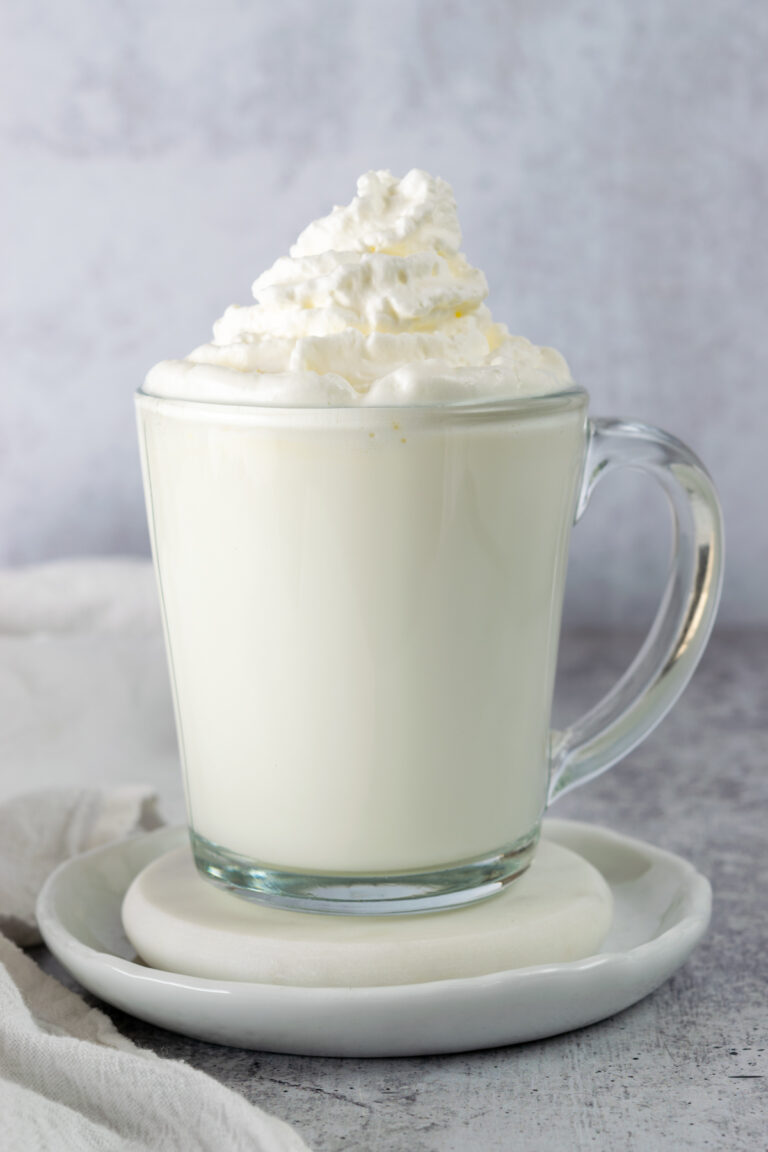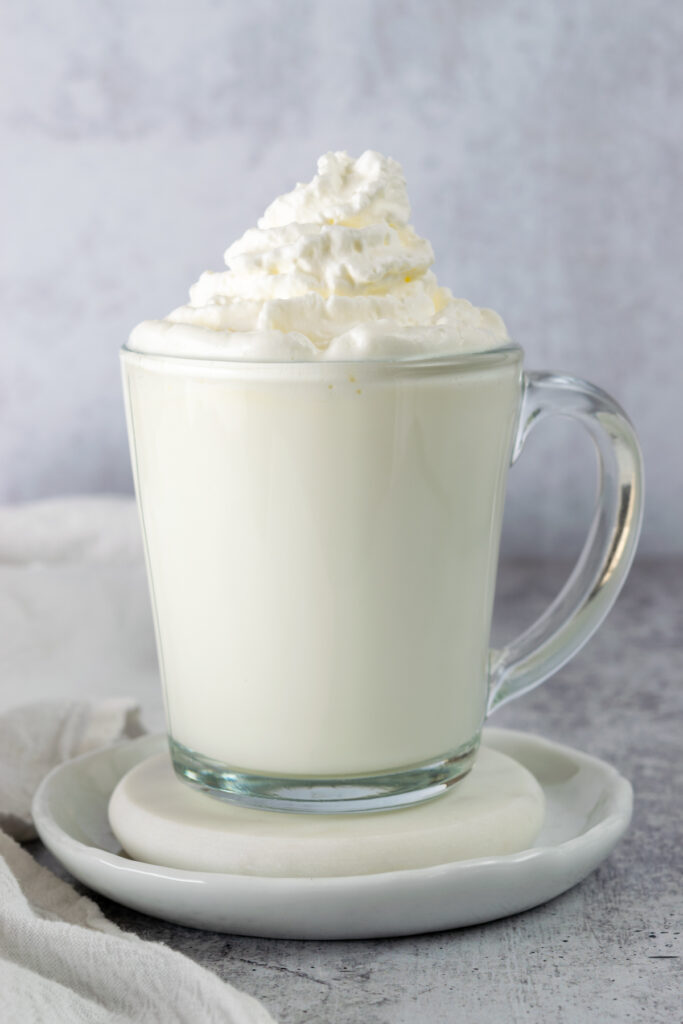 Why You'll Love this Vanilla Steamer Recipe
This recipe is identical to Starbucks. To make a vanilla steamer 100% the same as Starbucks, all you need is a bottle of genuine vanilla syrup and this recipe. Then you can make both the drink and whipped cream exactly like the Starbucks recipe card (thanks to my barista daughter).
This hot vanilla drink is a great alternative to hot chocolate. I'm not gonna lie, I love Starbucks hot chocolate drinks. They're incredibly chocolatey and creamy.
But if you don't want something as indulgent as chocolate, vanilla-flavored hot milk is just as delicious.
In fact, you can think of a vanilla steamer as a hot vanilla. (Get it? Not hot chocolate, but hot vanilla.)
A vanilla steamer is great drink for kids. This hot drink is a great drink option for kids since it has no coffee or caffeine. Some people even call it a babyccino.
What makes it even better is, the temperature of the steamed milk can be controlled to a lower, kids-safe temp, whether you order one from Starbucks or make it at home.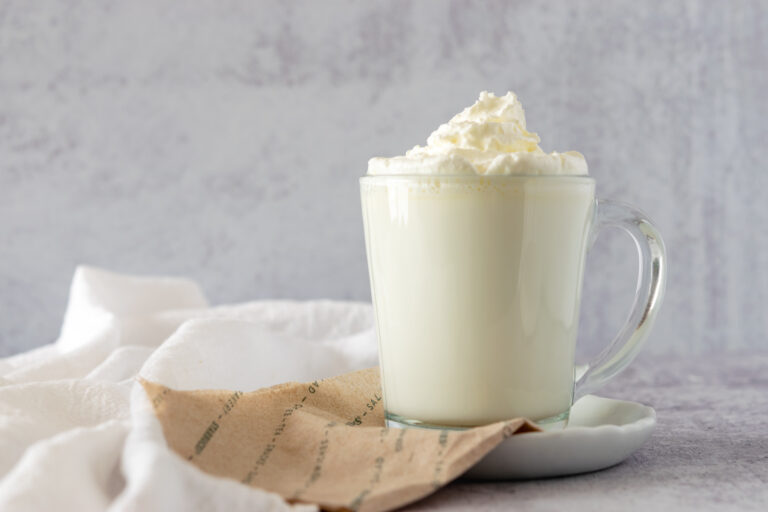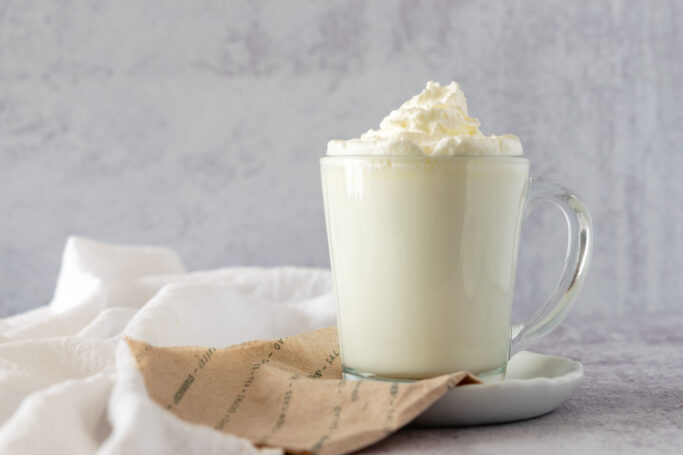 What is a Steamer Drink Exactly
A steamer is simply a flavored hot milk drink whose base is steamed, frothy milk.
A typical non-coffee steamer beverage contains flavored simple syrup, rich dairy milk and whipped cream.
At Starbucks these drinks often have the word crème in the name. The crème lineup is the cream-based, coffee-free versions of drinks.
For example, a Pumpkin Spice Crème steamer is a pumpkin spice latte without espresso.
And a Cinnamon Dolce Crème steamer is a cinnamon dolce latte sans espresso.
RELATED: Starbucks Steamers (Including Flavors & Ordering Options)
Vanilla Steamer Recipe
A homemade Vanilla steamer is perhaps the easiest Starbucks copycat recipe of all.
Like I said before, you can actually make a duplicate when you make it with real Starbucks vanilla syrup and the correct amount of each ingredient.
Here's what you need and the steps to make it.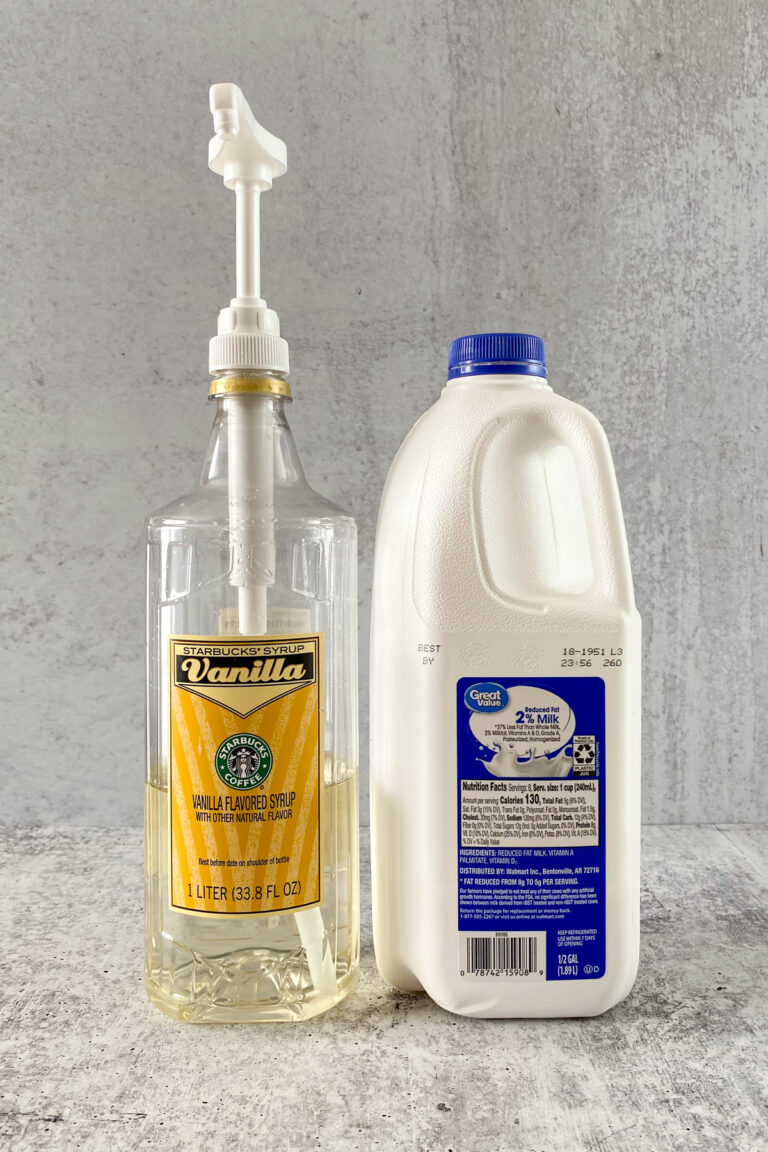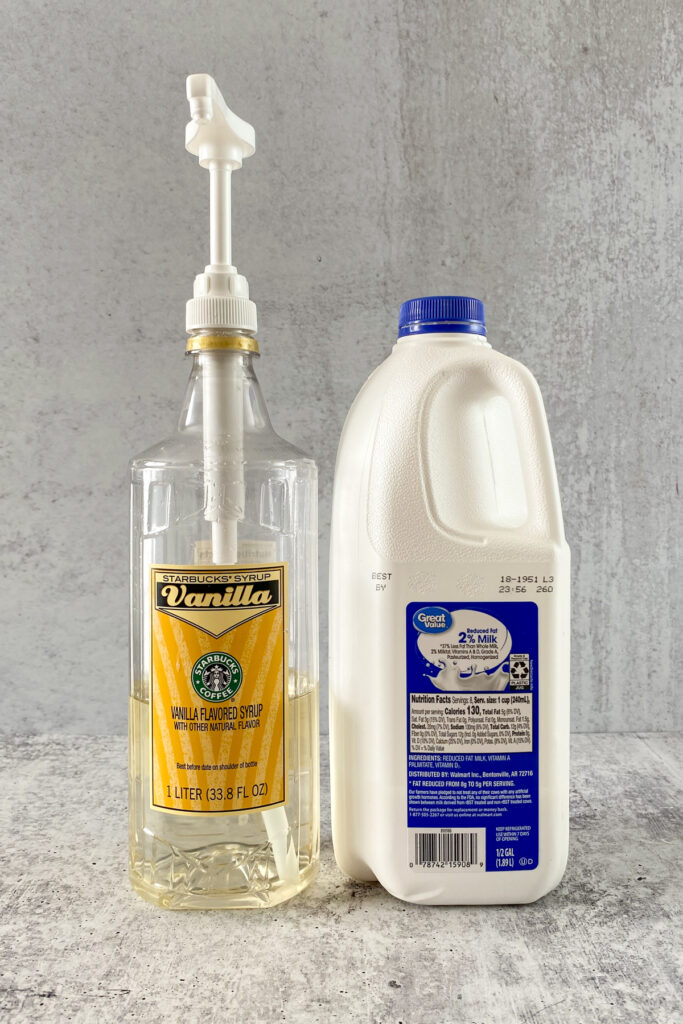 Ingredients
Milk
Vanilla Syrup
Whipped Cream (heavy cream + vanilla syrup)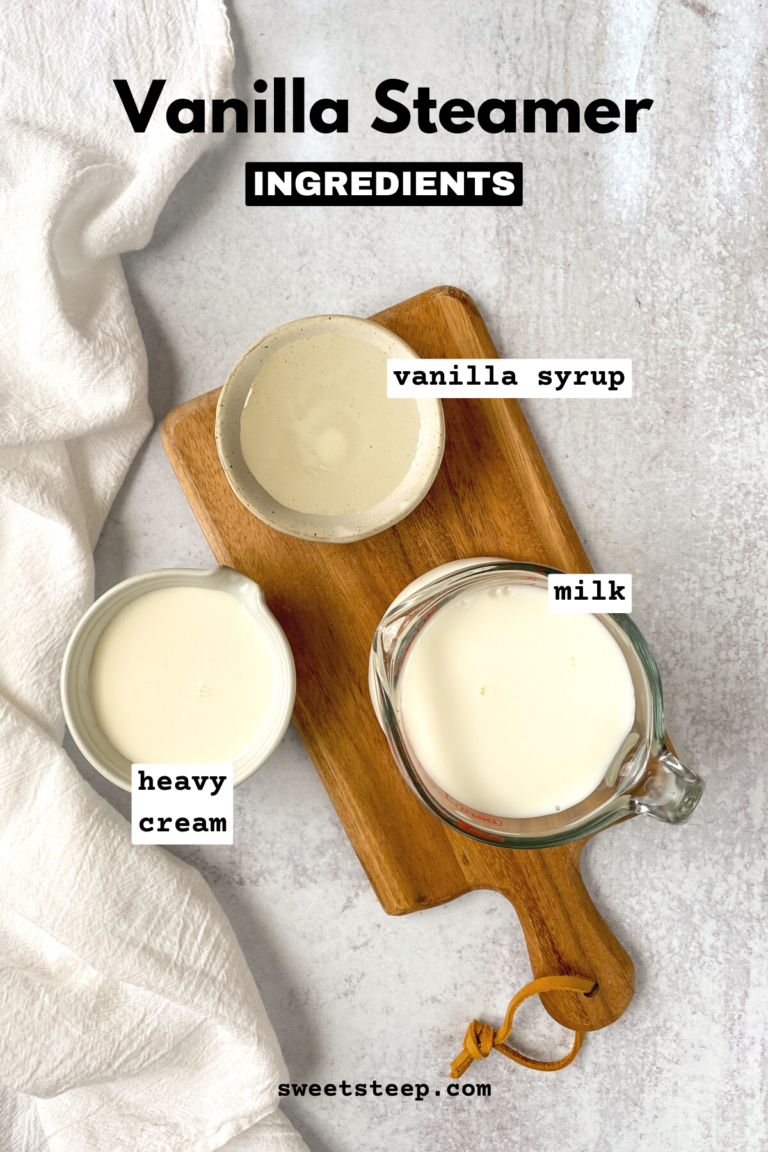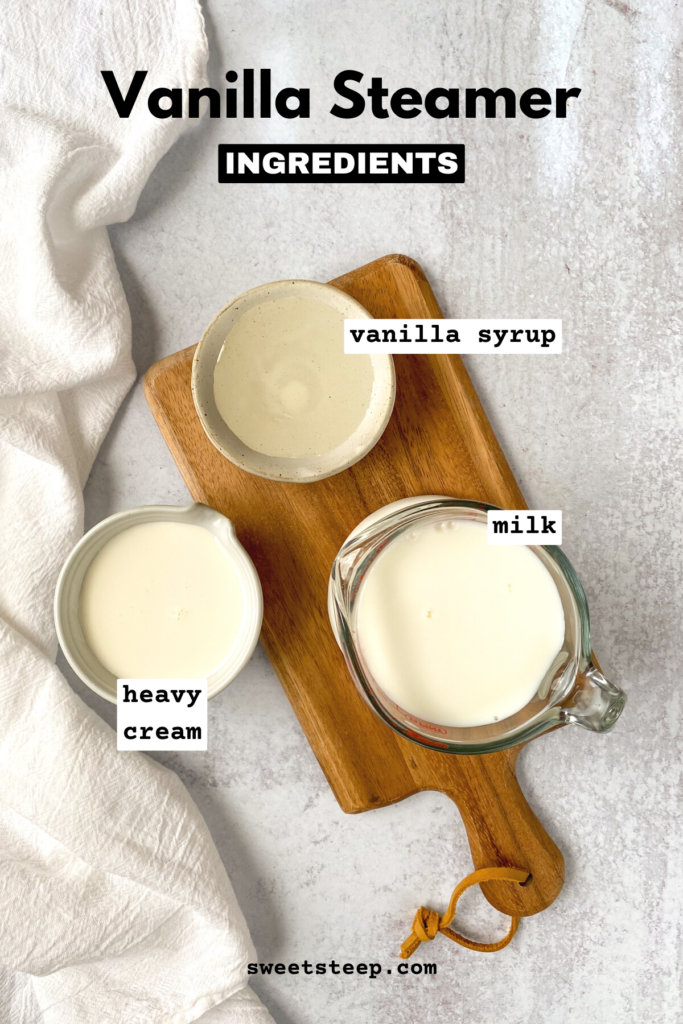 Best Milk to Use: For the creamiest steamer, use whole milk or 2%. As a rule of thumb, the more fat, the better the microfoam.
If you prefer to substitute a plant-based milk for dairy, get a barista-edition. Those are made to froth better than the regular versions.
Vanilla Syrup: For a duplicate Starbucks vanilla steamer, get Starbucks vanilla syrup. (See below for ways to buy a bottle.)
Otherwise, buy your favorite brand of vanilla coffee syrup or make this easy recipe for homemade vanilla syrup.
Whipped Cream: Do yourself a huge favor and whip up a batch of whipped cream with just heavy cream and a sweetener instead of the canned stuff (ick!).
For Starbucks whipped cream, the heavy cream is sweetened with vanilla syrup (see recipe below for measurements).
Instructions
Add Starbucks vanilla syrup to a mug. Put the syrup in a 12-16 fluid ounce mug for hot drinks.
Steam milk to 130-160°F. Pour the steamed milk and foam over the vanilla syrup. You can steam the milk with a steam wand on an espresso machine, electric milk frother or on the stove.
Top the steamer with whipped cream. Use this copycat Starbucks whipped cream recipe for even more vanilla sweetness.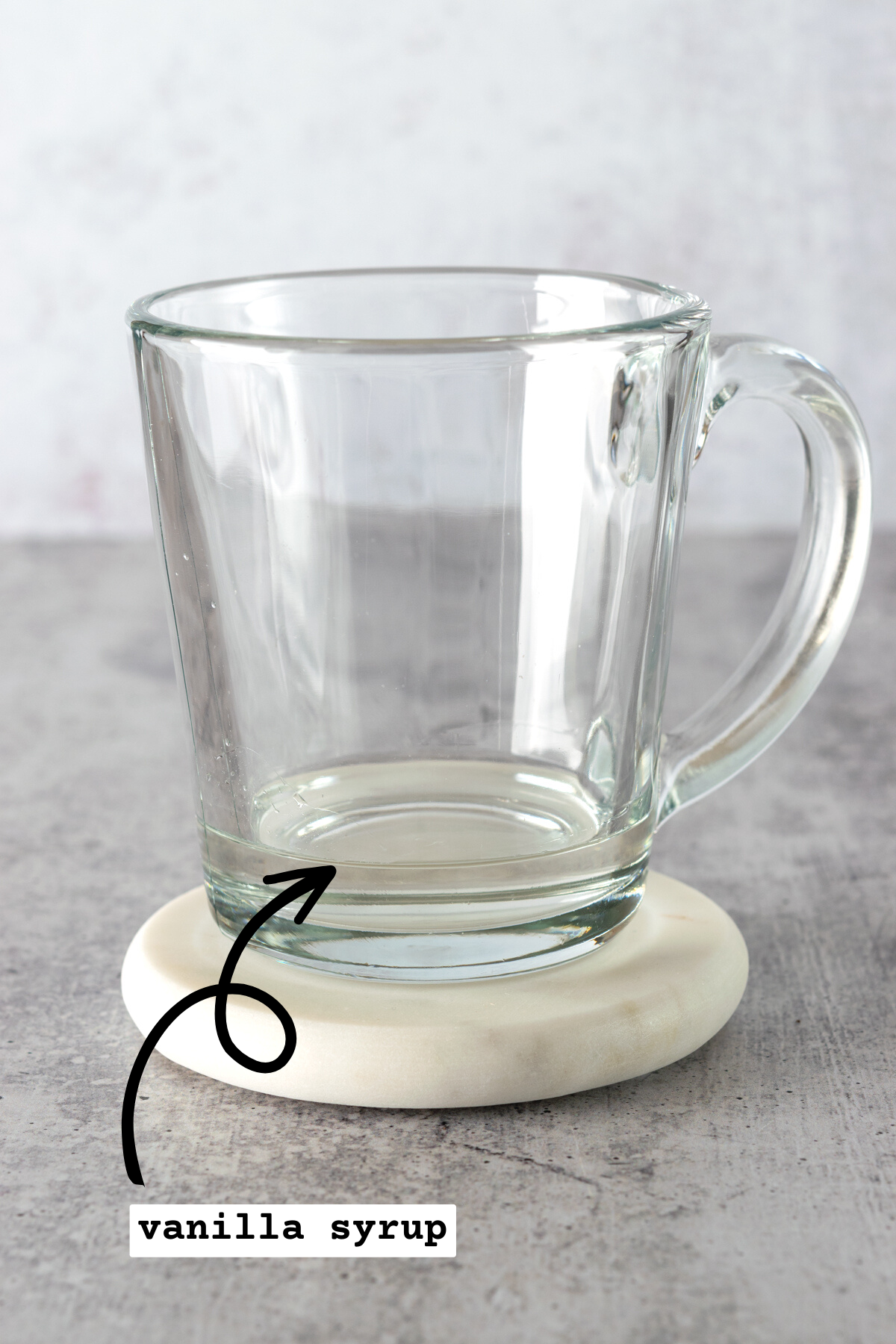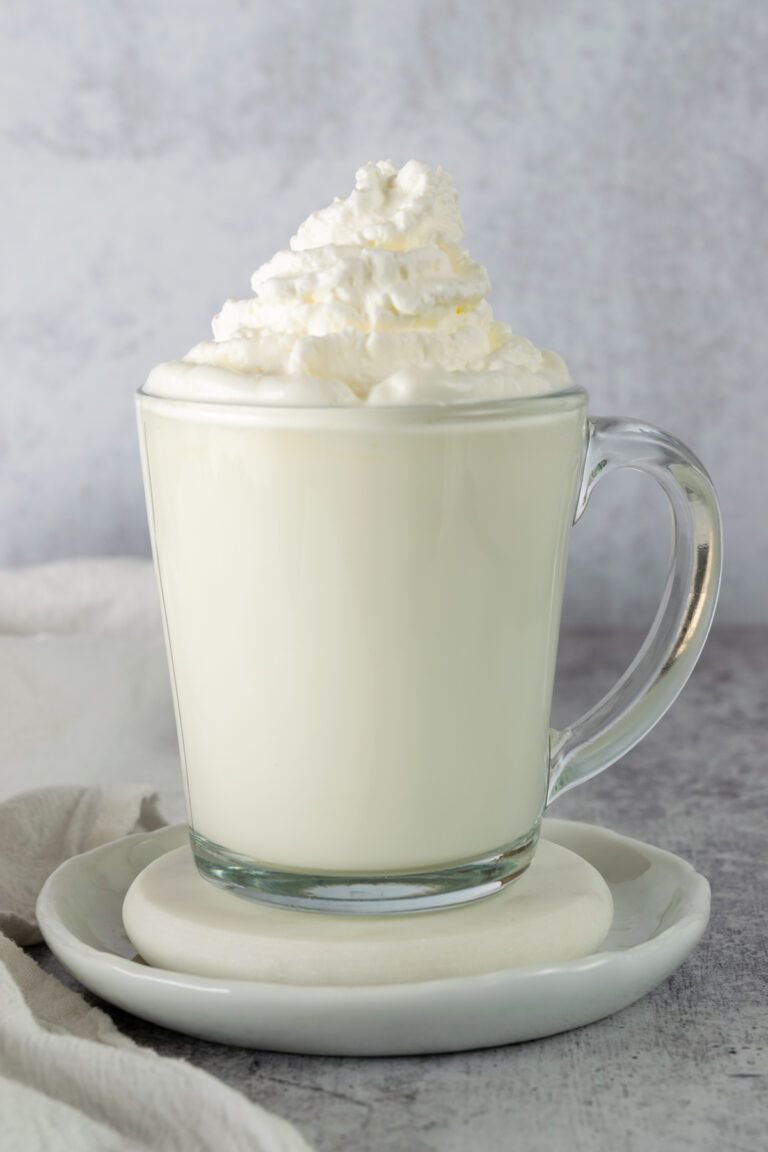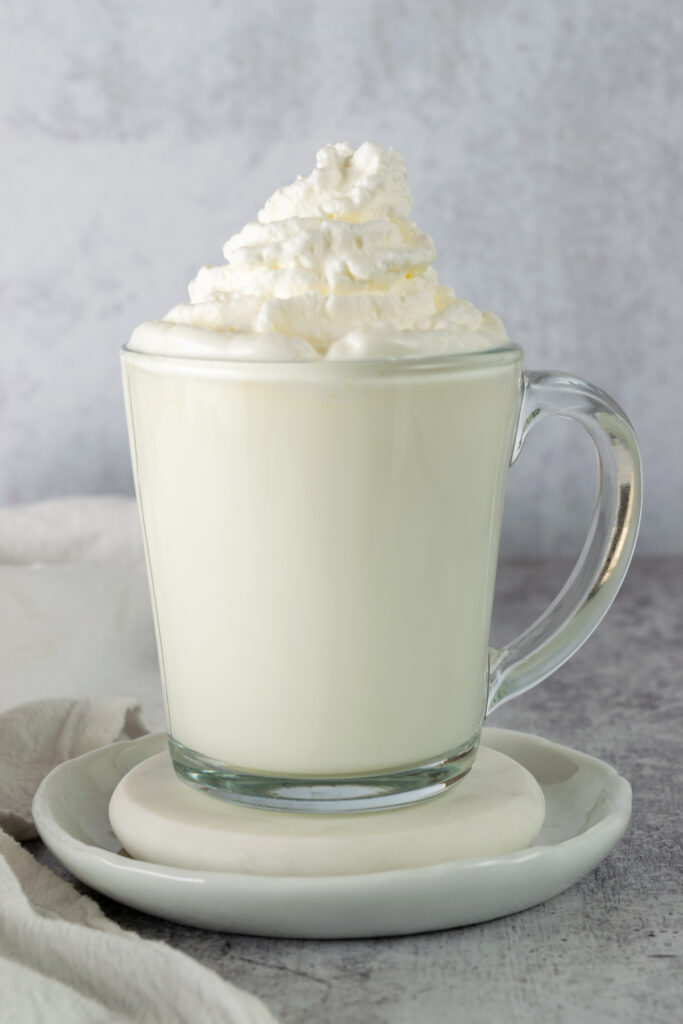 Detailed recipe and instructions are in recipe card at bottom of post.
Tips for Steaming the Milk Properly
The key to making a good steamer is steaming a fatty dairy milk so it has glossy layer of microfoam and is 160 °F.
This temperature brings out the milk's natural sweetness.
If you're making a steamer for kids, 130 °F is the ideal temp.
In my experience, it's best to measure the temperature as you warm up the milk or else I tend to under-heat it.
The best way to do this is to either use a steam wand on an espresso machine along with an inexpensive milk thermometer or use an electric milk frother that has an adjustable temperature setting.
My favorite is the Breville Cafe Frother.
It has a larger capacity than most other frothers, which means you can steam a lot of milk at once. Additionally, it has an adjustable temperature dial.
After the milk is steamed to temp, give the jug a tap on the counter to knock down any large bubbles and swirl it around until it has a wet paint look.
If you opt to warm milk on the stove and aerate it with a handheld frother, be sure to use a thermometer and be careful of splattering hot milk.
My Favorite Electric Milk Frother
This Breville milk frother has a 3 cup capacity so you can steam enough milk to make a steamer or hot chocolate. It also has a temperature setting, which is a huge plus!
Tips for Making a Vanilla Steamer Identical to Starbucks
I make a lot of copycat drinks at home along with my daughter who's a Starbucks barista.
Here are our best tips for making a homemade vanilla crème come out like the real thing.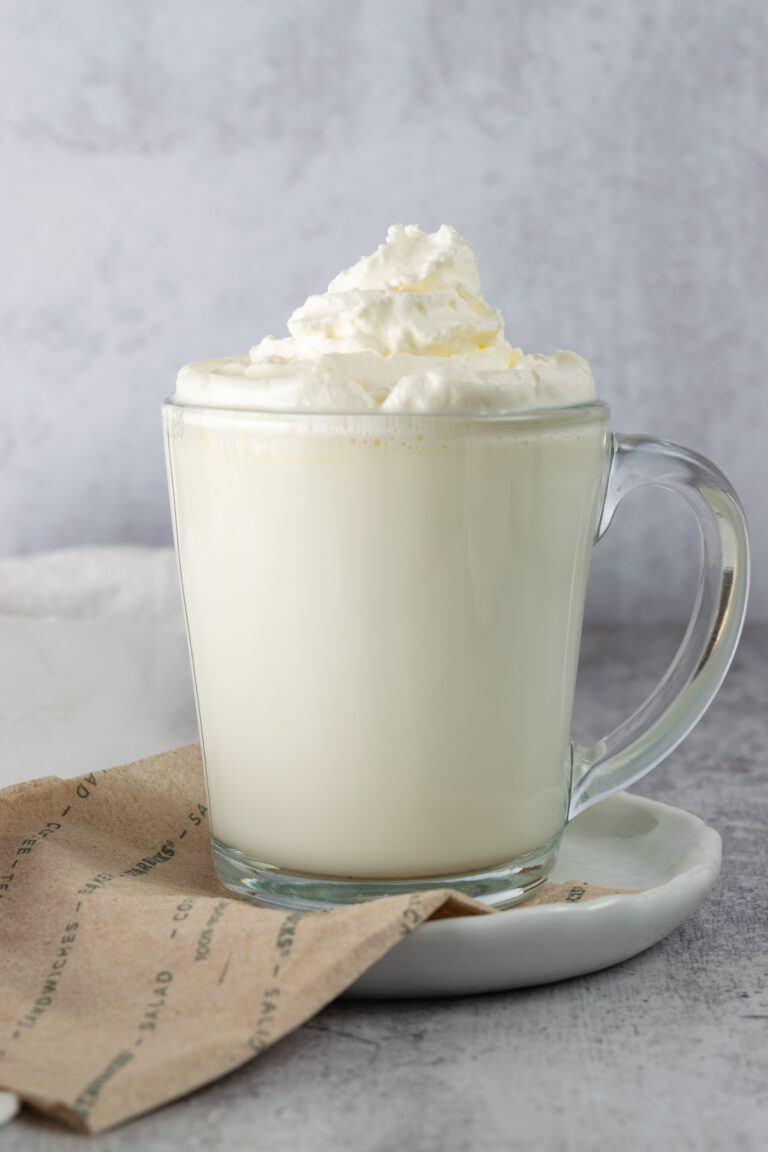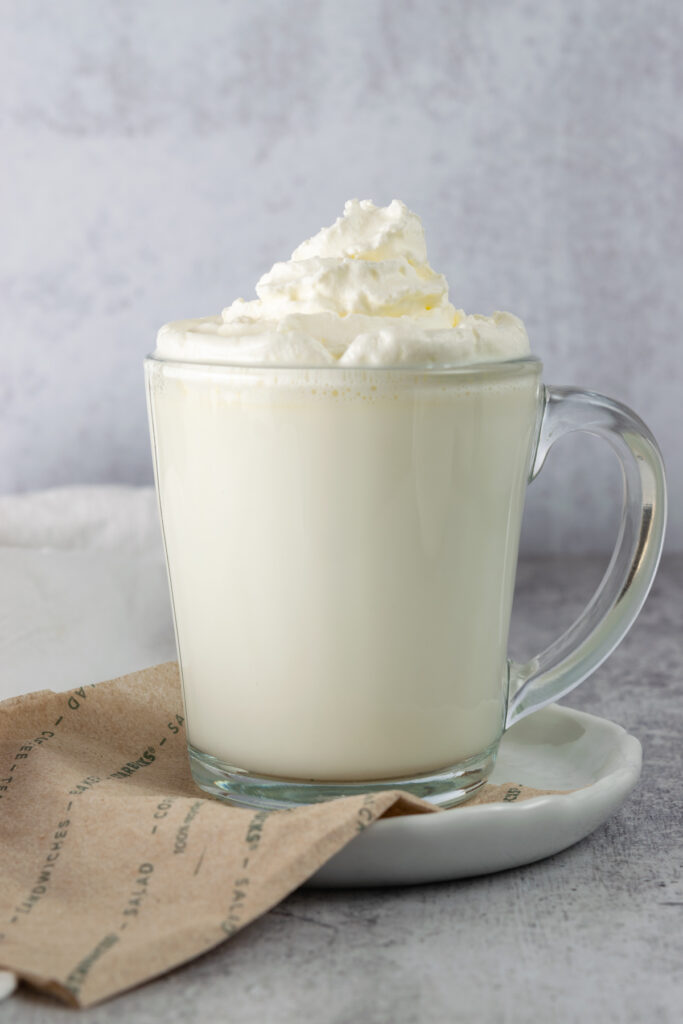 Use Genuine Starbucks Vanilla Syrup
To make a homemade vanilla steamer 100% identical to Starbucks, use actual Starbucks vanilla syrup.
For this drink, the vanilla syrup does double duty–it sweetens and flavors the hot milk, and sweetens and flavors the whipped cream.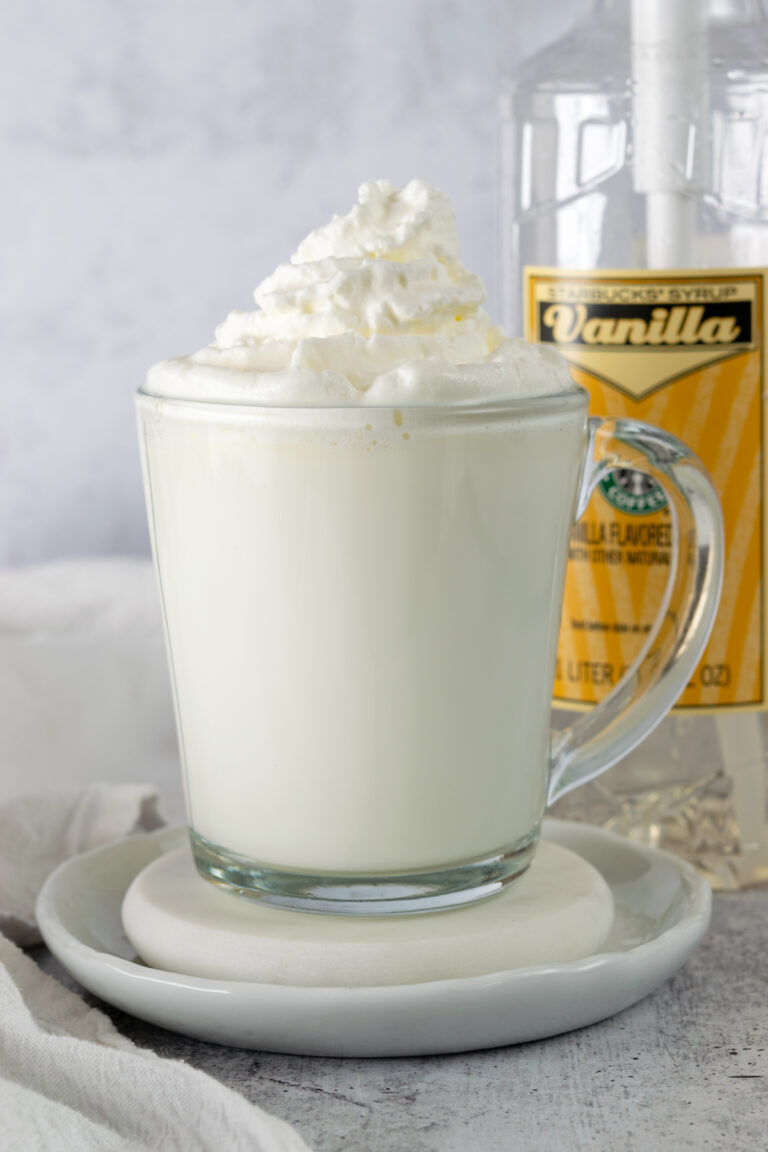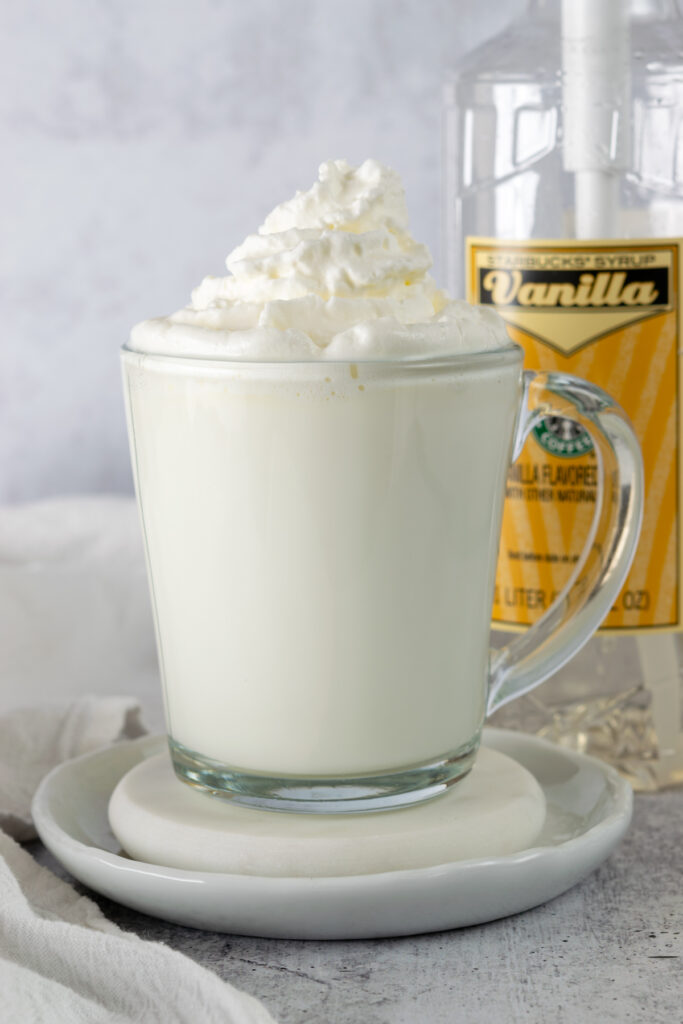 You can buy Starbucks vanilla syrup online or buy a bottle directly from Starbucks. They will sell you a bottle and pump if they have enough on hand. It's usually around half the price as online (in the $14 range).
You can also use it for other drinks that have vanilla syrup in the recipe, like a Starbucks London Fog Latte or this chai latte with vanilla sweet cream cold foam.
Use the Real Starbucks Whipped Cream Recipe
To make whipped cream exactly like Starbucks using a whipper canister, check out my recipe on my other site, Grounds to Brew.
Otherwise, combine a pint of heavy whipping cream with 4-8 pumps of vanilla syrup. That's about 2-4 tablespoons of syrup.
Why the range? The original Starbucks whipped cream recipe was eight pumps, but a few years ago they reduced it to four.
For best results, blend the whipped cream using a very cold bowl and beaters that have been in the freezer for around 15 minutes. Then whip until stiff peaks form.
Use the Same Amount of Vanilla Syrup and Milk
A vanilla steamer at Starbucks comes in four sizes: short (8 fl oz), tall (12 fl oz), grande (16 fl oz) and venti (20 fl oz).
The milk and foam are poured to 1/2 inch below the rim of the cup, leaving space for whipped cream.
Here's a chart of how many pump of syrup and how much milk the recipe calls for per size. Keep in mind a pump is equal to about 1/2 tablespoon.
Short: 2 pumps syrup and 1/2 cup milk
Tall: 3 pumps syrup and 3/4 cup milk
Grande: 4 pumps syrup and 1 cup milk
Venti: 5 pumps syrup and 1 1/4 cup milk
More Delicious Starbucks Steamer Recipes to Try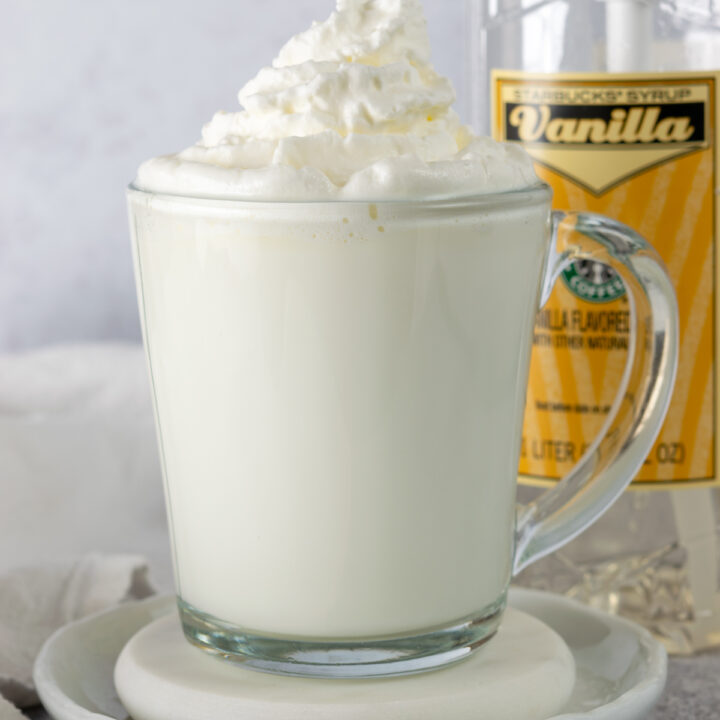 Starbucks Vanilla Steamer Copycat
This Vanilla Steamer recipe makes a drink identical to Starbucks. With just three simple ingredients, this hot, milky vanilla drink is as creamy and delicious as hot chocolate, but it's vanilla. This copycat recipe makes the equivalent of a Starbucks grande size steamer.
Ingredients
For the Vanilla Steamer
2 tablespoons vanilla syrup
1 cup 2% milk
whipped cream
For the Whipped Cream
1 pint heavy whipping cream
1/4 cup vanilla syrup
Instructions
To Make a Vanilla Steamer
Add vanilla syrup directly to a 16 fluid ounce mug for hot drinks. Use Starbucks brand vanilla syrup to make the steamer taste identical to Starbucks.
Steam (aerate) the milk to 130-160 °F. Pour the steamed milk and foam over the vanilla syrup and stir.
Top the vanilla steamer with homemade Starbucks whipped cream.
To Make Starbucks Whipped Cream
This makes a full batch of whipped cream, enough to top many drinks.
Combine heavy cream and vanilla syrup in a cold bowl. (You can also use a whipper canister and charger like Starbucks.)
Using cold beaters, whip the cream until thick.
Notes
If the vanilla steamer is for kids, only steam the milk to a maximum of 130 °F.
For the best aerated milk, steam to 160 °F and tap and swirl the jug to knock down any large bubbles, until it appears like wet paint.
Want to make another flavor? Just substitute vanilla syrup with another kind of simple syrup. For a yummy holiday option, use peppermint syrup and add chocolate shavings on top of the whipped cream.
Recommended Products
As an Amazon Associate and member of other affiliate programs, I earn from qualifying purchases.