Starbucks London Fog Tea Latte is as easy to make at home as it is to get from Starbucks. With this copycat recipe, see how simple it is to make this vanilla flavored earl grey latte.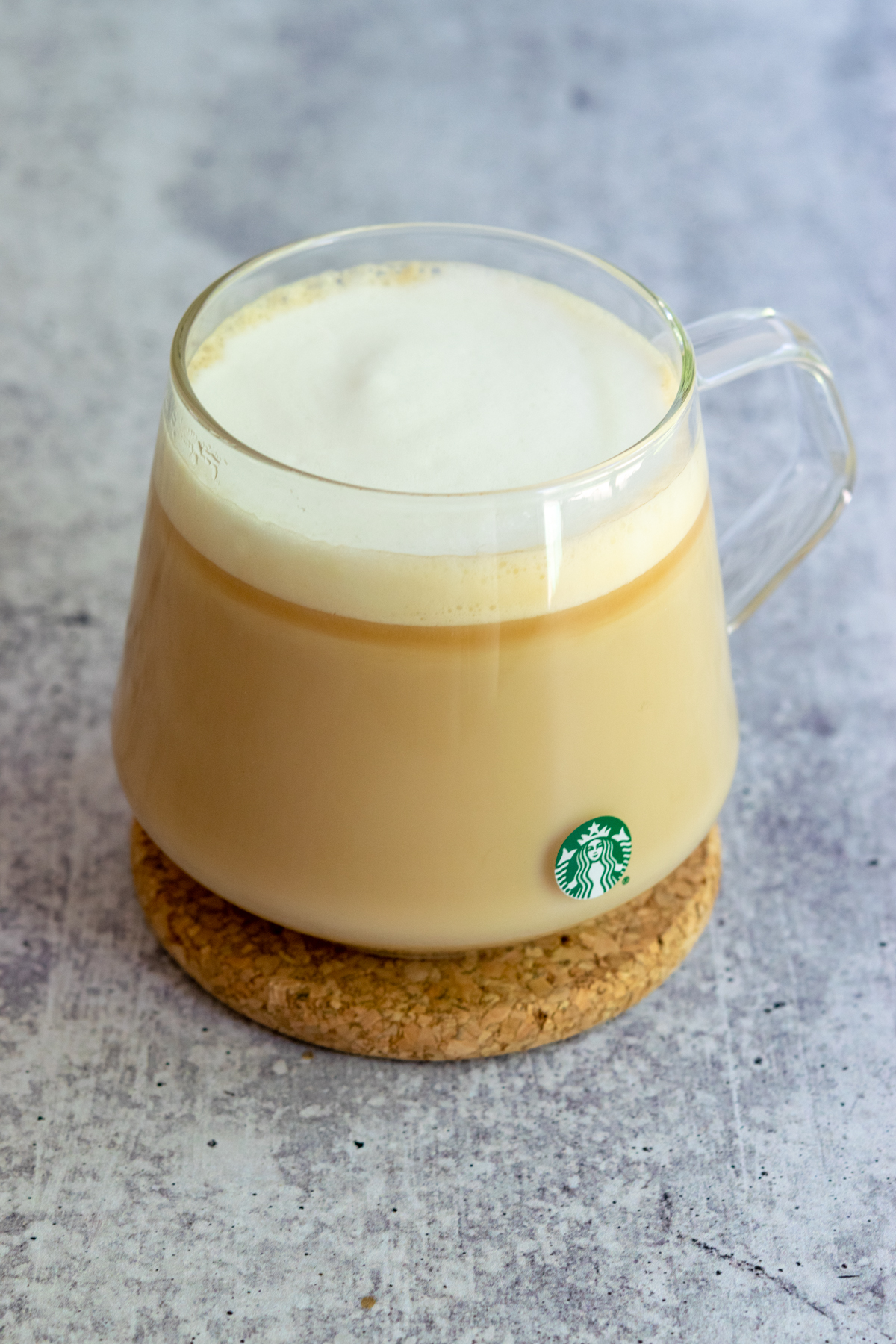 What is the Starbucks London Fog Drink
The Starbucks London Fog Drink is a creamy tea latte that has all the tastiness of earl grey tea with a little vanilla added in.
Made with caffeinated earl grey black tea, a Starbucks London Fog, is the perfect morning pick-me-up.
Just like a traditional London Fog drink, this Starbucks copycat recipe combines strong, concentrated tea with steamed milk, vanilla and a sweetener. And it's just so easy to make at home.
Once you know how to steam the milk properly, making a homemade London Fog is a no-brainer.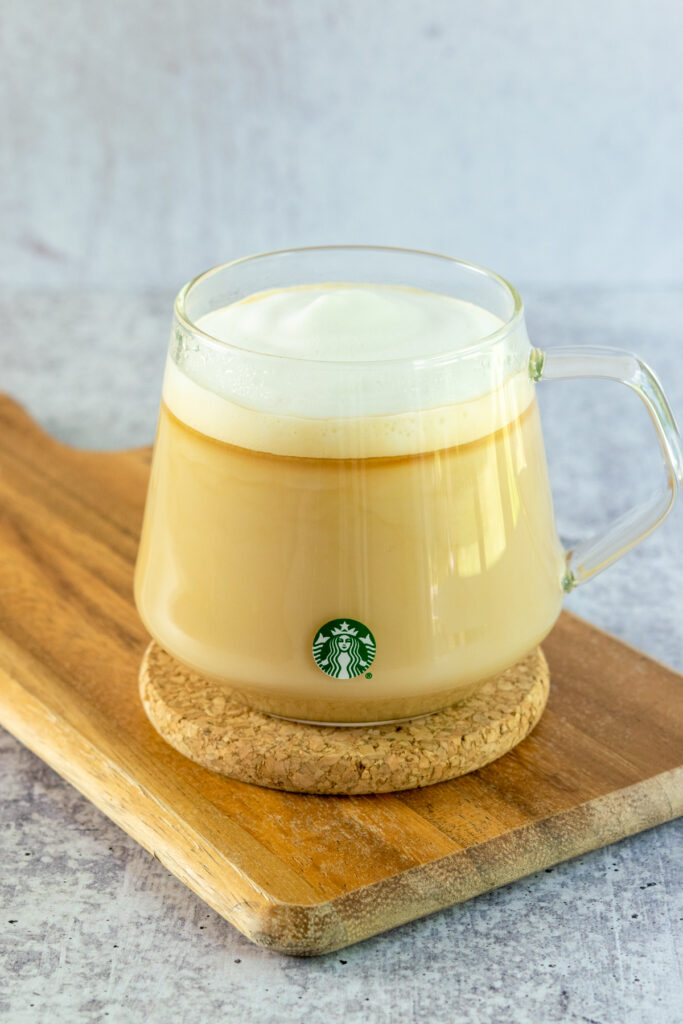 RELATED: Starbucks London Fog Latte: What's in It & How to Order
London Fog Latte Recipe Notes
The key to making the best homemade Starbucks London Fog latte is to make sure the earl grey tea is really strong so it can stand up to all the milk. To do this, use double the tea bags or loose leaf tea than what you would for a normal cup of tea.
Half of a London Fog drink is steamed milk, so it's important to steam it properly. To literally find the sweet spot, steam the milk to 160°F.
The addition of vanilla is what sets a London Fog apart from a regular earl grey tea latte. For the vanilla, use vanilla syrup or vanilla extract plus a sweetener.
Ingredients
A Starbucks London Fog is made with two earl grey tea bags steeped in hot water, steamed 2% milk and vanilla syrup for sweetness. This 3-ingredient recipe is super simple to make at home.
Teavana Earl Grey Tea
Steamed 2% Milk
Vanilla Syrup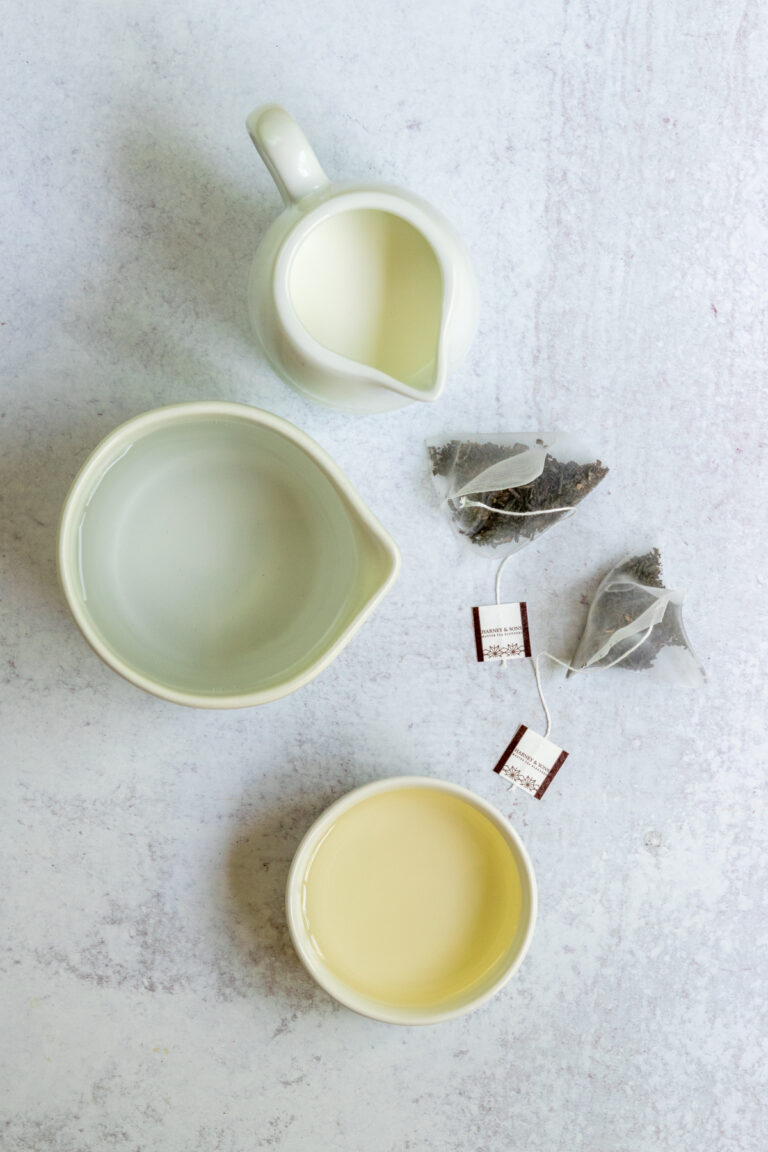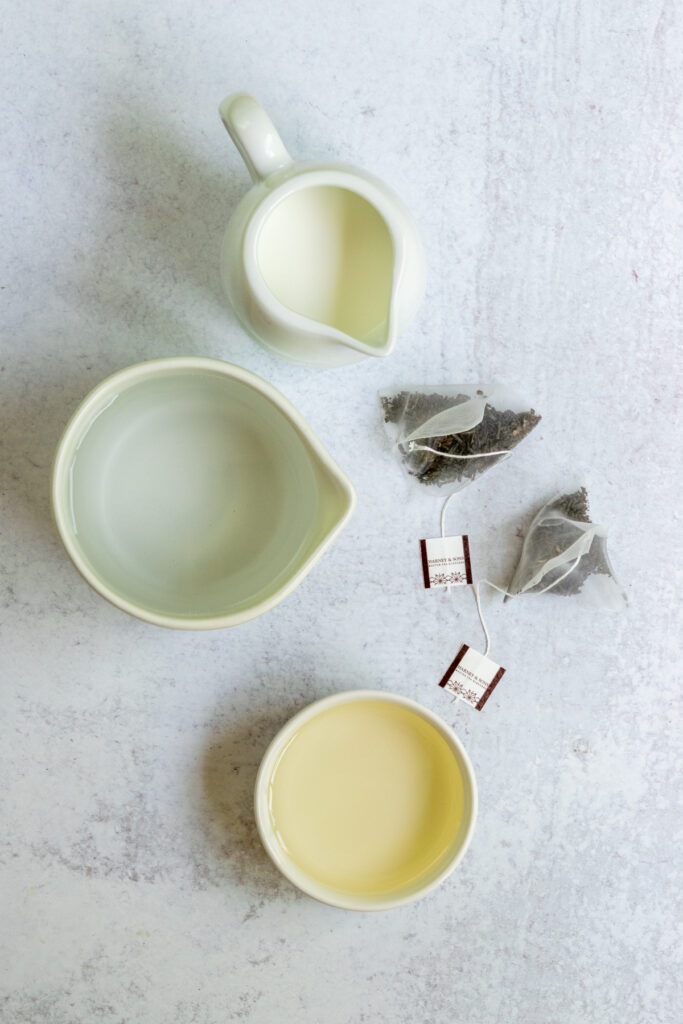 Earl Grey Tea: What sets the Starbucks London Fog tea latte apart from others is the blend of Teavana earl grey tea they use. In addition to earl grey's typical notes of citrusy bergamot, Starbucks earl grey has a hint of lavender.
But any earl grey tea bag or loose tea will do, with or without lavender.
Milk in London Fog: The standard milk for all Starbucks lattes is 2% milk, but you can switch it for another kind, if preferred.
Vanilla Syrup: The vanilla syrup in a Starbucks London Fog tea latte adds both flavor and sweetness. You can buy a bottle of Starbucks vanilla syrup (the exact one baristas use) or make homemade vanilla syrup.
Another option is to add a little vanilla extract along with sugar or an alternative sweetener.
How to Make a Starbucks London Fog Latte
To make a single serving of a London Fog, first brew the earl grey tea directly in a mug, then sweeten it with vanilla syrup, and finally add in the steamed milk.
Steep the earl grey tea in hot water.
Steam or froth the milk.
Assemble the London Fog latte by adding vanilla syrup and steamed milk to the tea.
Detailed recipe and instructions are in recipe card at bottom of post.
Make the earl grey tea concentrate.
Bring water to a boil and steep the tea bags for 3-5 minutes. In order to make a strong tea concentrate, use twice as much tea compared to a typical cup of tea .
Remove the tea bags when the tea has steeped long enough. This keeps the tea from becoming bitter. Here are more tips for making black tea properly.
If you steep the tea in a mug, be sure to use one that has a capacity of 16 fluid ounces or greater so there is room for all the milk. (This recipe makes a Starbucks grande size drink.)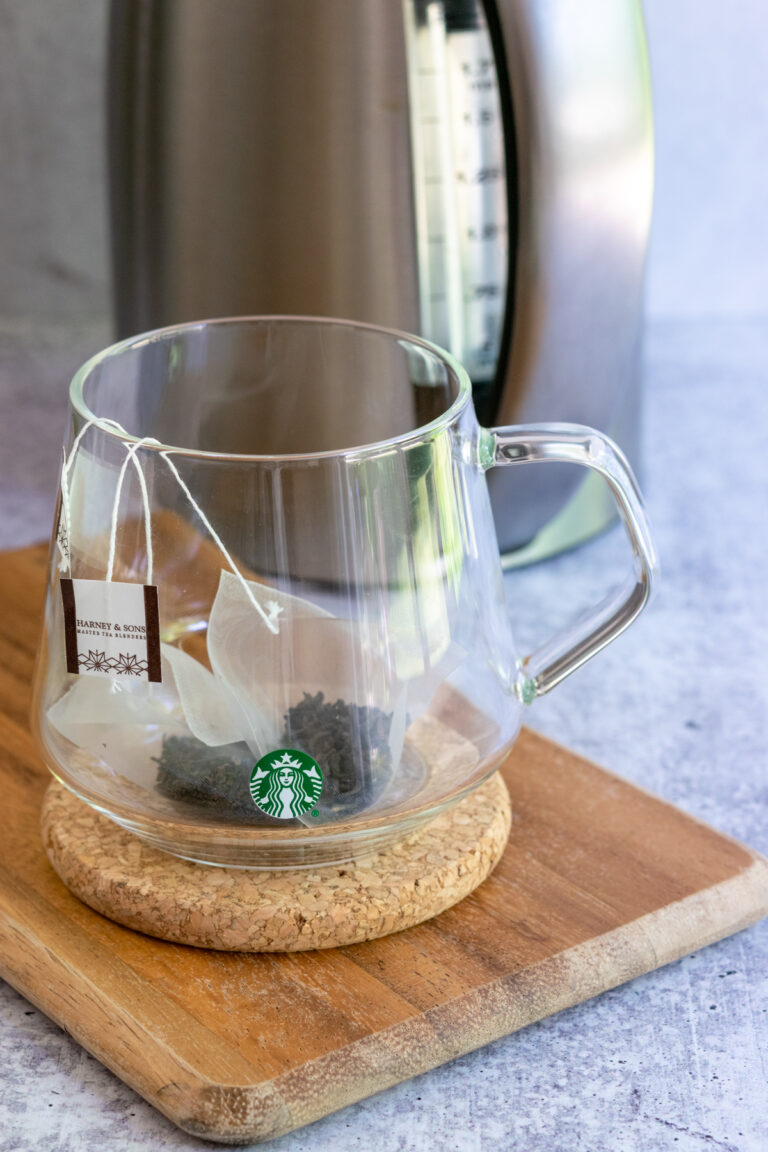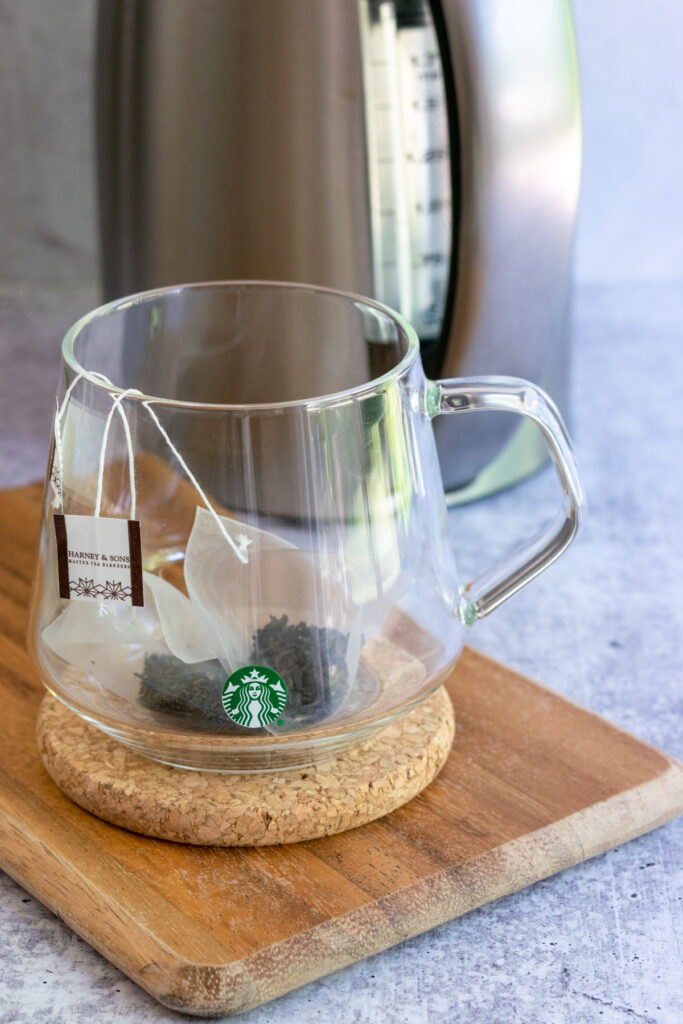 Steam the milk.
While the tea is steeping, warm up the milk to 160°F and aerate it.
Make sure the milk is steamed to at least 150°F, but not over 170°F.
The natural sweetness in the milk comes out at these temps. I use a milk thermometer to get the milk just right.
A steam wand on an espresso machine or an electric milk frother works the best. Otherwise, heat the milk using a stove or microwave and then froth it with a handheld milk frother.
My Pick for Best Electric Milk Frother is Breville Cafe Milk Frother since it has a 3 cup capacity and a temperature control.
Add vanilla to the tea.
To assemble the London Fog, add the vanilla syrup (or vanilla extract plus sweetener) to the earl grey tea concentrate.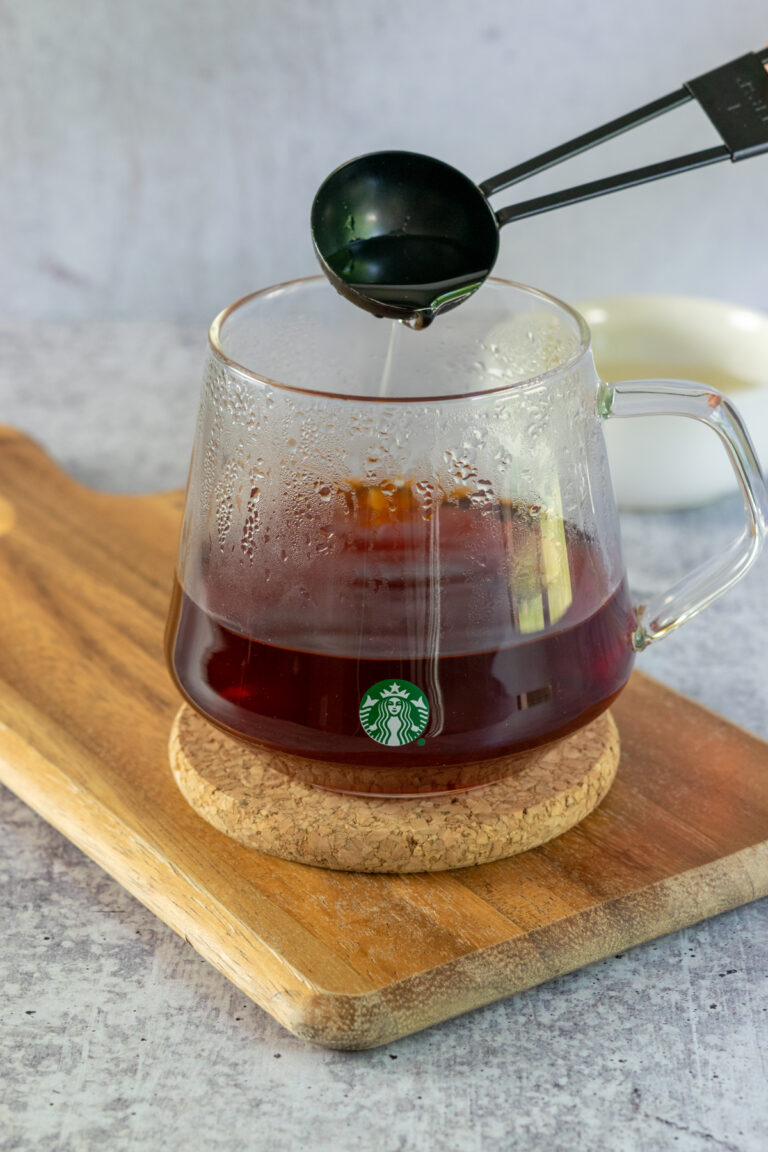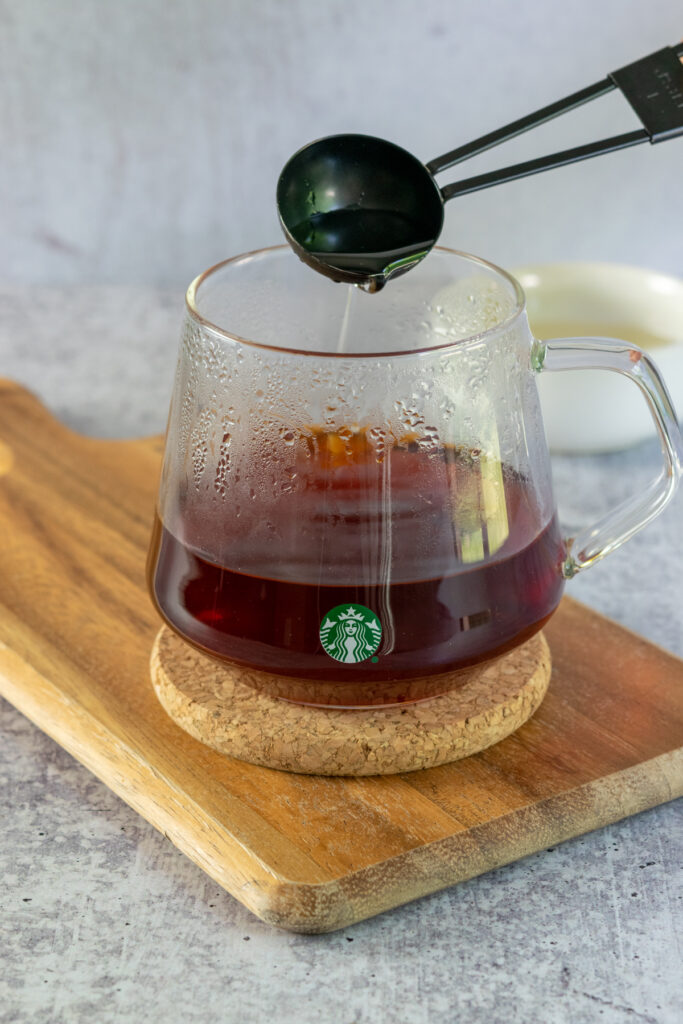 Top off the tea with the steamed milk.
The final step to making a copycat Starbucks London Fog is to pour the steamed milk into the tea. Scoop a light layer of milk foam on top.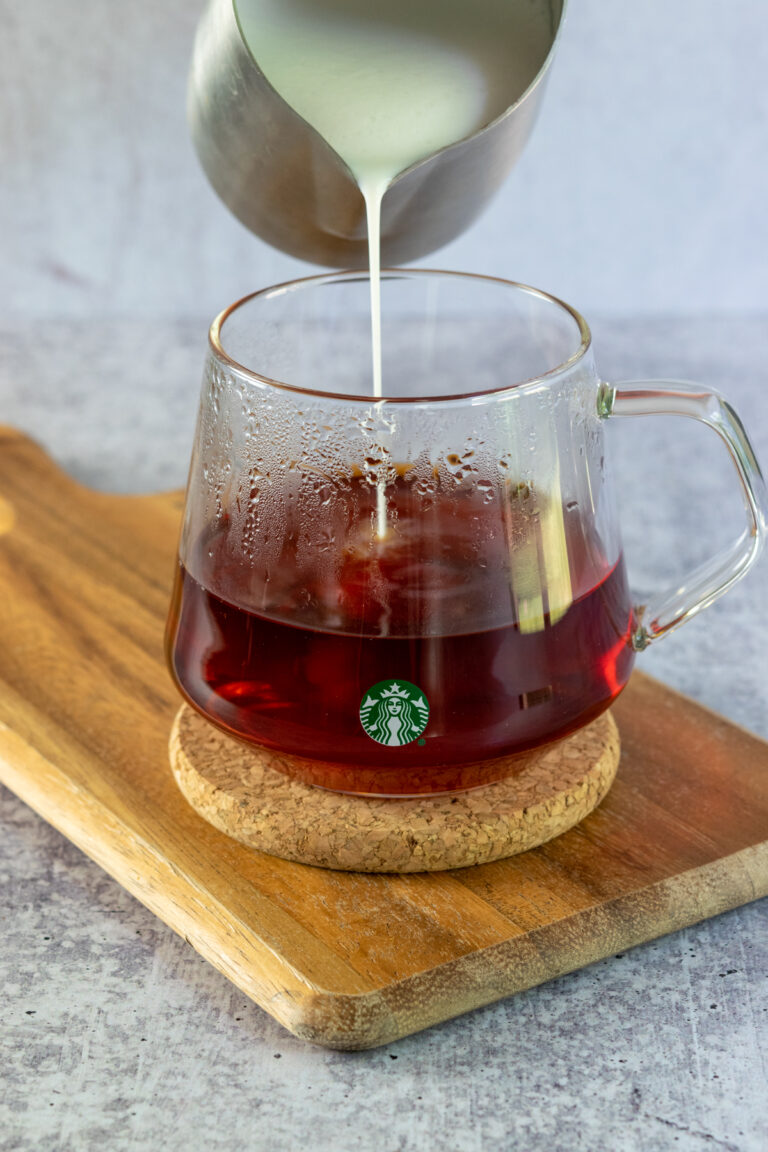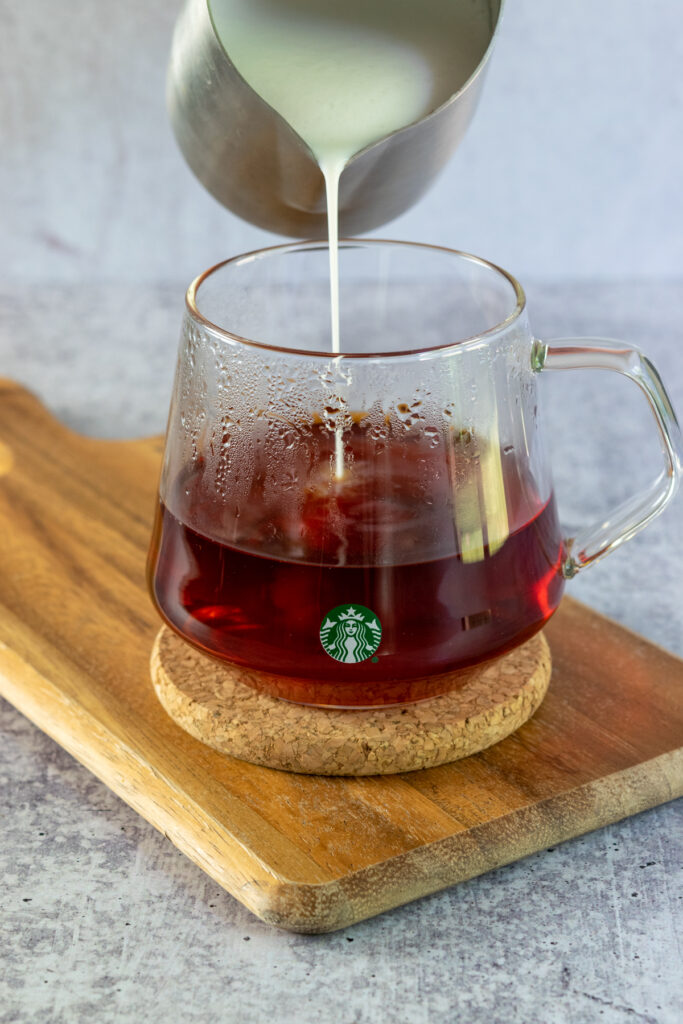 My Pick for Milk Frother
Lattes have a lot of milk. That's why I love this Breville electric milk frother with a 3-cup capacity, adjustable temperature settings and latte disc.
Recipe Variations
There are a few ways to switch up a London Fog. Here are a few recipe variations.
Starbucks Iced London Fog
To make a copycat version of a Starbucks Iced London Fog latte follow the instructions for the hot version except pour in cold milk instead of steamed.
The final step is to add ice to the glass.
It's important to add the ice after the cold milk has been poured into the hot tea. This prevents the ice from melting as much.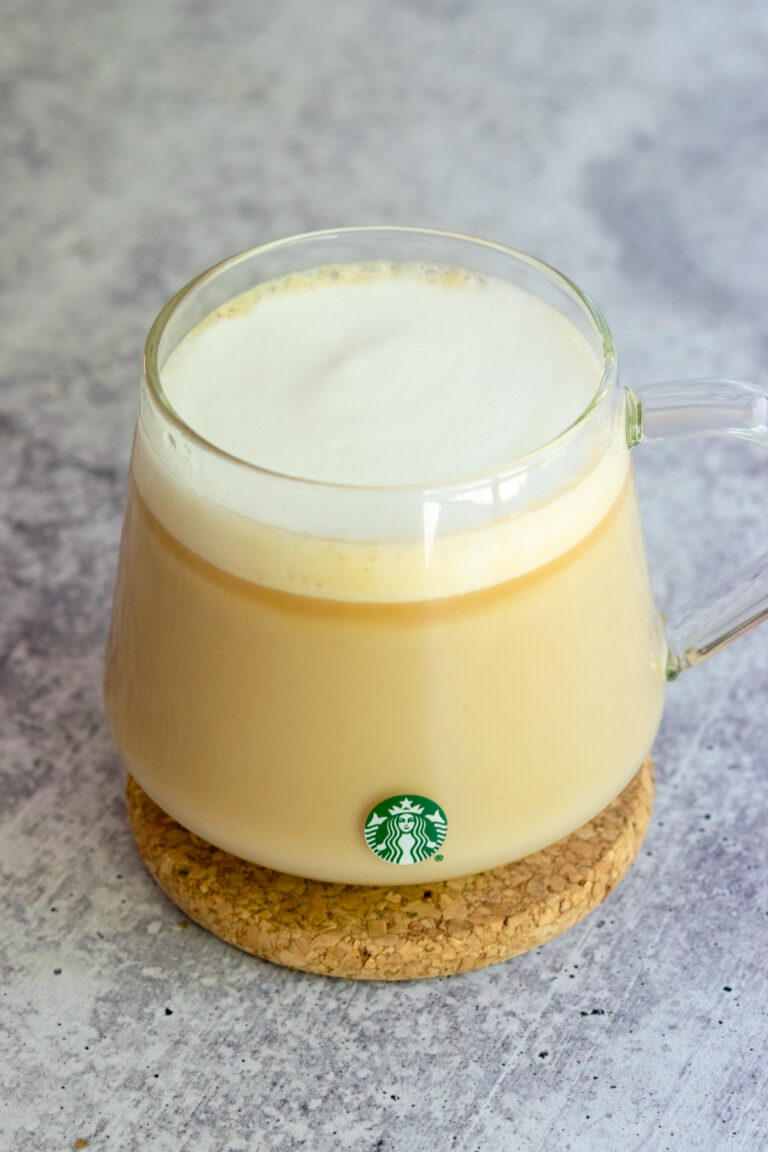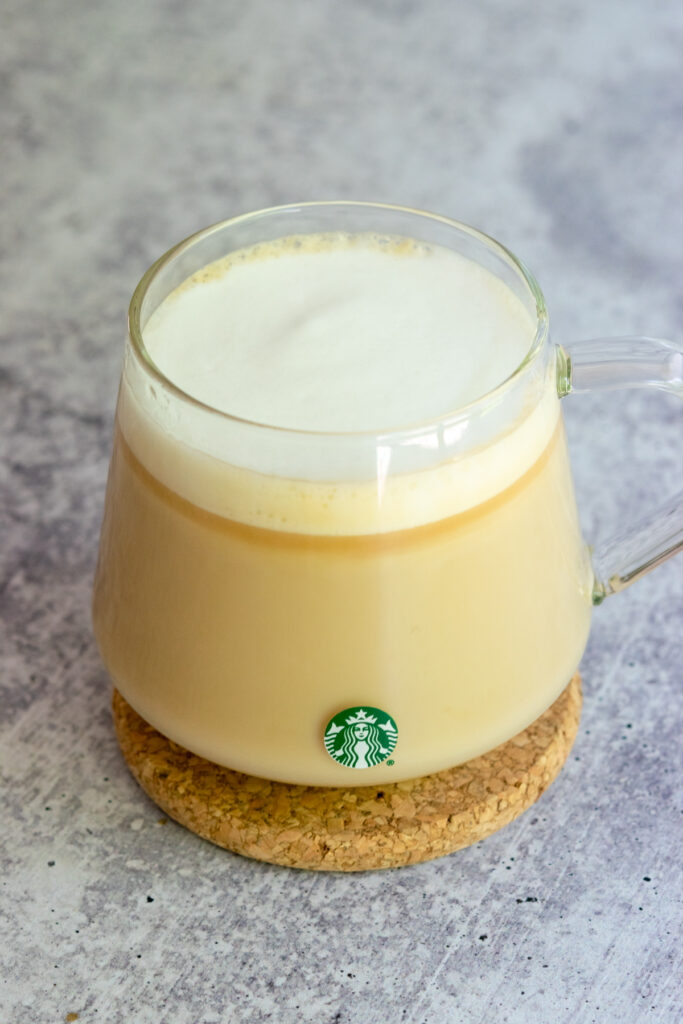 Skinny London Fog
To make a skinny Starbucks London Fog at home, use sugar-free vanilla syrup and non-fat milk.
If you don't have a bottle of sugar-free syrup, substitute it with vanilla extract and your preferred sugar substitute.
London Fog with Coffee
For a more intense coffee version of a London Fog, add in shots of espresso. The number of shots is up to you.
Non-Dairy London Fog Latte
The only ingredient in a London Fog that has dairy is the milk.
To make a non-dairy London Fog, just switch the type of milk to your preferred dairy alternative.
The key is to use a plant-based milk that froths well, like Oatly's line-up of barista edition milks.
Want to save this recipe to make later?
PIN it to your Pinterest board!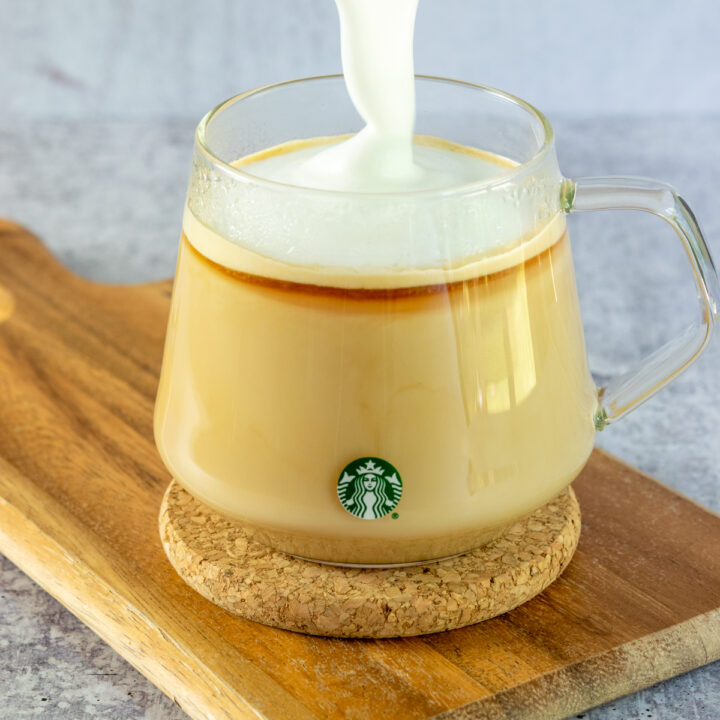 Starbucks London Fog Tea Latte Copycat
Starbucks London Fog Tea Latte is as easy to make at home as it is to get from Starbucks. This copycat recipe makes the equivalent of a hot grande London Fog.
Ingredients
2 Earl Grey tea bags
1 cup water, boiled
1/2 cup 2% milk
3 tablespoons vanilla syrup
Instructions
Bring water to a boil and pour over tea bags in a mug 16 ounces or larger. Steep for 5 minutes, then remove tea bags.
While tea is brewing, froth milk. You can use an electric kettle or steam wand on an espresso machine.
Assemble the London Fog tea latte: Add vanilla syrup to hot tea and top with frothed milk.
Notes
Steep tea for a maximum of 5 minutes to avoid bitterness.
The exact Teavana earl grey tea bag that Starbucks uses to make London Fog lattes is not sold in stores.