See how to make a Starbucks keto pink drink at home with this easy 4-ingredient copycat recipe. It's simple, low carb and has no added sugar.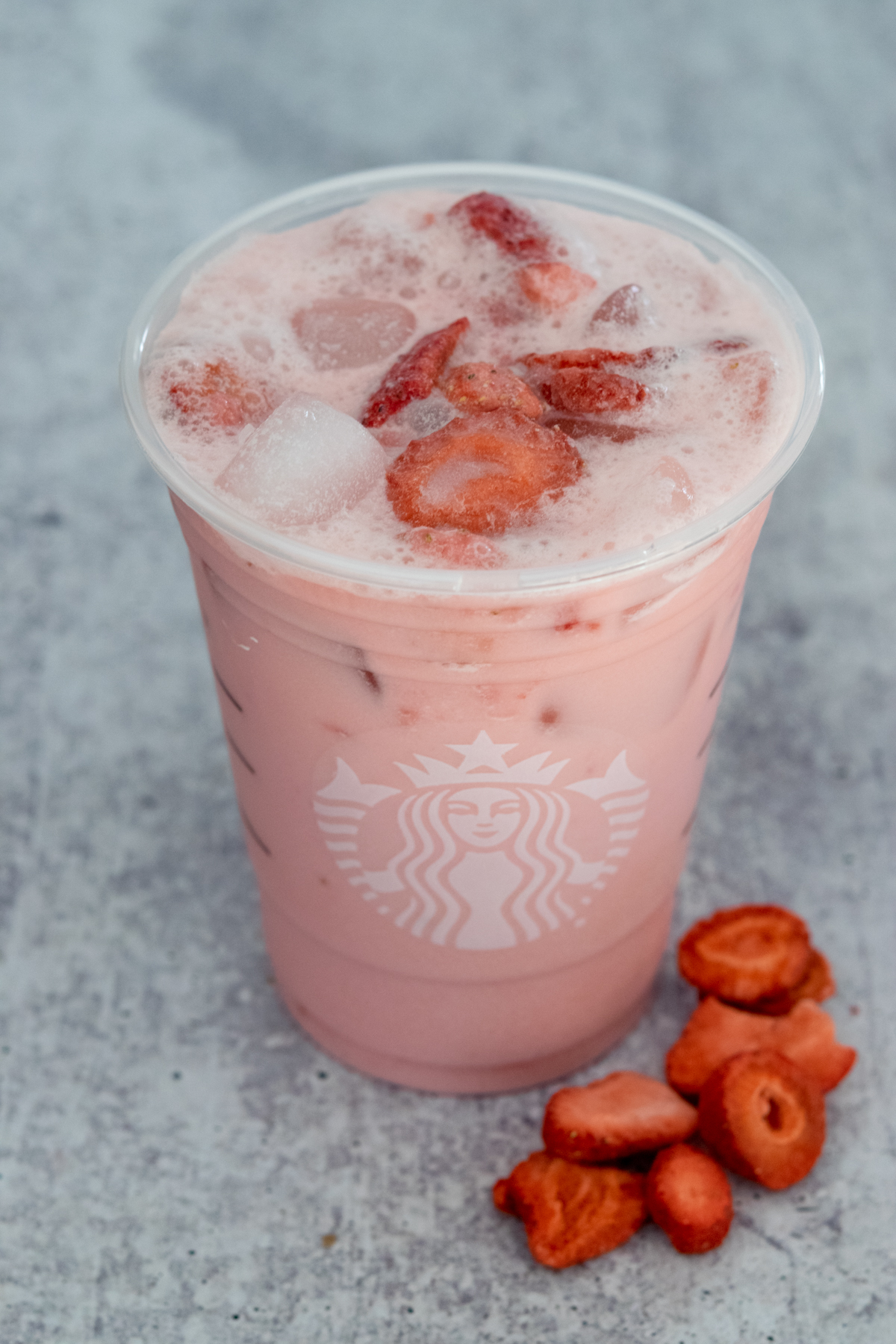 The Starbucks Keto Pink Drink is a customized Pink Drink that combines Passion Tango tea with heavy cream, sugar-free vanilla syrup and pieces of real strawberry. This low-carb hack is a favorite among anyone living a keto lifestyle.
The great news is, it's as simple to make this copycat Starbucks keto pink drink recipe at home, as it is to order a keto pink drink from Starbucks!
In fact, my easy copycat Starbucks Pink Drink recipe only has four ingredients (plus ice and water).
Plus, I show you how to prepare it just like a barista, including the order ingredients are added into the cup and the shaking technique.
If this pink drink recipe becomes your favorite, you can easily prepare as much tea as you want ahead of time, so it's a snap to assemble the drink whenever you want.
RELATED: Starbucks Pink Drink: Caffeine, Calories & Ingredients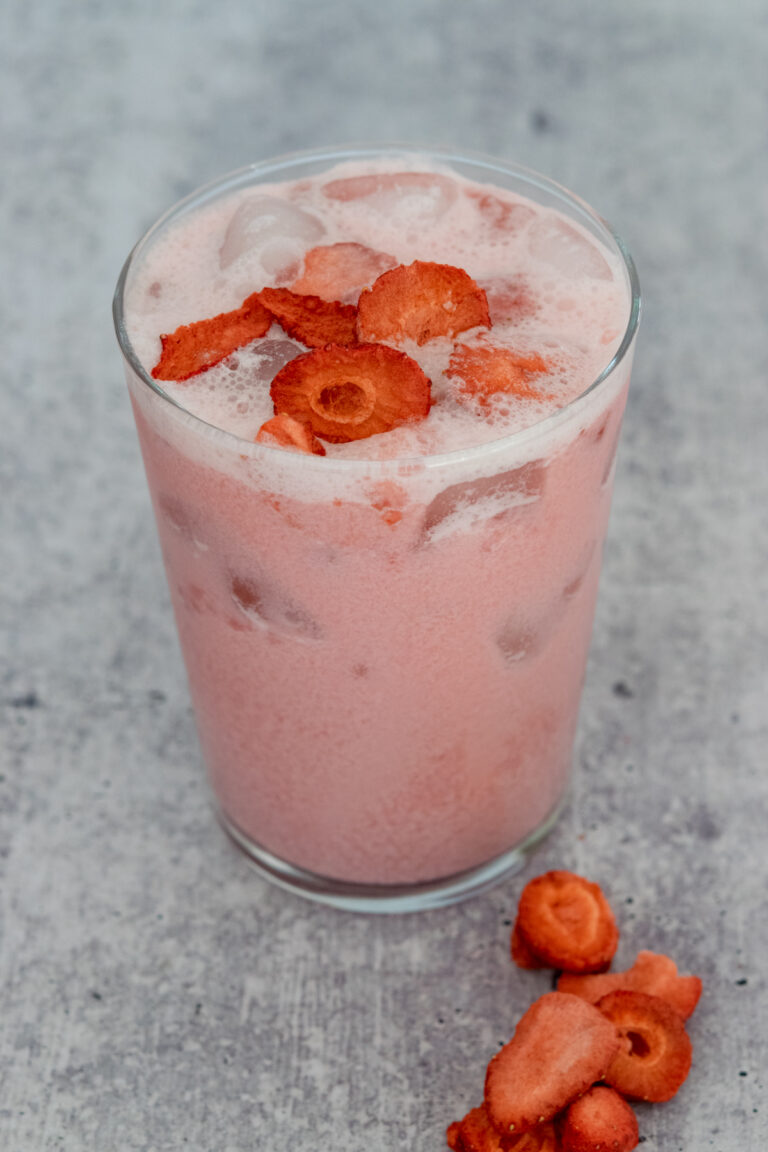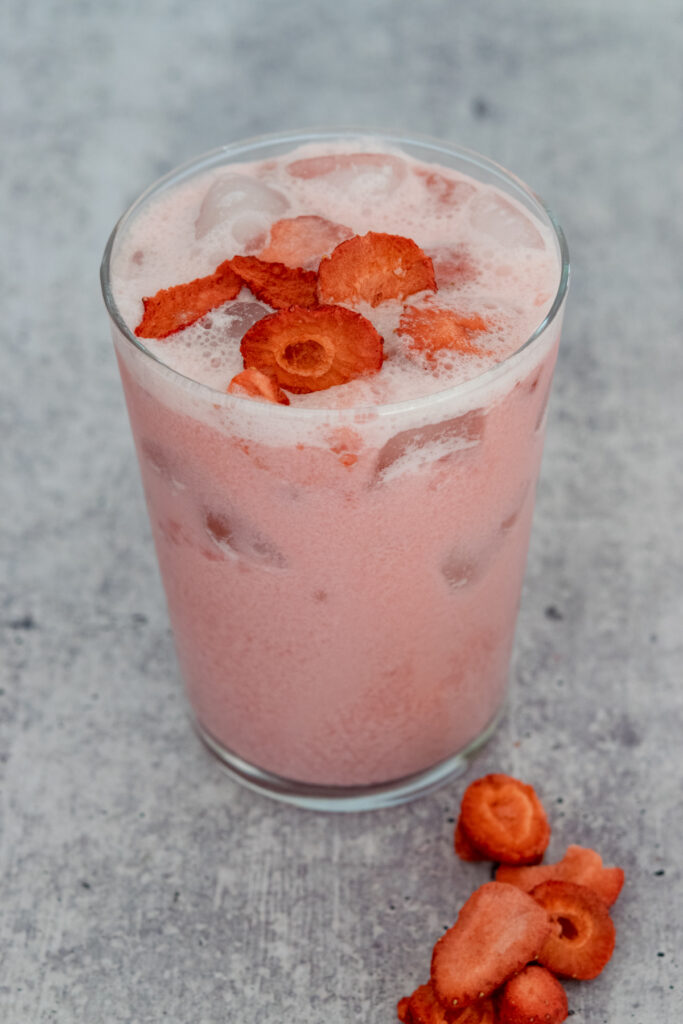 What Makes this Pink Drink Recipe Keto
Many people wonder, is the pink drink healthy.
The truth is, a regular Starbucks Pink Drink is not keto-friendly in the least.
It's loaded with carbohydrates.
A grande tips the scales with a whopping 28 grams of carbs and 25 grams of sugar!
To avoid being a sugar bomb, this keto pink drink recipe and the keto customization from Starbucks, eliminate the carb-filled strawberry acai juice, sweetened coconut milk and sugary syrup.
Calorie-free, sugar-free herbal tea replaces the juice and heavy cream is used instead. The syrup is easily swapped with a sugar-free version.
According to Medical News Today, "people on the keto diet need to get 55%–60% of their daily calories from fat in order to stay in ketosis."
For this recipe, heavy cream provides the fat, but you can substitute it with unsweetened, full-fat coconut milk if desired.
RELATED: 21 Sugar-Free Starbucks Drinks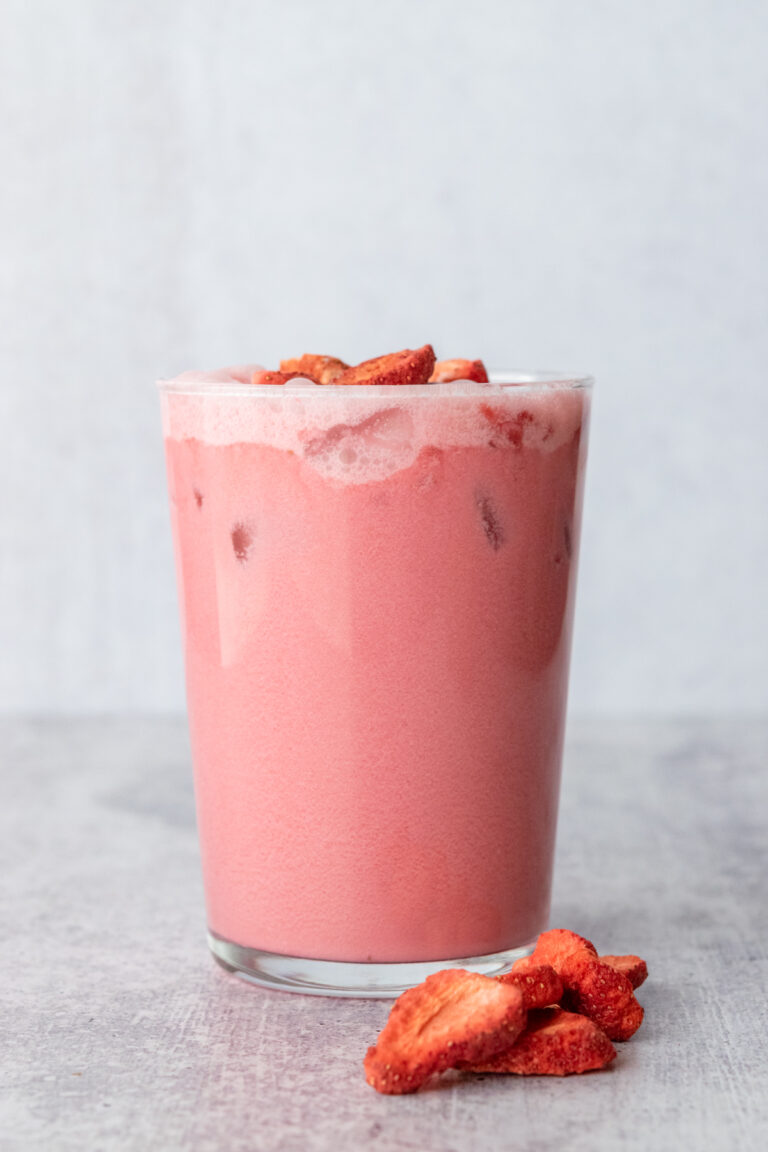 Tips for Making a Starbucks Copycat Keto Pink Drink
This recipe makes enough tea for two drinks. I like to make double the tea so it's ready to go next time I crave another keto pink drink. Just multiply the amount of prepared tea for as many pink drinks as you want. For quick prep, you can also use unsweetened Tazo Iced Passion concentrate.
Just like ordering tea at Starbucks, this at-home keto pink drink begins with concentrated tea that has cold water added to it. I like to prepare the tea this way so the water cools it down.
Some people order a Starbucks keto pink drink without water. I suggest keeping the water in the tea. Passion tea has hibiscus which may look like it's curdling when mixed with the cream. Regular strength tea provides lots of flavor and reduces the chance of curdling. (If it happens though, just give your drink another stir.)
This at-home pink drink is best made using a drink shaker or large jar with lid. Shaking it with ice, just like they do at Starbucks, incorporates all the strawberry flavor and makes the drink cold throughout.
Starbucks Refreshers are caffeinated, including the Pink Drink as ordered from the menu. The keto version (at home and at Starbucks) does not have caffeine. For some caffeine, shake in a little matcha powder, as well.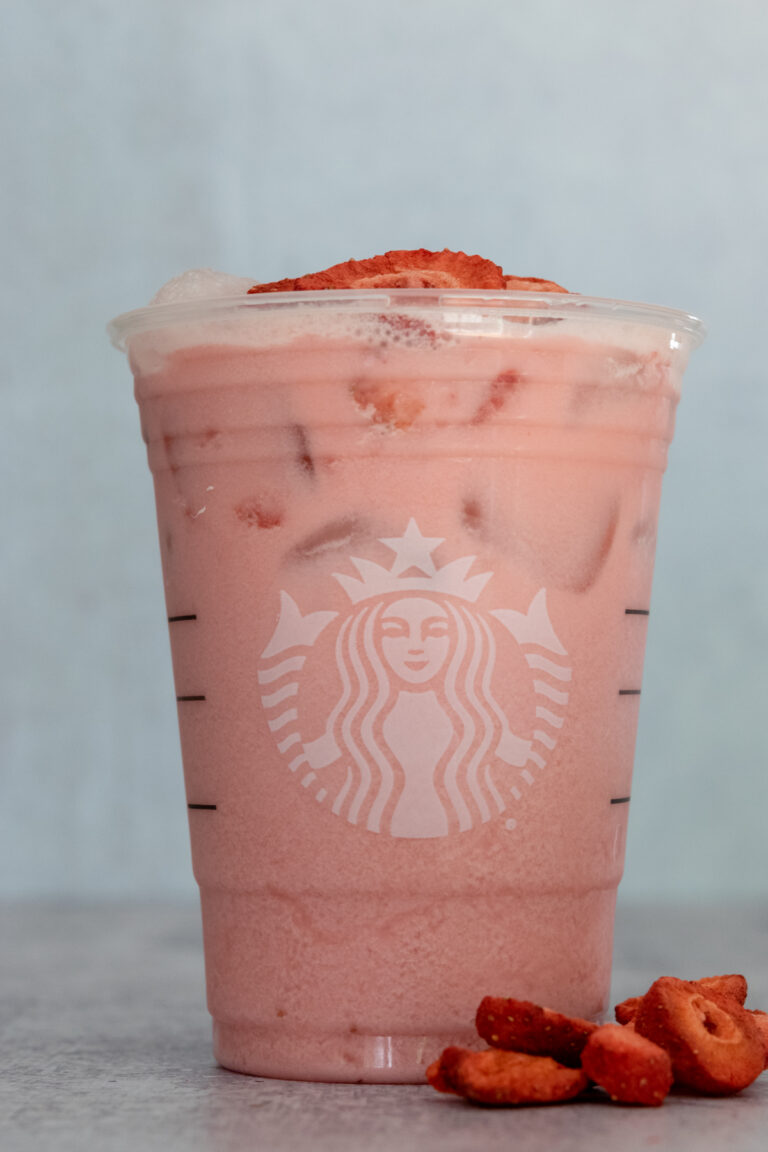 Keto Pink Drink Ingredients
This delicious recipe could not be simpler to make. It only contains four ingredients in addition to ice and water, and you can keep three of them handy in the pantry.
Tazo Passion Tea Bags
Heavy Cream
Sugar-Free Vanilla Syrup
Freeze-Dried Strawberries
Water and Ice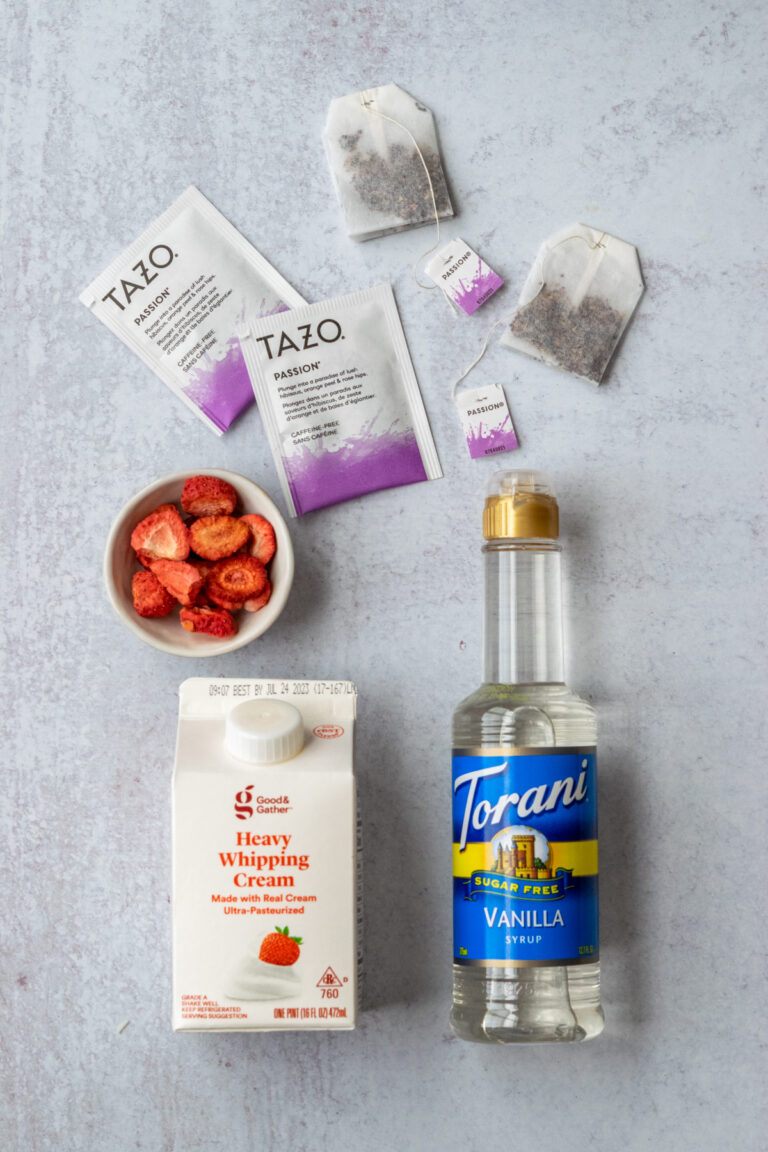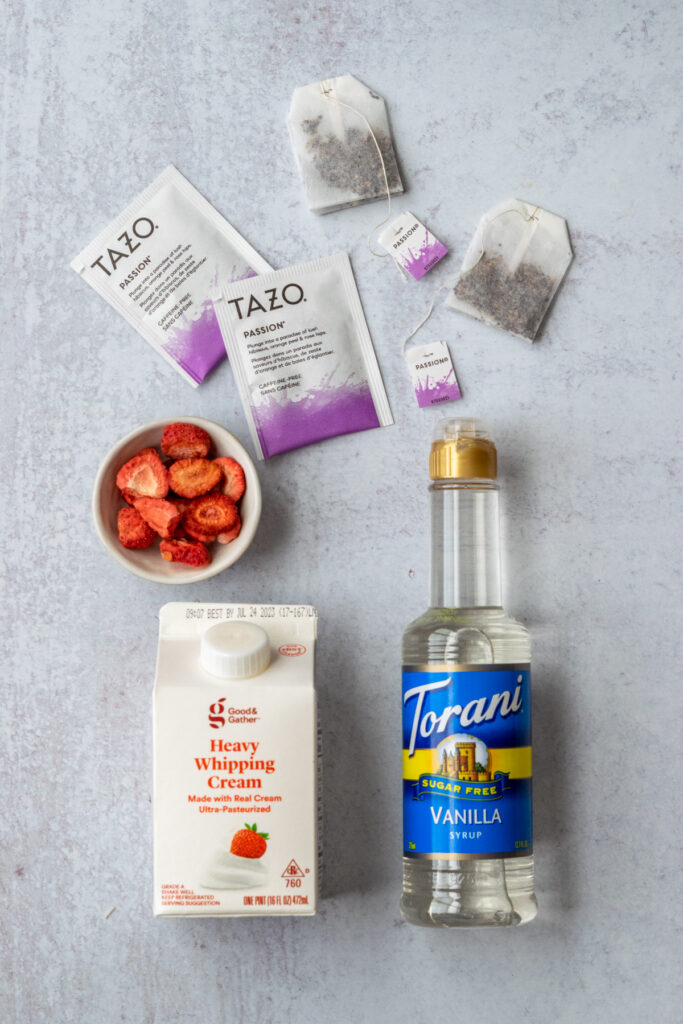 Passion Tea: A keto pink drink from Starbucks is made with Teavana Passion Tango tea, one of two herbal teas at Starbucks.
Passion Tango isn't available in stores, but a good substitute is caffeine-free Tazo Passion tea. It's a blend of hibiscus, orange peel and rose hips.
It comes in tea bags or a ready-made unsweetened concentrate.
Heavy Cream: Heavy cream is really the only milk option when ordering a Starbucks keto pink drink.
For this recipe, use heavy cream or substitute it with another unsweetened, full-fat milk like coconut.
Sugar-Free Vanilla Syrup: Use sugar-free vanilla syrup or sweeten the drink with your favorite keto sugar substitute, such as Stevia or Besti monk fruit allulose sugar replacement.
Strawberries: For strawberry fruit inclusions, I prefer to use freeze-dried strawberries just like Starbucks.
Freeze-dried strawberries are simply dehydrated real strawberries without any other added ingredients.
When you shake the pink drink, they rehydrate and plump back up. Substitute with fresh strawberry chunks, if desired.
How to Make a Starbucks Keto Pink Drink at Home
My favorite way to make the pink drink is with a drink shaker.
After making the tea, all you have to do is combine everything in a shaker and, you guessed it, shake it up.
Detailed recipe and instructions are in recipe card at bottom of post.
Make the Passion Tea: Steep 2 tea bags in 1 cup boiling water for 5 minutes. Remove the tea bags and add an additional cup of cold water. This makes enough tea for two keto pink drinks.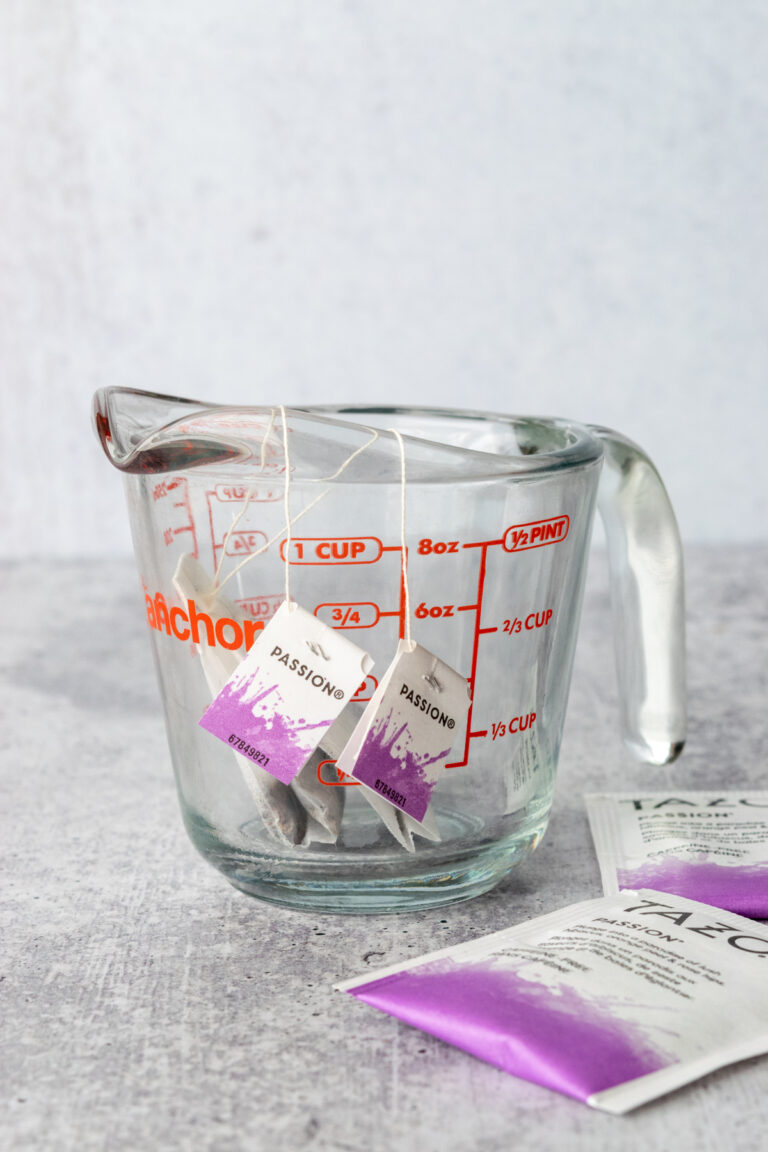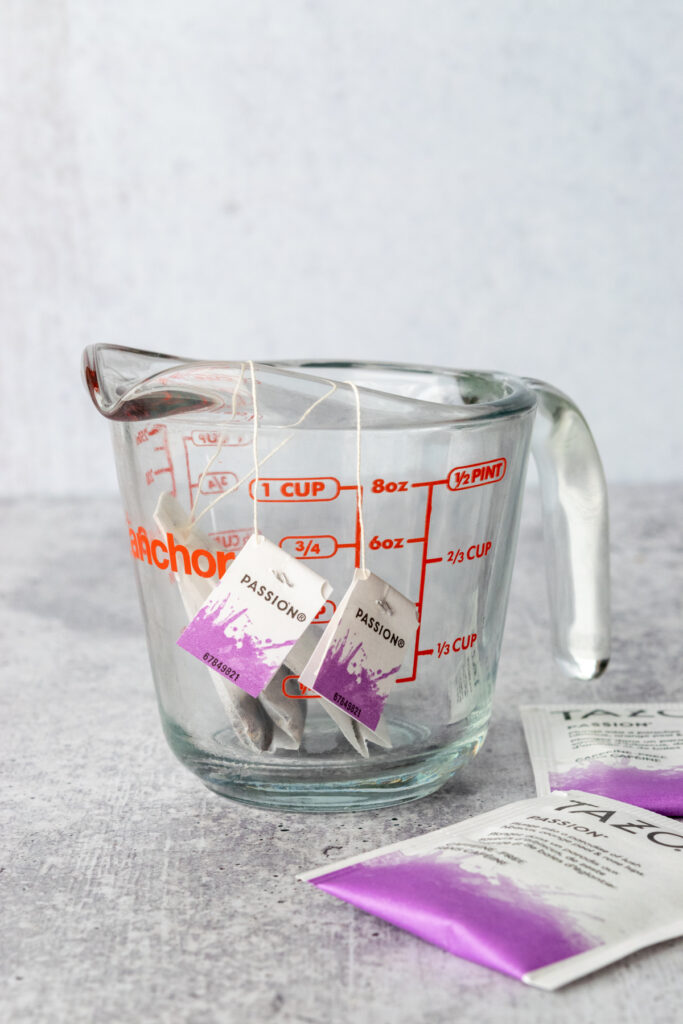 Assemble the Drink in Shaker: Add to a shaker, 1 cup of tea, followed by keto-friendly sugar-free syrup, heavy cream, ice and strawberries.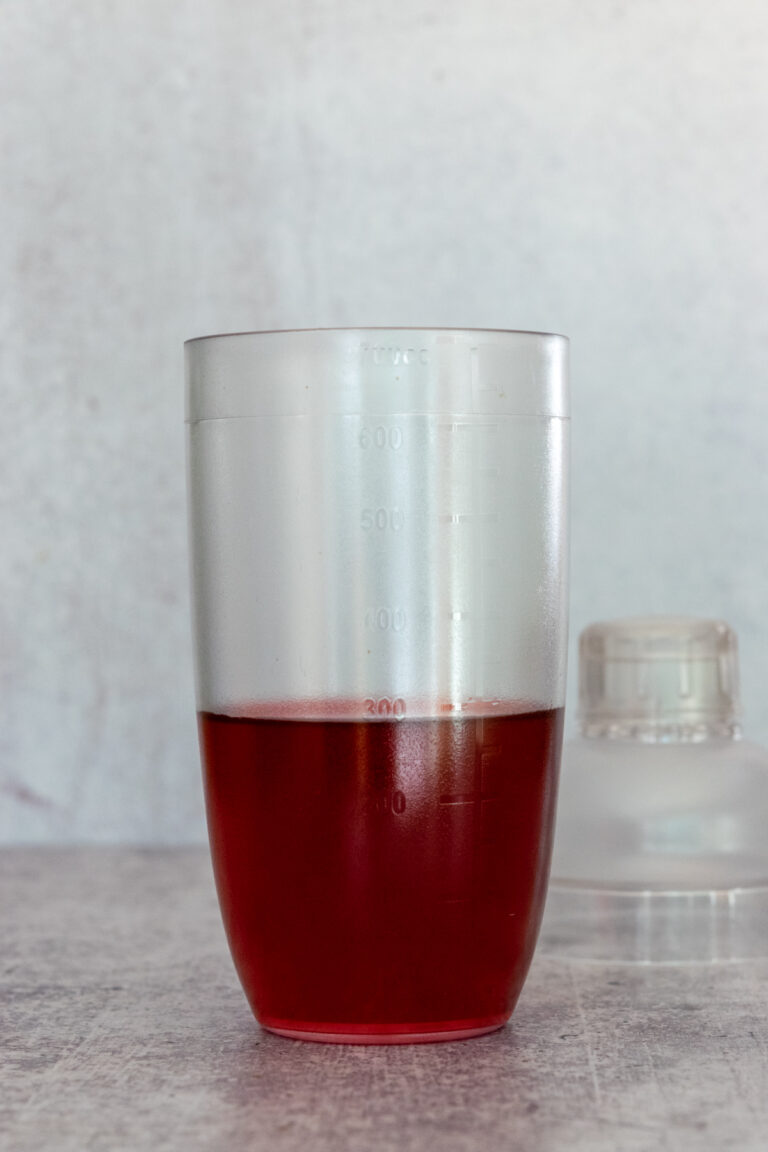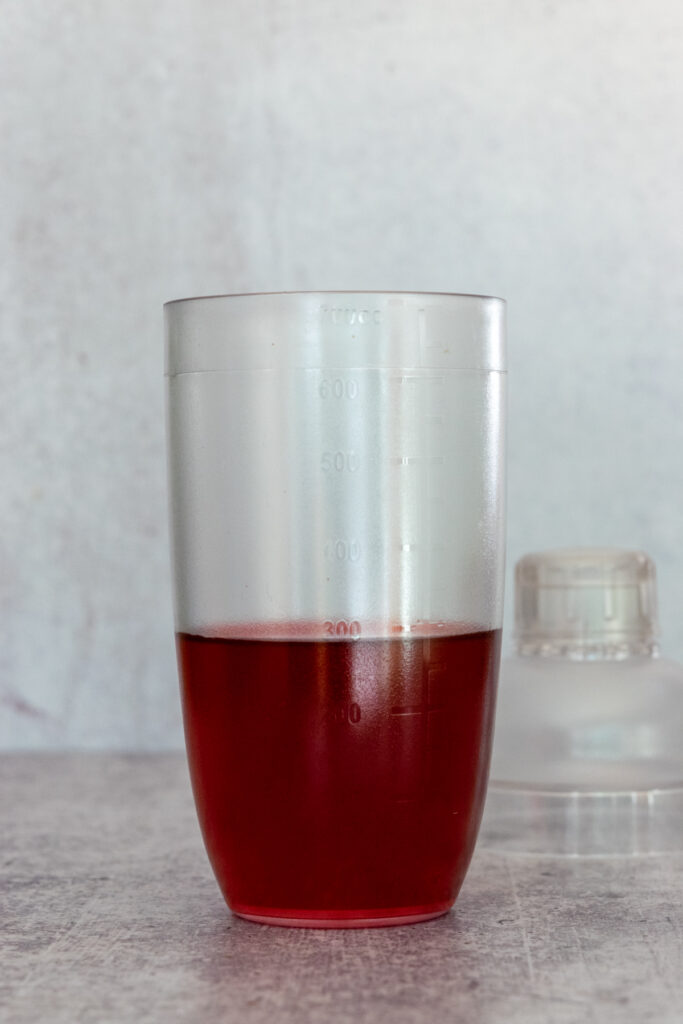 Shake the Keto Pink Drink: Put the lid securely on the shaker and give it about 10 good shakes to combine the pink drink ingredients, rehydrate the strawberries, and make it nice and cool.
My Pick for Drink Shaker
I love this shaker. It's lightweight, affordable and gets the job done!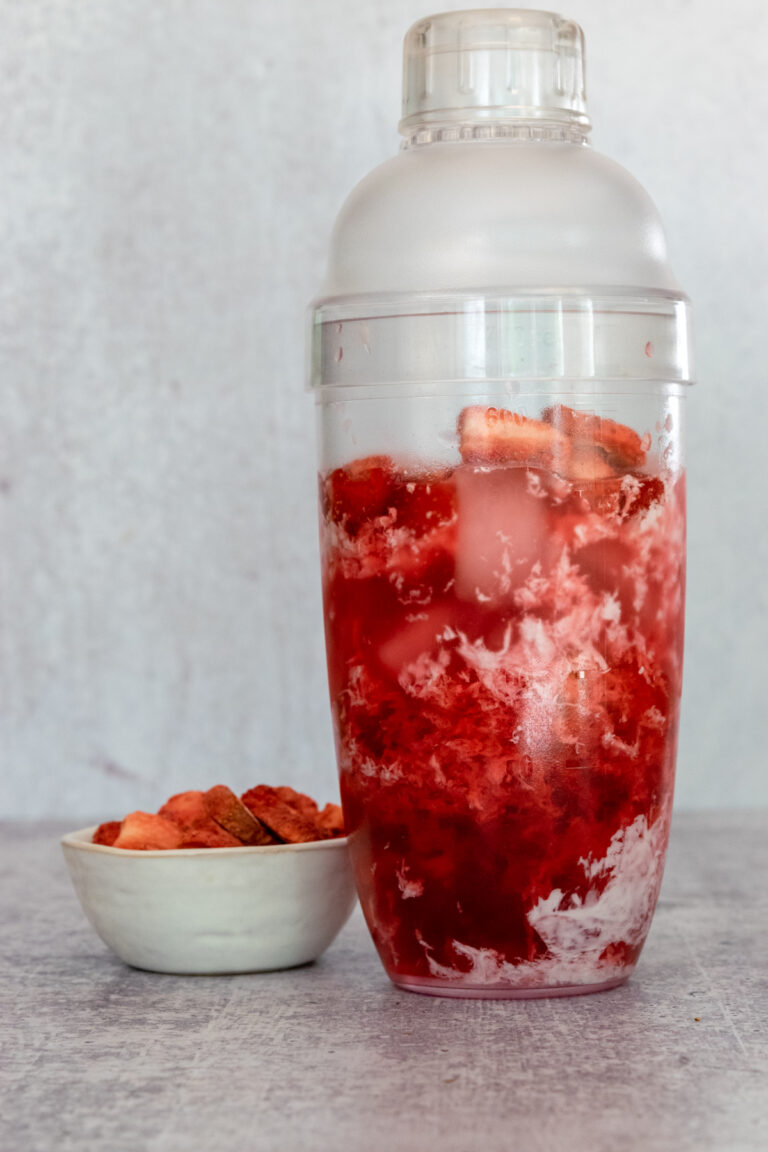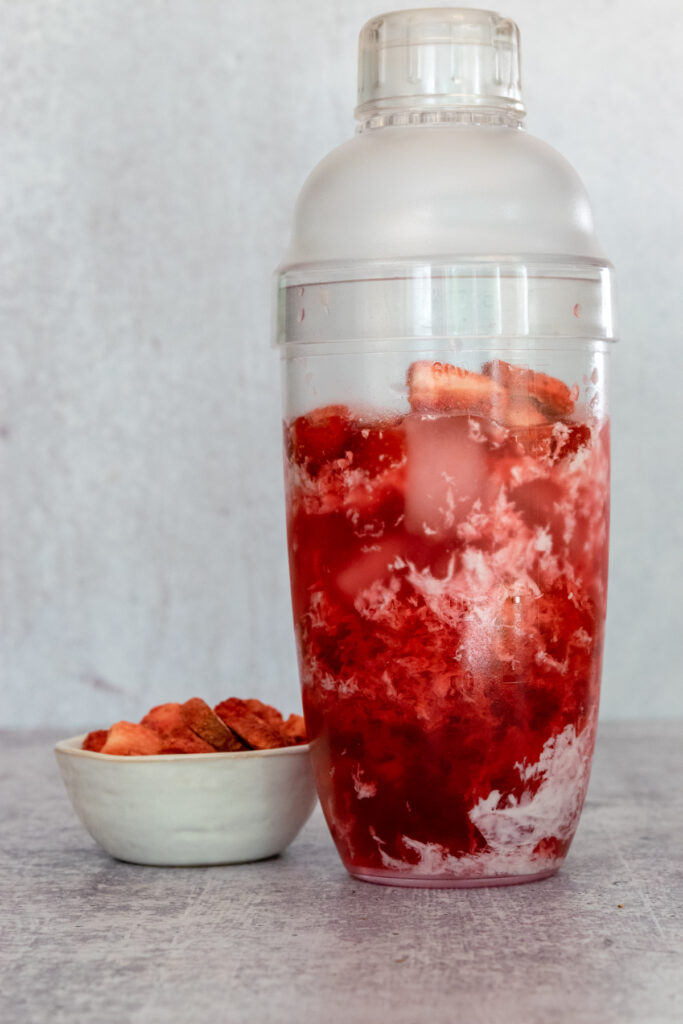 Pour in Cup: Pour your keto pink drink in a 16-ounce cup and drink immediately.
If the tea and heavy cream begin to separate and curdle a little, just give it a good stir. The hibiscus in the tea combined with the cream causes this.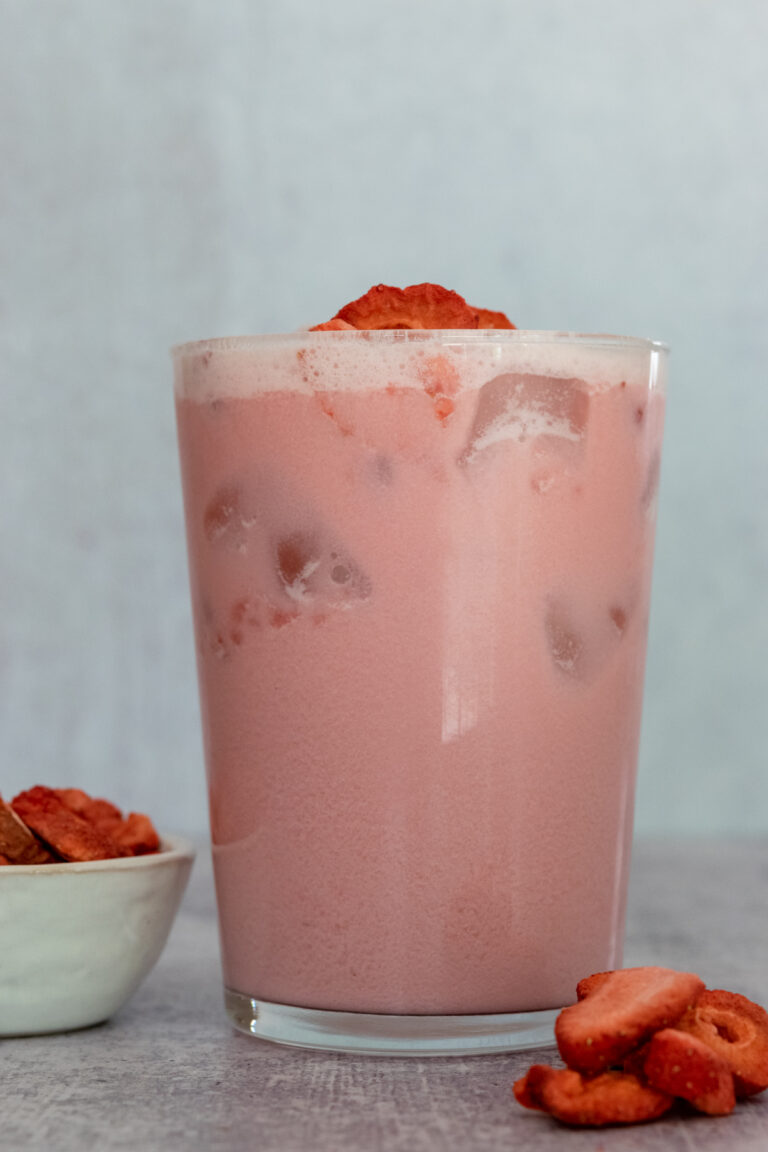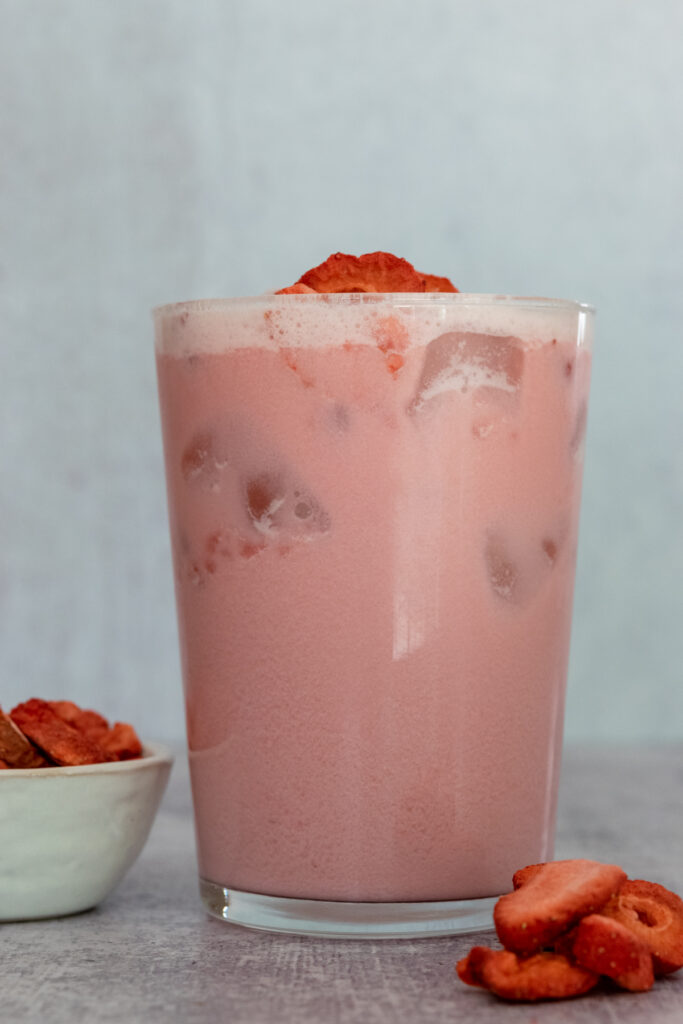 Related
Want to save this recipe to make later?
PIN it to your Pinterest board!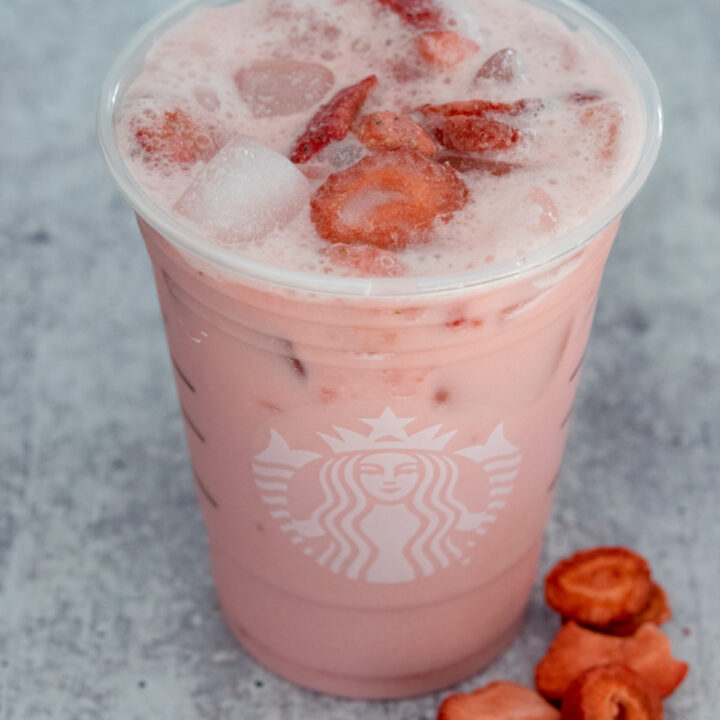 Keto Pink Drink (Starbucks Copycat)
Additional Time:
2 minutes
See how to make a Starbucks keto pink drink at home with this easy copycat 4-ingredient recipe. It's simple, low carb and has no added sugar.
Ingredients
2 Passion tea bags
2 cups water, divided
3 tablespoons heavy cream
3 tablespoons sugar-free vanilla syrup
1 /4 cup freeze-dried strawberries
ice
Instructions
Prepare the Tea
Bring 1 cup water to a boil.
Pour water over both Passion tea bags and steep for 5 minutes. Discard tea bags.
Let tea cool for a couple minutes, then add 1 cup very cold water to the concentrated tea to bring it to regular strength.
Make the Keto Pink Drink
Add 1 cup (8 ounces) Passion tea to a drink shaker or jar with lid.
To the tea, add sugar-free vanilla syrup (or Keto sweetener of your choice), heavy cream, ice and freeze-dried strawberries. (Substitute with sliced fresh strawberries, if desired.)
Shake the keto pink drink at least 10 times like a Starbucks barista, to combine flavors.
Pour completed pink drink into 16-ounce cup or a grande Starbucks cold cup (if you have one). Top off with more ice and strawberries if desired.
Notes
For the quickest at-home keto pink drink, use Tazo Iced Passion concentrate combined with water in place of tea bags.
This keto pink drink recipe is very low carb and contains 0 grams of added sugar. The only carbs and naturally-occurring sugars are in the strawberries. The heavy cream provides 5 grams fat per tablespoon.
Passion tea contains hibiscus which may give a curdling appearance when combined with heavy cream. If this occurs while drinking your real Starbucks keto pink drink or this copycat version, just give the drink a stir. For this reason, it's best to use regular strength tea and not the concentrated tea.
Recommended Products
As an Amazon Associate and member of other affiliate programs, I earn from qualifying purchases.
Nutrition Information
Yield

1
Serving Size

16 ounces
Amount Per Serving
Calories

156
Total Fat

15g
Saturated Fat

10.5g
Trans Fat

0g
Cholesterol

60mg
Sodium

22.5mg
Carbohydrates

4.6g
Fiber

.63g
Sugar

3.4g
Protein

.4g