Pink Drink with Matcha Cold Foam at Starbucks
A Pink Drink with Matcha Cold Foam is a delicious Starbucks secret menu drink that is simply a regular Pink Drink topped with a creamy layer of matcha cold foam.
The Pink Drink is one of Starbucks popular Refreshers drinks. On its own, a Pink Drink is a seriously refreshing combination of strawberry acai Refreshers base, coconut milk and strawberry fruit inclusions. Topped with a layer of matcha cold foam, each sip is even creamier and sweeter.
There's a lot to love about this beautiful green and pink beverage. Not only is it tasty and energizing, but you can get it whenever you want.
Unlike some secret menu drinks that are made with seasonal ingredients, like an Iced Chai with pumpkin cold foam, pink drinks and Starbucks matcha drinks are always on the menu.
RELATED:
– Best Starbucks Matcha Drinks
– Best Starbucks Refreshers Drinks
What's in a Matcha Pink Drink
Wondering exactly what's in this customized Pink Drink?
A Starbucks matcha pink drink has two components, the pink drink itself and a decadent layer of matcha cold foam. To make it even sweeter, ask for strawberry drizzle on top.
1. Pink Drink
This customized beverage, with lots of "likes" on TikTok, begins with a regular Pink Drink. The barista shakes together strawberry acai juice, coconutmilk, freeze-dried strawberries and ice. Make note, the strawberry acai base contains sugar and is caffeinated with green coffee extract.
2. Matcha Cream Cold Foam Topping
Matcha cold foam is what takes this drink to the next-level. It also makes it super Instagrammable.
To make the matcha cold foam the barista blends vanilla sweet cream with a scoop of sweetened matcha powder. The result is a slightly matcha-flavored heavy-cream topping that makes each sip extra sweet and delicious.
3. Strawberry Puree (optional)
If you love Starbucks strawberry drinks like me and want to add even more strawberry goodness, ask for strawberry drizzle on top. Just keep in mind, each customization has an up-charge.
How It Tastes
A Pink Drink topped with matcha cream cold foam is an amazing drink. It especially hits the spot on a warm summer day when you want a caffeine buzz but don't want coffee.
Many people describe the Pink Drink as tasting like a fruity Starburst candy or a strawberry milkshake. I think it's a combination of the two.
But what makes this drink worthy of TikTok fame is its creamy layer of matcha.
I mean, just think about it.
Starbucks sweet matcha is blended into a mix of sweetened vanilla syrup and heavy cream. You know, the uber popular Starbucks cold brew topping.
Served in a cold cup with a lid meant just for cold foam, each sip is creamy and fruity with a hint of matcha.
Of course, I love Starbucks matcha frappuccinos so I'm already partial to decadent matcha creaminess.
How to Order a Pink Drink with Matcha from Starbucks
Sometimes it's tricky to order Starbucks drinks with multiple customizations. I've even put together this list of tips for ordering TikTok Starbucks drinks to help you out.
But what's great about ordering this Pink Drink variation is that it only has one customization.
Here's how to order it:
Foundation Drink: Order a regular Pink Drink from the Starbucks menu (tall, grande, venti or trenta).
Customizations: Ask for a topping of vanilla sweet cream cold foam with a scoop of matcha blended in. If you also want strawberry sauce drizzled on top, be sure to let the barista know.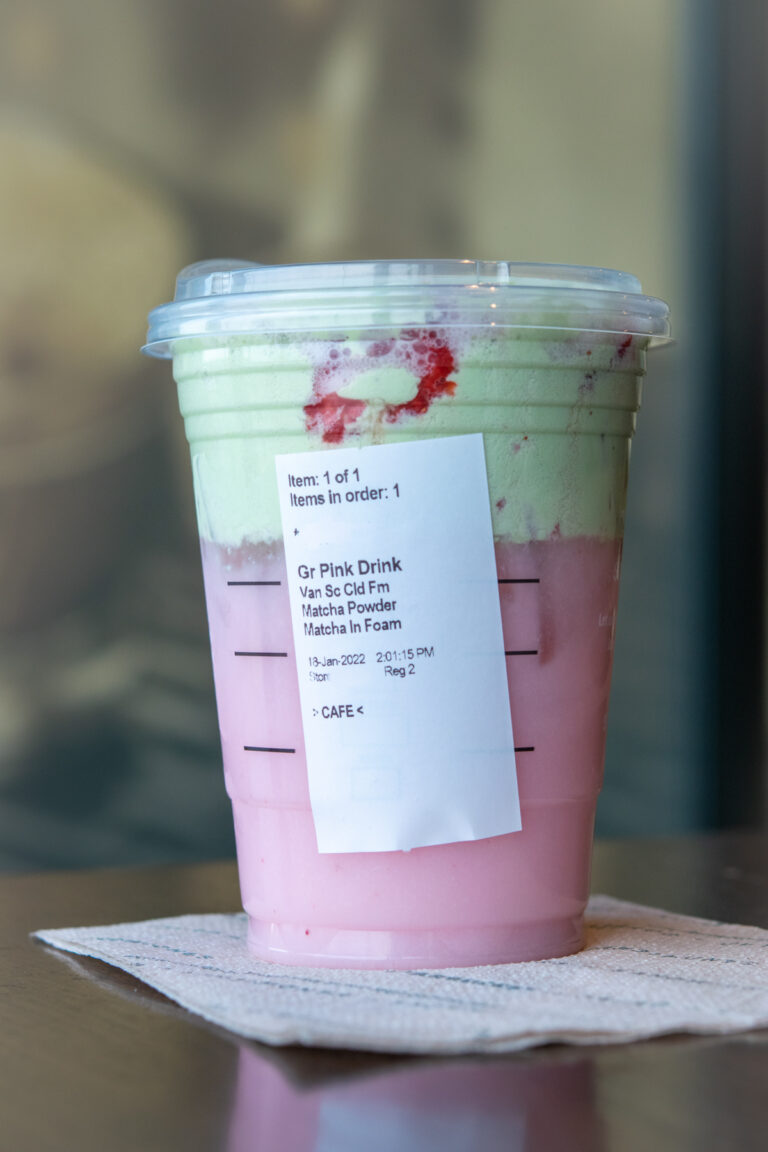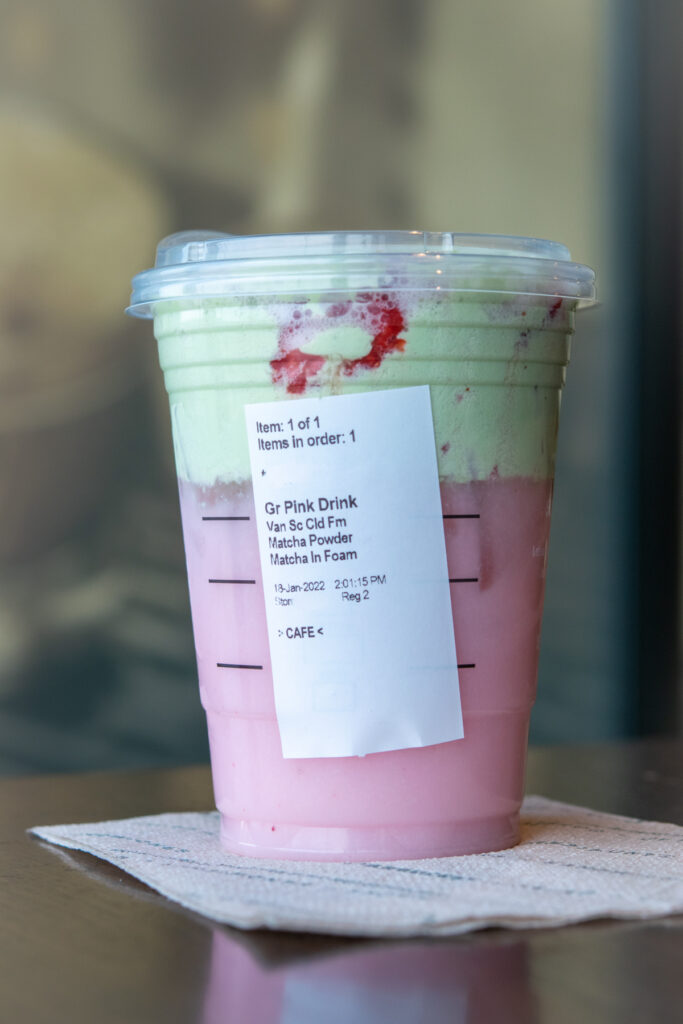 Ordering with the Starbucks App:
Unfortunately, this drink cannot be ordered using the Starbucks app since they don't have an option for matcha cold foam.
But if you order it in person, your barista will know exactly what you want. Just ask for vanilla sweet cream cold foam with a scoop of matcha powder in the foam. It's as simple as that!
Cost to Customize this Drink: A topping of sweet cream cold foam adds around $1.25 to the price of the drink and a scoop of matcha powder is .90 cents. Optional strawberry drizzle adds another $1.
Questions You May Have
How do you order a matcha pink drink on the Starbucks app?
A Pink Drink topped with matcha cold foam cannot be ordered using the Starbucks app. There is not a way to indicate that you want matcha blended into the foam. When ordering in person, simply get a pink drink and ask for a topping of vanilla sweet cream cold foam with a scoop of matcha blended in the foam.
Does a Pink Drink with matcha cold foam have caffeine?
A Pink Drink is a caffeinated Refreshers beverage and a grande has 45-55 mg of caffeine. Additionally, Starbucks matcha powder contains caffeine. One scoop has approximately 20 mg of caffeine. In total, a pink drink with matcha cold foam has 65-75 mg of caffeine.
Related