Starbucks Pink Drink with chocolate cold foam is absolutely delicious. See what it tastes like and how to order this chocolate-covered strawberries drink.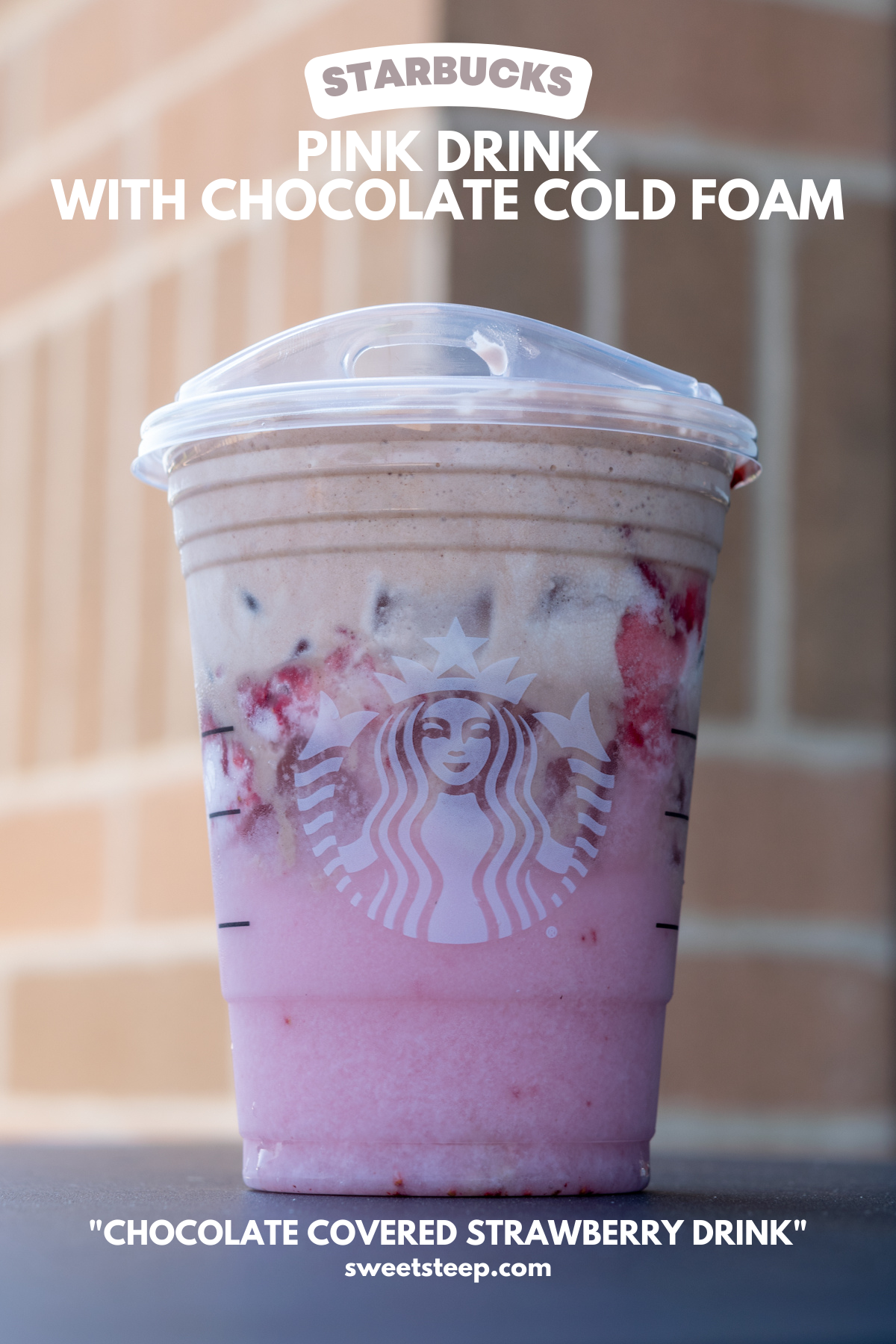 Starbucks Pink Drink with Chocolate Cold Foam
Starbucks Pink Drink with Chocolate Cold Foam is a layered Refreshers beverage that tops a strawberry flavored Pink Drink with creamy chocolate cold foam.
The drink's secret menu name is the Chocolate Covered Strawberry Drink.
For obvious reasons, drink orders for this customized Pink Drink spike during Valentine's Day. But you can get it anytime of year.
And let me tell you, it's a thing of beauty. So much so that quite a few people stopped and asked me, "what is that drink?" when I was sipping on it.
Perhaps Starbucks should add a Chocolate Cream Pink Drink to the official menu.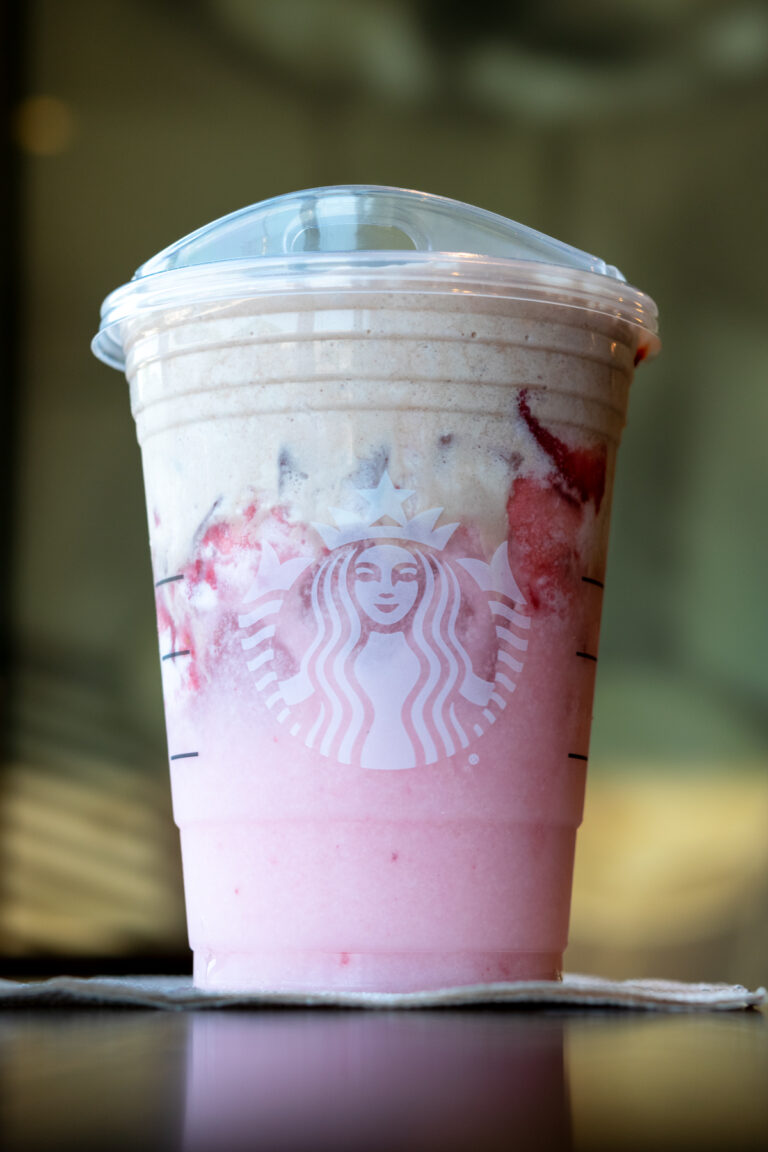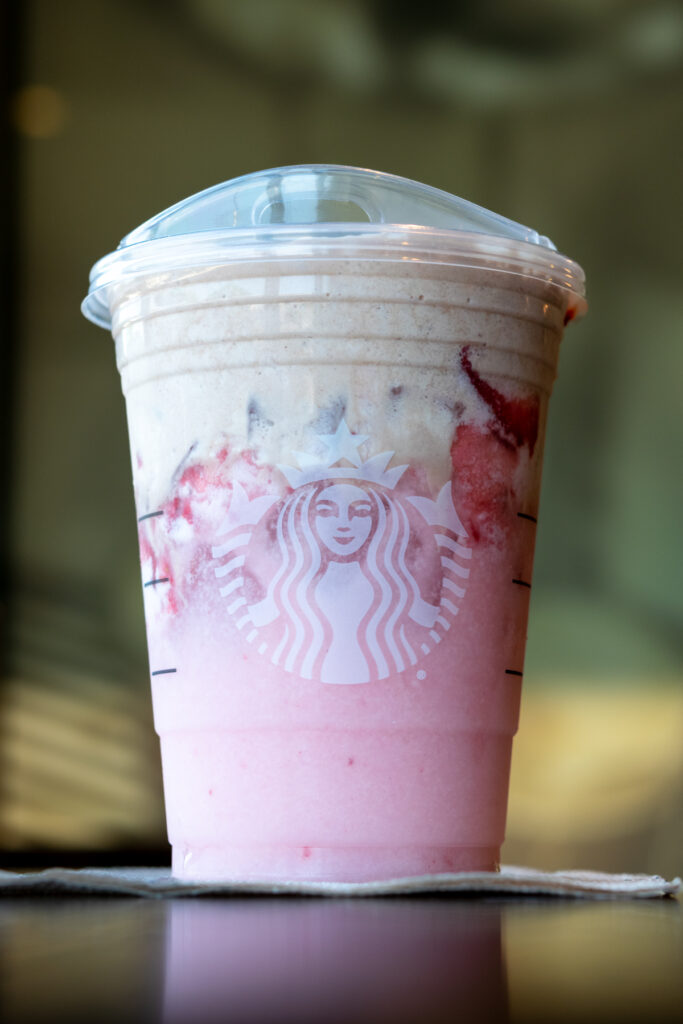 What the Pink Drink with Chocolate Tastes Like
If you love chocolate and strawberries, then you'll love the Starbucks Pink Drink topped with mocha cold foam.
Each creamy sip is rich and chocolaty combined with a refreshing fruitiness.
To me the Chocolate Covered Strawberry Pink Drink tastes like melted Neapolitan ice cream (the one with strawberry, chocolate and vanilla).
And let me tell you this drink is absolutely delicious.
It's served with a lid made for cold-foam-topped beverages. This way you can get a mouthful of everything the drink has to offer.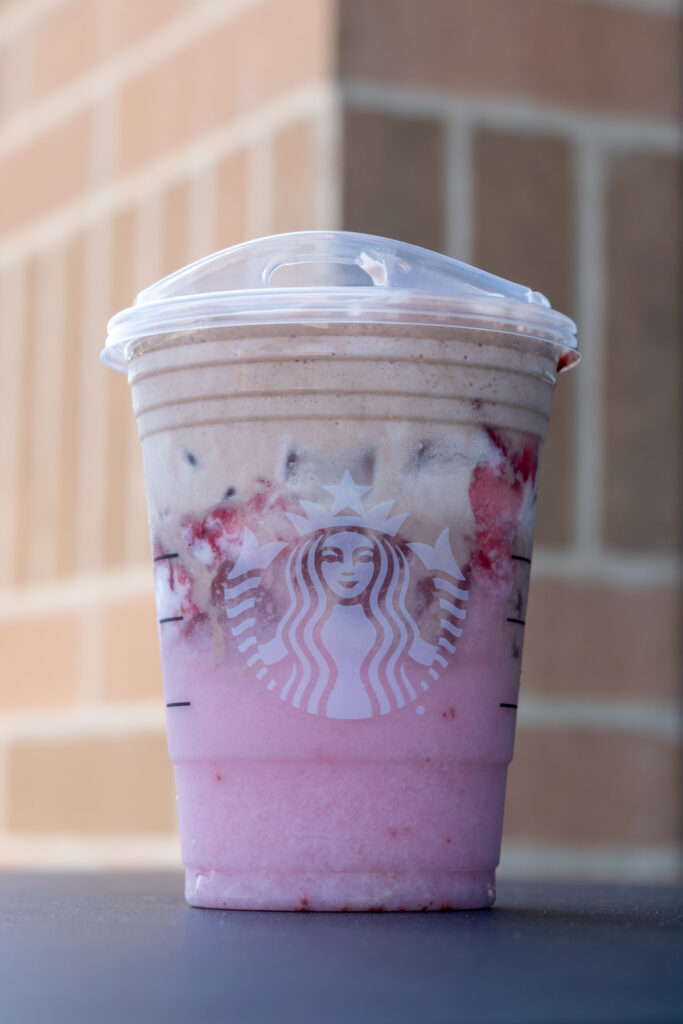 What's in this Modified Pink Drink
This drink is simply a Pink Drink that is customized with chocolate cream. Here's exactly what's in it.
Pink Drink
A Starbucks Pink Drink is a creamy version of one of the most popular refreshers at Starbucks, the Strawberry Acai Refresher. This iced beverage combines strawberry acai juice with creamy coconut milk and a scoop of real strawberries.
Baristas shake together these four ingredients to make it: ice, strawberry acai base, coconutmilk and freeze-dried strawberries.
Chocolate Cold Foam
Chocolate cold foam at Starbucks is simply vanilla sweet cream cold foam that has chocolate malt powder blended into it.
The regular vanilla sweet cream itself contains heavy cream, milk and vanilla syrup.
Baristas add a scoop of chocolate powder to the vanilla cream and turn it into chocolate cold foam using a special blender.
The cold foam is thick enough to sit on top of cold beverages, but thin enough to slowly cascade into the drink.
How to Order the Chocolate Covered Strawberry Pink Drink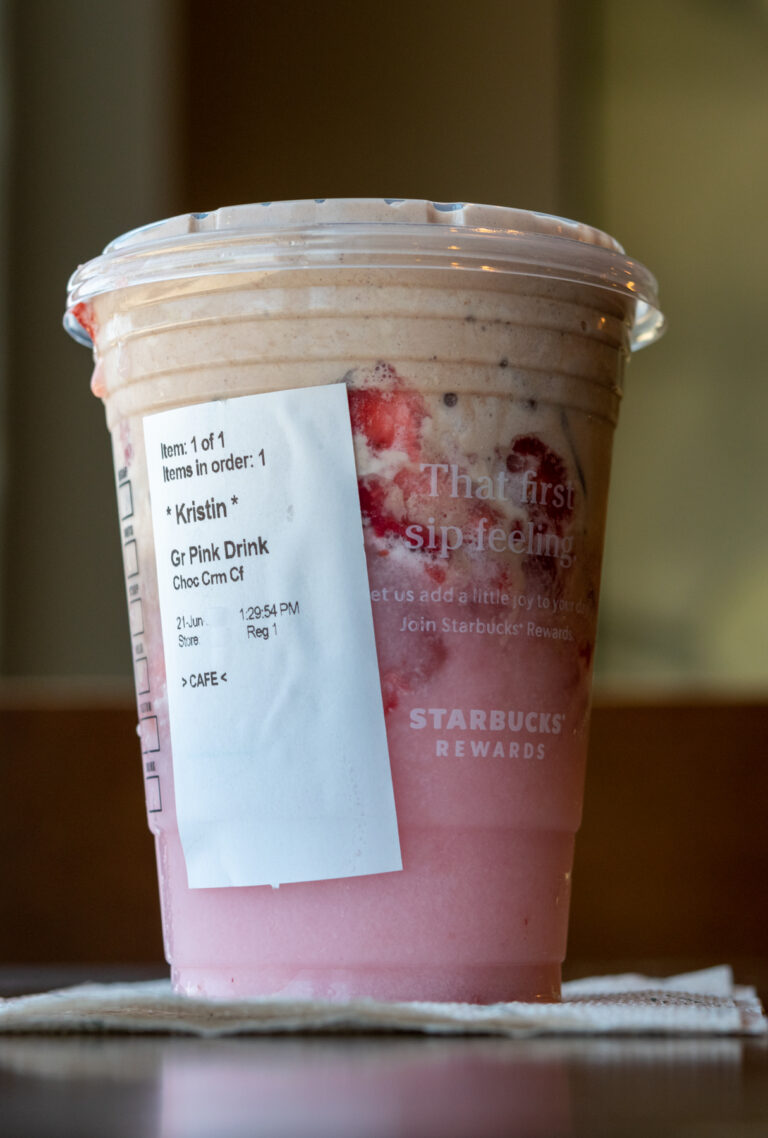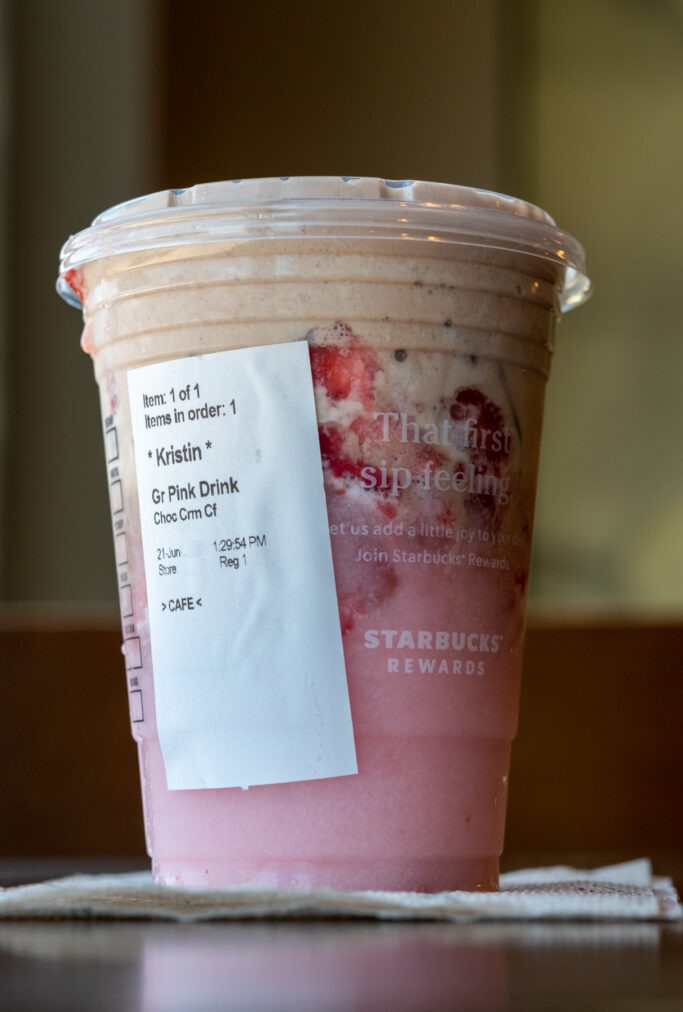 There are two ways to order Starbucks drinks: from the barista and with the Starbucks app.
To Order from the Barista
To order a chocolate strawberry drink, ask for a Pink Drink with chocolate cream cold foam.
Don't order the drink by it's secret menu or TikTok name. Baristas don't necessarily know them.
To Order with the Starbucks App
Go to the cold drinks section of the menu and select the Pink Drink from the Starbucks Refreshers section.
Select your desired drink size, then tap the customize button.
Under Toppings, tap "add cold foam" and choose chocolate cream cold foam.
A customization of chocolate cold foam adds about $1.25 to the drink price.
RELATED: How to Order a Starbucks Pink Drink with Matcha Cold Foam
Calories in this Drink
A chocolate covered strawberry drink has significantly more calories than a regular Pink Drink.
Here's a look at how many calories are in an unmodified Pink Drink and approximately how many it has with chocolate cold foam on top.
Calories in Standard Pink Drink
A Pink Drink made according to the Starbucks recipe card has about 9 calories per fluid ounce.
According to Starbucks, a standard pink drink has this many calories per size: tall 110 calories; grande 140 calories; venti 200 calories; and trenta 270 calories.
RELATED: Is the Pink Drink Healthy? Starbucks Nutrition Facts for Every Size
Calories in Pink Drink with Chocolate Cold Foam
Depending on the size ordered, the rich layer of chocolate cold foam adds approximately 175 to 260 more calories to the drink.
Overall, the estimated calorie count in a Pink Drink with chocolate cold foam is: tall 285 calories; grande: 360 calories; venti: 455 calories; trenta 530 calories.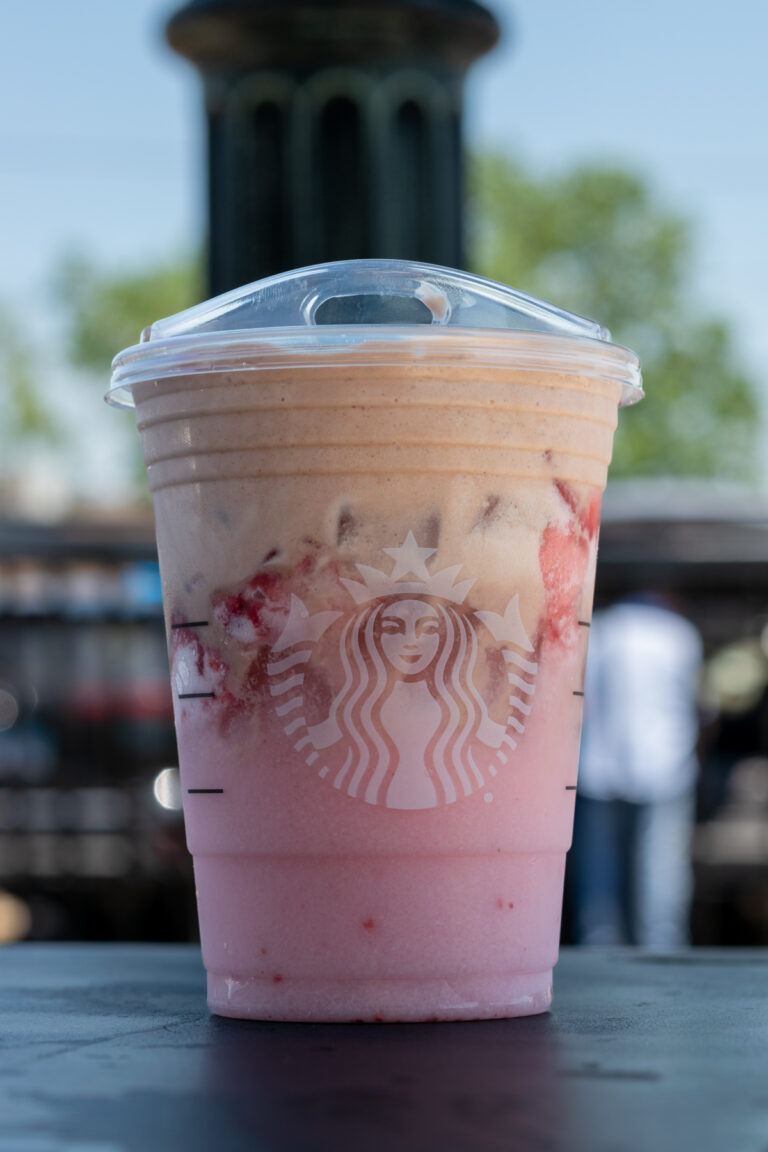 More Starbucks Chocolate and Strawberries Drinks
A Pink Drink with mocha cold foam is perhaps the most popular chocolate and strawberry drink at Starbucks, but it's not the only one.
Starbucks has strawberry puree and chocolate drizzle on-hand, as well as chocolate cookie crumbles. So there are lots of strawberry and chocolate drink possibilities.
For a decadent treat, try a Starbucks chocolate covered strawberry frappuccino. Just ask for a Strawberry Crème Frappuccino with either chocolate sauce or cookies, or both!
A popular coffee version of a chocolate covered strawberry is to add raspberry syrup to a Chocolate Cream Cold Brew.
RELATED: How to Order a Keto Starbucks Pink Drink
Questions You May Have
Does a Starbucks chocolate covered strawberry drink have caffeine?
Refreshers at Starbucks, including the strawberry Pink Drink, are caffeinated beverages. A grande has about 45 milligrams of caffeine and a topping of chocolate cold foam adds a little more.
Are chocolate covered strawberry drinks only available for Valentine's Day at Starbucks.
While a Pink Drink with chocolate cold foam is a popular drink to order on Valentine's Day, you can get it anytime at Starbucks. The ingredients to make it are always available.
Related