Wondering if Starbucks Refreshers have caffeine? You're not alone. In this guide discover everything there is to know about caffeine in Starbucks Refreshers Beverages, along with the caffeine content for every flavor and size.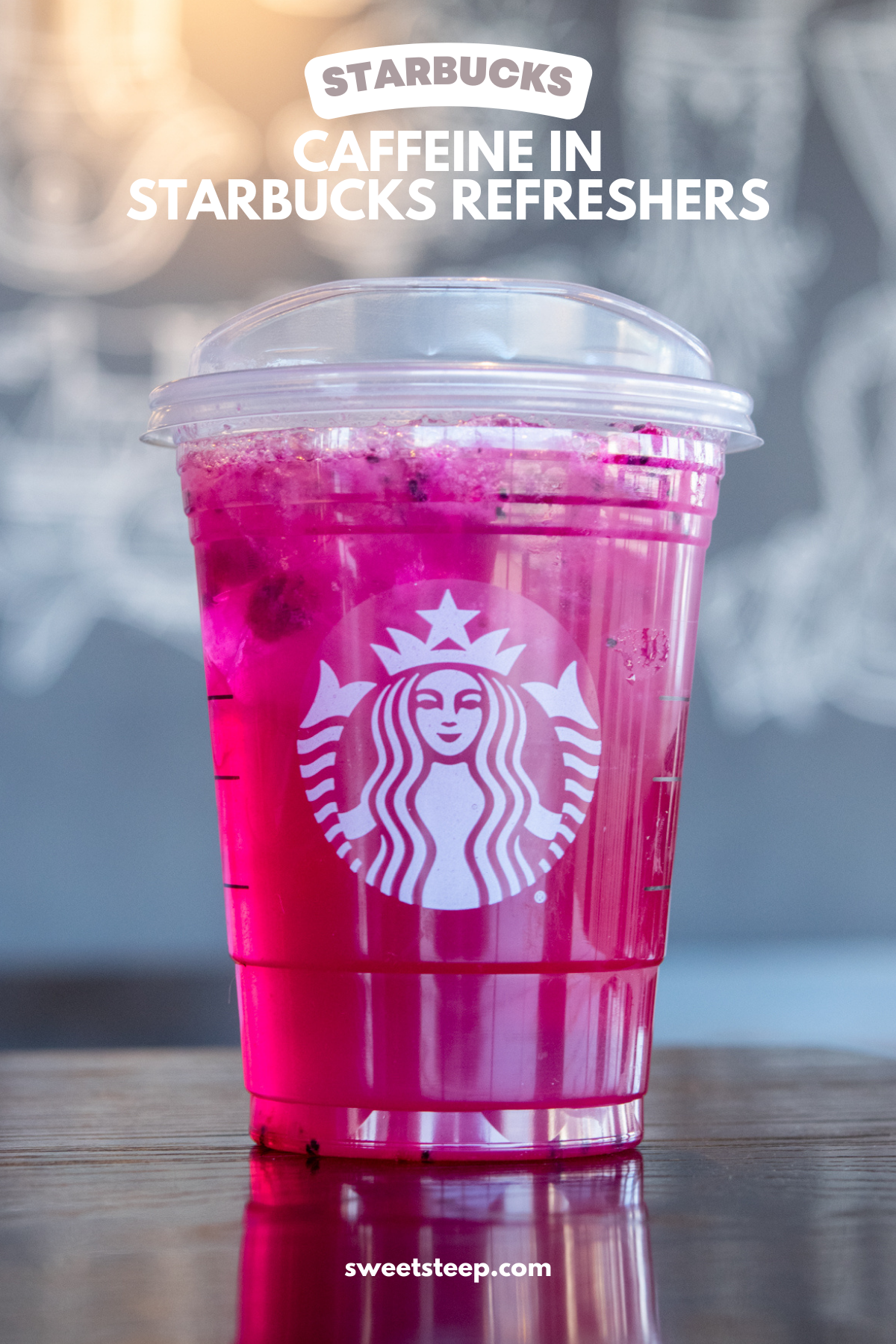 Shaken with ice and real pieces of fruit, Starbucks Refreshers are one of the most popular types of non-coffee drinks at Starbucks.
But these colorful fruit beverages, have people wondering if they're caffeinated or not.
In fact, Starbucks baristas are asked all the time if Refreshers have caffeine.
My long-time barista daughter tells people ask about Refreshers and caffeine content almost daily, including parents, pregnant women, people sensitive to caffeine, and anyone else trying to avoid it.
Starbucks Refreshers Menu
Strawberry Acai Refresher
Strawberry Acai Lemonade
Pink Drink (Strawberry Acai + Coconutmilk)
Mango Dragonfruit Refresher
Mango Dragonfruit Lemonade
Dragon Drink (Mango Dragonfruit + Coconutmilk)
Pineapple Passionfruit Refresher
Pineapple Passionfruit Lemonade
Paradise Drink (Pineapple Passionfruit + Coconutmilk)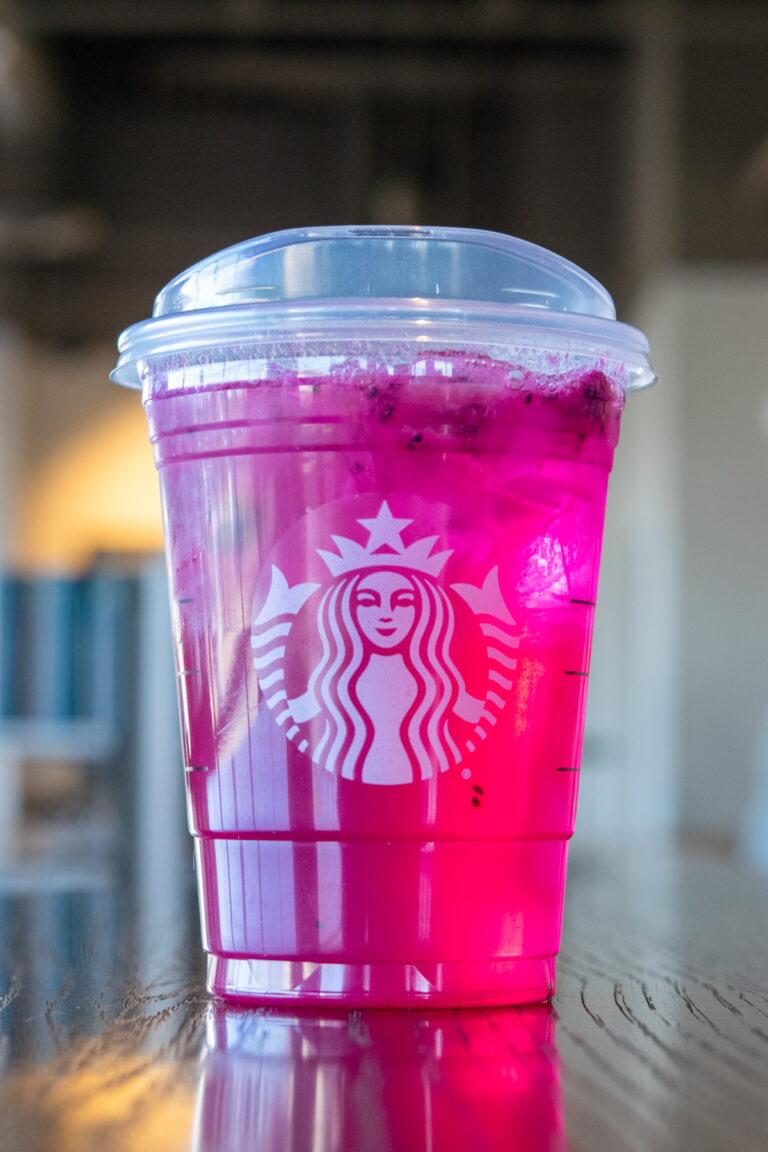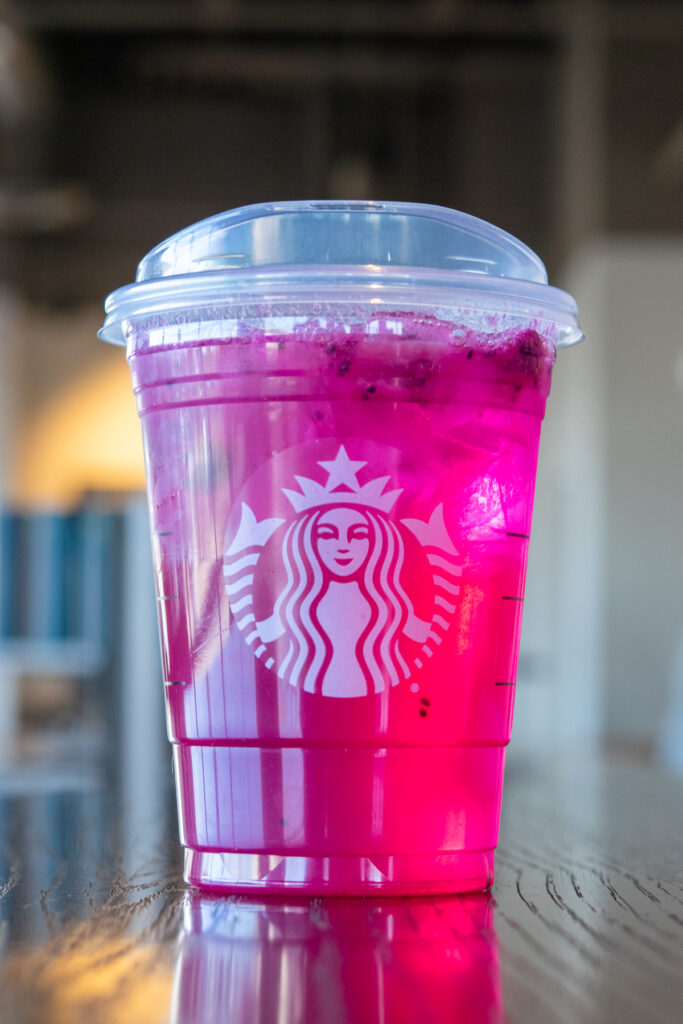 Refreshers come in three flavors: strawberry acai, mango dragonfruit and pineapple passionfruit.
Each flavor can be combined with lemonade or coconut milk, or ordered plain, for a total of nine options.
RELATED: Best Starbucks Refreshers
Do Starbucks Refreshers Have Caffeine?
Every single Starbucks Refreshers beverage contains caffeine.
According to Starbucks, a grande Refresher provides 45 to 55 milligrams of caffeine. For perspective, a Starbucks iced coffee boasts three times as much caffeine as a Refresher!
This is because the three concentrated juice bases (strawberry acai, mango dragonfruit and pineapple passionfruit) have a just a little bit of caffeine added in. Unlike coffee, the caffeine in Refreshers is not naturally occurring.
Furthermore, since the Refresher bases come to Starbucks in pre-packaged boxes, there is no way to order a decaffeinated or caffeine-free Refresher drink.
Source of Caffeine in Refreshers
The caffeine in Starbucks Refreshers comes from green coffee extract.
Even though the source of caffeine is coffee beans, Refreshers do not taste like coffee at all.
Green coffee beans have never been roasted, and it's the roasting process that creates the rich, roasty coffee flavor that we enjoy in regular coffee and espresso drinks.
Bottom line, Refreshers are caffeinated with green coffee extract, but without any coffee flavor. The result is a fruity beverage that gives you a little perk.
How Much Caffeine is in a Starbucks Refresher
Specifically, handcrafted Starbucks Refreshers contain 2.9 to 3.4 mg of caffeine per fluid ounce.
This means, a 16-ounce grande Strawberry Acai Refresher has at least 45 mg of caffeine, and a 24-ounce venti has a minimum 70 milligrams.
In other words, Refreshers have enough caffeine to give you a boost, but not so much that you get caffeine jitters.
Starbucks describes the amount of caffeine in their line-up of Refreshers beverages as, "just the right amount."
To me, it's the perfect drink to order to take away an afternoon slump.
Caffeine Content by Drink Size
12-ounce Tall: 35-45 mg
16-ounce Grande: 45-55 mg
24-ounce Venti: 70-85 mg
30-ounce Trenta: 90-110 mg
Do all flavors of Refreshers have the same amount of caffeine?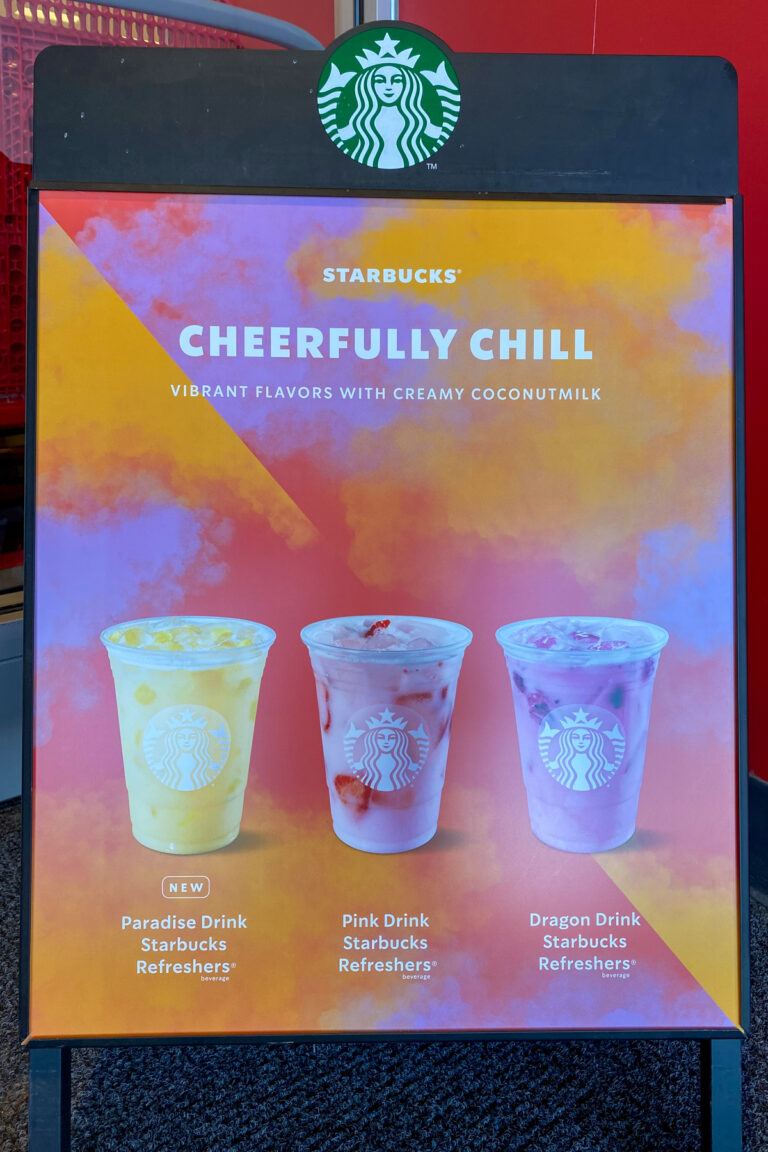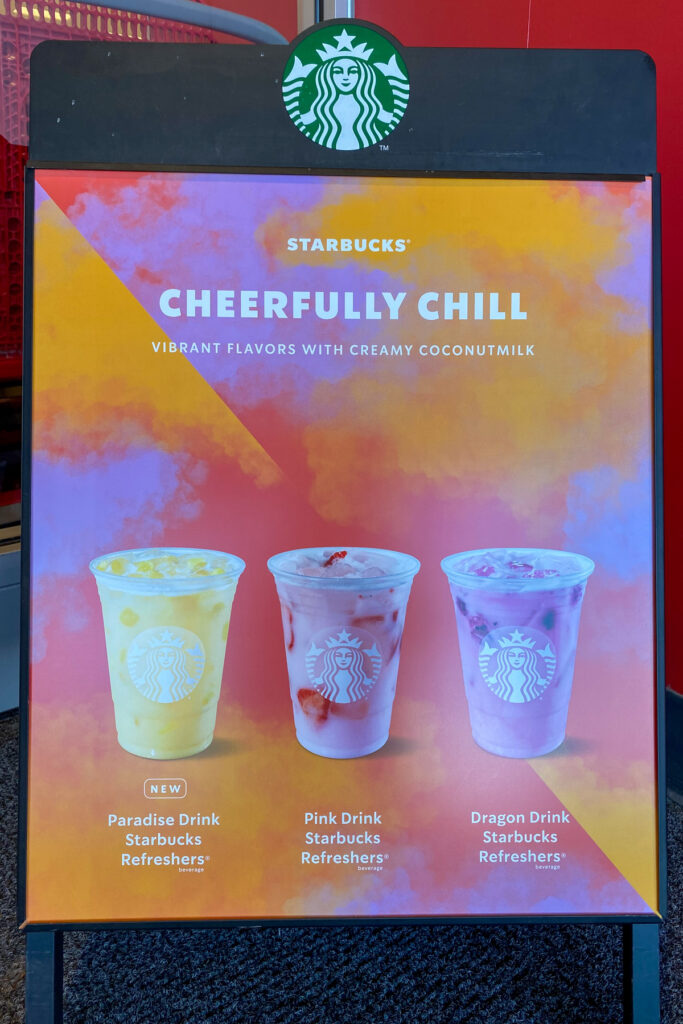 The caffeine content for all three flavors of Refreshers is identical.
Whether you order strawberry acai, mango dragonfruit or pineapple passionfruit, according to Starbucks nutrition facts, you can expect the same amount of caffeine.
| | |
| --- | --- |
| Starbucks Refreshers Flavors | Caffeine in Grande |
| Strawberry Acai | 45 mg |
| Mango Dragonfruit | 45 mg |
| Pineapple Passionfruit | 45 mg |
All flavors of Starbucks Refreshers have the same caffeine content.
Do regular, lemonade and coconut milk Refreshers have the same amount of caffeine?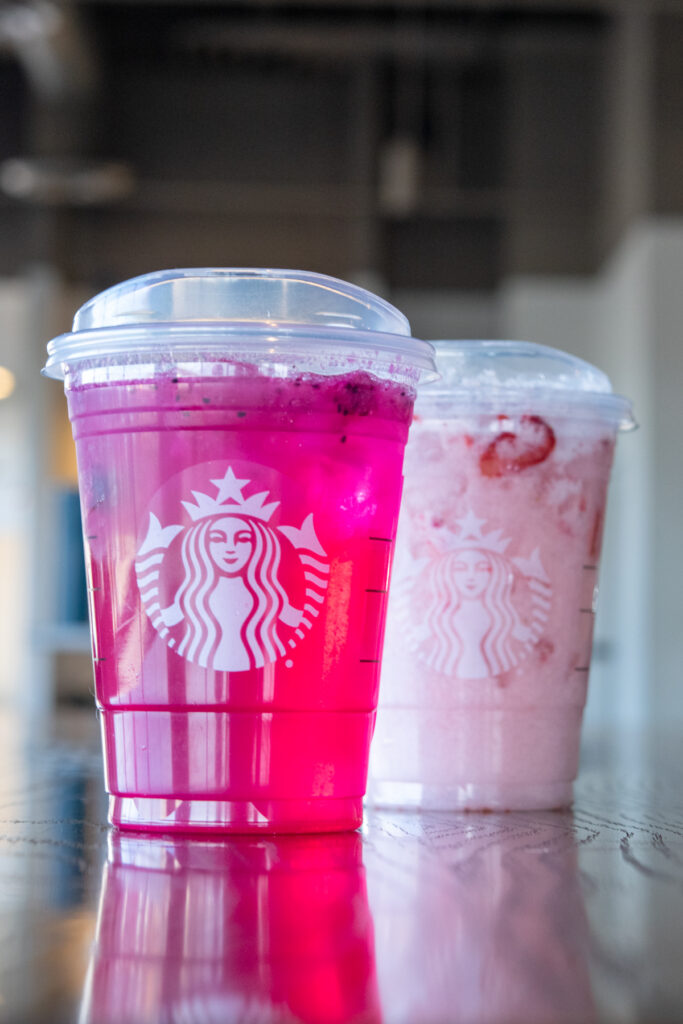 The caffeine content for every Refresher drink on the menu is the same no matter what other drink the concentrated juice base is combined with: water, lemonade or coconut milk.
For instance, a 24-ounce venti Strawberry Acai Refresher, Strawberry Acai Lemonade and Pink Drink each have the same level of caffeine, 70 milligrams.
| | |
| --- | --- |
| Kinds of Starbucks Refreshers | Caffeine in Venti |
| Strawberry Acai | 70 mg |
| Strawberry Acai Lemonade | 70 mg |
| Pink Drink (Strawberry Acai + Coconutmilk) | 70 mg |
Refresher drinks ordered plain, with lemonade or with coconut milk, all have the same amount of caffeine.
RELATED: Is the Pink Drink Healthy? Starbucks Nutrition Facts for Every Size
Can I add more caffeine to a Refresher?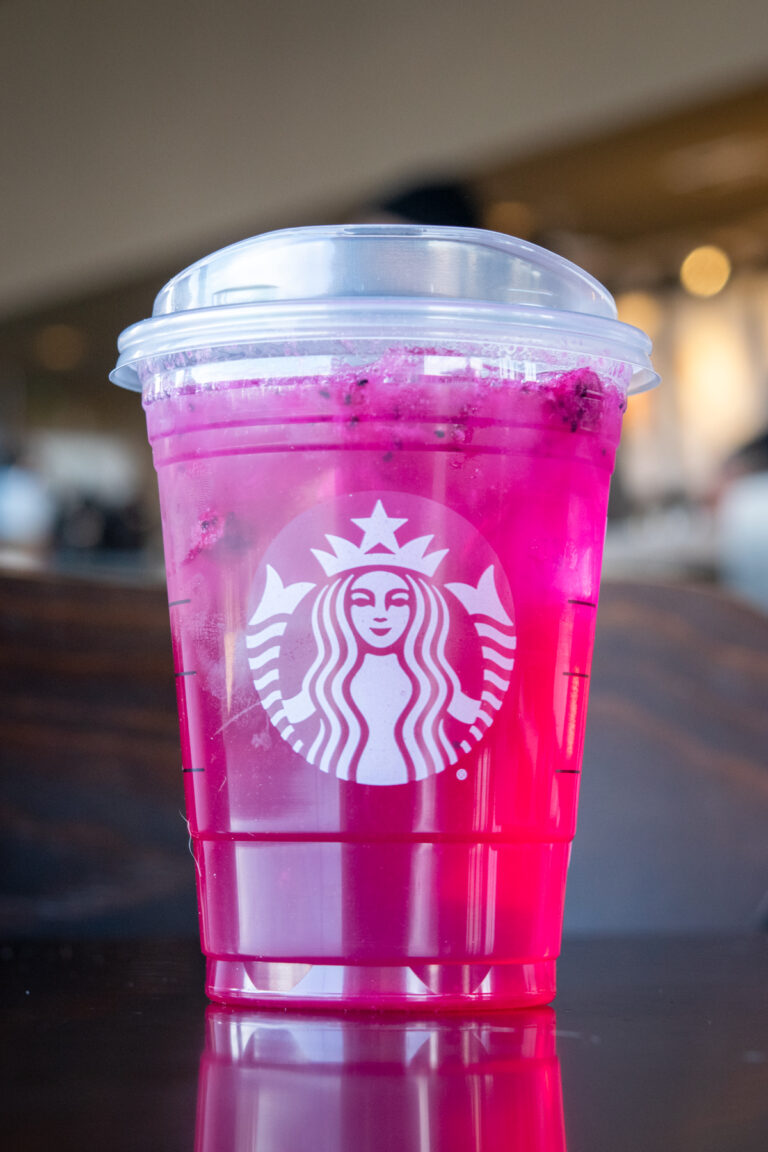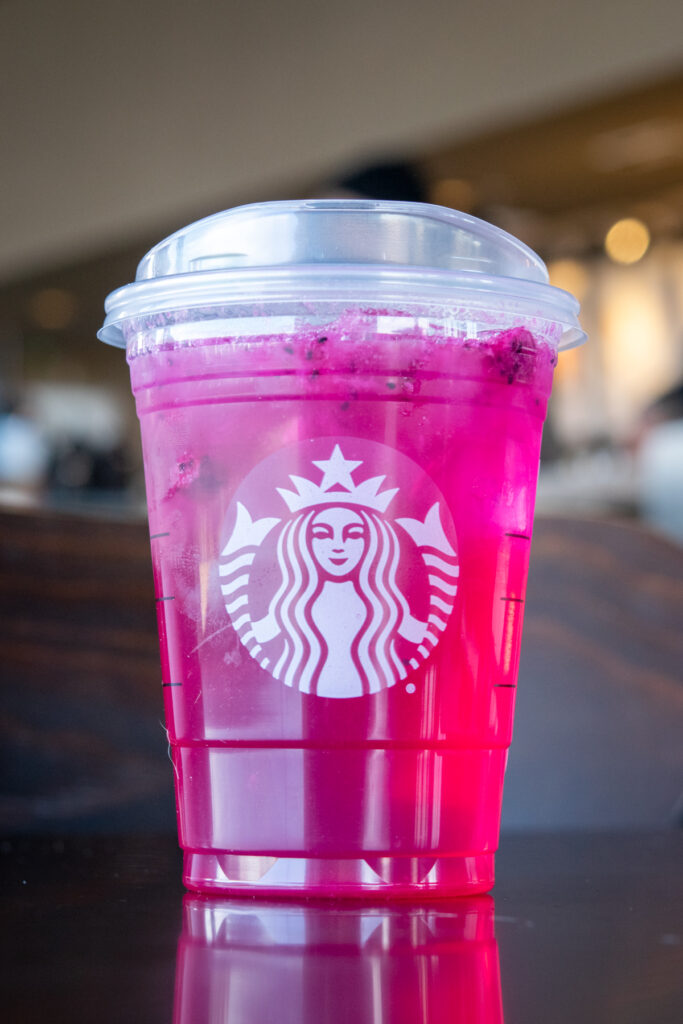 Starbucks baristas cannot increase the amount of caffeine in Refreshers by adding in more green coffee extract.
If you want a little more caffeine in a Refresher, you have two options.
Order a Refresher with no or light ice
Combine a Refresher with iced black tea or iced green tea
Decreasing the amount of ice, increases the amount of caffeinated juice and the other drink it's mixed with (water, lemonade or coconut milk).
The barista does their best to keep the original ratio of drink ingredients the same.
If you combine a grande Refresher with iced black or green tea, you can expect an additional 15 mg of caffeine at the most.
The total caffeine content for the Refresher iced tea clocks in at about 60 mg.
The Starbucks app only allows you to customize a Refresher with a splash of tea, so if you want to fully replace lemonade with iced tea, you have to order in person.
Caffeine-Free Alternatives to Refreshers
If you're looking for a cold, refreshing Starbucks drink that's completely caffeine-free, the three best alternatives to a Refresher are lemonade, Passion Tango iced tea, or a Blended Strawberry Lemonade.
Passion Tango tea is the only herbal iced tea at Starbucks and doesn't have a drop of caffeine in it.
Just like Refreshers, this tea is delicious combined with lemonade.
For a slushy-like cold drink that hits the spot, a blended strawberry lemonade is another option.
More Starbucks Caffeine Drink Guides