Wondering how you can order a healthy Starbucks chai tea latte? Here are two ways to get a skinny, lower calorie version and still enjoy all the spicy flavor of chai tea and creamy milk.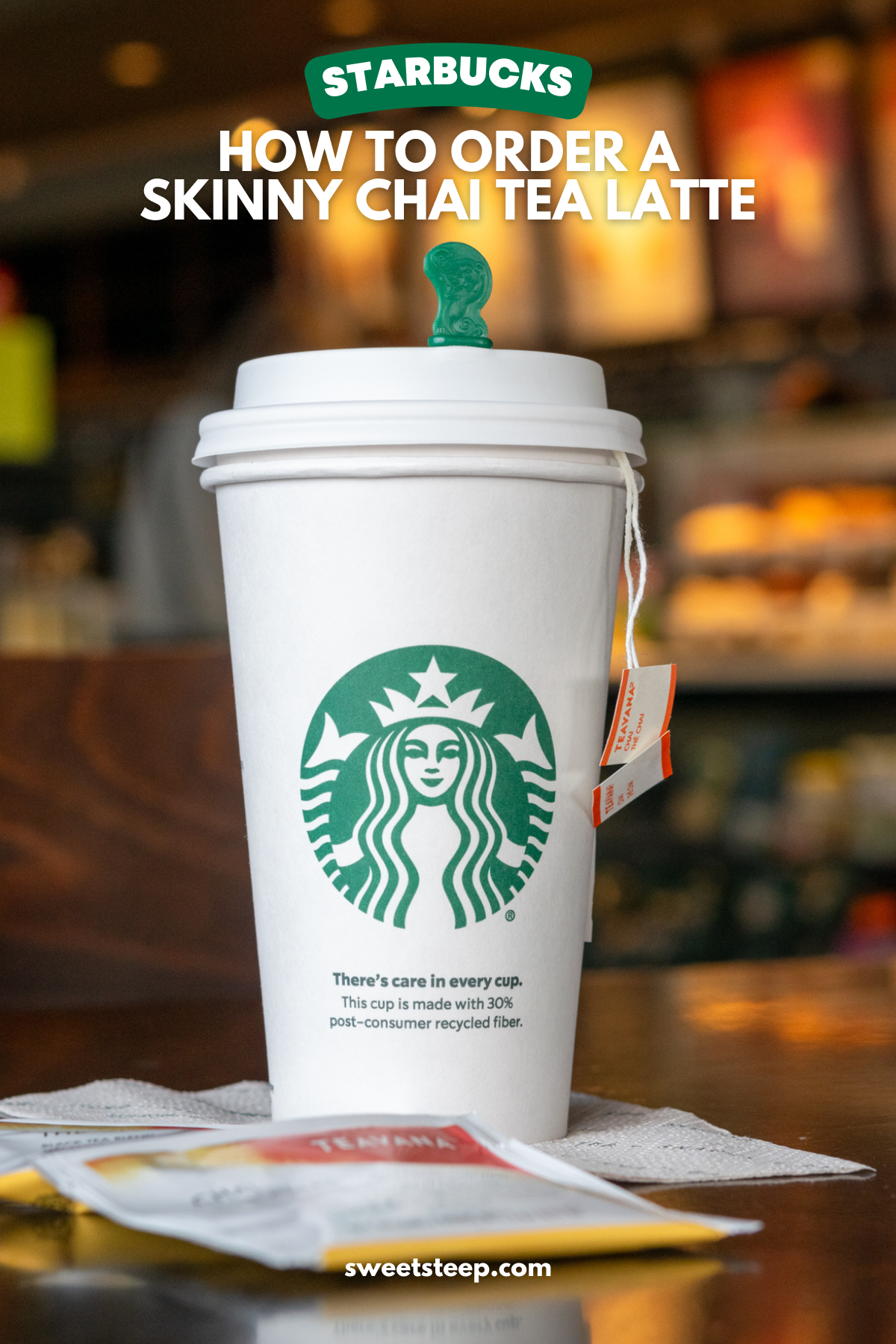 This one is for all the chai tea lovers out there who want to find a way to order a healthy chai tea latte from Starbucks.
Starbucks drink-swap customizations abound, especially if you're watching calories, carbs or sugar. But I've got the skinny on the best way to get a low calorie Starbucks chai tea latte. (Pun, absolutely intended!)
To cut to the chase, it's entirely possible to order a skinny chai tea latte at Starbucks. The skinniest swap is ordering chai tea bags in place of sugary chai tea concentrate.
The next best calorie-cutting option is to order fewer pumps of chai syrup in a regular Starbucks chai latte. A grande normally contains four pumps of chai concentrate, so by asking for two, you slash the chai calories in half.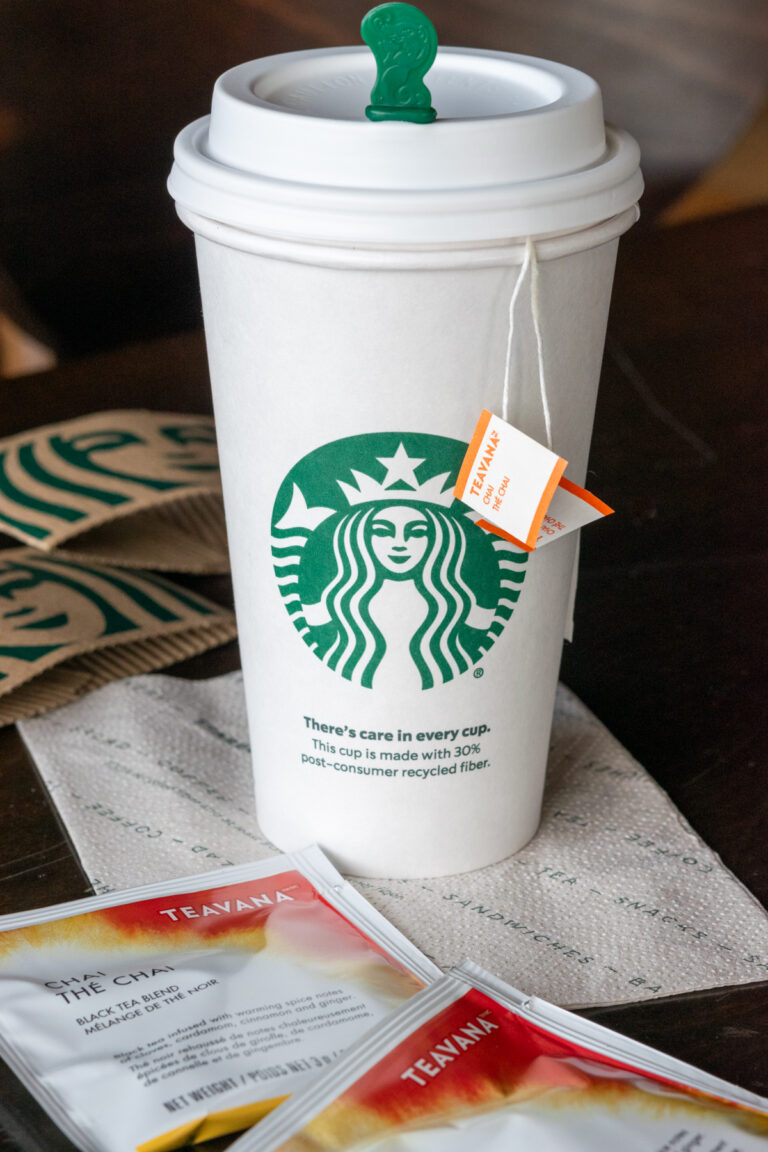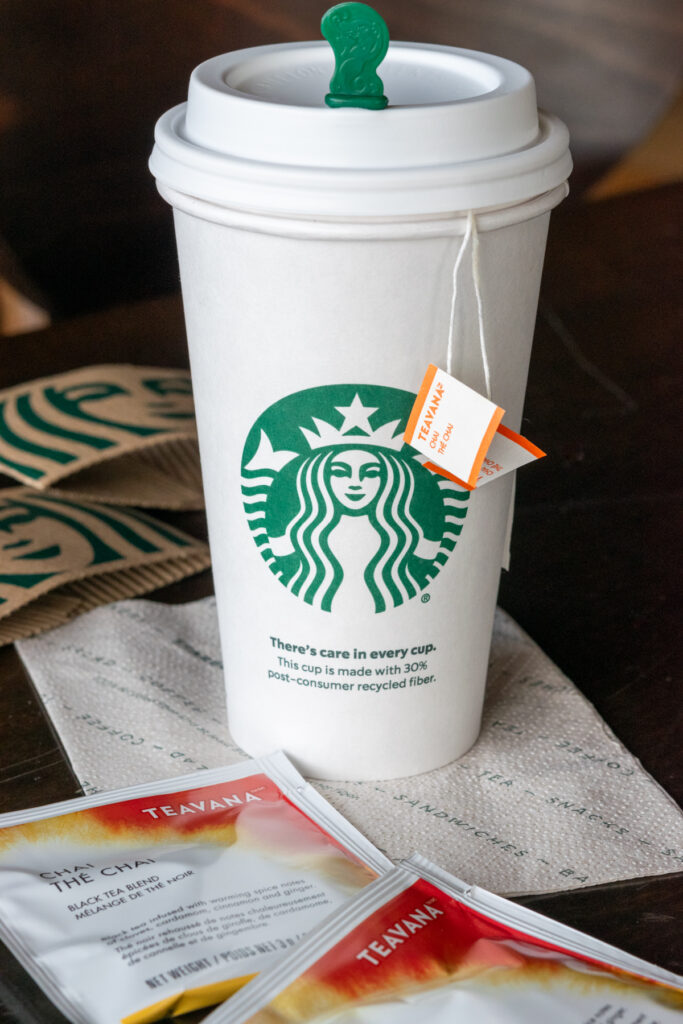 What's in a Skinny Starbucks Chai Tea Latte (Tea Bag Version)
The skinniest chai tea latte you can get at Starbucks is freshly brewed on the spot with Teavana organic chai tea bags.
A tea bag chai tea latte has three ingredients.
Brewed chai tea from tea bags
Steamed milk (choose a low calorie option)
Optional Sweetener
The tea portion of the latte doesn't contain a single calorie!
Combined with a healthy milk choice, and a sweetener where you can control the amount or forgo it altogether, and you've got a healthy chai latte.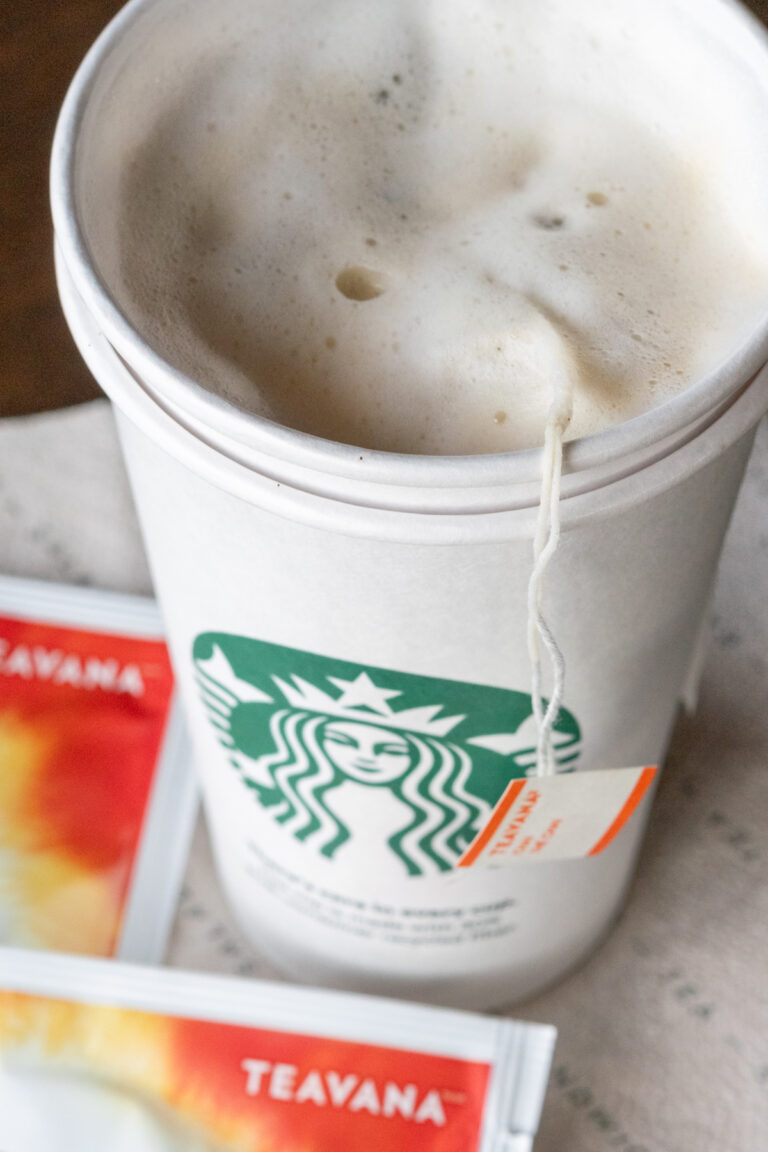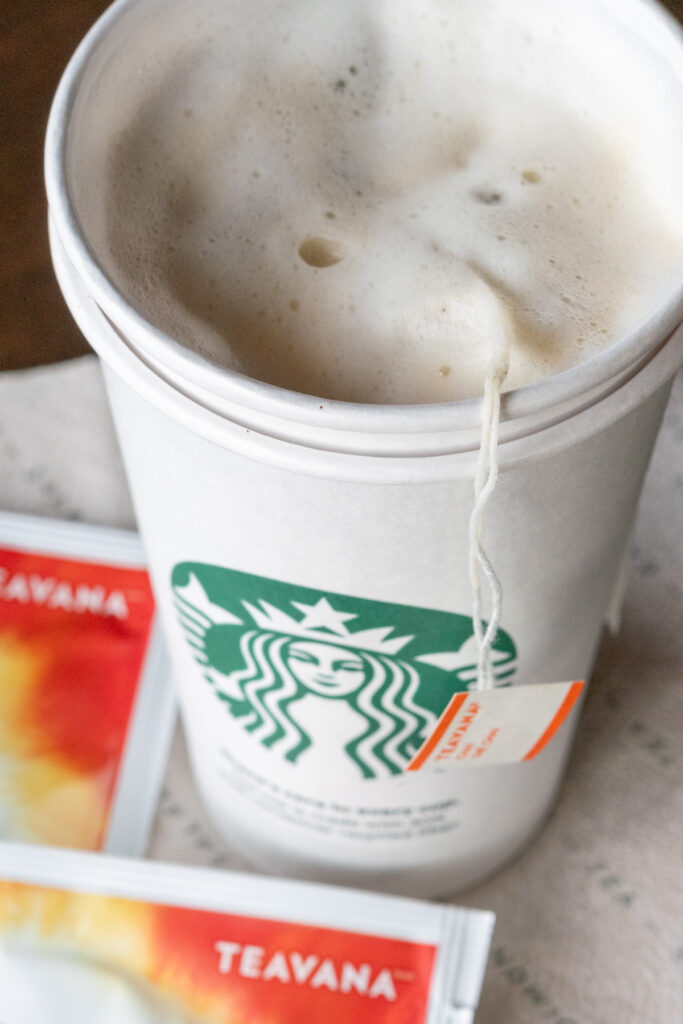 Chai Tea Bags
The Teavana chai tea bag at Starbucks has lots of warm, spicy notes just like the concentrate, though not as strong.
According to the chai tea bag wrapper the ingredients list off as: black tea, ginger, cinnamon, cardamom, black pepper, star anise, cloves, cardamom essence.
The barista brews double-strength tea for the most intense flavor. This way the chai isn't drowned in all the milk.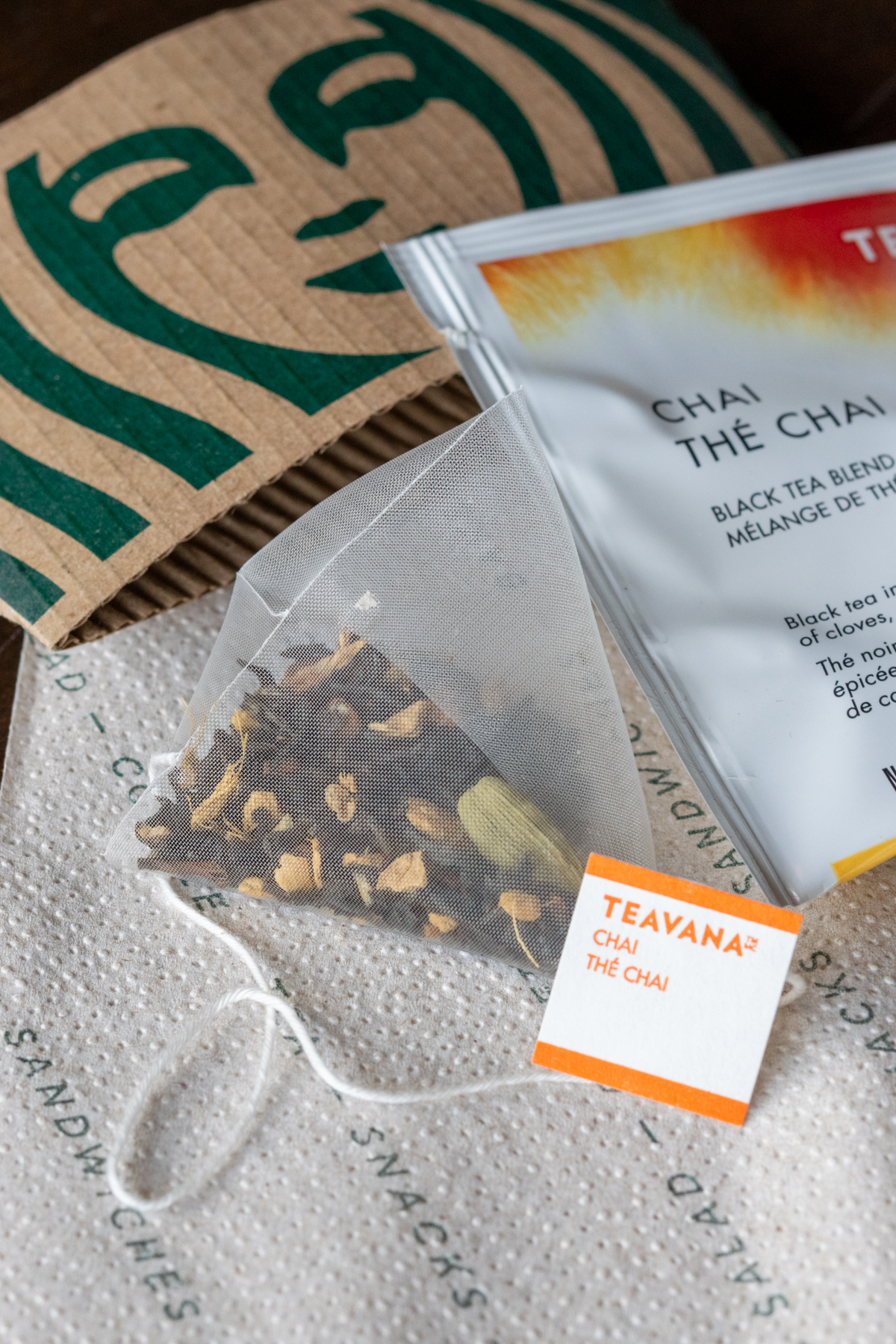 Milk Options
Starbucks offers ten kinds of milk. But skip over half of them for a skinny chai latte.
The milks most often used for skinny drinks are non-fat dairy, almond milk, oat milk, coconut milk and soy.
For a skinny chai latte, I recommend getting almond milk.
At 60 calories per cup, it has the fewest calories out of all Starbucks non-dairy milk options. And the nutty flavor pairs well with the chai spices.
Here's a complete look at Starbucks almond milk's nutrition.
Keep in mind, non-dairy milk at Starbucks ups the price of your drink, but non-fat dairy does not.
Sweetener Options
You can choose to not add any sweetener at all and just combine strongly-brewed chai tea and steamed milk.
However, if you do want to sweeten your latte and keep it skinny (or skinny-ish), you've got options.
Get less pumps of liquid cane sugar or Classic than normal for the size drink you order. For instance, instead of adding 4 pumps of syrup to a grande, just get 1 or 2.
Order sugar-free vanilla syrup. Currently, it's the only sugar-free option.
Add a sweetener packet to the latte. Starbucks has honey, Splenda, Stevia, sugar, and sugar in the raw.
How to Order a Skinny Starbucks Chai Tea Latte
To custom order a low-cal, low-sugar chai tea latte, ask the barista for tea latte made from chai tea bags.
Select the healthiest sweetener according to your dietary goals or sub in sugar-free vanilla syrup.
Then choose a milk. Starbucks almond milk is the healthiest at 60 calories and 4 grams of added sugar per cup.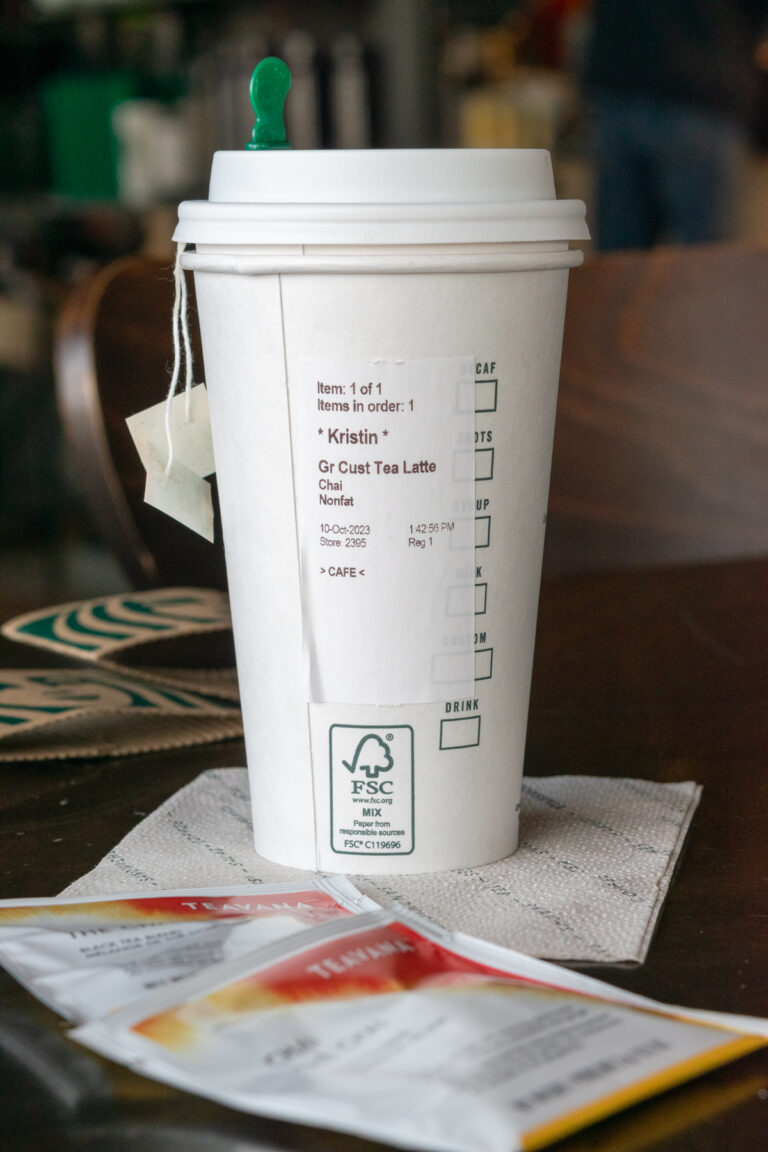 Ordering a chai tea latte made with tea bags takes the barista longer than most other drinks.
The tea bags need to steep at least 3 minutes before the latte is assembled.
For this reason, it's best to skip the drive-thru and order inside.
Order from the Barista
Ask for a chai tea latte made with the chai tea bags and tell them what type of milk and sweetener you want.
If you don't request a specific milk, the default is 2% dairy.
Chances are the barista may ask you for clarification on what you want since they don't often make tea lattes from tea bags.
Just let them know you want it made like the Royal English Breakfast Tea Latte or the London Fog Tea Latte.
Order from the Starbucks App
The chai tea bag version of a chai tea latte cannot be ordered with the Starbucks app.
Unfortunately, it's not possible to customize a regular hot brewed chai tea into a latte using the app.
Nor is it possible to change the type of tea bags for the two brewed tea lattes already on the menu (London Fog and Royal English Breakfast).
Skinny Starbucks Chai Latte Nutrition
Overall, you can control exactly how healthy this healthier version of a chai tea latte is by the add-ins you choose.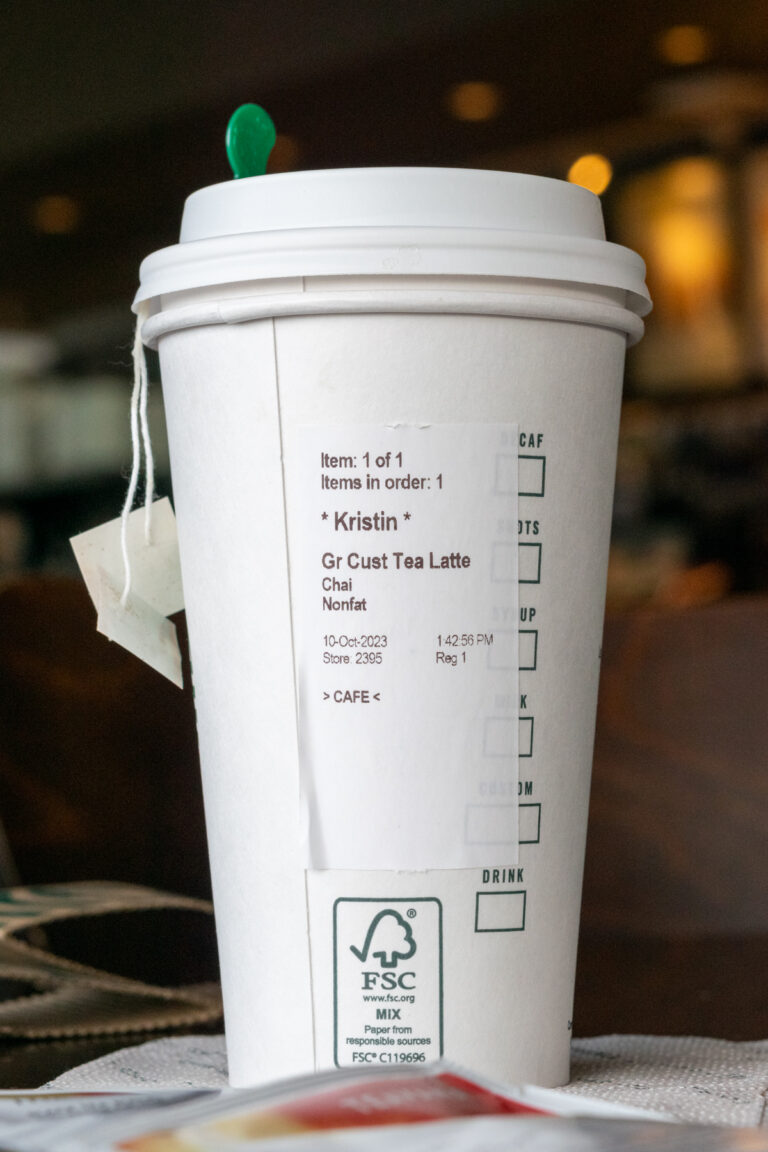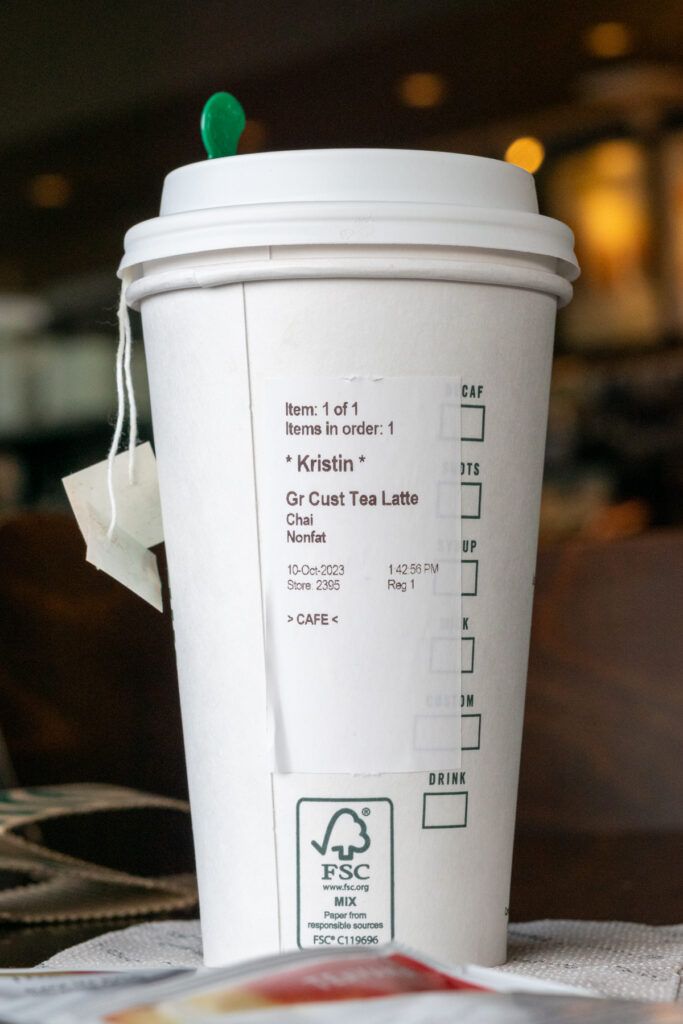 Calories and Sugar Content
Every single calorie and gram of sugar in the tea bag version of a Starbucks chai latte comes from the milk and sweetener (if any).
The double-strength brewed chai tea is 100% calorie-free and sugar-free!
This means you've got a lot of control over the latte's calorie and sugar content.
Caffeine
Chai is caffeinated black tea infused with a variety of warming spices.
According to Starbucks, a grande brewed chai steeped with two tea bags has approximately 40 milligrams of caffeine.
Whereas, a grande chai latte (the one from pre-made chai concentrate) has 95 milligrams of caffeine.
Does Starbucks have light chai concentrate?
Several years ago, Starbucks had a lower-sugar version of chai concentrate. But it went by the wayside due to low customer demand.
(Queue the collective "ugh" from all the health-conscientious folks that also happen to love chai. I'm right there with you.)
This lower-sugar chai latte combined lightly sweetened chai concentrate with milk and liquid cane sugar.
Although a grande still contained 31 grams of sugar, the sugary syrup was added separately to the drink, so you could control the amount.
While I wish Starbucks would bring back this lighter chai, the two best options for ordering a healthy chai latte are: order a traditional chai latte with fewer pumps of chai syrup, or get a chai latte brewed with calorie-free tea bags.
More Helpful Starbucks Chai Drink Information