Starbucks Chestnut Praline Chai Tea Latte is a delicious way to enjoy an off-the-menu holiday drink. See what's in this chestnut flavored chai and how to order it.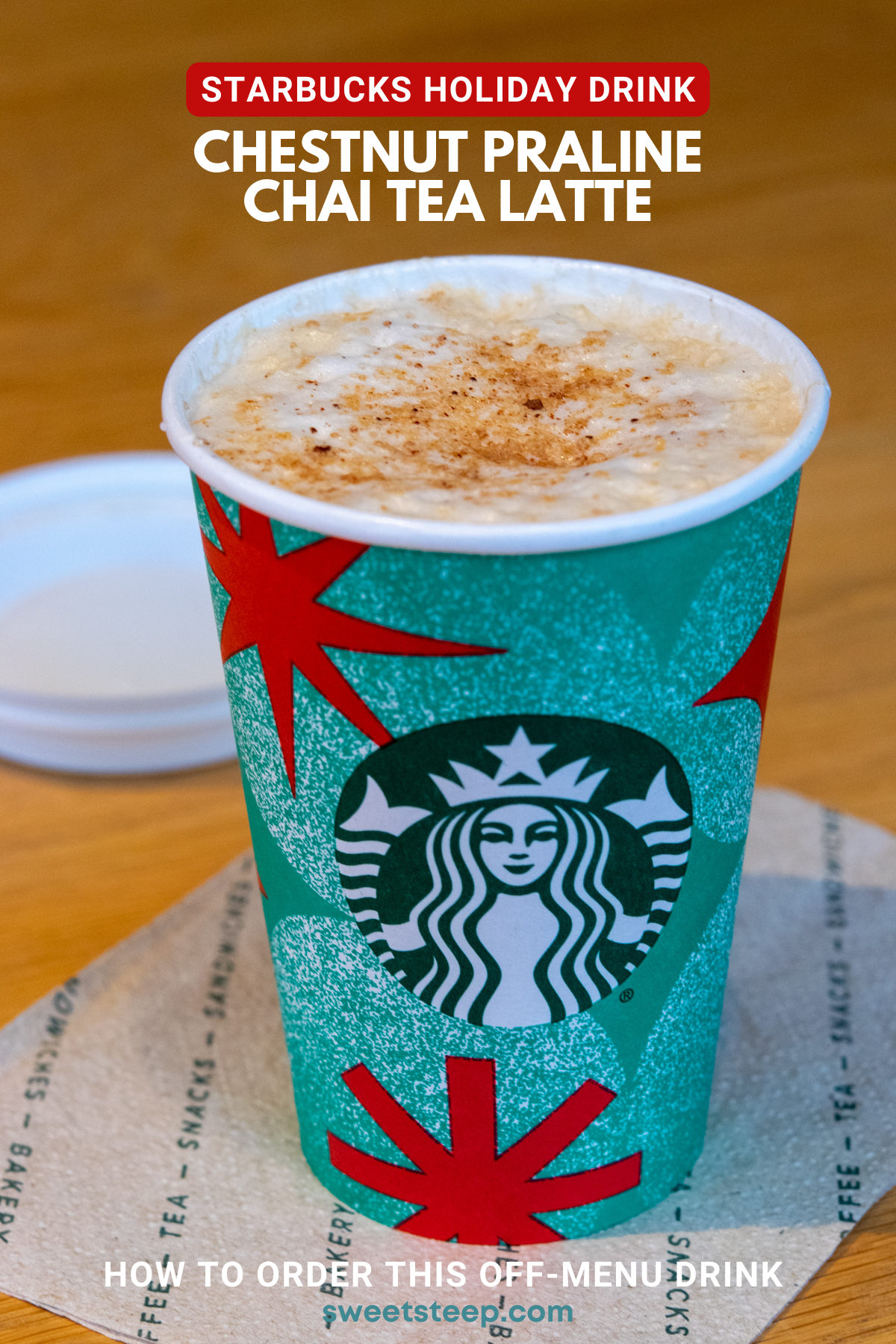 Chestnut Praline Chai Latte
Chestnut Praline Chai Tea Latte is the perfect way for tea drinkers to order a warm and cozy holiday drink at Starbucks without coffee.
This customized chai tea latte was actually part of the 2017 Starbucks holiday drink line-up. The good news is, even though chestnut praline chai isn't listed on the official winter menu, you can still order it.
As long as drinks like the espresso-based chestnut praline latte make their seasonal come-back to the Starbucks holiday menu, then you can get this chai version, as well.
So what exactly is a chestnut praline chai tea latte?
In a word, yummy!
This hot Starbucks black tea drink brings together all the nutty toffee flavors of chestnut praline with cinnamon, clove and all the warming spices in the chai.
Besides being a cupful of deliciousness, what I love is how easily you can turn a Starbucks chai drink into a festive favorite.
RELATED: Starbucks Chestnut Praline Crème Steamer: Flavor & Ordering Options
What's in this Modified Chai
Here's a look at exactly what's in this drink.
A Starbucks Chestnut Praline Tea Latte has two components: (1) the flavored chai tea latte and (2) the crunchy spice topping.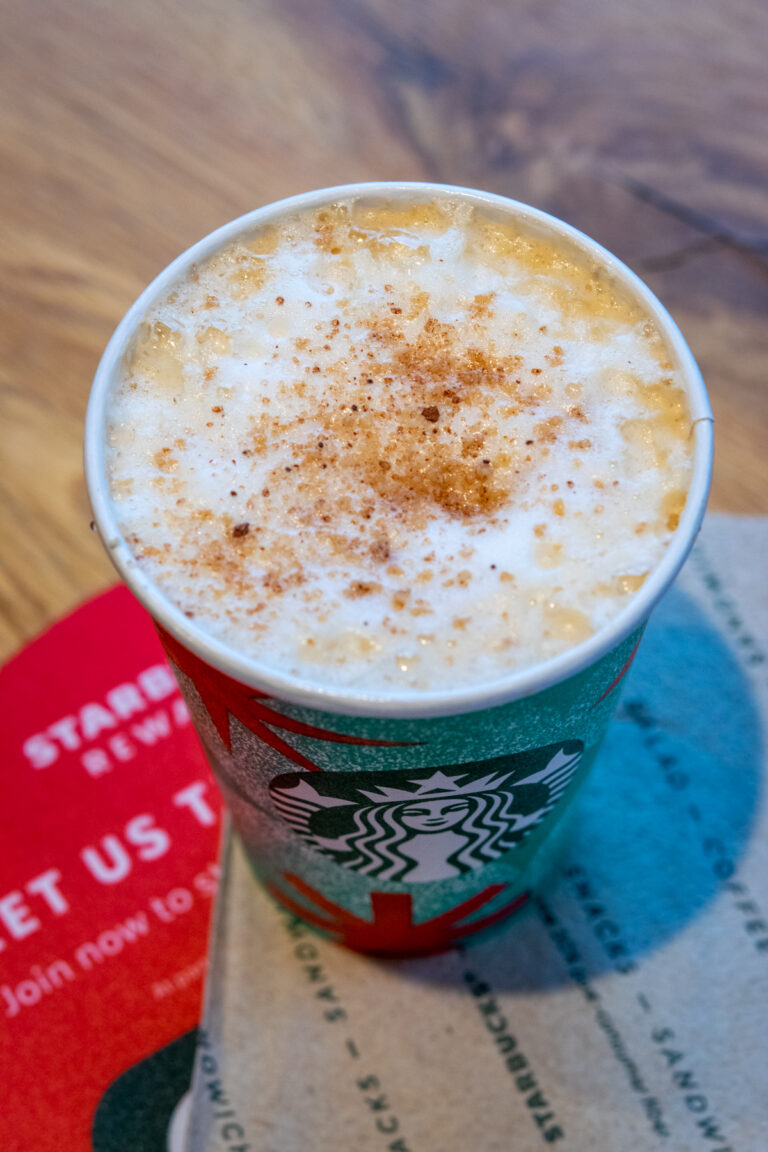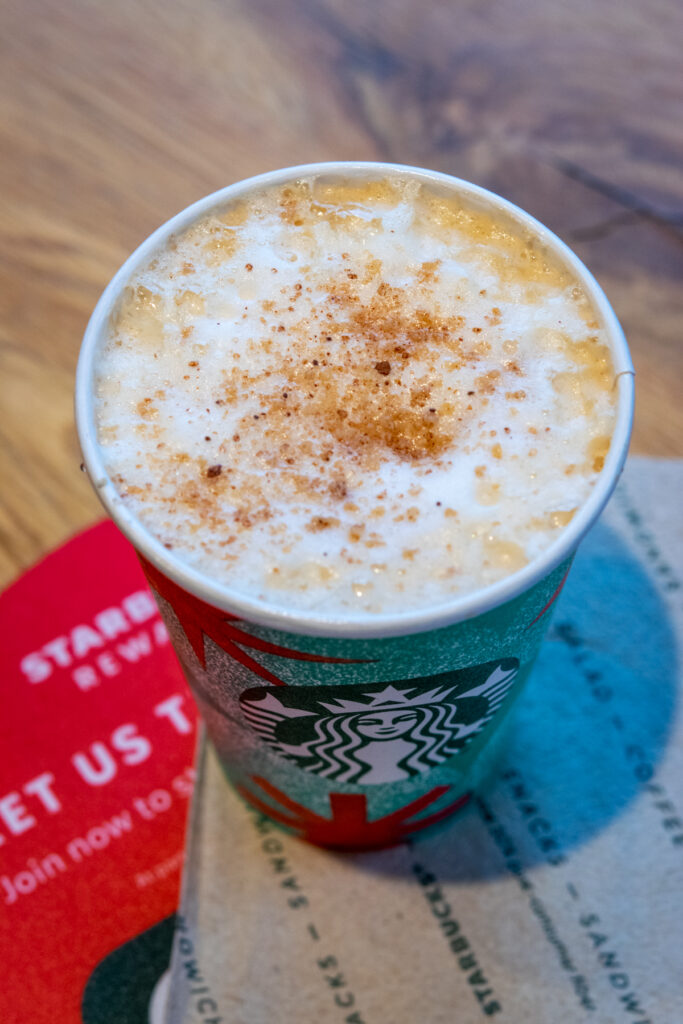 1. Chestnut Praline Chai Tea Latte
This secret menu drink is a regular hot chai tea latte that's customized with chestnut praline syrup.
The barista combines steamed milk with chai black tea and chestnut praline syrup.
The syrup adds even more sweetness and a whole bunch of nutty flavor.
2. Chestnut Praline Spice Topping
Every Starbucks chestnut praline latte and frappuccino on the official menu is finished with whipped cream and chestnut praline spice topping.
As for a chestnut praline chai, these spicy bits are sprinkled across the drink's already-foamy topping.
Chai drinks at Starbucks are never served with whipped cream. But, hey, it's the holidays. If you want extra creaminess like like all the other festive drinks on the menu, go ahead and ask for it, too.
RELATED: 13 Starbucks Chai Tea Latte Ordering Tips from a Barista
What a Chestnut Praline Chai Tastes Like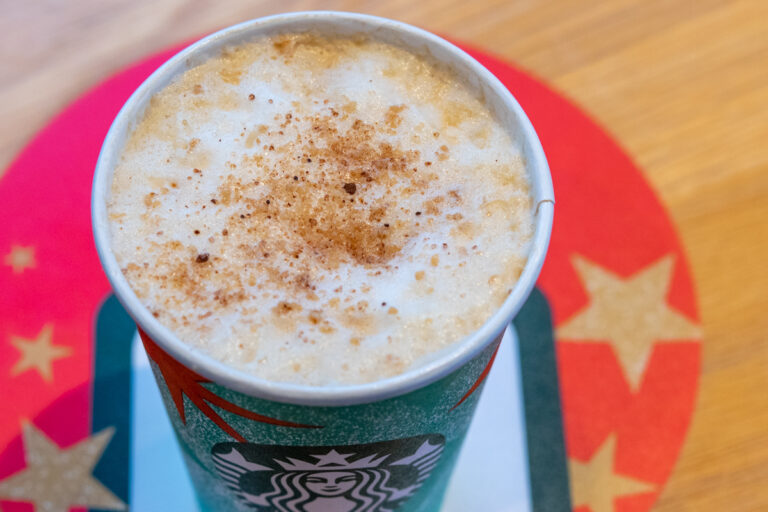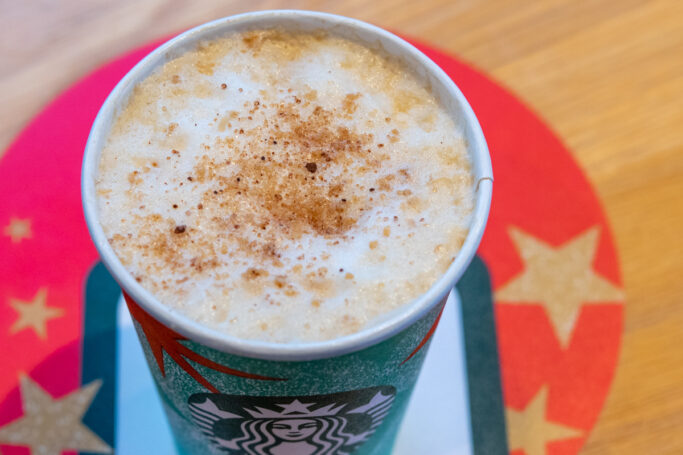 A regular hot chai tea latte at Starbucks is a combination of chai black tea concentrate and steamed 2% milk. The black tea is infused with lots of spices like cinnamon, clove, cardamom, ginger and star anise.
As you can imagine, a regular chai tea latte is delicious on its own, sip after sip.
Chestnut praline syrup adds notes of toffee and nuttiness. It's a bit buttery and a whole lot sweet.
Overall, a chestnut praline chai from Starbucks tastes a bit like carmelized toffee, cinnamon and clove. The creamy tea latte pairs perfectly with all the warm spiciness.
Here's how Starbucks described this drink when it was on the menu.
Your beloved chai gets a holiday twist with the complementary flavors of carmelized chestnuts and subtle holiday spices.

Starbucks
Wondering why Starbuck chai drinks taste so good? Here's a look at how rich Starbucks chai concentrate is.
How to Order Chestnut Praline Chai at Starbucks
Here's exactly how to order this off-menu drink, in-person and with the Starbucks app.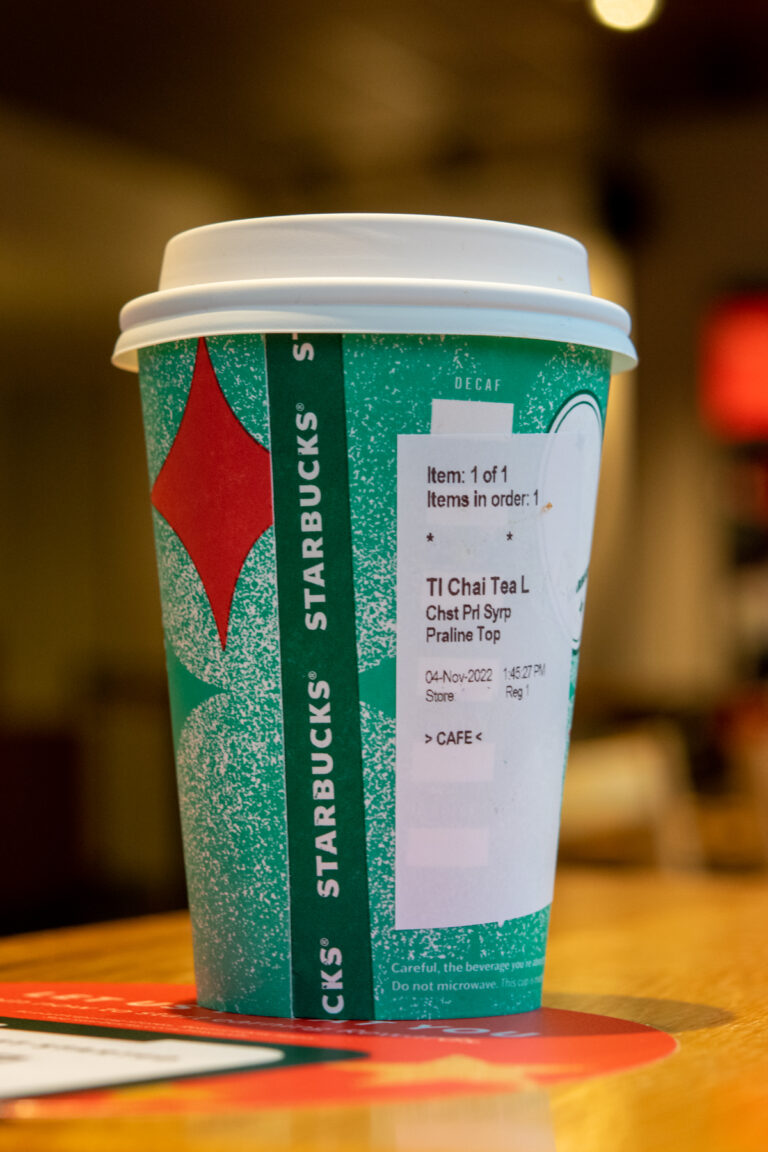 Foundation Drink to Order
Order a hot chai tea latte. It comes in sizes short, tall, grande and venti. You can also order an iced version, if preferred.
Customizations
Ask for chestnut praline syrup.
The barista will add-in the standard number of pumps of syrup per the drink size you order.
Be sure to let them know if you want fewer (or more) pumps.
The barista should automatically sprinkle on chestnut praline spice topping since you ordered the syrup.
However, since this is technically an off-the-menu beverage, it's a good idea to be specific and ask for the topping directly.
Here's what to say to the barista: "May I have a chai tea latte with chestnut praline syrup and chestnut praline topping."
How to Order Chestnut Praline Chai with the App
Go to the hot teas section of the menu and order a chai tea latte then tap the customize button.
Scroll to flavors and select chestnut praline syrup. Indicate the number of pumps of syrup you want. I suggest looking at the number of pumps of chai and adding that many of pumps of syrup or fewer.
Next, go to the toppings section and select chestnut praline topping.
Cost to Customize this Latte
Currently, the cost to customize any size chai tea latte with syrups and toppings is around .80 cents for the syrup and .50 cents for the topping. These prices vary by location and are subject to change.
Looking for more tasty ways to mix up a chai at Starbucks? Here are a couple drink ideas:
More Ways to Customize a Chestnut Praline Chai
Remember, chestnut praline syrup and spiced topping are only available during the holidays through December.
Here are a few more ways to customize this latte.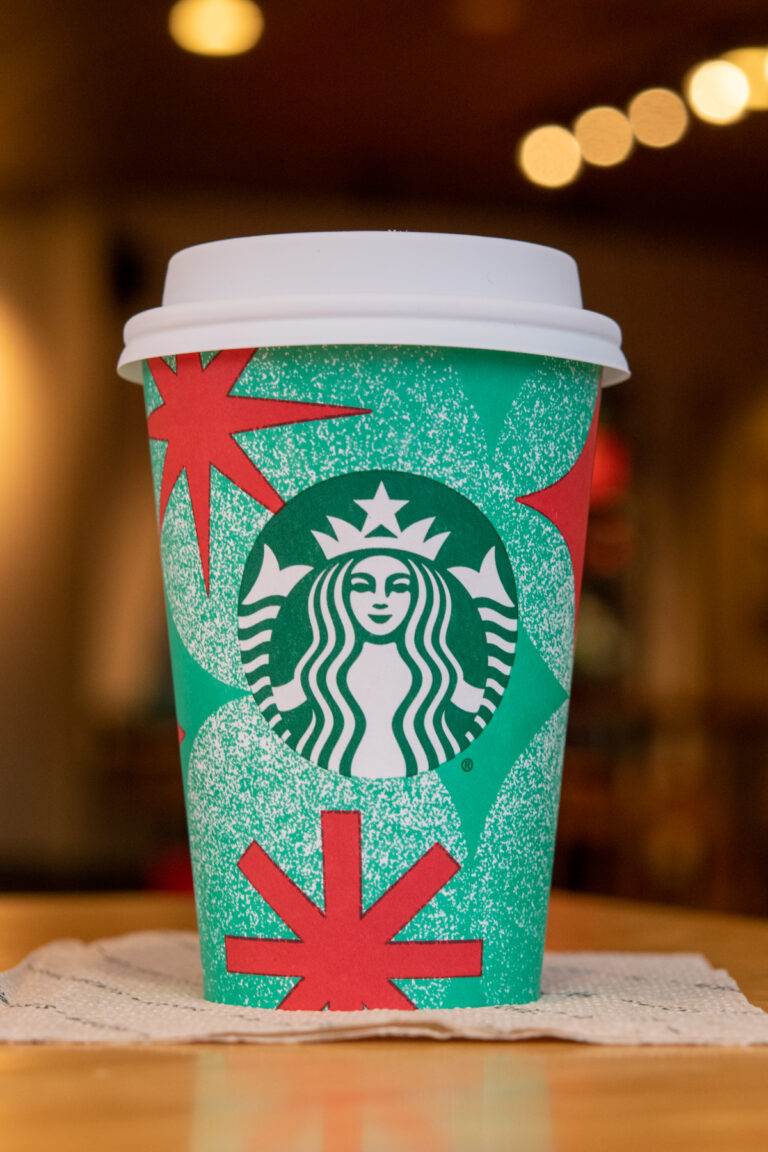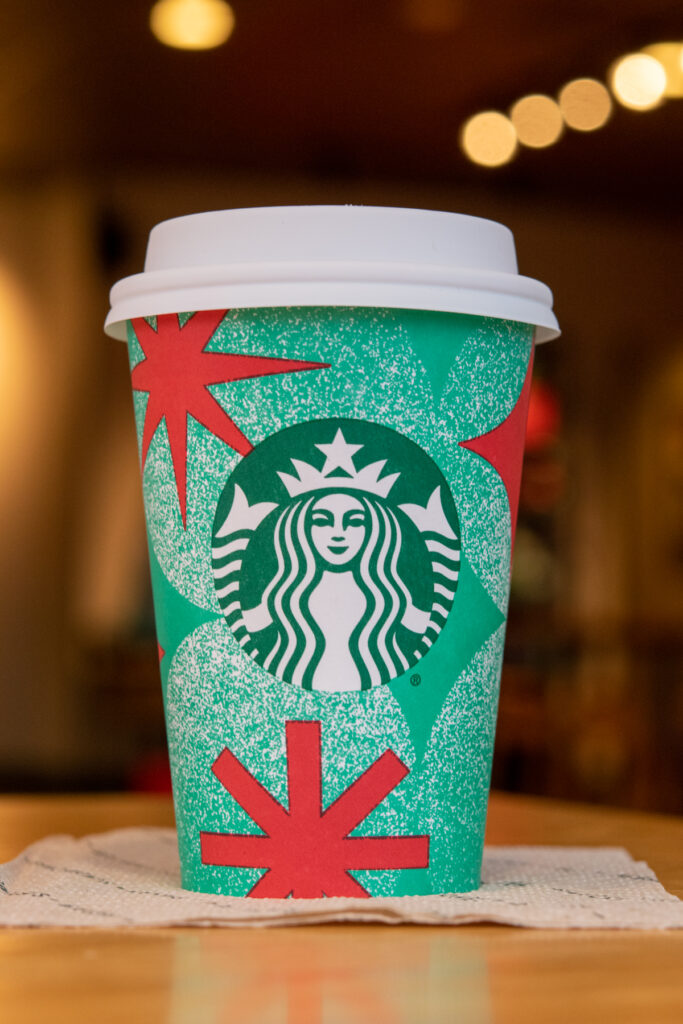 Get an Iced Version: Personally, I prefer the hot version of this latte. All the flavors are so toasty and cozy that I love wrapping my hands around a hot cup.
But iced chai lattes are one of the most popular teas at Starbucks, so chestnut praline syrup is a great addition, hot or cold.
Order it Dairy-free: The standard milk used in Starbucks chai drinks is 2% dairy milk.
To get a dairy-free chestnut chai latte, simply substitute the milk with one of Starbucks non-dairy milk options (almond, oat, soy or coconut).
The chestnut praline syrup is sugar-based and does not have any hidden dairy in it.
In addition, don't add on whipped cream.
Make it a Dirty Chai: Here's how to order a dirty chai at Starbucks.
If you want to get a chestnut praline dirty chai tea latte all you have to do is ask for an espresso shot to be added in. Each extra shot is about one dollar.
On the app you can add a shot by going to the espresso & shot options customization section.
You can also pick a roast option: signature espresso roast (the standard), blonde or decaf.
RELATED RECIPE: Starbucks Dirty Chai Latte Recipe
Questions You May Have
Does Starbucks have any holiday tea drinks on the menu?
Starbucks holiday drinks are almost always coffee drinks. However, you can add a flavored holiday syrup to any drink you want. In 2017 Starbucks offered the Chestnut Praline Chai Tea Latte. While this drink isn't officially listed on the holiday menu, Starbucks still has chestnut praline syrup so you can still order it.
How do I order a chestnut praline latte?
This modified Starbucks chai drink only has two customizations. Just ask for chestnut praline syrup and chestnut praline spice topping.
Related