See how easy it is to make a this copycat Starbucks Chai Eggnog Latte recipe at home. You're sure to love this latte that brings together creamy eggnog and spicy chai black tea.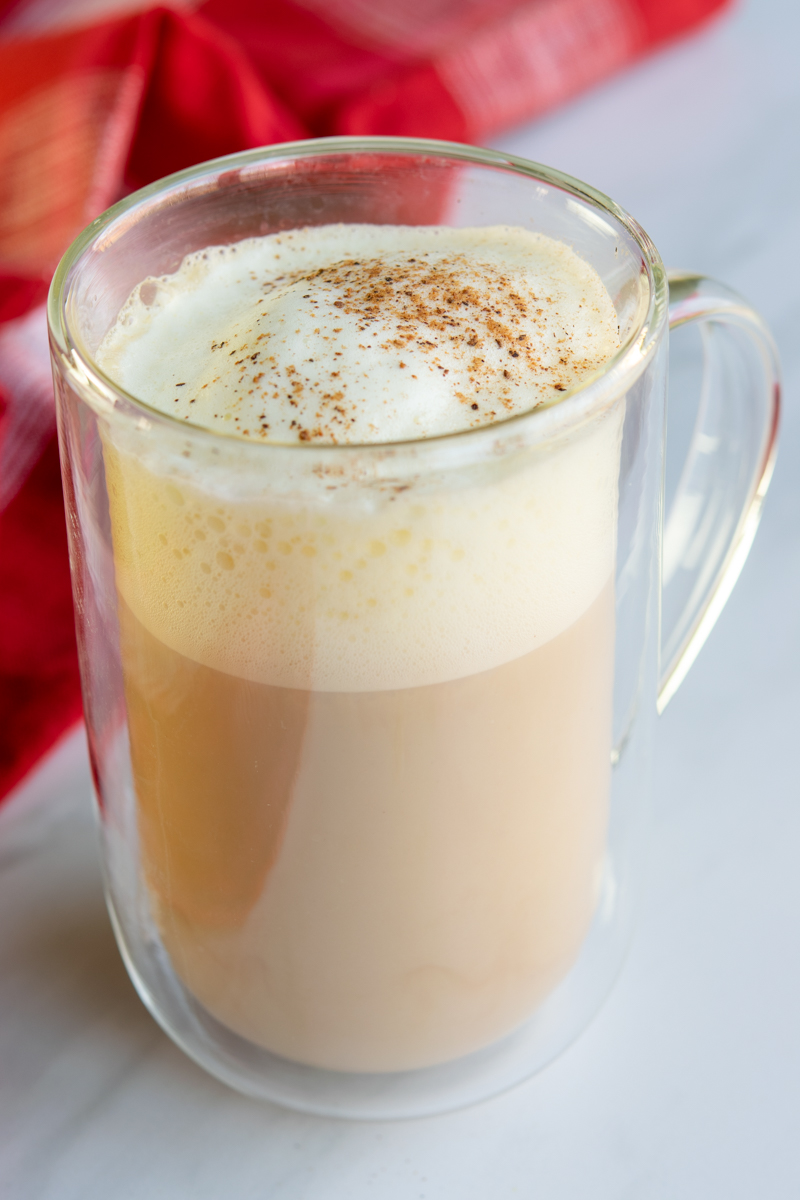 A Starbucks Chai Eggnog Latte is the most delicious combination of sweet and creamy eggnog and spicy chai.
Of course, Starbucks only makes their eggnog latte recipe during the holiday season.
However, it's simple to whip up your own chai eggnog latte at home.
So, if you can't make it to Starbucks during red cup season or want to save some money, you'll love this Starbucks copycat chai eggnog latte recipe.
Chai tea lovers are sure to also enjoy my Starbucks copycat recipe for their fall season Pumpkin Spice Chai Latte.
As a matter of fact, here's a Barista's Guide to Starbucks Tea Latte Drinks.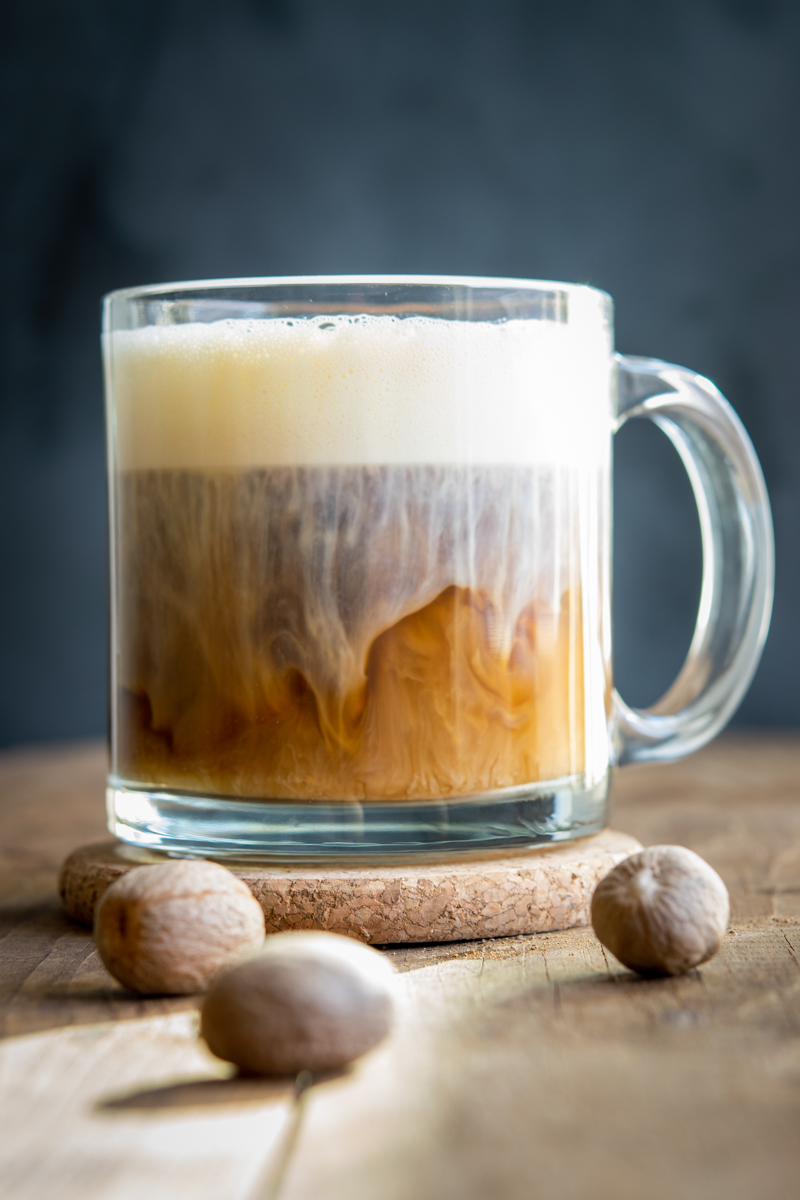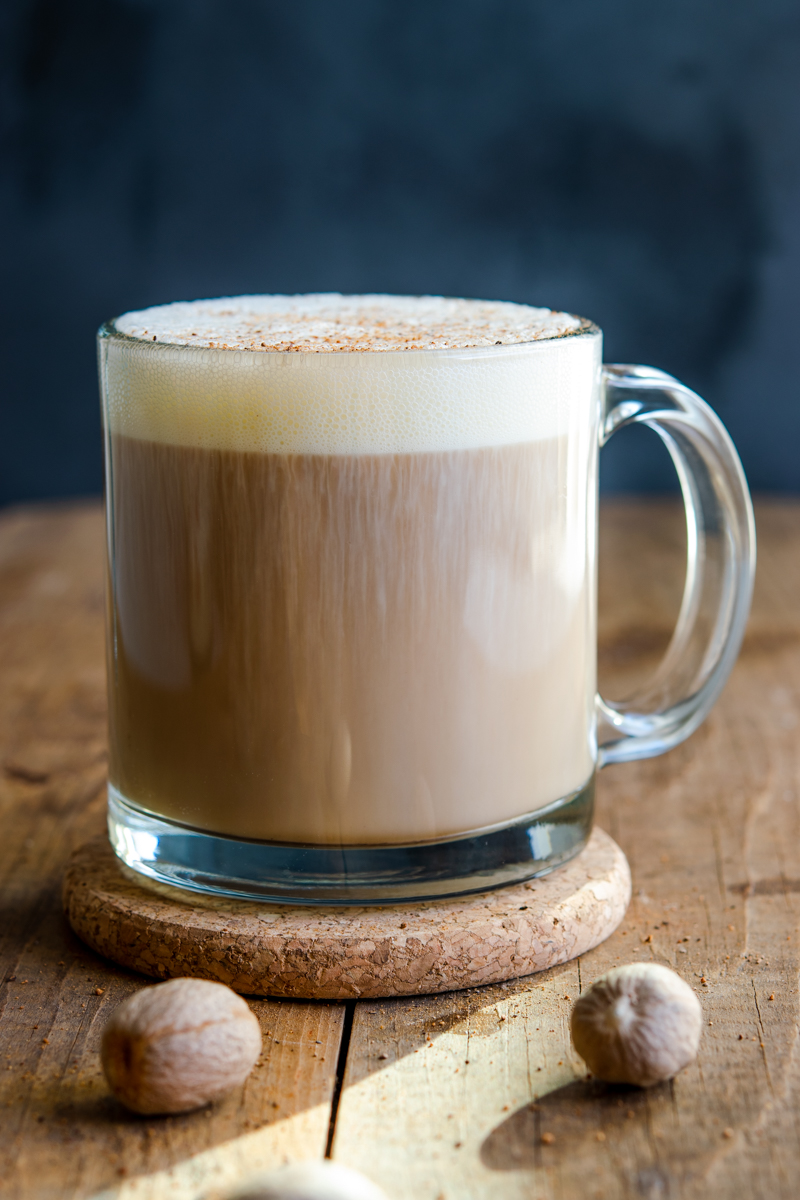 Starbucks Chai Eggnog Latte Recipe
If you look at all the Starbucks eggnog drinks on their menu, you may not see any chai eggnog drinks listed.
However, in past years hot and iced chai eggnog lattes have been on the holiday season menu.
So while a chai eggnog may not appear on the menu, regular eggnog lattes made with espresso are always there, plus a few others.
For instance, the Starbucks eggnog drink menu always includes: coffee-based eggnog lattes, eggnog frappuccinos and eggnog steamers.
The good news is, however, your barista can still whip up a chai eggnog latte for you, so long as they have eggnog.
So, how does Starbucks make a chai eggnog latte?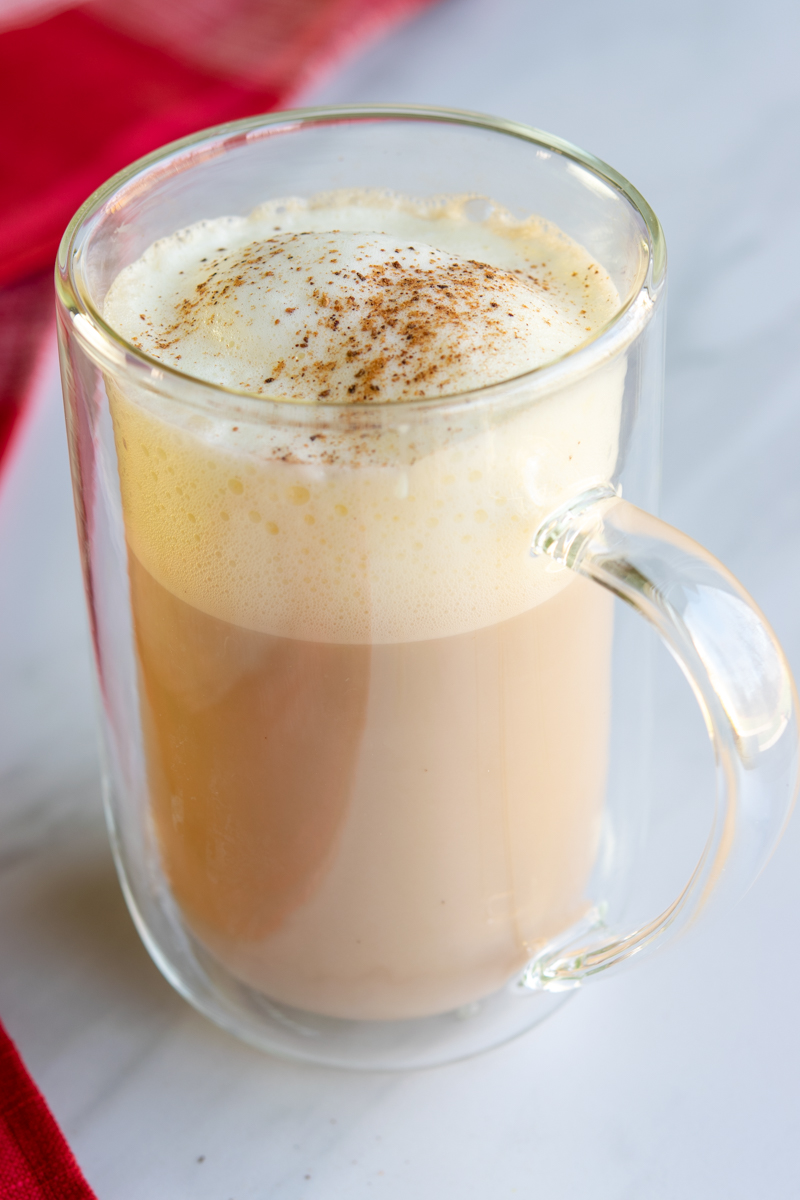 Starbucks Chai Eggnog Latte Ingredients
Chai Black Tea Concentrate
Eggnog
Non-fat Milk
Nutmeg
And here are these steps for putting this hot tea latte together:
Step 1: Pump chai concentrate into drinking cup
Step 2: Steam eggnog and milk together
Step 3: Pour steamed eggnog mixture over chai
Step 4: Sprinkle ground nutmeg on top (optional)
Now that you see how few ingredients it takes to make an eggnog chai latte, I'll show you specifically how to make a Starbucks copycat version at home.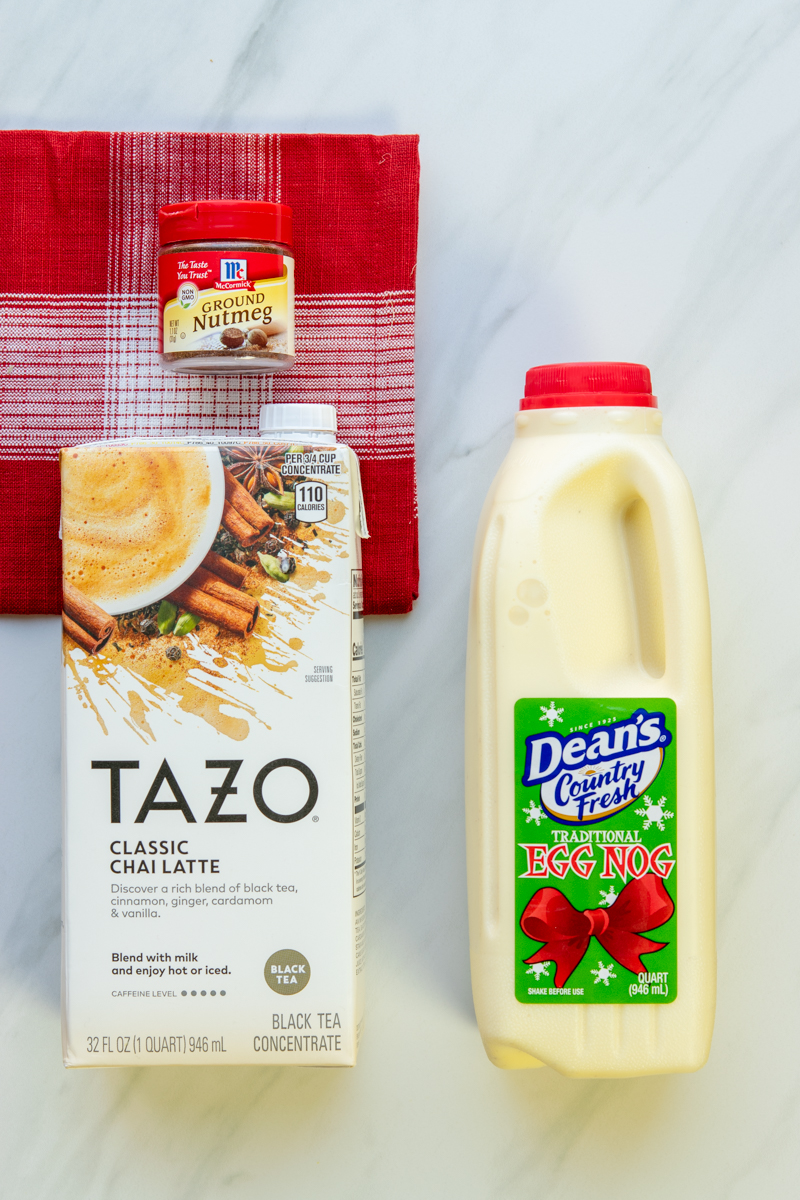 How to Make a Copycat Starbucks Chai Eggnog Latte
The process of making a homemade chai eggnog latte is the same as Starbucks.
Simply add some chai concentrate to a cup, pour steamed eggnog and milk over chai, and sprinkle some nutmeg on top.
Obviously, we'll use similar ingredients as Starbucks: chai black tea concentrate, eggnog, non-fat milk and ground nutmeg.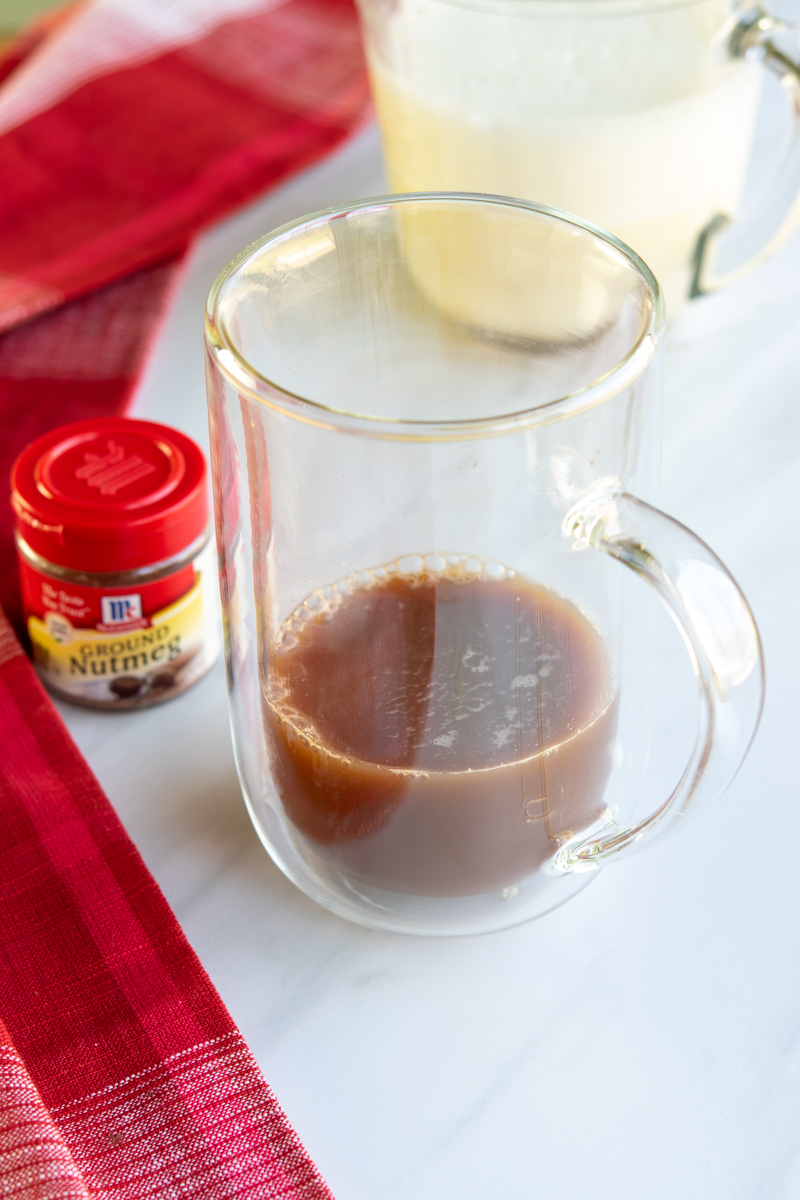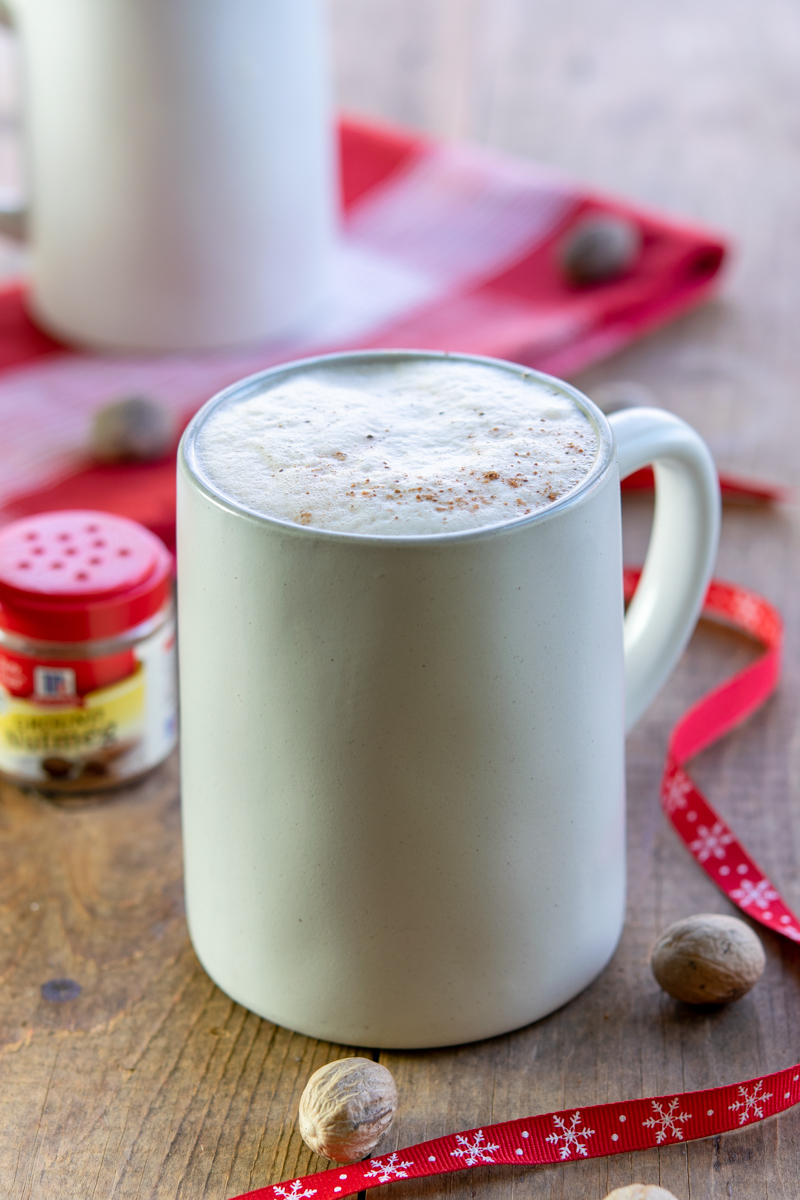 What chai concentrate does Starbucks use?
Starbucks chai concentrate is not available for sale. Additionally, it is specifically made for Starbucks.
Therefore, it's not possible to buy the exact same chai concentrate that a Starbucks barista uses.
However, there are some really good readymade chai concentrates available in the store.
For example, Tazo and Oregon Chai are readily available in Target's tea aisle, as well as most major stores.
But if you don't want to buy it, one thing I really like to do is make homemade chai concentrate.
You'll find that the recipe is really easy.
Personally, I love making my own chai tea concentrate since I can control the amount of sugar and tweek the flavors according to my taste.
If you love chai drinks and have never made your own concentrate, I urge you to try it. You may also this authentic masala chai recipe, as well.
What eggnog does Starbucks use?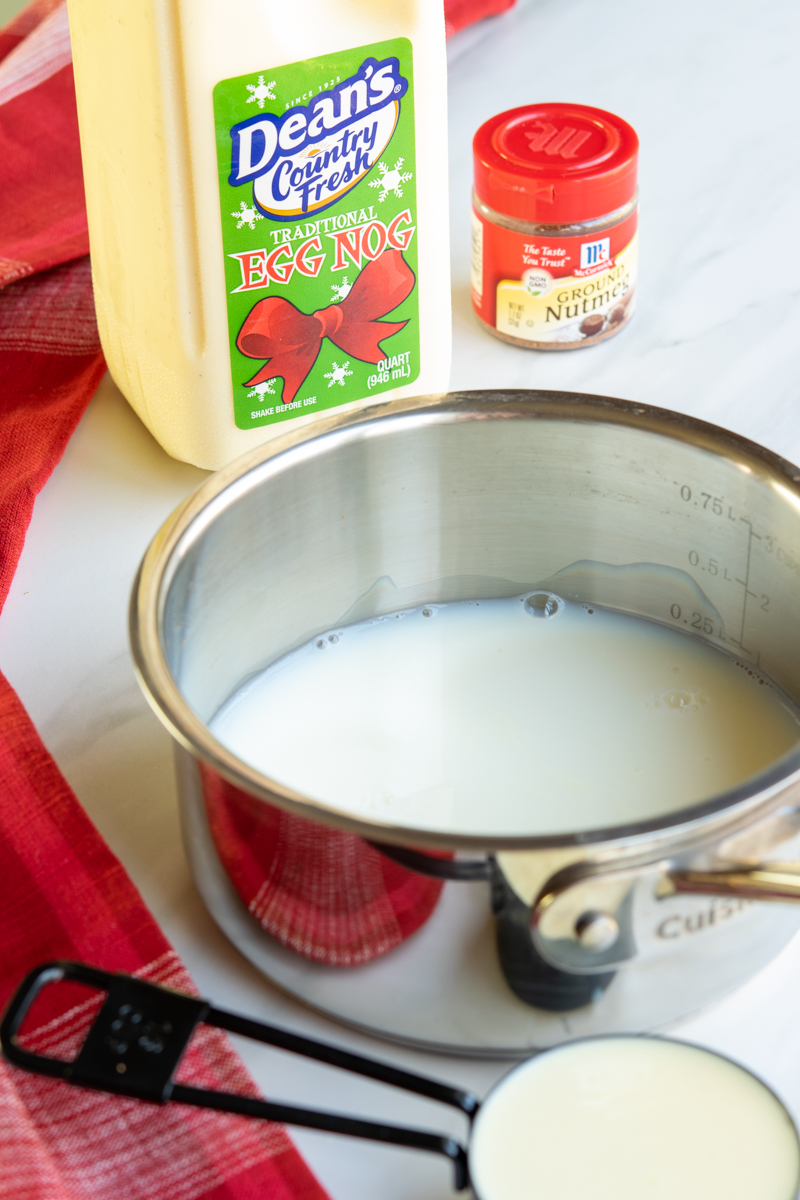 Just so you know, not every Starbucks region has eggnog drinks available.
But of the areas that do make these yummy holiday drinks, there's not one specific brand of eggnog that all Starbucks use. This is also true of milk.
For example, I know my local Starbucks uses Kemps eggnog.
This makes replicating a Starbucks Chai Eggnog really easy. Just pick up any brand of regular eggnog (no other flavors added) from your local grocer.
How to Steam Eggnog and Milk
Starbucks combines the eggnog and non-fat milk in a pitcher and steams it with the steam wand on an espresso machine.
In addition to heating up the eggnog/milk mixture, the steaming process also aerates it.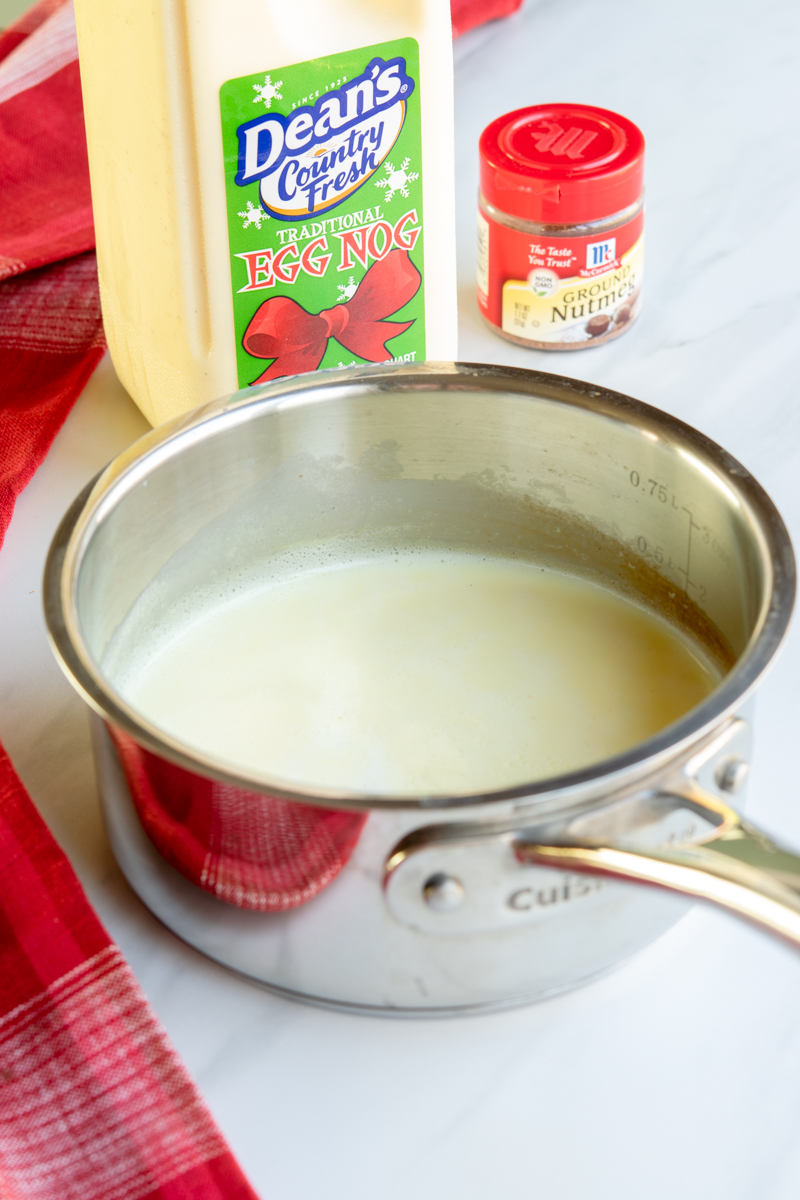 Aerating increases the milk's volume, as well as creating silky microfoam. This is what makes a latte so creamy.
Therefore, if you have an espresso machine equipped with a steam wand, you already know what to do.
Otherwise, heat the eggnog and milk on the stove. Just don't let it come to a boil.
Then, aerate the steamed dairy mixture with a handheld frother.
Or you can use and electric aerator which heats and froths at the same time. Depending on the brand you have, be careful not to exceed the Max Fill Line.
Photo Credit: www.amazon.com
Handheld milk frother/blender for lattes and more.
Photo Credit: www.amazon.com
 Hot and cold milk frother. One Size, Black.
Photo Credit: amazon.com
Electric Milk Frother & Steamer for making lattes, cappuccinos, hot chocolate and more.
More Starbucks Chai Recipes & Drink Guides
Starbucks Chai Eggnog Latte Recipe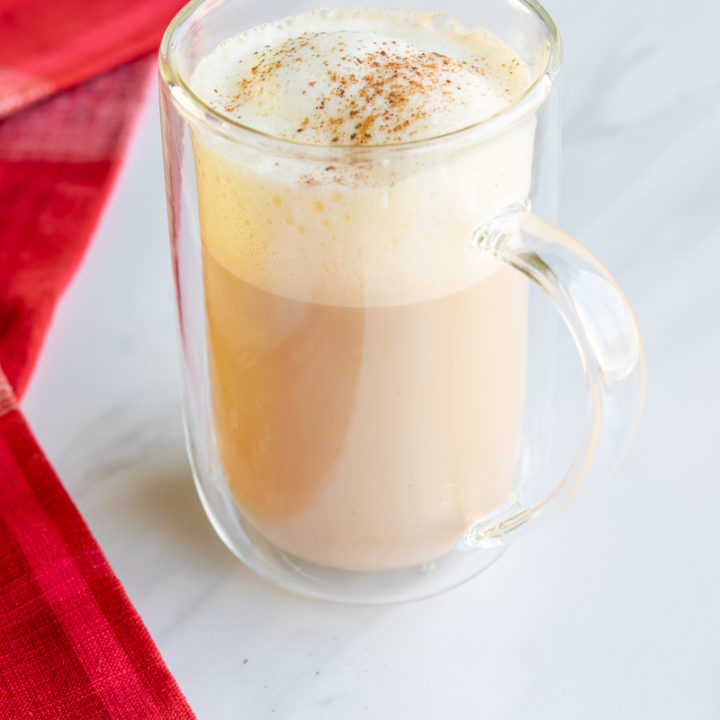 Chai Eggnog Latte: Starbucks Copycat
This creamy and spicy Starbucks Chai Eggnog Latte copycat recipe is quick and easy to make and absolutely delicious. You'll love that this DIY version of one of Starbucks holiday lattes only takes a few ingredients to make at home and tastes just as yummy.
Ingredients
1 cup Chai Tea Latte Concentrate
2/3 cup Eggnog
1/3 cup Non-fat Milk
Dash of Ground Nutmeg
Instructions
Add chai concentrate to a 16 ounce cup. You can use a store-bought brand like Tazo or Oregon Trail or make a bottle of homemade chai black tea concentrate.
Next, steam eggnog and milk on the stove being careful not to let mixture boil. If you have a steam wand on an espresso machine, steam the eggnog and milk that way.
Pour the eggnog mixture into a tall container such as a glass measuring cup. Be sure the container has extra room in it.
Froth the steamed eggnog and milk with a handheld frother.
Pour the eggnog into the chai and scoop the foam on top.
Sprinkle with nutmeg.
Recommended Products
As an Amazon Associate and member of other affiliate programs, I earn from qualifying purchases.
Nutrition Information
Yield

1
Serving Size

16 ounces
Amount Per Serving
Calories

417
Total Fat

11g
Cholesterol

82mg
Sodium

190mg
Carbohydrates

67g
Fiber

3g
Sugar

63g
Protein

8g