See how to make traditional masala chai with this easy spiced milk tea recipe. All you need are a few whole spices, black tea and milk.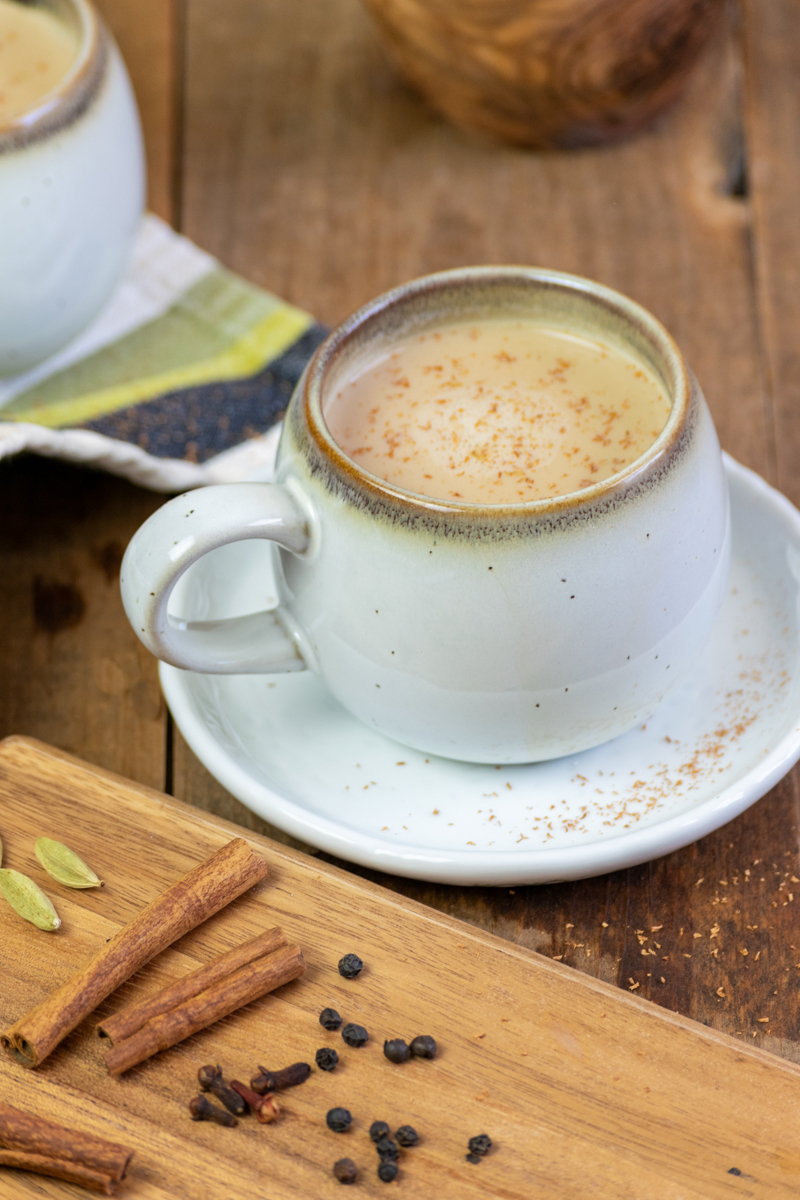 Masala Chai (Spiced Milk Tea)
Masala chai is a warm spiced milk tea from India.
Like many Americans, my first time hearing about chai and tasting it was at Starbucks. And to this day, a sweet and spicy Starbucks chai tea latte is one of my favorite hot tea drinks to order.
Of course, it's easy to replicate a hot or iced chai tea latte at home with store-bought chai black tea concentrate. But if you've got a few minutes to crush several spices, you really should try making this authentic masala chai recipe.
It's so easy, and if you're like me, you'll wonder why on Earth you never made chai from scratch before.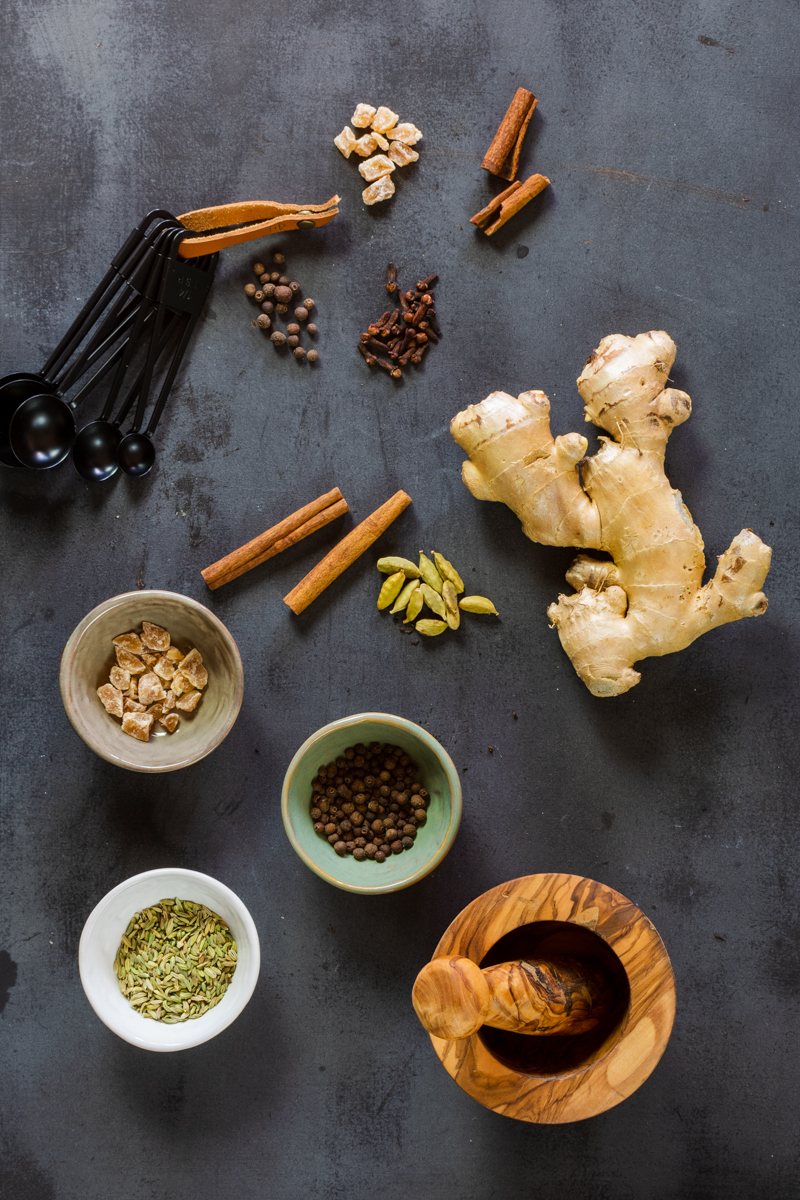 What is Masala Chai?
In a word, masala chai is delicious.
Also called spiced milk tea, masala chai is an infusion of black tea, whole spices, sugar, milk and water that originated in the Indian subcontinent.
As you can imagine, this hot tea drink is rich, warm and comforting.
Made with spices like cinnamon, cloves, green cardamom, pepper and ginger, this spiced milk tea is the perfect drink to snuggle up with on a cool day.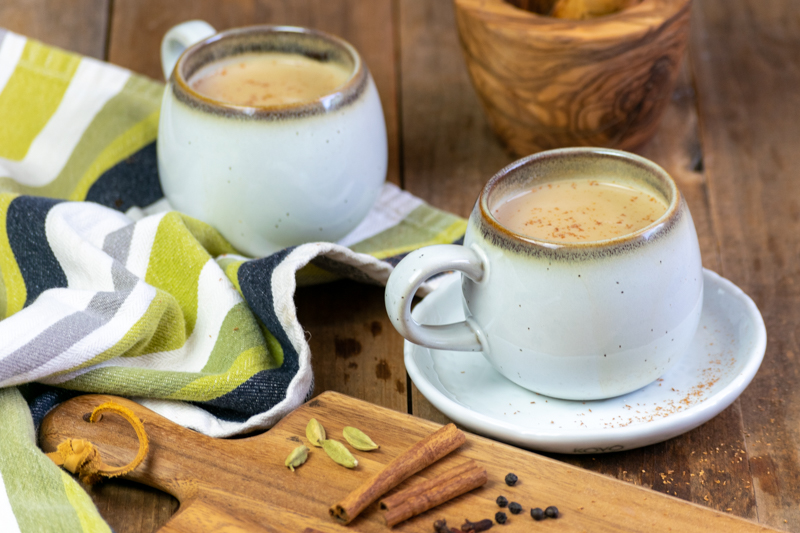 Interestingly, there's not a single recipe for spiced milk tea. In fact, there are numerous variations, similar to how there are lots of recipes for apple pie.
In fact, the proportions of warming spices, as well as which spices are part of the spice mixture (karha), varies by region, family and taste preference.
Additionally, the method of preparation varies, as well. For instance, some may add all the ingredients at once, then boil, strain and serve, while others prefer a longer simmer.
No matter the recipe or preparation method, chai wallahs (Indian tea vendors) are commonplace along the roadsides throughout India.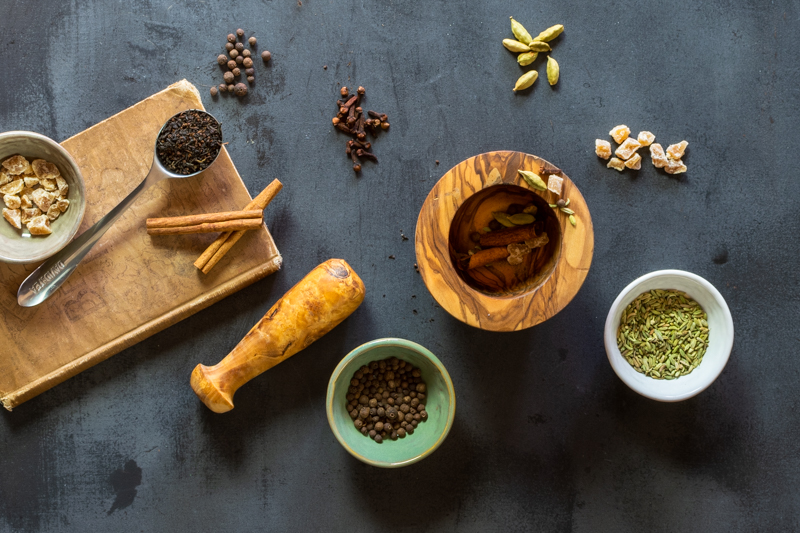 Spiced Milk Tea Ingredients
The dominant flavor notes in traditional chai masala (tea spice) are ginger and cardamom. Additional spices may be added for flavor and spiciness.
Common Masala Chai Spices
Ground Ginger
Green Cardamom Pods
Cinnamon Sticks
Whole Cloves
Black Peppercorn
Nutmeg
Fennel Seeds
Star Anise
Vanilla
Whole Allspice (in place of cinnamon and cloves)
Crystallized Ginger
Grated or Sliced Ginger Root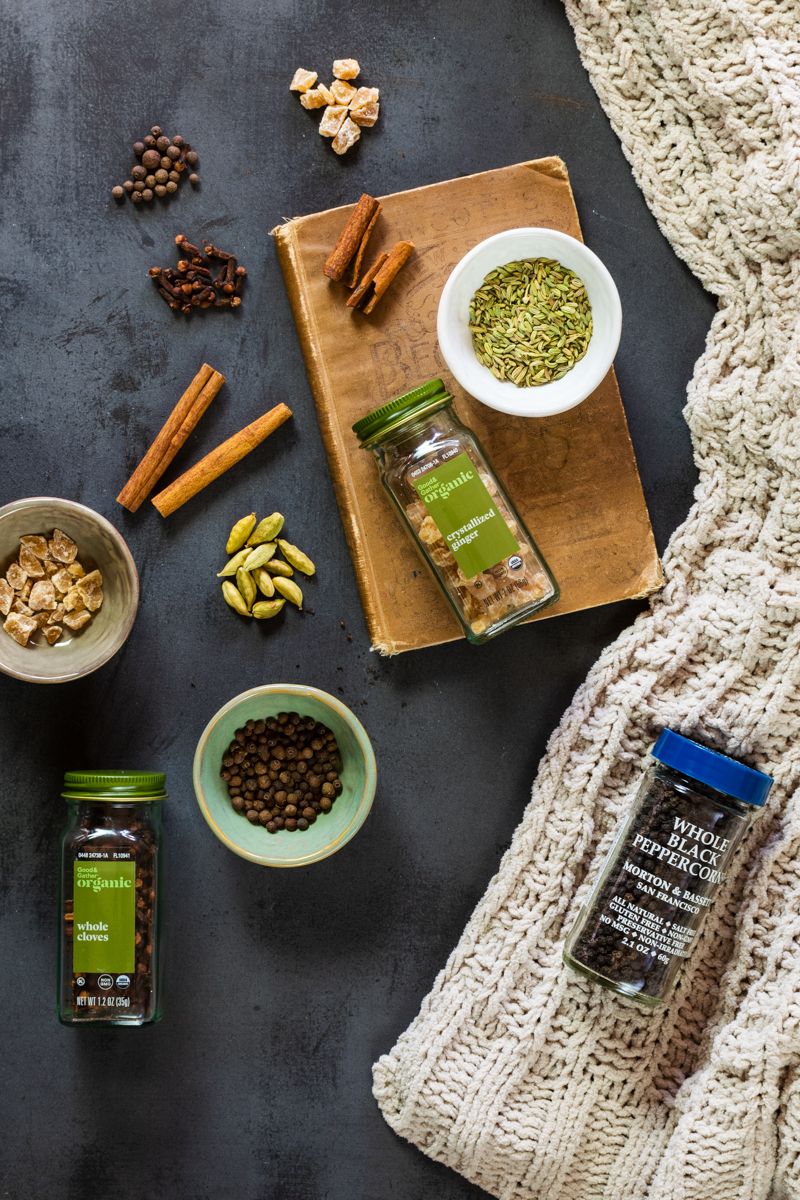 Common Masala Chai Sweeteners
White Sugar
Brown Sugar
Coconut Sugar
Syrup
Honey
Jaggery
Traditional spiced milk tea is a very sweet tea drink. Often, a tablespoon or more of sugar is added per cup!
Luckily, the decision to add sweetener or not can be left up to the drinker.
Type of Tea in Masala Chai
Masala chai is a black tea beverage. As such, it contains caffeine.
Importantly, be sure to use a strong black tea such as Assam or Ceylon so the flavor of the tea doesn't get lost in the milk and spices.
Keep in mind, traditional masala chai uses loose black tea. However, you can make it with tea bags, as well. You just might need to use more than usual.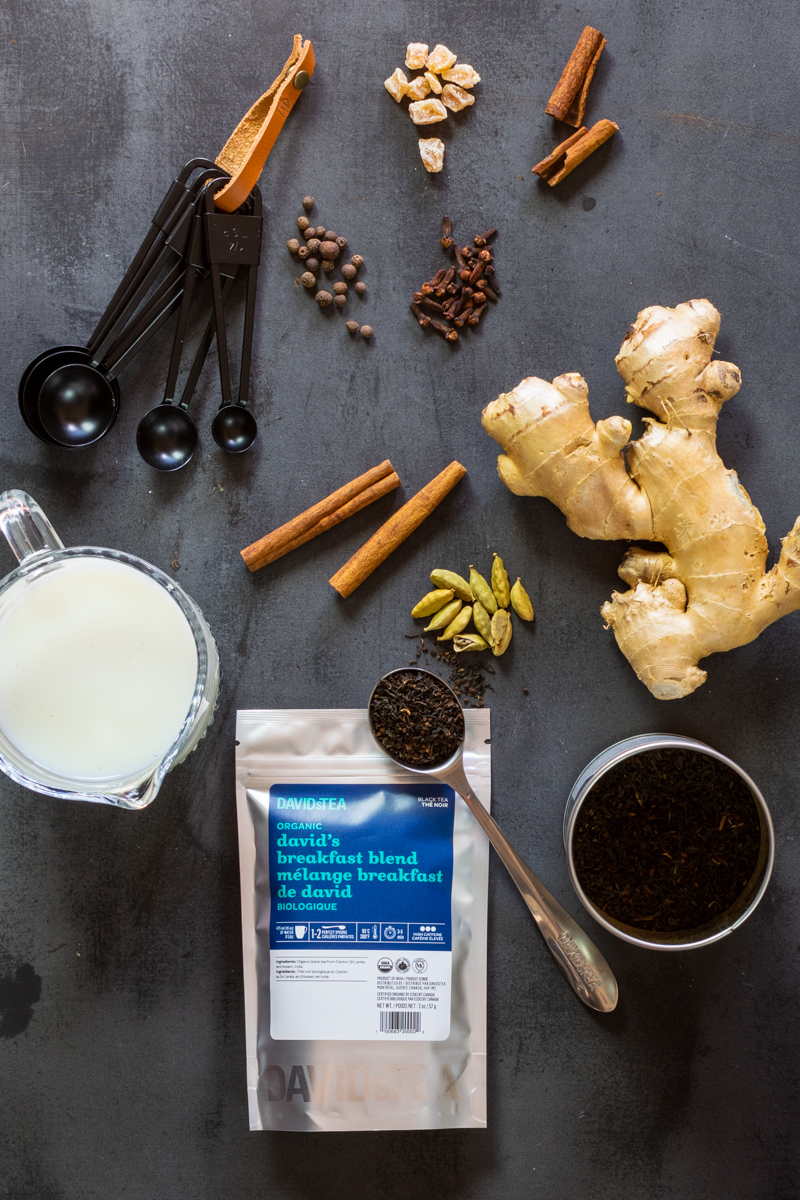 Are Masala Chai and a Starbucks Chai Tea Latte the Same Drink?
Simply put, a Starbucks chai tea latte is an Americanized masala chai.
Even the name, chai tea latte, is adapted for our Western culture. I say this because the translation of the word chai, is literally tea.
In other words, chai tea latte is redundant (tea tea latte). Weird, right?
Beyond, the name, however, you're probably wondering if a Starbucks chai tea latte is the same thing as an authentic masala chai.
And the bottom line is, while the two tea drinks share similar flavors and ingredients, they are not really the same.
The main difference is that a chai latte is a combination of chai concentrate and steamed milk, whereas the tea and spices in a masala chai are steeped directly into the milk.
Don't get me wrong; both are delicious, but in fact, the preparation methods are different.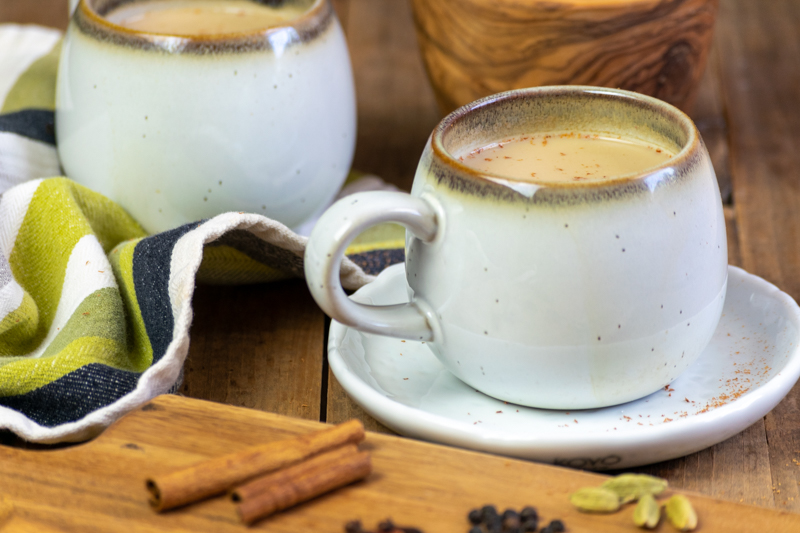 How to Make Spiced Milk Tea at Home
To make homemade masala chai from scratch, you need to crush the whole spices. However, a course-grind is all that's necessary.
To accomplish this, you need a mortar and pestle or spice grinder. Personally, I find that a mortar and pestle is the perfect tool.
On the other hand, an electric grinder is useful when making a large batch of homemade chai powder mix.
Of course, you can always use a rolling pin or the back side of a heavy pan.
Here are the basic steps I take to make a cup of spiced milk tea.
Crush the spices
Bring the water and spices to a boil, then steep for several minutes
Add black tea and sugar; stir to dissolve sugar
Pour in milk, bring back to a boil, then simmer for several minutes
Pour milk tea through a fine mesh strainer or sieve directly into cup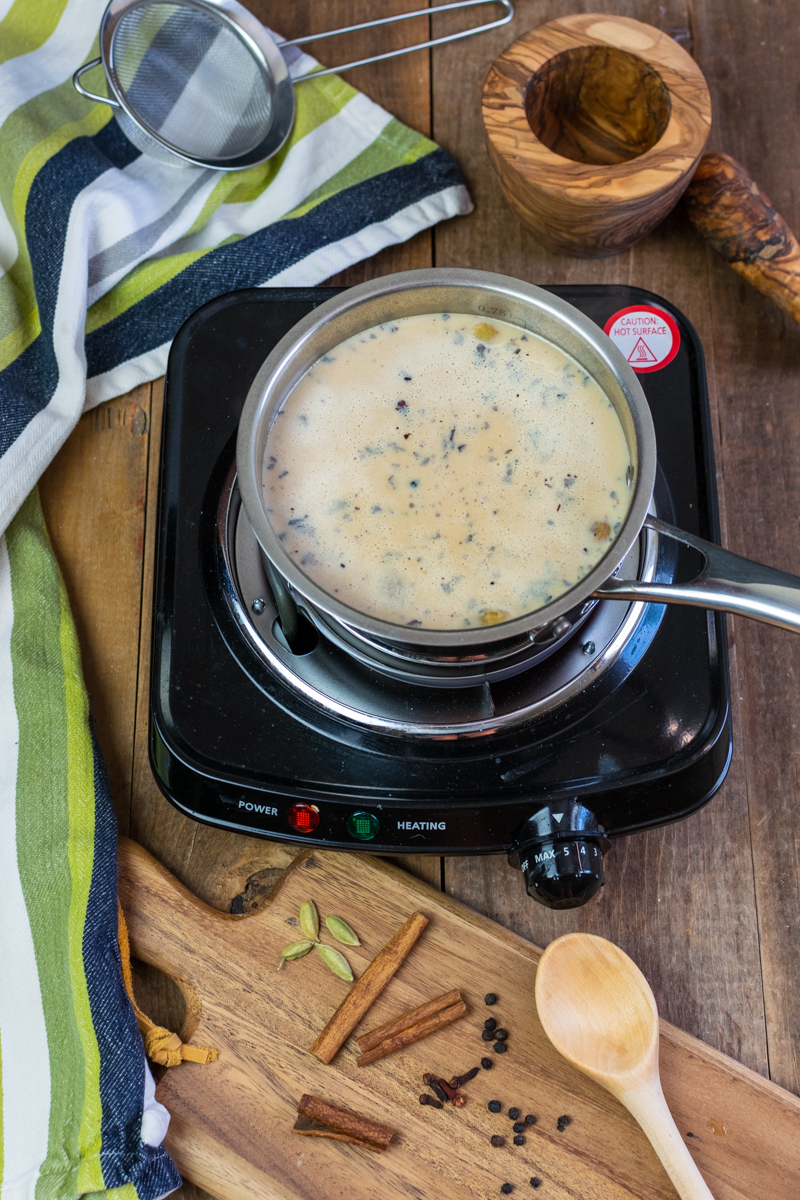 Recall, people use different preparation methods. For instance, you can put everything in the pan at once.
I find, this is one of those recipes where you find what works and tastes best for you. For example, since I like the chai spices to be bold and the tea to not be bitter, I steep the chai spices alone at first.
If you're not familiar with how to make black tea delicious every time, a quick tip is that the longer you steep it, the more tannins are released and the more bitter it becomes.
In other words, the key to a stronger cup of tea is to use more tea, not add more time.
Therefore, my preference is to add the black tea the last half of making my masala chai.
I do think it's a good idea to experiment with different spices and proportions since we all have different taste preferences.
I think you'll find that my recipe is a real good starting point that can easily be adapted to what you like. Enjoy!
Homemade Masala Chai Recipe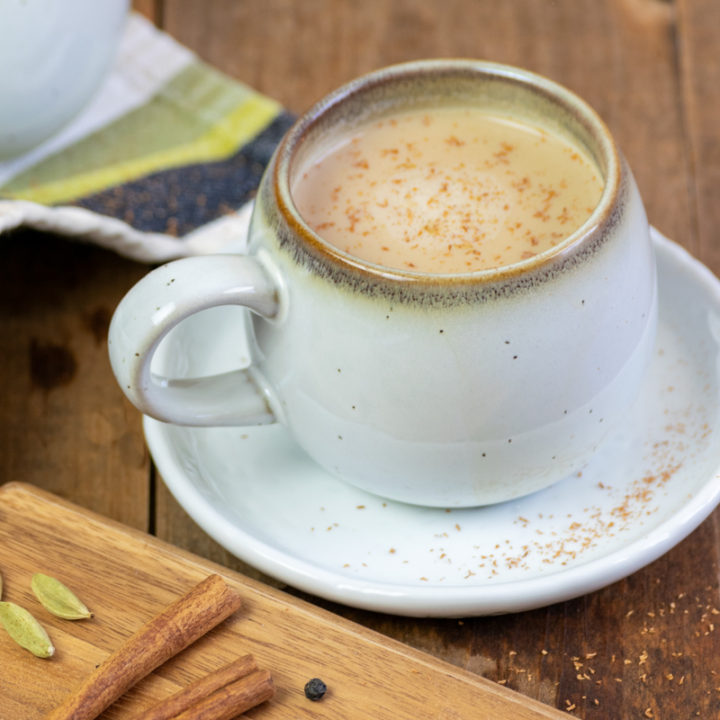 Masala Chai from Scratch
Easy and delicious homemade masala chai recipe.
Ingredients
2 cups filtered water
1 cup milk
3 teaspoons black tea
3 teaspoons sugar
1 Cinnamon Stick
4 Green Cardamom Pods
4 Whole Cloves
8 Black Peppercorns
3 slices ginger root
Instructions
Crush whole spices using a mortar and pestle. It's not necessary to grind them into fine pieces or a powder. This allows the large pieces to be easily strained from the tea.
Add water to a pot and bring to a boil.
Add spices and ginger root to the water and let it simmer for at least 5 minutes.
Next, add the black tea and sugar to the pot and stir until sugar is dissolved. Then, pour in the milk.
Return the masala chai mixture to a boil, then reduce to a simmer for 5 minutes. Or, bring it to a boil and lift the pot off the stove each time the bubbling milk tea gets close to the top of the pot. Once the bubbles subside,, return the pot to the stove and repeat this process several times.
When the masala chai is ready, pour it into mugs through a sieve or fine mesh strainer to catch the spices.
Top with freshly grated cinnamon if desired.
Notes
Spice Variations: Vary amount and type of spices according to personal preference.
Suggested Tea: Use loose black tea like Assam or Ceylon. Tea bags can be substituted, but use more than normal to make strong tea.
Yield: The loose tea will expand and absorb some liquid. This recipe produces about 2 1/2 cups of masala chai.
Recommended Products
As an Amazon Associate and member of other affiliate programs, I earn from qualifying purchases.