Creamy and delicious Starbucks Pumpkin Spice Frappuccino recipe that only takes a few minutes to make. Made with copycat Starbucks Pumpkin Spice Sauce and a few more ingredients, this frappuccino recipe tastes like the real deal.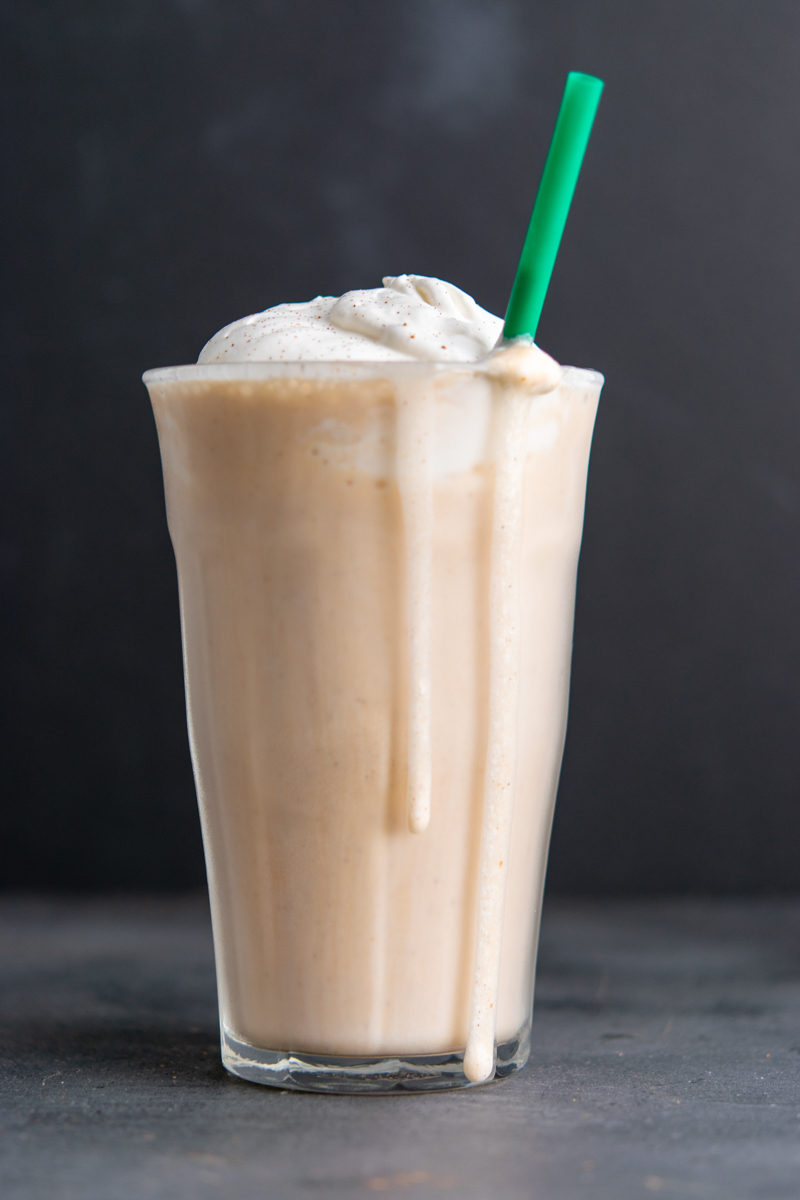 Starbucks Pumpkin Spice Frappuccino
This Starbucks Pumpkin Spice Frappuccino recipe is absolutely delicious. Dare I say it's a bit like pumpkin pie in a cup.
Made with homemade Starbucks Pumpkin Spice Sauce, this cool and creamy pumpkin spice frappuccino can be blended together in a matter of minutes.
What's really awesome is, this pumpkin spice sauce is also perfect for making pumpkin spice lattes and pumpkin spice chai lattes.
Which, to me, is a win-win. This way, you can enjoy pumpkin spice all season long.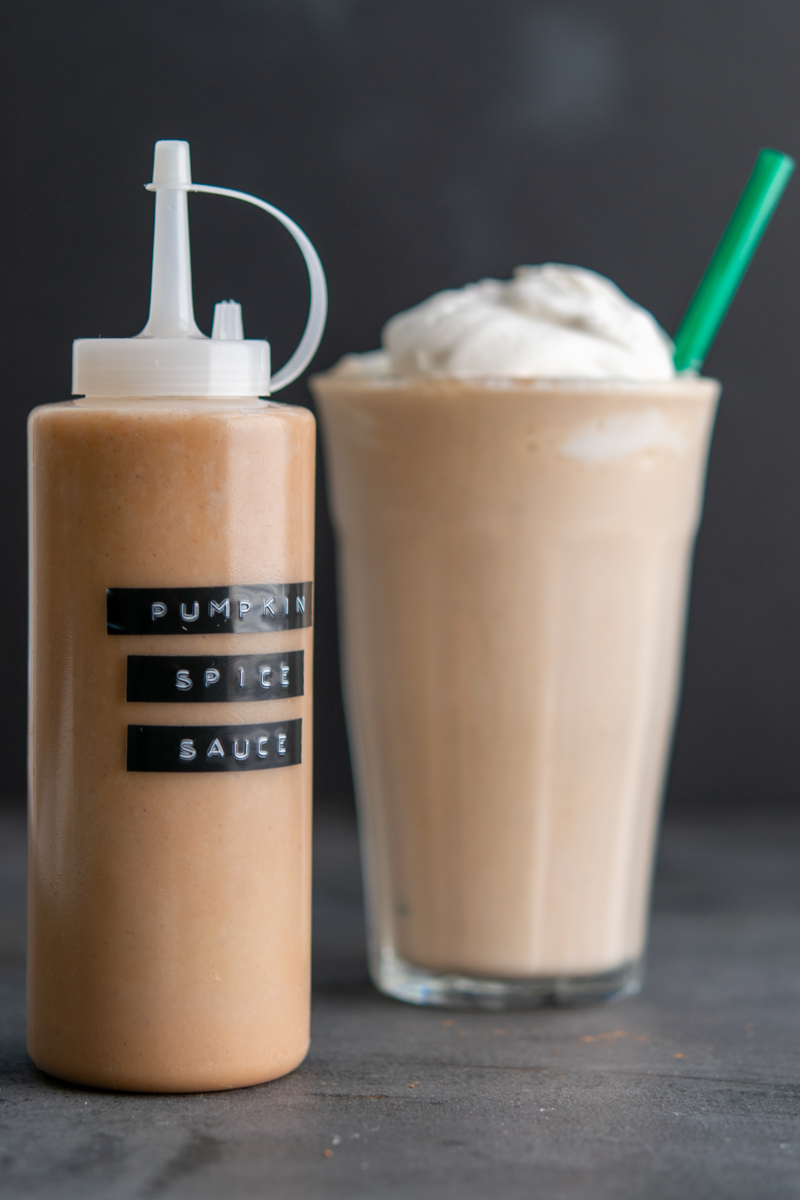 Starbucks Pumpkin Spice Frappuccinos on the Menu
Starbucks offers two types of pumpkin spice frappuccinos on their menu. One is made with coffee and the other is cream-based.
This way, both coffee and non-coffee drinkers can enjoy a pumpkin spice frappuccino.
In other words, there's something for everyone.
RELATED: 12 Non-Coffee Pumpkin Drinks at Starbucks
Pumpkin Spice Coffee Frappuccino
Starbucks describes this fall-favorite drink this way:
To make a coffee-based Pumpkin Spice Coffee Frappuccino at home, simply add a shot of espresso or some cold brew coffee to the frappuccino recipe below.
Pumpkin Spice Crème Frappuccino
If you're not a coffee drinker or are trying to skip the caffeine, don't worry, Starbucks has a pumpkin spice frappuccino for you too.
The Pumpkin Spice Crème Frappuccino Blended Beverage is made similarly to its coffee "cousin," sans the coffee.
This is how Starbucks describes this creamy pumpkin drink.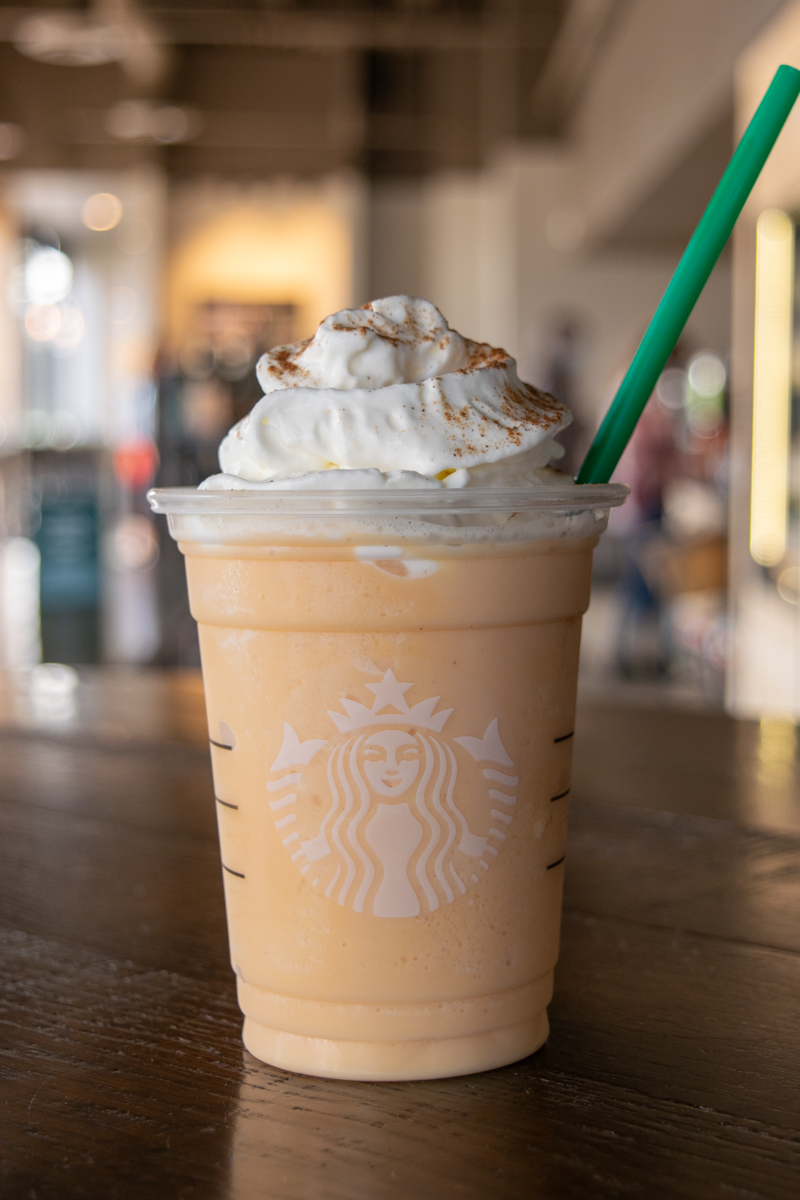 Homemade Recipe Variations
In addition to all the yummy pumpkin spice flavors, what I love about my Starbucks Pumpkin Spice Frappuccino recipe is that it's really versatile.
Plus, when you make it at home, you can customize it any way you like without a lot of additional expense.
As you can imagine pumpkin spice flavors like cinnamon, ginger, nutmeg and cloves pair well with vanilla. Not to mention, you can double up on the warm and spicy goodness with chai tea.
RELATED RECIPE: Starbucks Pumpkin Spice Crème Steamer Copycat
Vanilla Pumpkin Spice Frappuccino
It's simple to make a vanilla pumpkin spice frappucino. All you have to do is add some vanilla extract or vanilla syrup to the frappuccino mixture.
For even more vanilla flavor, whip up a batch of vanilla whipped cream like Starbucks.
Simply add vanilla extract or vanilla syrup to a batch of homemade whipped cream.
It's especially easy to make with a professional whipped cream dispenser.
Pumpkin Spice Chai Frappuccino
And if you want to take the pumpkin spice flavors up a notch, add some chai concentrate to make a Pumpkin Spice Chai Tea Frappuccino.
Have you ever had a pumpkin spice chai latte? This pumpkin frappuccino variation is based on this yummy hot tea drink.
Just keep in mind, however, chai spiced tea is an infusion of black tea and spices such as cardamom, cinnamon, ginger and cloves.
Therefore, a pumpkin spice chai frappuccino contains caffeine.
Personally, I like to keep some store-bought or homemade chai concentrate on hand since I'm a huge chai fan.
This way, in a moment's notice I can make a Starbucks Copycat Chai Frappuccino, iced chai latte or a hot chai tea latte.
Plus, I can easily add a little chai concentrate to this pumpkin spice frappuccino recipe.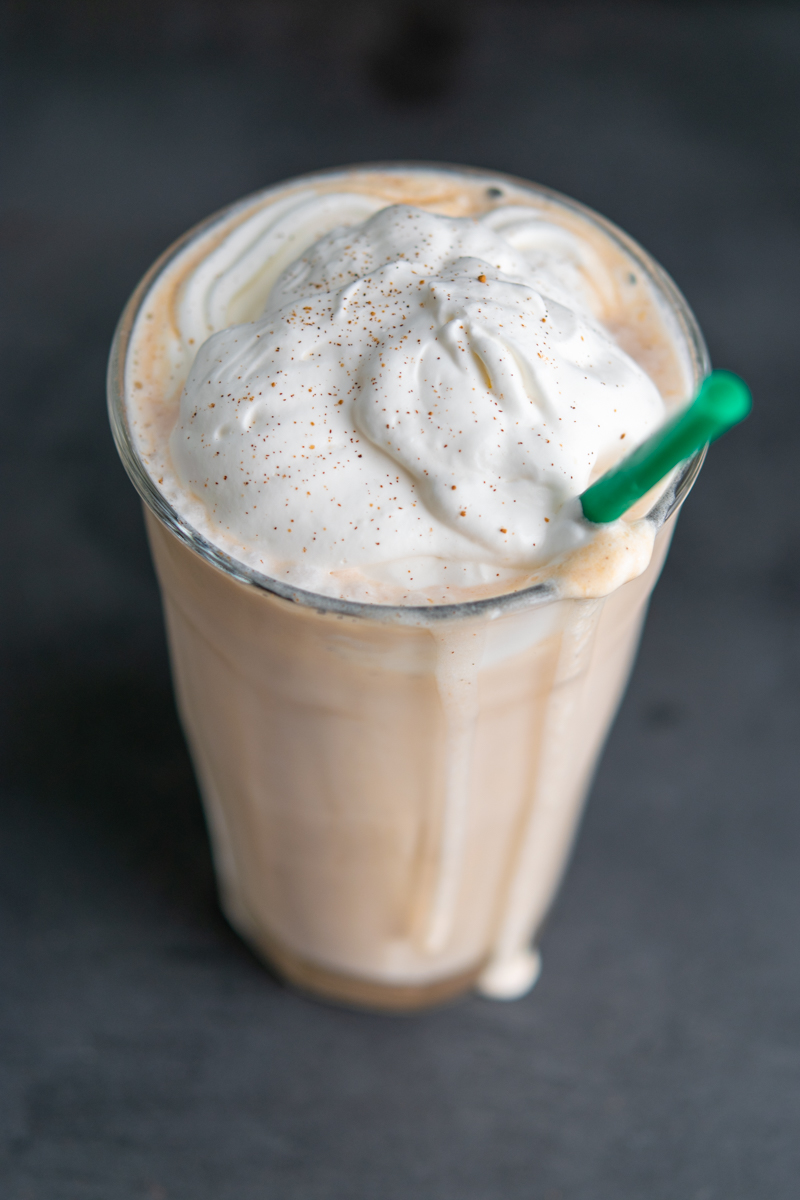 The Key to Making a Good Frappuccino at Home
Have you ever tried making a homemade Starbucks Frappuccino and it just didn't come out right?
Perhaps you're confused since you used similar ingredients, yet the texture was off. Instead of being smooth and creamy, it came out too watery or icy.
The key to fixing this problem and therefore the key to making a good frappuccino or other blended beverage at home is to use an emulsifier.
Simply put, an emulsifier or stabilizer keeps blended beverages blended and keeps them fluffy and creamy.
I explain more about emulsifiers in my chai frappuccino recipe post if you're interested. But the bottom line is, adding a little xanthan gum does the trick.
If your store doesn't sell xanthan gum, it's readily available on Amazon.
Additionally, what's nice is that a tiny bit goes a long way, so a bag lasts a while.
Most importantly, not only does this single ingredient transform your homemade frappuccino game, but it's ideal for other at-home recipes like smoothies and salad dressing.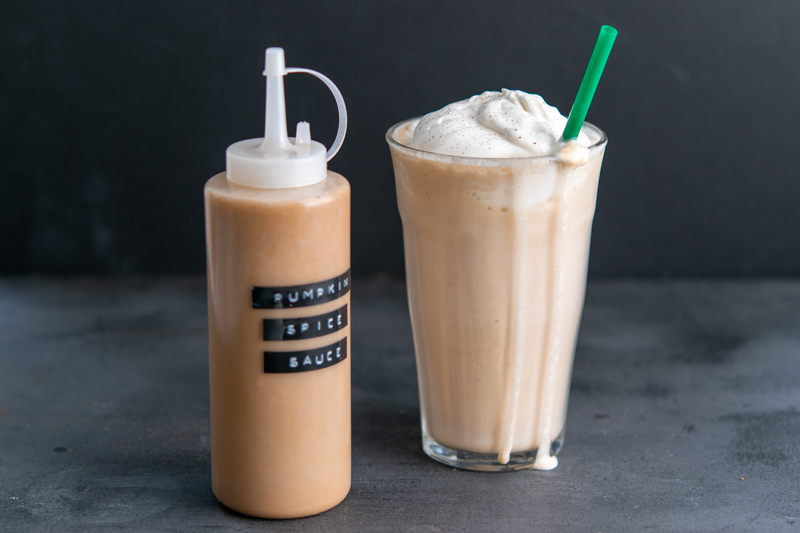 How to Make a Starbucks Pumpkin Spice Frappuccino at Home
Whenever I come up with a Starbucks copycat recipe, I take a look at the actual ingredients they use.
In addition, my daughter is a long-time Starbucks barista, so her insider tips and tricks are really beneficial. Not to mention, she's a brutally honest taste tester!
I say all this to let you know, my goal is to make all my Starbucks recipes, including this Pumpkin Spice Crème Frappuccino recipe, as close to the real deal as possible.
Starbucks Pumpkin Spice Frappuccino Ingredients
Ice
Whole Milk
Pumpkin Spice Sauce
Crème Frappuccino Syrup or Coffee Frappuccino Syrup
Whipped Cream
Pumpkin Spice Topping
Pumpkin Spice Sauce
Unlike some Starbucks syrups, Starbucks Pumpkin Spice Sauce is not available for retail sale.
However, my recipe for Starbucks Pumpkin Sauce is absolutely delicious, if not better. Really!
It's a delicious mixture of sweetened condensed milk, canned pumpkin, pumpkin pie spices and classic syrup.
Plus, when you make a full jar, you can keep it in the fridge and use it to make lattes and frappuccinos whenever you want. I even had someone tell me once, they dip graham crackers in it as a sweet snack.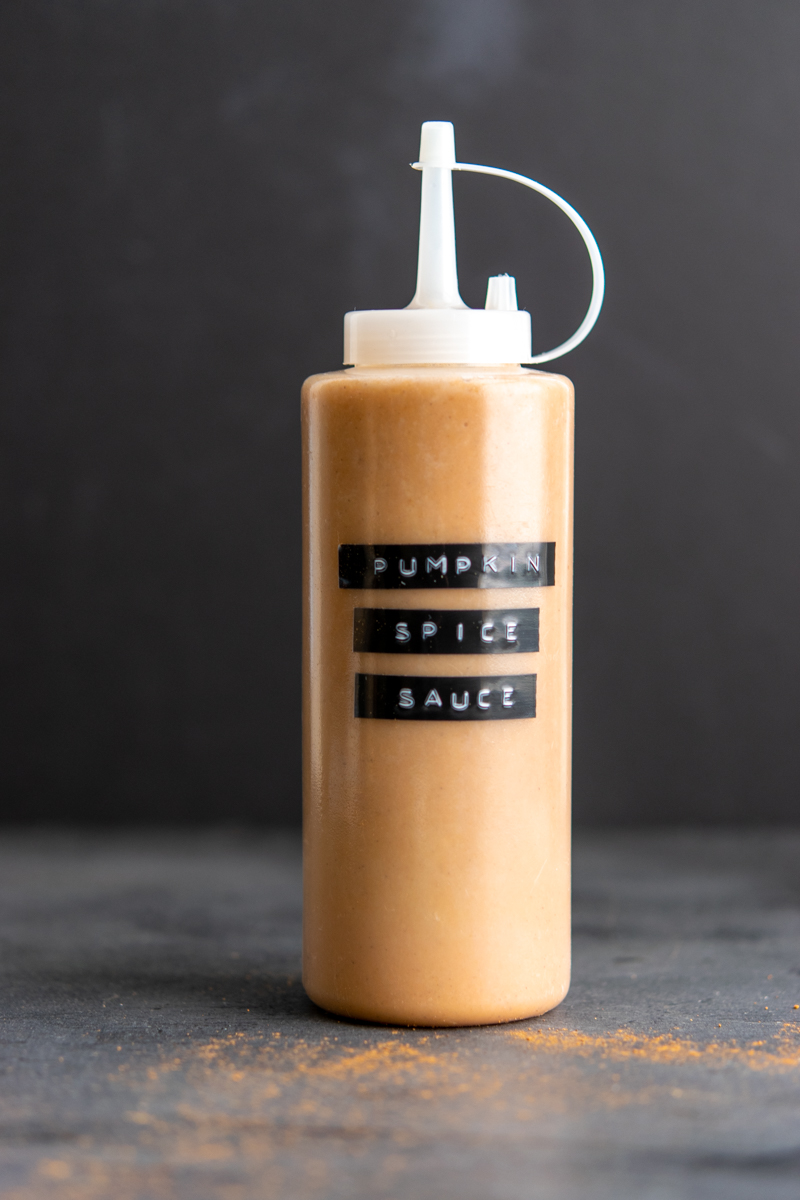 Frappuccino Syrup
Starbucks Frappuccino Syrup is also another product that's not available for retail sale.
In addition to adding some cream flavor, Starbucks Frappuccino Syrup contains xanthan gum. This is why I mentioned earlier, you don't want to skip this ingredient.
If you want to make a Pumpkin Spice Coffee Frappuccino, you'll add some espresso or cold brew, as well.
Additional Tips for Making a Frappuccino
Ice is a major ingredient in any frappuccino recipe. Therefore, I highly recommend using ice made with filtered water.
This way, no funky tap water tastes will ruin the flavor of your prized pumpkin spice frappuccino.
In fact, I recommend using filtered water for making any tea or coffee drink. It makes all the difference.
Additionally, milk is a very important frappuccino ingredient.
Starbucks uses whole milk for all its frappuccino recipes. I'm sure you know, you can substitute one type of milk for another. Just know that doing so changes the frappuccino's creaminess.
The rule of thumb is, the more fat in the milk, the creamier the frappuccino.
Now that you know all about making a Starbucks Pumpkin Frappuccino, let's get started. You're sure to enjoy this homemade recipe.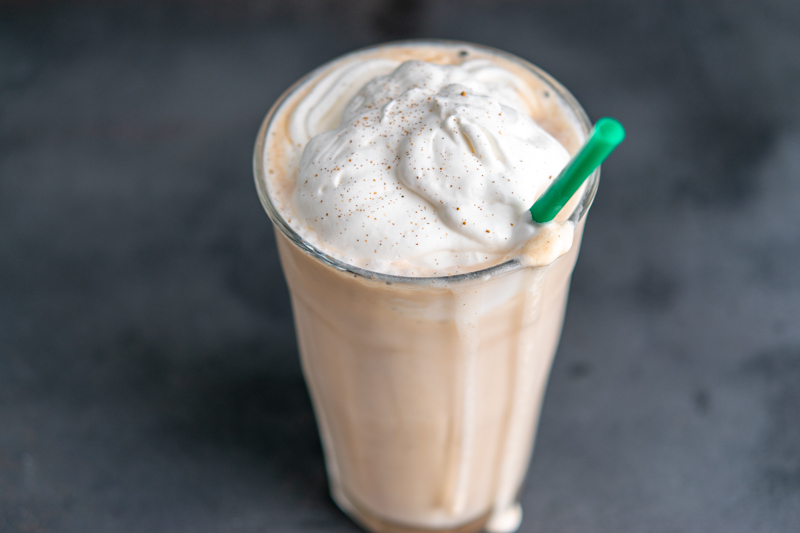 Starbucks Pumpkin Spice Frappuccino Recipe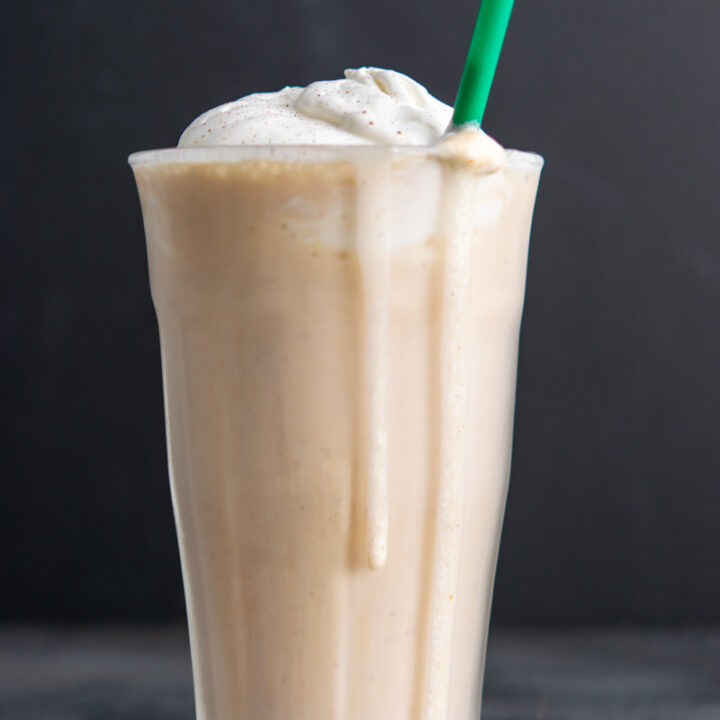 Starbucks Pumpkin Spice Frappuccino Recipe
Quick and easy Starbucks Pumpkin Spice Frappuccino recipe made with pumpkin spice sauce and just a few more ingredients. Creamy and delicious!
Ingredients
1 cup pumpkin spice sauce
1/3 cup whole milk
1 cup ice cubes
1/4 teaspoon xanthan Gum
Pinch of salt
1/2 cup whipped cream
Instructions
Make the pumpkin sauce recipe and let it cool.
Combine all the pumpkin spice frappuccino ingredients in a blender and blend for 1-2 minutes.
After turning the blender off, let the frappuccino sit in the blender to thicken up.
Pour the frappuccino in a tall glass and top with whipped cream and pumpkin pie spice if desired.
Notes
Pumpkin Spice Frappuccino Recipe Variations
To make a pumpkin spice coffee frappuccino, add 1/3 cup cold brew coffee or a shot of espresso.
To make a pumpkin spice chai frappuccino, add 1/3 cup chai concentrate.