You're going to love this Instant Chai Latte Powder Mix. The recipe is quick and easy to mix together and makes a great homemade gift in a jar, especially for chai tea lovers.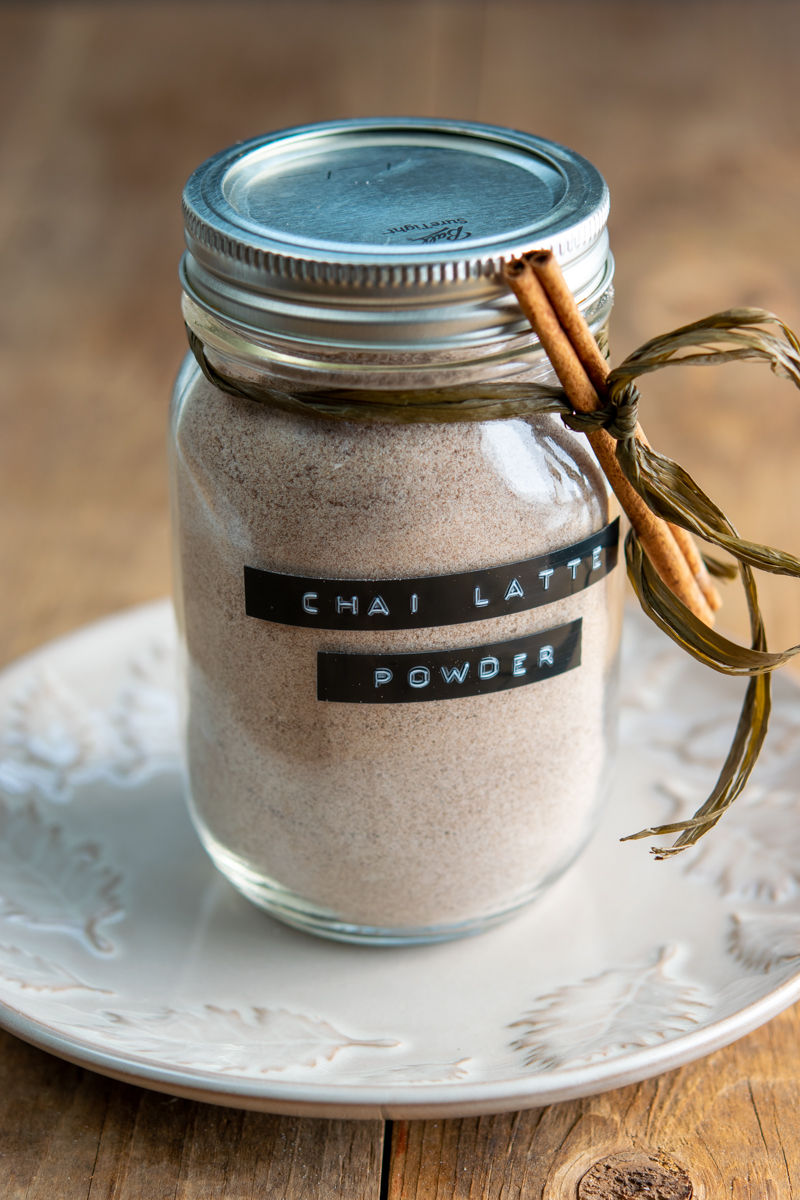 There's just something about cooler months that makes me crave the warmth and creaminess of a chai latte. That's why I like to keep a jar of instant chai latte powder mix in my pantry.
All you have to do to make a chai latte is stir a couple scoops into a mug of hot water. That's it.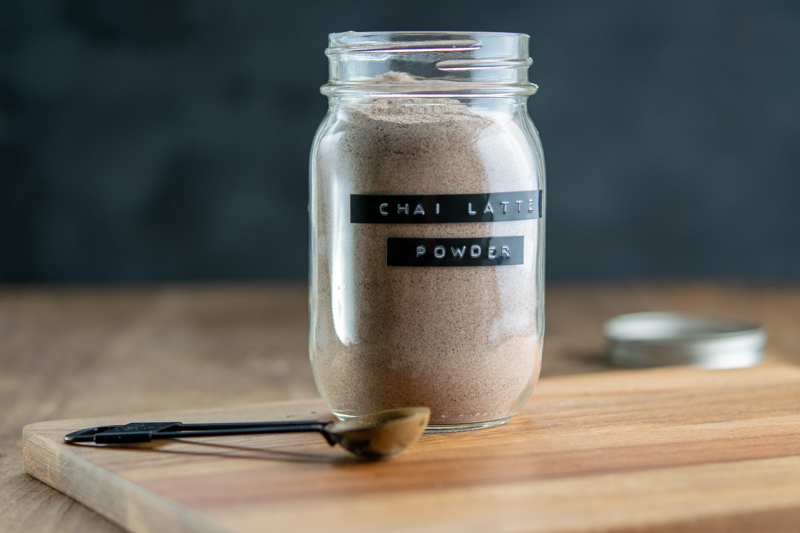 Don't get me wrong, one of my favorite ways to make a chai latte at home is by combining steamed milk and homemade chai concentrate.
And if you know me, I'm also a bit partial to a hot Starbucks chai latte.
As a matter of fact, I really like all the Starbucks chai drinks. The frappuccino is so good, I even figured out how to make a chai frappuccino at home.
As far as I'm concerned, their chai has just the right amount of ginger and warm chai spices like cardamom, cloves and cinnamon.
But the truth of the matter is, sometimes I run out of chai concentrate and other times I just don't feel like making the trip to Starbucks.
That's why I love this simple recipe for chai latte powder mix.
Plus, when you package some in a nice jar, it makes a terrific gift.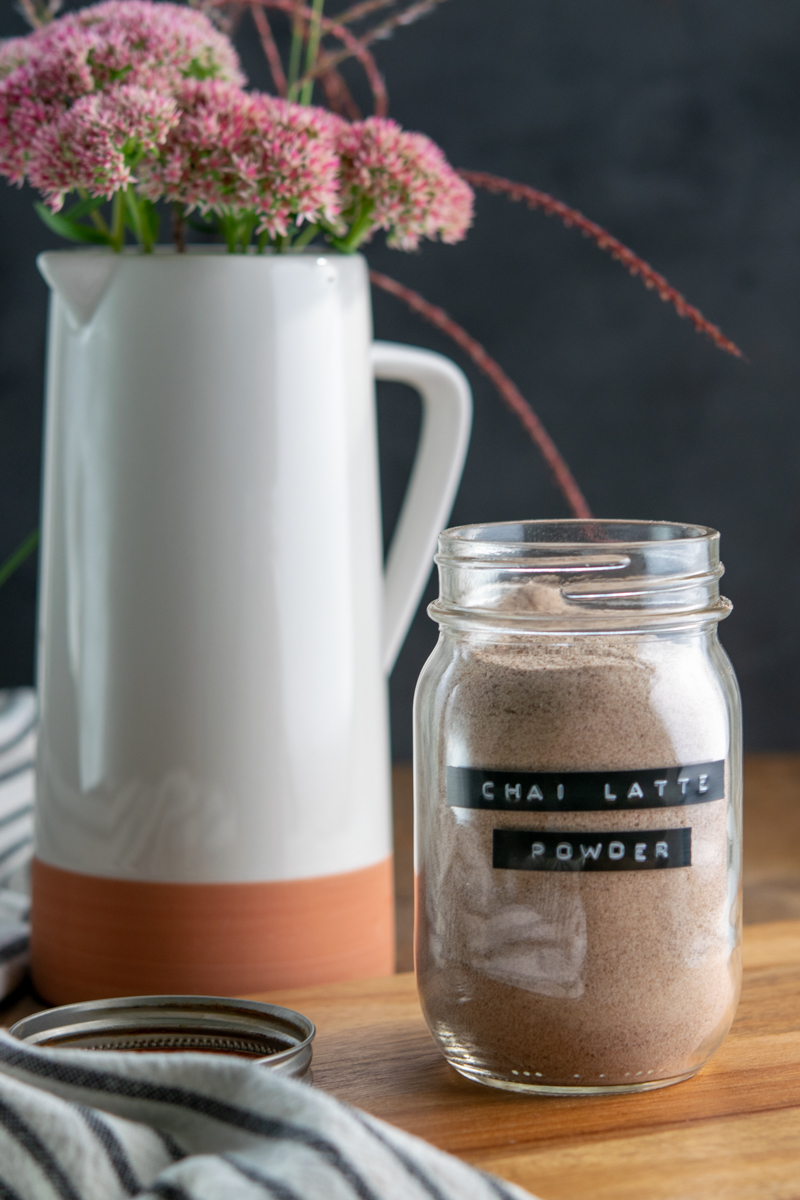 What is Chai Latte Powder?
Perhaps you've seen recipes for Chai Powder or Chai Spice Mix. While similar to Chai Latte Powder Mix, there's a big difference.
Chai Spice Mix recipes are simply a mixture of spices like cardamom, cloves and cinnamon. Often, this mix is used for cooking and to sprinkle on top of food and drinks.
On the other hand, Chai Latte Powder is a mixture of chai spices as well instant tea, powdered milk and sweetener.
4 Components of a Chai Latte
Chai Spices
Black Tea
Milk
Sweetener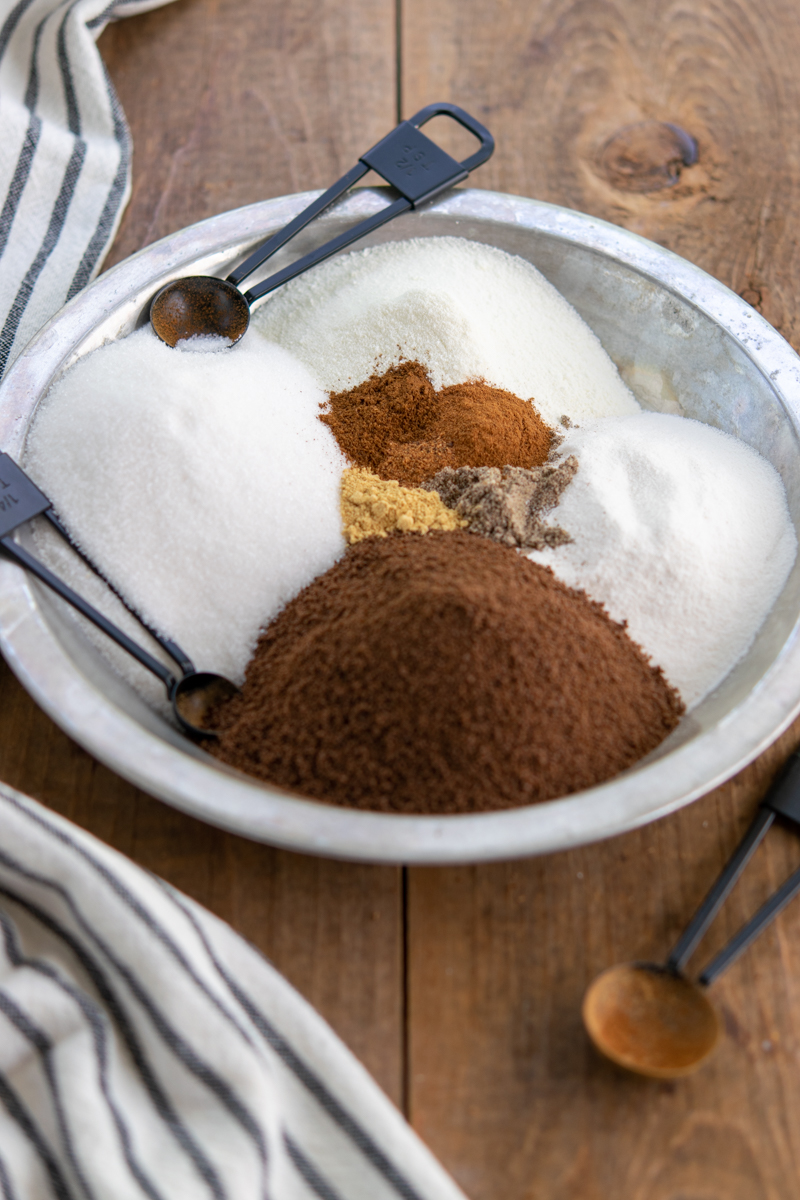 Therefore, since the chai latte powder mixture contains all four components of a chai latte, all you have to do to make an instant latte, is add hot water.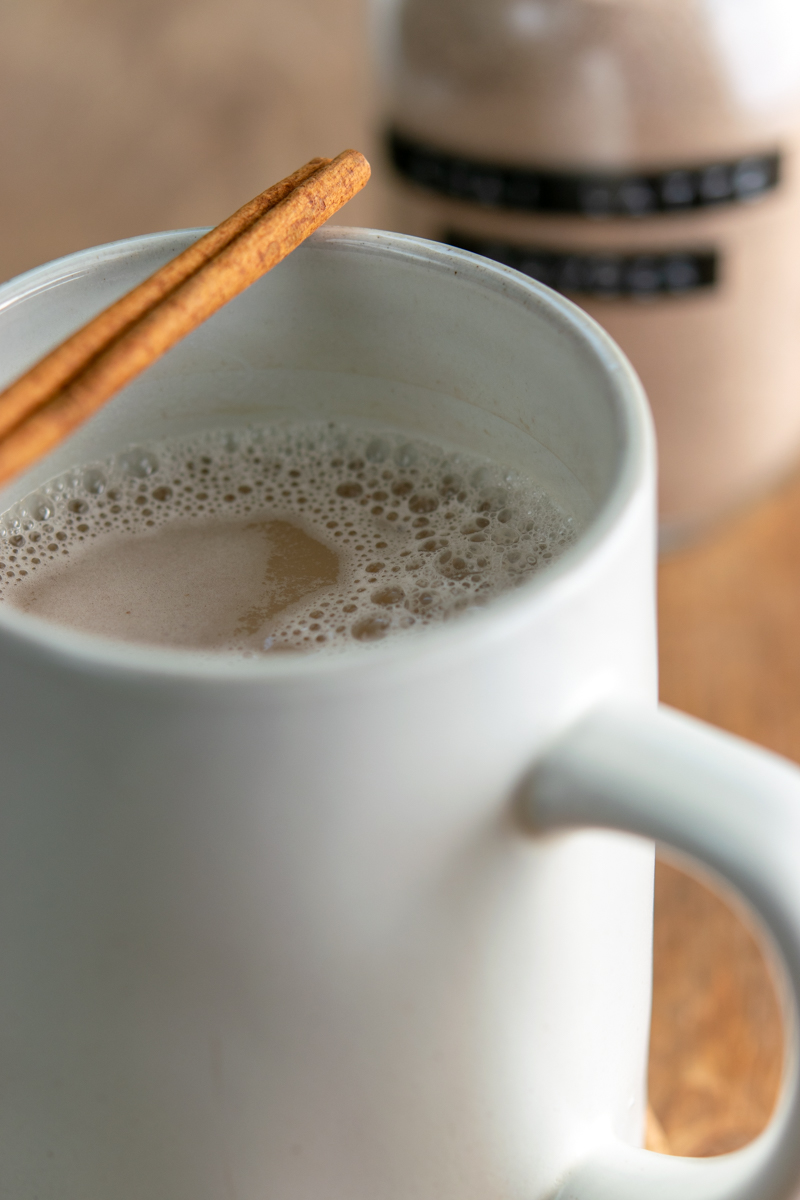 Common Chai Spices
The combination of spicy and sweet is what makes a chai drink special in my opinion. But do you know what spices are commonly found in chai?
Typically, the spices combined to make a chai blend include cardamom, cloves, cinnamon, ginger and black peppercorns.
But chai isn't a one-size-fits-all kind of tea. You can easily add or delete spices according to individual taste preferences.
For example, other spices used to make a chai tea blend are nutmeg, star anise, allspice and fennel.
If you take a look at how I make masala chai from scratch, you can see the whole spices I use to make this absolutely delicious tea from India.
When you have a few extra minutes to steep some chai spices and black tea in water and milk, I highly recommend trying my masala chai recipe. You won't be disappointed.
As you can see, there's a variety of spices you can make chai powder with. So feel free to customize your mix according to your favorite flavors.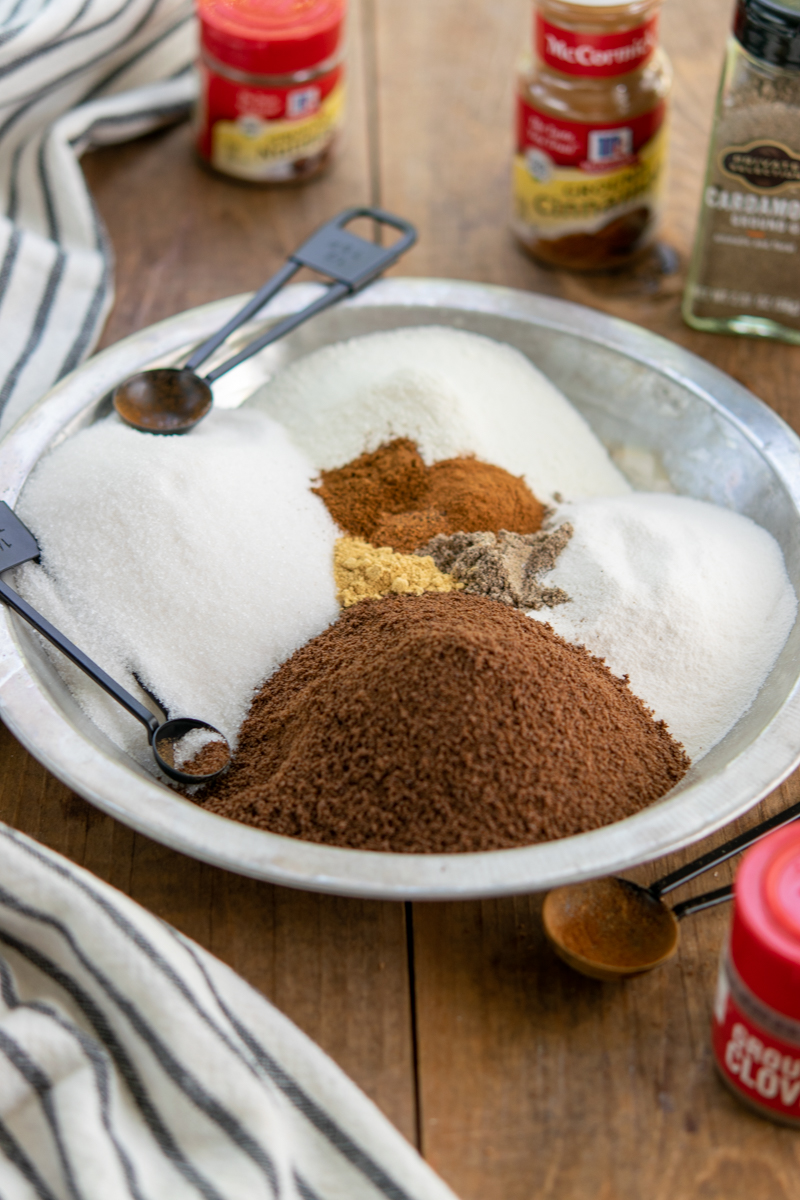 Chai Tea Latte Mix in a Jar
What's more, powdered chai latte mix makes a terrific mason jar gift.
Just fill a jar up with the chai latte blend and perhaps decorate it with a ribbon and label.
Most importantly, be sure to include an instruction tag with directions on how to make a cup full of chai latte using the mix.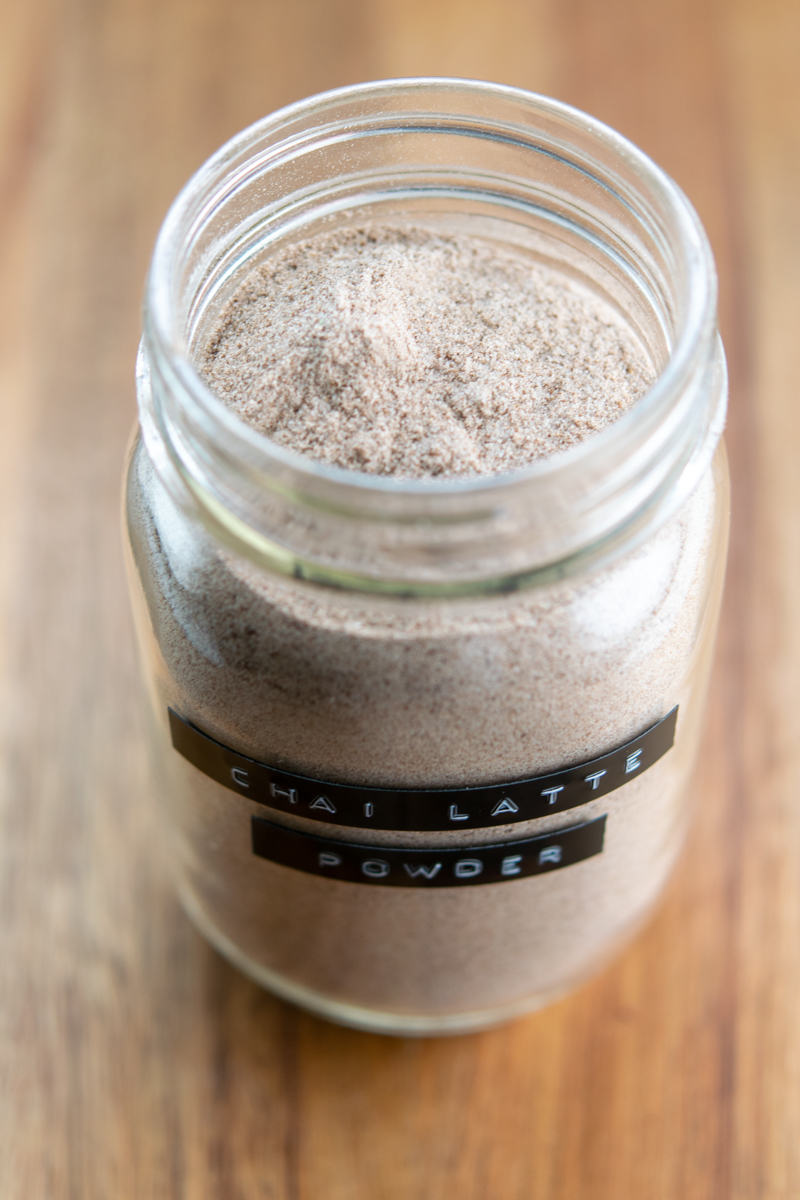 Another of my favorite tea mixes in a jar to give to friends and family is Friendship Tea. If you don't know it by this name, you may have heard it called, "Spiced Tea Mix with Tang."
No matter its name, Friendship Tea is a sweet and spicy orange tea mixture that also makes a fun and tasty gift.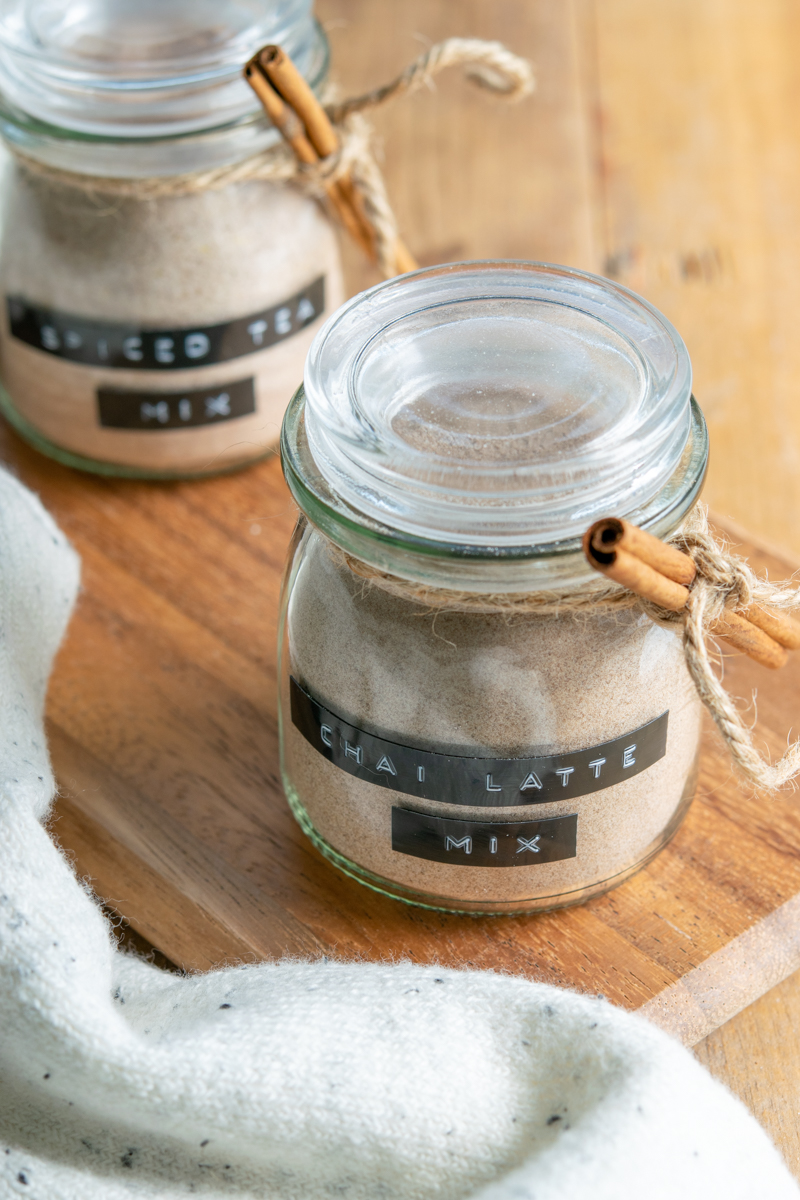 How to Make Powdered Chai Latte Mix
Making a batch of chai latte powder could not be easier.
Literally, the part that takes the most time is going to the grocery store and gathering up the ingredients.
Chai Latte Powder Recipe Ingredients
Instant Tea
Powdered Milk
Powdered Creamer
Granulated Sugar
Ground Cinnamon
Ground Cloves
Ground Cardamom
Ground Ginger
Once you have everything you need to make the chai latte powder, it only takes two steps to prepare.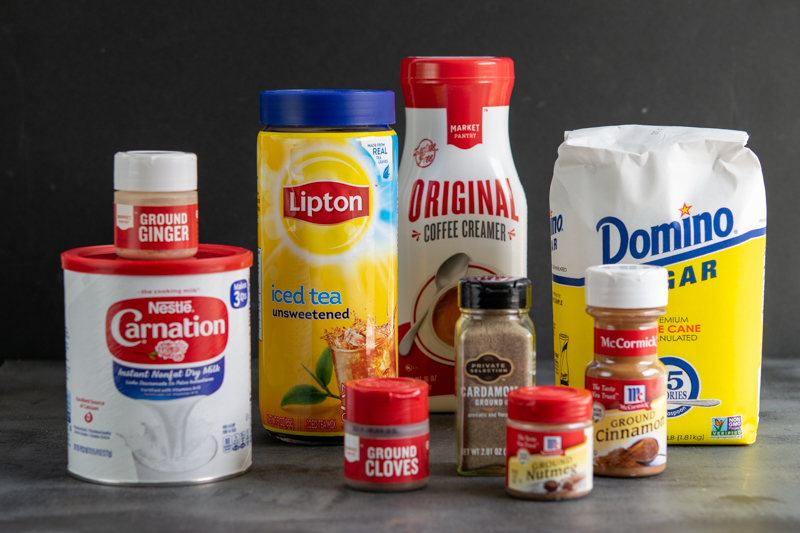 Step 1: Combine all the ingredients
Obviously, all of the ingredients are dry–powders and spices. So grab a bowl and measure everything into it.
Next, stir the mixture to combine.
Keep in mind, this recipe is real easy to multiply if you're so inclined.
Step 2: Blend mixture
I like to blend the mixture and turn it into a fine powder so it dissolves easily when mixing up a chai latte.
While this step isn't entirely necessary, I do highly recommend it.
Not to mention, the instant iced tea crystals seem to separate from the rest of the powders and spices. When it's powdered all the ingredients stay well blended.
Therefore, to turn the chai latte mix into a powder, simply run it through a blender or food processor.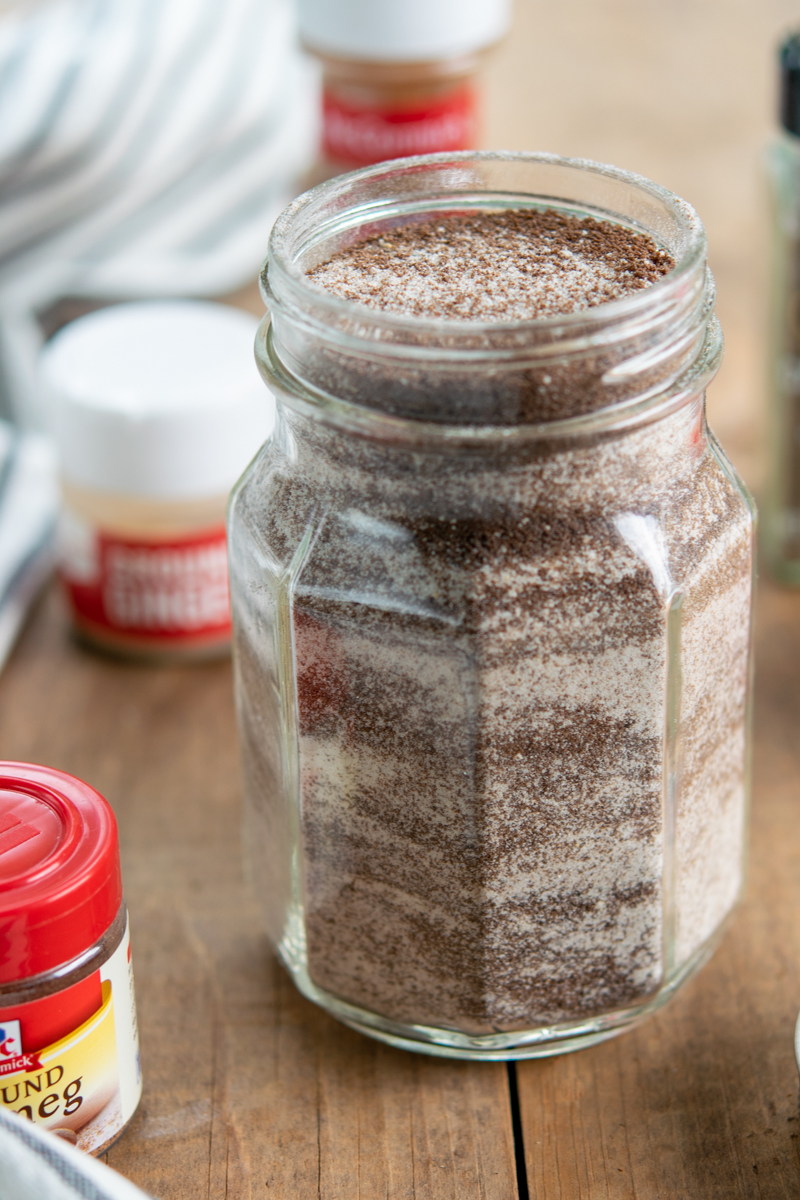 Photo Credit: amazon.com
1000-Watt Base and Total Crushing Technology for Smoothies, Ice and Frozen Fruit, Black
Recipe Variations
Vanilla Chai Latte Mix
To make powdered vanilla chai latte mix, simply substitute the coffee creamer with a french vanilla-flavored creamer.
Another option is to add some vanilla powder (not vanilla extract). This is usually located in the grocery store's baking and spice aisle.
Chai Latte Powder Recipe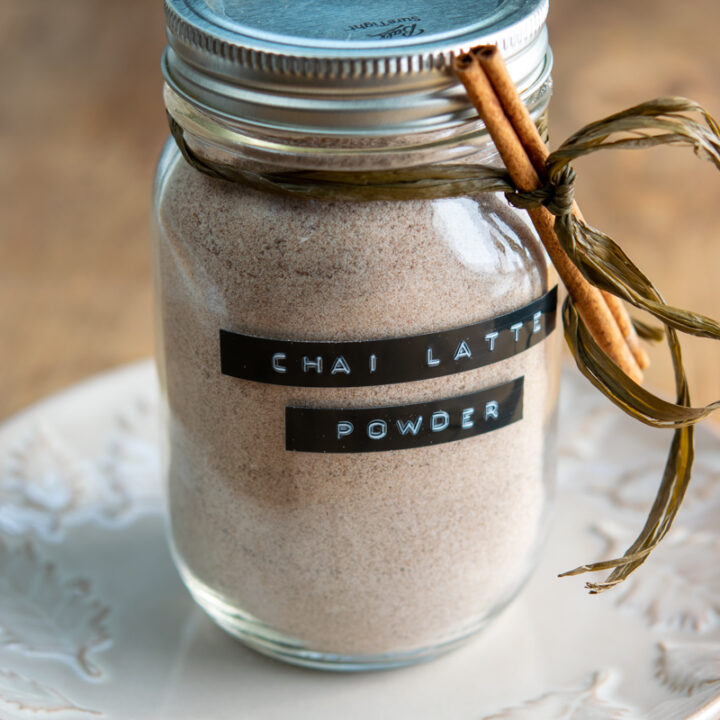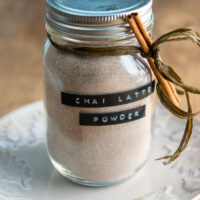 Chai Tea Latte Powder Mix
Yield:
32 ounces powdered mix
This powdered chai latte mix recipe is simple to put together and when you put some in a jar, it makes a great gift.
Ingredients
1 1/2 cups instant tea
1 1/2 cups sugar
1 cup nonfat dry milk powder
1 cup powdered non-dairy creamer
2 teaspoons ground cinnamon
2 teaspoons ground ginger
1 teaspoon ground cardamom
1 teaspoon ground cloves
1/2 teaspoon ground nutmeg
Instructions
Measure and combine all ingredients in a bowl.
Add mix to a blender or food processor, 1 cup at a time, and blend or process for a few seconds until the chai latte mix becomes a powder.
Scoop mix in jars to store or to give as gifts.
To serve, scoop 1-2 tablespoons of chai latte mix into a cup per cup of water. Pour boiling water over mix and stir well.
Notes
While blending the mix isn't necessary, it's recommended to do so since the powder dissolves more easily in boiling water and the tea, milk powders and spices will not separate in the jar.