See how easy it is to make a hot chai tea latte like Starbucks at home with this 2 ingredient recipe. You're sure to love this chai latte since it only takes a minute to put together and is perfect for cool days.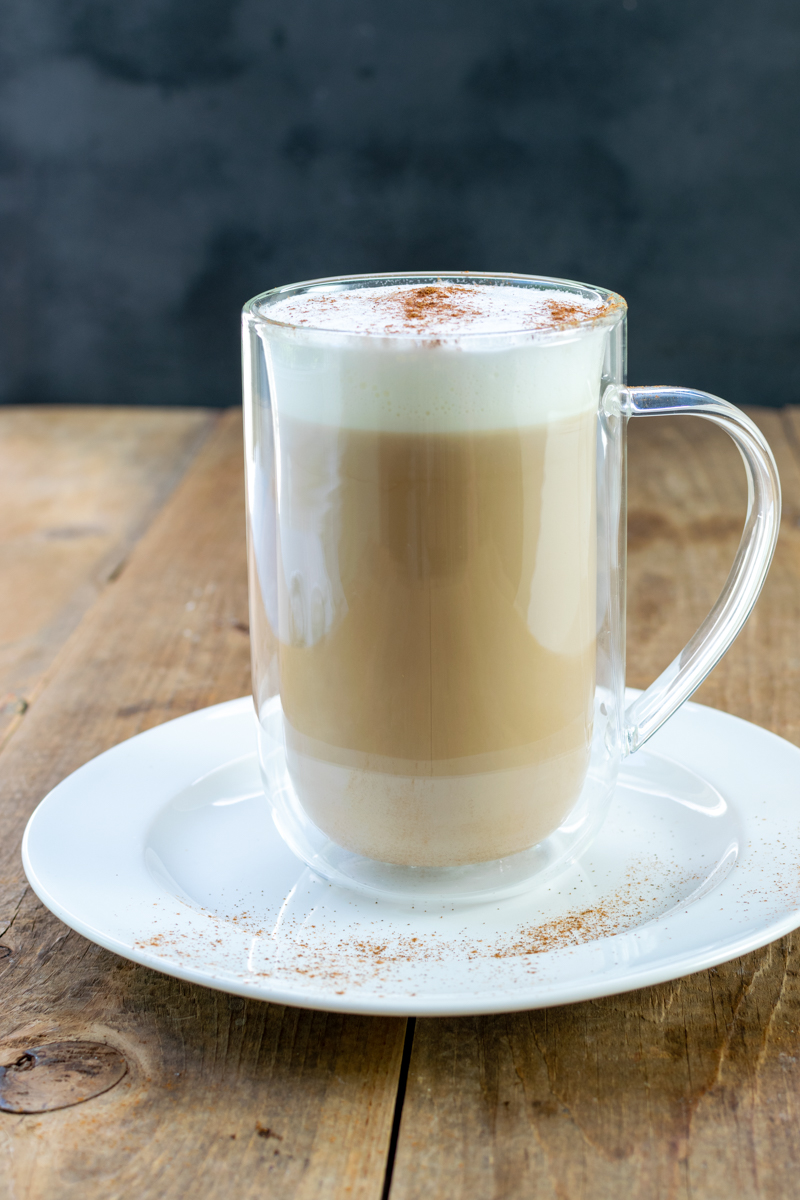 Starbucks Chai Tea Latte
Sometimes nothing hits the spot quite like a warm Starbucks Chai Tea Latte.
I just love the combination of black tea infused with chai spices like cinnamon, cardamom and cloves.
In fact, sipping on a Starbucks chai latte reminds me of fall. I guess this is because chai tea and pies like apple and pumpkin, share some of the same warm spices.
As you can imagine, the mixture of Starbucks chai tea concentrate and steamed milk creates the most delicious sweet and spicy chai latte.
This drink is so good, in fact, I think of a chai latte as the perfect hot tea for cooler days.
One sip and it's easy to see why its one of the Most Popular Starbucks Tea Drinks.
However, going to Starbucks for your daily cup of tea or coffee may not be convenient and can get a little pricey. So this post shows you first how a Starbucks barista makes a hot chai tea latte and second, how you can make the same drink at home.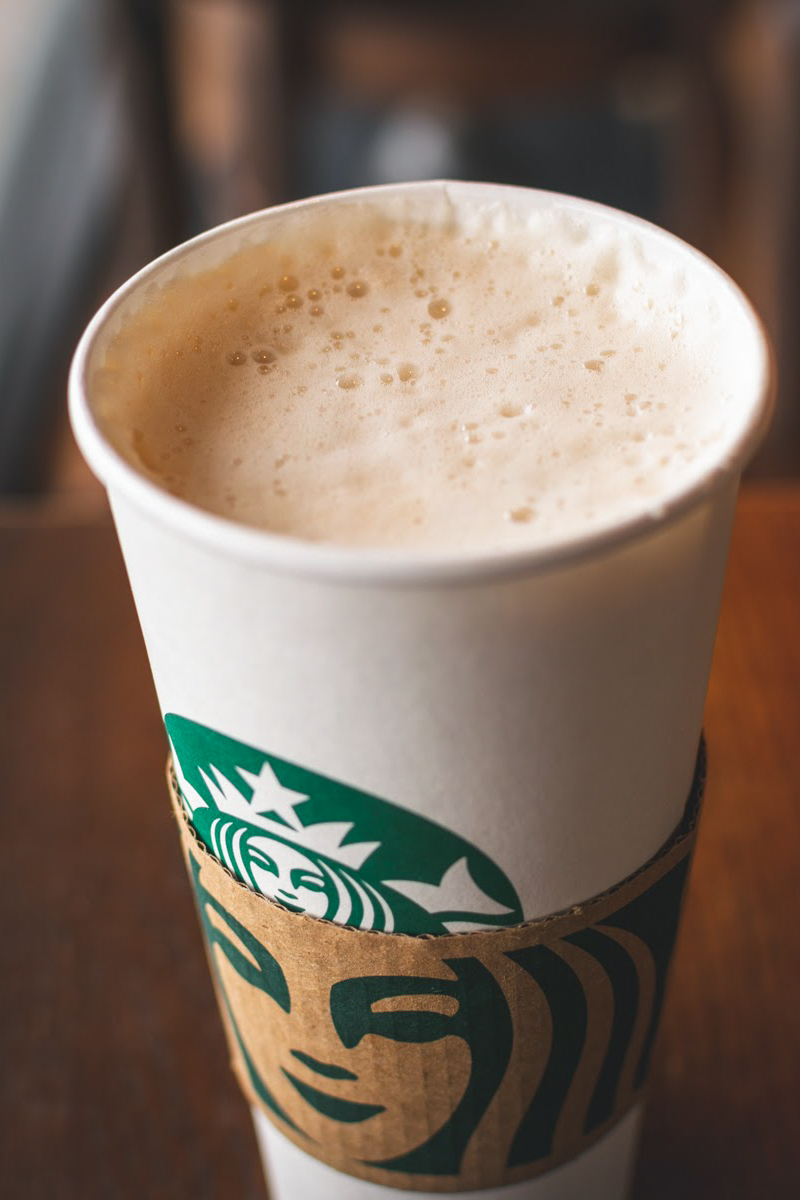 How a Starbucks Barista Makes a Chai Tea Latte
While there are a lot of ingredients in a Starbucks Chai Latte, in fact it's a really quick and easy drink for a barista to make.
This is because the Starbucks chai concentrate is already pre-made and all the barista has to do is pour some in a cup.
On the plus side, this black tea concentrate is bold and delicious since it's so well infused with spices. The flavor of chai certainly doesn't get lost when it's mixed with steamed milk to make a hot chai latte or ice and milk to make an iced chai tea latte.
On the downside, since the Starbucks chai concentrate is pre-made with sugar, it's not possible to get a "skinny" or sugar-free chai latte made with the concentrate.
However, there is one way to get a sugar-free chai latte from Starbucks. Hint…Starbucks also has Teavana chai tea bags.
By the way, if you're a chai lover like me, be sure and check out my Starbucks Chai Tea Drink Guide to see tips like this, as well as their full lineup of chai drinks.
Now, let's take a look at how a barista puts a hot chai latte together.
Starbucks Chai Latte Ingredients
Chai concentrate
2% milk steamed
Starbucks Hot Chai Tea Latte Recipe
Pump room temperature chai concentrate into a cup
Steam 2% milk to approximately 170 degrees.
Pour the steamed milk into the cup
Top the latte with a little of microfoam
Sprinkle cinnamon on top (optional, done by customer)
Black Tea Chai Concentrate: Starbucks vs Tazo
Before I show you how to make a chai latte at home, I want to show you the difference between the actual chai concentrate your barista uses compared to a readily available brand like Tazo.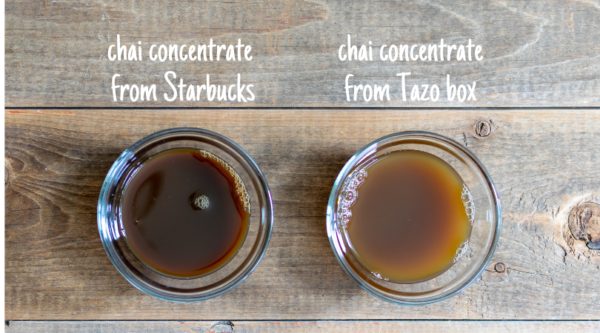 All you have to do is take a look at the picture and you can see the Starbucks chai is much darker than Tazo. This is because it's more concentrated.
Therefore, Starbucks uses less concentrate and more milk compared to making a latte at home with brands like Tazo or Oregon Chai.
How to Make a Hot Chai Latte at Home
Now that you see how quick and easy it is for a barista to make a hot chai latte, let me show you how easy it is to make a similar drink at home.
All you need is a box of chai concentrate available in the tea aisle of Target or most major grocery stores.
Or you can make a bottle of your own homemade chai concentrate. It's actually quite easy to do.
Additionally, you need 2% milk or any milk of your choosing.
Do note, however, that not all milks froth equally as well. So if you like oat milk, for example, consider getting a "barista edition" that's designed to foam up better.
Here are the steps I take to make a hot chai latte at home.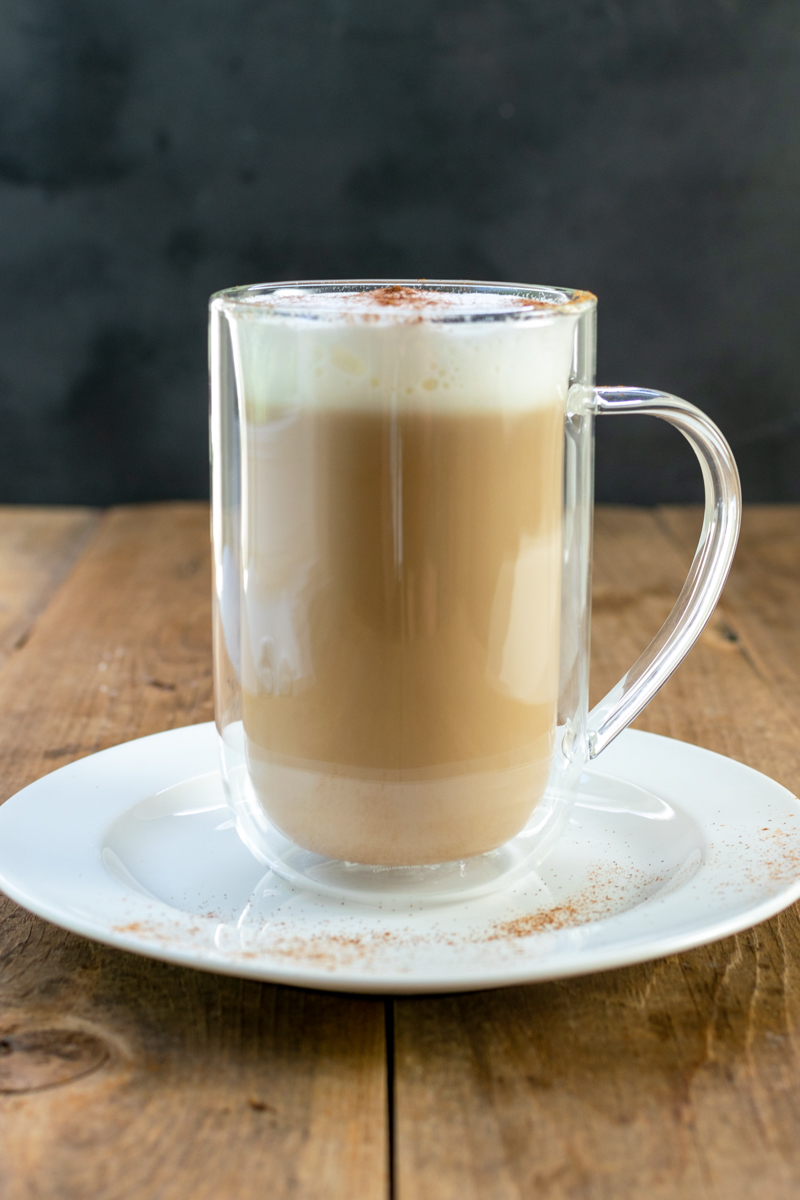 Step 1: Pour chai concentrate in a cup.
Fill a drinking cup or mug halfway with Tazo black tea chai concentrate. Tazo recommends using equal parts of chai and milk. If you're using another brand, be sure and follow their instructions.
If the box of chai is unopened and room temperature, there's no need to heat it up.
However, if it's been in the refrigerator, you need to warm the chai up. You can do this using a microwave or on the stove.
That being said, it doesn't need to be super hot since steamed milk will be poured over it.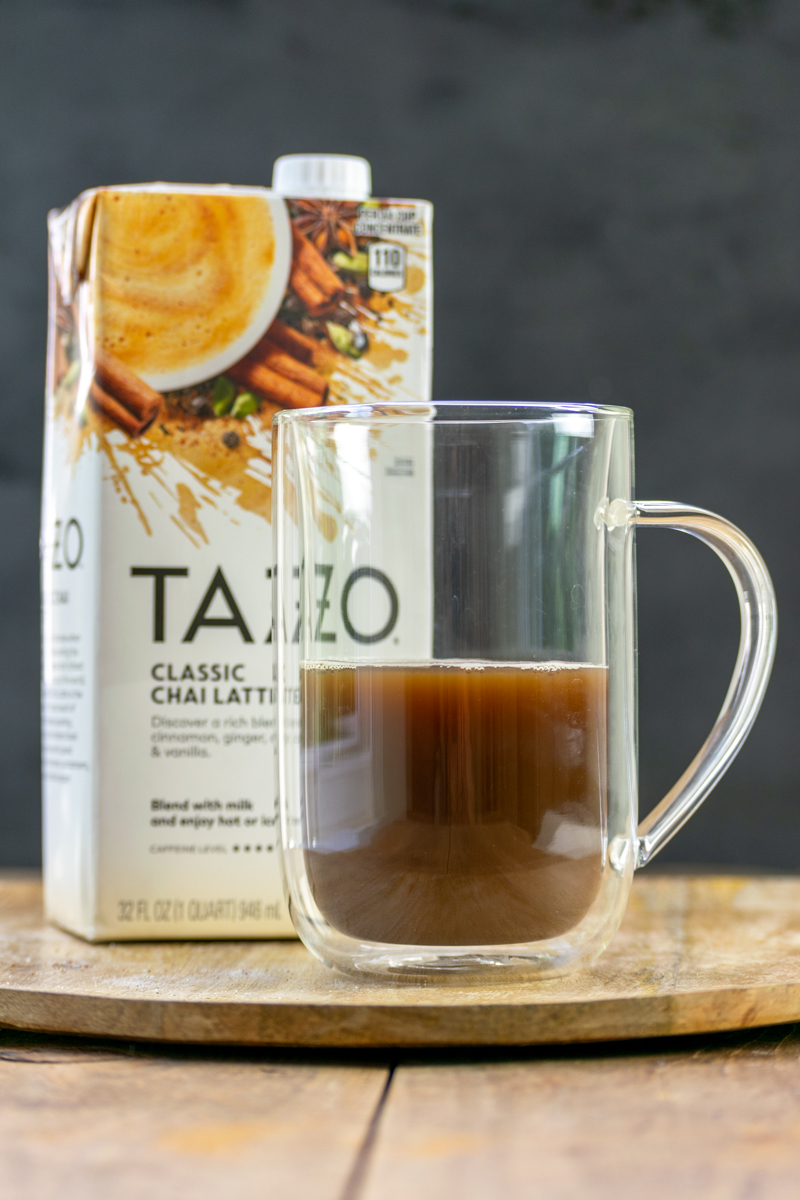 Step 2: Steam the milk.
There are multiple ways to steam and froth milk to make the perfect chai latte at home.
Keep in mind, it's not necessary to froth the milk, but it does make the drink creamier.
Electric Milk Frother
Personally, my favorite way to do this is with an electric milk frother. I have a Nespresso Aeroccino and it warms and aerates with the click of a button.
Photo Credit: amazon.com
Electric Milk Frother & Steamer for making lattes, cappuccinos, hot chocolate and more.
Microwave & Handheld Milk Frother
However, you can also steam milk in the microwave. I warm it up for about 40-50 seconds but the time will vary based on your microwave. The goal is to get it to be around 170 degrees.
Then, to aerate the milk, a handheld milk frother like this Aerolatte Milk Foamer works really well.
What's nice is that they're fairly inexpensive. I actually have one that's designed to whisk matcha, but it's great for foaming milk, too.
Photo Credit: amazon.com
Aerolatte's Original Steam-Free Milk Frother with satin finish for making and enjoying rich, frothy beverages anywhere.
Stove & Handheld Milk Frother
Finally, you can warm up the milk on the stove. Just be sure to do this slowly over low heat.
When the milk is warmed up, aerate it with a handheld frother.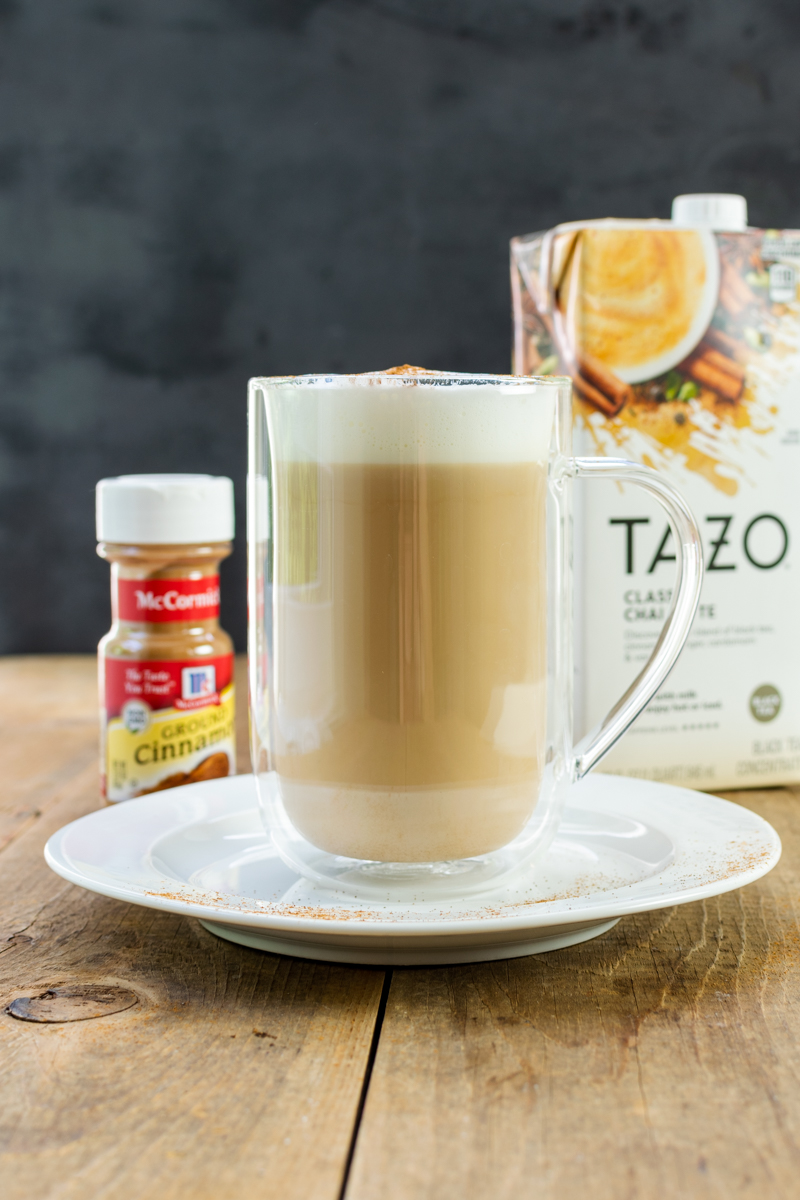 Step 3: Pour the milk into the cup.
Lastly, pour the steamed milk into the cup, holding back the microfoam with a spoon.
Scoop the foam onto the top and sprinkle the chai latte with cinnamon if desired.
Related Starbucks Chai Tea Recipes & Guides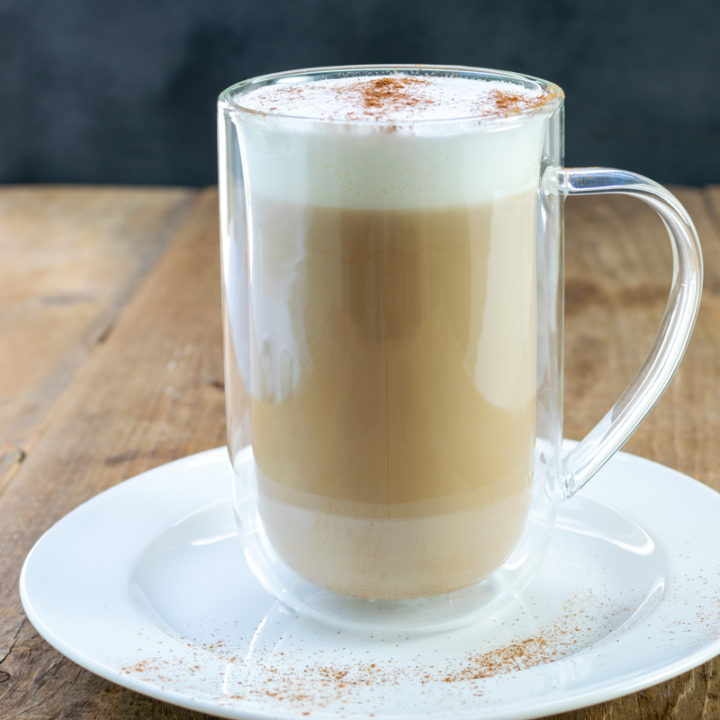 Starbucks Chai Tea Latte
Additional Time:
1 minute
Quick and easy hot chai latte recipe to make a copycat Starbucks chai tea latte at home.
Ingredients
1 cup Tazo chai concentrate
1 cup 2% milk
Dash of cinnamon (optional)
Instructions
Pour room temperature chai concentrate in a 16 ounce cup or warm up the concentrate in the microwave or on the stove.
Steam and froth milk. Use an electric frother to steam and froth at the same time. Or warm the milk up in the microwave or on the stove and aerate it with a handheld milk frother.
Pour the steamed milk into the chai, holding back the foam with a spoon.
Scoop the foam on top of the chai latte and sprinkle with cinnamon as desired.
Recommended Products
As an Amazon Associate and member of other affiliate programs, I earn from qualifying purchases.
Nutrition Information
Yield

1
Serving Size

16 ounces
Amount Per Serving
Calories

267
Total Fat

4.7g
Saturated Fat

3.3g
Cholesterol

20mg
Sodium

120mg
Carbohydrates

47g
Fiber

2.7g
Sugar

44g
Protein

8g