If you love the flavor of honey and oats then you're sure to enjoy this quick and easy oat milk honey latte recipe.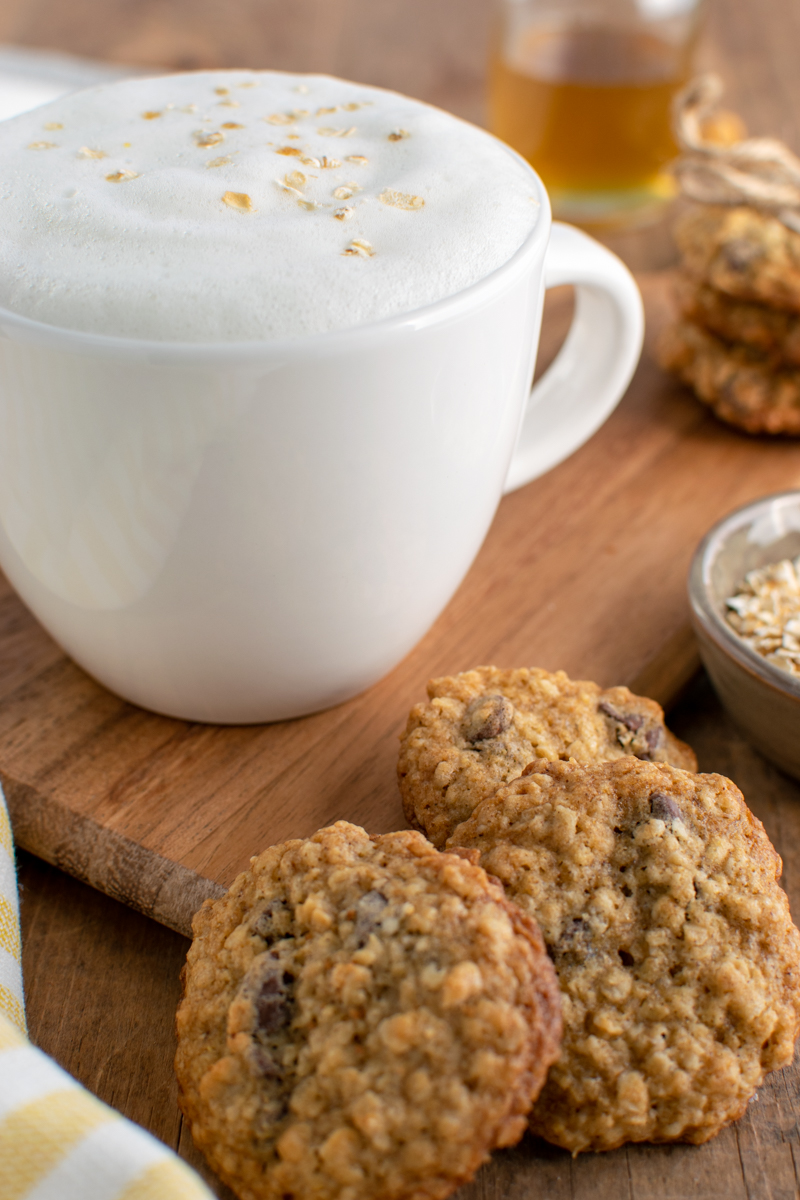 Oat Milk Honey Latte
If you love the cozy feel and homey taste of a warm bowl of oatmeal, then you should really try this oat milk latte recipe. Made with plant-based oat milk, honey simple syrup and your choice of tea, coffee or espresso, it's such a satisfying drink, especially to start the day. While you can find this new drink at Starbucks (made with espresso and named oatmilk honey latte), this honey oat milk latte recipe is super simple to whip up at home. Plus you can enjoy this homemade latte my favorite way: while still in pajamas.
Honey Oat Milk Latte Ingredients
It's really simple to make this latte, especially if you have a carton of oat milk in the fridge and a bottle of honey simple syrup on hand. If you don't, you can grab my recipe for honey syrup here. Hint: honey and honey simple syrup are not the same thing.
To make this latte you need:
Strong black tea, strong coffee or espresso
Oat Milk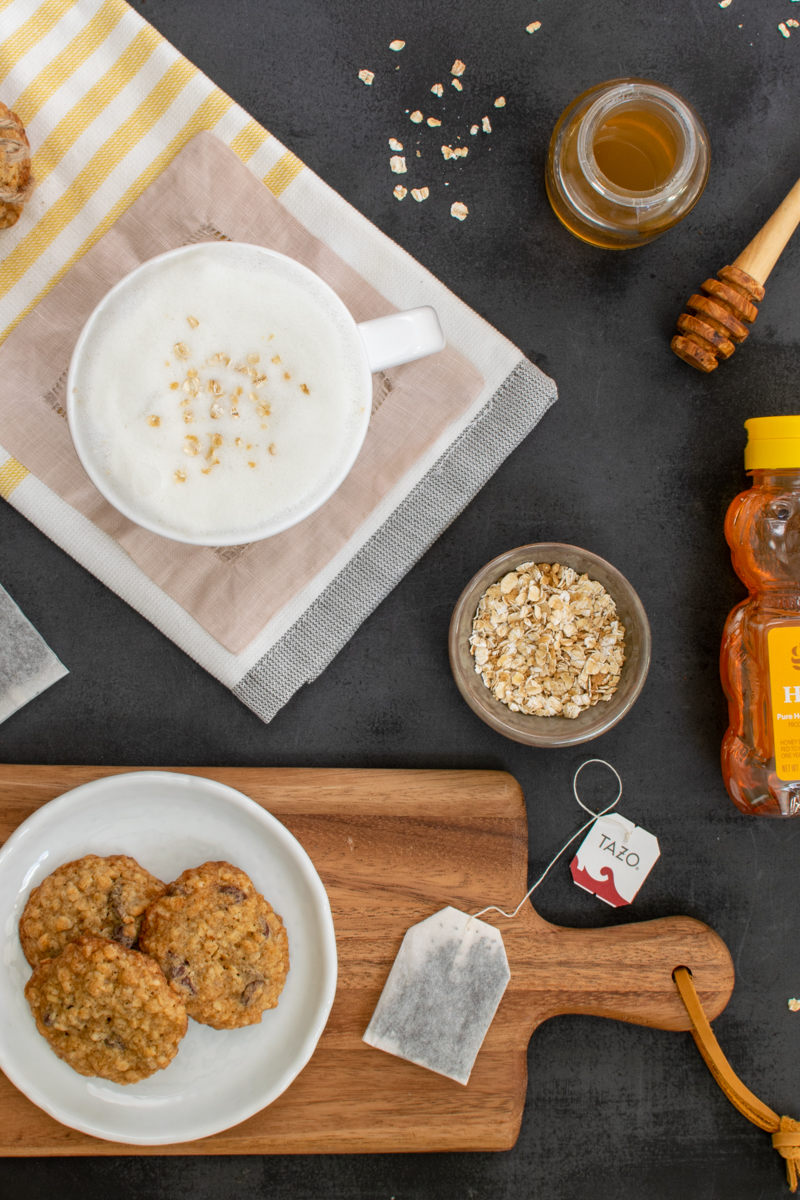 What is oat milk?
It seems like there are so many choices of milk these days. Remember when the only type of milk available at the store or your favorite coffee shop was cow's milk? In addition to cow's milk, now there are numerous alternative varieties like soy, almond, coconut, rice, hemp and oat.
I love that there are so many milk options. Not only is it a good thing for those on special diets like dairy-free or vegan, but it's a great way to change up the flavor of your morning tea or coffee. Additionally, other flavors of milk open the door for a lot of fun and tasty latte recipes, like the honey oat milk recipe I share below.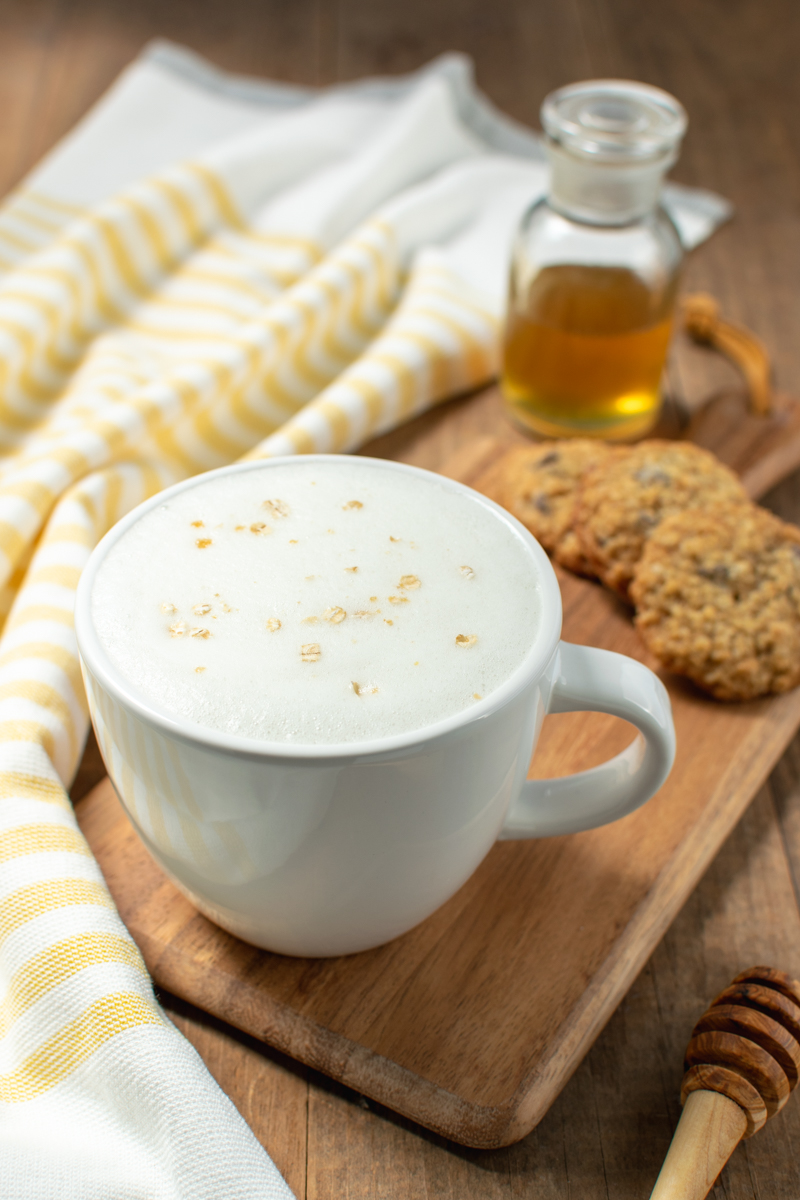 But I digress…back to oat milk. If you're not familiar with oat milk, it's simply water and oats. That's it! You can even make your own homemade oat milk by blending 1 cup of soaked rolled oats with 3 cups of water. Pour it through a cheesecloth and you've got oat milk.
Benefits and "dangers" of oat milk
Many store-bought milks we consume are fortified with essential nutrients. So, it's important to look and compare labels, especially if you replace cow's milk and all it's calcium from your diet with something like oat milk. This is especially the case with homemade oat milk that has no added nutrients like vitamin A and D.
That being said, there are numerous benefits to consuming oat-based products. According to this website, oat milk:
Helps prevent anemia
Strengthens bones
Boosts immunity
Lowers cholesterol
Personally, my favorite brand of oat milk is Oatly (this is not a sponsored post), and apparently they're the originator of this "new" milk that's been in the making for thirty years. I guess you can say, Oatly is the OG of oat milk.
Anyway, if you know me, you know I'm a sucker for good branding and packaging, not that it affects flavor, and the Oatly carton is not only creative to the max, but it's funny, too. It's like you can have a laugh, or at least a chuckle, while sipping on your latte.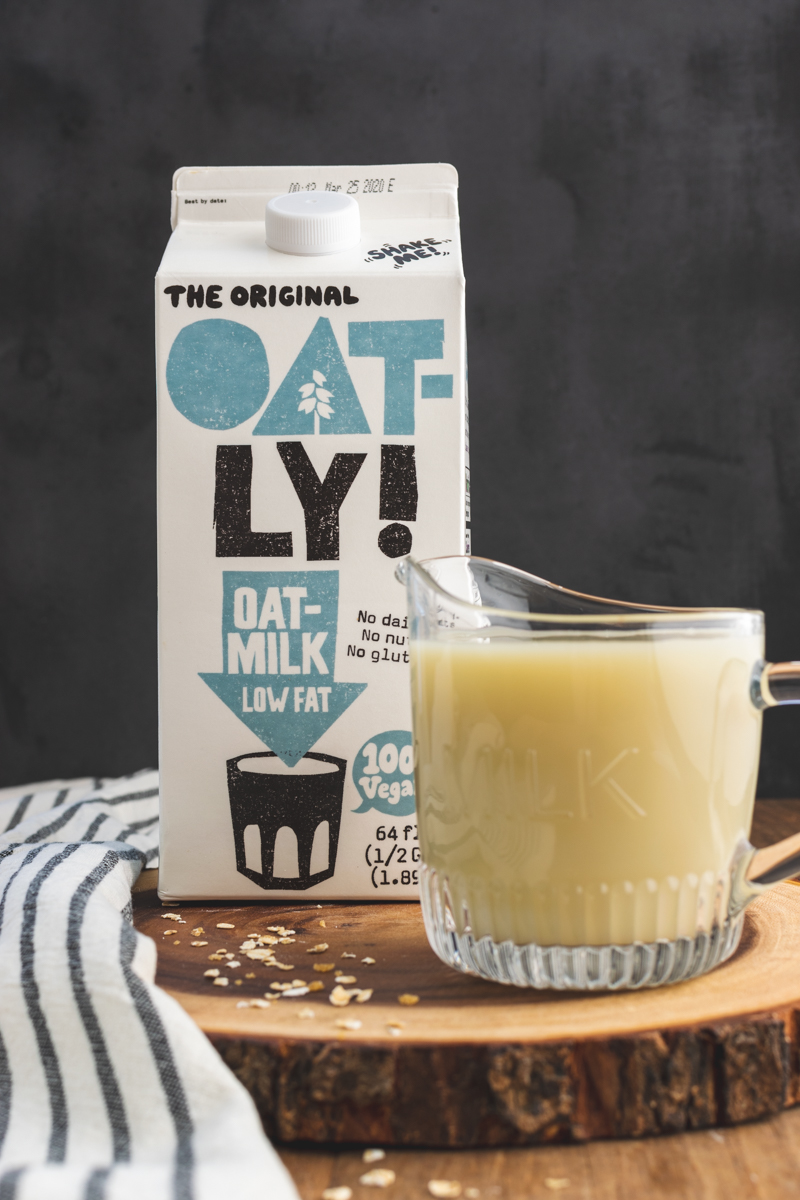 Here are few things you should know about Oatly and oat milk.
No dairy.
No nuts.
No gluten.
100% vegan.
Steaming and frothing oat milk
If you're a pro at steaming milk and getting a shiny layer of beautiful microfoam bubbles, you know that full-fat dairy milk performs the best and tastes the creamiest. Low fat or even non-fat milk also foams nicely. In fact, these milks often seem to create more bubbles than their fat-filled cousin. However, these bubbles are larger and may become more dry and less supple before you finish your latte.
Since both whole milk and non-fat milk aerate and foam nicely, you may be wondering why. The simple, not-so-scientific answer is that it's the milk's protein (not fat) that breaks down when exposed to heat and re-forms around the air bubbles. The percent of fat seems to affect, bubble size and creaminess.
This begs the question, is it possible to foam non-dairy milks or milk alternatives? Yes, it is for the most part. But as you can imagine it varies greatly depending on the type of plant-based milk, brand and additives.
All that being said, the best type of oat milk to steam and foam for your honey oat milk latte is a brand's barista blend. For example, Oatly's Barista Edition Oat Milk contains a plant-based additive that keeps the milk from separating when it hits your coffee or tea. In fact, Starbucks uses this exact brand of milk for its oat lattes. You can see below how well it performs.
These are the milk frothers I have in my kitchen.
Photo Credit: www.amazon.com
This is my go-to milk aerator that I use to make lattes. I love that it heats and foams the milk with the simple touch of a button.
Photo Credit: www.amazon.com
This small, inexpensive milk frother is a must for all coffee and tea lovers. When I want my milk really hot for lattes, I often heat my milk on the stove and use this handheld frother. Plus, it's easy to clean and store away.
Honey Simple Syrup for lattes and more
In addition to oat milk, you'll also need honey simple syrup to make this latte. If you haven't already, take a look at my recipe for honey simple syrup. It literally take two minutes to make. But what I love even more about this honey syrup is that it's not just for lattes. It's also good added to other drinks like lemonade or cocktails or to your favorite homemade vinaigrette or marinade.
Honey Oat Milk Tea Latte Recipe (or coffee or espresso)
Are you ready to combine honey syrup, oat milk, tea, coffee or espresso into one creamy drink? While, it's not exactly like eating a bowl of Honey Nut Cheerios or munching on a Nature Valley Oats 'n Honey granola bar, the flavor combination is really good.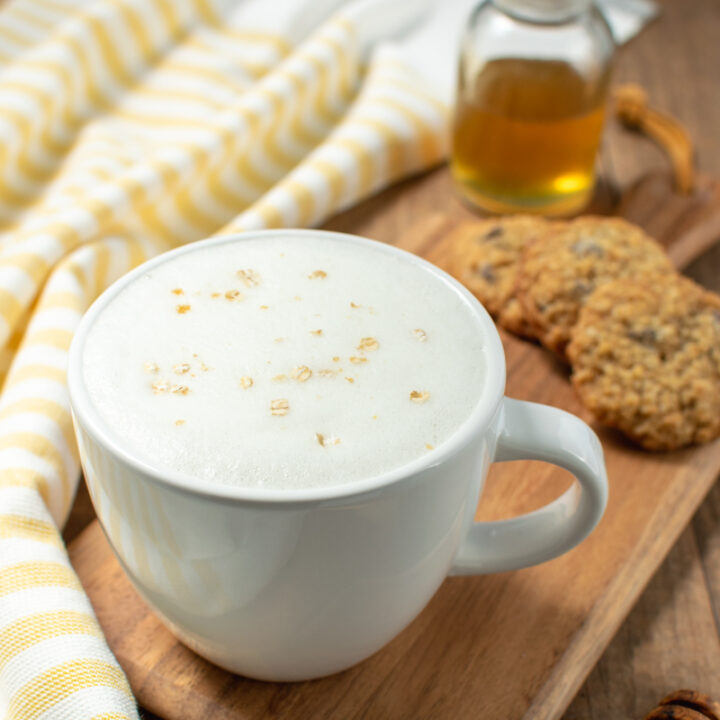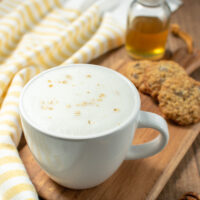 Honey Oat Milk Latte
Similar to Starbucks espresso-based Oatmilk Honey Latte, this honey oat milk latte recipe is a delicious way to enjoy the honey and oat flavors we love for breakfast in a hot latte made with strong tea, strong coffee or espresso.
Ingredients
2 black tea, tea bags
8 oz boiling water
4 ounces oat milk
1-2 tablespoons honey simple syrup
Instructions
Make a strong cup of black tea by steeping 2 black tea bags in 8 ounces (1 cup) of boiling water for 4-5 minutes. I used Tazo Awake blend.
While the tea is steeping, steam and froth the oat milk. This can be done using a Nespresso frother or on the stove using a handheld frother.
Also, while the tea is steeping, add the honey simple syrup to a 12-16 ounce mug.
When the tea has finished steeping, remove the tea bags and pour the tea in the cup with syrup.
Pour the steamed and frothy oat milk into the tea, holding back the foam to scoop on top.
Sprinkle a little cinnamon or brown sugar on top of the milk froth. (optional)
Notes
This drink can also be made with a strong cup of coffee or espresso. If you make this latte with tea, it is important to make a strong cup of tea by using multiple tea bags as opposed to steeping longer. Steeping black tea beyond 4-5 minutes will cause it to become bitter.
Nutrition information is based on using 4 ounces of Oatly Barista Edition oat milk and 2 Tablespoons of honey syrup.
Nutrition Information
Yield

1
Serving Size

12 oounces
Amount Per Serving
Calories

130
Total Fat

3.5g
Saturated Fat

.25g
Trans Fat

0g
Cholesterol

0mg
Sodium

50mg
Carbohydrates

25g
Fiber

1g
Sugar

20.5g
Protein

1.5g