Quick and easy honey syrup recipe. See how to make honey simple syrup in minutes to add to your favorite coffee and tea drinks.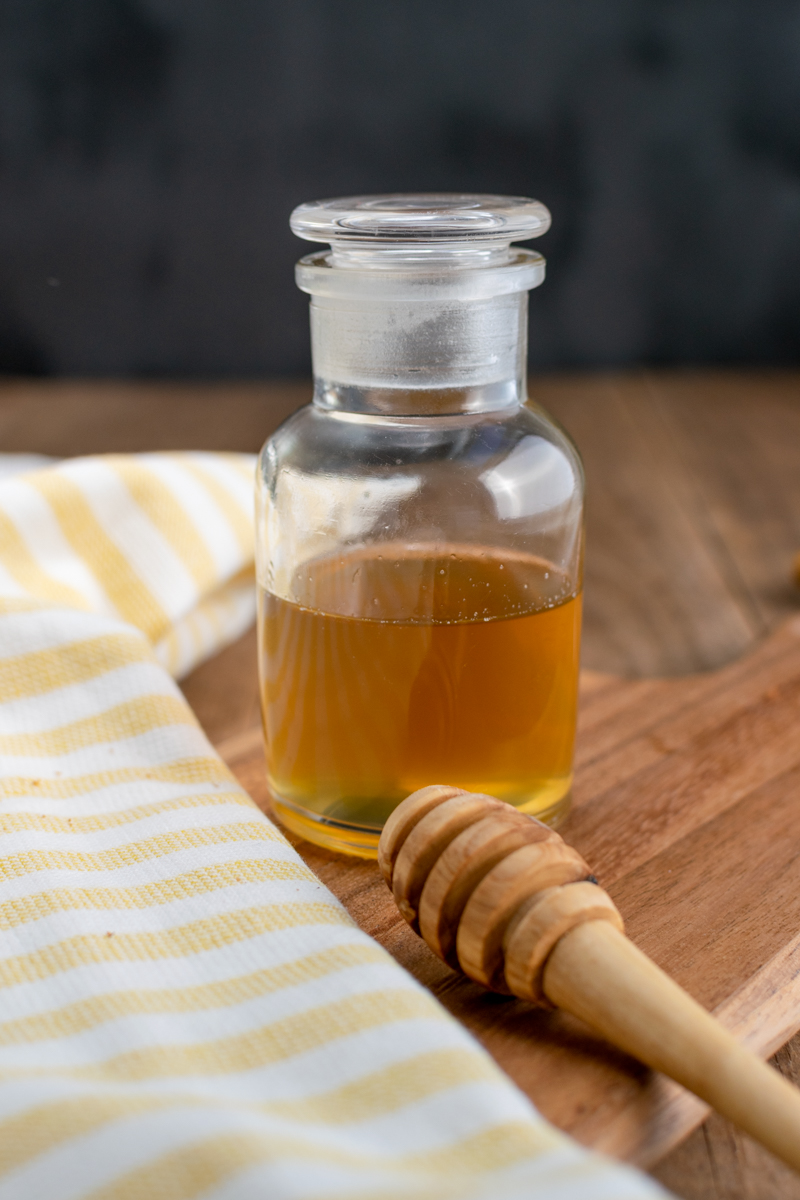 Honey Simple Syrup
If you like the flavor of honey and like to add a little sweetness to your coffee, tea, lattes and food recipes, then having a bottle of homemade honey simple syrup on hand is a must.
Honey simple syrup is, well, simple to make. With just two ingredients that you may already have on hand, it's worth whipping up a batch of this recipe. Personally, I like to use it in tea, but it's also a delicious way to add some flavor and sweetness to vinaigrette dressings, marinades and other recipes.
Difference Between Honey and Honey Syrup
You, may be wondering, why not just use honey instead of honey simple syrup? If you use honey often, you know that it's thick, sticky and basically, messy to deal with. Worse than that, though, it can even harden up in its bottle.
On the other hand, the syrup is thinner and more like a liquid. It can easily be poured or squeezed into your latte or any other food you want to add the natural sweetness of honey to. Most importantly, since the syrup's honey has already been dissolved in liquid, it's easy to incorporate into drinks, dressings and marinades.
Keep in mind, if you are following a recipe that calls for honey, be sure and take into account that the simple syrup also contains water.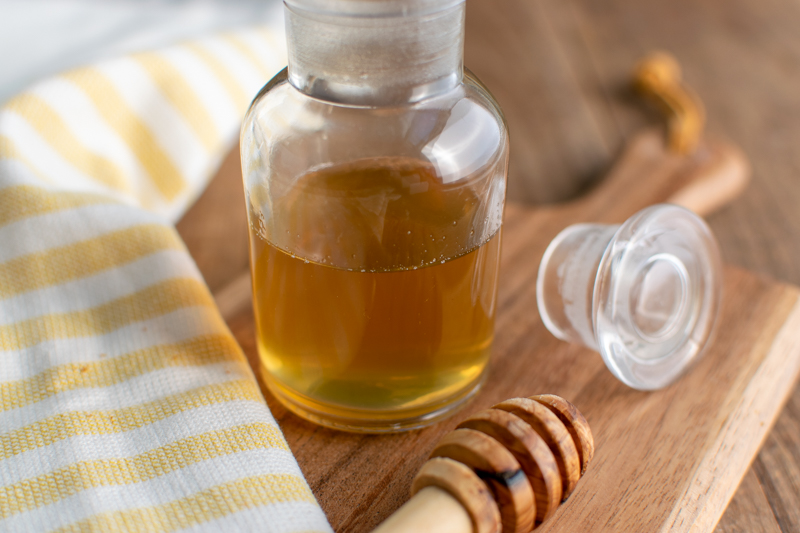 Uses for Honey Simple Syrup
I've always found honey to be such a fascinating product. If you think about it, it's incredible that millions of tiny little bees are the source of this food. According to Wikipedia, bees produce honey from the sugary secretions of plants. LiveScience explains, that the bees store the regurgitated plant nectar in honey combs, and dehydrate it by flapping their wings. Incredible!
While honey is a bee's food source when plants and nectar are scarce, we've come to use it as an additive in many foods and recipes.
Here are a few uses for honey simple syrup.
Sweet tea
Sweetener for hot tea and coffee
Coffee and tea lattes
Lemonade
Cocktails
Marinades
Vinaigrettes
Personally, I love using this simple syrup in my honey oat milk latte recipe.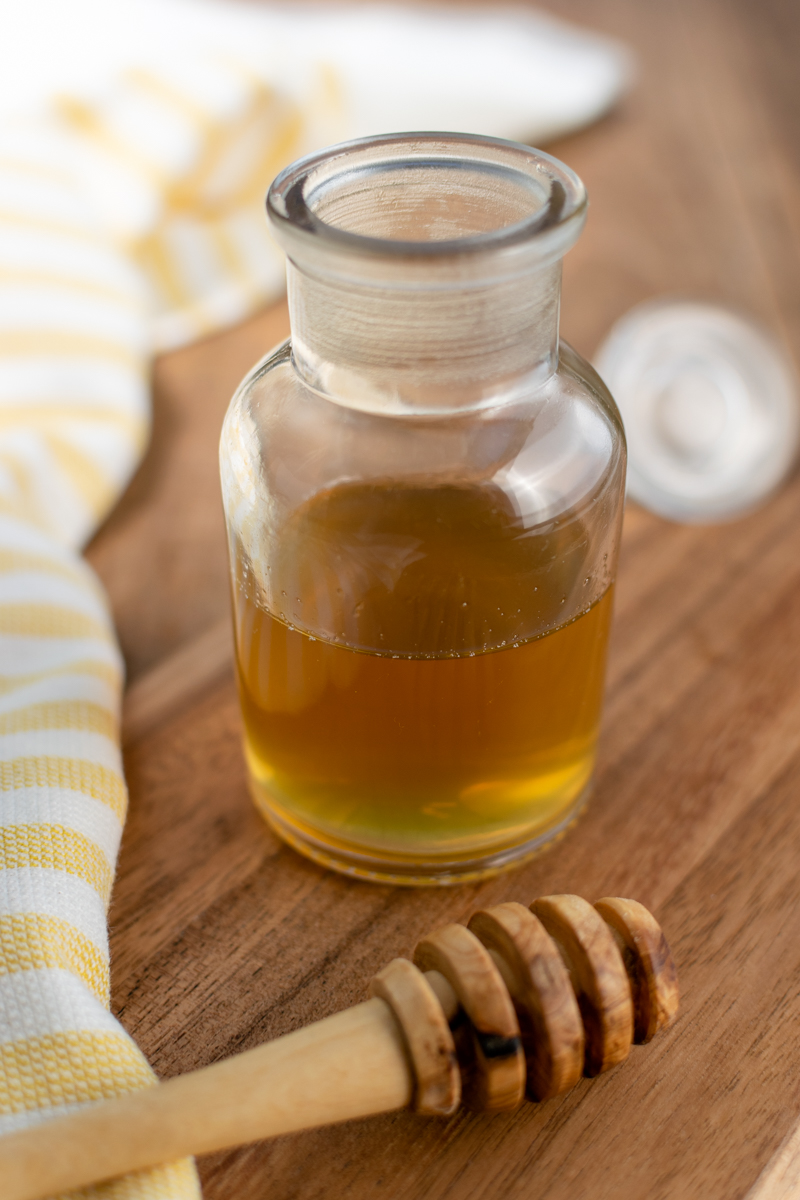 Flavored Simple Syrup
When you see how easy it is to make the honey simple syrup, you can imagine how combining an additional flavor in it is no big deal. For example, add a little vanilla to the recipe and you've got honey vanilla simple syrup. Or use some lavender blossoms and you've got a delicious honey lavender syrup to add to an earl grey latte. Additionally, here's my recipe for vanilla simple syrup (no honey in this one) that's also yummy in drinks.
Use your imagination and you can come up with some really interesting flavors to pair with your drinks and foods. For example, I've got a jar of Mesquite flavored honey from Old Barrel Tea Company that I'm going to use in a marinade when grill season returns.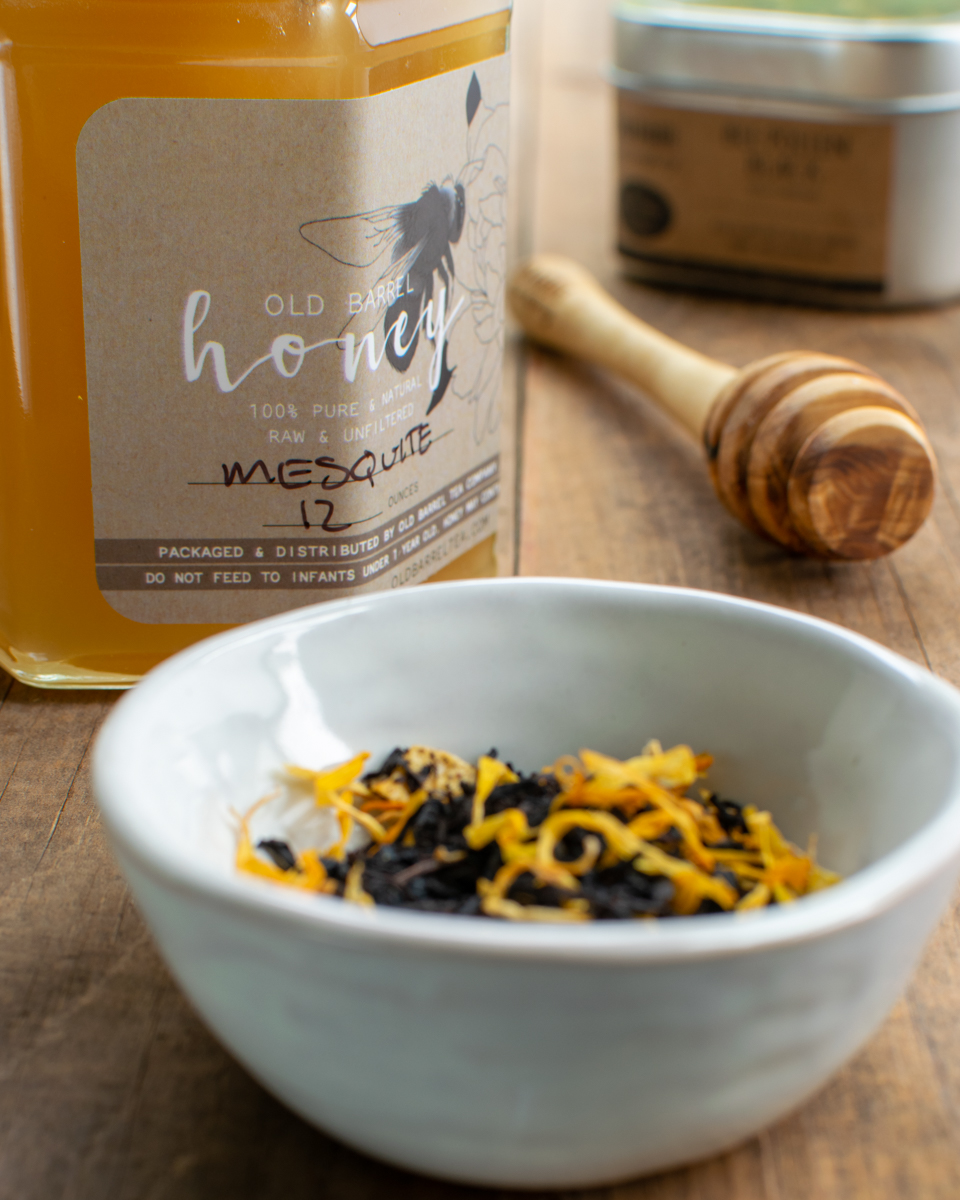 One thing to note, when you buy honey from the store, be sure and look at the type of honey it is. The most readily available around me is clover honey, but as you can imagine, the flavor of honey varies greatly depending on the type of plant from which the bee gathered nectar.
Honey Simple Syrup Recipe
Now that you see all the uses for honey simple syrup, let me show you just how easy it is to make. Like I said earlier, this recipe only has two ingredients: honey and water. Yup, that's it! Here's how you do it.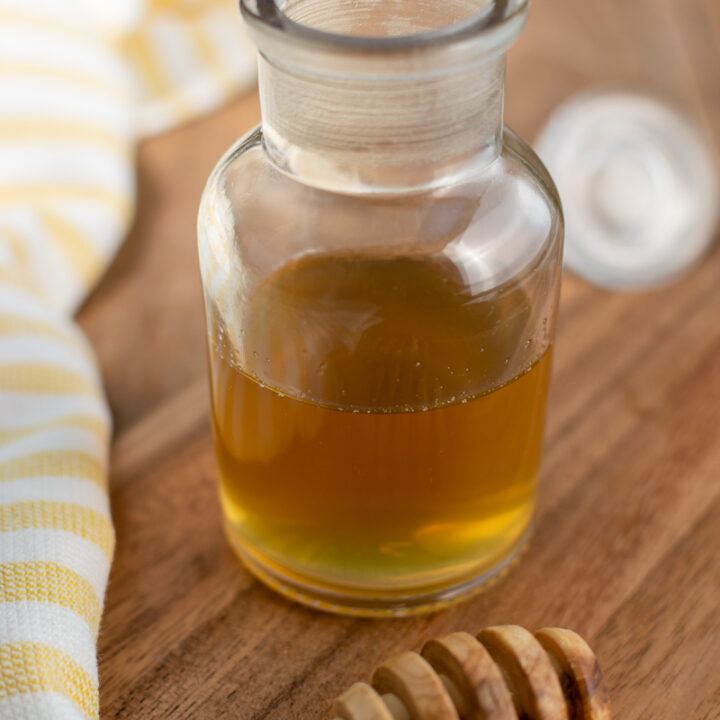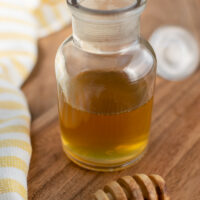 Honey Simple Syrup
Yield:
16, 1 Tablesppon servings
Honey Simple Syrup is easy to make and is a wonderful way to add the taste and sweetness of honey to your favorite drinks and food recipes.
Ingredients
1/2 cup honey
1/2 cup water
Instructions
Combine honey and water in a saucepan over medium heat, stirring until honey is dissolved (about 2 minutes).
Cool the syrup and then store in an airtight container in the refrigerator.
Notes
This recipe uses a 1:1 ratio of honey to water. If you like it less sweet then adjust the recipe to taste. For example use 1/2 cup honey to 1 cup water.
Nutrition Information
Yield

16
Serving Size

1 Tablespoon
Amount Per Serving
Calories

30
Total Fat

0g
Saturated Fat

0g
Trans Fat

0g
Unsaturated Fat

0g
Sodium

0mg
Carbohydrates

8.5g
Sugar

8.5g
Protein

0g
Nutrition is based off nutrition information on Good & Gather Clover Honey. Check your bottle of honey for its nutrition information.
How to Store the Syrup
Most microorganisms do not grow in honey which is why it can last so long in your pantry. That being said, once you add other ingredients to it, even water, it's safest to store the syrup in the refrigerator. Honey Simple Syrup lasts for up to four weeks when stored in an airtight container in the refrigerator..
Anyway, since it's so quick and simple to make there's no need to make a big batch that may go bad. Instead, I make an amount that my family and I will use within two weeks.
And for ease of use, I store all my simple syrups in in squeezable bottles. Just be sure and let the recipe cool down before adding it to one of these plastic bottles.