This decadent brown sugar milk tea recipe served hot is a favorite, bringing together black tea, milk and sweet brown sugar.
Brown Sugar Milk Tea
The very first cup of hot tea I ever had was milk tea, specifically, British Milk Tea. Of course, I didn't know way back then that my hot Lipton tea made with cane sugar and a healthy splash of whole milk had an official name. All I knew was that it was delicious. To this day, a cup of milk tea is how I begin most days, although now I usually skip the sugar and only add a touch of non-fat milk. But on days when I have time to savor my tea and enjoy every sip, I treat myself to a hot cup of sweet and creamy brown sugar milk tea.
If you've ever had a cup of plain black tea you know it can be a little bitter, especially if you make the fatal error of over-steeping. Yikes! (It's best to start over if that happens.) However, adding naturally sweetened milk, thanks to lactose, and some sweetener transforms the black tea into something special.
But my sweet and creamy milk tea recipe, takes things up a notch even more. The "secret" is brown sugar and whole milk (but you can use 2%).
Before I show you how to make my favorite tea treat, if you're new to tea drinking or have never added milk to your tea, here are a few basic things you may be wondering about milk tea. However, if you can't wait to get to the tea making part, by all means jump to the recipe.
What is milk tea?
Simply put, milk tea is a combination of black tea and milk. However, like many foods and drinks, milk tea varies from culture to culture.
For example, British milk tea contains sugar in addition to tea and milk.
Indian Spiced Milk Tea, commonly known as masala chai or chai tea, is a blend of tea, spices, sugar, and milk.
Finally, consider Thai milk tea. It is a combination of tea, sweetened condensed milk and evaporated milk, as well as a little sugar.
What kind of tea is milk tea?
While milk tea has many variations, one thing that is constant is that the base of milk tea is almost always black tea. (An exception would be a matcha green tea latte.) The Spruce explains, "Generally speaking, milk tea is made with a base of black tea. These tend to be bold Assam teas and Ceylon teas."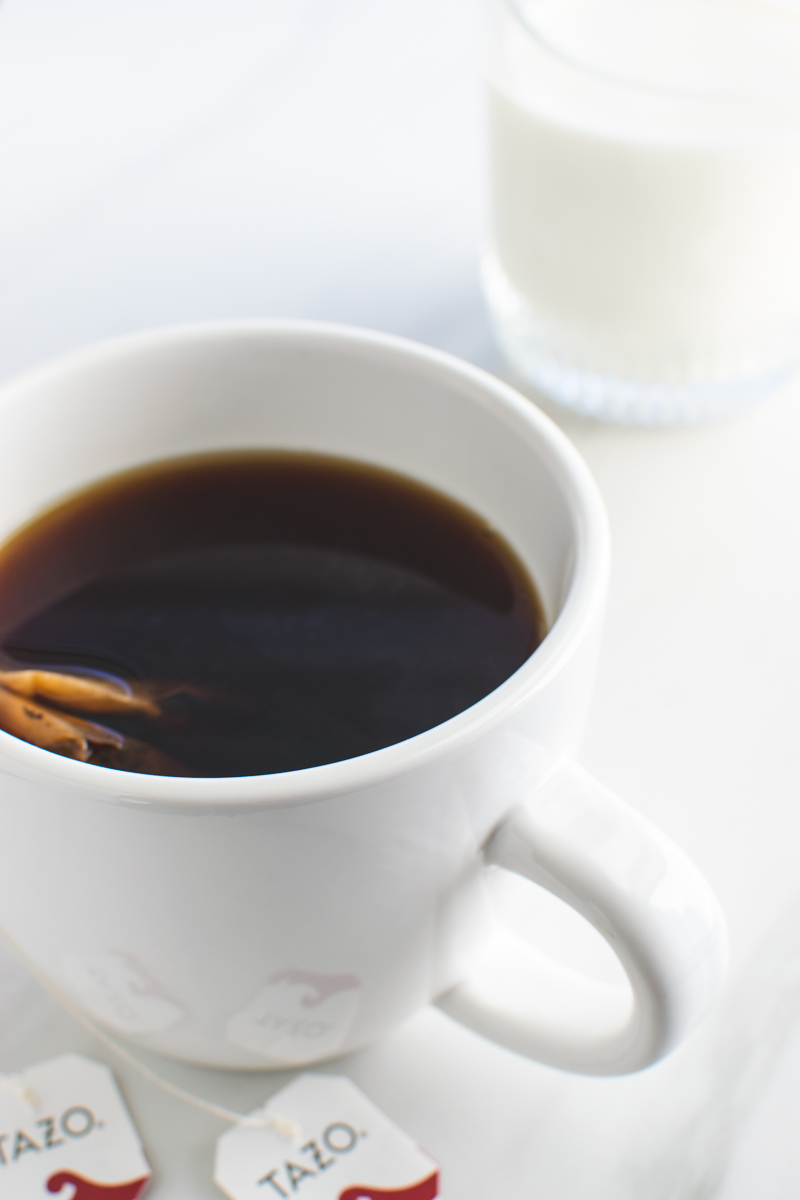 Is milk tea good for you?
The two main ingredients of milk tea are black tea and milk. In most cases sugar is added, too. The fact that so many types of milk and sweeteners exist, as well as various amounts of each used, makes it impossible for there to be a one-size-fits-all type of answer to this question.
On its own, black tea has many health benefits. And many types of milk are a good source of calcium and vitamins like A and D.
One important thing to note, however, is that although tea is full of antioxidants, adding milk to it may decrease this benefit. According to the European Heart Journal, milk modifies the biological activity of tea ingredients. My conclusion, everything in moderation!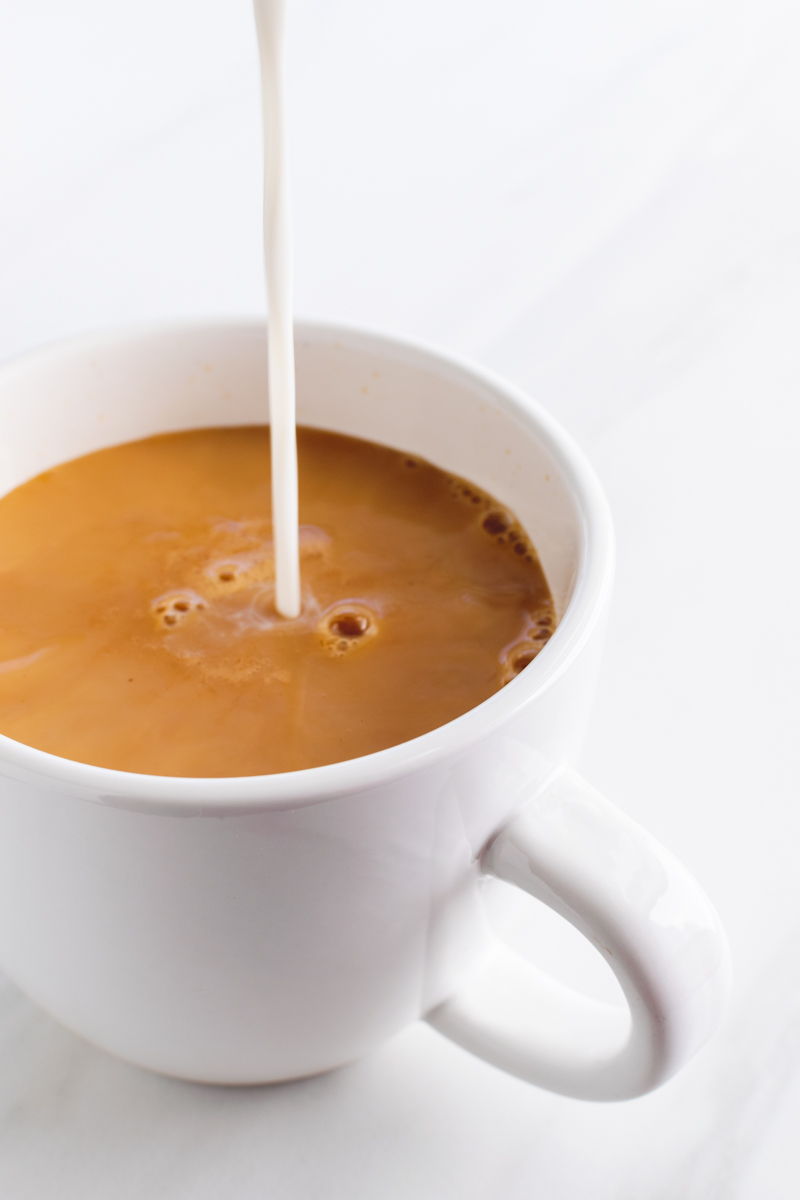 My favorite things to make the perfect cup of brown sugar milk tea
Tips for making brown sugar milk tea
Use Black Tea.
One thing I love about milk tea is that tea bags work well. Most often I use Tazo Awake English Breakfast or Harney & Sons Earl Grey. You can steep loose leaf Assam or Ceylon if you have it on hand. However, loose tea isn't necessary.
The goal is a strong cup of tea that can carry its flavor when bathed in milk. The strength of the tea you brew depends on how much milk you plan to add.
A good rule of thumb is the more milk you use, the stronger the tea should be. Just remember, stronger tea is made by using more tea bags, NOT additional steeping time. For example, I use one tea bag steeped for four-five minutes for my daily milk tea that only has a splash of milk. But when I make this brown sugar milk tea recipe, I use two tea bags steeped for three minutes. The bottom line is, adjust for taste.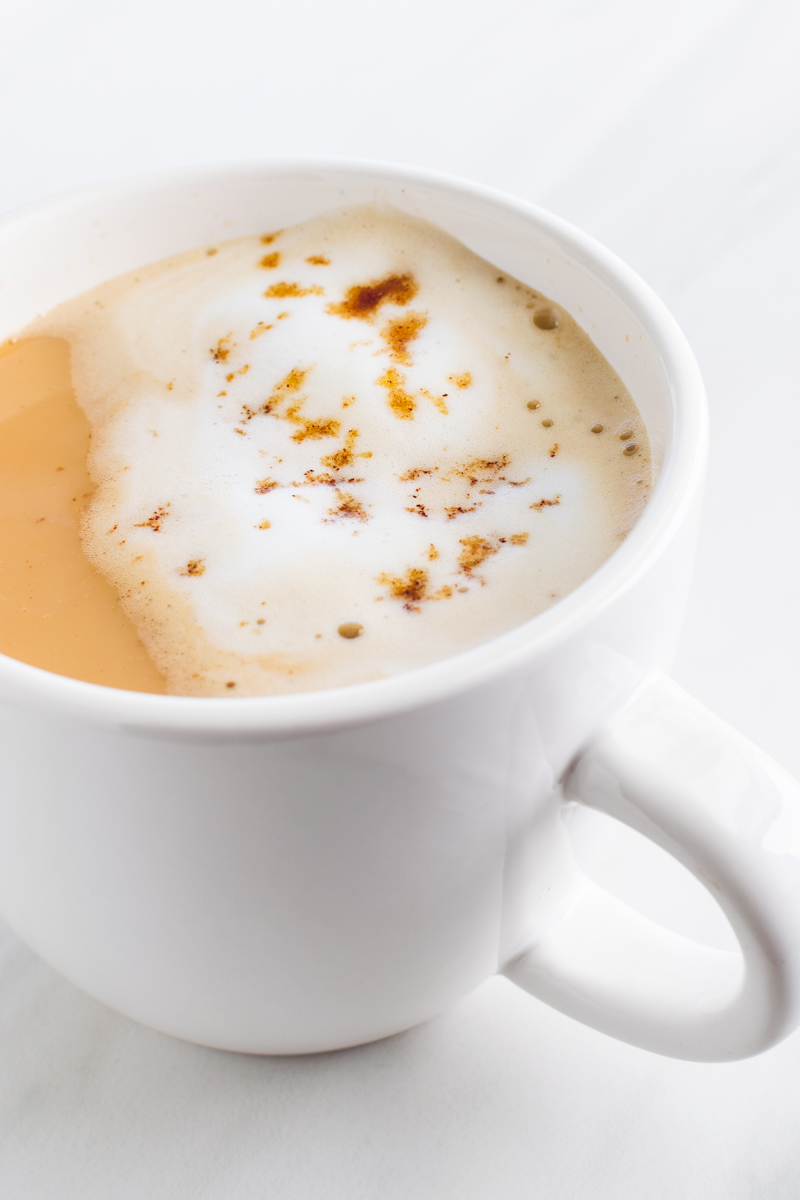 Use the proper temperature water and a warm mug for steeping.
Whether you steep tea in a kettle or steep the tea bags directly in a mug, make sure the mug is warm. To do this, boil a little extra water and fill your mug up with plain boiling water.
I like to wrap my hands around the mug (bonus if you live in chilly climate like me) and when it becomes too hot to touch, I pour the water out. Ta-da, I've got a pre-heated mug. Next, put the tea bag(s) in the warmed up mug, fill it with the proper amount of boiling water and set a timer.
Warm up the milk.
This is not necessary, but if you want to keep your drink warm and cozy adding a little steamed milk instead of milk straight from the fridge does the trick. You can even froth the milk for a little extra creaminess. The microfoam creates a nice little bed to sprinkle some brown sugar on top of, too. Just sayin'.
Use brown sugar simple syrup
Ever since I learned how easy it is to make classic simple syrup, I try to keep a bottle in my fridge. And guess what? Brown sugar simple syrup is just as easy to whip up. All you have to do is heat up a one to one (1:1) ratio of water and brown sugar on the stove until the brown sugar is dissolved, being careful to not let the mixture boil.
And that's it! As easy as promised. The benefit to using syrup in your drinks is that the sugar is already dissolved. This is especially helpful for sweetening cold drinks like iced tea. For hot brown sugar milk tea you can also add brown sugar to the hot tea and stir until dissolved.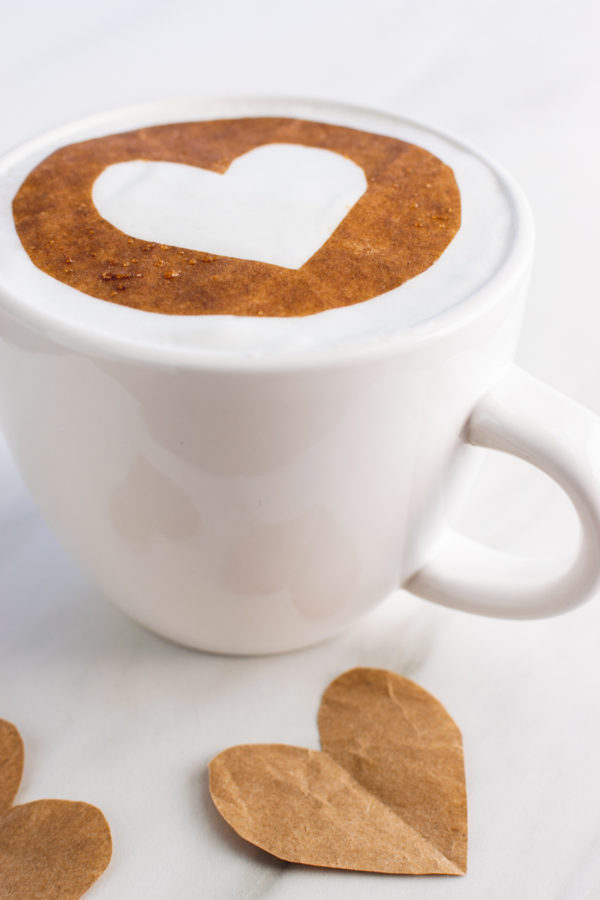 Steps to Make Sweet & Creamy Brown Sugar Milk Tea
Boil water. Boil enough water to pre-heat your mug and kettle, as well as to steep the tea in.
Add hot water to your empty mug (no tea bags yet). If you're using loose tea, you can also pre-heat the kettle with hot water (no tea yet). After the mug and kettle are warm to the touch, discard the hot water.
Add tea bag(s) to the hot mug or loose tea to the hot kettle. Fill with eight ounces of boiling water.
When tea is done steeping remove the tea bags. For loose tea, pour the strained tea into the hot mug.
Add brown sugar and stir until dissolved.
And finally, my favorite part…pour in steamed or cold milk into the tea and watch the mesmerizing milky swirls blend into the black tea. Optionally, froth the milk and add it with some brown sugar sprinkled on top of your tea.
Sip. Enjoy. Repeat until finished.
Brown Sugar Milk Tea Recipe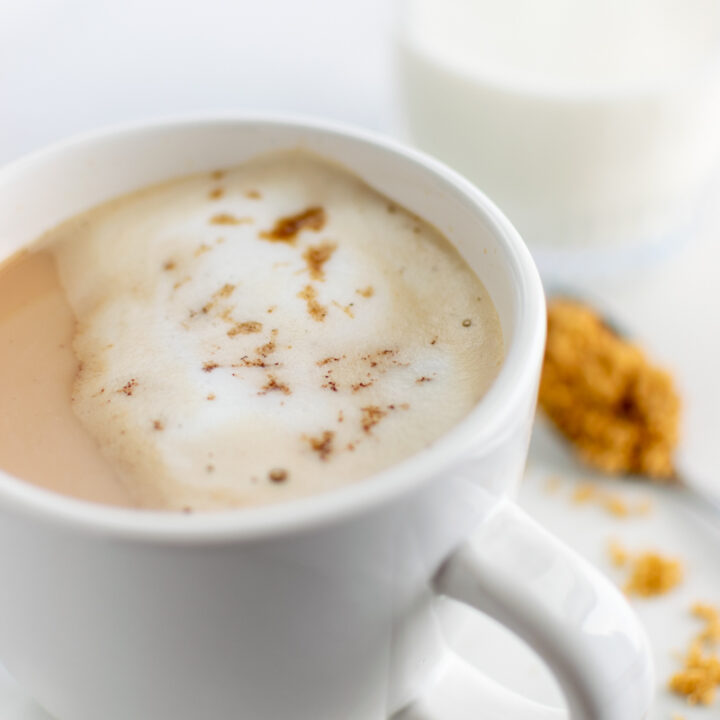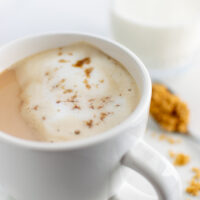 Brown Sugar Milk Tea (Served Hot)
Yield:
1, 12 ounce cup of brown sugar milk tea
Ingredients
2 cups (16 ounces) boiling water (8 ounces for tea; 8 ounces to warm up mug)
2 black tea bags or 2 teaspoons loose leaf black tea like Assam or Ceylon
1-2 teaspoons brown sugar or 1-2 teaspoons brown sugar simple syrup
1/2 cup whole milk
pinch of brown sugar (optional)
Instructions
Boil water. Pour some of the hot water in an empty mug to warm it up. Then discard the water when the cup is hot to the touch.
Put tea bags in the mug (or loose tea in kettle or infuser). Pour 1 cup (8 ounces) boiling water into cup (or kettle). Follow the recommended steeping time for the tea bags or loose tea you are using, being careful not to over-steep.
While the tea is steeping warm up milk on the stove or microwave for a 30 seconds to a minute if preferred. Otherwise, cold milk can be used in step 5.
Remove tea bags (or pour strained loose tea into mug) and stir in the brown sugar until dissolved. Alternatively, you can use brown sugar syrup.
Pour warm (or cold) milk into the tea.
Notes
Creamy and delicious milk tea made with black tea, brown sugar and whole milk is the perfect pick-me-up hot tea.
Nutrition Information
Yield

1
Serving Size

12 ounces
Amount Per Serving
Calories

105
Total Fat

4g
Saturated Fat

2.5g
Trans Fat

0g
Cholesterol

17mg
Sodium

60mg
Carbohydrates

14g
Fiber

0g
Sugar

13.5g
Protein

4g
Nutrition is based on 2 teaspoons of brown sugar. Please verify all nutrition information with the ingredients you use.