A quick look at all Starbucks chai tea drinks including the popular chai tea latte. See the calories and caffeine for each chai tea on the menu, and how to custom order a Starbucks vanilla chai tea latte, skinny chai latte, or dirty chai tea latte.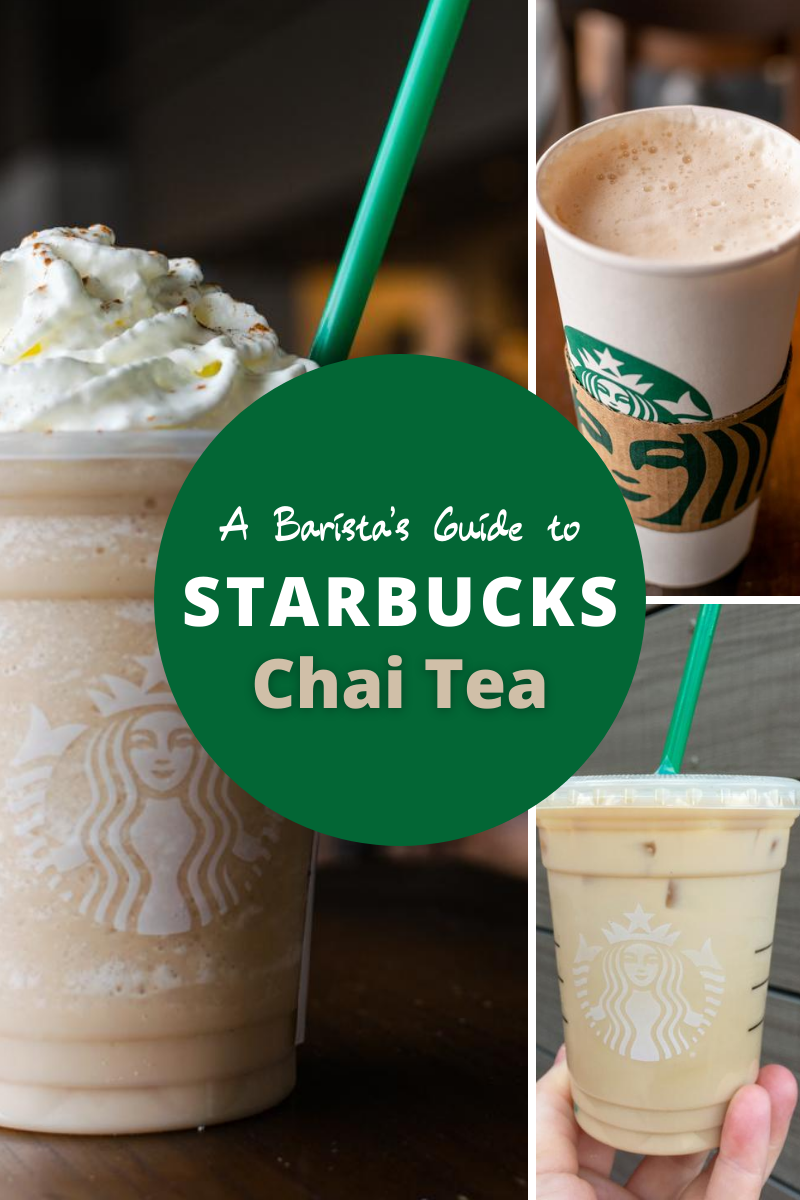 Chai Drinks at Starbucks
If you love Starbucks chai drinks like me, then you'll want to check out this guide for Starbucks chai tea lattes and other chai drinks at Starbucks.
For example, in this guide you can find answers to these common Starbucks chai questions.
Does Starbucks chai contain caffeine? Is chai, tea or coffee? Can I order a skinny chai tea latte? Or, how many calories are in a Starbucks chai latte?
Additionally, this Starbucks guide introduces you to all the Starbucks chai tea drinks on their menu.
RELATED: 13 Starbucks Chai Tea Latte Ordering Tips from a Barista
Starbucks Chai Tea Latte & Other Chai Drinks
The official Starbucks menu itself, only has a handful of chai drinks listed on it.
Chai Drinks at Starbucks
Popular Ways to Customize a Chai Tea Latte
Like all things Starbucks, chai tea lattes can be customized with flavored syrups and a variety of milk options. Here are a couple customer favorites.
Vanilla Chai Tea Latte
Skinny Chai Tea Latte
And here are even more Starbucks Chai Latte modifications. See delicious drink ideas like an Iced Chai Latte topped with vanilla sweet cream and more.
Starbucks Chai Concentrate
The base of all Starbucks chai drinks is a chai tea concentrate.
There is one exception, however. A simple hot brewed chai tea (not a latte) uses Teavana chai tea bags.
Starbucks chai concentrate is an infusion of black tea and flavors like cardamom, cinnamon and ginger. Additionally, the concentrate contains sugar.
Since the concentrate is black tea and black tea is caffeinated, all Starbucks chai drinks contain caffeine.
Furthermore, chai is actually tea. Therefore, none of the chai drinks on the Starbucks menu contain coffee, although it can be added.
Now, let's take a look at each drink on the official Starbucks chai menu.
Please note that calorie and caffeine content is for a 16 ounce, grande size drink.
Chai Tea Latte
Calories 240 Caffeine 95mg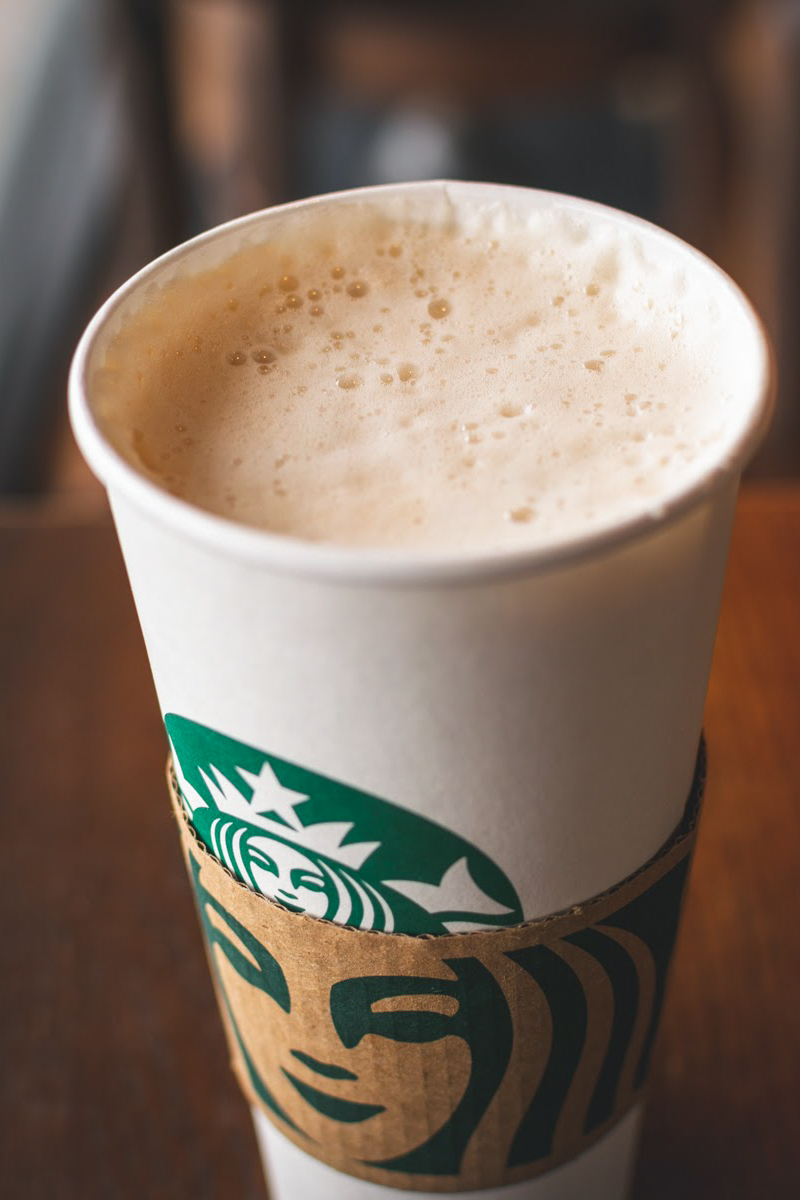 Black tea infused with cinnamon, clove and other warming spices is combined with steamed milk and topped with foam for the perfect balance of sweet and spicy.

starbucks.com
A hot Starbucks chai latte is one of my favorite teas to sip on cool days.
There's just something about the combination of chai and steamed milk that warms me up inside.
And the aroma of cinnamon and cloves is just so cozy.
Both sweet and spicy, this tea latte is a must try for both tea and coffee drinkers.
Iced Chai Tea Latte
Calories 240 Caffeine 95 mg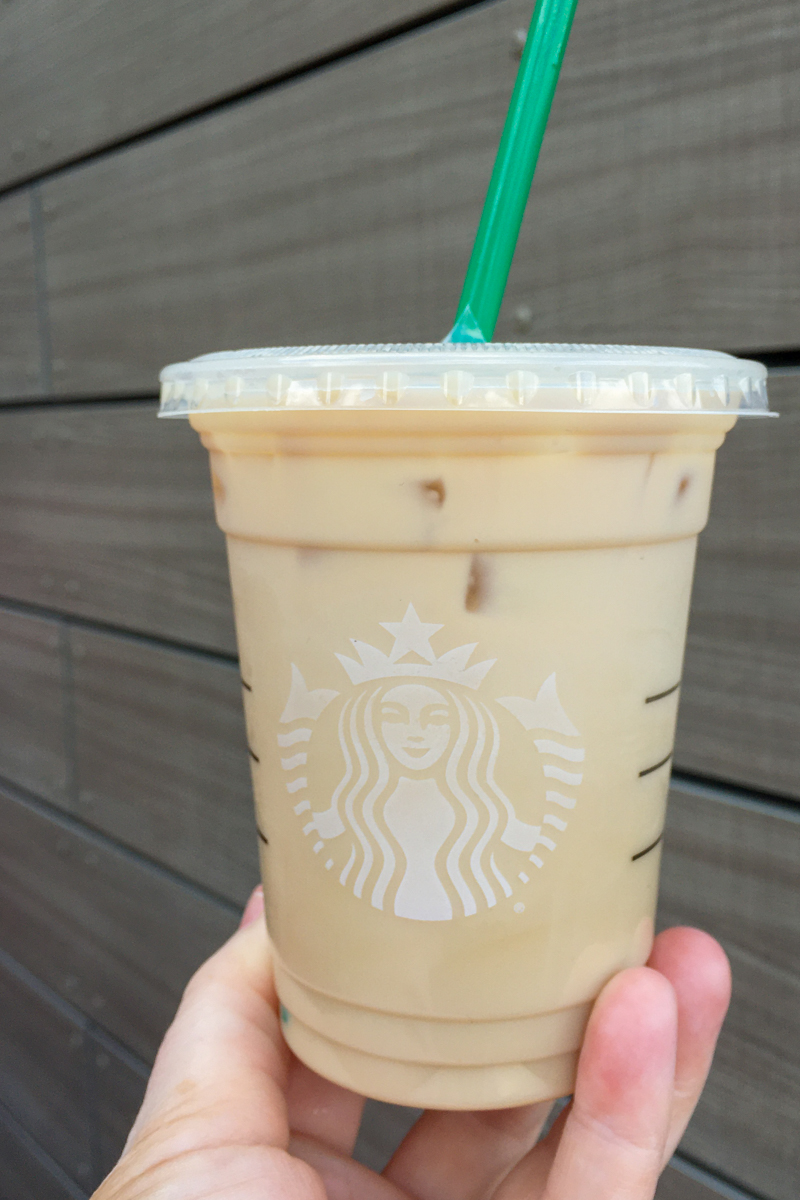 Black tea infused with cinnamon, clove, and other warming spices are combined with milk and ice for the perfect balance of sweet and spicy.

starbucks.com
A Starbucks Iced Chai Tea Latte is made with the same ingredients as the hot version. Yet, it has a whole different vibe.
The mixture of chai concentrate and milk shaken with ice creates a delightful iced tea latte that's delicious anytime of the year.
And with 95 mg of caffeine in a grande size cup, it's a great tea to start the day.
In fact, this iced latte is the number one Most Popular Starbucks Tea Drink, so it's worth a try.
What I love about this iced latte is that it's really simple to make at home. Take a look at my Starbucks Iced Chai Tea Latte Recipe to see how incredibly easy it is to whip up.
Pumpkin Spice Chai Tea Latte
Calories 310 Caffeine 70 mg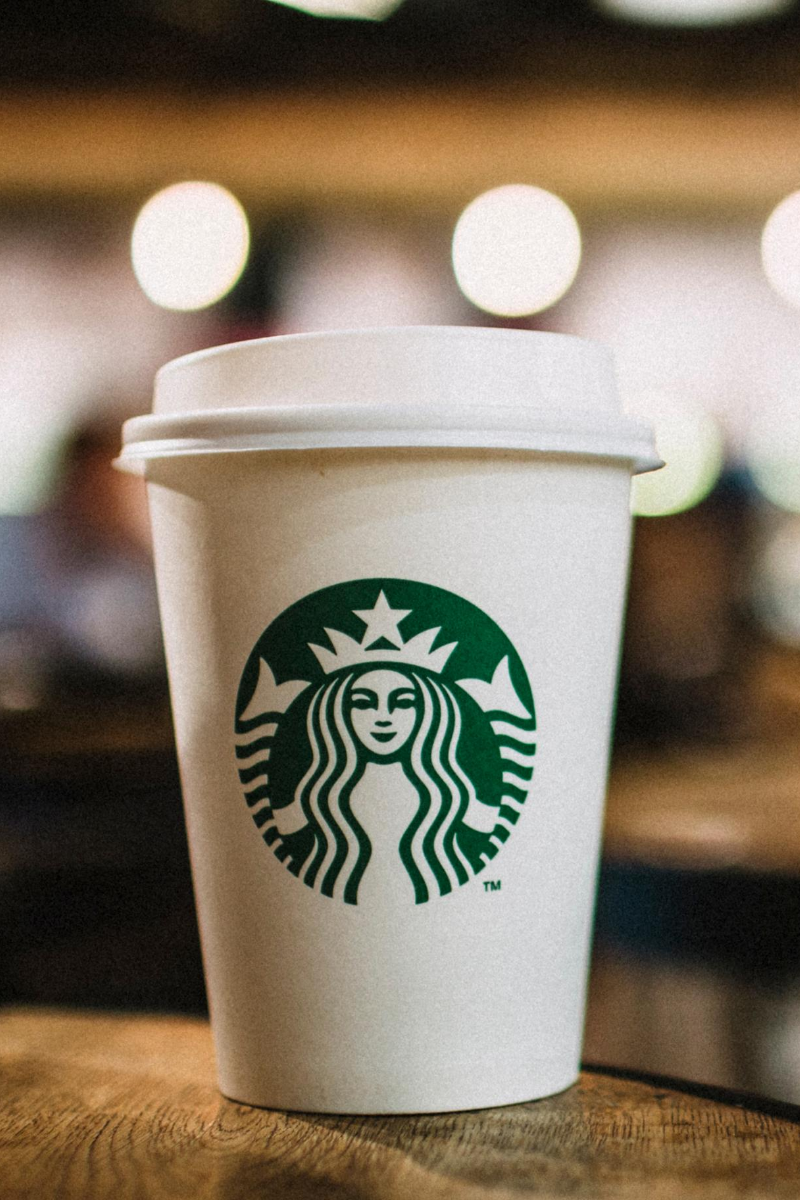 Our beloved Chai joins our other fall fan favorite: Pumpkin Spice. Two flavors in one winning combination that delights and comforts as the cooler weather sets in.

starbucks.com
Around the end of August every year, Starbucks pumpkin spice lattes makes its annual appearance on the menu.
Starbucks pumpkin spice lattes are a sure way to know summer is winding down and kids are going back to school.
But don't blink. Pumpkin spice lattes, marked as a PSL on the cup, are a limited time offer.
While espresso drinkers enjoy a regular pumpkin spice latte, tea lovers can get a pumpkin spice chai tea latte.
As you can imagine, the warm chai spices combined with pumpkin spice sauce makes an absolutely delicious autumn latte.
If you love pumpkin spice chai tea lattes as much as I do, I've got great news. They're easy to make at home.
Just make a jar of this Starbucks Pumpkin Spice Sauce and then follow this recipe to put together a Pumpkin Spice Chai Tea Latte at home.
Hot Brewed Teavana Chai Tea
Calories 0 Caffeine 40 mg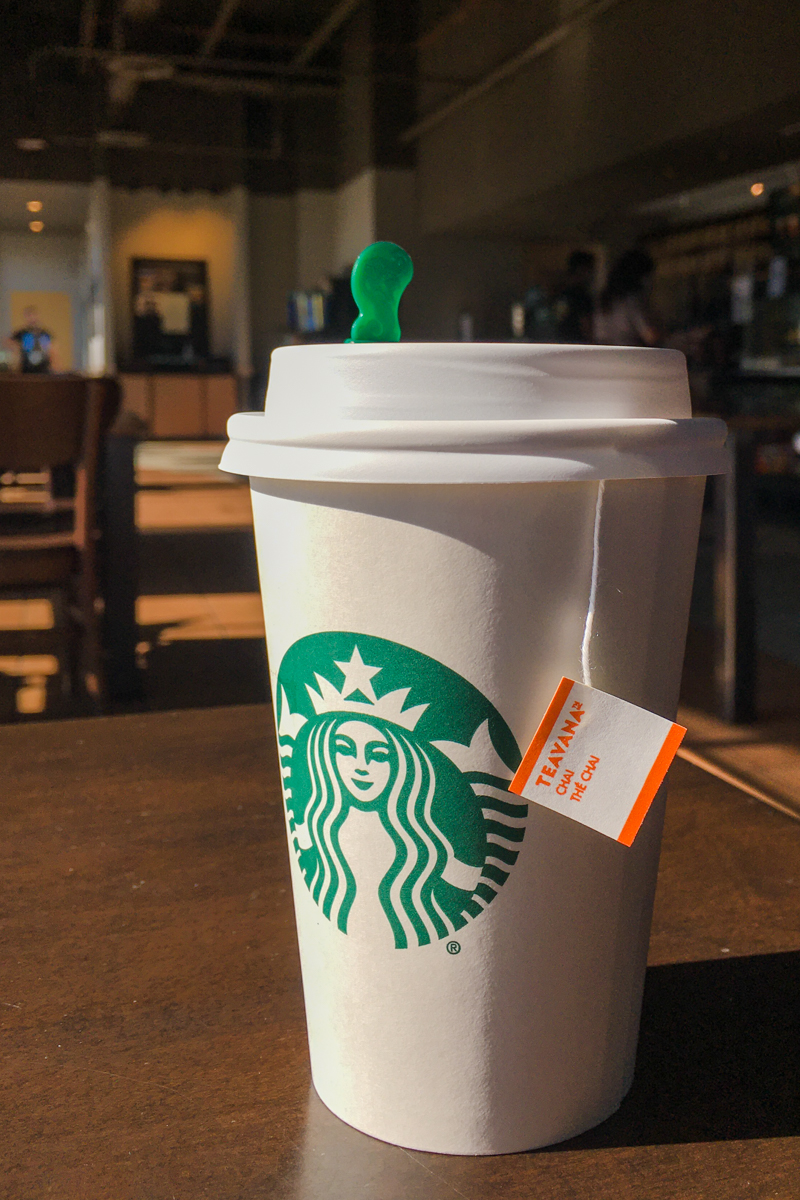 Black tea infused with warm clove, cardamom, cinnamon and ginger notes. A bold, distinctive chai tea.

starbucks.com
A hot brewed chai tea is the only chai drink on the Starbucks menu that's NOT made with pre-sweetened chai concentrate.
In fact, it's simply a Teavana chai tea sachet steeped in hot water.
Like all Starbucks hot teas made with Teavana tea sachets, hot brewed chai tea has zero calories. Of course, you can add sweetener, syrup and milk as desired.
To see a list of all the Teavana blends available at Starbucks, check out my Barista's Guide to Hot Tea at Starbucks.
Chai Crème Frappuccino
Calories 340 Caffeine 40 mg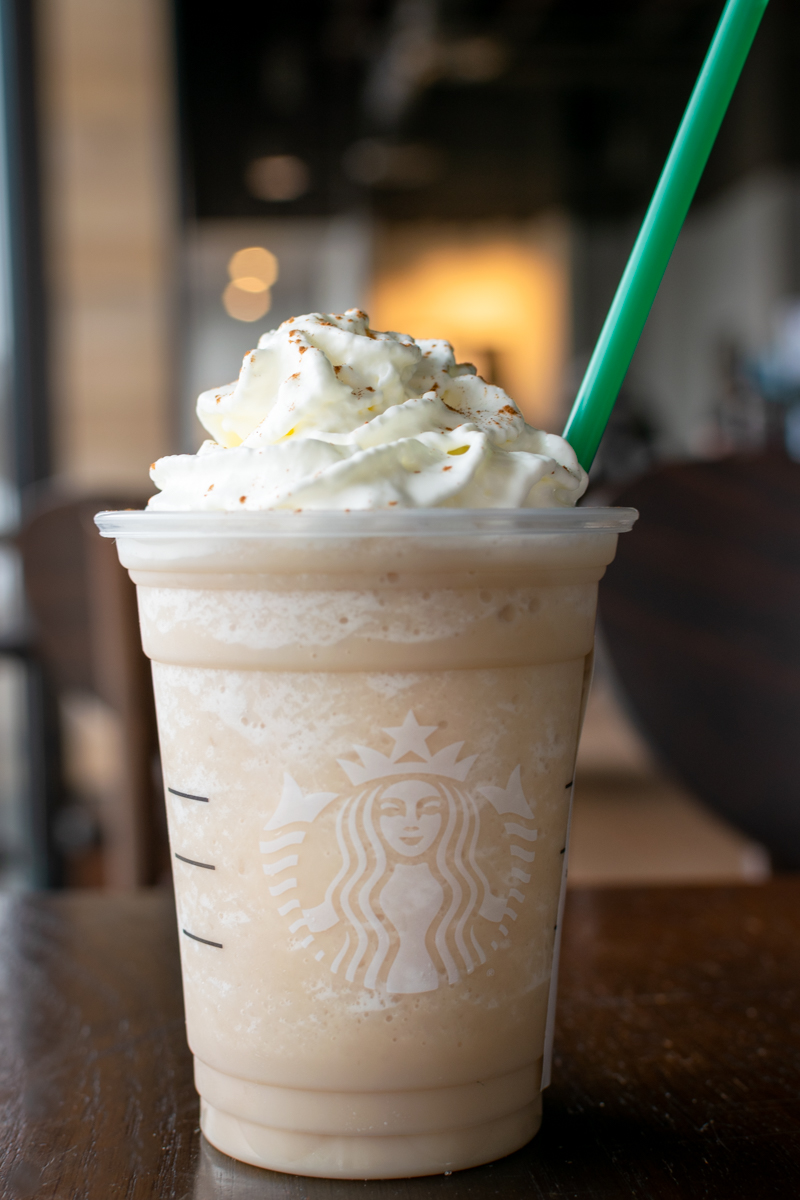 A creamy blend of spicy chai, milk and ice, finished with sweetened whipped cream and a sprinkle of cinnamon. Specially made to spice up your afternoon treat.

starbucks.com
Similar to a Starbucks chai tea latte, a chai frappuccino is a wonderful blend of spice-filled chai and milk.
Blended with ice and crème frappuccino syrup, a chai frappuccino is akin to a milkshake, though not quite as thick. Of course, a generous topping of whipped cream makes it a real treat.
The chai frappuccino is one of two tea-based frappuccinos on the Starbucks menu. The other one is the matcha frappuccino.
Common Starbucks Chai Tea Latte Modifications
Now that you've seen all the chai drinks on the official menu, let's take a look at a couple common customizations.
Vanilla Chai Tea Latte
A regular chai tea latte, hot or iced, is a combination of chai concentrate and milk.
One customer-favorite drink modification is to order a vanilla chai latte. Your barista creates this latte by incorporating a few pumps of regular vanilla syrup or sugar-free vanilla syrup.
Other simple syrups like cinnamon dolce or gingerbread (if it's available) are equally delicious in a chai latte.
Just keep in mind, additional syrup increases the chai latte's overall sweetness.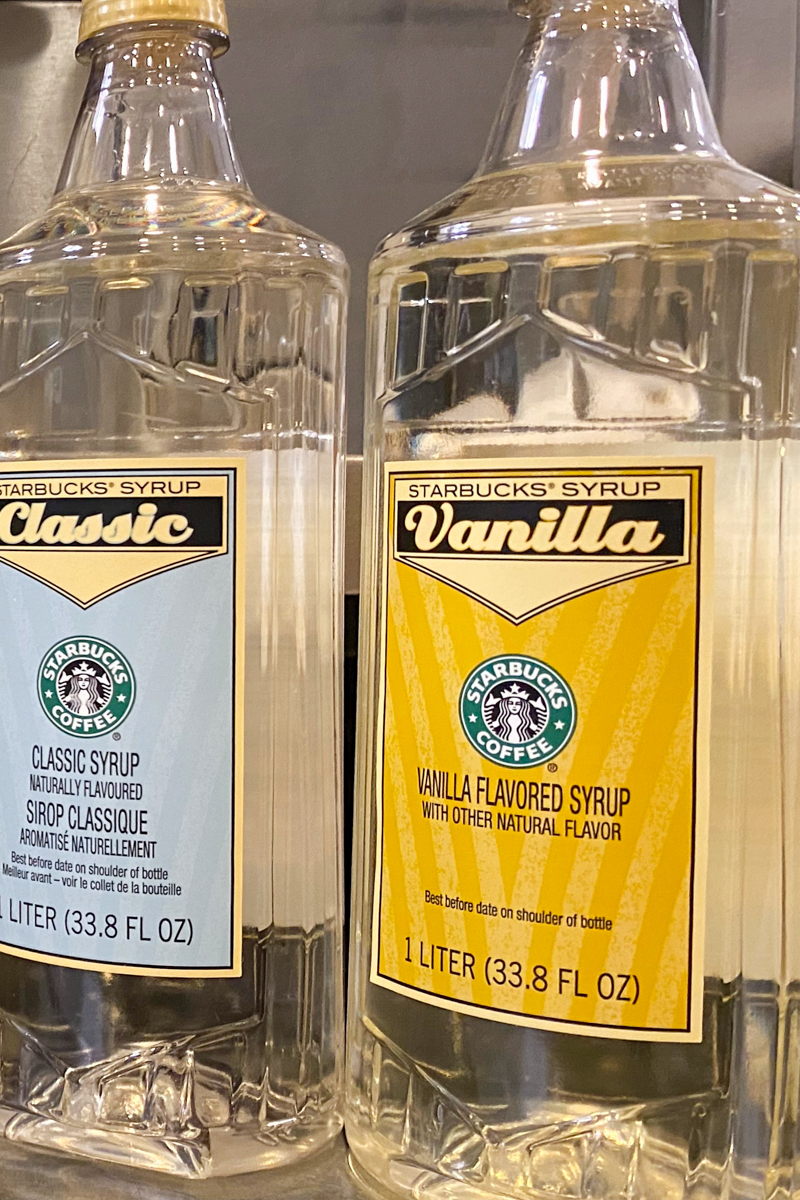 Dirty Chai Tea Latte
A dirty chai tea latte is a normal chai tea latte plus espresso. In other words, a dirty chai latte contains both tea and coffee!
Obviously, this drink has quite a bit of caffeine.
Here's how you order a Dirty Chai Tea Latte:
1 shot of espresso: Ask for a dirty chai tea latte
2 shots of espresso: Order a double dirty chai tea latte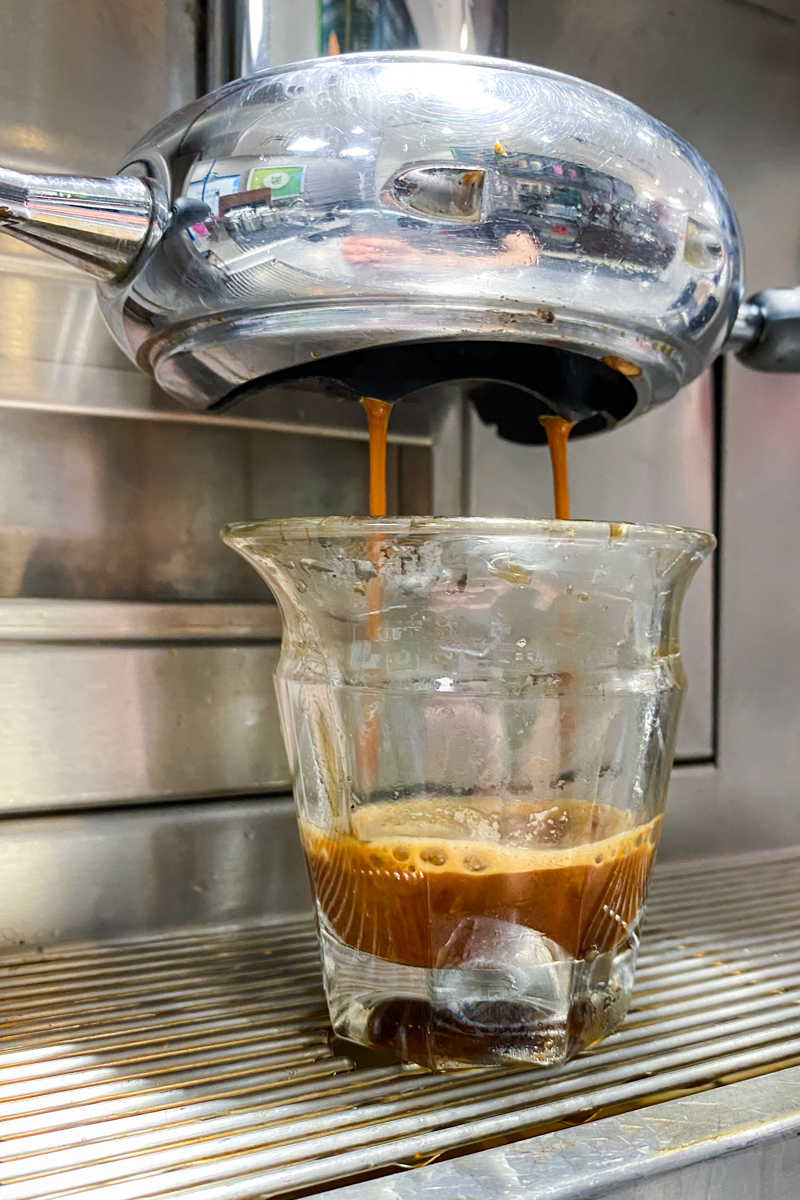 Skinny Chai Tea Latte
Starbucks used to have a lightly sweet chai tea latte. However, they no longer carry the less sweet chai concentrate.
This means it's not possible to get a skinny chai at Starbucks made from their delicious tea concentrate.
But you can substitute the standard 2% milk for non-fat milk or an alternative such as almond, oat or soy.
And if you can wait a few minutes, your barista can make a skinny chai tea latte by brewing Teavana chai tea bags and adding a steamed non-fat milk or milk of your choice.
Questions You May Have
What can you add to Starbucks Iced Chai Tea?
Vanilla syrup, brown sugar syrup, cinnamon dolce and pumpkin spice sauce are delicious added to Starbucks Chai Tea Latte drinks. You can also add-in a plant-based milk instead of dairy or add a topping like vanilla sweet cream or pumpkin cream cold foam.
What ingredients are in a Starbucks chai?
A Starbucks chai tea latte has two components, chai concentrate and milk. For a hot chai latte, chai syrup, hot water and steamed milk are combined. An iced chai gets cold milk and ice. The main ingredients in Starbucks chai concentrate are black tea, cardamom, black pepper, ginger, cinnamon, cloves, natural flavors, star anise, sugar, honey, ginger juice, and vanilla.
How many pumps of chai are in each size latte?
The number of pumps of syrup in a Starbucks chai depends on the size cup. A hot short, tall, grande and venti get 2, 3, 4 and 5 pumps respectively. An iced chai sizes tall, grande, venti have 3, 4 and 6 pumps of chai.
More Starbucks Chai