This pumpkin spice sauce recipe is simple to make and tastes even better than Starbucks pumpkin spice syrup. Make a jar so you can have a pumpkin spice latte whenever you want.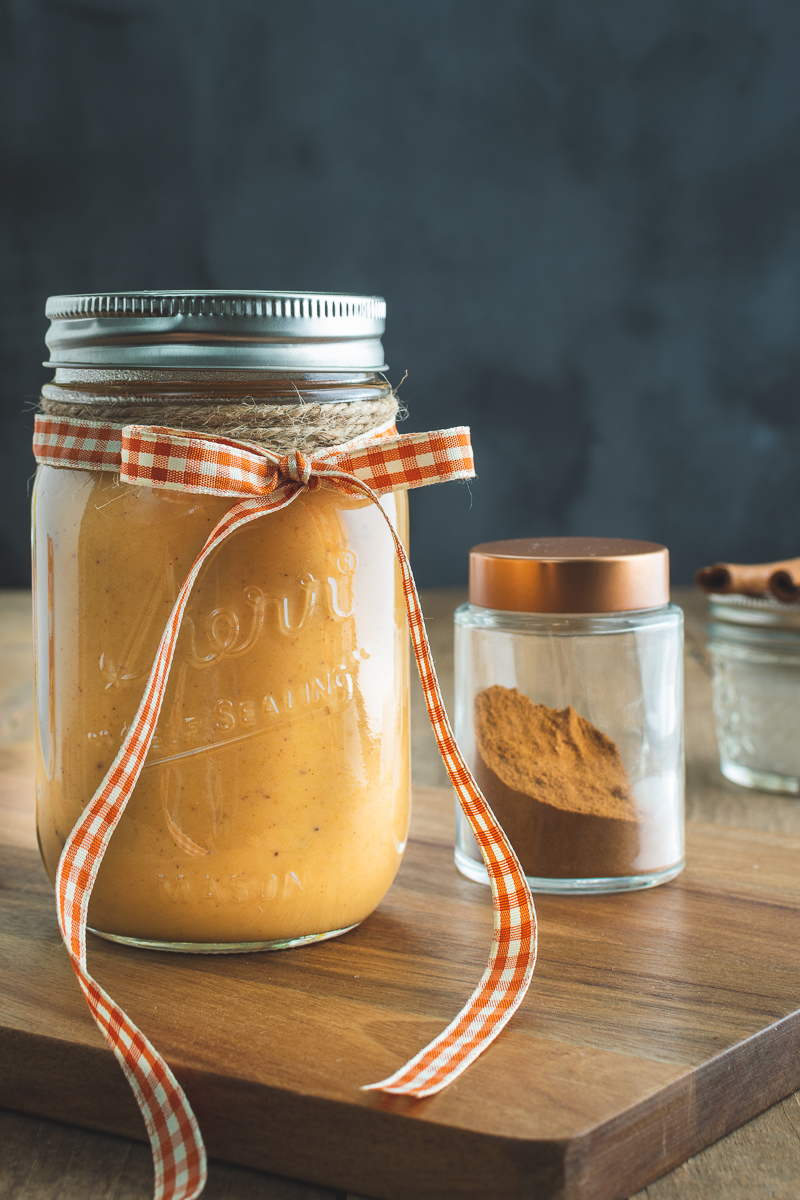 Starbucks Pumpkin Spice Sauce
It's that time of year again … Pumpkin Spice Season! And what better way to celebrate the warm spice flavors of fall than to make your own homemade Starbucks Pumpkin Spice syrup.
Using just a few ingredients, this copycat Starbucks pumpkin spice sauce recipe is simple to whip up.
And the best part…you can make your own at-home pumpkin spice lattes with it.
All you have to do is add this decadent syrup to your favorite coffee or tea, and top it with whipped cream and pumpkin pie spice.
What is Pumpkin Spice Syrup?
Starbucks pumpkin spice syrup, also called sauce, is the base they add to each and every pumpkin spice latte.
On a side note, since I'm a tea drinker I like to create my own Pumpkin Spice Chai Latte.
This yummy sauce layer is what transforms a regular Starbucks espresso or chai into a beverage hundreds of millions of people have purchased since its debut in 2003.
Around 2015, however, the official Starbucks Pumpkin Spice Syrup underwent a makeover.
Real pumpkin puree was added to the recipe and its new label became Starbucks Pumpkin Spice Sauce.
So don't be confused if you see the words syrup and sauce used interchangeably. Both refer to the same delicious pumpkin-y concoction.
Starbucks Pumpkin Spice Sauce Ingredients
The real (not copycat) Starbucks pumpkin spice syrup is a mixture of sugar, condensed milk, pumpkin puree and natural flavoring. My homemade pumpkin sauce recipe uses similar ingredients.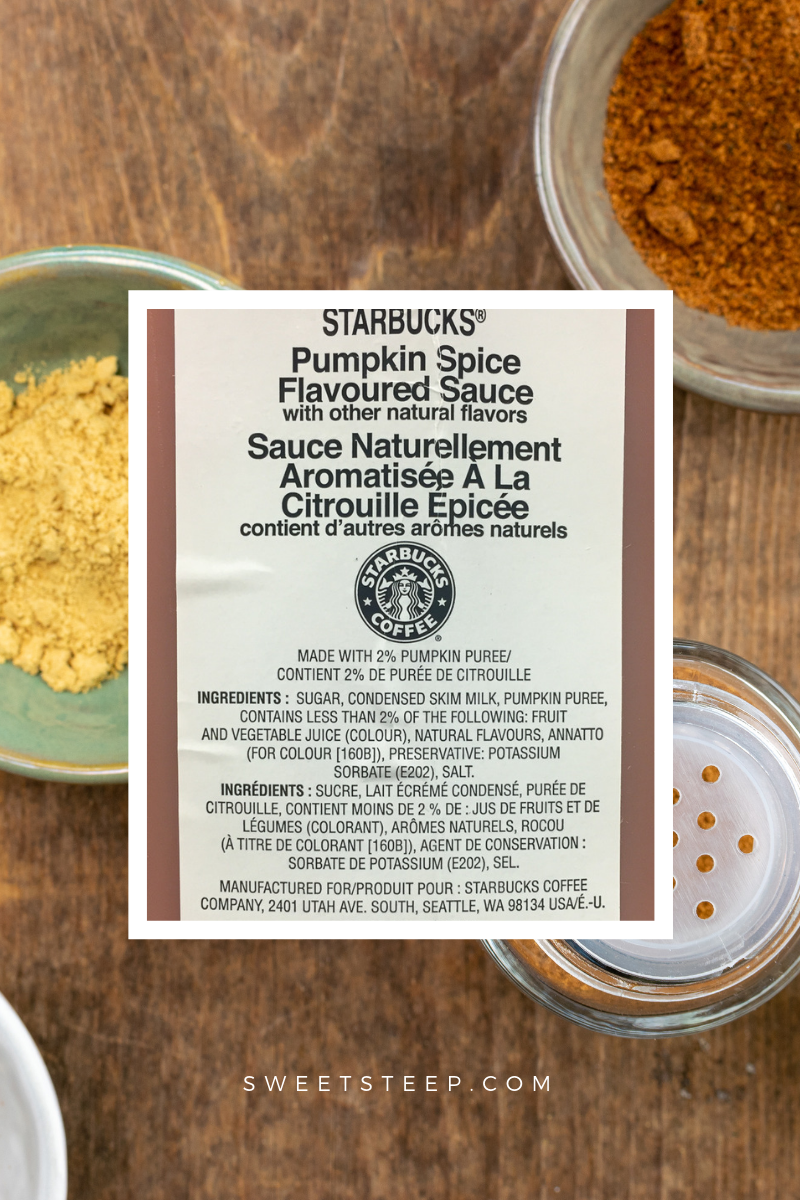 If you're a diehard PSL drinker, beware.
Many "copycat" recipes are merely simple syrup with pumpkin puree added. They leave out the condensed milk, and in my opinion that's a big miss.
After all, it's the sweet and creamy condensed milk that makes each sip of your latte so heavenly.
Of course, the whipped cream and pumpkin pie spice topping also ensure each sip is sweet and flavorful.
How to Make Homemade Pumpkin Spice Syrup
Making your own batch of pumpkin spice sauce only takes a few ingredients and a few minutes. Plus, it makes enough to store in the refrigerator and use every time you get a taste for a latte.
The ingredients are mixed on a warm stove top in order to dissolve the sugar.
It's important to lower the temperature once the simple syrup reaches a boil.
Step 1: Make Simple Syrup
The first step is to make a simple syrup. This is easily accomplished by combining equal parts of water and sugar and warming it up slowly (about five minutes) until the sugar is dissolved. You know it's done when the cloudiness goes away and the syrup becomes clear.
Did you know you can also make your own flavored syrup to add to coffee and tea?
The advantage of syrup over other sweeteners is that the sugar is already dissolved. This way the sweetness is evenly distributed throughout the drink.
Take a look at my other Starbucks syrup copycat recipes for vanilla syrup, classic syrup and caramel syrup.
Step 2: Add Pumpkin Puree and Other Ingredients
The second and final step to making homemade pumpkin spice sauce is to add the pumpkin, condensed milk and spice to the syrup mixture. Stir everything together, let it sit on a warm stove for a minute or two and you're done!
I can't even begin to tell you how simple it is to make this sauce. Most importantly, it's delicious!
Of course, you can adjust the amount of sugar depending on your taste preference; just be sure to always use equal parts of water and sugar.
As you may know, my daughter is a Starbucks barista. This makes her the perfect taste tester since she's so familiar with the taste of the "real" Starbucks pumpkin syrup.
She tasted the sauce on its own and also made a pumpkin spice latte at home with it.
And her verdict is … drum roll please … my homemade pumpkin sauce tastes very similar to Starbucks, but she likes it even better!
So without further ado, here's my copycat recipe.
Pumpkin Spice Sauce Recipe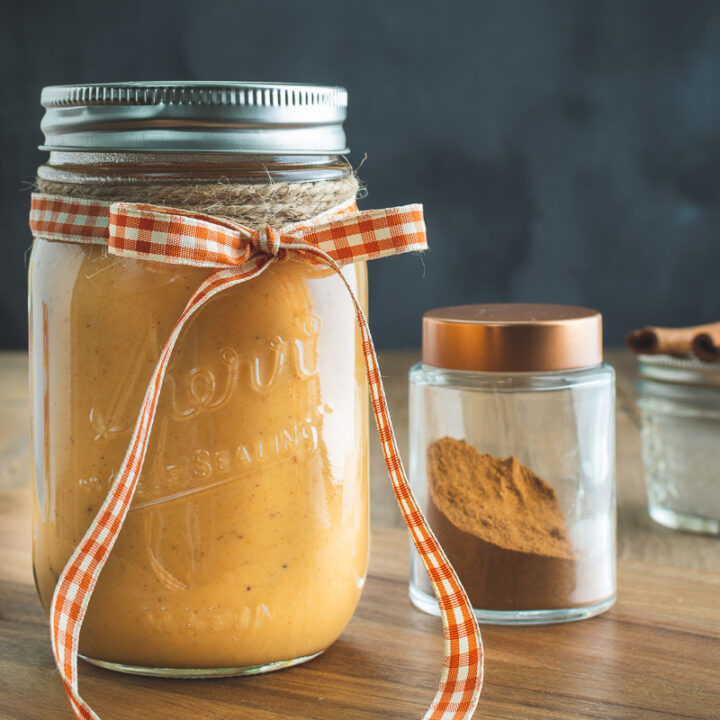 Starbucks Pumpkin Spice Sauce (Syrup)
Quick and easy Starbucks pumpkin spice syrup recipe. This pumpkin spice sauce is perfect for making a pumpkin spice latte at home with coffee or chai.
Ingredients
1/2 cup sugar
1/2 cup water
2/3 cup pumpkin puree
14 ounces sweetened condensed milk
1/2 teaspoon pumpkin pie spice
1/4 teaspoon salt
Instructions
Combine sugar and water in a small pot on the stove over medium heat.
Once the sugar has dissolved and this simple syrup reaches a boil, turn the heat down to low.
Add pumpkin puree, sweetened condensed milk, pumpkin pie spice and salt to the syrup mixture on the stove.
Stir all ingredients together for a minute or two over low heat.
Remove from heat and let the pumpkin sauce cool. Store in a jar in the refrigerator.
Notes
This pumpkin spice syrup recipe makes enough sauce to make approximately ten pumpkin spice lattes (coffee or chai) using 4 tablespoons per latte.
Nutrition Information
Yield

20
Serving Size

2 tablespoons
Amount Per Serving
Calories

68
Total Fat

1.5g
Cholesterol

5mg
Sodium

17.8mg
Carbohydrates

11.7g
Fiber

.2g
Sugar

11.4g
Protein

1.6g