Here's a look at Starbucks Pumpkin Spice Creme Frappuccino. See exactly what's in this blended beverage without coffee.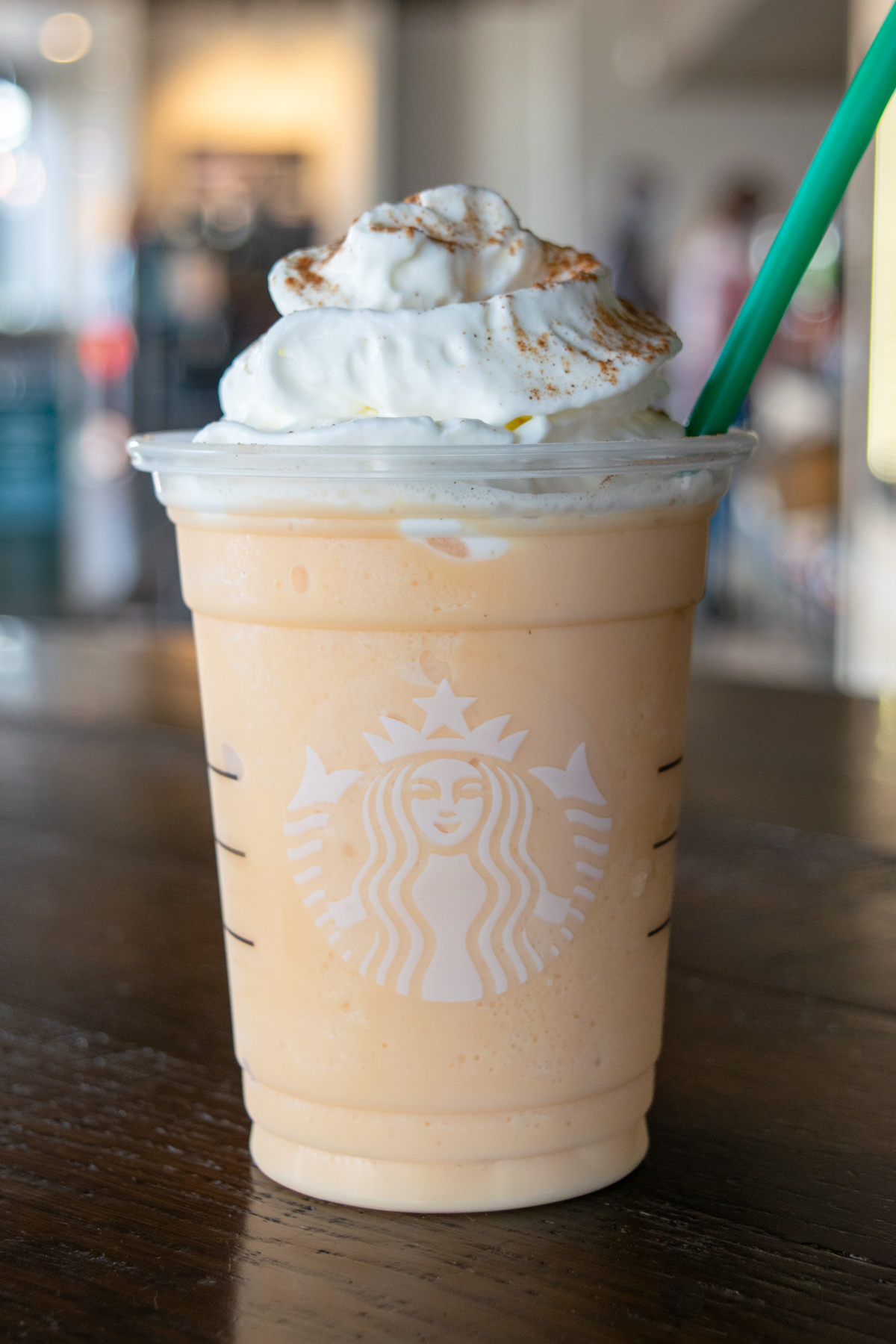 Starbucks Pumpkin Spice Crème Frappuccino
A Pumpkin Spice Crème Frappuccino is a blended Starbucks beverage that combines pumpkin spice sauce, milk, ice and crème frappuccino syrup (to thicken it). It's topped with a generous swirl of sweetened whipped cream and pumpkin pie spices.
The pumpkin crème frappuccino is the non-coffee version of a regular pumpkin spice frappuccino. The coffee version has frappuccino roast blended in, as well.
This drink is not the same thing as a Pumpkin Spice Crème. While both are pumpkin drinks without coffee, pumpkin spice crème is a pumpkin-flavored steamed milk beverage.
What's in a Pumpkin Crème Frappuccino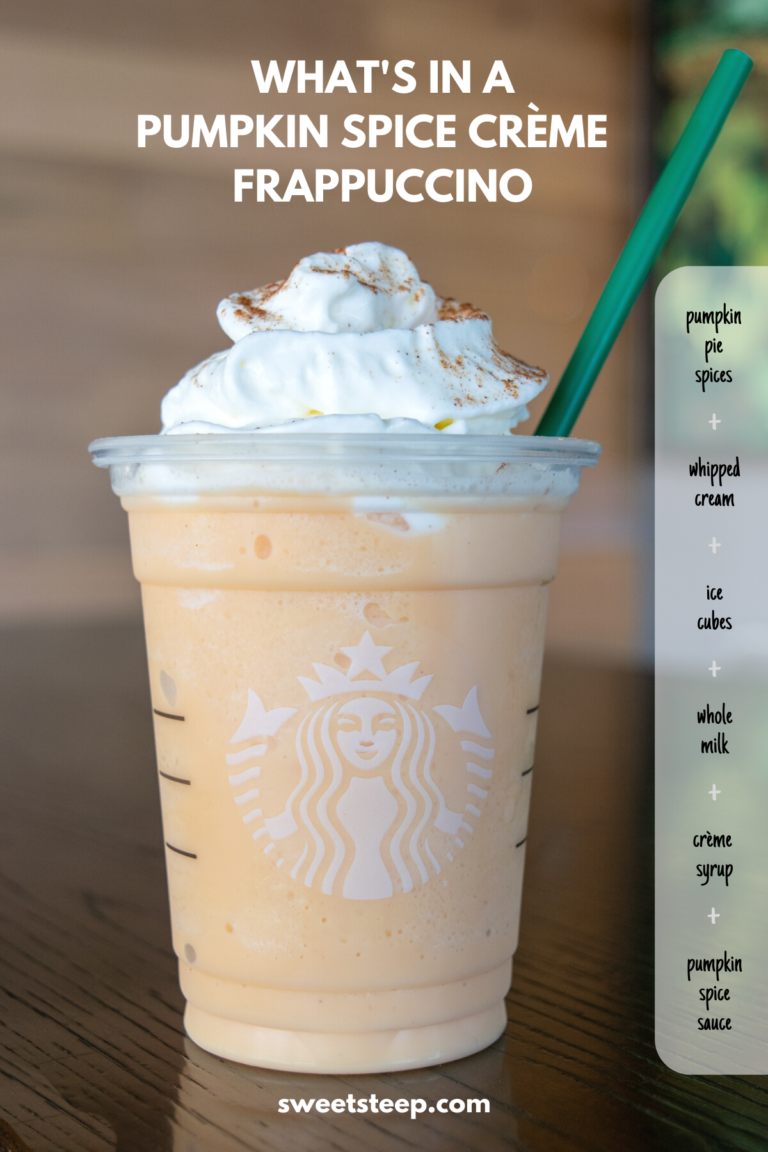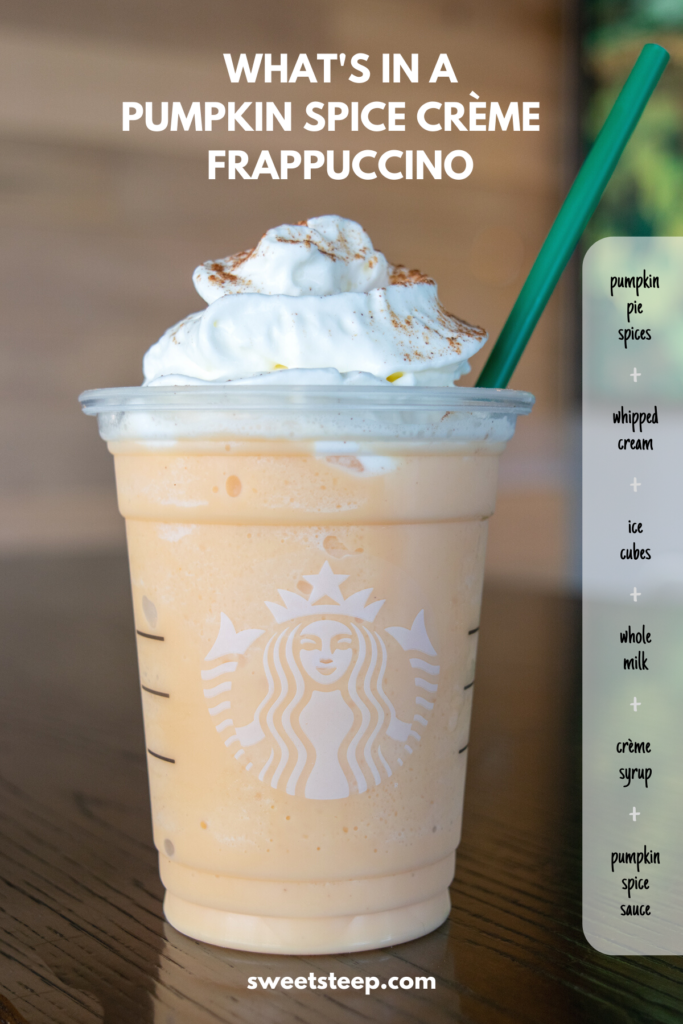 A regular pumpkin spice crème frappuccino that has not been customized, has six ingredients:
Pumpkin Spice Sauce
Whole Milk
Ice
Crème Frappuccino Syrup
Whipped Cream
Pumpkin Spice Topping
Pumpkin Spice Sauce contains real pumpkin, condensed skim milk, and is flavored with spices like cinnamon and nutmeg. Every pumpkin drink at Starbucks is flavored with this seasonal sauce. Since it contains milk, it's not possible to get a non-dairy pumpkin spice drink.
Want to make pumpkin drinks at home? Here's my copycat Starbucks pumpkin sauce recipe. It's easy!
Whole Milk is the basis of all Starbucks frappuccino blended beverages. It's what makes them extra rich and creamy. If desired, you can substitute another Starbucks milk option, but it will affect the consistency of the drink.
Ice blended with all the other ingredients is what turns an ordinary iced beverage into a frozen, milkshake-like frappuccino.
Crème Frappuccino Syrup is the key to a thick frappuccino that doesn't separate too quickly. It contains xanthan gum which is an emulsifier. It also contains sugar, so it sweetens every non-coffee frappuccino, as well.
Whipped Cream is the pièce de ré·sis·tance of the Pumpkin Spice Crème Frappuccino, as well as every pumpkin spice drink on the menu and almost every frappuccino. Starbucks sweetened whipped cream is flavored with vanilla syrup.
Pumpkin Spice Topping is the final touch to Starbucks line-up of pumpkin drinks. It's a no-calorie spice mixture that contains traditional pumpkin pie spices: cinnamon, ginger, nutmeg and cloves.
Drink Sizes
Like all Starbucks frappuccinos, a Pumpkin Spice Crème Frappuccino comes in three sizes, tall (12 fl oz), grande (16 fl oz) and venti (24 fl oz).
There's no such thing as a trenta size frappuccino. That size is only for Starbucks iced tea drinks, Starbucks Refreshers, lemonade, cold brew and iced coffee.
Coffee & Caffeine Content
Pumpkin Spice Crème Frappuccino does not have any coffee blended into it.
Actually, every crème frappuccino on the Starbucks menu is coffee-free.
In addition, this coffee-free version of the pumpkin spice frappuccino is also caffeine-free.
This isn't the case for all crème milk-based frappuccinos. For instance, neither the chai frappuccino or matcha frappuccino have coffee in them, but they do contain caffeine.
Here's a detailed look at how much caffeine is in Starbucks frappuccinos. Additionally, here's a list of every Starbucks drink without caffeine.
Calories
Starbucks pumpkin frappuccinos are decadent whipped-cream-topped drinks.
One look at the ingredient list and it's no surprise they're on the opposite end of the calorie spectrum from all of the sugar-free drinks at Starbucks.
Calories in Pumpkin Spice Crème Frappuccino by Size:
Tall: 250 calories
Grande: 360 calories
Venti: 450 calories
Ways to Customize
Add a Drizzle: Take a pumpkin crème frappuccino from yummy to next-level with caramel drizzled on top. Trust me on this!
You can even ask for it to line the cup. Other drizzle flavors available during the fall include mocha and apple spice.
Combine it with Chai: The base of every chai drink at Starbucks is chai black tea concentrate infused with flavors like cinnamon, ginger, star anise and nutmeg.
There are lots of ways to modify Starbucks chai drinks; one of my favorites is to combine it with pumpkin. To get a chai pumpkin frappuccino just ask for an add-in of chai. Just keep in mind, chai is caffeinated.
Order it Affogato: Maybe you want coffee in your pumpkin crème frappuccino after all. You've got two options: get a regular pumpkin spice frappuccino made with "frapp roast" or order the crème version with an affogato shot of espresso. Espresso shot options include decaf, dark and blonde roasts.
Reduce the Dairy: Since Starbucks pumpkin spice sauce has milk in it, you can't get a dairy-free pumpkin frappuccino, but you can reduce the dairy two ways. First, you can substitute the whole milk with one of Starbucks milk alternatives (oat, almond, coconut and soy). Second, you can leave off the whipped cream.
Cut the Calories: If you want to really slash the calories on your frappuccino, get it made with almondmilk, the lowest calorie milk at Starbucks. Fair warning though, the frappuccino will be thinner. To shave off around 100 calories, forgo the whipped cream.
Questions You May Have
Does a Pumpkin Spice Crème Frappuccino have coffee in it?
All crème frappuccinos at Starbucks are made without coffee. This means a pumpkin spice crème frappuccino is both coffee-free and caffeine-free.
What's the difference between a Pumpkin Spice Frappuccino and the Pumpkin Crème Frappuccino?
There is only one difference between a pumpkin spice frappuccino and the crème frappuccino. A pumpkin spice frappuccino has frappuccino roast blended into it. This is a type of coffee specifically for making frappuccino blended beverages.
What does a pumpkin crème frappuccino taste like?
If you love pumpkin pie with whipped cream, then you should try a Starbucks pumpkin crème frappuccino. Since there's no coffee in it, it tastes of pure pumpkin and cream. Topped with whipped cream, cinnamon and nutmeg, this frappuccino has all the traditional pumpkin pie flavors.
Related