Bring a touch of autumn into your home with this homemade mulling spice recipe. These mulled spices make delicious mulled apple cider and mulled wine to serve to family and friends.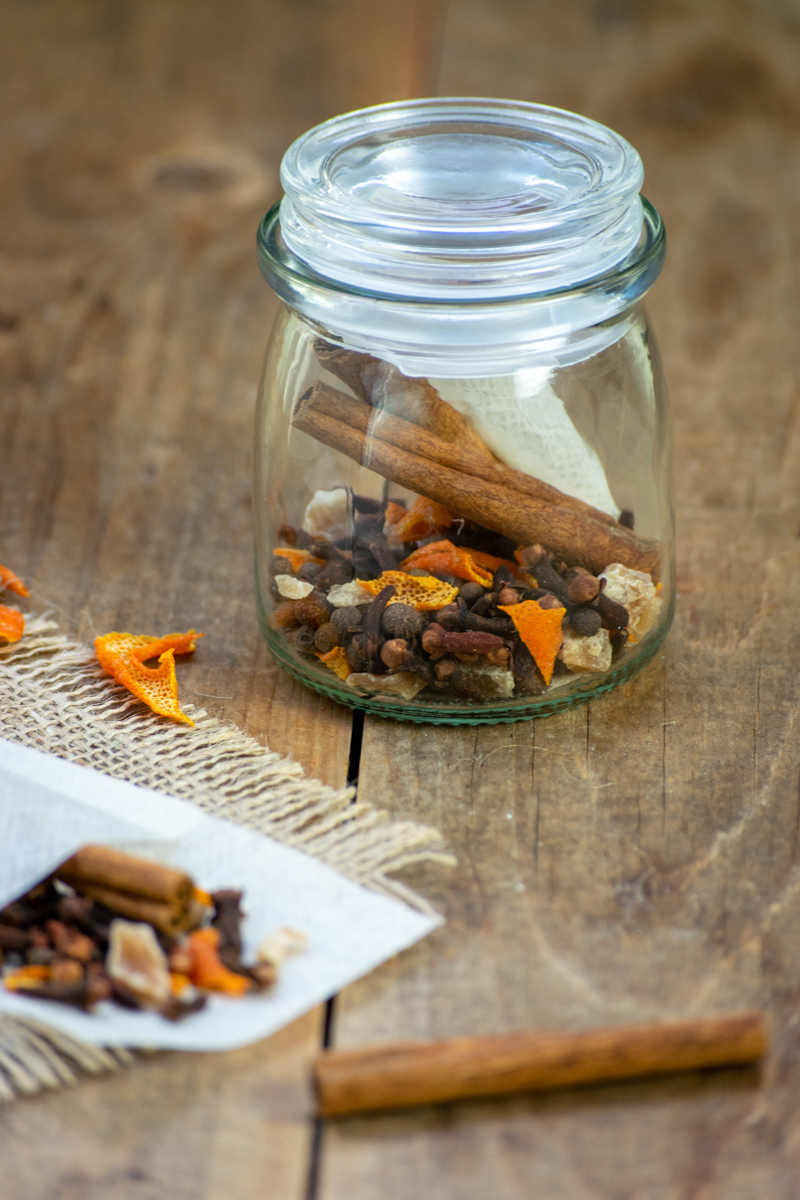 Mulling Spices
When the leaves begin to turn color and the temperature takes a dip, the delicious taste and aroma of homemade mulling spices comes to mind.
Simmered in apple cider, red wine and even black tea, mulling spices are the perfect way to spice up hot beverages.
As a bonus, not only are mulled drinks warm and cozy, but the comforting scent of cinnamon, cloves and citrus will fill your home.
What I love about my homemade mulling spice mix recipe is that it's really easy to make. Plus, it's a tasty, seasonal gift for friends and family.
A mason jar full of mulling spices is my favorite way to give it as a gift. Or small spice bags, all ready for steeping, are nice too.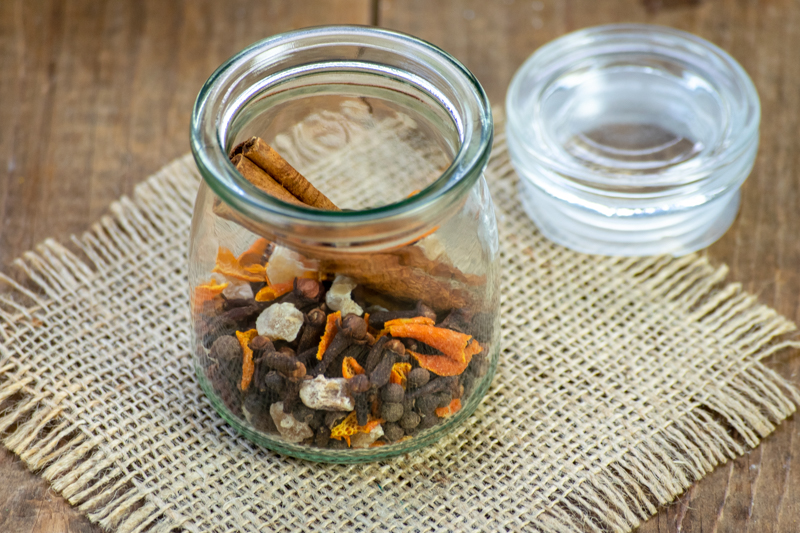 What are Mulling Spices?
Mulling spice mix is a combination of spices like cinnamon, cloves and allspice, as well as a dried fruit for sweetness. As you can imagine, there are a wide variety of recipes.
However, the foundation of almost all mulling spice recipes includes cinnamon, cloves and allspice. Additional ingredients can be added according to taste preference.
Common Mulling Spice Mix Ingredients
Cinnamon
Cloves
Allspice Berries
Nutmeg
Cardamom
Star Anise
Peppercorns
Candied Ginger
Apple
Raisins
Orange Rind
Clementines
Sugar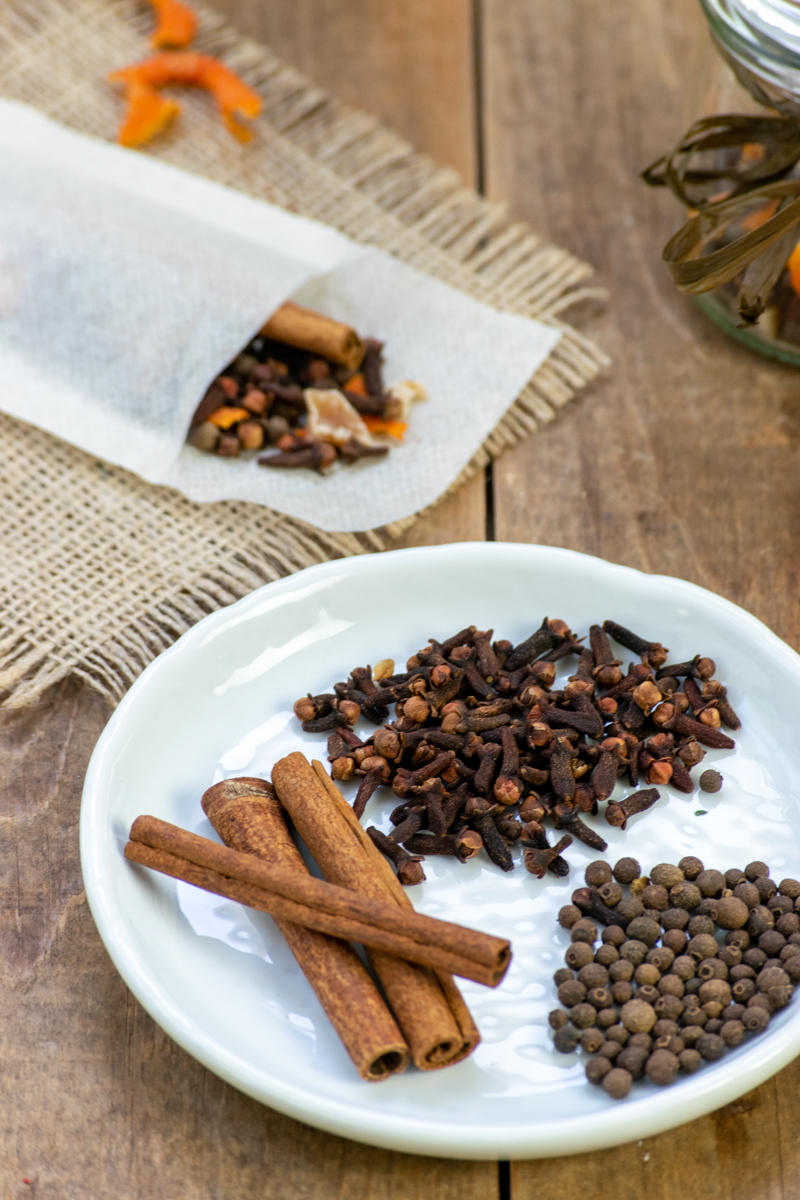 Origin of Mulling Spices & Mulled Wine
Did you know mulled wine originated as far back as the 2nd century?
According to Vivino, the Romans heated their red wine to make it through the cold winter months. As the Roman Empire expanded into Europe, Europeans infused spices into the red wine as it simmered.
Also known as spiced wine, mulled wine was also consumed for medicinal purposes.
In time, this aromatic red wine made with warming spices and orange rind, became a traditional Christmas beverage. And it still is today.
As you can imagine, serving warm mulled apple cider, is a favorite holiday treat, as well.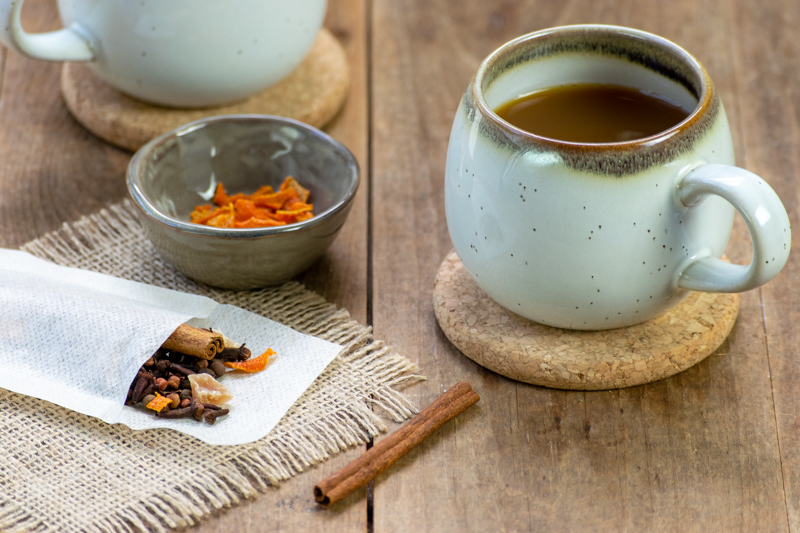 How to Use Mulling Spices
To make a drink with mulling spices, all you have to do is add the spice and fruit mixture to the drink as it's being heated.
A general rule of thumb is to add 2 tablespoons of mulled spices to 1/2 gallon of apple cider or 750 ml of red wine.
There are two basic ways to infuse mulling spices into hot beverages.
Add the spices and fruit (dried or freshly sliced) directly to the drink as it simmers and strain them out when it's ready.
Steep the spices and dried fruit in a pouch and remove the spice-filled bag when the drink is ready.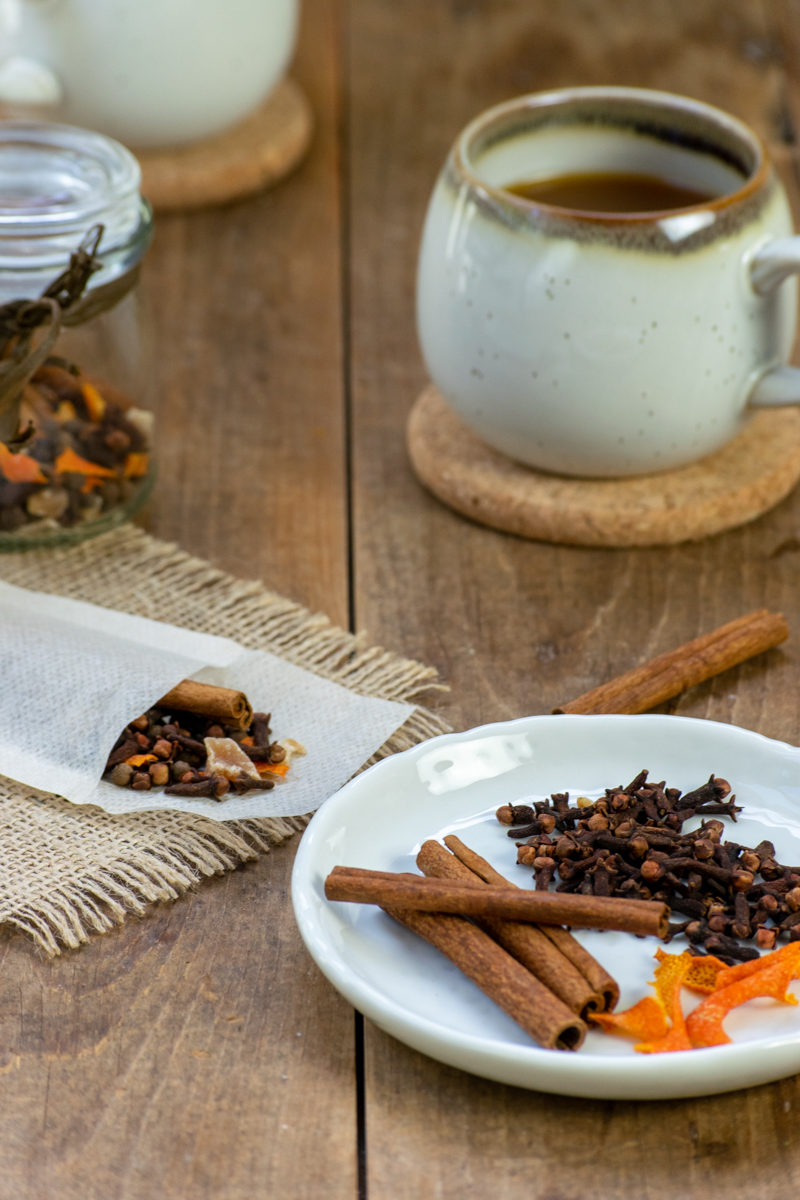 What I love about my mulled spice mix recipe is that it's simple to use.
For instance, you can either scoop the spice mix directly into the pot on the stove or put some in a muslin or cheesecloth bag and steep it similarly to tea.
Additionally, you can slice up fresh orange and apple, but it's not necessary.
In fact, the dried orange rind has a pretty strong flavor.
You can even use mulling spices in tea.
Mulling spices are an easy way to bring fall flavors to a cup of tea. They're delicious steeped in black tea or a complementary herbal tea.
Simply scoop some of the mulled spice mix into a tea infuser along with loose tea. You can even put the spices directly into the tea along with a tea bag and strain them out.
Mulling Spice Mix Recipe
To make a homemade mulling spice mix all you have to do is combine the spices and fruit in a bowl and store them in an airtight container.
However, you do need to dry out the orange peels beforehand.
To do this, simply peel an orange, avoiding the white, fleshy pith under the rind (it's bitter) and let it dry for a few hours.
Another method is to combine the spices with fresh orange peels, and spread the entire mix on a tray to dry for several hours.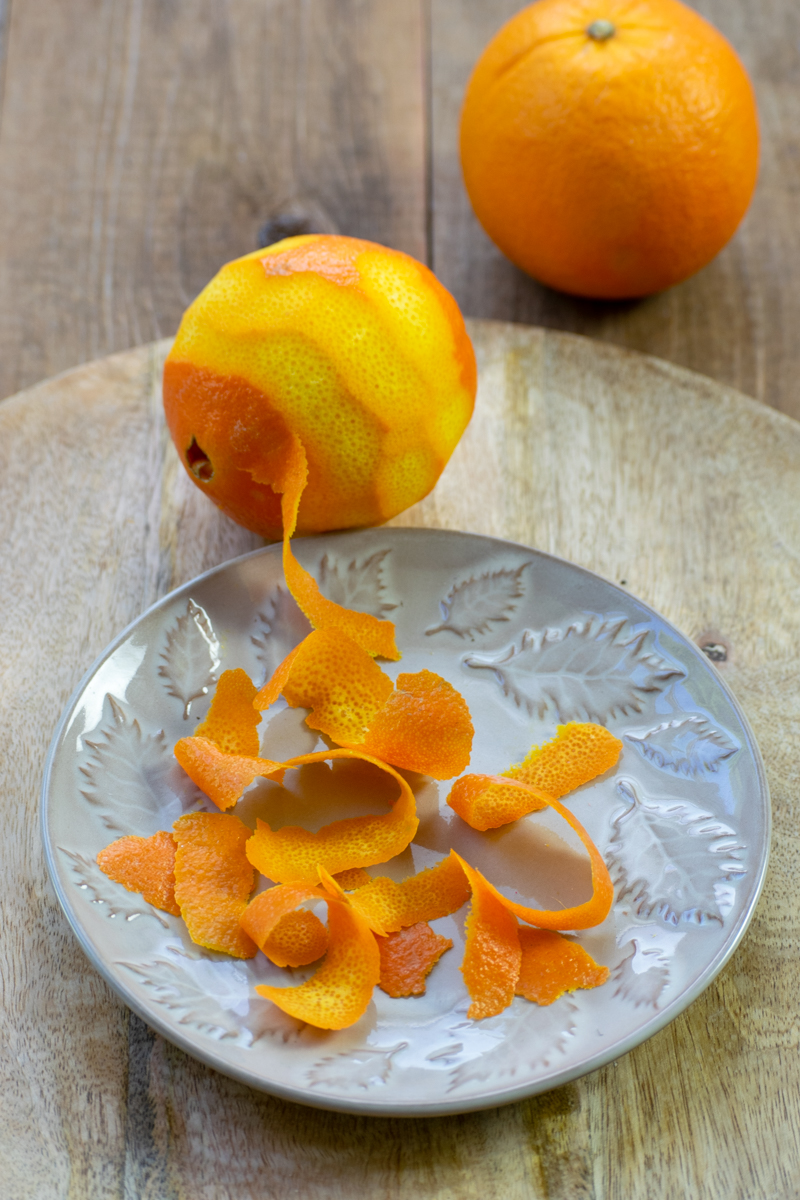 Mulled Spices Make Great Gifts
Obviously, no special kitchen gadgets are needed to make this recipe, but here are a few things I like to package the mulled spice mix in for gift-giving.
Photo Credit: amazon.com
100% Cotton, 3x4 inch – Reusable spice bags for soups, sauces, mulled wine and mulled apple cider.
Photo Credit: amazon.com
Beautifully display your preserves, stored foods and home goods. Features a wide mouth for easy filling.
Photo Credit: amazon.com
Great in the kitchen for canning and storing foods. Also great for gift-giving.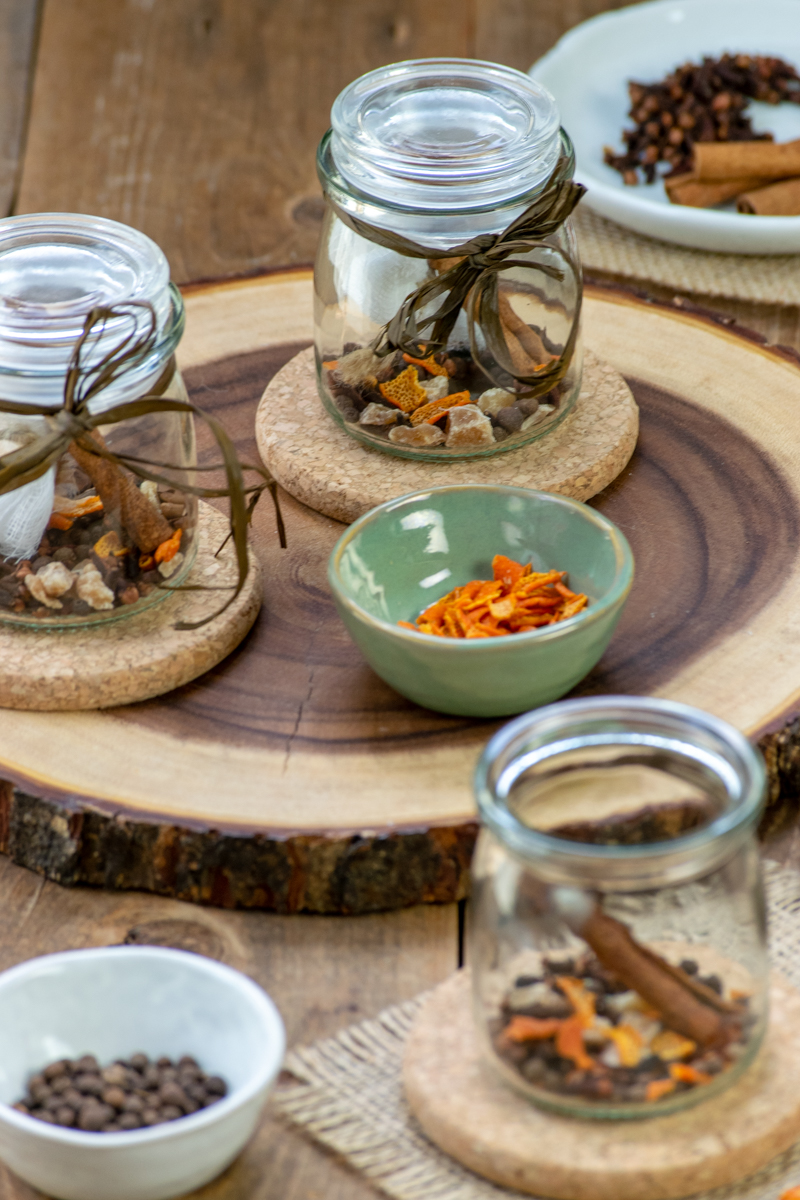 More Favorite Fall Drink Recipes
I love hot tea drinks, so here are a few more of my favorite fall tea recipes. Like mulled spice mix, Friendship Tea also makes a great mason jar gift. Enjoy!
Homemade Mulling Spice Mix Recipe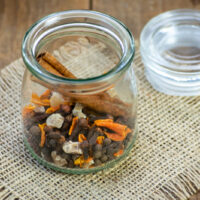 Mulling Spices for Apple Cider and Wine
Yield:
1 cup mulled spice mix
Easy mulling spice mix recipe to make mulled apple cider, mulled wine or tea. Mulled spices also make a nice hostess gift.
Ingredients
6 cinnamon sticks
1/4 cup orange peel (dried)
1/4 cup whole cloves
1/4 cup allspice berries
2 tablespoons crystallized ginger
Instructions
Peel the orange-colored rind off an orange. Let it dry for a few hours.
Meanwhile, place the cinnamon sticks and crystallized ginger in a heavy-duty plastic bag. Cover the bag with a towel. Break the cinnamon and ginger into larger pieces being careful not to grind the spices into a powder. You can use the back of a pan, rolling pin, mallet or meat tenderizer.
Place the cinnamon and ginger in a bowl and add the whole cloves and allspice berries.
Once the orange peel is dry, break it up into smaller pieces either by hand or chop it with a knife. Add the orange peel to the other spices.
Store the mulling spice mix in an airtight container, such as a mason jar, that holds at least 8 ounces.
Simmer 2 tablespoons of mulling spices per 1/2 gallon of cider or 750 ml of wine.
Notes
This recipe makes approximately 1 cup of mulled spice mix (8 servings). When I package it for gifts, I place a whole cinnamon stick in the jar (instead of breaking them up), along with a muslin bag or cheesecloth and string for easy steeping.