Make this Starbucks Peppermint Hot Chocolate Recipe at home in minutes. Made with cocoa, milk and peppermint syrup, this Starbucks copycat hot chocolate is creamy and delicious.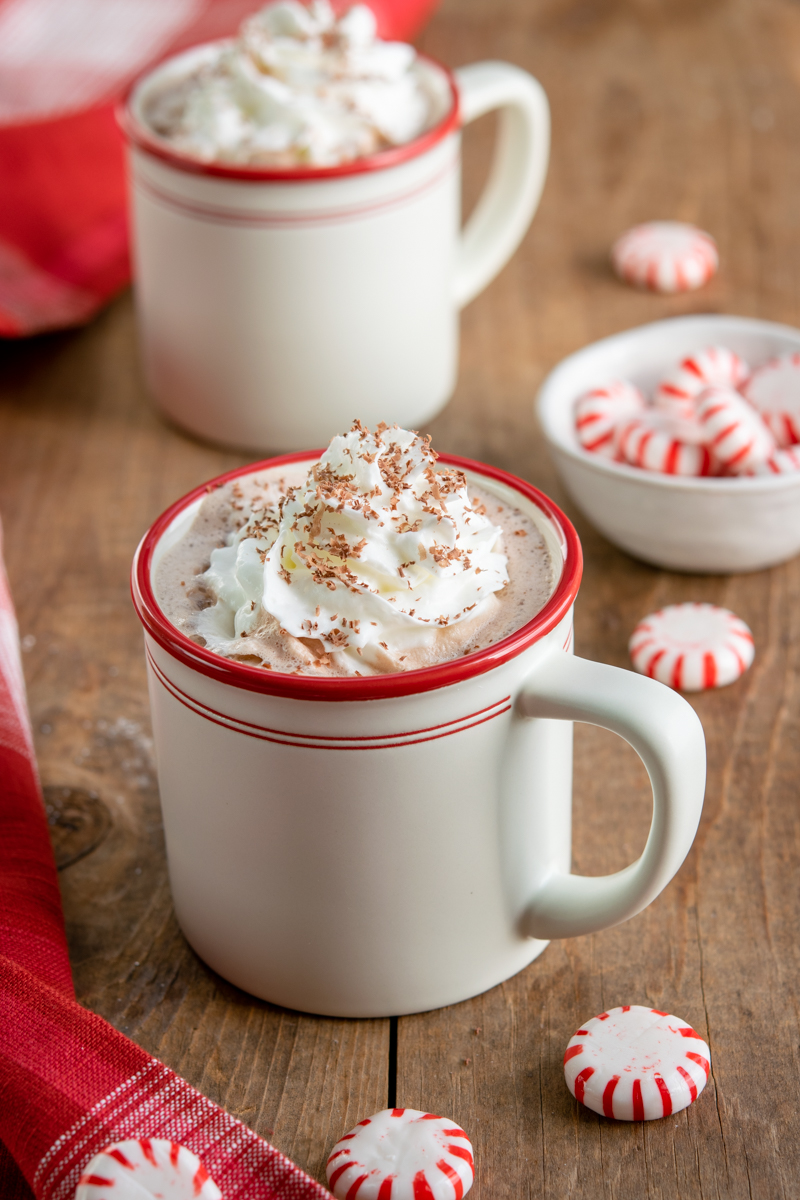 Starbucks Peppermint Hot Chocolate
Every winter I look forward to sipping on a rich and creamy Starbucks Peppermint Hot Chocolate. Topped with whipped cream and chocolate curls, every sip of a Starbucks hot chocolate is a delight.
What makes Starbucks hot chocolate so special is that it's a combination of chocolatey mocha sauce and steamed milk.
What makes a peppermint hot chocolate so special is that the peppermint flavor makes this drink a holiday classic.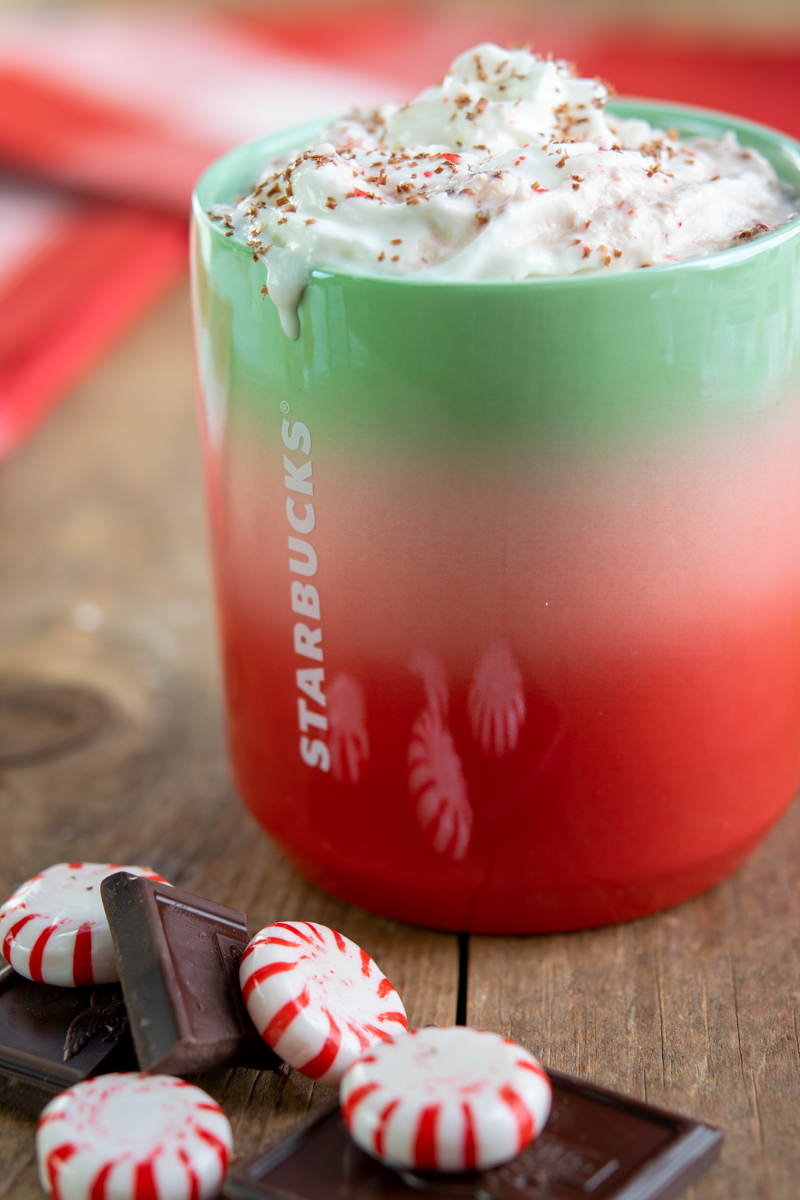 You may be wondering, what's the difference between a Starbucks Peppermint Hot Chocolate and a Peppermint Mocha? Espresso. That's the difference.
What the two drinks have in common, however, is a decadent combination of chocolate, peppermint and cream.
Now, I know hot cocoa has a reputation for being a kid's drink. But I'm here to tell you, hot chocolate from Starbucks is a treat for everyone.
Let's take a look at exactly how a Starbucks barista whips together this drink.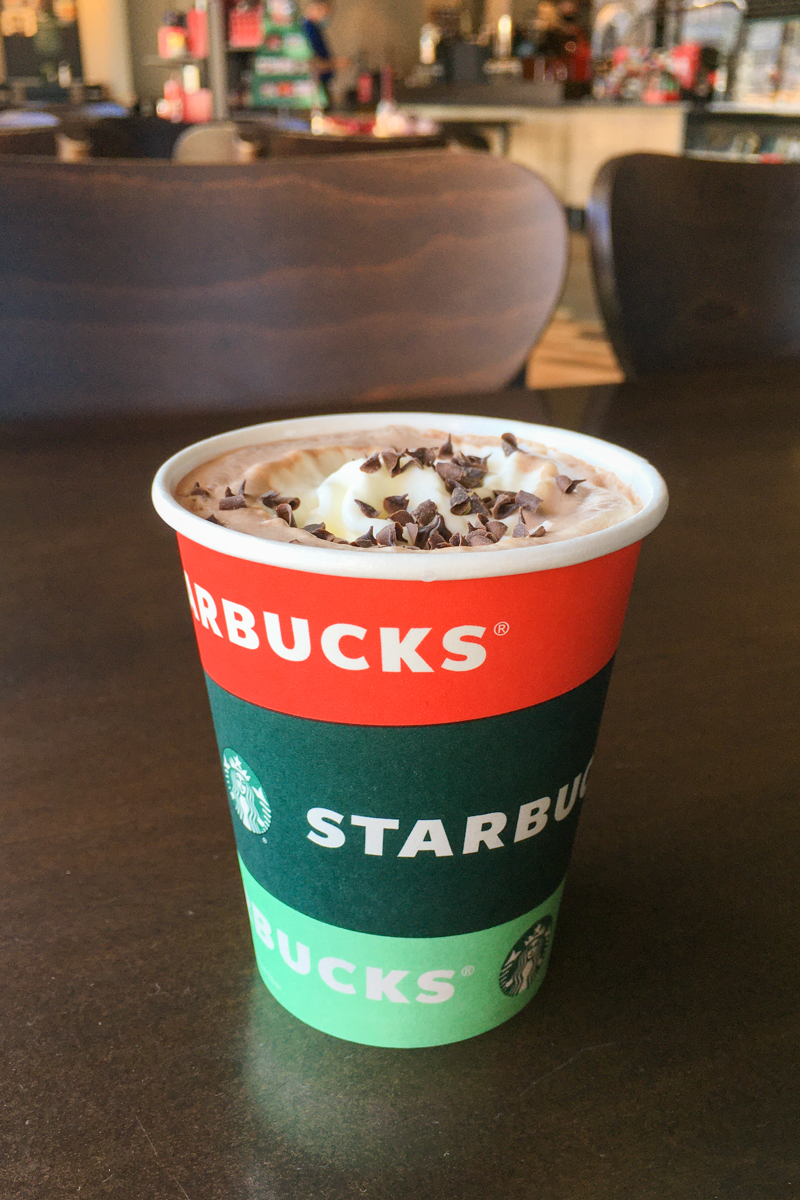 How Starbucks Makes Peppermint Hot Chocolate
What I love about the Starbucks hot chocolate recipe is that it's milked-based and made with mocha sauce.
This is why their hot chocolate drinks are all so rich and creamy.
In other words, sipping on a cozy cup of hot chocolate from Starbucks is nothing like hot cocoa made from those instant packets and boiling water.
Starbucks Peppermint Hot Chocolate Ingredients
Peppermint Syrup
Mocha Sauce
Steamed 2% Milk
Whipped Cream
Chocolate Curls
Additionally, you should know that Starbucks mocha sauce is bittersweet.
That's why I recommend using dark chocolate cocoa and not milk chocolate in my copycat recipe below.
Keep in mind, the syrup and sugar will provide just the right amount of sweetness.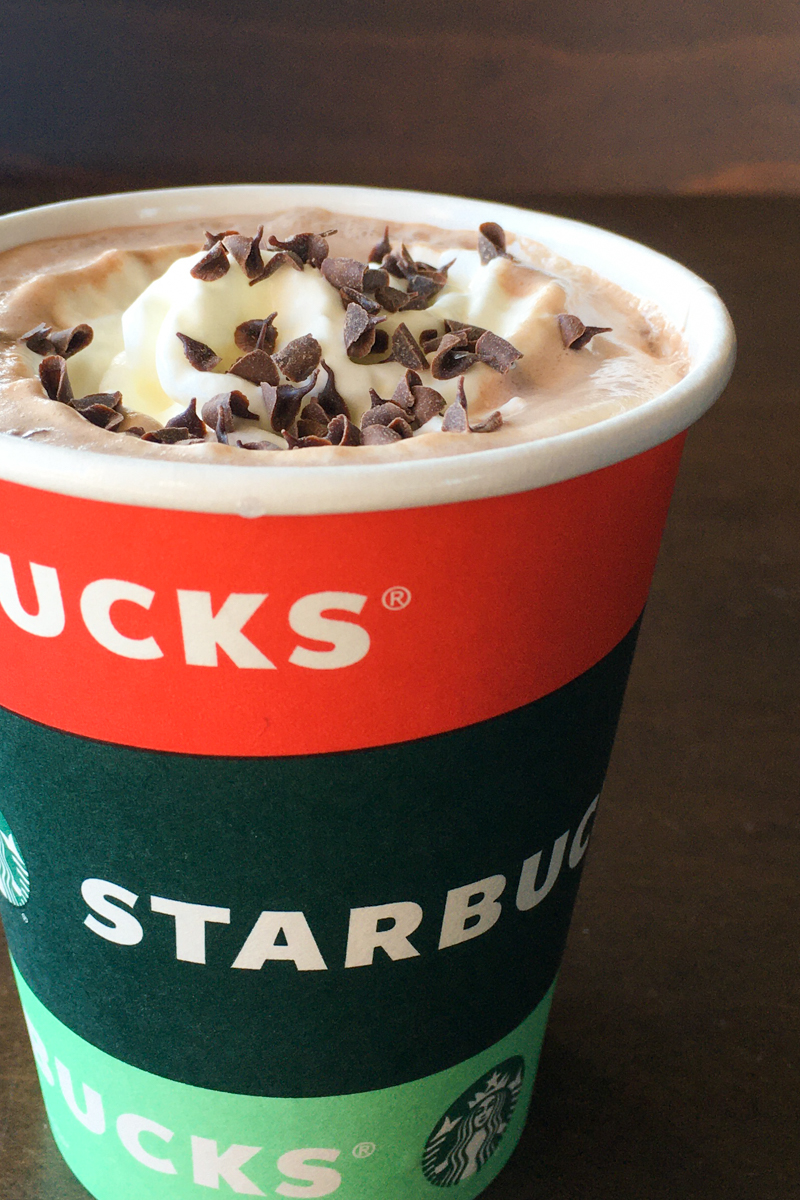 Peppermint Syrup
The peppermint flavor in this hot chocolate recipe comes from peppermint syrup.
Did you know, you can get a bottle of Starbucks Peppermint Syrup online?
Additionally, grocery stores often sell flavored syrup brands such as Torani and Monin. Though, the variety of flavors is often limited.
On the other hand, if you have a few minutes, you should try making my homemade peppermint syrup recipe.
It's incredibly easy to make at home. All you need is peppermint extract, sugar and water. And boy oh boy is it way cheaper.
In fact, here are a few of my other Starbucks copycat syrup recipes.
How to Make Starbucks Peppermint Hot Chocolate at Home
Unbelievably, hot chocolate dates back 3,000-4,000 years when the cacao plant was first cultivated in southern Mexico.
According to history.com, instead of eating the cacao, it was made into a drink by grinding the cacao and mixing it with water to make a paste.
Then, the chocolate drink was poured from jug-to-jug to achieve a frothy consistency.
While hot chocolate recipes are easy to whip up, then and now, here are a few modern conveniences that make the job easier.
Photo Credit: www.amazon.com
Handheld milk frother/blender for lattes and more.
Photo Credit: www.amazon.com
 Hot and cold milk frother. One Size, Black.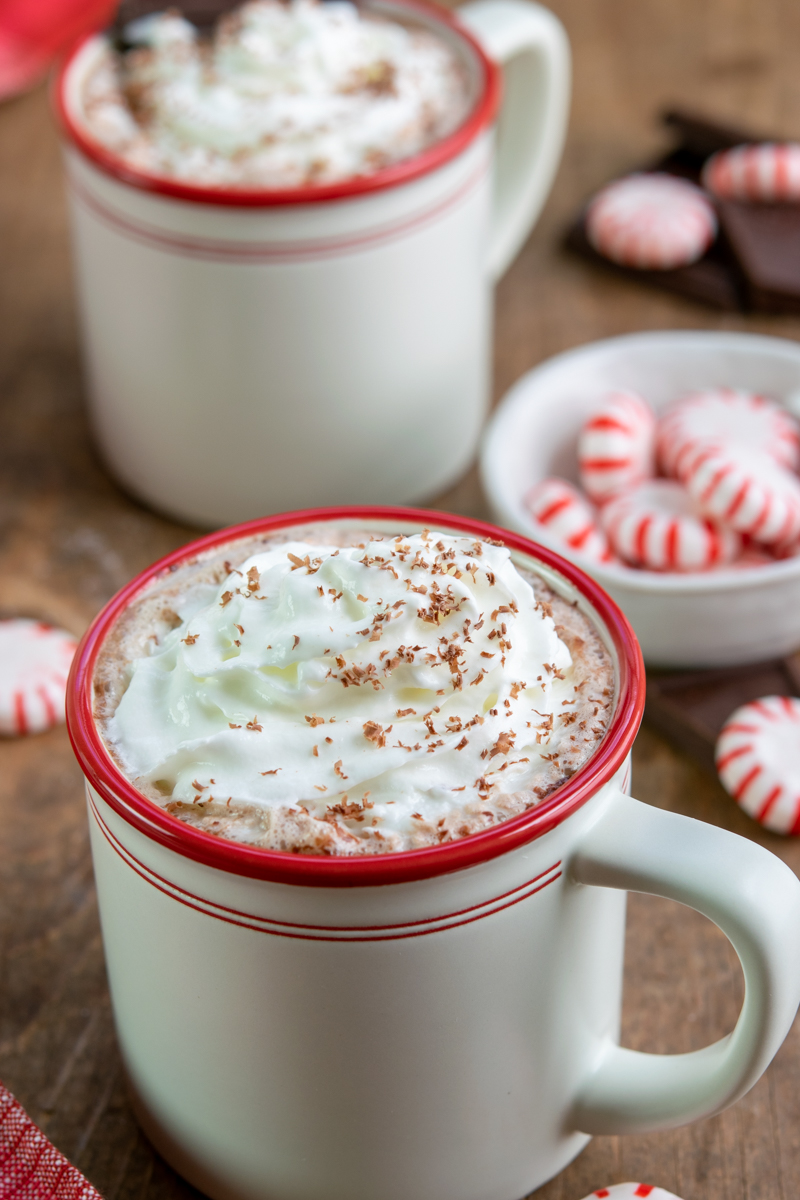 Step 1: Make Mocha Sauce
The first step in making peppermint hot chocolate from scratch is to make mocha sauce.
You can think of mocha sauce as chocolate syrup. In fact, my Starbucks barista daughter tells me that their mocha sauce is about the consistency of cake batter.
In this recipe, we simply combine dark chocolate cocoa powder, sugar and a little hot water in a mug.
Mix it well with a spoon or frother.
Of course, you can make a large batch of mocha sauce by multiplying the recipe.
Step 2: Add Syrup
Once the mocha sauce has been mixed in a mug, simply add the peppermint syrup.
Really there's no need to stir at this point.
Step 3: Steam Milk
Next, to make your copycat Starbucks peppermint hot chocolate, steam the milk.
Starbucks uses 2% dairy milk and that's also what I recommend.
Of course, you can switch the type of milk, just be aware that as the milk's fat content decreases, so does the hot chocolate's creaminess.
To steam the milk you can heat it up on the stove, in the microwave or using an electric frother.
Obviously, if you have an espresso machine with a steam wand, use that.
Aerating or frothing the milk is an important step since it bumps up the creaminess factor even more.
Therefore, if you heated the milk using a stove or microwave, I highly recommend using a handheld frother. Luckily, they're super inexpensive.
Step 4: Garnish with Toppings
Lastly, the fun part, add whipped cream and chocolate curls.
While this step is entirely optional, I don't recommend skipping it. I mean, a little whipped cream, with every sip of peppermint flavored hot chocolate is what makes this drink complete.
To be even more festive during the holidays, you can even sprinkle crushed peppermint candies on top, as well.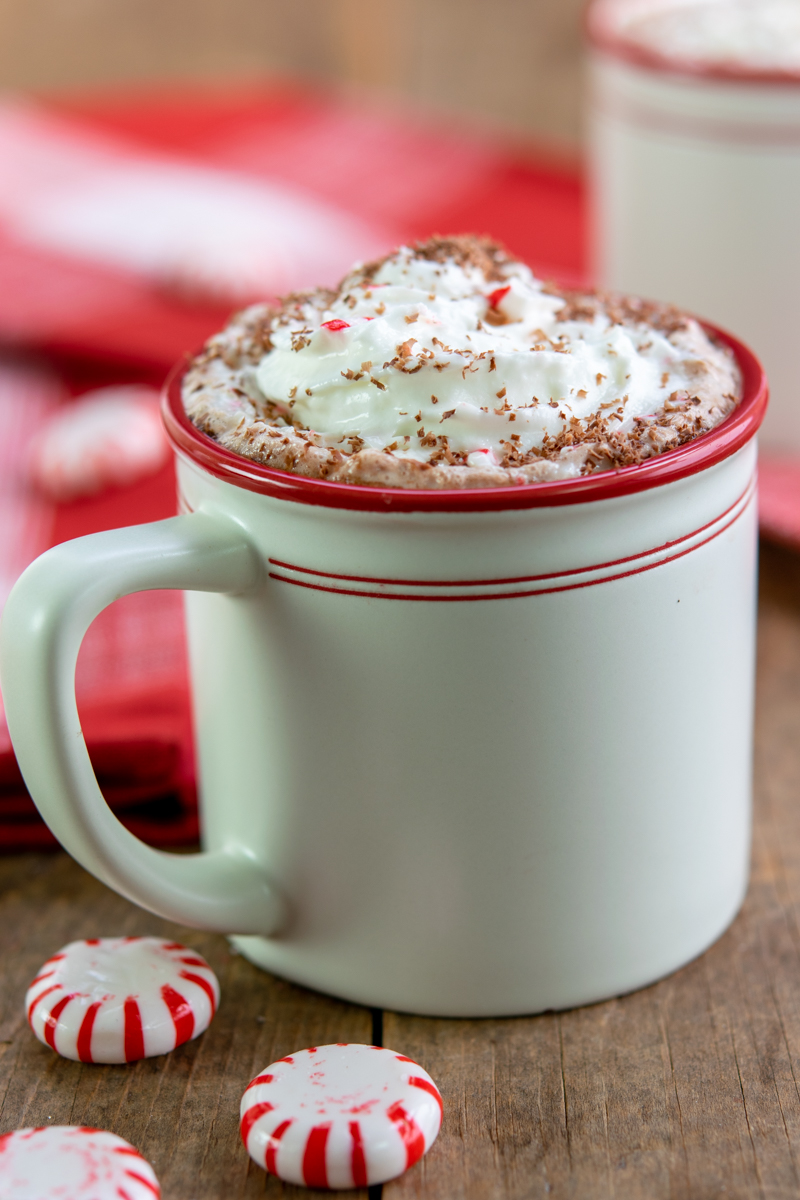 Starbucks Peppermint Hot Chocolate Recipe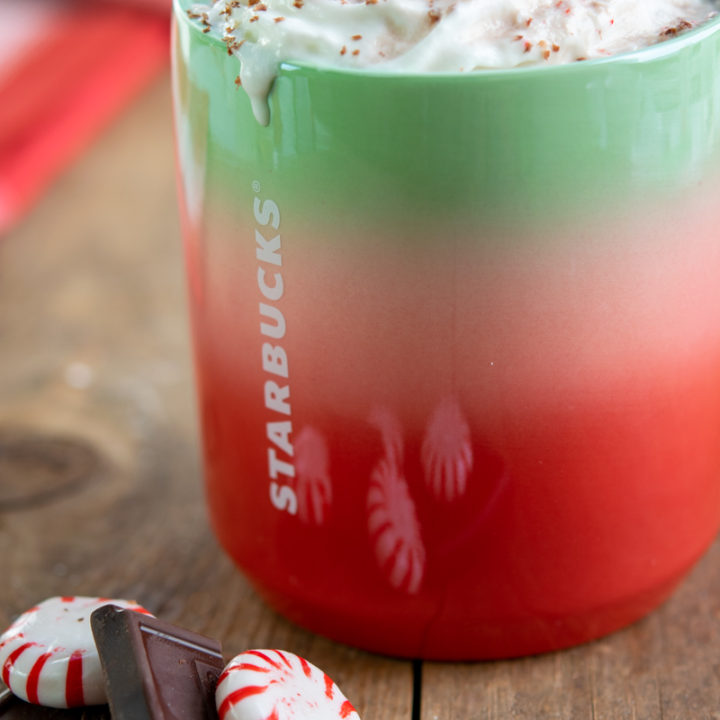 Starbucks Peppermint Hot Chocolate
Delicious Starbucks Peppermint Hot Chocolate copycat recipe. Make it with Starbucks Peppermint Syrup or homemade peppermint syrup for a fraction of the cost. Top the hot chocolate with whipped cream and chocolate shavings for a decadent winter drink.
Ingredients
1 tablespoon unsweetened dark chocolate cacao powder
1 tablespoon sugar
1 tablespoon water
3 tablespoons peppermint syrup
1 cup 2% milk
1/8 teaspoon peppermint extract
1/2 cup whipped cream
1 teaspoon chocolate shavings or chocolate nibs (optional)
Instructions
To make mocha sauce, put chocolate powder (such as Hershey's) and sugar in a mug. Boil some water and stir 1 tablespoon into the mug.
Next, add peppermint syrup to the mug.
On a stovetop, steam the milk, being careful to not let it come to a boil.
Remove the milk from the stove and aerate it with a handheld frother. Otherwise, skip step 3 and put milk in an electric frother that has a heat setting. These frothers have max limits so you may have to froth half the milk at a time.
Pour the steamed milk into the mug on top of the mocha sauce and peppermint syrup. Stir the peppermint hot chocolate or use the handheld frother to combine all the ingredients.
If you want to bump up the peppermint flavor mix in a very tiny bit of peppermint extract. I like to use additional extract as opposed to syrup so the hot chocolate doesn't get any sweeter.
Finally, top the Starbucks Peppermint Hot Chocolate copycat drink with whipped cream. Garnish with chocolate shavings.
Recommended Products
As an Amazon Associate and member of other affiliate programs, I earn from qualifying purchases.