Make a Starbucks Peppermint White Hot Chocolate at home with this recipe perfect for the holiday season. Made with peppermint syrup, creamy white chocolate sauce and steamed milk, this hot winter drink is ready in 3 minutes.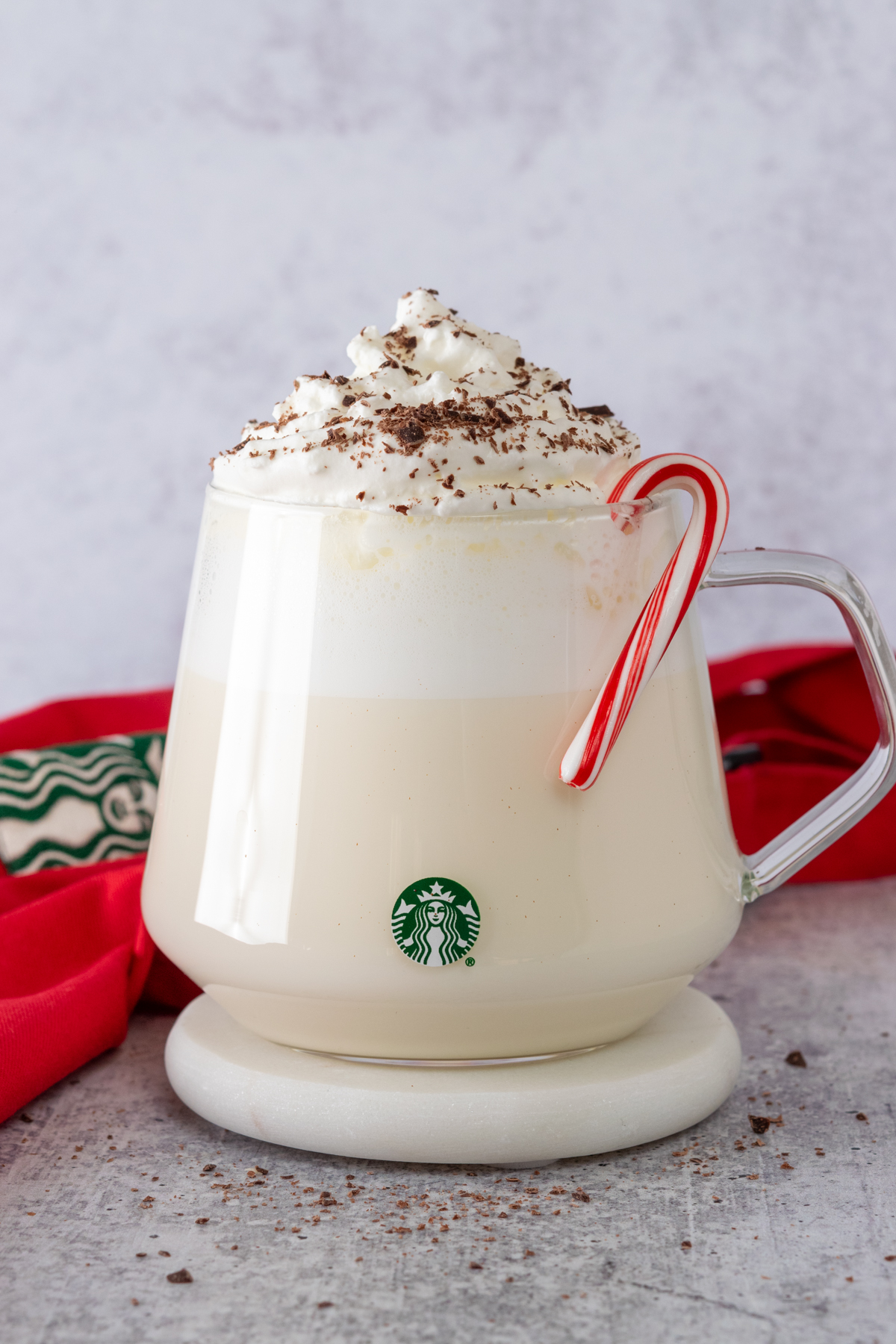 This homemade Starbucks Peppermint White Hot Chocolate recipe is a sweet twist on a chocolatey wintertime classic.
White chocolate replaces the darker variety, for a hot chocolate beverage that's silky smooth and virtually caffeine-free.
Each sip is a delightful mix of cool, minty peppermint and creamy, milky white chocolate.
For a festive touch, Starbucks tops it off with dark chocolate curls on a swirl of whipped cream, but at home you can garnish it with bits of peppermint candy.
For the holidays, I like to serve it with a candy cane.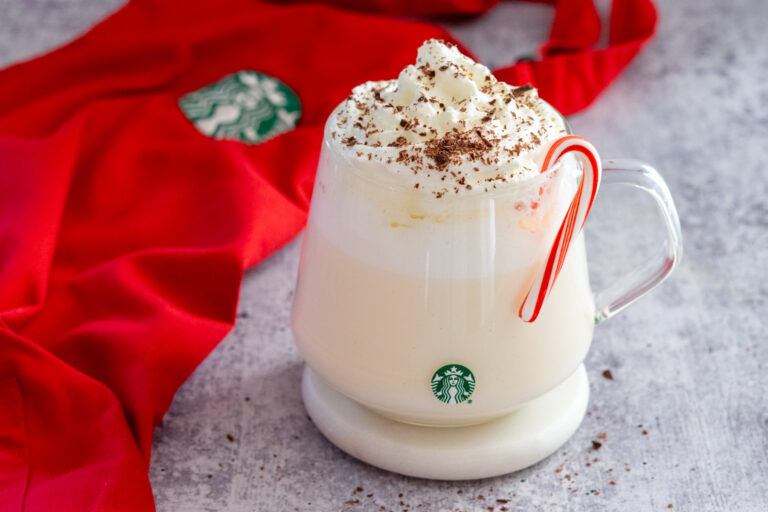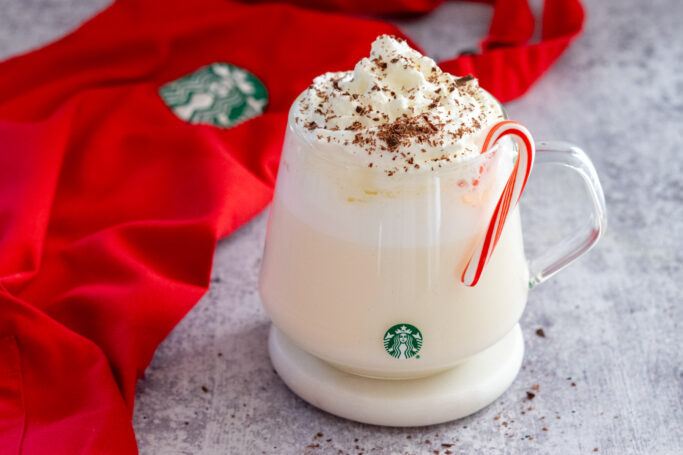 Why You'll Love this Peppermint White Hot Chocolate
If dark chocolate isn't your thing, white hot chocolate is a great alternative to classic hot cocoa drinks.
Peppermint white hot chocolate is caffeine-free. White chocolate does not contain any dark cocoa solids from the cocoa been, so it does not have caffeine in it. To make this drink 100% caffeine-free, don't top it with bits of regular chocolate.
For holiday parties, make this peppermint white hot chocolate festive with extras like a peppermint rim or served with a peppermint stick.
This recipe is for a single serving, but is easily multiplied for groups. Just ladle warm peppermint white chocolate sauce into mugs and add steamed milk and toppings when ready to serve.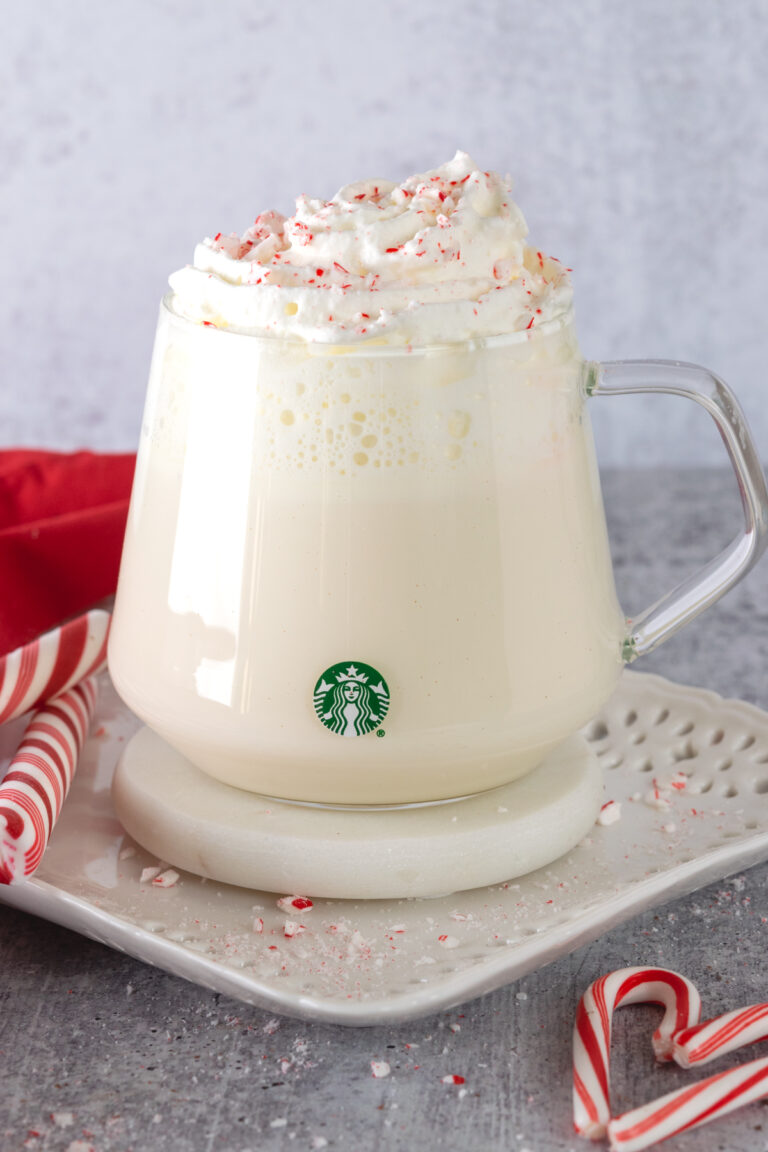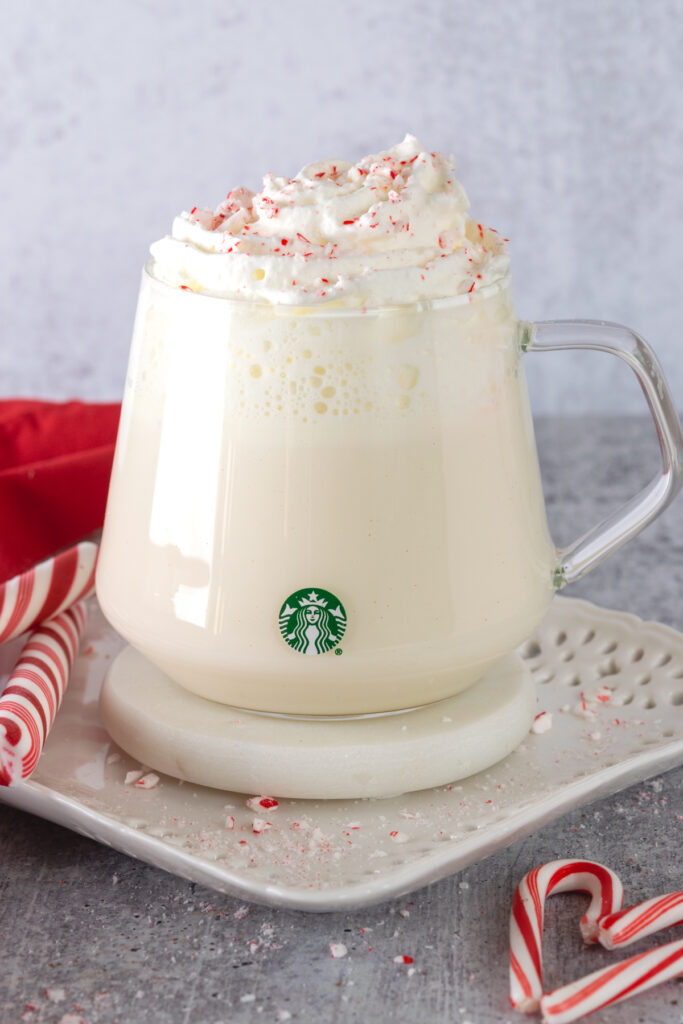 Copycat Starbucks Peppermint White Hot Chocolate Recipe
This homemade version of Starbucks Peppermint White Hot Chocolate combines sweet peppermint syrup with creamy white chocolate sauce and velvety steamed milk.
The recipe makes the equivalent of a 12-ounce tall Starbucks hot drink and takes about 3 minutes to assemble.
Ingredients
Peppermint Syrup
White Chocolate Sauce
Milk
Whipped Cream
Shaved Chocolate or Crushed Peppermint Candies (to garnish, optional)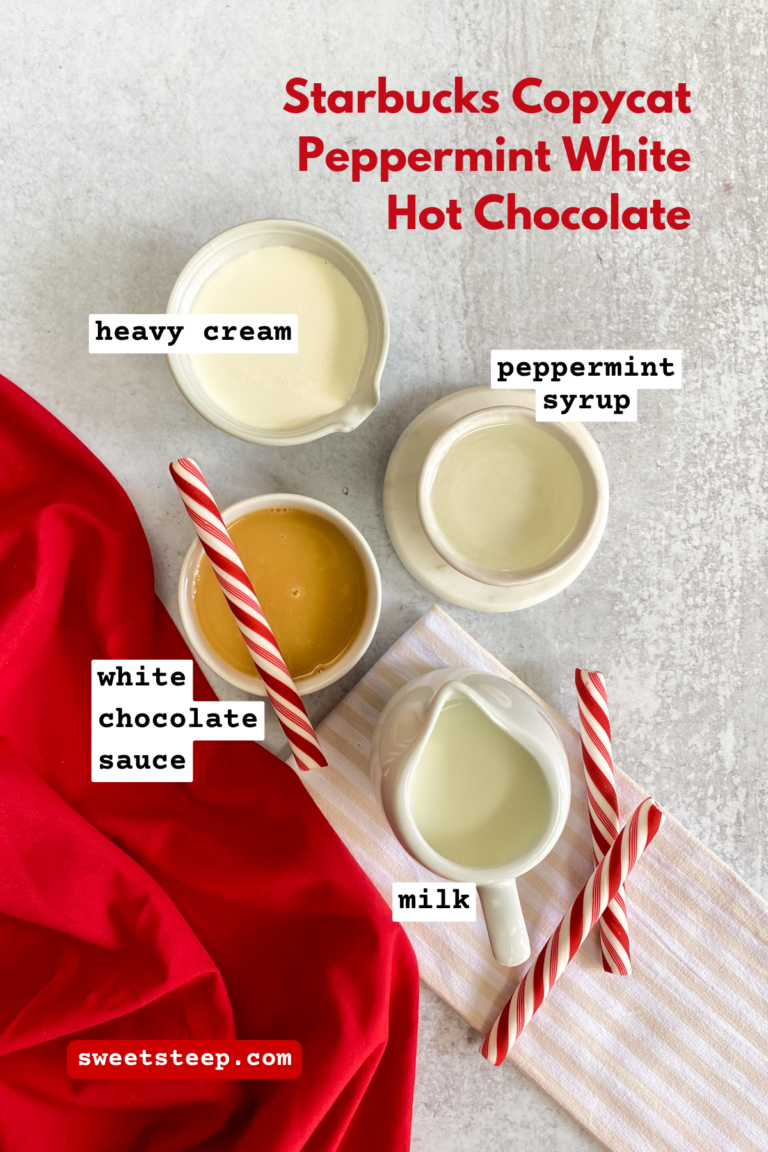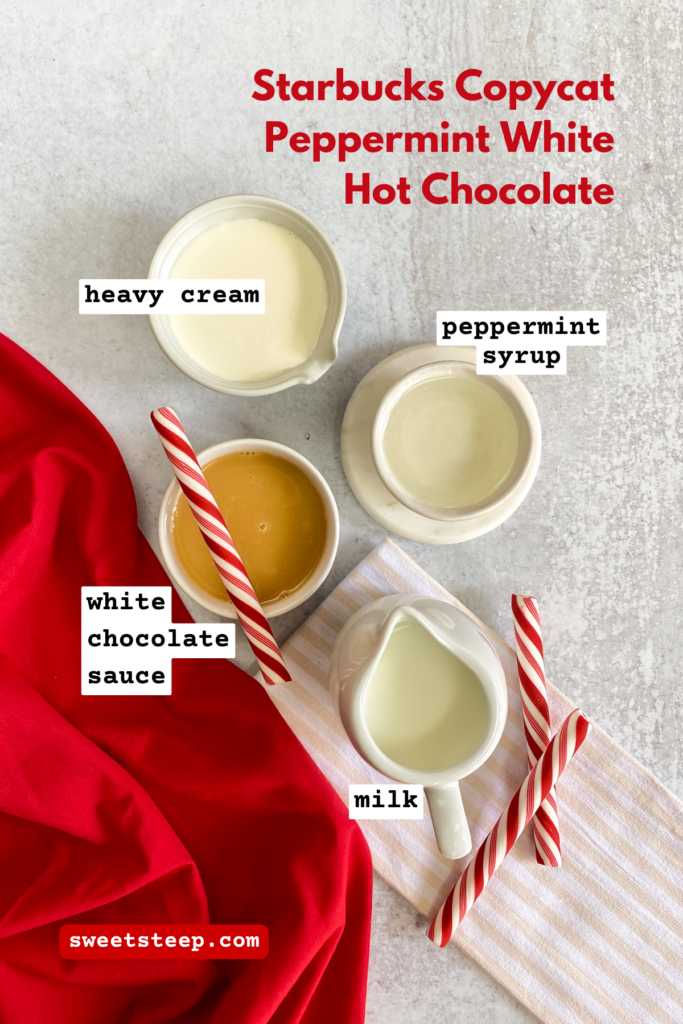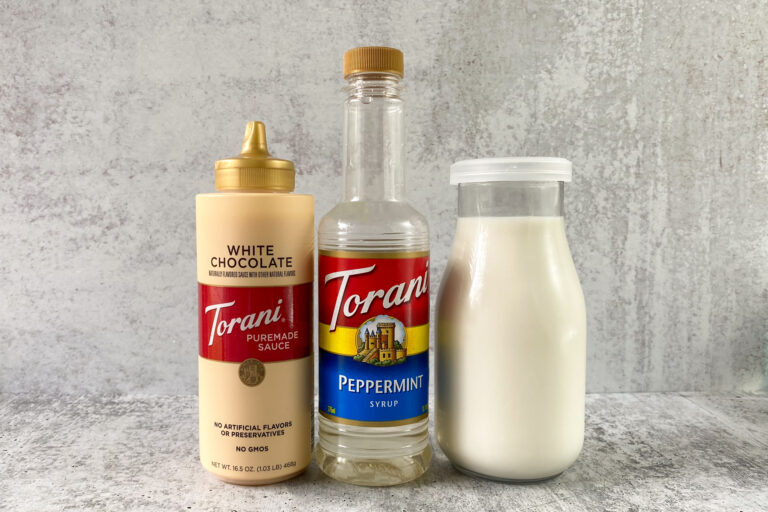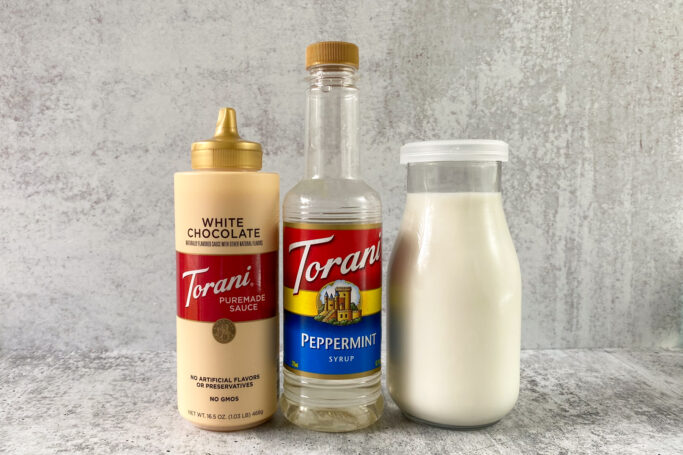 Peppermint Syrup: Get a bottle of store-bought peppermint syrup or make homemade peppermint syrup.
It's easy to do with peppermint extract, sugar and water.
White Chocolate: To replicate a Starbucks white hot chocolate at home, get a bottle of Fontana White Mocha Sauce. (this is the brand Starbucks uses.) It's a large bottle (and isn't cheap) so this is a good option for parties or if you make lots of white chocolate drinks on the regular.
Otherwise, use a good brand of white chocolate sauce like this one from Torani or Ghirardelli.
The sauce may substituted with melted white chocolate baking bar which melts smoothly. Skip chocolate chips since they contain emulsifiers to help them stay chip shaped. (See recipe tips below.)
Milk: Starbucks makes hot chocolate with 2%, but I prefer whole. The more fat, the creamier the hot chocolate.
If you make the white hot chocolate with a baking bar, then I recommend opting for whole milk. The white chocolate sauce at Starbucks contains sweetened condensed milk which makes the white chocolate drinks creamy.
Whipped Cream: My go-to whipped cream is this copycat Starbucks whipped cream recipe.
Garnishes: Starbucks garnishes white hot chocolate with dark chocolate curls. Either grate or finely chop a piece of chocolate bar or top the cocoa with mini chocolate chips.
If you want to make festive drink where peppermint is the star of the show, crush up some peppermint candies and sprinkle on top.
You can even rim the cup with peppermint or serve it with a candy cane.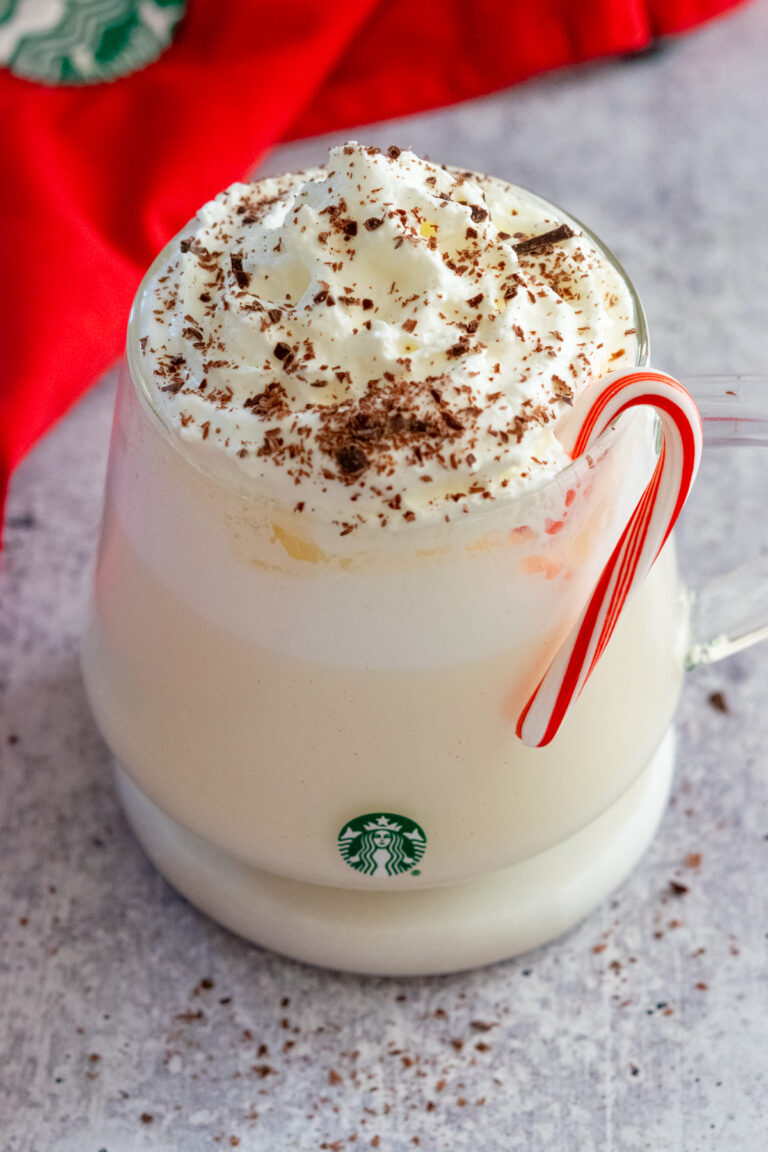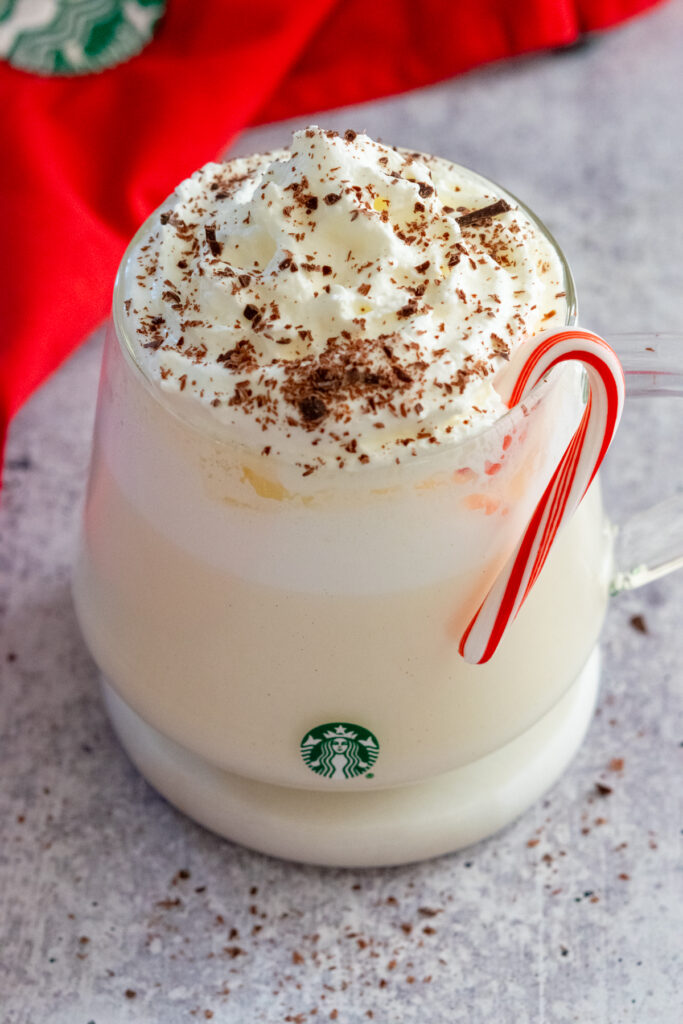 Step-by-Step Instructions
Garnish the rim of 12-14 fluid ounce mug with finely crushed peppermint candies (see instructions below). This step is optional.
Add peppermint syrup and white chocolate sauce to cup.
Steam milk to 140-160 degrees (130 for kids) and pour milk and foam into mug. Stir to combine. You can use a steam wand on an espresso machine, electric milk frother or warm milk on stove and use handheld frother.
Top with whipped cream and garnish with shaved chocolate like Starbucks or crushed peppermint.
Detailed recipe and instructions are in recipe card at bottom of post.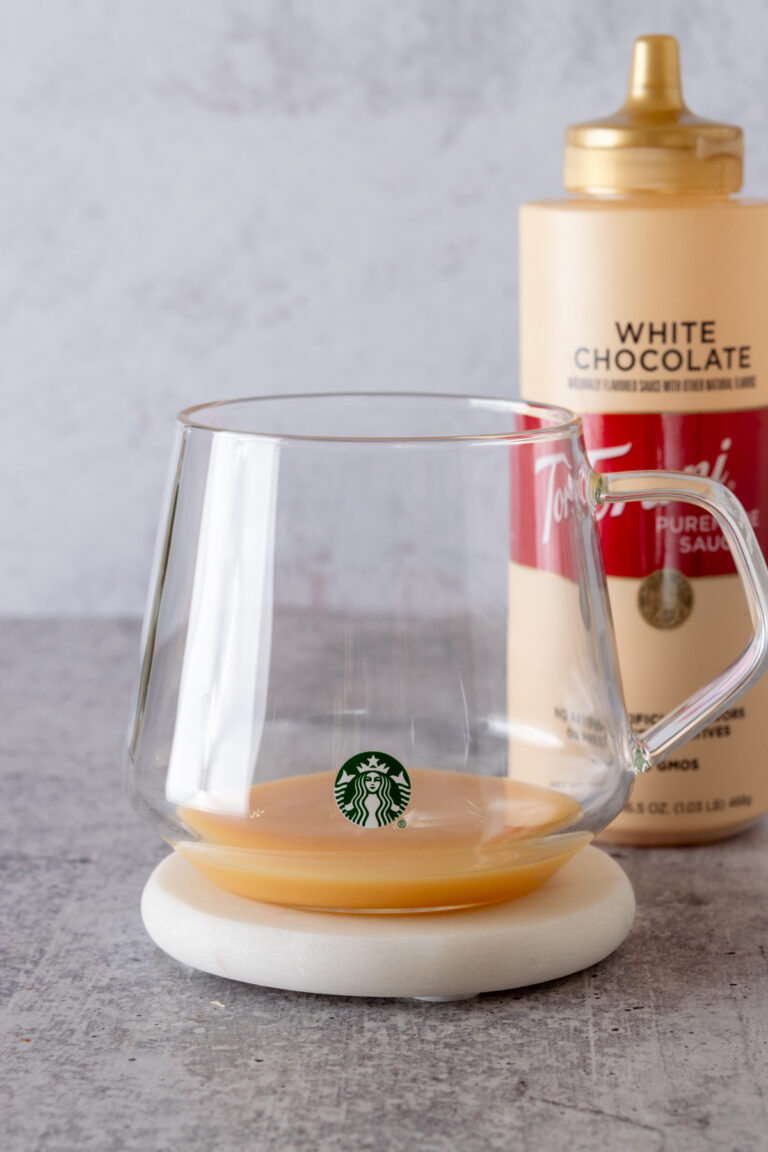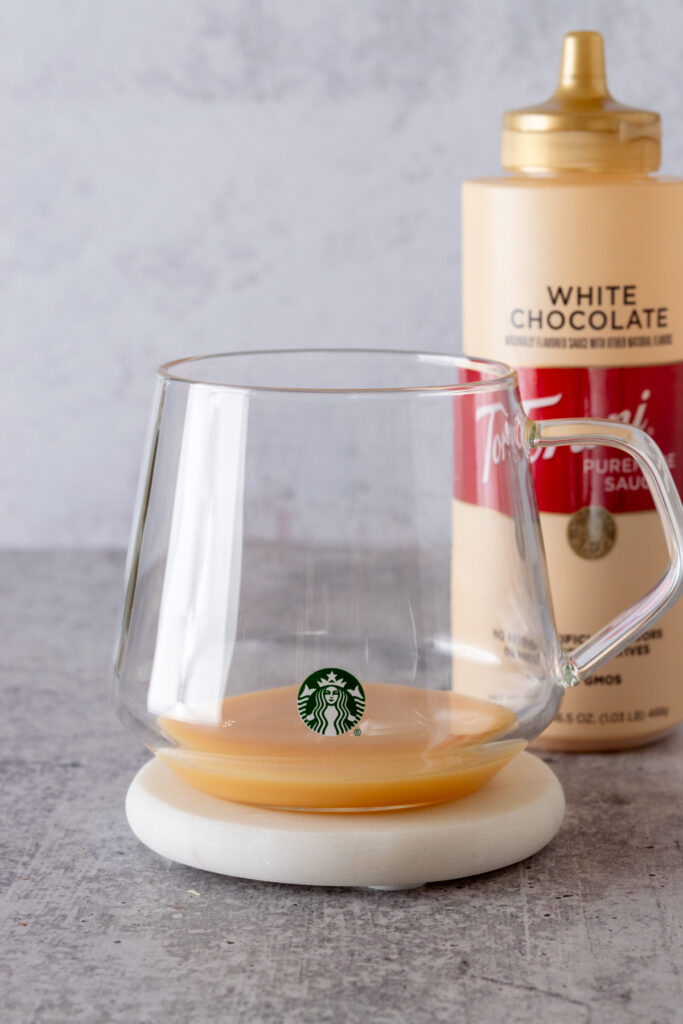 Recipe Notes
Melting white chocolate baking bar in place of sauce: Chop it evenly so it melts uniformly over low heat or in microwave in 30 second increments.
White chocolate has lower melting point than regular chocolate so only melt over low. To prevent it from seizing, warm up the peppermint syrup before stirring in.
Steps to Garnish Mug with Peppermint Rim
Step 1: Crush peppermints. Put candies or candy cane in a plastic bag and crush with rolling pin or mallet until it's a fine powder. Pile it about 1/4 inch high onto a small saucer. Make sure the pile is wider than the cup.
Step 2: Moisten rim of cup. To get the peppermint to stick to the rim of the cup, moisten it with peppermint simple syrup.
Put some syrup in a small dish and dip the rim into it.
Step 3: Apply the peppermint to the rim. You can either dip the cup straight down into the crushed peppermint or gently roll the rim through the peppermint at a 45 degree angle. The rolling method keeps peppermint from falling into the hot chocolate, but I don't see this as a negative.
More Starbucks Hot Chocolate Recipes to Try
Want to save this recipe to make later?
Pin it to your Pinterest board!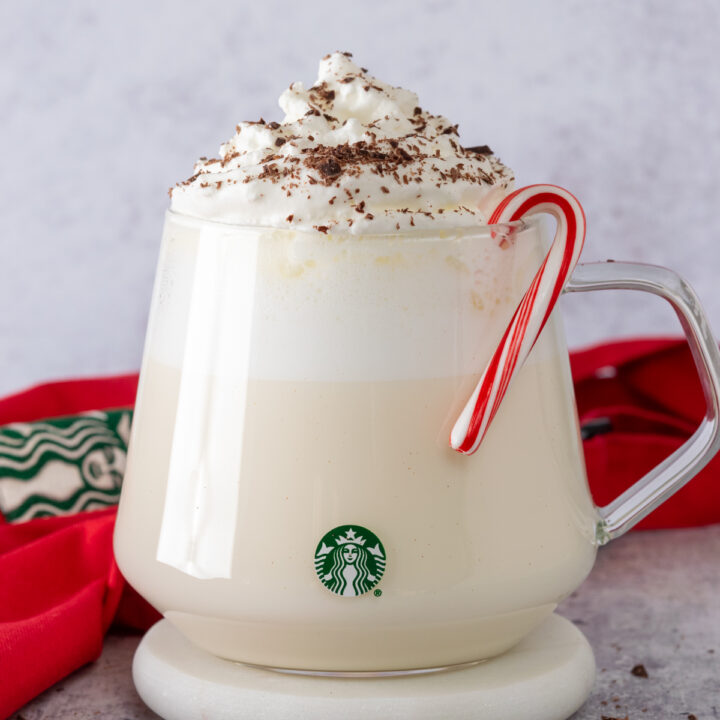 Starbucks Peppermint White Hot Chocolate Copycat
This Starbucks peppermint white hot chocolate recipe is easy to make right in your own kitchen with peppermint syrup, buttery white chocolate sauce and creamy steamed milk. To make it a decadent holiday treat the same as Starbucks, top it whipped cream and chocolate shavings. This recipe makes the equivalent of a 12-ounce tall Starbucks white hot chocolate.
Ingredients
3 tablespoons white chocolate sauce
1 tablespoon peppermint syrup
1 cup 2% milk (or whole)
whipped cream, for topping
chocolate shavings, to garnish (optional)
Instructions
Using a grater, shave some chocolate bar to make chocolate curls like Starbucks, if desired. Set aside.
To a 12-14 fluid ounce mug for hot drinks, add white chocolate sauce and peppermint syrup. Stir to combine.
Steam or froth the milk. Pour milk and foam into the peppermint white chocolate mixture and stir.
Top the hot chocolate with whipped cream and chocolate shavings. To make a copycat Starbucks peppermint white hot chocolate that tastes like the original, use this Starbucks whipped cream recipe.
Notes
Dark chocolate curls topping may be substituted with mini chocolate chips.
For a peppermint white hot chocolate without a trace of dark chocolate, garnish with finely crushed peppermint candies.
White chocolate sauce may be substituted with melting white chocolate bar. For best melting, I suggest using 2-3 squares of a baking bar and not chocolate chips.
Recommended Products
As an Amazon Associate and member of other affiliate programs, I earn from qualifying purchases.