Creamy steamed milk, rich dark chocolate sauce and vanilla syrup are in this decadent homemade Starbucks hot chocolate. The recipe is easy to make at home and I show you how to assemble this classic hot chocolate drink the same as Starbucks.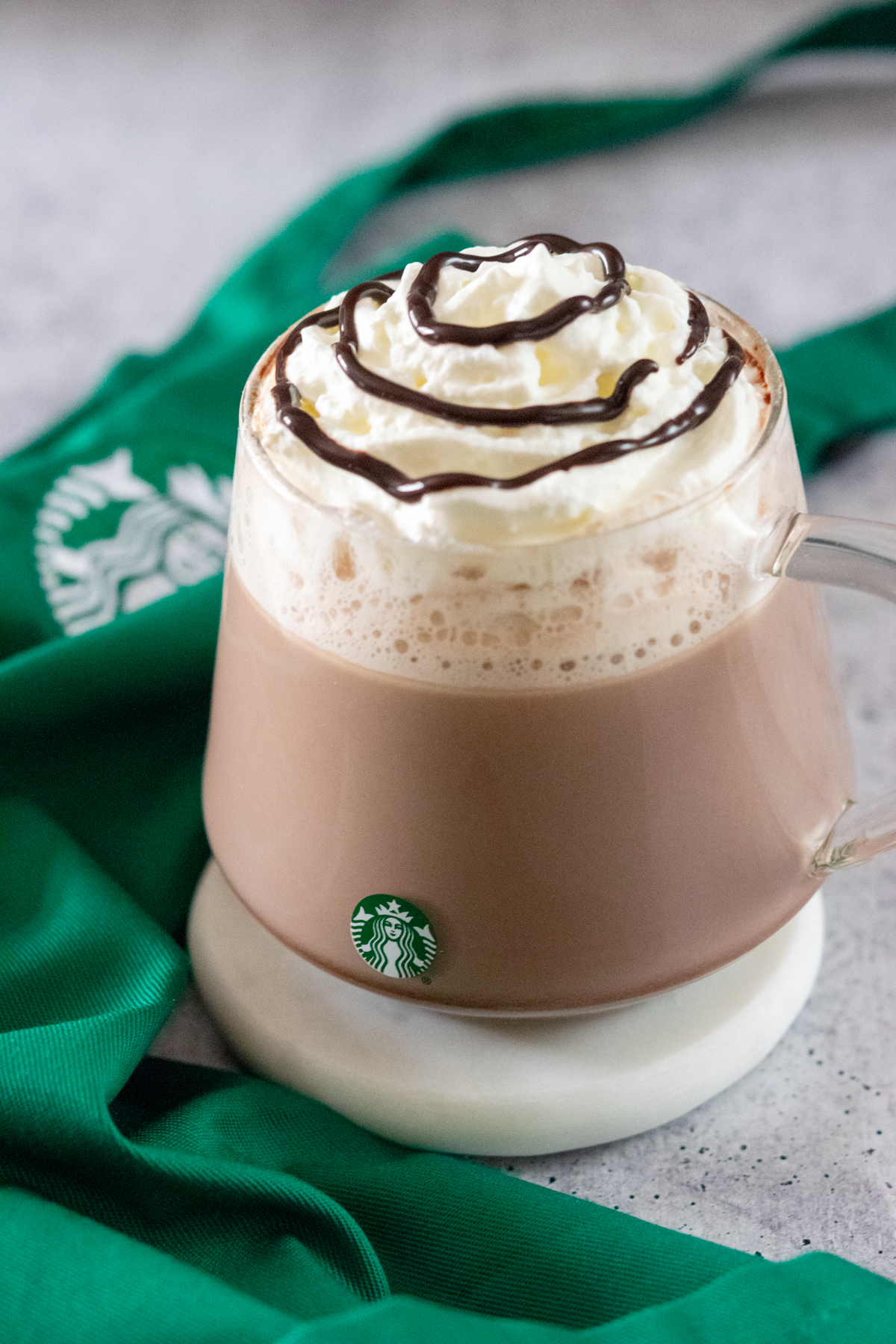 Hot chocolate isn't just for kids.
A toasty cup of hot cocoa topped in whipped cream is the perfect warm-up beverage for anyone wanting to enjoy this classic winter treat.
But not all hot chocolates are the same.
If you want to elevate your hot cocoa game, then this copycat recipe for Starbucks hot chocolate is for you.
This easy recipe is quite simple to make, and oh so much better than a lowly packet of cocoa powder mixed in hot water.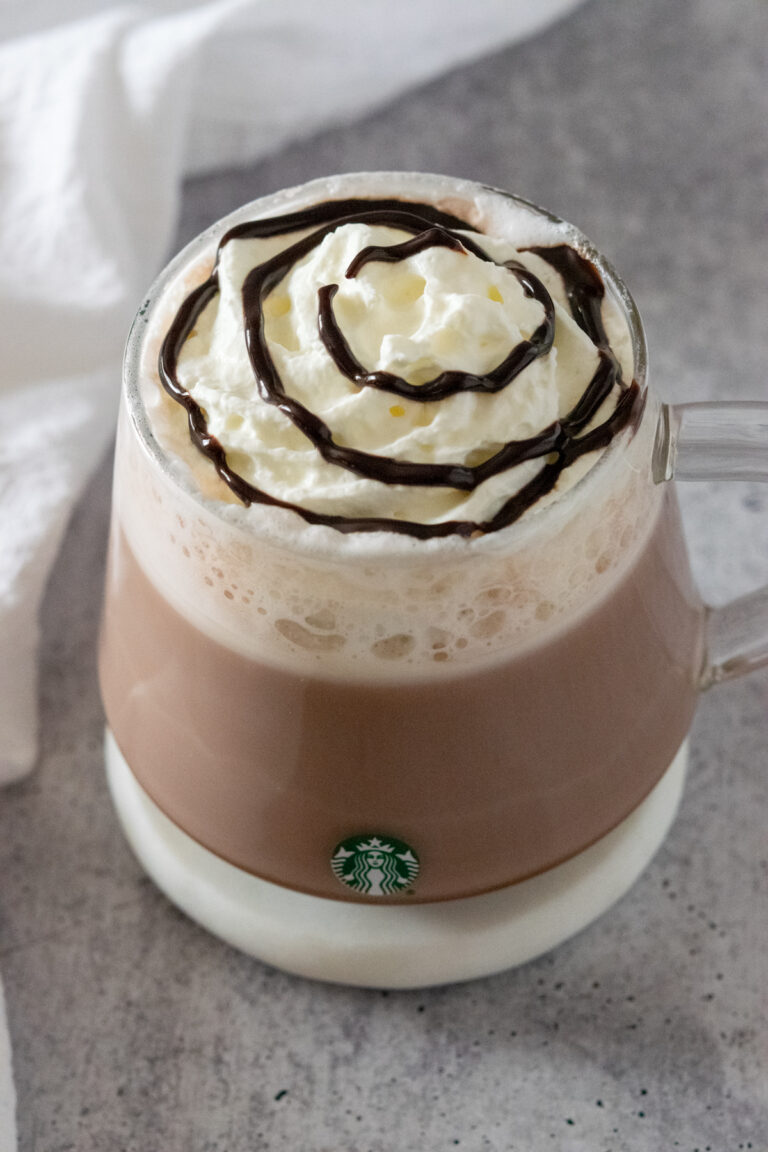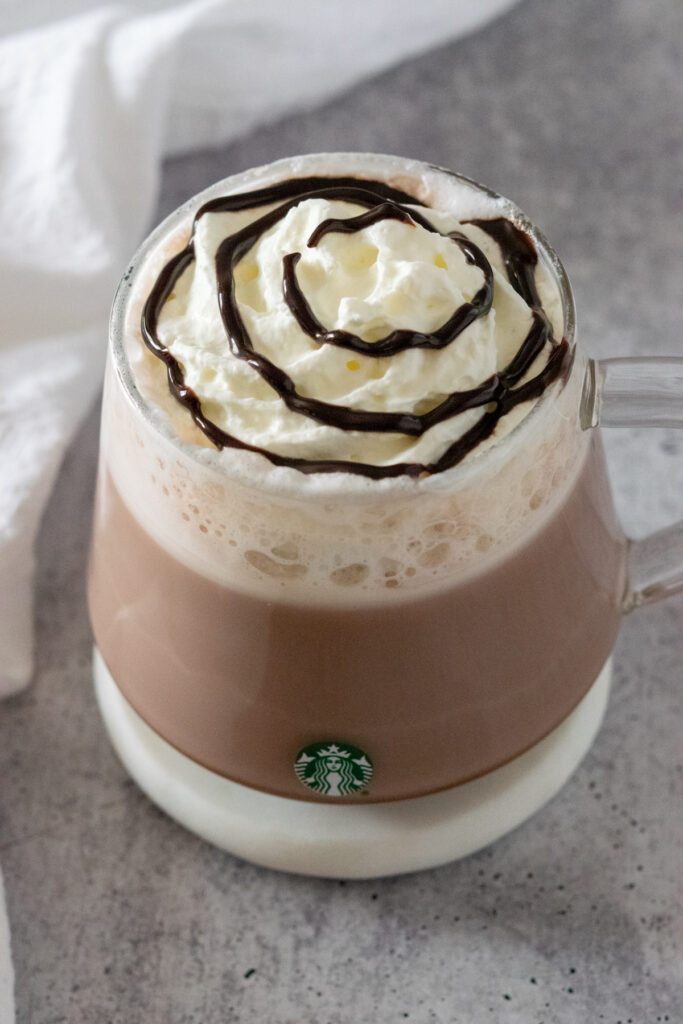 Why You'll Love this Hot Chocolate
It's chocolatey, creamy and delicious. Homemade Starbucks hot chocolate is almost as easy to put together as cocoa powder plus water, but way better. Made with chocolate sauce and steamed milk, every sip of this copycat is creamy and chocolate-filled.
Same ingredients as the original Starbucks hot chocolate recipe! Not long ago Starbucks changed their classic hot chocolate recipe and removed the ingredient (vanilla syrup) that I personally think made this beverage a home run. But I'm adding it back to my at-home recipe. If you find yourself at the coffeeshop, here's how to order the original Starbucks hot chocolate recipe.
Make it by the single cup or a bigger batch. Hot chocolate makes me think of winter festivals, holiday parties and snow days. That's why I love that this recipe is easily adapted to serve to a crowd.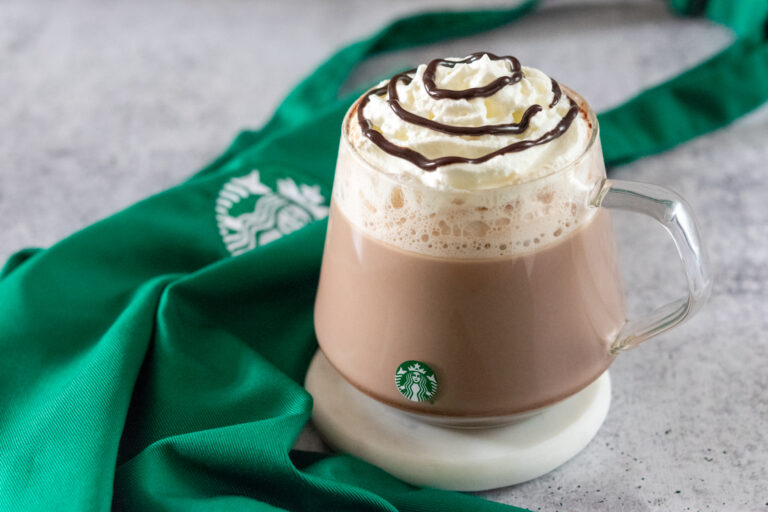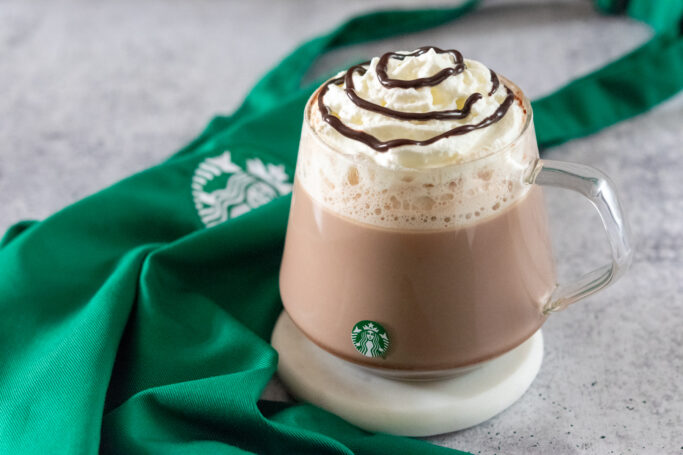 Copycat Starbucks Hot Chocolate Recipe
This homemade version of Starbucks Hot Chocolate features rich dark chocolate sauce, sweetened with vanilla syrup in a velvety, smooth bed of steamed milk.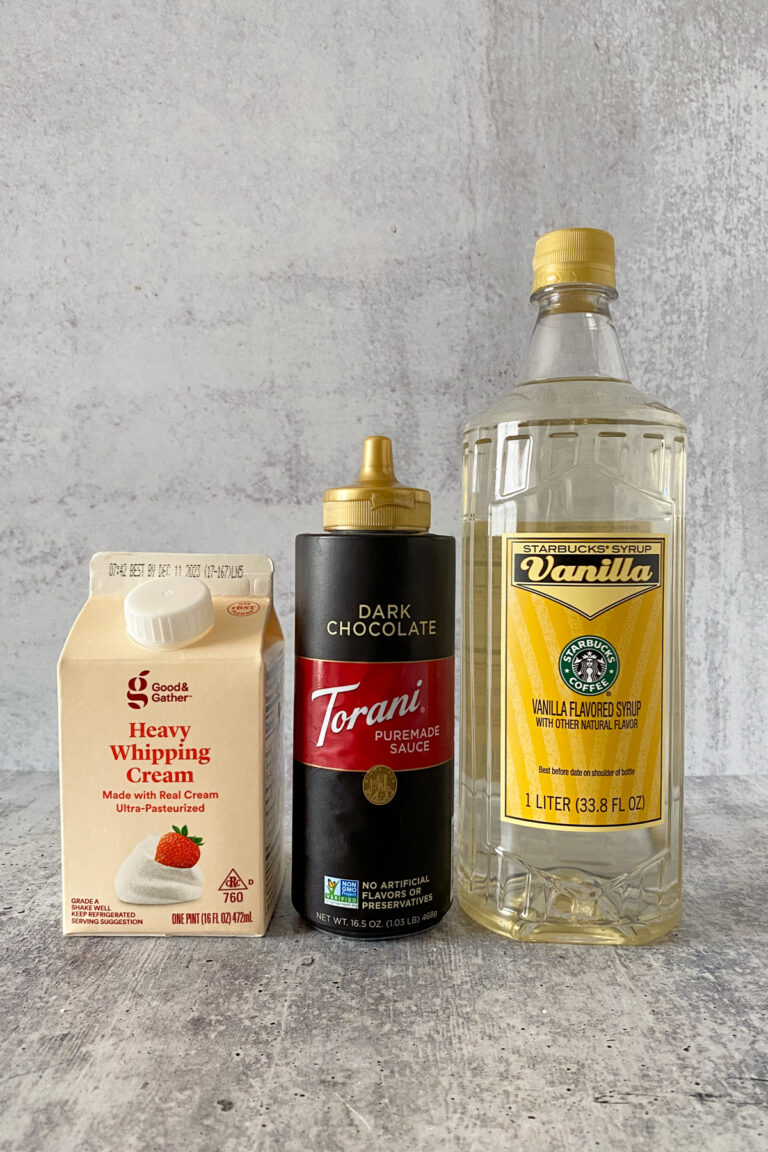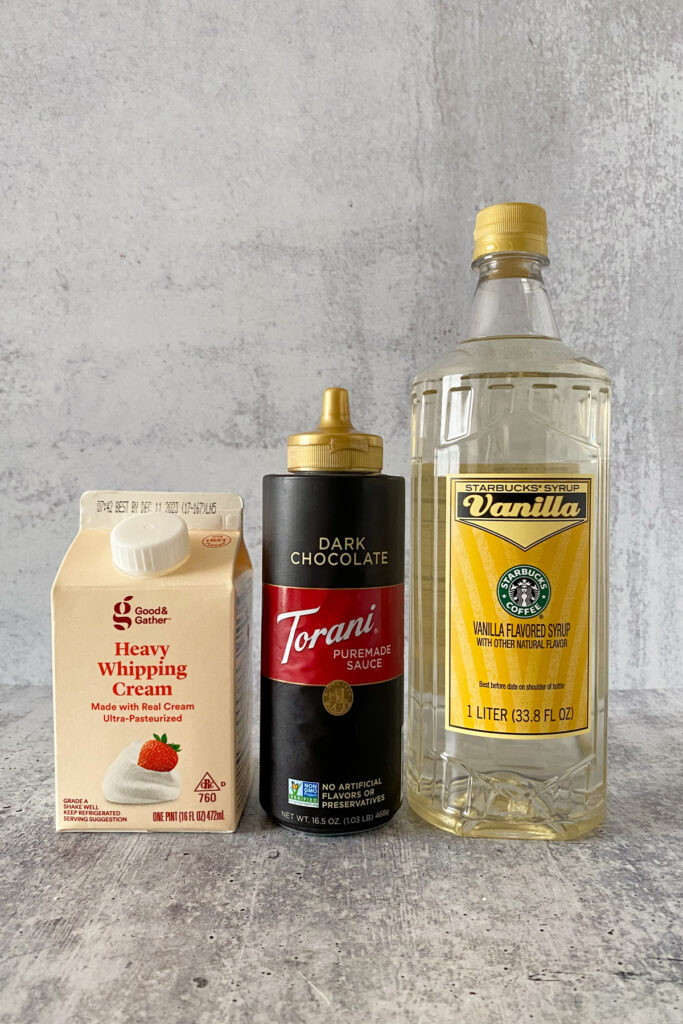 Ingredients
Dark Chocolate Sauce
Vanilla Syrup
Milk
Whipped Cream (heavy cream + vanilla syrup)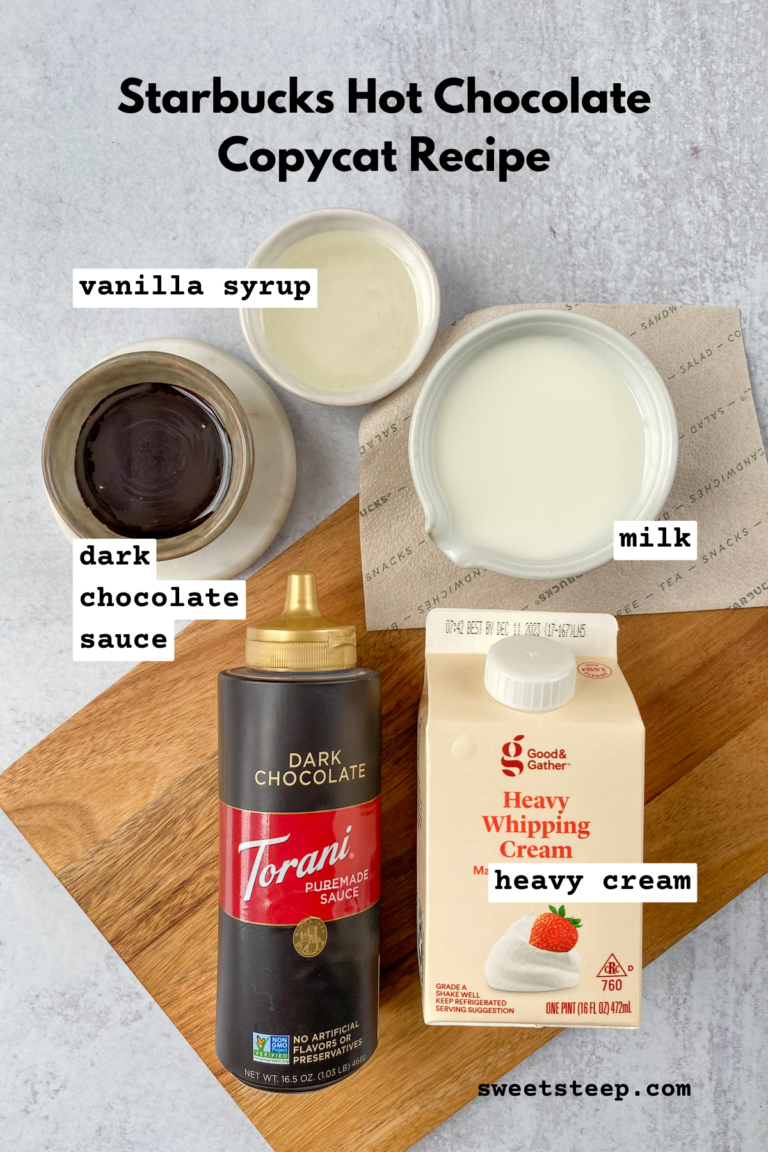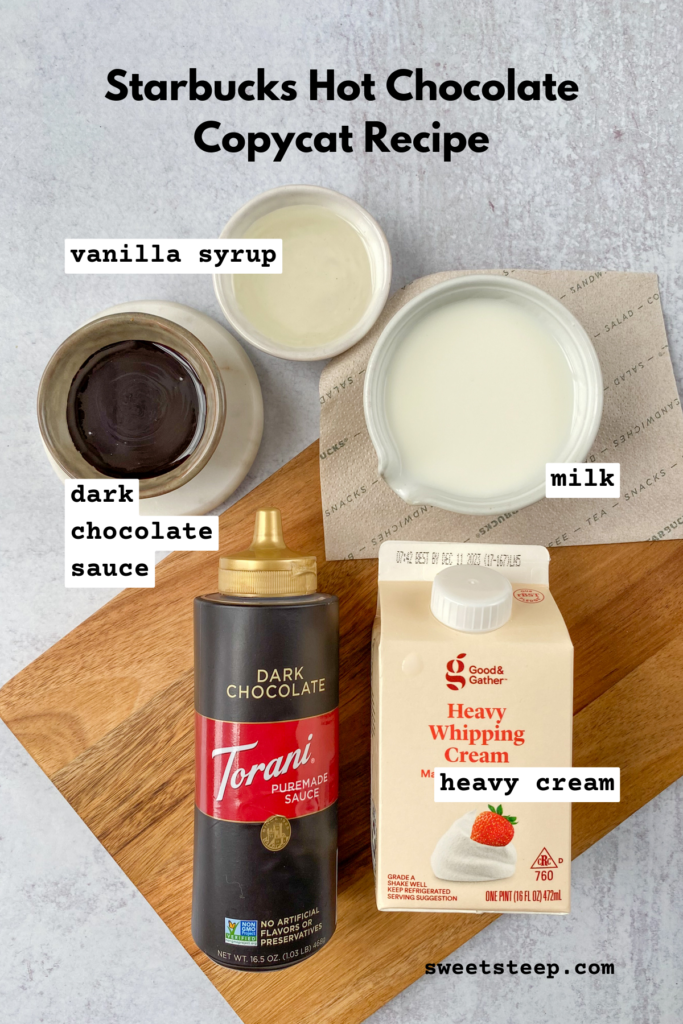 Dark Chocolate Sauce: Opt for dark chocolate sauce over milk chocolate. I like Torani or Ghirardelli.
The sauce is what gives the drink 100% of its rich chocolate flavor.
And it does double-duty since it's drizzled on top. So go for the gold and don't cheap-out. (Not sure if that's a word, but you know what I mean.)
Vanilla Syrup: If this hot chocolate recipe has a "secret ingredient" then vanilla syrup is it!
You may be thinking, "Vanilla? But this is hot chocolate."
Vanilla actually enhances the chocolate and since it's a simple syrup, it sweetens the drink, as well.
To make this copycat as close to the real thing, grab a bottle of authentic Starbucks vanilla syrup. You can buy a bottle and pump directly from Starbucks if they have enough in stock (and it's about half the cost than buying online).
You can also use homemade vanilla simple syrup.
Milk: Making hot chocolate with milk and not water is a must! There's absolutely no comparison.
Starbucks uses 2% milk. I suggest starting there or upgrading to whole milk.
The slightly higher fat content in the whole milk makes it even creamier when steamed.
Whipped Cream: A copycat Starbucks hot chocolate isn't up to par if it isn't topped with copycat Starbucks whipped cream!
Homemade Starbucks whipped cream is a mix of heavy cream and vanilla syrup. (Yet another reason to buy a bottle of Starbucks vanilla.)
Here's the real recipe for Starbucks whipped cream.
They use a whipper and chargers, but you can make it with a mixer or whisk.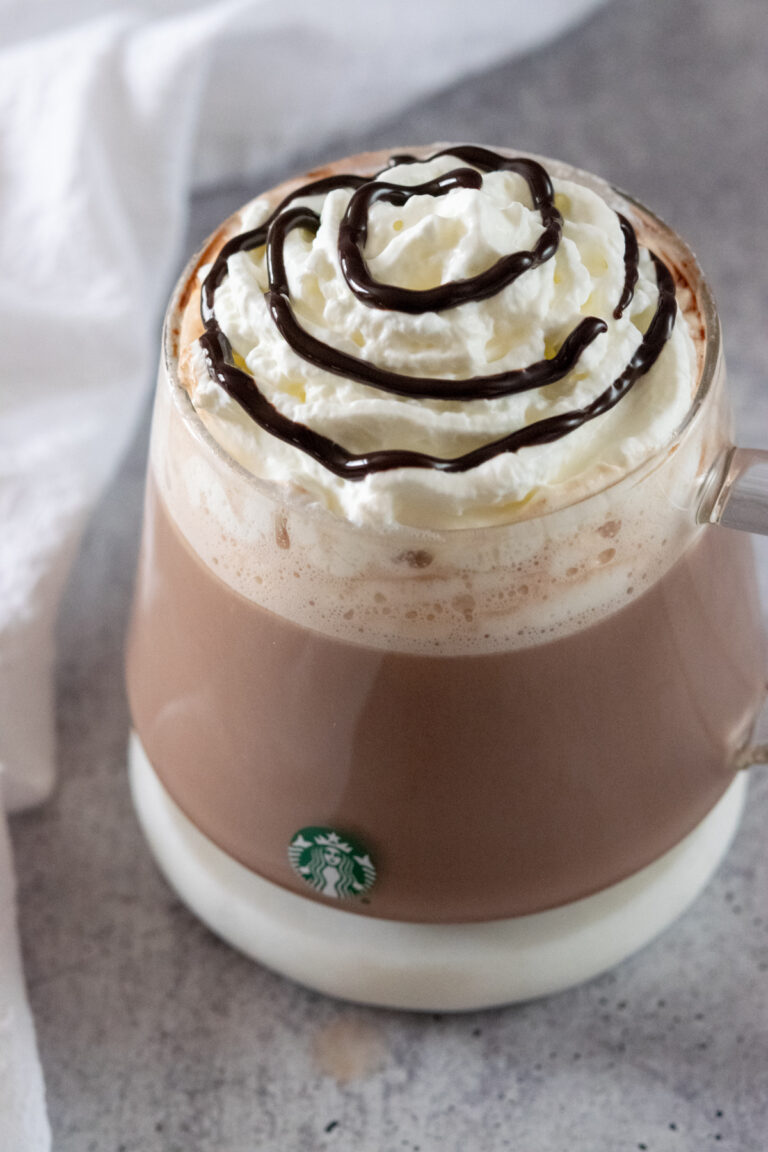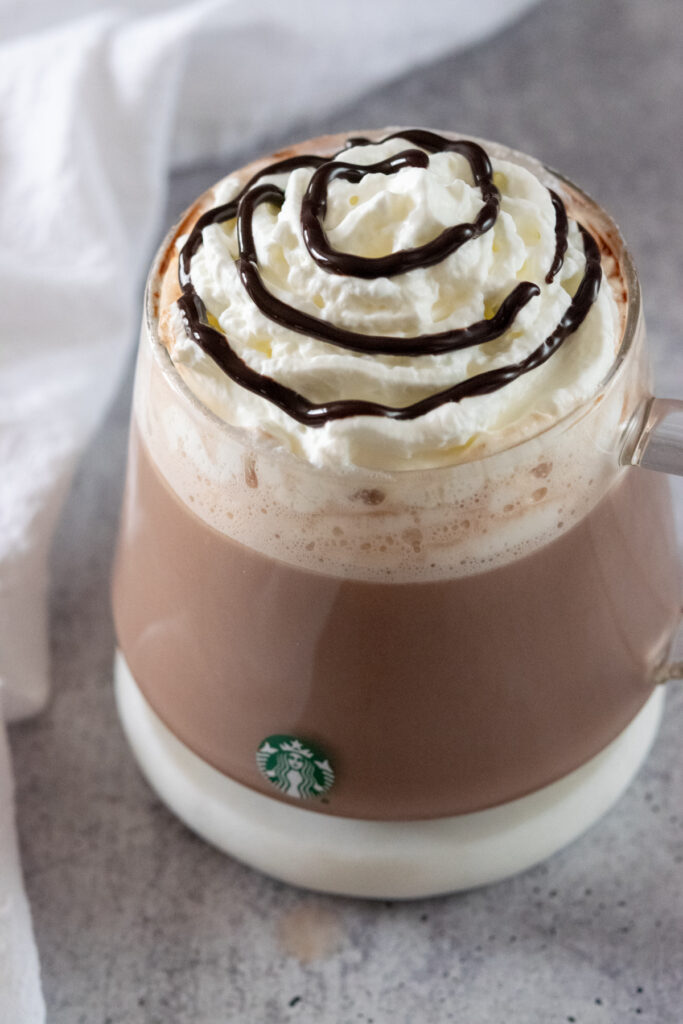 Step-by-Step Instructions
This hot chocolate recipe is assembled exactly like Starbucks.
To a 12-14 fluid ounce mug for hot drinks, add chocolate sauce and Starbucks vanilla syrup.
Steam or froth the milk to 140-160 degrees. Pour the milk and foam into the chocolate mixture and stir.
Top the hot chocolate with whipped cream and chocolate drizzle.
Detailed recipe and instructions are in recipe card at bottom of post.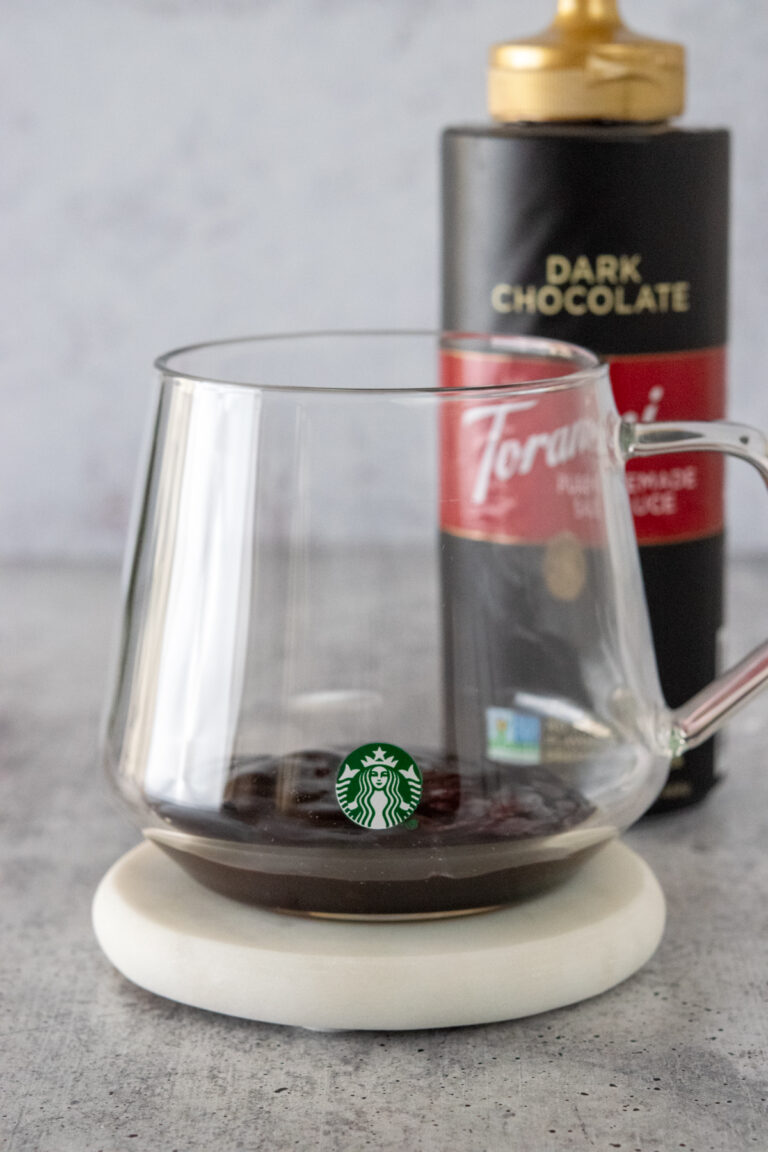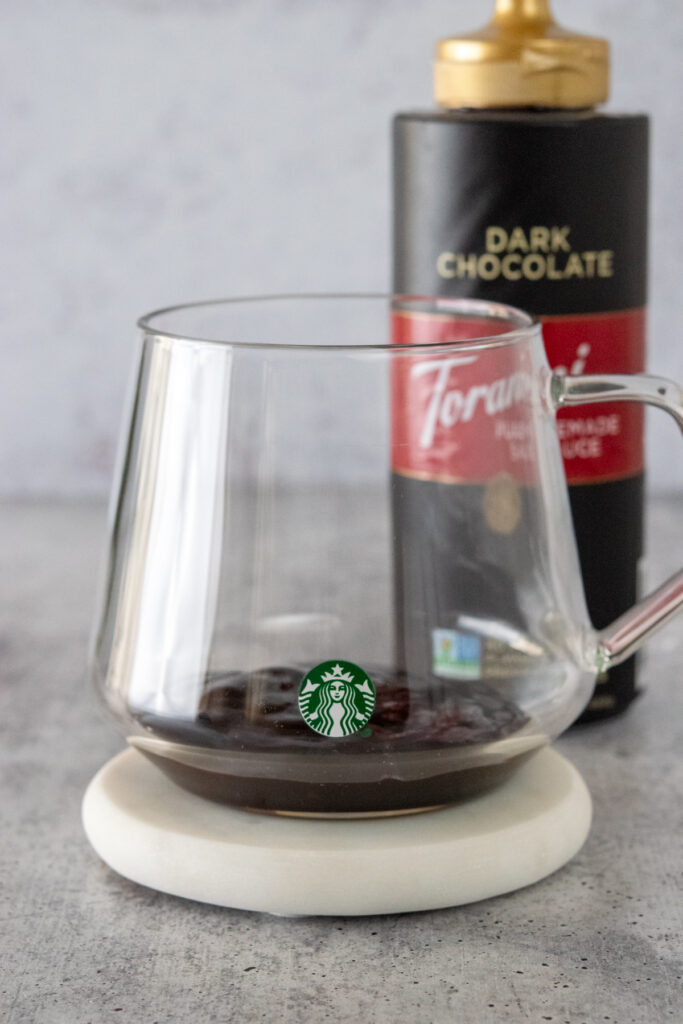 How to Make enough Starbucks Hot Chocolate for a Crowd
Starbucks drink orders are made by the single cup.
And most big-batch hot chocolate recipes combine all the ingredients together.
But what gives Starbucks hot chocolate its signature creaminess is the steamed milk. The hot, aerated milk has lots of tiny bubbles that make all the difference. It's just not the same if you dump the milk in a pot on the stove with chocolate.
To serve copycat Starbucks hot chocolate at your next gathering, combine the chocolate sauce and vanilla syrup in a small Crockpot on the warm setting.
Create a hot chocolate bar with an electric milk frother. Then your guests can add chocolate sauce to a mug, followed by frothed milk and any toppings they select.
More Starbucks Winter Drink Recipes to Try
Want to save this recipe to make later?
PIN it to your Pinterest board!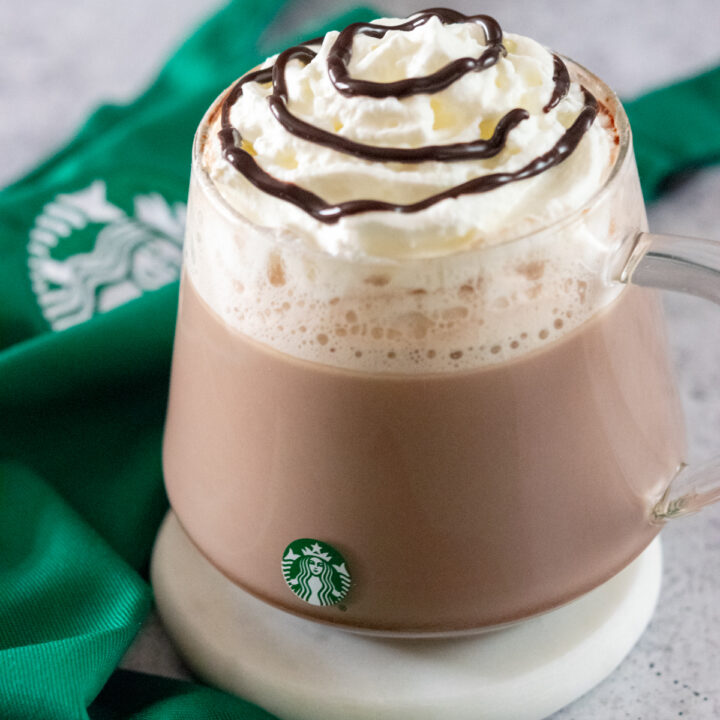 Starbucks Hot Chocolate Copycat
This Starbucks hot chocolate recipe is easy to make right in your own kitchen with rich dark chocolate sauce, creamy steamed milk and vanilla syrup. To make it as decadent as Starbucks, top it whipped cream and chocolate drizzle. This recipe makes the equivalent of a 12-ounce tall Starbucks hot chocolate.
Ingredients
3 tablespoons dark chocolate sauce
1/2 tablespoon vanilla syrup
1 cup 2% milk (or whole)
whipped cream, for topping
chocolate sauce, to garnish
Instructions
To a 12-14 fluid ounce mug for hot drinks, add chocolate sauce and Starbucks vanilla syrup (or other brand or homemade).
Steam or froth the milk. Pour milk and foam into the chocolate mixture and stir.
Top the hot chocolate with whipped cream and chocolate drizzle. To make a copycat Starbucks hot chocolate that tastes like the original, use this Starbucks whipped cream recipe.
Recommended Products
As an Amazon Associate and member of other affiliate programs, I earn from qualifying purchases.