Make a Starbucks Snickerdoodle Hot Chocolate at home with this easy copycat recipe. This cinnamon flavored white hot chocolate is so good, you'll want to make it again-and-again!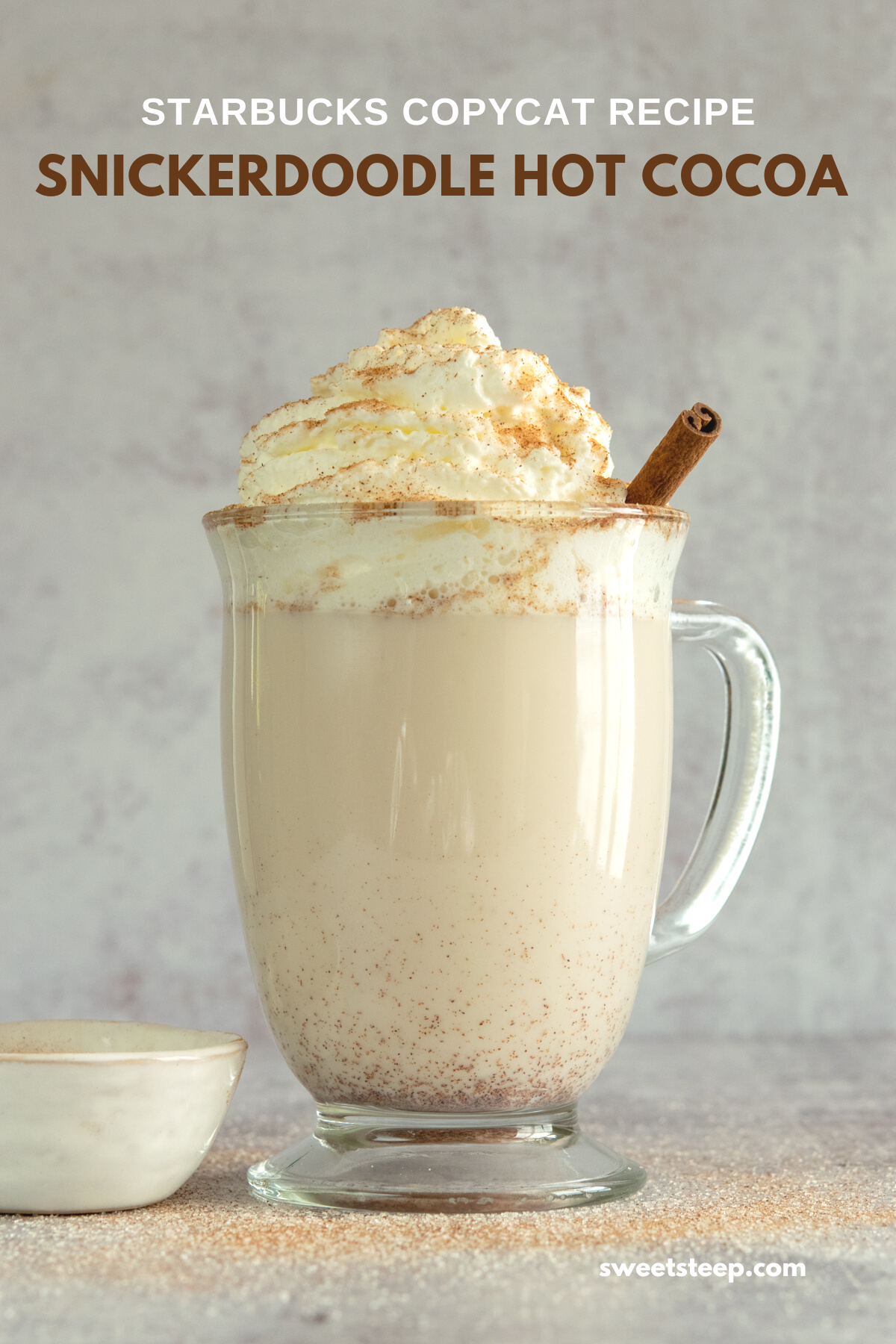 Starbucks Snickerdoodle Hot Chocolate
Starbucks Snickerdoodle Hot Chocolate is a delightful winter beverage that brings together sweet cinnamon syrup and rich white chocolate sauce.
Made with steamed milk and a topping of sweetened whipped cream, every sip is beyond creamy!
And just like a snickerdoodle cookie, the snickerdoodle hot cocoa is dusted with cinnamon sugar.
If you've tried this drink at Starbucks you know how good it is.
What I really love is, making a copycat Snickerdoodle at home is super easy. And once you have the ingredients, it's easy to make again-and-again.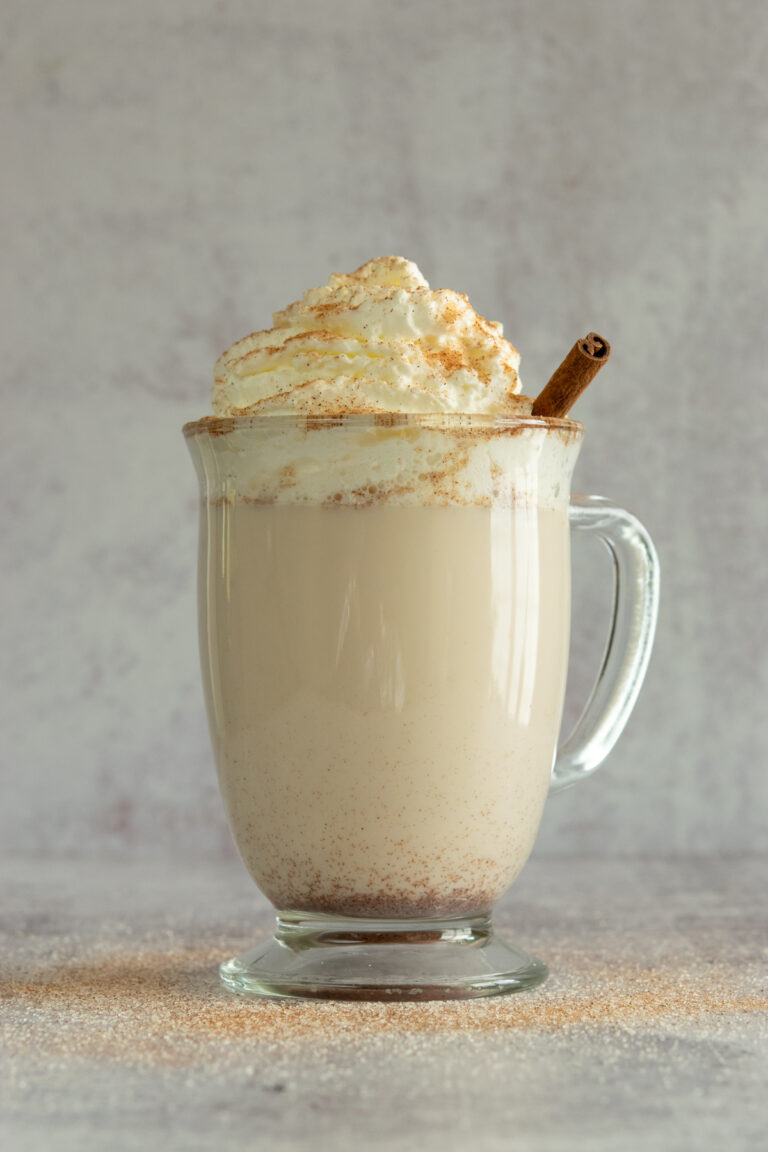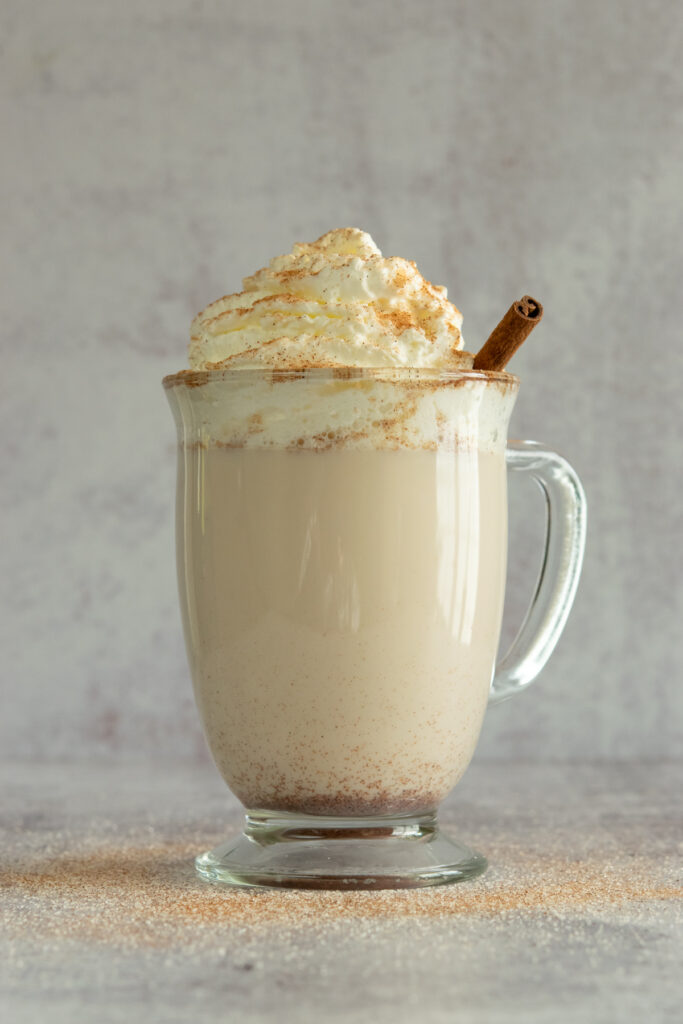 RELATED: Ultimate Guide to Starbucks Hot Chocolate
Recipe Overview
This recipe makes an individual 12-ounce Snickerdoodle hot chocolate which is the same as a tall Starbucks drink.

For the creamiest Snickerdoodle hot chocolate, make it with milk. It's best

not

to substitute in hot water.

Making this drink for kids? Steam the milk to about 130°F or less. I use a milk steaming thermometer like this one.
Want to make snickerdoodle hot cocoa for a group? This recipe is easily adapted for more.
Ingredients
Unlike most hot chocolate beverages, this Snickerdoodle hot cocoa recipe does not contain any milk chocolate or dark chocolate.
This means it's completely caffeine-free.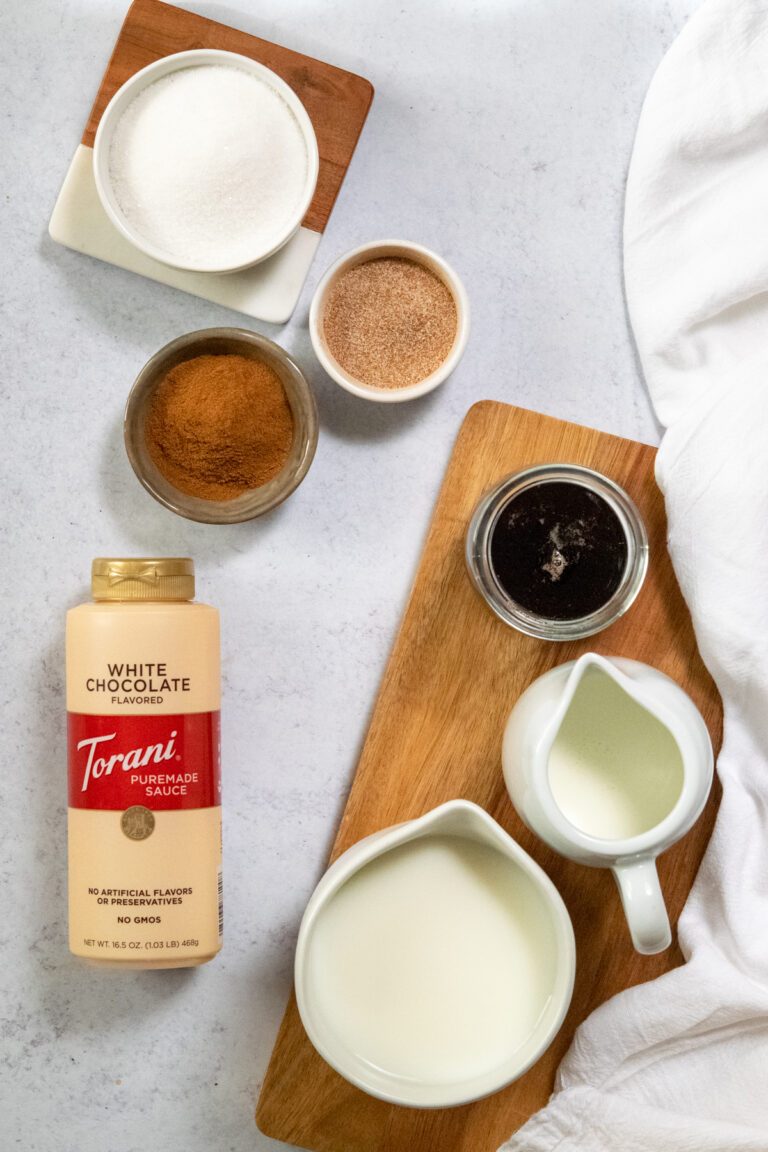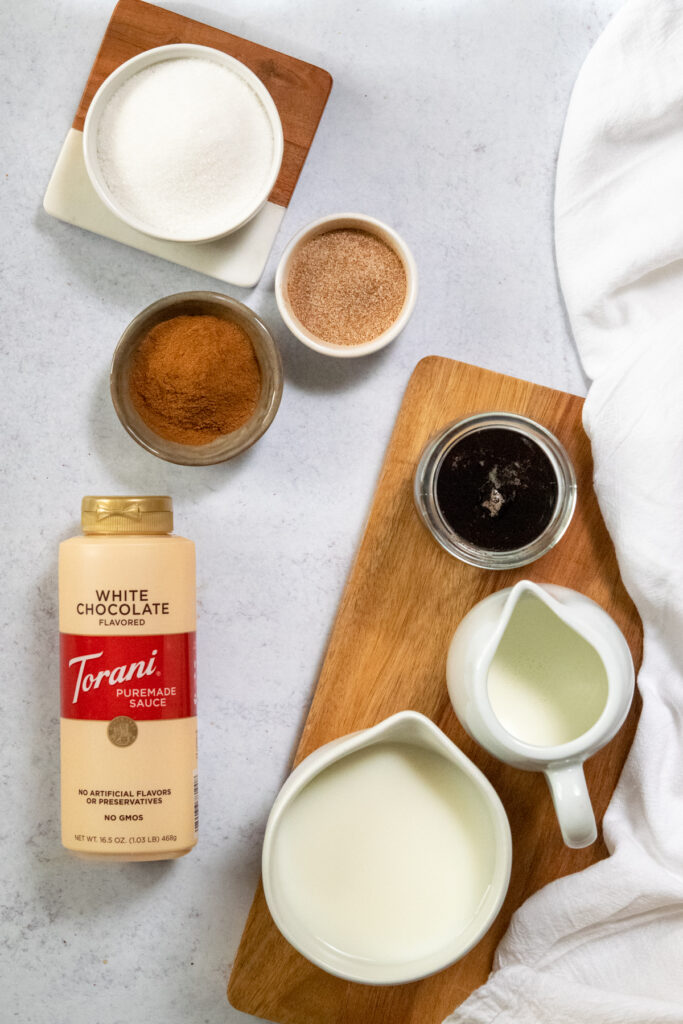 Here's what you need to make this drink at home.
White Chocolate Sauce: To make a no-fuss snickerdoodle hot cocoa, get a squeeze bottle of white chocolate sauce like Torani or Ghirardelli.
If you want this drink to taste as close as possible to Starbucks, you can actually get Fontana white sauce. (It's the brand Starbucks uses.)
However, it only comes in large containers, so I only recommend this option if you plan on making lots of white chocolate drinks.
Cinnamon Dolce Syrup: Use store-bought syrup or make my homemade Starbucks cinnamon dolce syrup. It's actually really easy to do-and cheap.
Another option is to buy a bottle of Starbucks Cinnamon Dolce syrup.
You can use the syrup for other copycat drink recipes like a Starbucks Cinnamon Dolce Latte.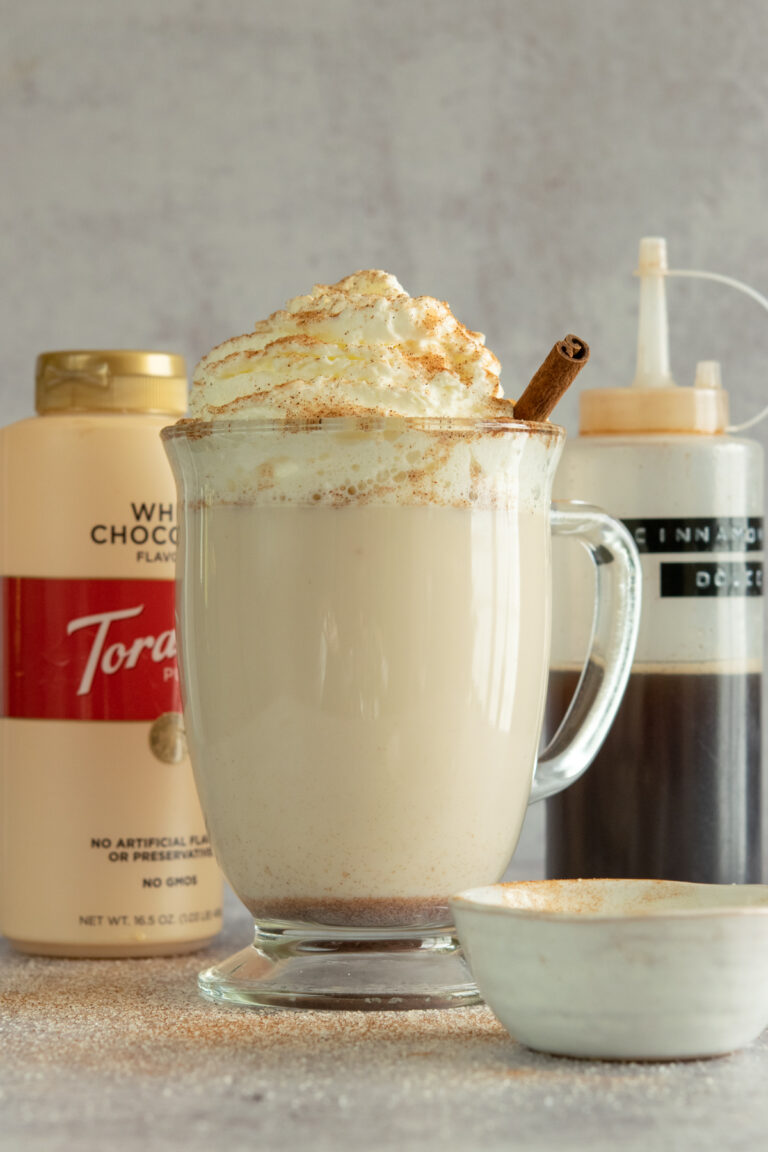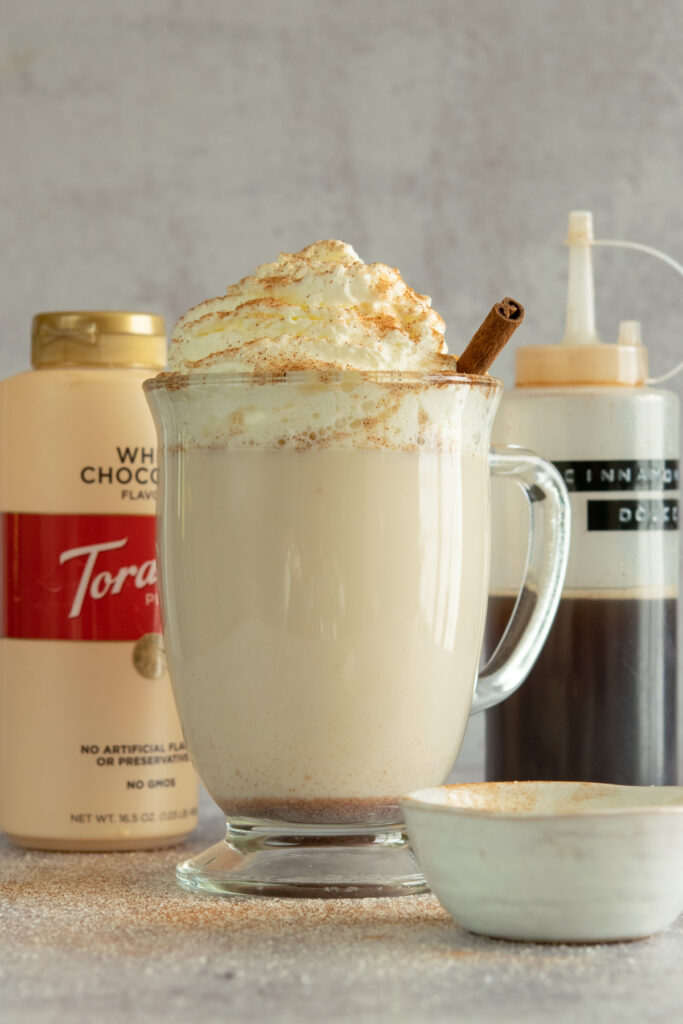 Steamed Milk: Steamed 2% milk is what Starbucks uses for all their hot chocolate drinks on the menu.
I recommend using 2% milk or for an even creamier snickerdoodle, make it with whole milk.
Whipped Cream: Making whipped cream at home like Starbucks is as simple as whipping together heavy cream and vanilla syrup. You can make it with a whipped cream canister (if you have one) or with a blender.
Cinnamon Sugar: For the cinnamon sugar topping, all you have to do is make a blend of ground cinnamon, sugar and a little salt. Yes, it's that simple!
RELATED RECIPE: Starbucks Cinnamon Dolce Crème Steamer Copycat
How to Steam the Milk
The easiest way to steam milk is with an electric milk frother.
I like this 3-cup Breville milk frother because its large enough to make grande-size Starbucks drinks at home.
You can also steam the milk with an espresso machine steam wand, like this one on my Breville Express.
Otherwise, you can warm up the milk on a stove. Then use a handheld milk frother to aerate it and create a little foam.
Snickerdoodle Hot Cocoa Instructions
Detailed recipe and instructions are in recipe card at bottom of post.
1. Combine syrup and sauce in a cup.
Put equal portions of cinnamon dolce syrup and white chocolate sauce in a cup and stir well.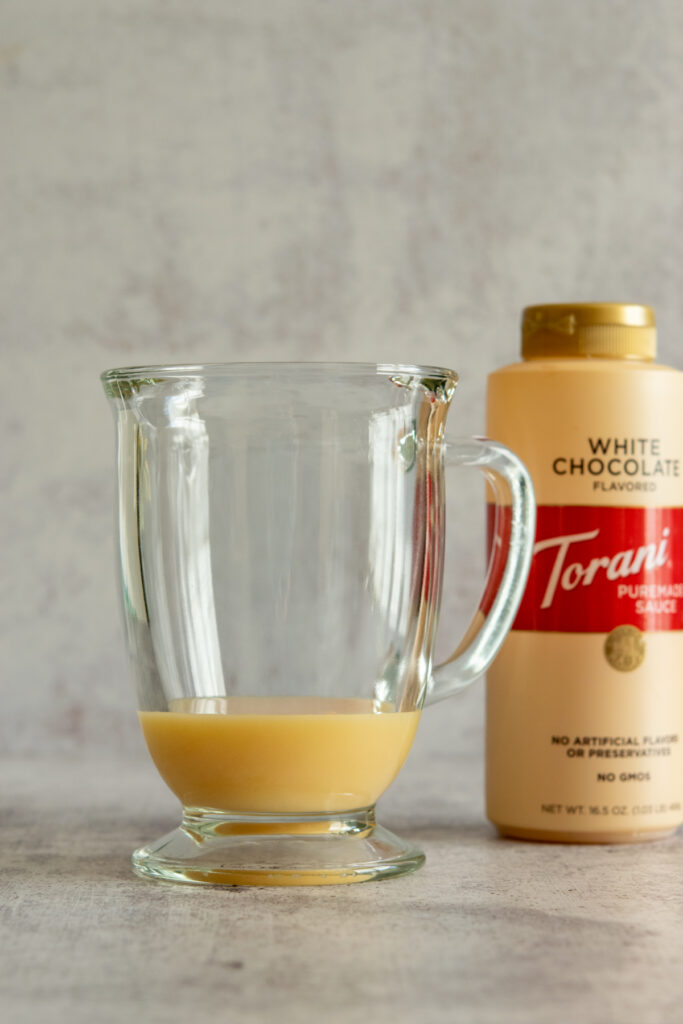 2. Steam milk and pour on top of sauce.
Be sure to add-in a few scoops of milk foam, too.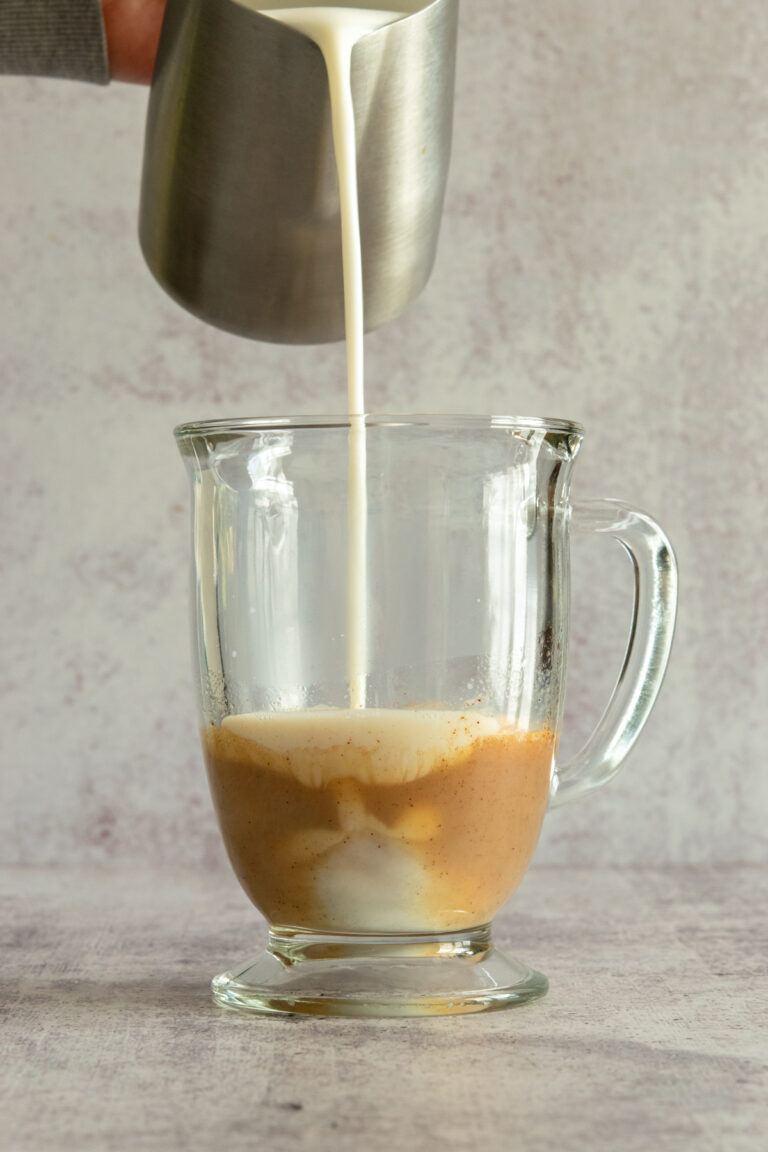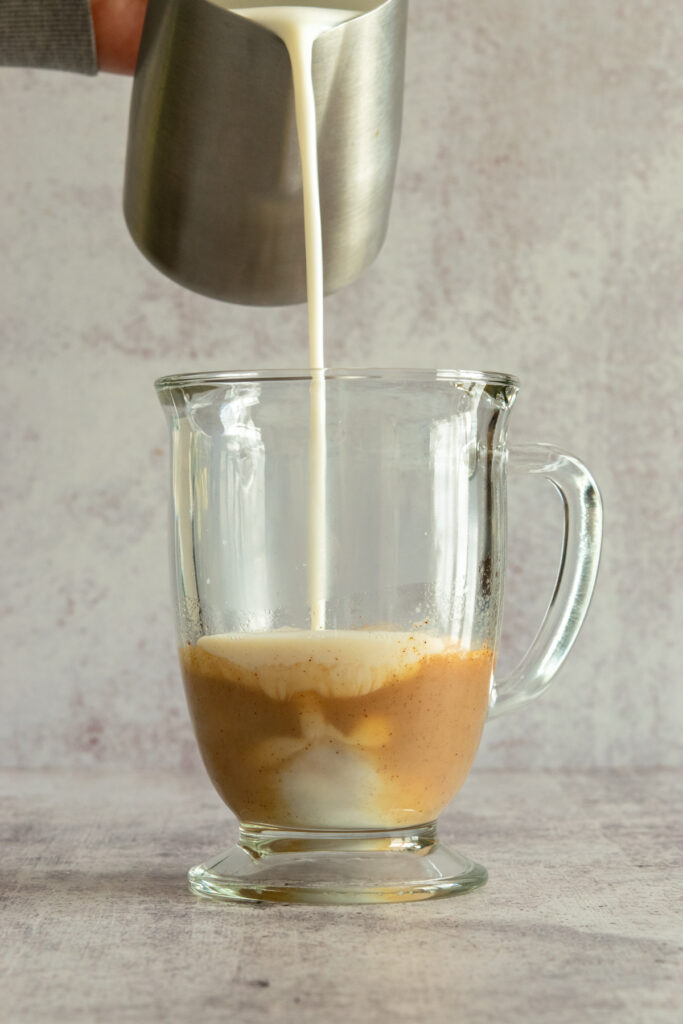 3. Add Snickerdoodle toppings.
Top off the snickerdoodle hot chocolate with a generous swirl of whipped cream. Then sprinkle cinnamon sugar on top.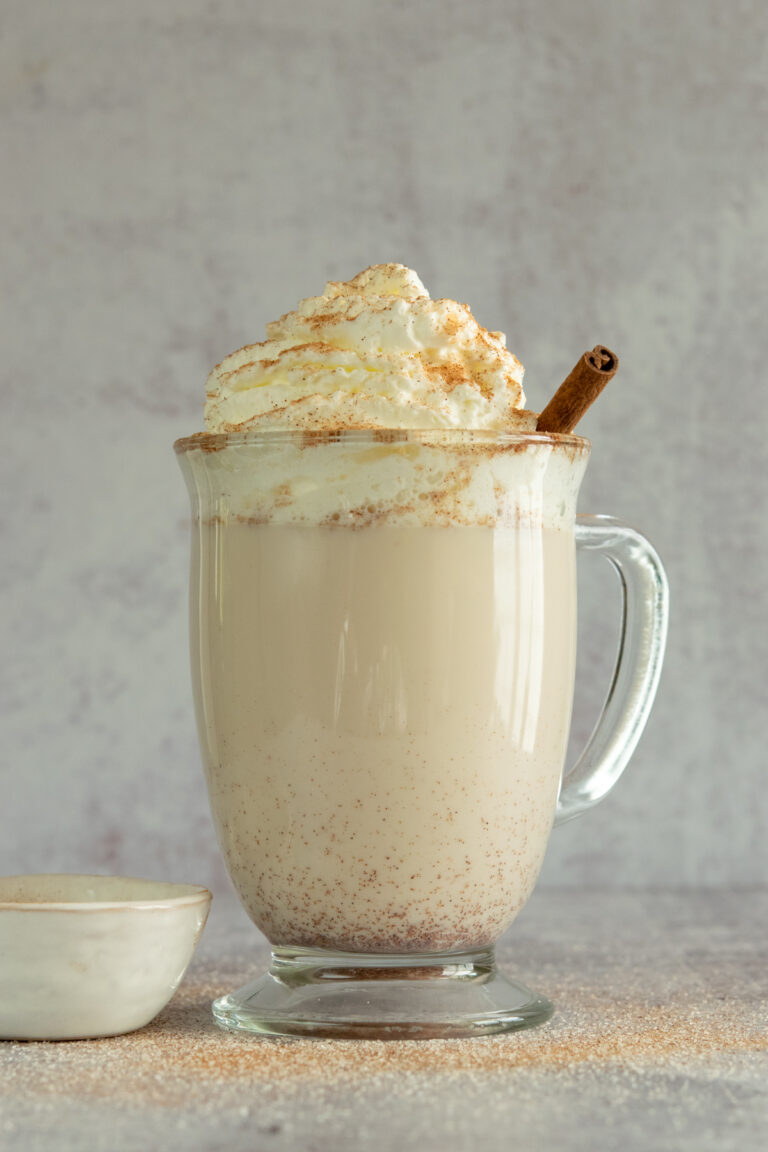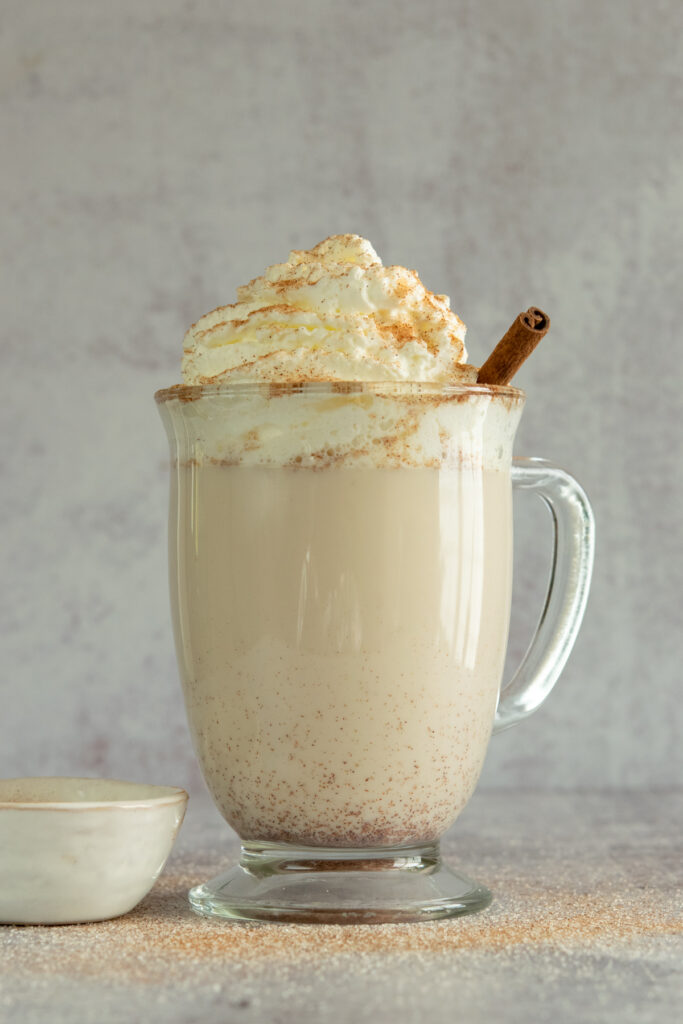 Barista Tips
Prepare all the drink components in advance. Prepare homemade cinnamon dolce syrup, cinnamon sugar topping and whipped cream in advance.
This way, when you want to make snickerdoodle hot chocolate all you have to do is steam the milk and assemble the drink.
Make Snickerdoodle hot chocolate in individual cups. To get the perfect proportions of cinnamon syrup and white chocolate sauce like a barista, handcraft each hot chocolate in its own mug.
Steam the milk to the proper temperature. Ideally, steam dairy milk to 160°F to bring out its natural sweetness. For kids, make it cooler.
Make it a snickerdoodle latte. For a little coffee flavor, add in a shot of espresso. Here's my Starbucks Snickerdoodle Latte copycat recipe.
Questions You May Have
What's in a Starbucks Snickerdoodle hot chocolate?
A Starbucks Snickerdoodle hot chocolate is a white hot chocolate drink that is flavored with cinnamon dolce syrup. It also has cinnamon sugar sprinkled on top.
Does a snickerdoodle hot cocoa have coffee in it?
A Snickerdoodle at Starbucks is a non-coffee beverage that is also caffeine-free. If you want a snickerdoodle flavored coffee beverage, order a white chocolate mocha with cinnamon dolce syrup added in.
What is cinnamon dolce topping at Starbucks.
Starbucks tops cinnamon dolce beverages with cinnamon dolce topping which is mainly a blend of cinnamon and sugar.
Related
Starbucks Snickerdoodle Hot Chocolate Copycat
Additional Time:
3 minutes
Easy Starbucks Snickerdoodle Hot Chocolate recipe to make at home with steamed milk, white chocolate sauce and cinnamon syrup. It's absolutely delicious!
Ingredients
Cinnamon Dolce Topping
sugar
cinnamon
pinch of salt
Snickerdoodle Hot Chocolate
3 tablespoons cinnamon dolce syrup
3 tablespoons white chocolate sauce
1 cup milk, steamed
whipped cream, to garnish
cinnamon dolce topping, to garnish
Instructions
Prepare the cinnamon dolce topping by combining all 3 ingredients in a small bowl. Set aside.
For homemade Starbucks whipped cream, prepare and refrigerate.
Add the syrup and sauce to a mug at least 12 ounces. Stir well to combine.
Steam the milk. Pour into cup nearly to top and scoop in some milk foam.
Top snickerdoodle hot chocolate with whipped cream and cinnamon sugar mix sprinkled on top.