If you love Cinnamon Dolce syrup in your Starbucks drinks then you've got to make my homemade cinnamon dolce syrup recipe. This syrup is so easy to make and perfect for DIY cinnamon dolce lattes, coffee and tea.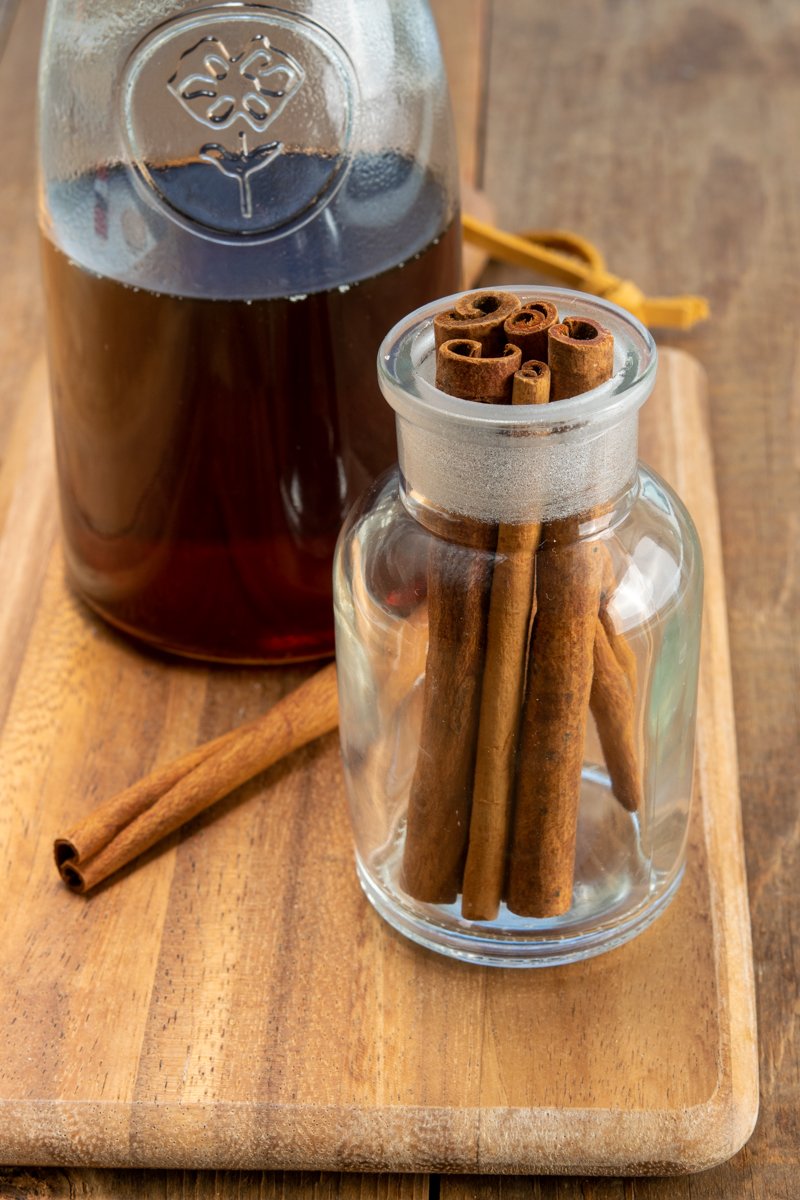 Cinnamon Dolce Syrup
This recipe for homemade Starbucks Cinnamon Dolce syrup is perfect for anyone that loves the aroma and flavor of warm cinnamon.
A splash or two of homemade cinnamon dolce syrup transforms any home-brewed coffee or tea latte into a yummy cafe-style drink.
Buttered cinnamon toast is one of my favorite morning treats. And the warm and toasty flavor of cinnamon dolce syrup is just as delicious.
As a matter of fact, while making this syrup on the stove, the aroma reminds me of a warm coffee cake coming out of the oven.
Now, you many be wondering, what does dolce mean?
In fact, dolce is simply the Italian word for sweet.
And let me tell you, Starbucks Cinnamon Dolce syrup lives up to its sweet name. And so does this homemade recipe.
Luckily, like most simple syrup recipes, cinnamon dolce coffee syrup is really easy to make at home. Let me show you how.
RELATED RECIPE: Starbucks Cinnamon Dolce Crème Steamer Copycat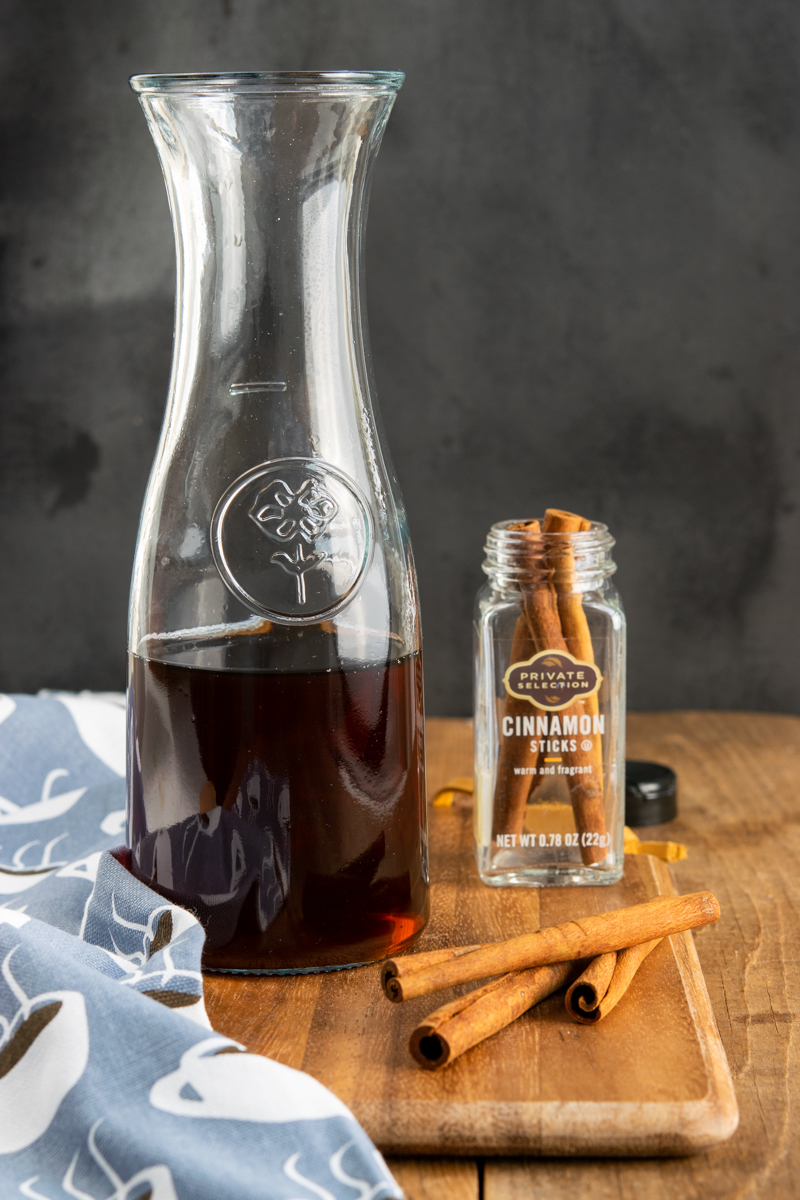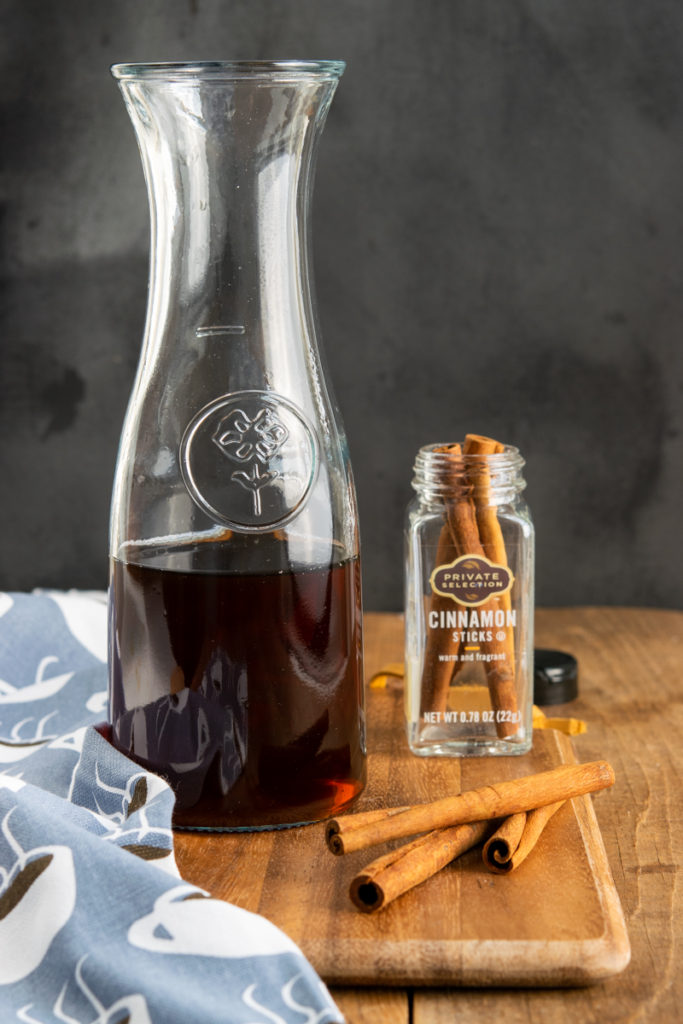 Homemade Cinnamon Dolce Syrup Ingredients
Filtered Water
Granulated Sugar
Dark Brown Sugar
Cinnamon Sticks (or substitute with ground cinnamon)
Pure Vanilla Extract
One look at this ingredient list and you may realize you actually already have everything you need in your kitchen.
However, I will say, I prefer to make this syrup using cinnamon sticks instead of ground cinnamon. So if you don't have any cinnamon sticks on-hand, I think it's worth picking some up.
That being said, ground cinnamon is perfectly fine to use. In fact, I've noticed other recipes that call for it.
However, there's a downside to using ground cinnamon; it does not dissolve in the syrup.
Of course, you can strain the syrup through cheesecloth, but that's just another step.
Obviously, you can also just leave the ground cinnamon floating in the syrup. That's perfectly fine; although it's just not my preference.
Perhaps it's just picky me being picky.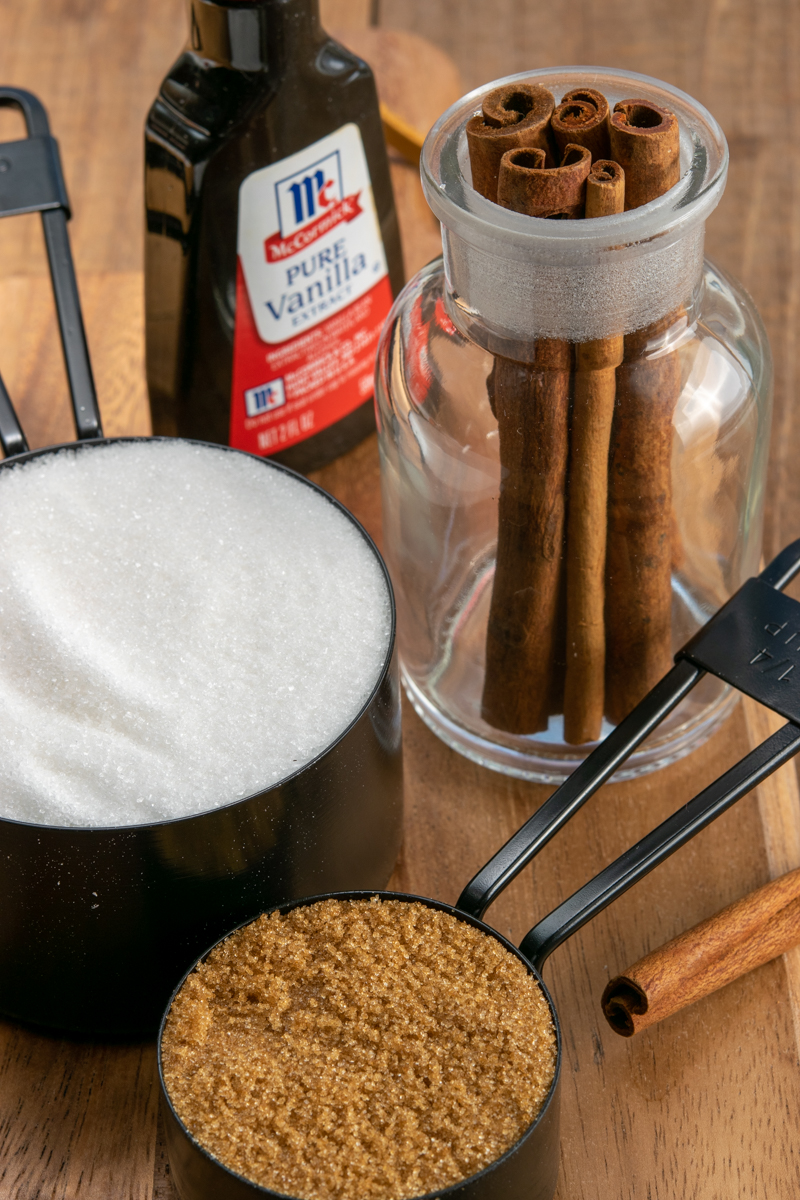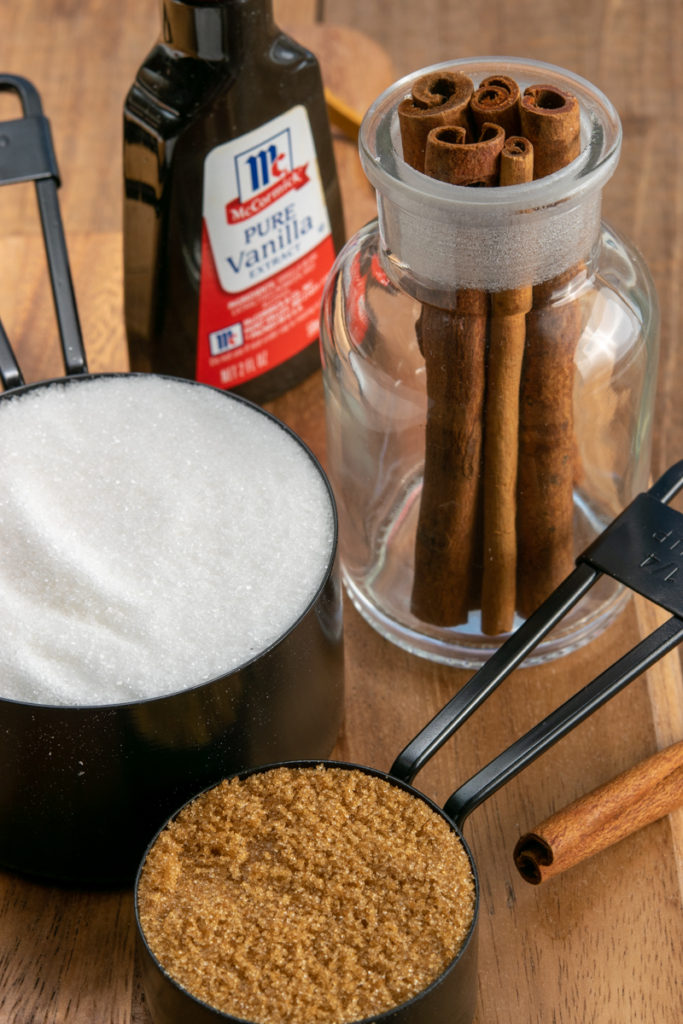 How to Make Starbucks Cinnamon Dolce Syrup at Home
Personally, what I love about making copycat Starbucks Cinnamon Dolce coffee syrup is that no fancy kitchen tools are necessary.
Honestly, you pretty much only need a saucepan, stove, and perhaps a whisk.
Additionally, you need some sort of jar to store the syrup inside.
For example, any mason jar will do.
However, I like to put my collection of homemade simple syrups into those inexpensive, squeezable condiment bottles.
That way, it's easy peasy to squeeze any flavor of syrup into my coffee mug or tea cup.
Since you most likely already have all the cinnamon dolce ingredients on-hand and making it doesn't require any special tools, let's get started.
Steps to Make Cinnamon Dolce Syrup:
Bring the water and both sugars to a boil on the stove.
Once the syrup reaches a boil, lower it to a simmer and stir in the vanilla.
Next, drop in broken pieces cinnamon sticks (or stir in ground cinnamon) and simmer for ten minutes. The syrup will reduce and begin to thicken.
Remove the cinnamon dolce syrup from the heat, pour it into a heat-proof container and cool for at least 30 minutes.
Finally, pour the cinnamon dolce syrup through a strainer to catch the cinnamon sticks and into a bottle.
Refrigerate and use in your favorite coffee and tea lattes and drinks.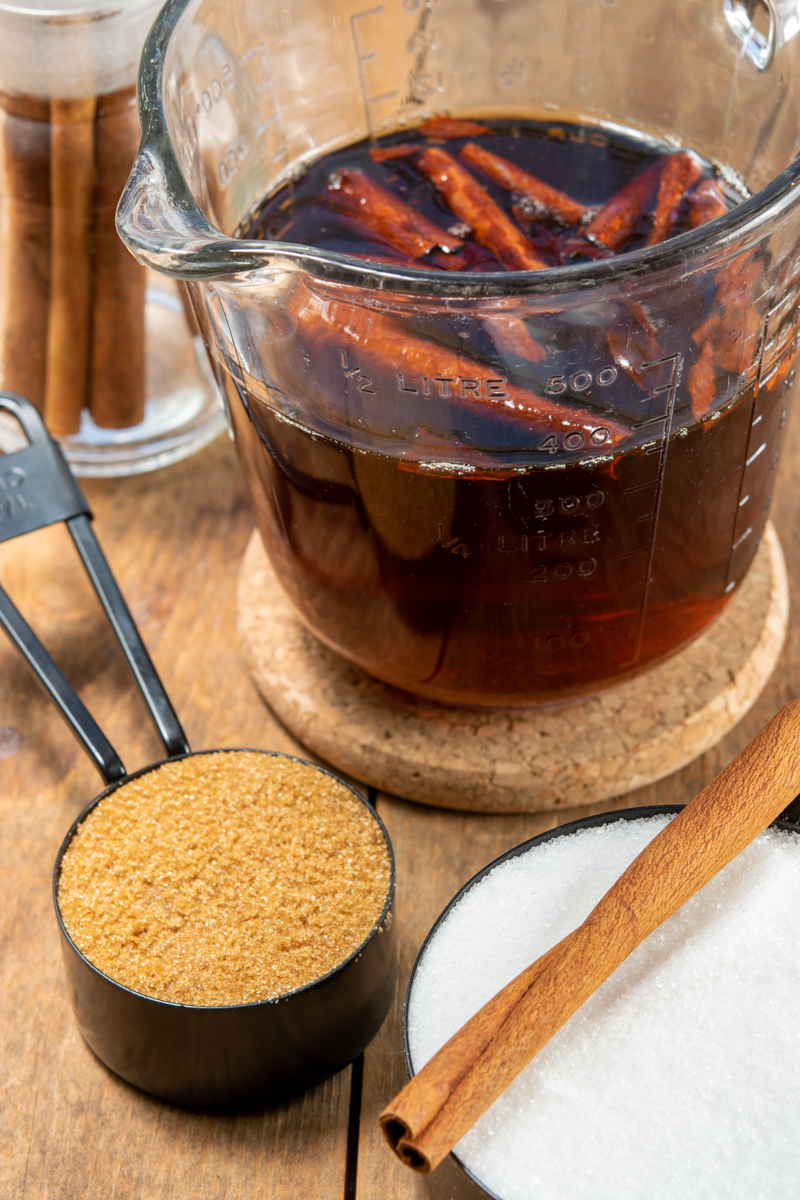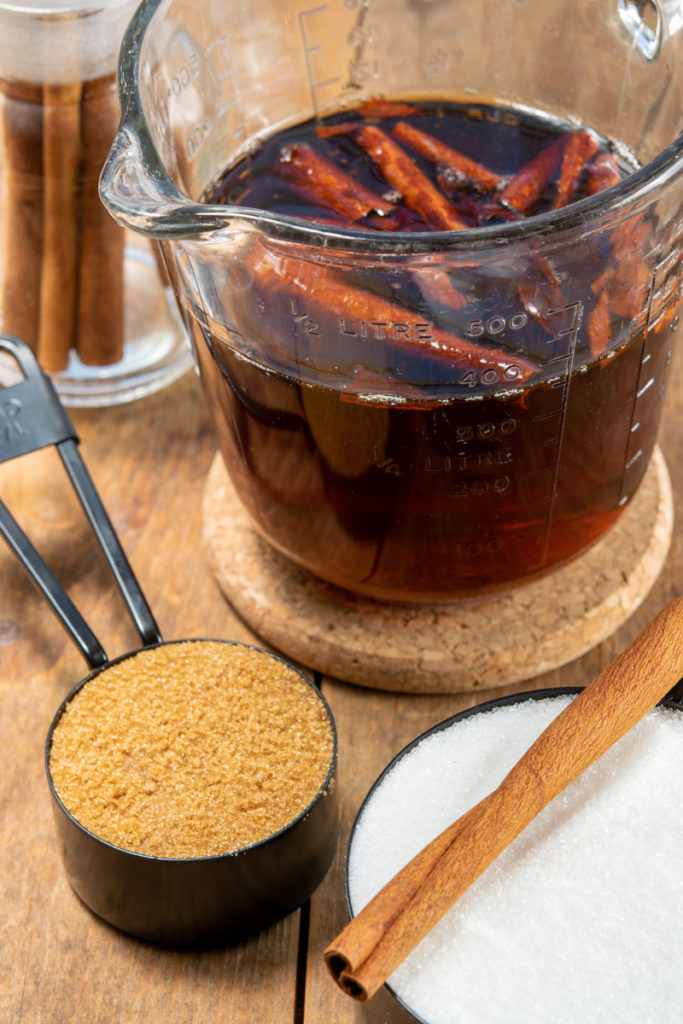 Starbucks Drinks that Use Cinnamon Syrup
Now that you've made your own homemade bottle of cinnamon dolce syrup, you may be wondering what types of drinks you can make with it.
For that, let's get a little inspiration from the Starbucks menu.
The main Starbucks drinks made with Cinnamon Dolce syrup are:
Cinnamon Dolce Latte
Iced Cinnamon Dolce Latte
Caramel Apple Spice
Of course, you can customize any Starbucks drink with any flavor of syrup, including cinnamon.
However, the two espresso lattes, one hot and one iced are delicious. Dare I say, topped with whipped cream and cinnamon dolce topping, they're decadent.
But don't think you can only use this syrup for fancy coffeehouse types of drinks.
Although, in the fall I do like to make my homemade Caramel Apple Spice recipe.
But a little bit of cinnamon sweetener stirred into any plain coffee or tea or simple latte is the perfect use for this yummy syrup.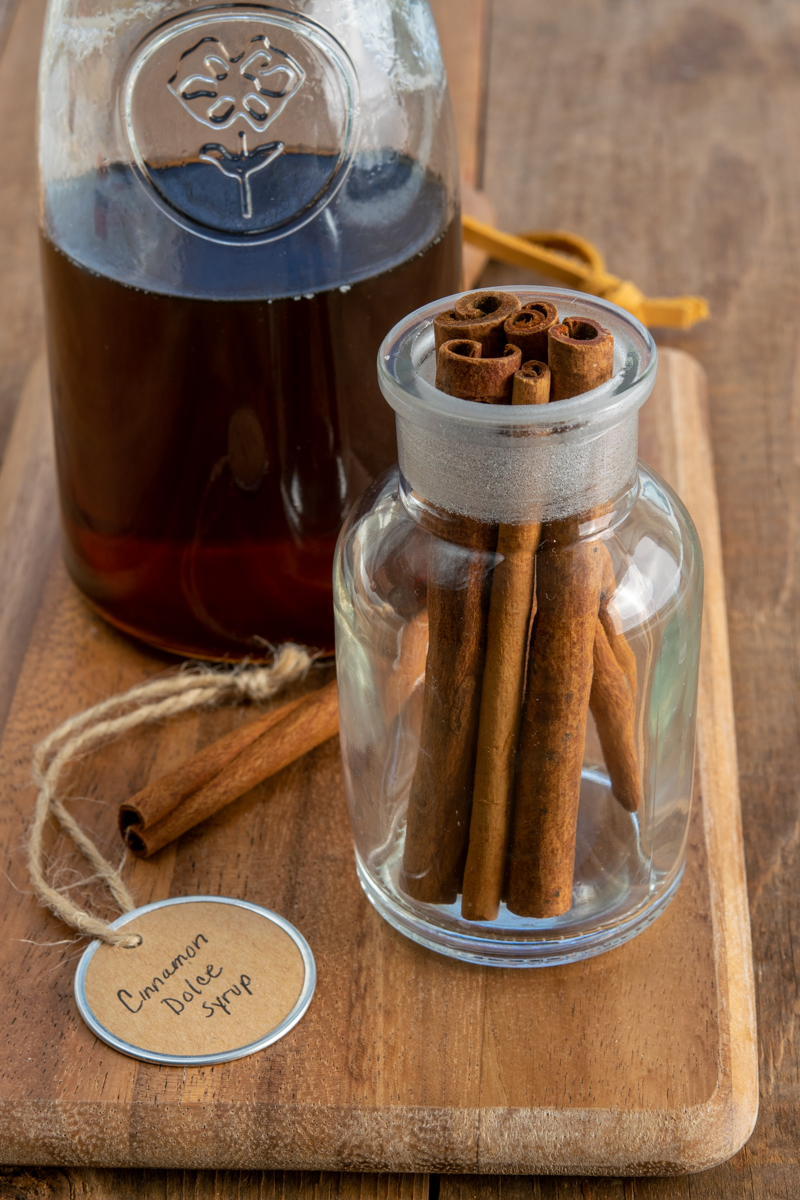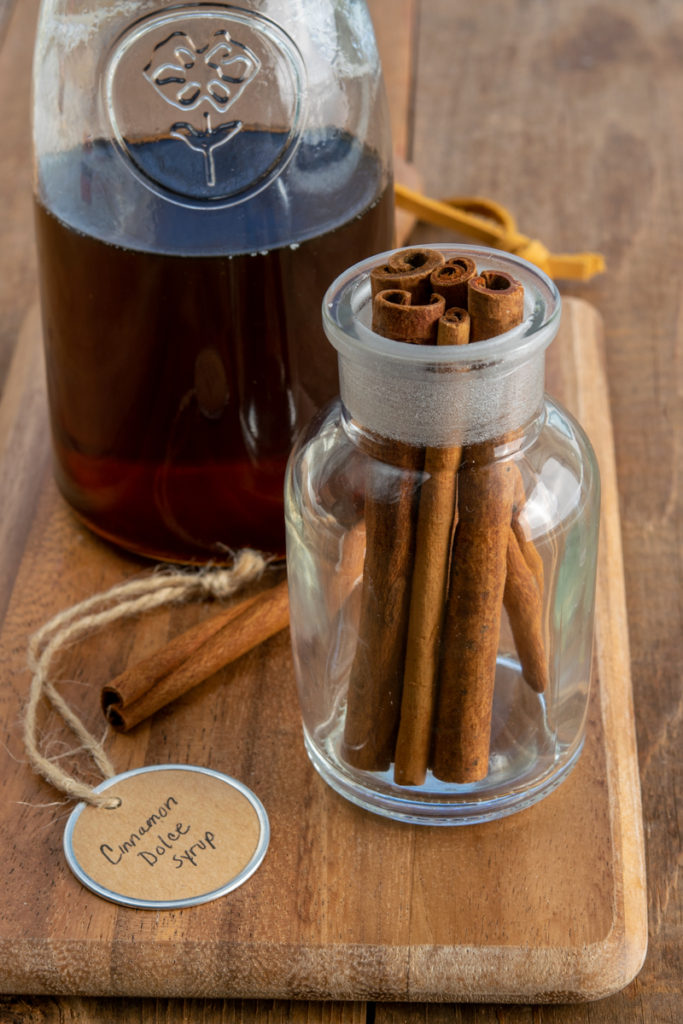 How to Sweeten Coffee & Tea with Syrup
Did you know that syrup, no matter the flavor, is usually the first ingredient Starbucks adds to the cup?
I figure Starbucks knows what they're doing, so at home I also add flavored syrup to my mug first. I think it's sort of like the old saying, "What's good for the goose is good for the gander."
I find that when I pour piping hot coffee or tea over the syrup, it all mixes together so beautifully.
Not to mention, it throws off that delicious cinnamon aroma I was talking about earlier.
By the way, don't think this syrup is just for hot drinks. It's perfect for iced lattes, too.
RELATED RECIPE: How to Make Chai Simple Syrup
Other Copycat Starbucks Syrup Recipes
My collection of homemade copycat syrups is starting to take over one shelf in my refrigerator.
They're so easy to make, that I've experimented with all sorts of flavors.
Just so you know, however, if you prefer to just buy a bottle of actual Starbucks syrup, you can do that too. Some flavors are available on Amazon and you can even buy a bottle from a Starbucks barista if they have one to spare.
Here are a few of my other Starbucks copycat syrup recipes, along with some drinks I put them in:
Homemade Cinnamon Dolce Syrup Recipe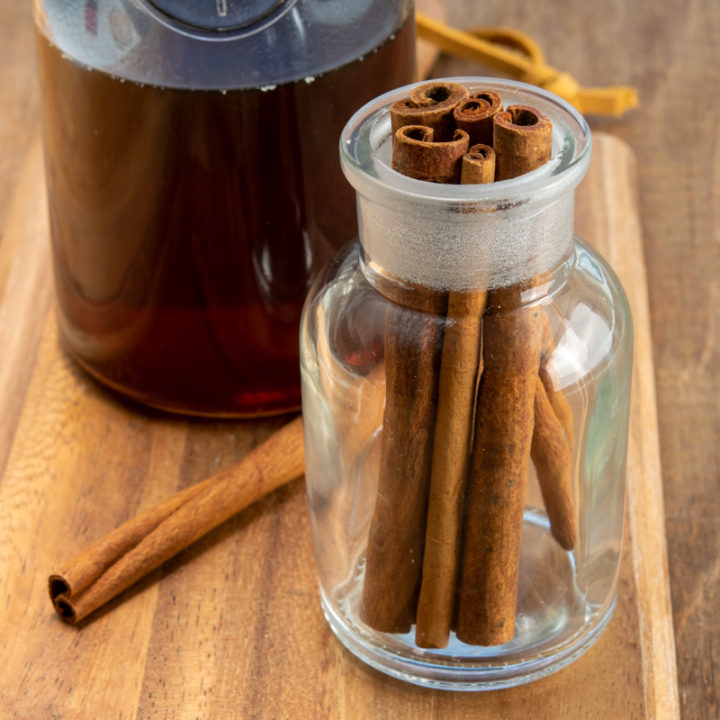 Starbucks Cinnamon Dolce Syrup Copycat Recipe
Additional Time:
30 minutes
See how to make Starbucks Cinnamon Dolce syrup with this quick and easy copycat recipe, perfect for making homemade cinnamon dolce lattes or to add to a cup of coffee or tea.
Ingredients
1 cup water
1 cup granualted sugar
1/4 cup light brown sugar
1 teaspoons vanilla extract
2 cinnamon sticks, crushed
Instructions
Bring water and sugars to a boil in a saucepan over medium-high heat, stirring often.
Reduce syrup to a simmer. Add vanilla and broken cinnamon sticks. Continue to stir (especially edges and bottom of pan) and simmer for 10 minutes. Syrup will begin to thicken.
Carefully pour the syrup and cinnamon sticks into a heat-proof container (like a Pyrex measuring cup) and allow the syrup to cool and thicken for at least 30 minutes.
Pour the syrup through a strainer to catch the cinnamon stick pieces into a bottle.
Store cinnamon dolce syrup in the refrigerator.
To use, stir 2 teaspoons (more or less) into a cup of coffee or tea.
Notes
Sugar to Water Simple Syrup Ratio
Many coffee syrup recipes call for equal portions of water and sugar. This cinnamon dolce syrup recipe has more sugar than water to produce an extra sweet syrup.
Dark Brown Sugar vs Light Brown
This recipe calls for dark brown sugar which has a more molasses flavor than light brown sugar. However, light brown sugar can be substituted but it will impact the syrup's overall taste a little bit.
Recommended Products
As an Amazon Associate and member of other affiliate programs, I earn from qualifying purchases.
Nutrition Information
Yield

36
Serving Size

2 teaspoons
Amount Per Serving
Calories

25
Carbohydrates

7g
Sugar

7g