Wondering how to make a tea latte? These easy instructions show you the basics of making a tea latte. This way you can turn your favorite tea and milk into a rich and creamy latte.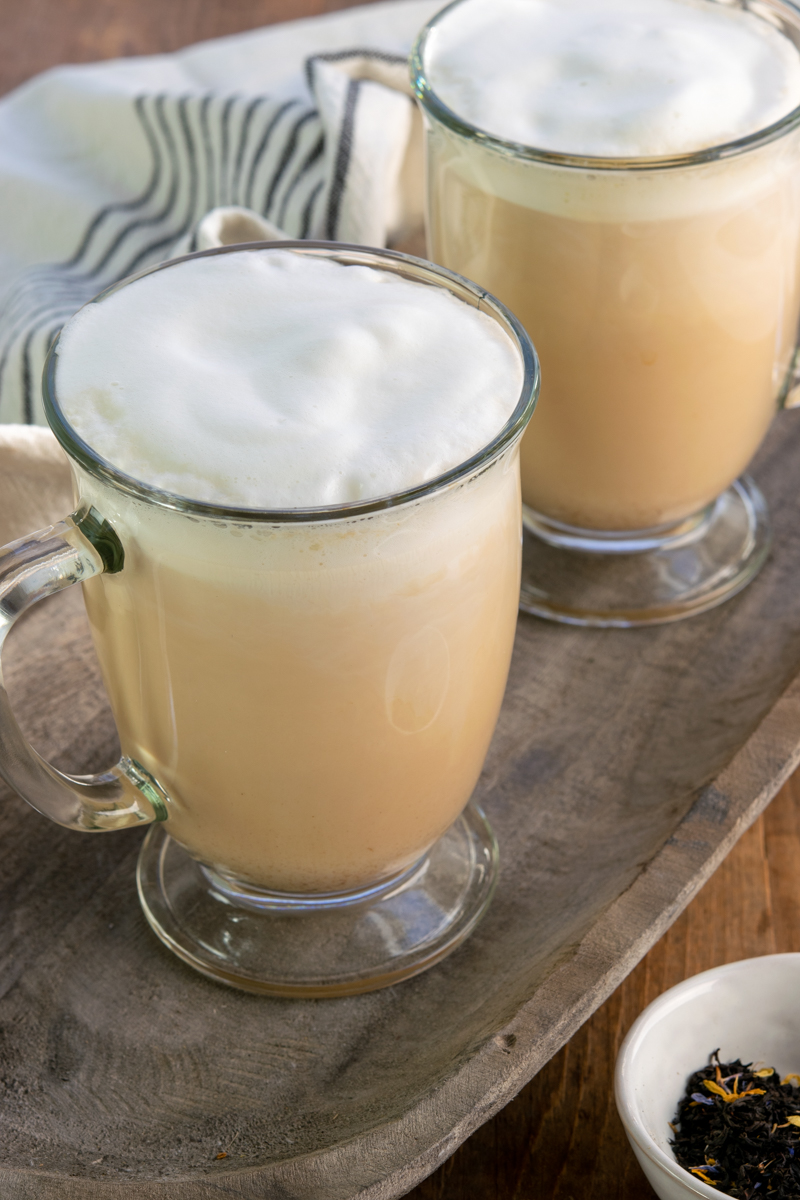 What is a Tea Latte?
Before I show you how to make a tea latte, let me first explain what a tea latte is.
A hot tea latte is a tea drink that combines strong, concentrated tea with steamed milk. Oftentimes, a sweetener or flavored simple syrup is mixed in, too.
Typically, a tea latte contains equal portions of tea and milk. Although, I find this a bit heavy-handed on the milk.
My personal preference is around 75% tea to 25% milk.
Keep in mind, steaming and aerating milk for a hot tea latte usually doubles the milk's volume.
In fact, it's this silky, frothed milk that gives hot tea lattes their signature creamy appearance.
Popular Tea Lattes
Probably the hot tea latte people are most familiar is the London Fog.
Originating in the Pacific Northwest, a London Fog tea latte is a delicious combination of earl grey tea, steamed milk and vanilla syrup.
Of course, Starbucks has played a big role in popularizing both hot and iced tea lattes.
According to my Starbucks barista daughter, their chai and matcha green tea lattes certainly are customer favorites.
Here you can see my homemade copycat recipes for Starbucks iced chai tea latte, hot chai latte and vanilla matcha latte.
Additionally, if you love all-things chai like me, you've got to see how easy it is to make homemade chai concentrate for lattes.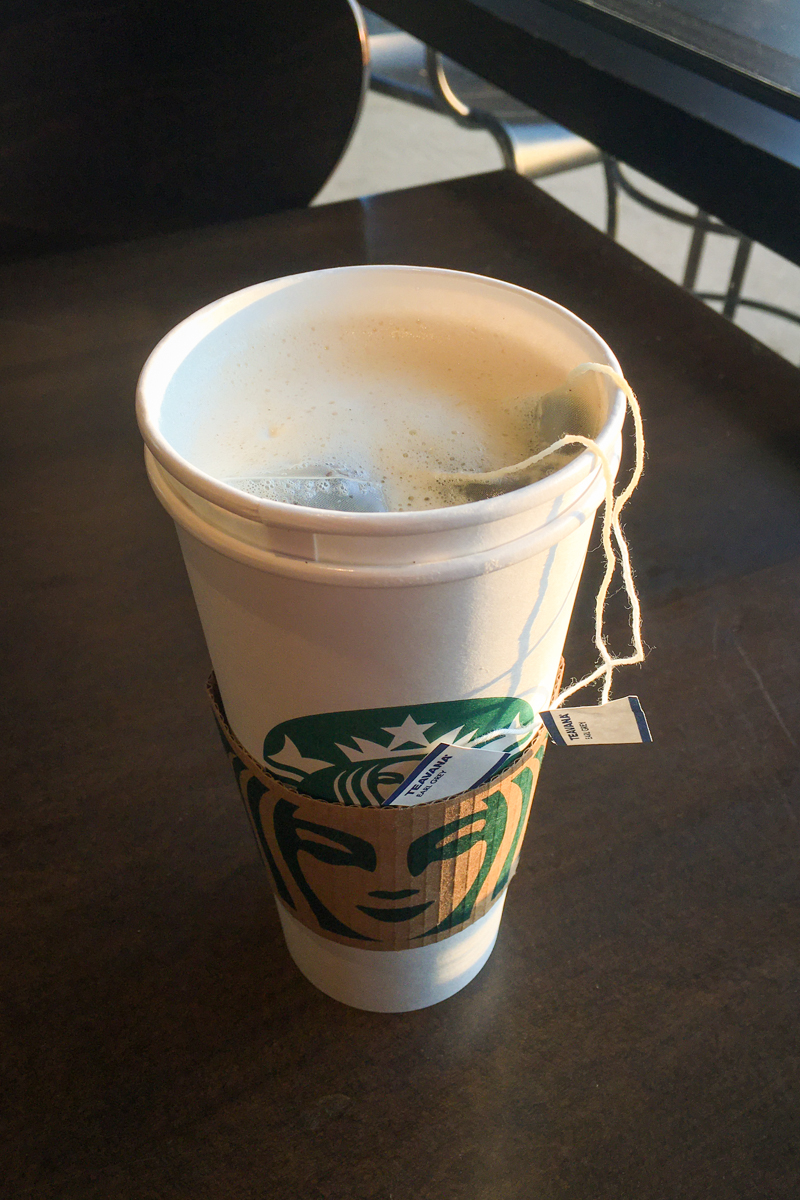 Kitchen Gadgets Needed to Make Homemade Tea Lattes
Making a homemade tea latte is really easy.
While you really don't need any fancy tools or kitchen gadgets, if you're serious about making your own tea lattes, these are my suggestions.
Electric tea kettle with temperature settings
Electric milk frother with hot and cold settings
A teapot with infuser basket
Latte mug
Electric Tea Kettle
Did you know different types of tea need to be steeped at different water temperatures?
For example, green tea and matcha should be steeped around 175°F. This is because boiling water will burn the delicate leaves and results in bitter tea.
On the other hand, black teas require boiling water. Actually, here are my tips for making black tea properly.
The bottom line is, an electric kettle with temperature settings, like my Cuisinart below, is practically a must-have for tea drinkers.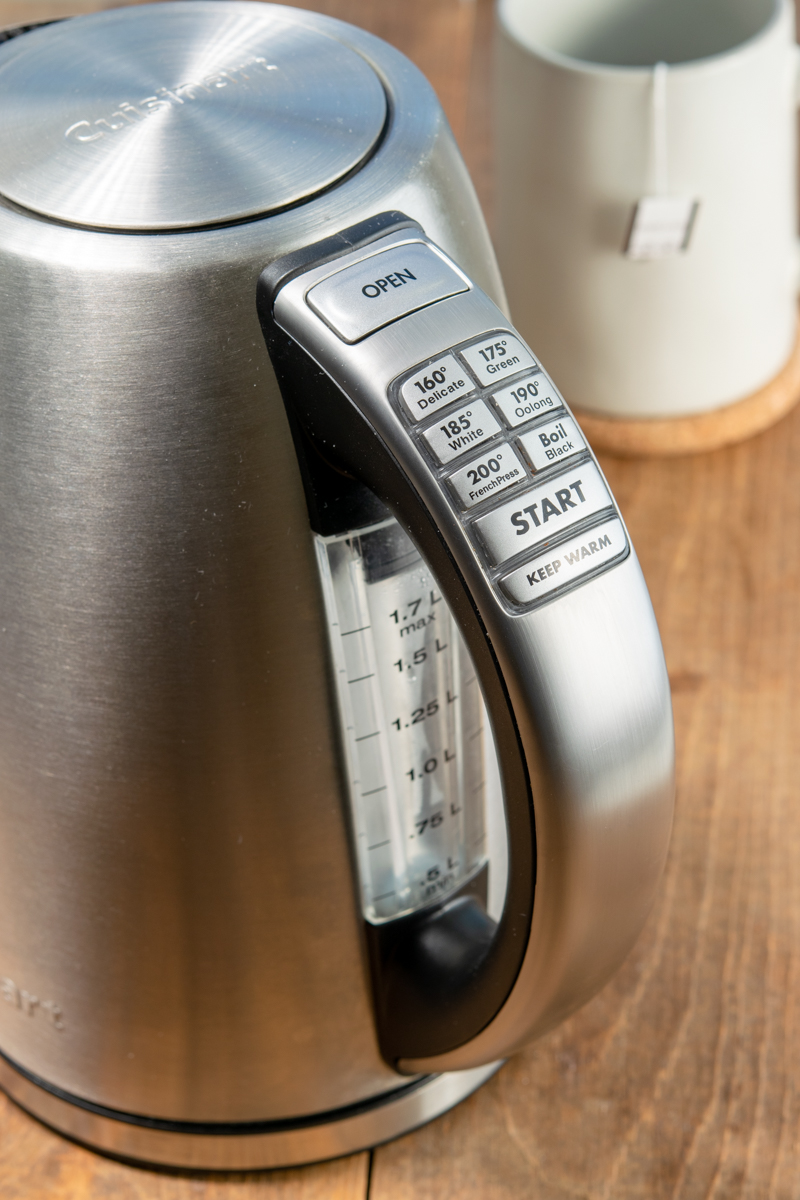 Photo Credit: www.amazon.com
Heat water to the perfect temperature for each type of tea with the touch of a button!
Electric Milk Frother
Steamed, aerated milk is a key component of tea lattes.
While there are plenty of ways to heat up milk and froth it, an electric frother with hot and cold settings, like my Nespresso Aeroccino, lets you accomplish both tasks at once with the touch of a button.
An inexpensive, handheld frother also gets the job done. However, the milk needs to be heated separately beforehand.
Photo Credit: amazon.com
Make hot milk froth with the touch of a button.
Teapot with Infuser Basket
Obviously, to make a tea latte you need tea.
My first choice is to make lattes using a good quality loose tea.
Personally, I think the easiest way to steep loose tea is in a teapot that has an infuser basket.
On the other hand, if you only use tea bags, you don't need a separate teapot. Simply steep the bags in the mug you're going to drink from.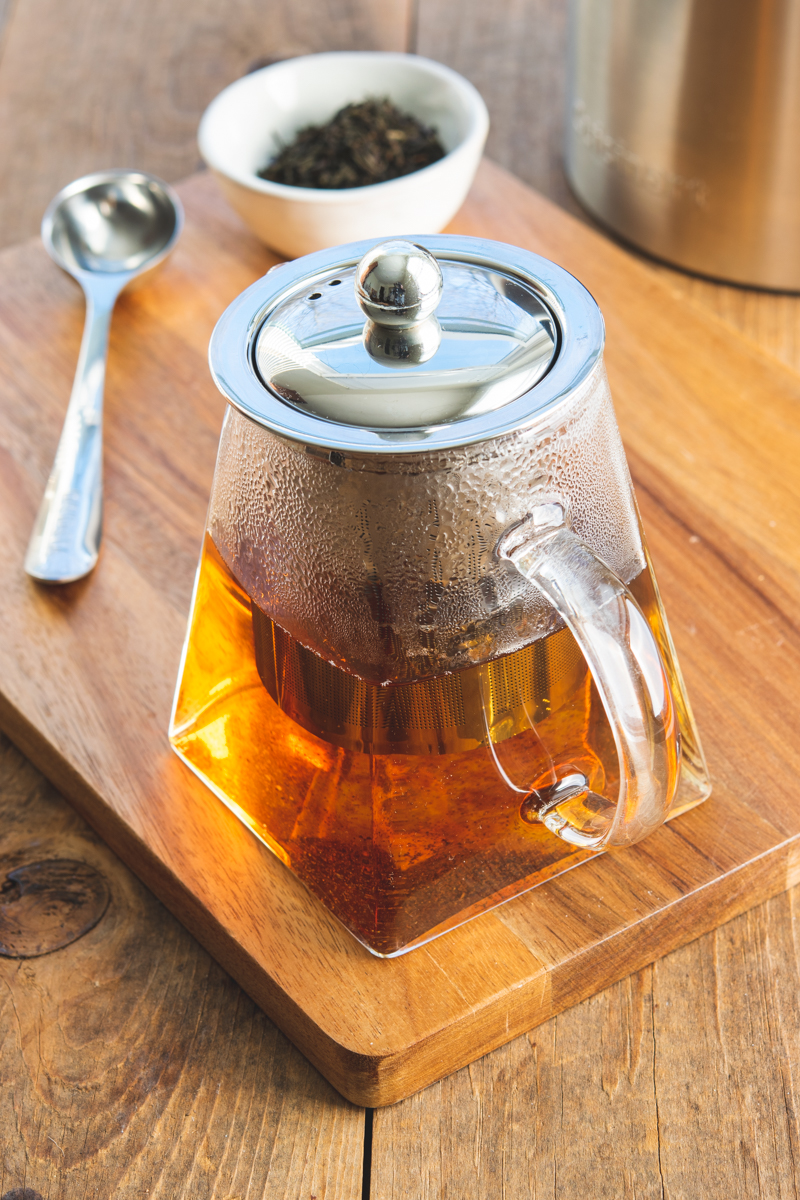 Photo Credit: amazon.com
Glass teapot made from heat resistant borosilicate glass with removable infuser and lid.
Latte Mug
Honestly, a latte mug is not a necessity. But if you make hot tea lattes a lot, it sure is nice to have.
Compared to a typical mug, a latte cup has a large bowl that's wider on the top.
This wide open bowl, allows a nice layer of milk foam to rest on top of the tea.
What this means is, each sip of your tea latte is a delicious combination of tea and creamy foam.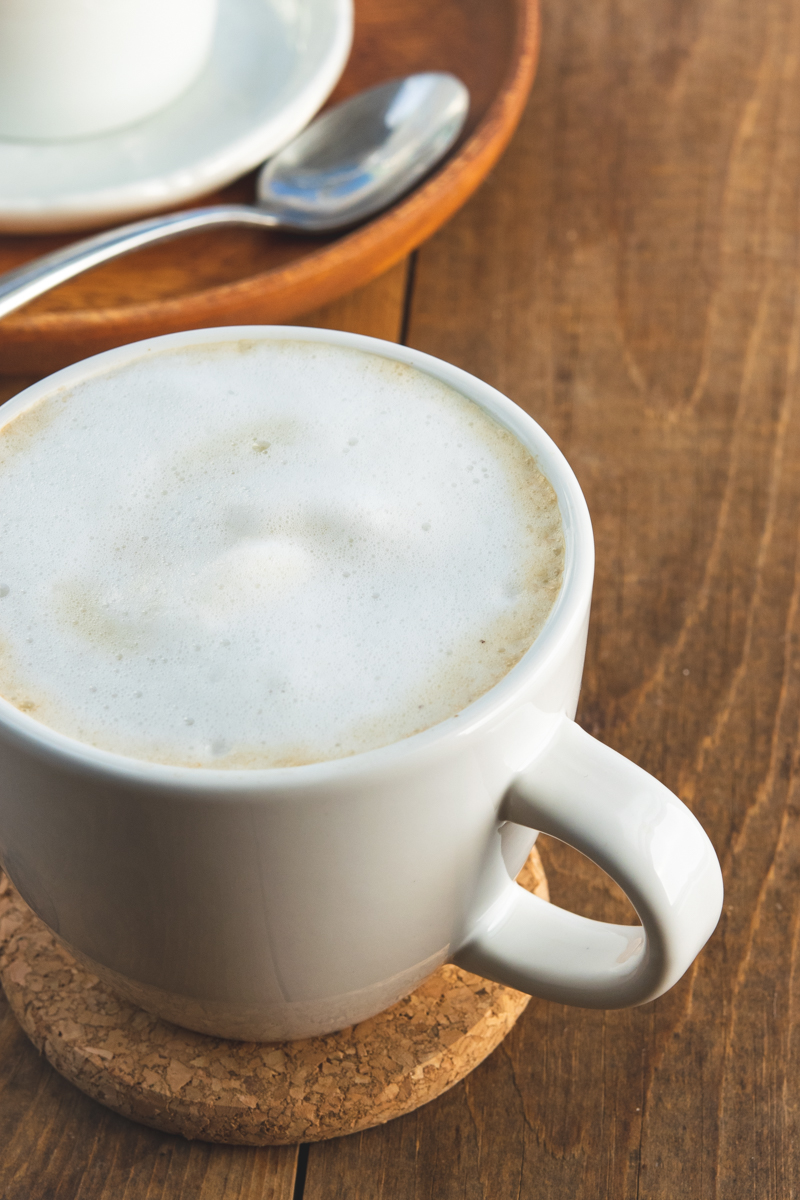 Photo Credit: amazon.com
White porcelain mugs ideal for lattes. 16-ounce capacity.
Hot Tea Latte Ingredients
It doesn't take much to make a hot tea latte.
In fact, the number of ingredients needed to make a tea latte is short and sweet. Here's what you need.
Strong Tea or Tea Concentrate
Milk
Sweetener or Flavored Simple Syrup (optional)
Toppings (optional)
As you can imagine, you can create limitless flavors of tea lattes.
Think about it. Between the variety of tea blends, types of milk, and flavors of sweeteners, there are numerous tasty combinations.
Not to mention, with dairy-free milks like almond, soy and oat, it's simple to whip up a vegan tea latte, as well.
How to Make Tea for a Latte
Strong tea is the key to making a good-tasting tea latte.
Importantly, strong tea does not mean steeping tea longer than normal. This is a huge mistake and to be blunt, makes awful tasting tea.
Instead, think of strong tea or tea concentrate as double-strength tea.
All you have to do to make double-strength tea is to use twice as much tea compared to normal.
For instance, use two tea bags per cup of water compared to one. Or double the amount of loose tea according to what the package suggests.
But whatever you do, do not steep the tea for longer than the recommended time.
Incidentally, the reason tea lattes, hot and iced, are made with concentrated tea is so the tea flavor isn't overwhelmed by all the milk.
Steaming & Frothing Latte Milk
As I mentioned earlier, an electric milk frother is the perfect kitchen gadget for heating and frothing latte milk all at once.
Or you can always warm up milk using the stove or microwave and use a handheld frother.
Ideally, if you have an espresso machine with a steam wand, use that.
Clearly, there are a number of ways to make warm milk with microfoam.
Keep in mind, however, not all types of milk foam equally.
For instance, high fat dairy is ideal for creating silky microfoam. This is because the protein in the fat creates the structure for bubbles.
In fact, 2% dairy milk is the standard type of milk Starbucks uses for its lattes.
On the other hand, if you opt for a vegan milk, make sure you get the "barista edition" for better foaming.
If you're interested, you can read a little more about this topic in my Honey Oat Milk Latte recipe post.
How to Put a Tea Latte Together
Assembling a tea latte is simple. Here are the steps I take to make a homemade tea latte from loose tea.
Brew double-strength tea in a teapot and pour in latte mug when steeping is complete.
Add sweetener or syrup to tea. (My favorites are vanilla syrup and Classic.)
While tea brews, steam and froth milk.
Finally, pour the milk into the latte being sure to scoop the foam on top.
If you make a latte using tea bags, just steep them in the cup and add sweetener or syrup when the tea is ready.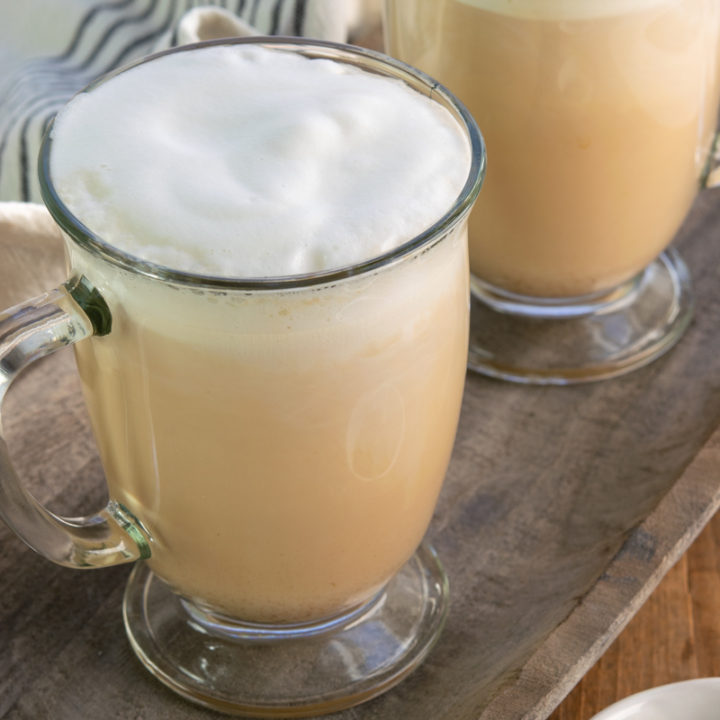 How to Make a Tea Latte
See how to make a tea latte with these easy instructions. Just select your favorite tea blend, milk of choice and sweetener to make a creamy and delicious hot tea latte.
Ingredients
1 cup filtered water
1/3 cup milk
2 teaspons tea (or 2 tea bags)
2 teaspoons sweetener
Instructions
Make Double-strength Tea
Bring water to a boil for black tea or to the appropriate temperature for other types of tea.
Put loose tea in a teapot and pour water over leaves. Steep 4-5 minutes. Remove infuser basket when steeping is complete.
Otherwise, place tea bags in a 12 ounce mug, add water, let it steep.
Steaming & Frothing Milk
While tea is steeping, add milk to electric frother. Use "hot" setting.
For handheld milk frothers, heat milk using stove or microwave. Pour in tall glass or milk pitcher and froth with wand.
Making the Tea Latte
Pour double-strength tea into a latte mug
Stir in sweetener of your choice or flavored simple syrup. Honey and maple syrup are also options.
Pour milk into tea, holding back foam with back of spoon. Scoop foam onto top of latte.
Sprinkle latte with cinnamon, nutmeg or other toppings if desired. (optional)





Recommended Products
As an Amazon Associate and member of other affiliate programs, I earn from qualifying purchases.