A Starbucks Chestnut Praline Crème is a flavorful, creamy holiday steamer. Here's a closer look at what's in this non-coffee seasonal offering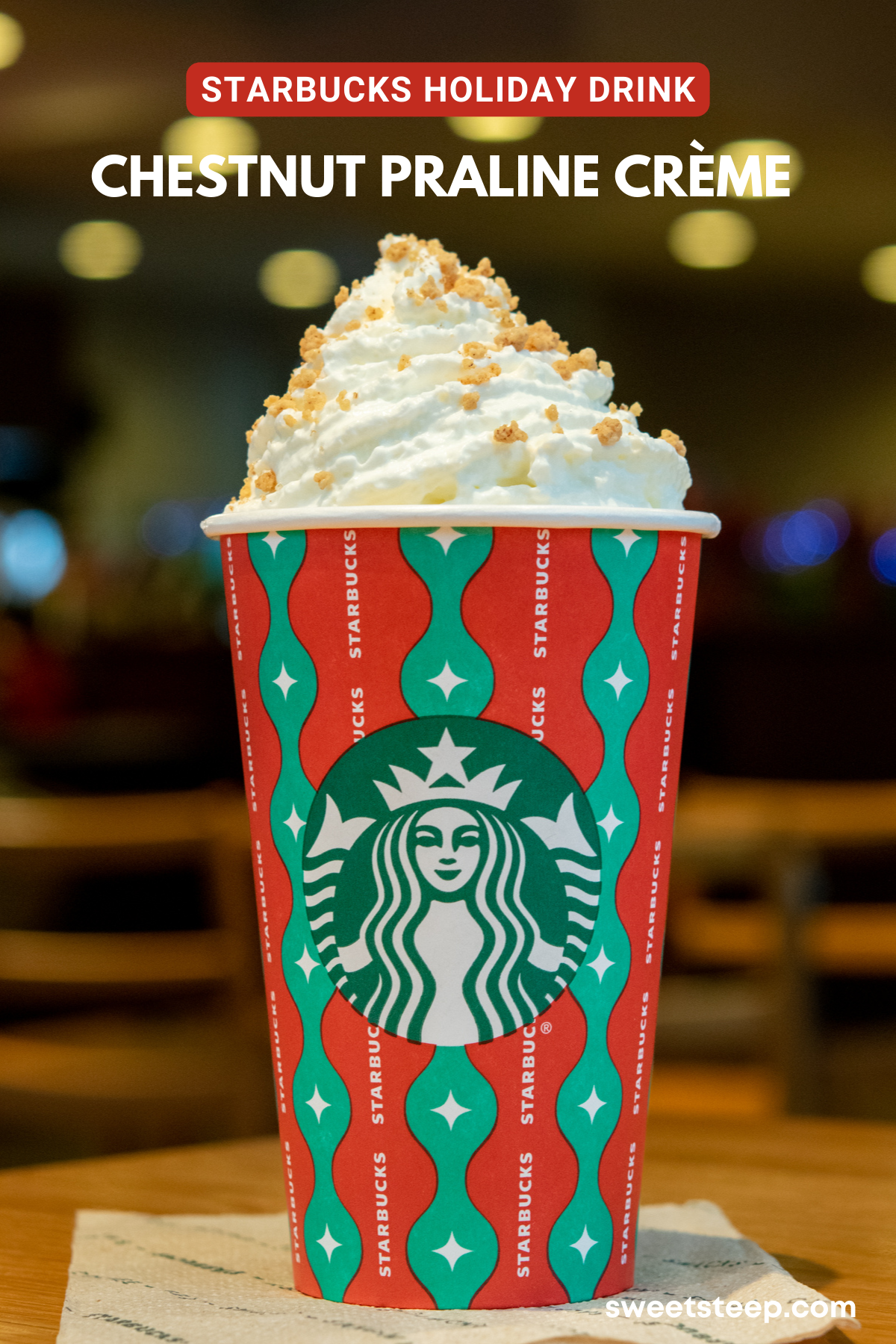 Starbucks Chestnut Praline Creme
Starbucks Chestnut Praline Crème is a creamy, seasonal hot drink that's simply chestnut praline-flavored steamed milk.
Like most Starbucks holiday drinks, it's topped with a swirl of sweetened whipped cream. It's sprinkled with spiced sugar, too.
For anyone looking to enjoy a Starbucks holiday drink without coffee, this is a delicious option. Caramel Brulée Crème is another sweet choice.
Drink Overview
Starbucks Chestnut Praline Crème steamer is a hot, milk-based beverage that combines steamed milk with chestnut praline sauce. The drink is finished with whipped cream and chestnut praline topping.
Chestnut Praline Crème, is simply a regular chestnut praline latte without espresso.
Starbucks also has a Chestnut Praline Crème Frappuccino on the holiday menu. This ice cold blended beverage also doesn't have coffee in it.
Parents love this steamer since it doesn't have caffeine and can be ordered kid size at kids temp.
Another popular limited-time Starbucks steamer is Pumpkin Spice Crème. It combines pumpkin spice sauce with steamed milk. It's topped with a dollop of whipped cream and pumpkin spices.
Starbucks Drink Description
Here's the Starbucks menu description for the Chestnut Praline Crème steamer.
Steamed milk and flavors of caramelized chestnuts and spices—topped with whipped cream and spiced praline crumbs—come together for this festive moment.

Starbucks
RELATED: How to Order a Starbucks Chestnut Praline Chai Tea Latte
What's in a Chestnut Praline Crème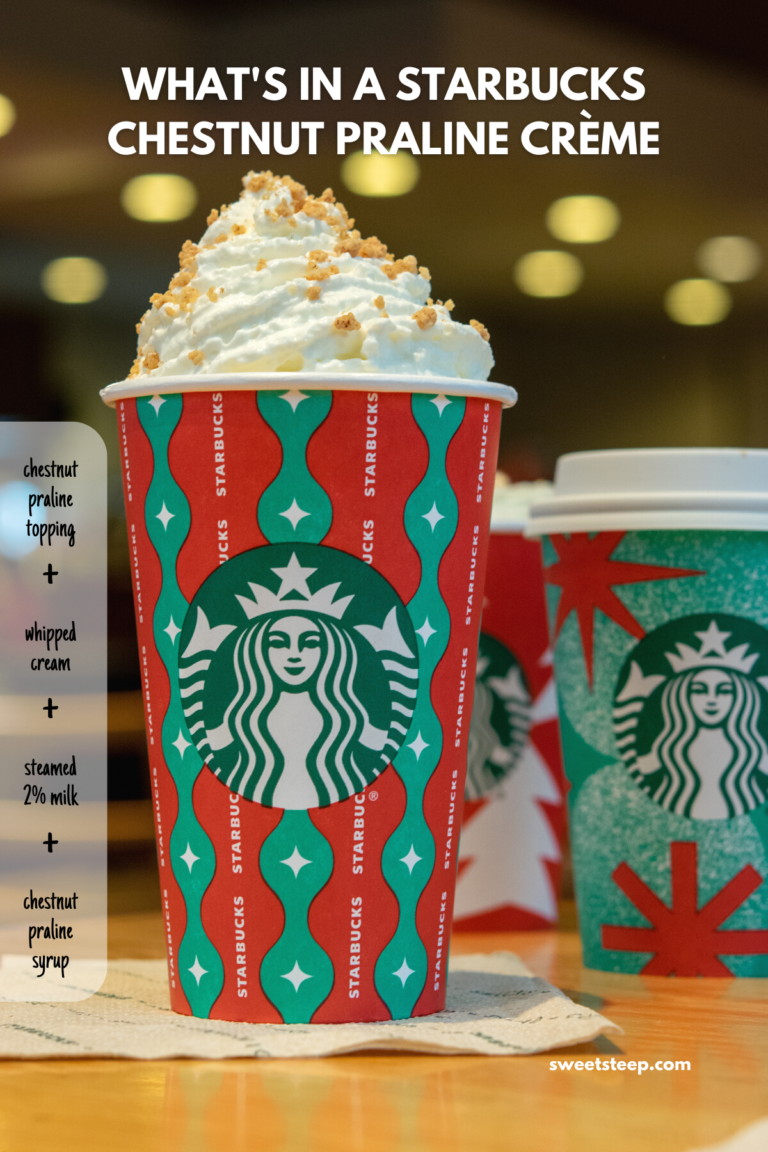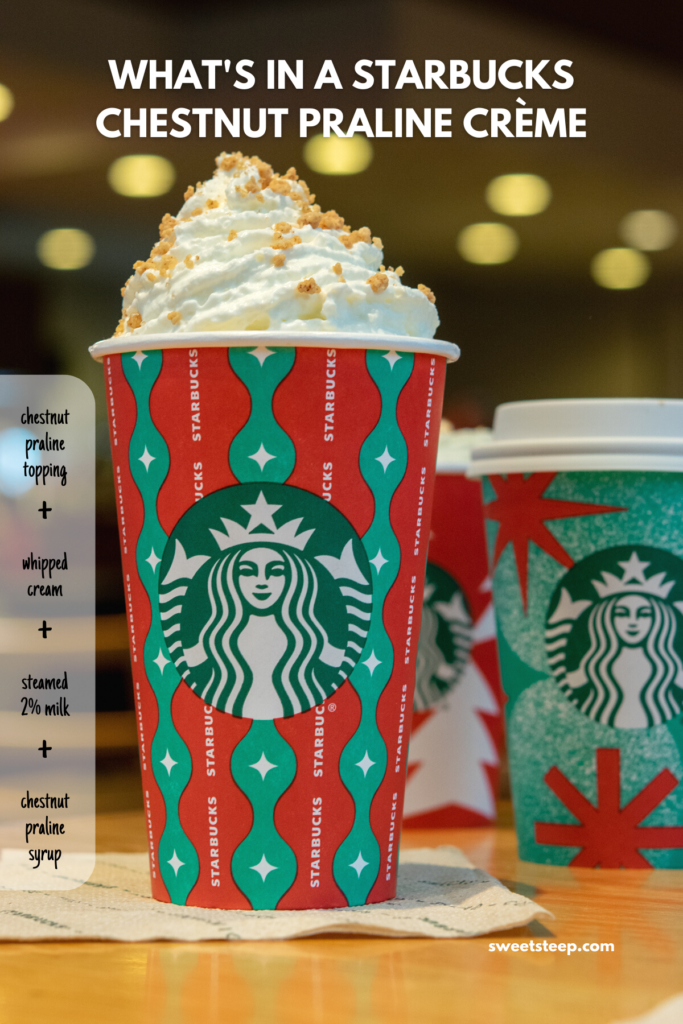 A Starbucks Chestnut Praline Crème has four ingredients.
Chestnut Praline Syrup
Steamed 2% Milk
Whipped Cream
Chestnut Praline Topping
Like I said before, this warm and cozy drink is the same as a chestnut praline latte without espresso.
You can also think of it as hot chocolate, except it's flavored with chestnut praline syrup instead of mocha sauce.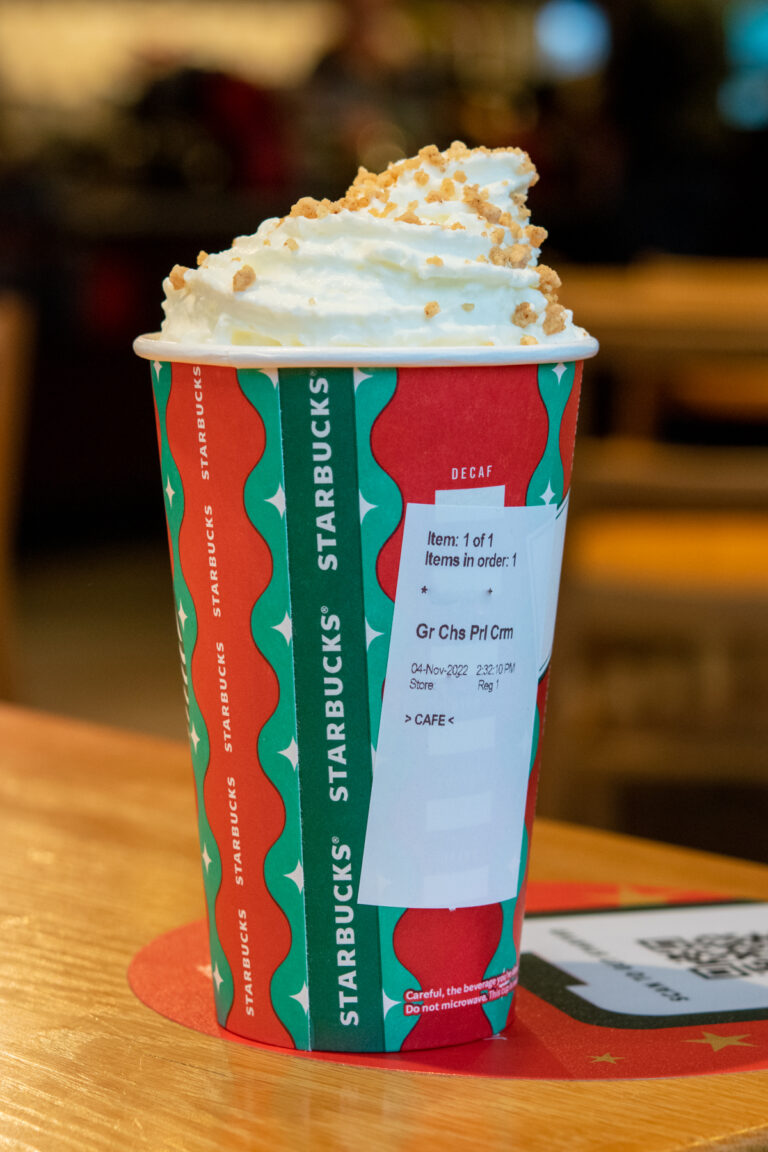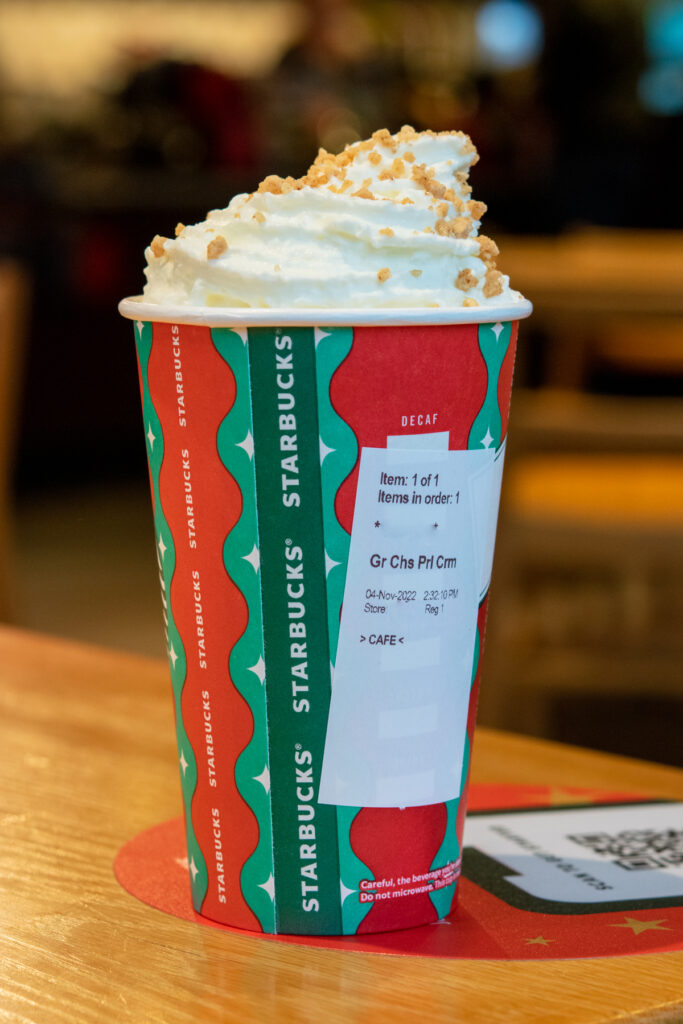 Chestnut Praline Syrup: This holiday syrup is sugar-based and does not contain any dairy. It has a sweet nutty toffee flavor.
Steamed Milk: Two-percent milk is steamed to about 160°F. This temperature brings out the milk's natural sweetness and makes it silky smooth. It can be steamed to a lower temperature for kids.
Sweetened Whipped Cream: Starbucks tops all crème beverages with sweetened whipped cream. It's mixture of vanilla syrup and heavy cream. Here's the recipe for Starbucks whipped cream.
Chestnut Praline Topping: This topping option is basically spiced sugar. (And wow, is it good as it melts into the foamy drink!)
Starbucks lists the ingredients in it as: spiced sugar (sugar, cinnamon, ginger, clove), toffee sugar (sugar, vegetable colors), natural flavors, salt.
RELATED RECIPE: Starbucks Cinnamon Dolce Crème Steamer Copycat
What a Chestnut Praline Crème Tastes Like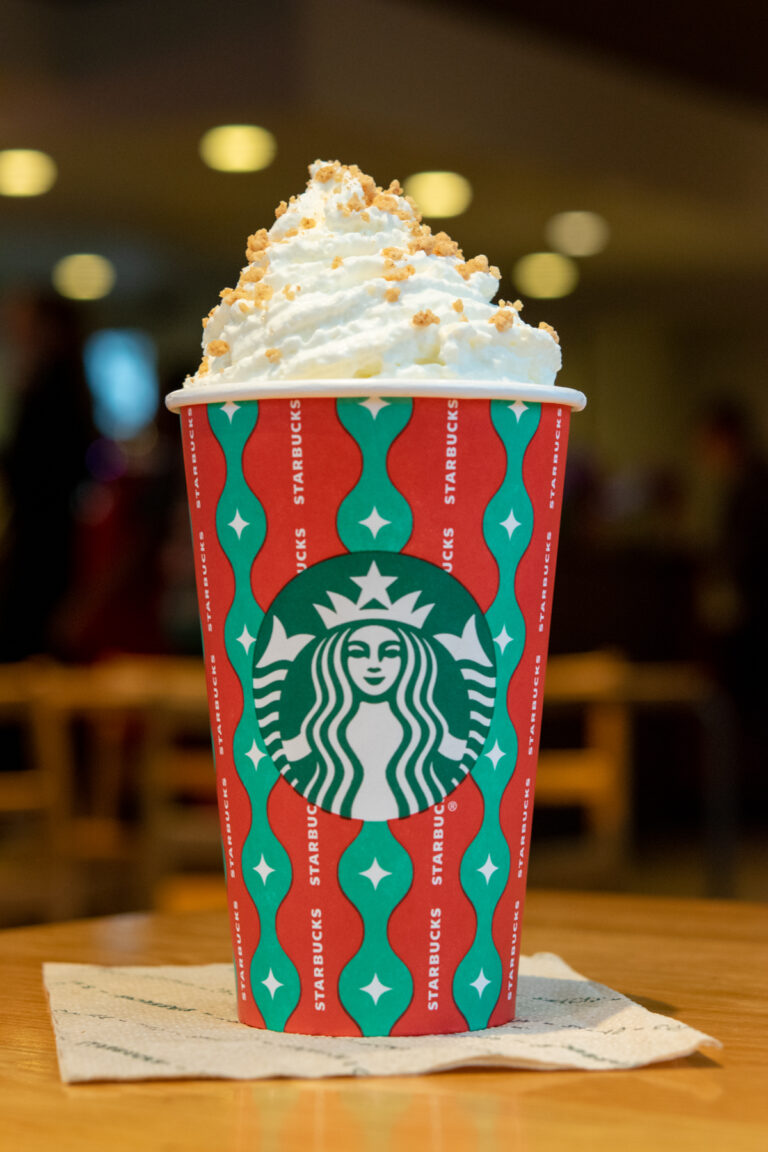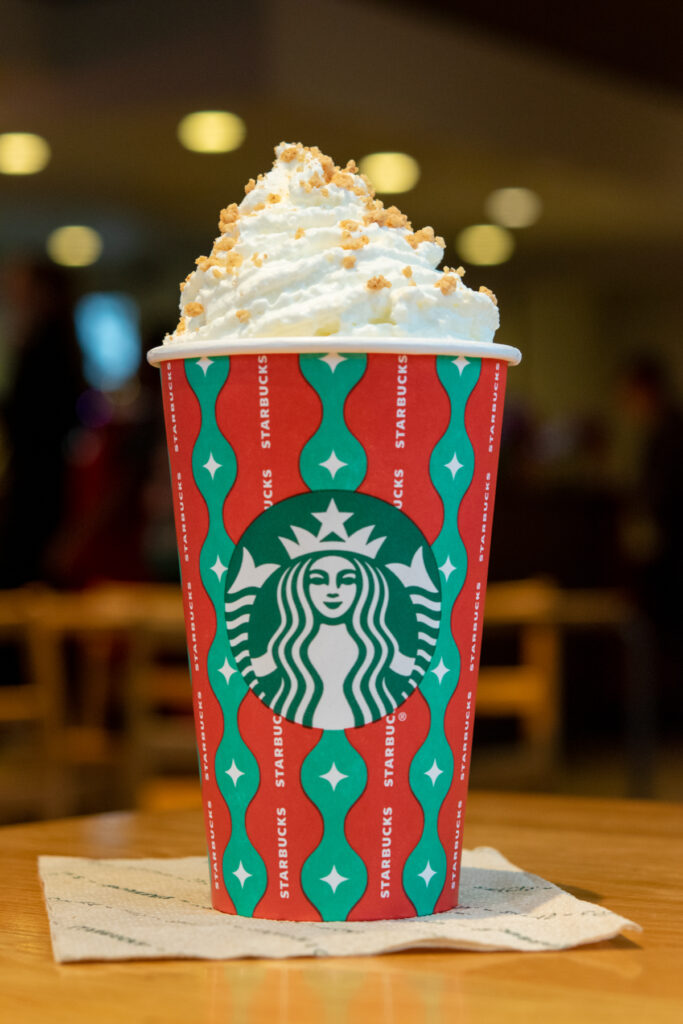 Starbucks chestnut praline drinks have a nutty toffee flavor. They're very sweet, but not overly so.
When combined with only steamed milk, the caramelized nuttiness really stands out. It makes a big difference when the syrup isn't competing with espresso.
As the drink sits, the whipped cream melts into it and the spiced sugar slowly dissolves. Each sip is a full creamy chestnut praline experience.
Drink Sizes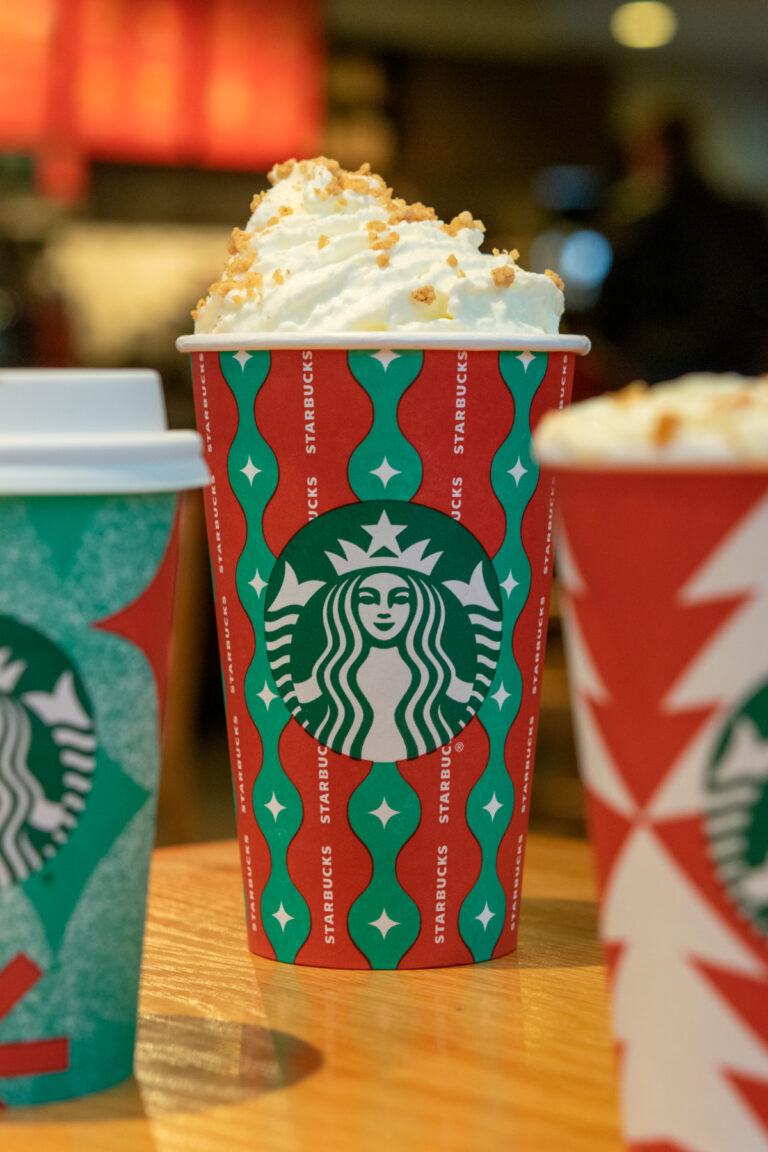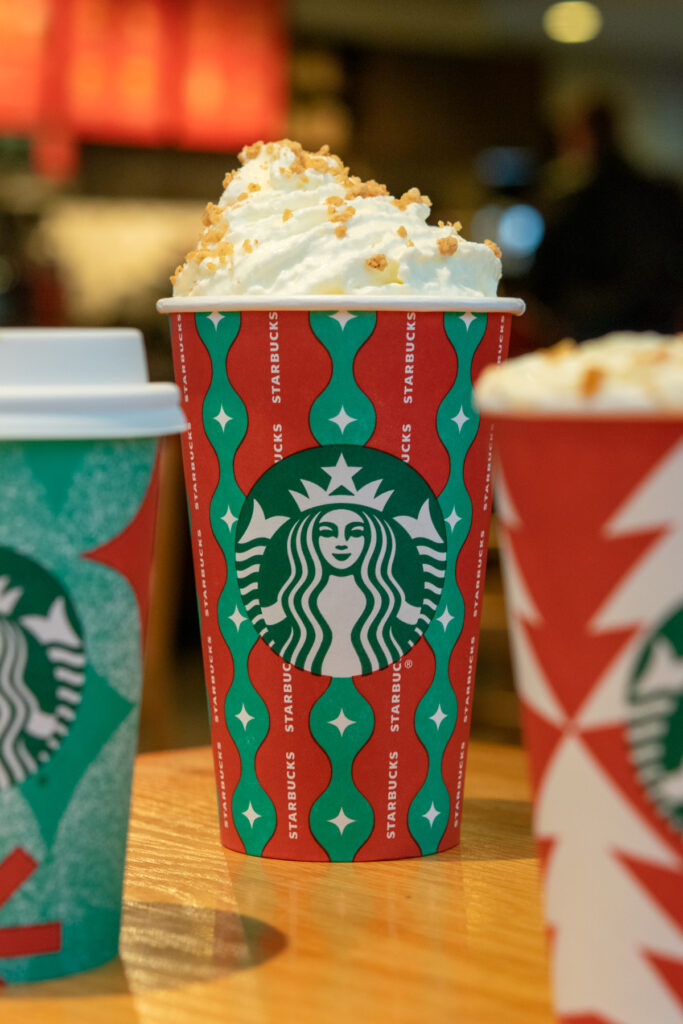 Chestnut Praline Crème is available in all four hot drink sizes:
Short (8 fl oz)
Tall (12 fl oz)
Grande (16 fl oz)
Venti (20 fl oz)
Are you getting this drink for your child?
If you tell the barista you want "kids size" or select kids size on the Starbucks app, you'll get a short 8 ounce drink with the milk steamed to a cooler 130°F.
It also costs a little less than ordering a regular short size, even though they're both 8 ounces.
Caffeine Content
Like all Starbucks steamers and crème frappuccinos, a chestnut praline crème is a completely caffeine-free Starbucks drink!
It doesn't contain a drop of coffee or tea!
Calories
Chestnut Praline Crème is mostly milk and sugar. If you're looking for a sugar-free Starbucks drink, this isn't it!
The drink and toppings all come to around 23 calories per ounce. If you want to shave off some calories, leave off the whipped cream.
The spice topping is delicious on the foamy steamed milk.
Calories in Chestnut Praline Crème, according to Starbucks:
Short and Kids Size: 190 calories
Tall: 270 calories
Grande: 350 calories
Venti 420 calories
Questions You May Have
What's a good holiday drink for kids at Starbucks?
Starbucks steamers like chestnut praline and caramel brulee, and hot chocolates are all good holiday drinks for kids at Starbucks. None contain coffee or caffeine and all can be steamed to a lower kids-safe temperature.
When can I get chestnut praline at Starbucks?
Chestnut praline is a limited-time, seasonal syrup that's available during November and December. You never know which holiday flavors return each year, but chestnut praline has been a holiday favorite every year since 2014.
Related