Looking for a way to spice up hot apple cider this fall? Apple Cider Chai (chaider) is an absolutely delicious way to combine all the spicy notes chai is known for with tangy apple cider. And the recipe could not be easier!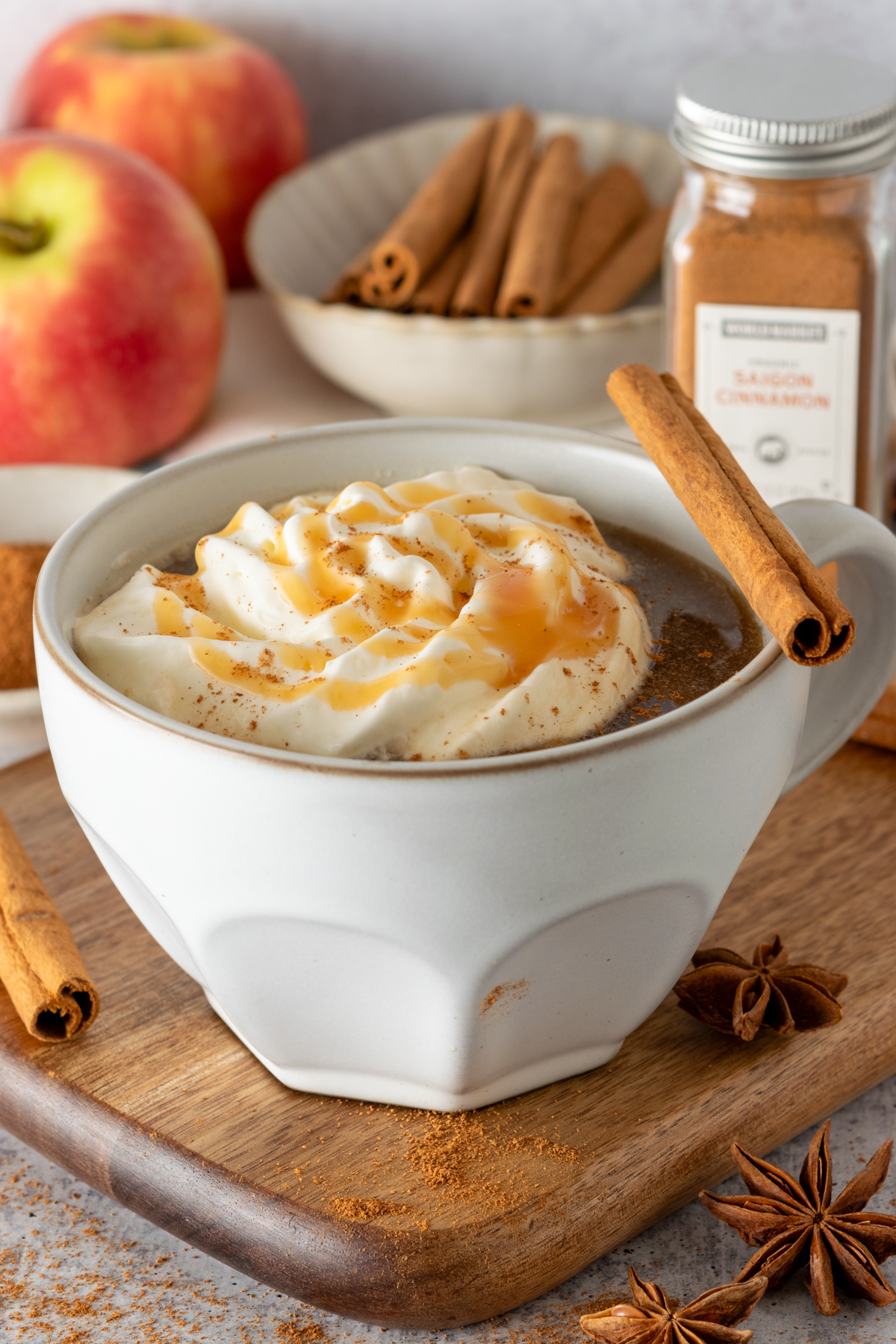 Hot Apple Cider Chai is a cinnamony apple tea drink that gives off all the cozy fall vibes you could ask for.
It's filled with an abundance of warming spices from the chai—cinnamon, cardamom and cloves, and all the tartness of a good apple cider.
This simple chaider recipe (yup, chai + cider) is a great replacement for steeping mulling spices in cider.
Make a quick mug-full when you're craving a tasty hot drink to curl up with, or make a bunch at once for friends and family.
Why You'll Love Cider and Chai
Tasty Fall Drink: Seriously, chaider reminds me of apple pie, minus the crust. It's like the melody of chai spices and apple cider were made for each other.
Takes Minutes to Make: This recipe is easily put together with already-prepared cider and chai tea concentrate. All you need are a few minutes to warm it up.
Make a Single Cup or More for a Crowd: Prepare a cozy mug of apple cider chai just for yourself or make a big batch for the big game, Halloween, Thanksgiving, bonfires or any autumn gathering. The chaider stays perfectly warm in a slow cooker, so your guests can enjoy a cup whenever they're ready.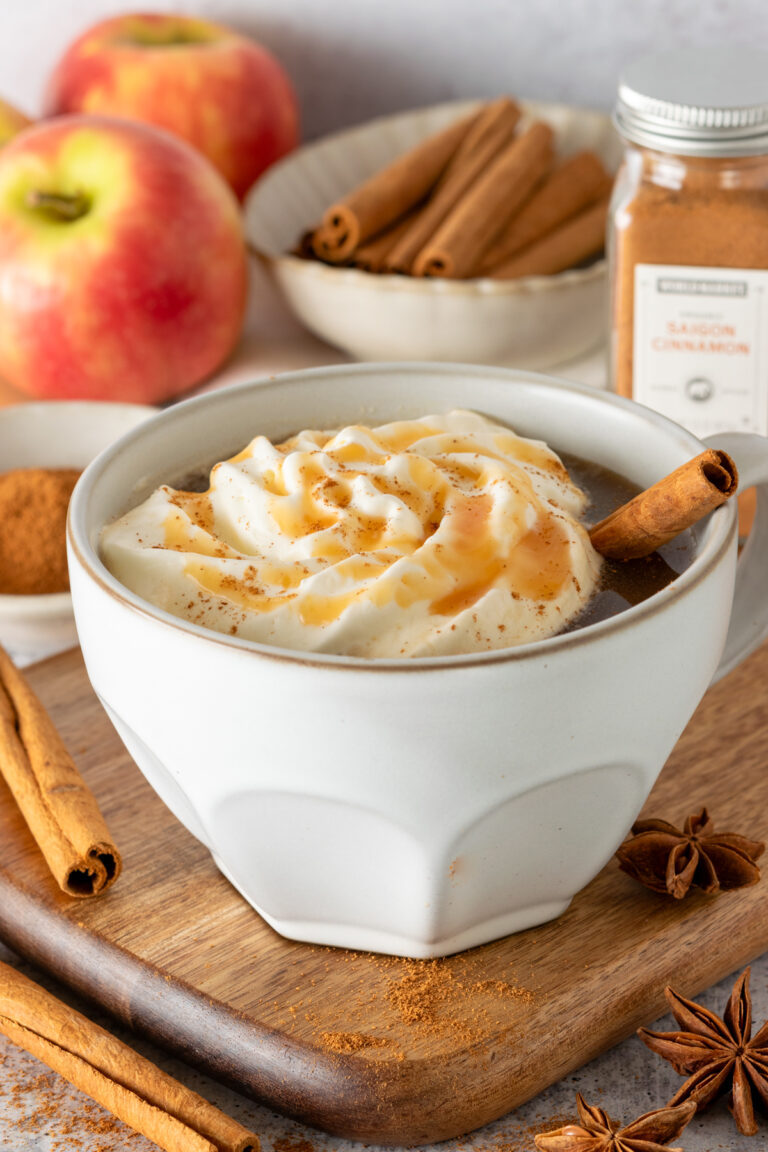 Apple Cider Chai Recipe
Whether you choose to make 2-ingredient apple cider chai, or turn it into an indulgent masterpiece with more spices and decadent toppings, it's the simplest recipe ever.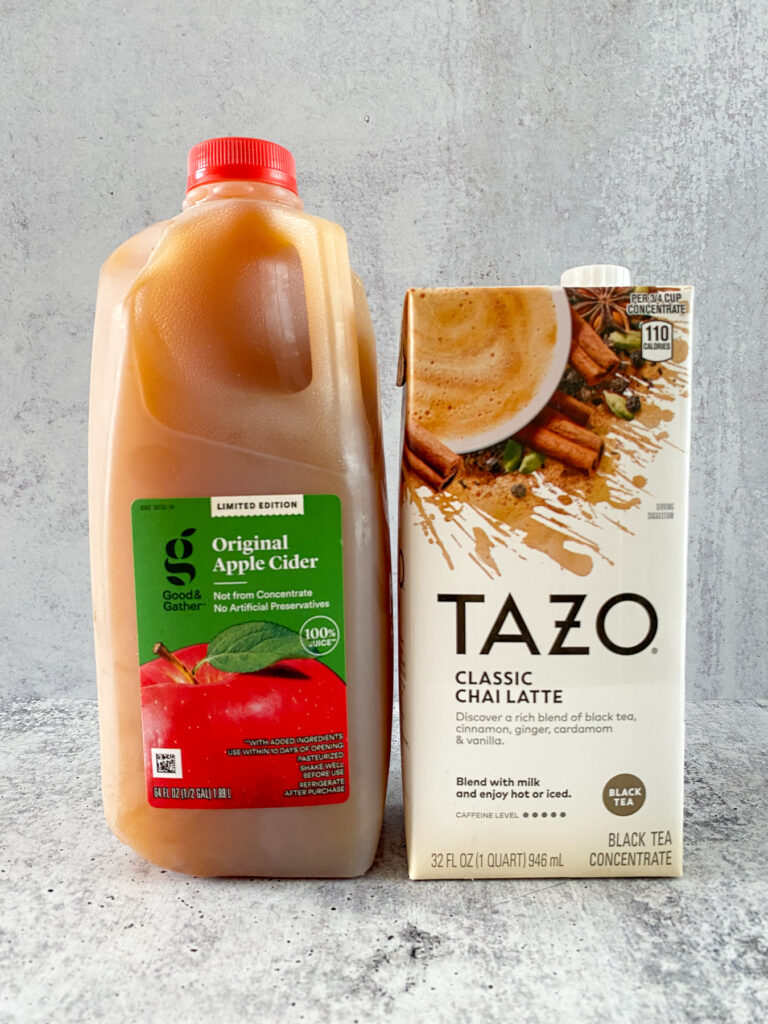 Ingredients
Apple Cider
Chai Tea Concentrate
Cinnamon Sticks and other whole chai spices (optional)
Whipped Cream and Caramel Sauce, to garnish (totally optional, but so delicious)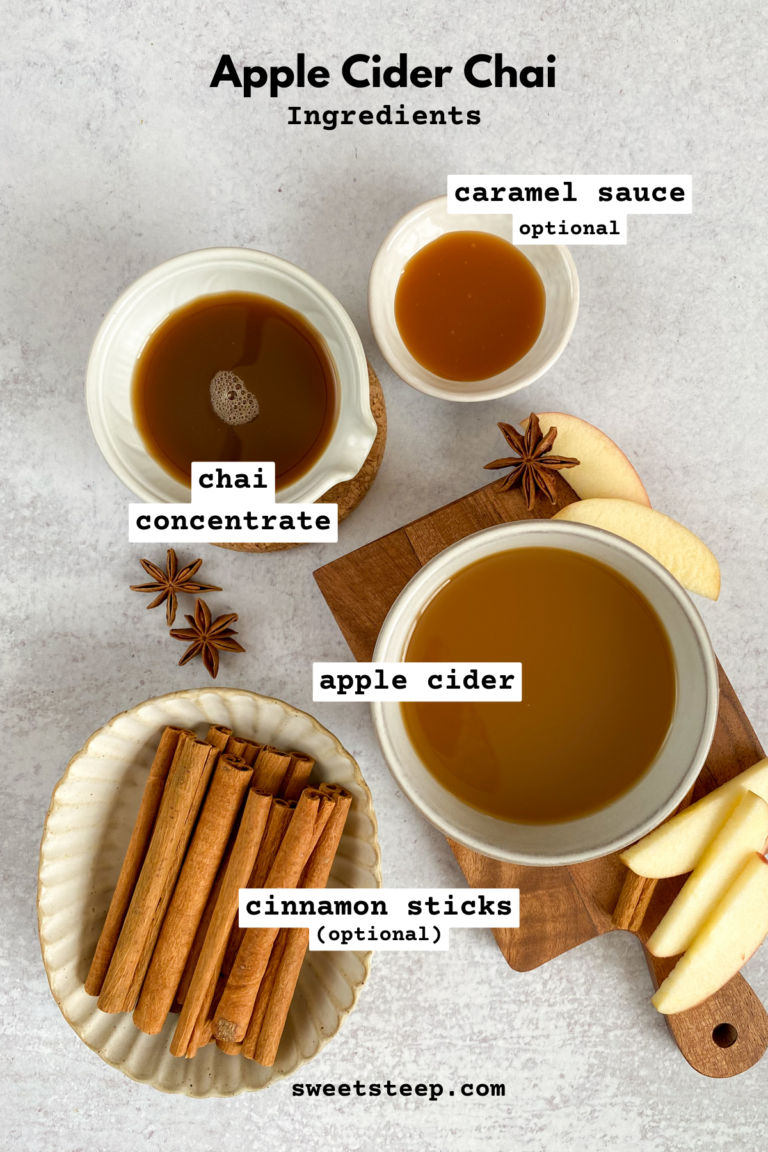 Apple Cider: For this recipe, use apple cider, not apple juice. They're not the same drink.
Apple juice is sweetened and processed from juice concentrate.
Apple cider, on the other hand, is minimally processed, fresh-pressed and tangier in flavor. And that's what we're going for.
Chai Tea Concentrate: For the bold taste of chai, get boxed tea concentrate like Tazo or make homemade chai concentrate. I don't recommend steeping chai flavored tea, because it's really not rich enough.
Cinnamon Sticks & Chai Spices: For additional chai spice, steep a few chai spices in the apple cider/chai mix as it warms.
This certainly is not necessary, but if you want a little more of your favorite spice (cinnamon, cardamom, cloves, star anise, etc.), then this is how you do it.
I like to add a few cinnamon sticks and star anise just for visual appeal when I make slow cooker chaider for a party. (See directions at end of post.)
Whipped Cream & Caramel Sauce: Now these truly are extras, but oh my, do they take a lovely cup of hot apple cider chai and turn it into something a little more indulgent.
Whipped cream and caramel drizzle make this drink similar to a Starbucks Caramel Apple Spice, although I think much more delicious.
Instructions
Put the apple cider and chai tea concentrate in a small saucepan. Warm it over medium heat.
Add cinnamon and other whole spices to the chaider as it warms. For extra chai spiciness, steep the chaider with whole spices for at least 5 minutes to incorporate flavors. (This step is totally optional.) Otherwise, just warm it up until it's at your preferred sipping temperature.
Pour chaider into a mug. Be sure to strain out whole spices if used.
Serve with whipped cream, caramel sauce and ground cinnamon. To finish it off, a dollop of whipped cream and drizzle of caramel sauce make this apple cider chai drink extra special. (Again, totally optional.)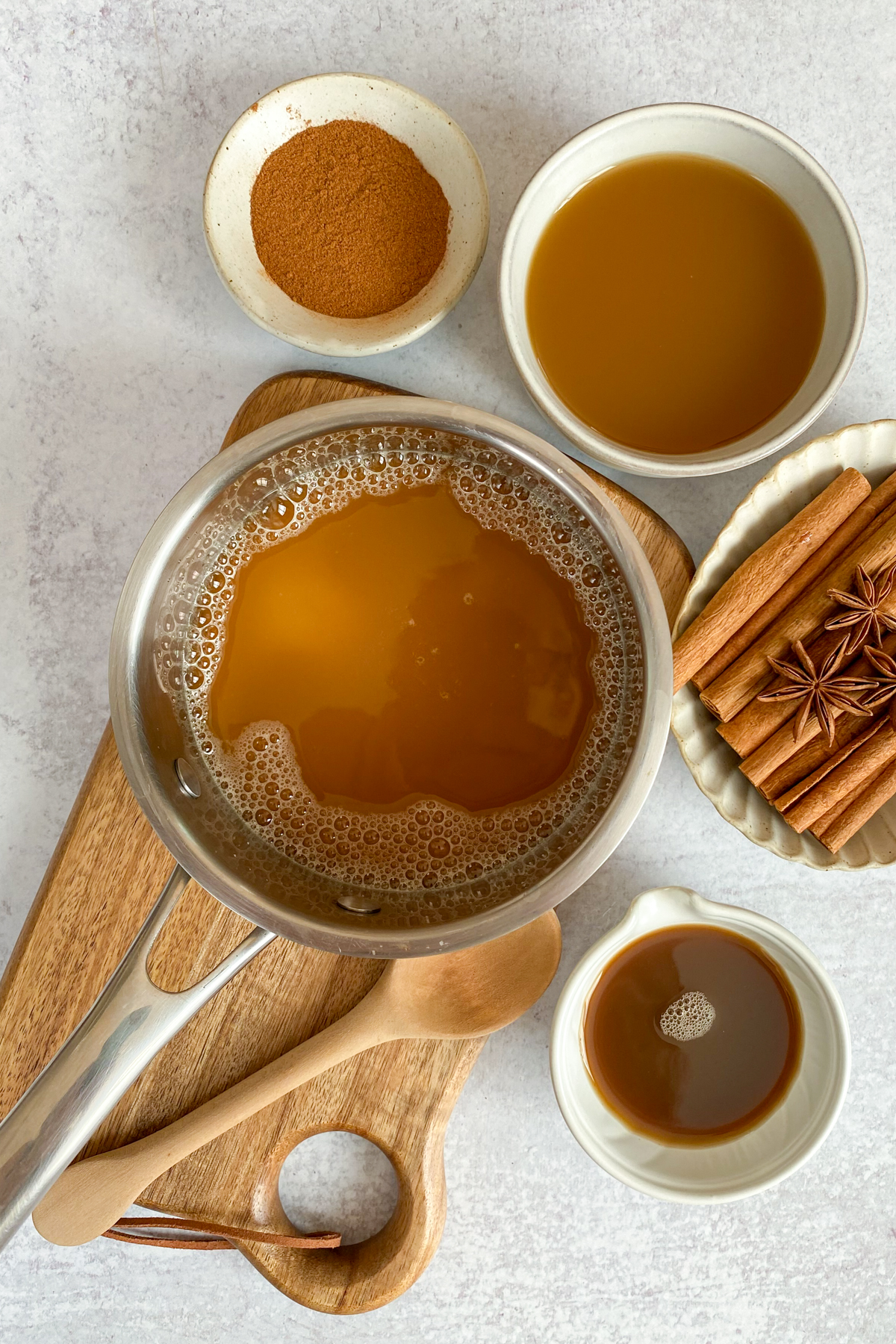 Detailed recipe and instructions are in recipe card at bottom of post.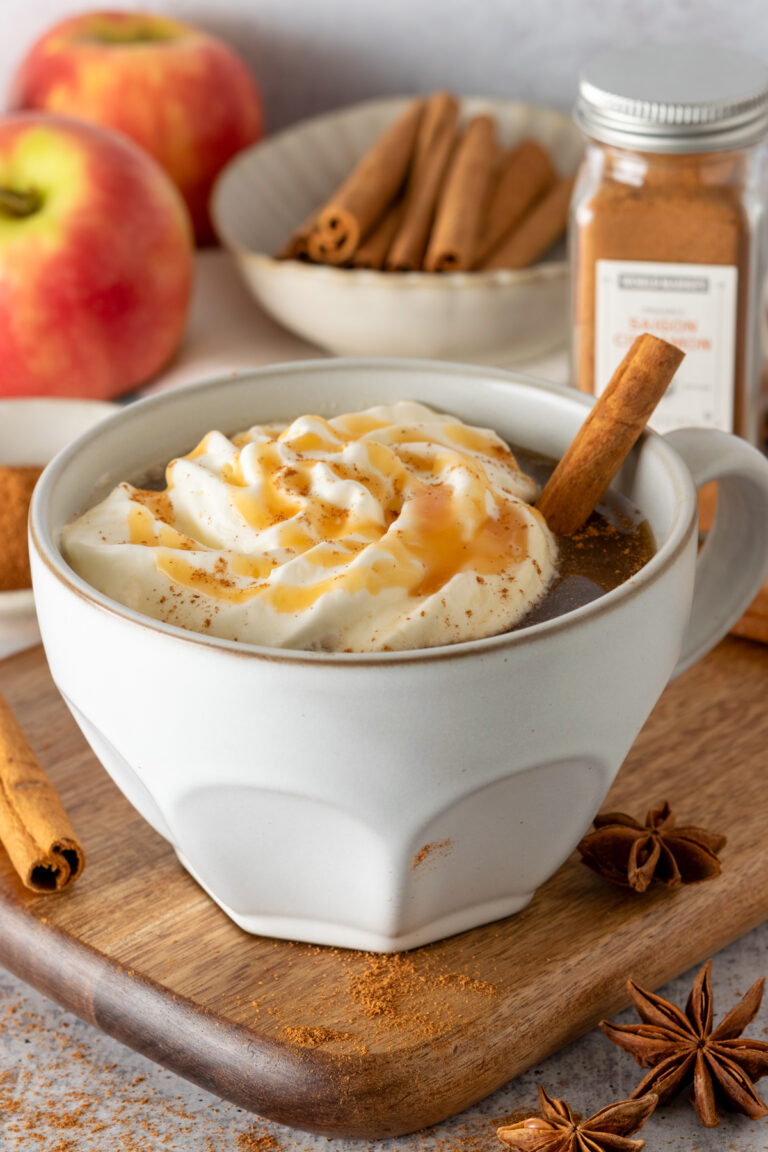 Recipe Notes
This recipe makes a single cup of apple cider chai, but can be multiplied for large groups. Just use the same one-to-one ratio of cider to chai. You can either warm it up in a large pot on the stove or use a Crockpot.
For the most intense chai, whose flavor isn't lost in the cider, use your favorite brand of boxed chai tea concentrate. Tea bags won't cut it.
If you prefer a tangier version of apple cider chai, use 2 parts of cider to 1 part chai. To land on the ratio you like best, first make a small amount and give it a taste test before warming up an entire single serving or big batch.
Chai-Spiced Apple Cider Variation
If you want to make apple cider that's infused with chai spices, not chai tea, all you need to do is steep a mixture of whole spices in the cider.
Common chai spices are: cinnamon, green cardamom, star anise, cloves, black peppercorns and ginger.
To extract the most flavor, coarsely crush the whole spices, then lightly toast them in a pan. (For detailed instructions, see how I make homemade chai concentrate.)
Tie the spices up in cheesecloth (so it's like a big tea bag) and removal is a snap.
Then all you have to do is drop the spices in a pot of cider over heat.
RELATED RECIPE: Homemade Mulling Spices for Apple Cider & Wine
How to Make Slow Cooker Apple Cider Chai
Apple Cider Chai is a popular drink to serve at fall gatherings and parties.
And what better way to serve a crowd and keep the drinks warm than to use a Crockpot.
To make Crockpot Chaider:
Dump equal portions of apple cider and chai black tea concentrate (or your preferred amounts) into a slow cooker.
Set the Crockpot to "warm" for 2-3 hours, to heat through.
For added spiciness, drop in cinnamon sticks and a few star anise about an hour before serving. (Or add a bag of toasted spices as described above.)
Serve with a ladle and set out toppings like whipped cream, caramel sauce and cinnamon sugar for your guests.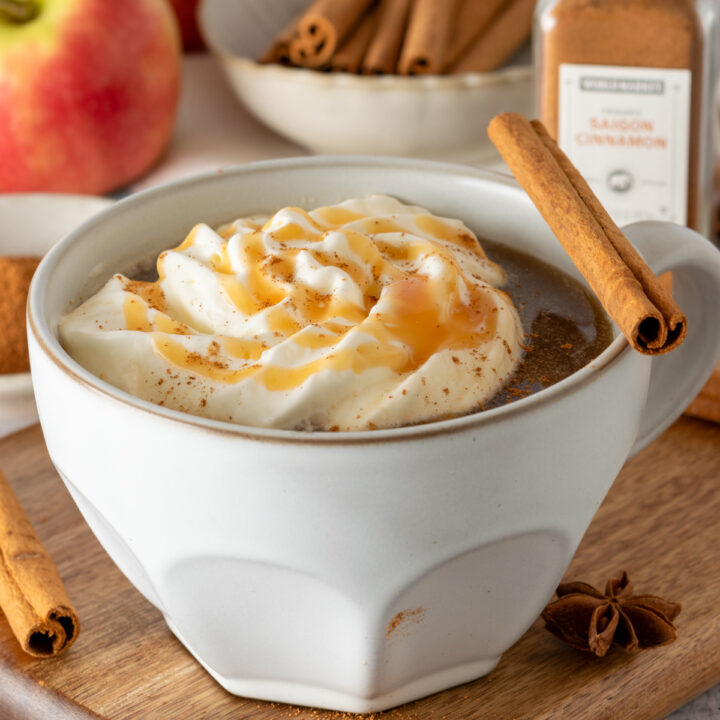 Apple Cider Chai (Chaider)
Ingredients
3/4 cup apple cider
3/4 cup chai tea concentrate
whipped cream, to serve (optional)
caramel drizzle, to serve (optional)
Instructions
Put the apple cider and chai tea concentrate in a small saucepan. Warm it over medium heat.
Add cinnamon and other whole spices to the chaider as it warms. For extra chai spiciness, steep the chaider with whole spices for at least 5 minutes to incorporate flavors. (This step is totally optional.) Otherwise, just warm it up until it's at your preferred sipping temperature.
Pour chaider into a mug. Be sure to strain out whole spices if used.
Serve with whipped cream, caramel sauce and ground cinnamon. To finish it off, a dollop of whipped cream and drizzle of caramel sauce make this apple cider chai drink extra special. (Again, totally optional.)